Cancun is a popular resort city in Mexico, located on the coast of the Caribbean Bay. Warm climate, beautiful beaches, crystal clear sea water, wild palm trees, unique architecture dating back to the Mayan civilization, attractions, luxury hotels, restaurants and bars, nightclubs and plenty of entertainment for every taste – all this attracts about four million people from different parts of the world every year.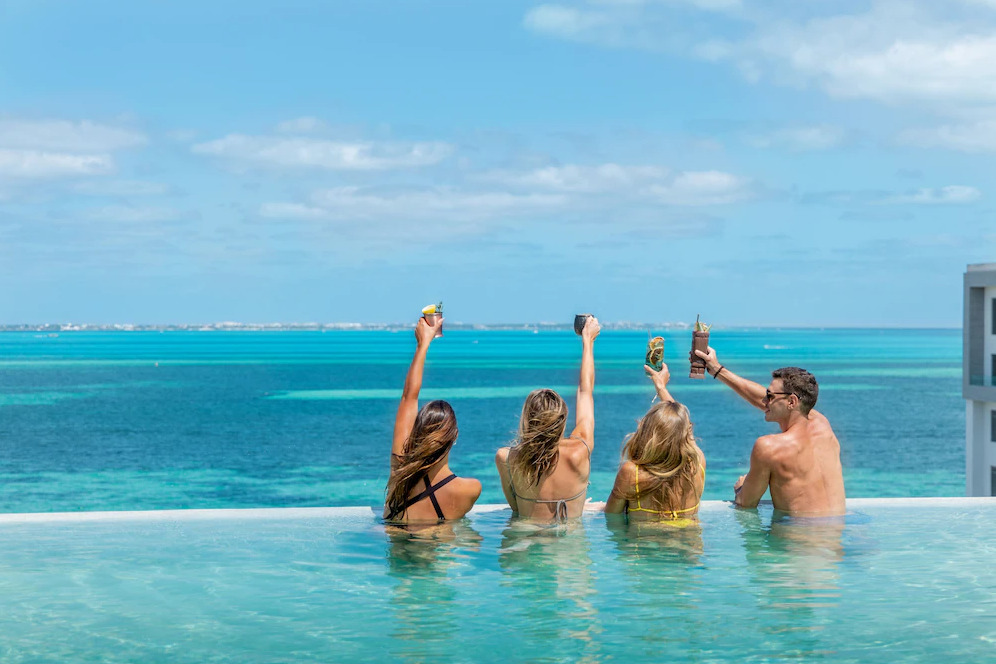 If you also decided to vacation in Cancun, you need to plan everything carefully before the trip. Effective vacation is when it is not only for the body, but also for the soul. That is why you should start with a good company (this is one of the main components of a good holiday), study the weather of the resort town, the best route and most comfortable place to stay, read a list of attractions, as well as the best places for entertainment (to your liking) and do not forget to plan a budget allocated for the trip.
For your convenience, we have compiled a complete description of the resort with the top vacation spots.
How to get to Cancun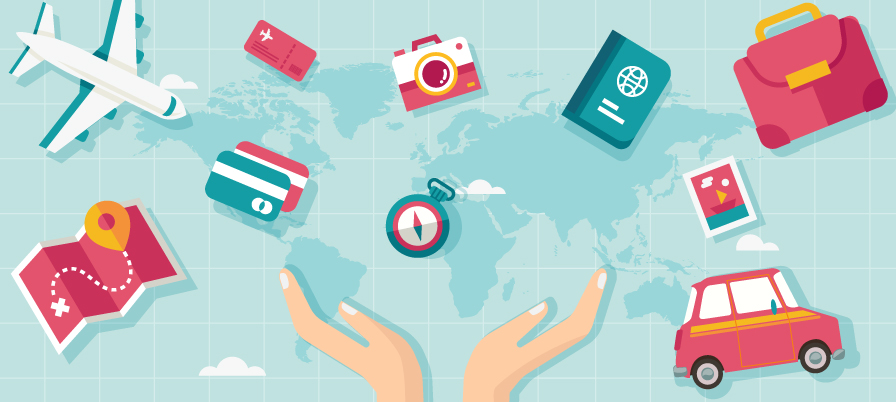 Cancun is located in the eastern part of the Yucatan Peninsula, in the state of Quintana Roo (in the southeast of the country). The city is divided into two main areas: the center of the resort and Zotelera de Cancun (in other words, the hotel area of Cancun) with beach resorts, bars and restaurants.
Cancun's main airport (CUN) is about 15 minutes from the Zona Hotelera, so the best way to get there is a package tour that includes airfare and transfer to the hotel. It is not only convenient for tourists, but also, above all, safe.
Transportation costs while traveling in Cancun

Cab

from $ 10

Public transportation

from $ 0.7

1 l of gasoline

from $ 0.8
In addition to a direct flight to Cancun, you can get to Cancun with a single transfer. For example, take a flight to the capital of Mexico and from there take a train or bus to Cancun. Upon arrival, you can rent a car, order a cab, or take public transportation to the hotel of your choice to check in.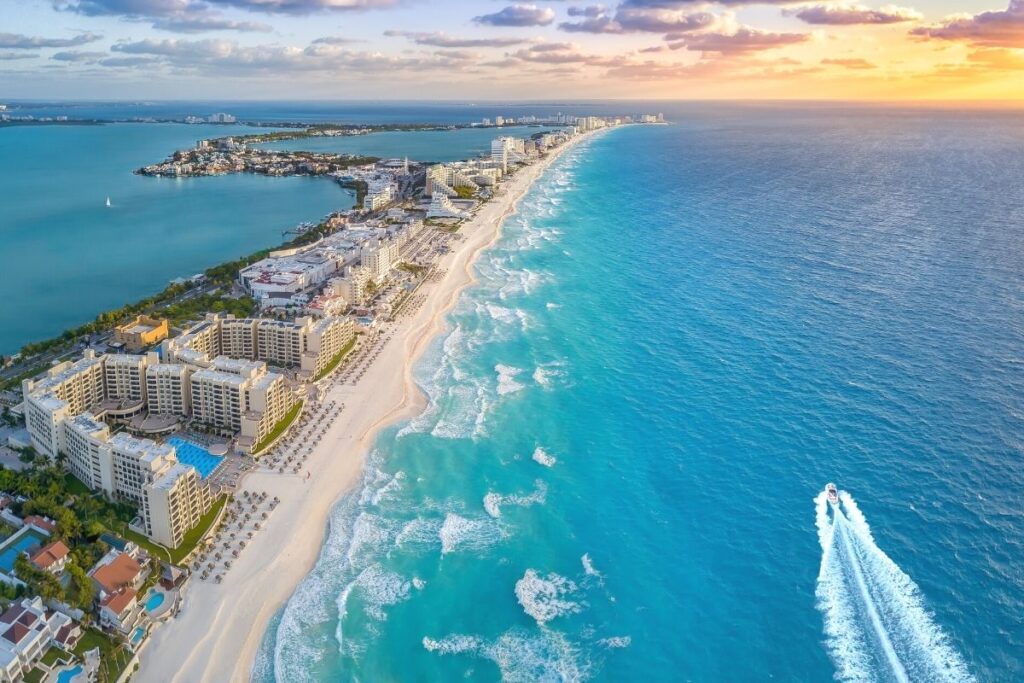 Climate in Cancun. Best time to visit the resort
The resort city is considered an ideal place to travel, vacation, and winterize.
Many Europeans, Canadians and Americans fly to Cancun to escape the cold winter in their country. The city offers a tropical climate with over two hundred sunny days a year and an average air temperature of 80 degrees Fahrenheit. Due to the location of Cancun the climate is quite mild, which means that in summer it is not too stuffy and in winter it is not cold at all.
MONTH

Cancun

Average air temperature (°F)

Average rainfall

t sea water (°F)

day

night

January

77

69,8

81 mm

78,8

February

80,6

76,1

48 mm

78,8

March

80,6

73,4

34 mm

78,8

April

84,2

75,2

40 mm

80,6

May

84,2

77

109 mm

80,6

June

86

78,8

136 mm

82,4

July

87,8

78,8

68 mm

84,2

August

87,8

78,8

96 mm

84,2

September

86

78,8

125 mm

84,2

October

84,2

77

183 mm

82,4

November

80,6

73,4

102 mm

80,6

December

80,6

73,4

70 mm

80,6
The best times to visit the resort are: winter and summer months, as well as March and April. The period from December to April is considered the peak season, so Cancun is crowded, but this does not prevent you from enjoying your vacation.
We do not recommend the fall months as this is when the rainy season and storms begin.
Best hotels in Cancun and accommodation rates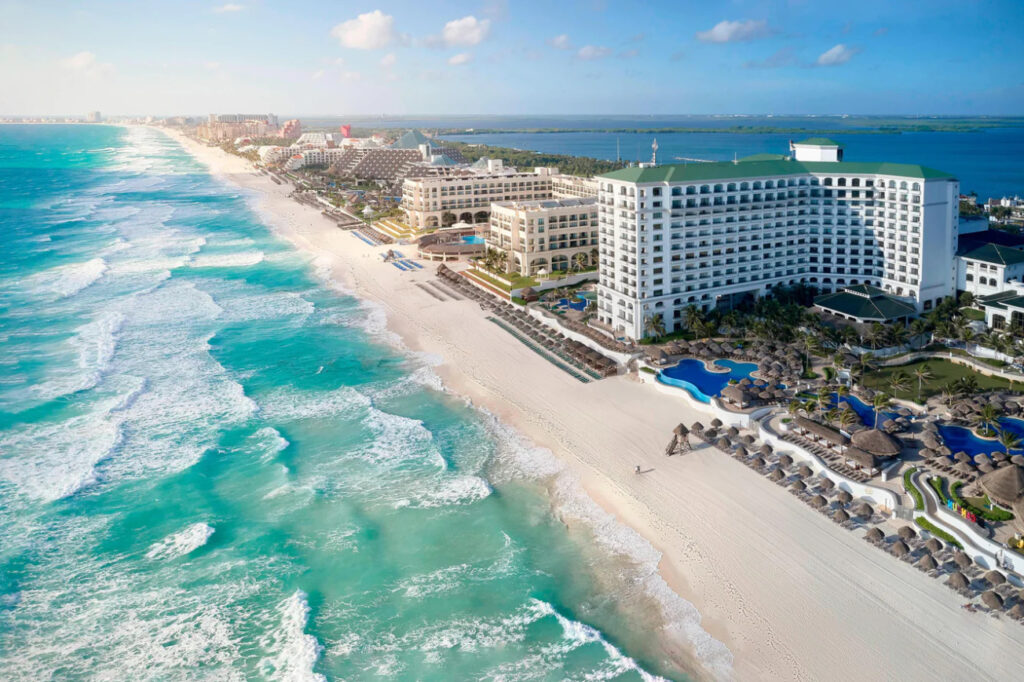 The rating is based on an analysis of the star ratings of Cancun hotels, as well as ratings and reviews by tourists.
Hotels in Cancun are located throughout the city. Most of them all-inclusive, 5-star hotels, adults-only or kid-friendly hotels, boutique hotels, and apartments for honeymooners, business travelers are concentrated in Zotelera de Cancun.
To plan a perfect vacation you can consider and choose the most convenient and best option for you. To do this, carefully examine the location of the hotel, the services provided, pay attention to the rating, as well as photos and reviews of users who have already been in this place.
Here's a look at the top 5 best hotels in Cancun (in various categories):
1.Best hotels for adults only:
| | | | | | |
| --- | --- | --- | --- | --- | --- |
| | Live aqua Beach Resort Cancun | Secrets the vine Cancun | Hyatt Zilara Cancun | Hideaway at Royalton Riviera Cancun | Haven Riviera Cancun |
| Hotel rating (TripAdvisor) | 4.5 | 4.5 | 4.5 | 4.5 | 4.5 |
| Cost (1 night, 2 adults) | from $490 | from $367 | from $518 | from $355 | from $443 |
| Distance to the center of Cancun (mi) | 8 | 9,3 | 7 | 17,3 | 17,3 |
| Distance to airport (mi) | 13 | 10,5 | 13 | 10 | 10 |
2.Best 5* inexpensive hotels in Cancun
JW MARRIOTT CANCUN RESORT & SPA

IBEROSTAR SELECTION CANCUN

GR SOLARIS CANCUN

NOW EMERALD CANCUN

KRYSTAL GRAND CANCUN

Hotel rating
(TripAdvisor)

4.5

4.5

4.5

4.0

4.0

Cost (1 night, 2 adults)

from $280

from $295

from $227

from $191

from $266

Distance to the center of Cancun (mi)

9

11,1

12,1

13,6

8,5

Distance to airport (mi)

7,3

9,3

6

9,3

20,5
3.The best family hotels for vacations with children
Krystal Altitude Cancun

Hyatt Ziva Cancun

Moon Palace Cancun

Nizuc Resort & Spa

Oasis Cancun

Hotel rating
(TripAdvisor)

4.0

4.5

4.5

4,5

4.0

Cost
(1 night, 2 adults)

from $340

from $866

from $384

from $522

from $292

Distance to the center of Cancun (mi)

6,7

6,8

4,6

10,1

7,7

Distance to airport (mi)

10,5

10,5

4

5

7
Best Restaurants and Bars in Cancun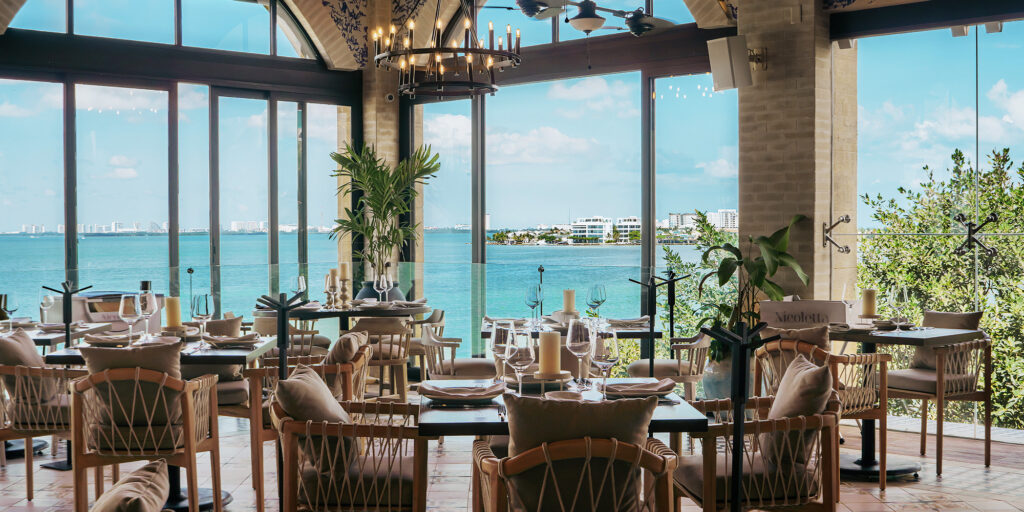 Since Cancun is conventionally divided into the Hotel Zone and the historic center, located 12.5 mi from each other, the establishments in these places are different: from budget places to eat out to expensive restaurants. So in the Zona Hotelera there are many oceanfront restaurants, bars and nightclubs. In Downtown Cancun, there are restaurants with much lower prices, but also the opportunity to try national dishes (quesadillas, burritos, tacos, fajas, posole, aguasile, salbute, ceviche and many others), international cuisine, fresh seafood, and the most popular drinks in all of Mexico: tequila, margaritas, Michalada and Paloma cocktails, mescal.
We have gathered for you the most important information about the five best restaurants in Cancun. We hope it will help you choose the most comfortable place for breakfast, lunch or dinner.
Harry's Steakhouse & Raw Bar

Peter's Restaurante

Ilios Greek Estiatorio

Lorenzillo's

El Fish Fritanga

Restaurant rating
(TripAdvisor)

5.0

5.0

5.0

4.5

4.5

Kitchen

Steakhouse,
seafood.

International, European.

International, Mediterranean, Greek.

Caribbean, seafood.

Mexican, Caribbean, seafood.

Popular Dishes

-Steak tomahawk.

-Kobe beef.

-Filet mignon.

-Mushroom ravioli.

-Lime pie.

-Beef brisket.

-Greek salad.

-Grilled vegetables.

-Baked sea fish.

-Calamari.

-Lobster croquettes.

-Soft pancake crab.

-Tostadas with ceviche.

-Lobster tails with butter.

-Whole fried fish.

Average price of dinner per person

from $31

from $15

from $30

from $31

from $2

Advantages of the restaurant

-Cozy atmosphere.

-Great view on the patio.

-The chef personally welcomes guests to the restaurant.

-Large selection of wine.

-Show program.

-Interior.

-Location.

-Quiet place.

-Beautiful view of the lagoon (especially at sunset).

-Healthy food.

-Large selection of seafood.

Disadvantages of the restaurant

Smoking is allowed on the terrace (especially for non-smokers).

Not all service personnel speak English.

The waiters are not always polite (according to tourists).

Tips are included immediately on the bill.

Special offers do not always correspond to reality.
For lovers of all unusual things, there are a variety of places in Cancun.
Unique in this respect is the pirate ship Captain Hook.
It is on it that you can dine in the open Caribbean Sea and enjoy the show program presented. For the convenience of tourists there is a website, where you can make reservations in advance, as well as order food for every taste. Prices for adults from $70 (per person), children from $40.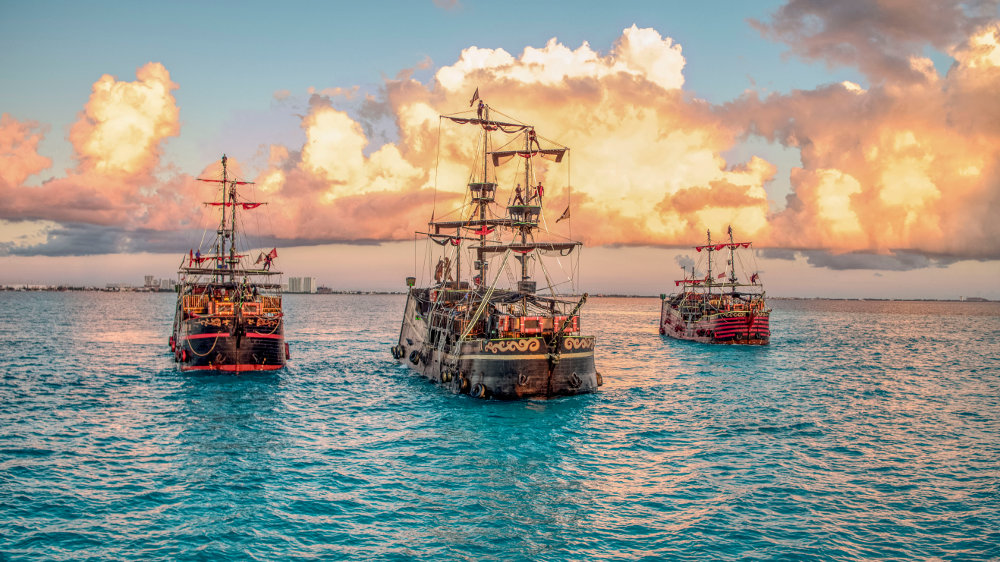 Cancun's Most Popular Beaches
The most popular beaches in Cancun are located in Zotelera de Cancun, which is why all beach lovers are recommended to stay there.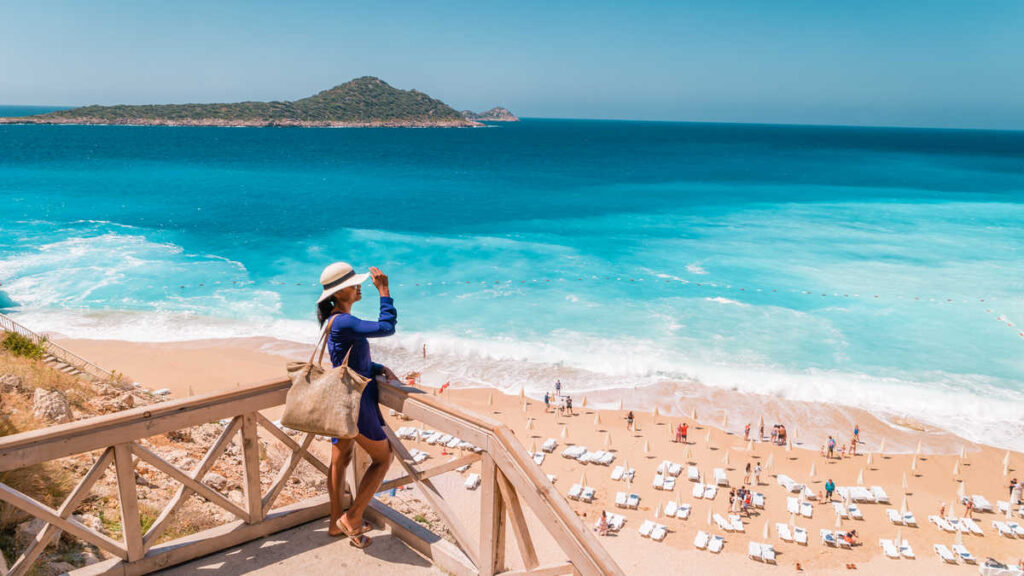 Each beach at the resort is good in its own way. The choice directly depends on your goals. Maybe you are looking for a quiet and not crowded place to relax or, on the contrary, a lively beach with parties at sunset, or maybe you like water sports, then you should look for the right beach, which provides the necessary equipment for rent.
For you, we have prepared a list of beaches in Cancun, according to what they are popular for.
1.Playa Delfines – the best place for tourists:
In Cancun, Playa Delfines is the most popular vacation spot on the coast. The name of the beach is not accidental. The fact is that dolphins have been spotted there more than once.
The beach has everything for a comfortable and, most importantly, safe holiday: sun loungers, umbrellas, lifeguards on duty, informing tourists about the state of the ocean through the flags, surfboard rental.

Advantages of the beach: free parking, showers for vacationers.
Disadvantages: the lack of restaurants, bars and cafes.
2.Playa Chac-Mool – the best beach for water sports lovers:
Due to the fact that Playa Chac-Mool has various water sports rentals, it has become the most popular in Cancun. The beach is very convenient because everyone (tourist or local) can discover something new: surfing, snorkeling, paddleboarding, diving, etc.
Advantages of the beach: changing cabins, water sports equipment rental, showers and toilets.
Disadvantages of the beach: the lack of lifeguards on the shore.
3.Playa Forum is the best place for sunset parties:
Playa Forum beach is great for both daytime and nighttime entertainment. This is the most popular place in Cancun, where many people gather to have rowdy parties right on the beach.
In addition, there is a VIP nightclub nearby, famous for DJ performances, unusual cocktails, as well as parties by the Jacuzzi and the pool.

Advantages of the beach: convenient location, cocktail bars.
Disadvantages of the beach: not enough sun loungers (during the day).
4.Playa Langosta – the best beach for swimming with children: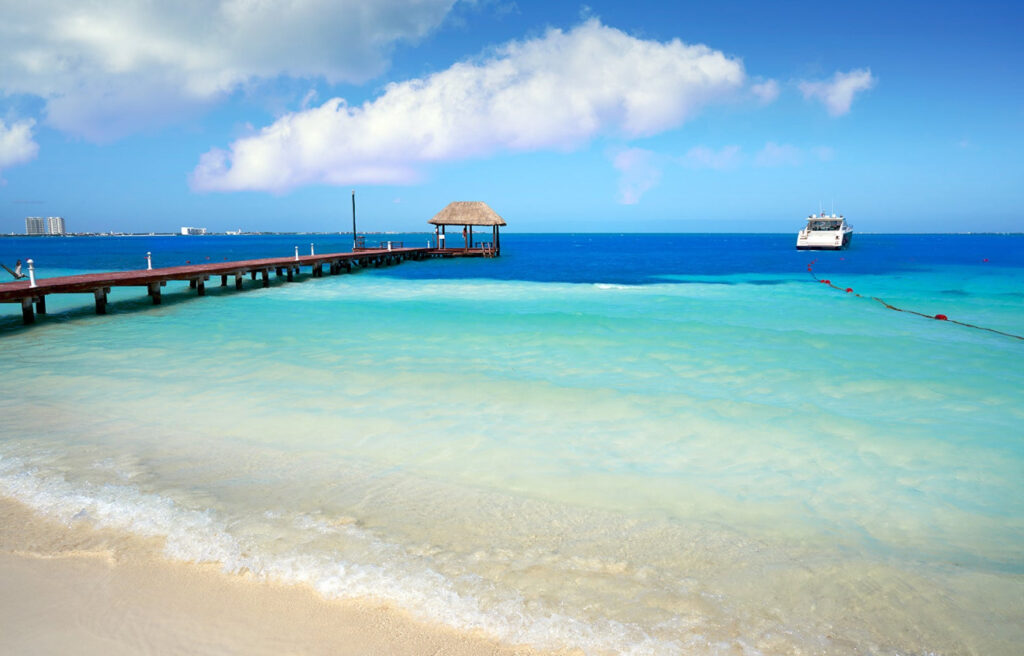 Playa Langosta is one of the safest beaches for swimming due to the low current and shallow water, so it is perfect for families coming to Cancun with children. Playa Langosta has a place to play beach volleyball or cricket and there are several restaurants nearby.

Advantages of the beach: the presence of buoys, inflatable attractions with descent into the water for children and adults, pier with boat rentals and equipment, restaurants on the ocean.
Disadvantages of the beach: crowded (especially on weekends).
5.Playa Pez Volador is the best place to spend time in peace and quiet: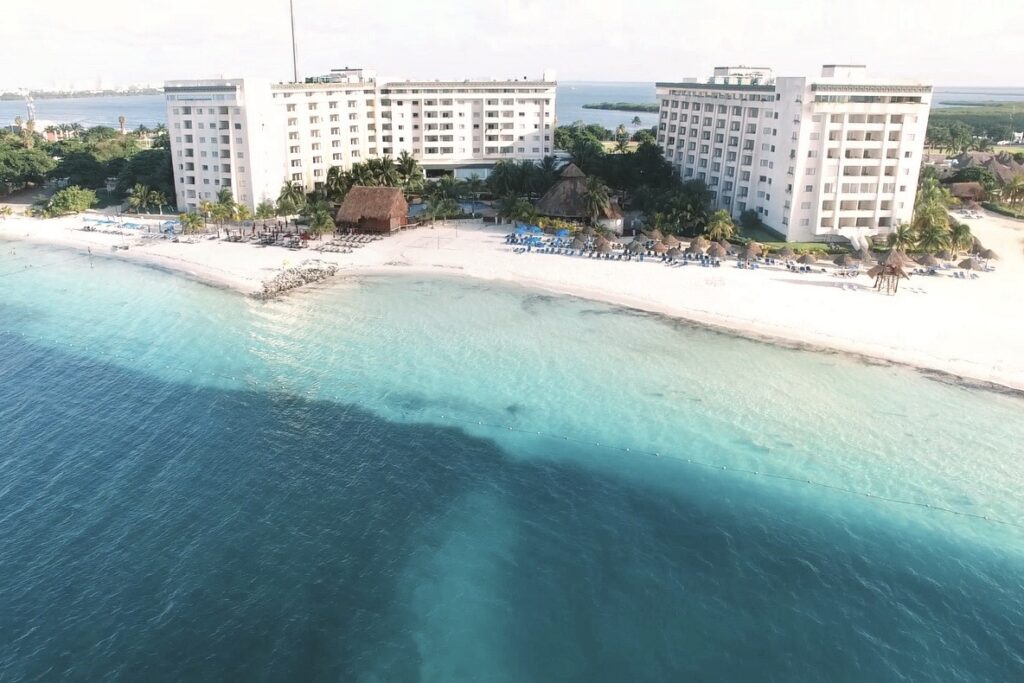 If you are among the people who are looking for a quiet beach with no entertainment and no crowds of people, this is the place to go. To visit Playa Pez Volador beach you will need to bring a beach blanket, an umbrella (if necessary), a towel, food and water, since this place is not equipped. Believe me, all this is nothing, because there is nothing more beautiful than being in silence, feeling harmony with nature, enjoying the white sand and bathing in the crystal blue water.

Advantages of the beach: complete unity with nature.
Disadvantages of the beach: lack of facilities.
Entertainment in Cancun
Cancun is a city where absolutely everyone can find something to do. The resort has a huge number of options for entertainment for all tastes and budgets. Tourists should pay special attention to popular excursions.
1.Underwater Sculpture Museum: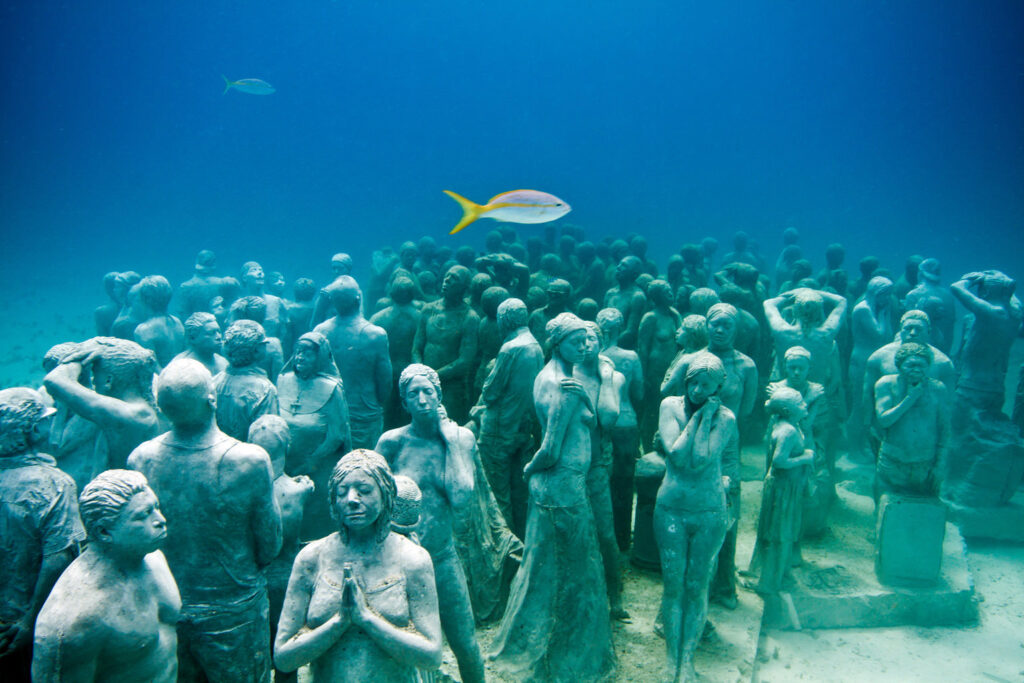 This tour allows you to see one of the most interesting sights in Mexico – the Underwater Sculpture Museum, located at a depth of about 8-12 m. All the exhibits (400 pieces) are very realistic human figures covered in coral. This exhibit is called «Silent Evolution». Thanks to the unusual tour, you will learn about the history of the peoples of Mexico, from the Maya to the present time.
The excursion lasts 4 hours and includes three main stages: theoretical (acquaintance with equipment, safety equipment), practical (practicing skills of diving in a specialized pool), diving in the open sea.
Groups from 1 to 4 people. The cost of $150 per person.
2.The World Cultural Heritage Site of Chichen Itza: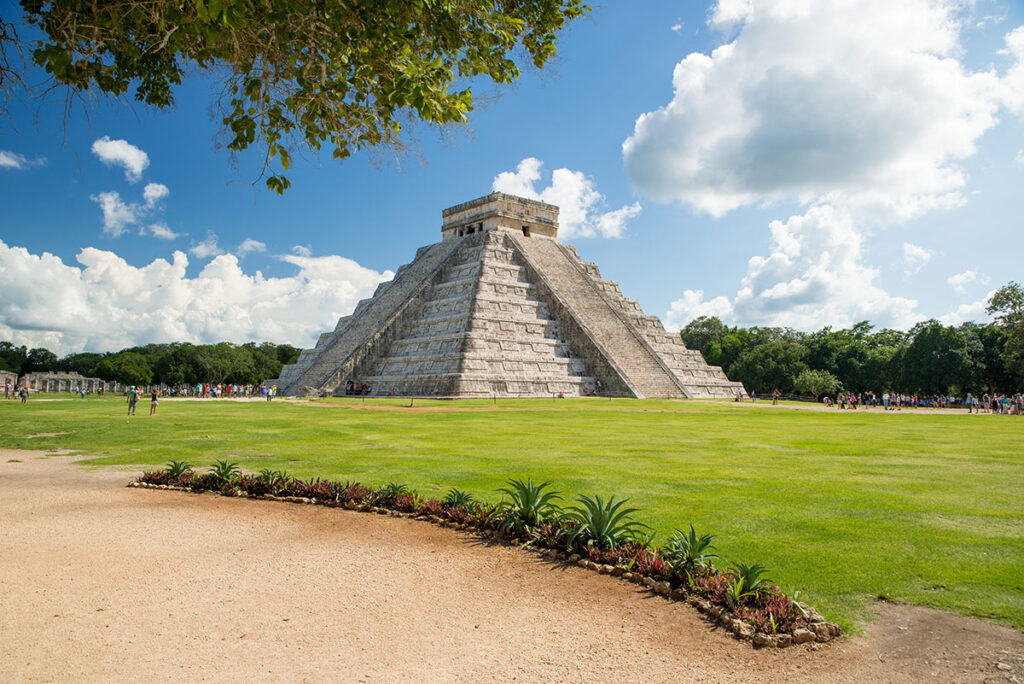 An excursion to Chichen Itza is a unique opportunity to learn a lot about the legendary Mayan civilization (up to information about ancient rituals), swim in the cenote and visit the factory where tequila is produced. The tour lasts 10 hours (with a break for lunch included in the price).
Number of participants from 1 to 18 people (children over 5 years old are allowed). Cost $149.
3.Xplor Extreme Park:
https://www.youtube.com/watch?v=MgWksCVyaLo
The excursion is suitable for those who like extreme. Together with experienced instructors you will explore the jungle, the stalactites of underground caves with rivers, and grottoes. You will be rafting, riding all-terrain vehicles, ziplines, bungee jumping, and buffet lunch. Duration of the tour is about 8 hours.
The number of people taking part in the tour is up to 50 people. The cost of $145 (transfer and lunch included).
4.Mayan Village: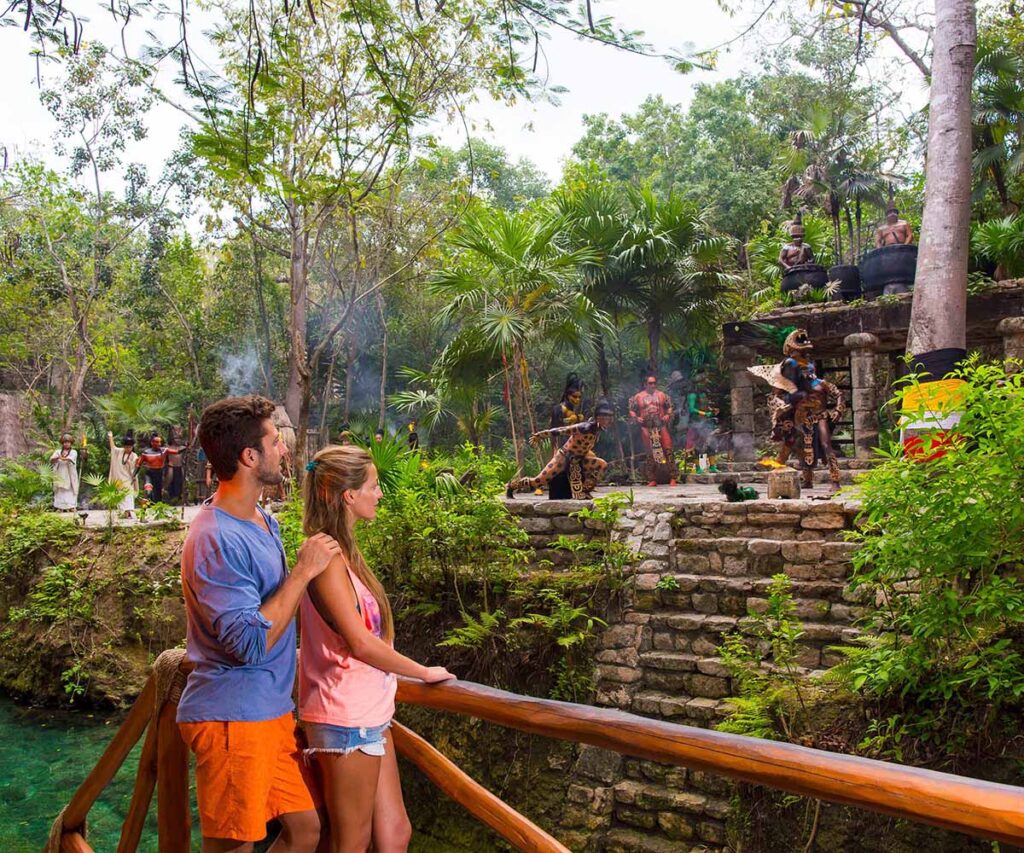 The most anticipated event of this tour is the Temascal ceremony. It is the most important key to understanding the entire Mesoamerican culture. The ceremony is conducted by a Mayan village shaman according to rules that have evolved over thousands of years. At the end you are sure to visit a dome visit for meditation, bathe in a spring, and eat the national dishes at dinner.
The tour lasts for 3 hours, with 1 to 18 people (18+). Cost $85.
5.Lakes and Caves of the Yucatan Peninsula: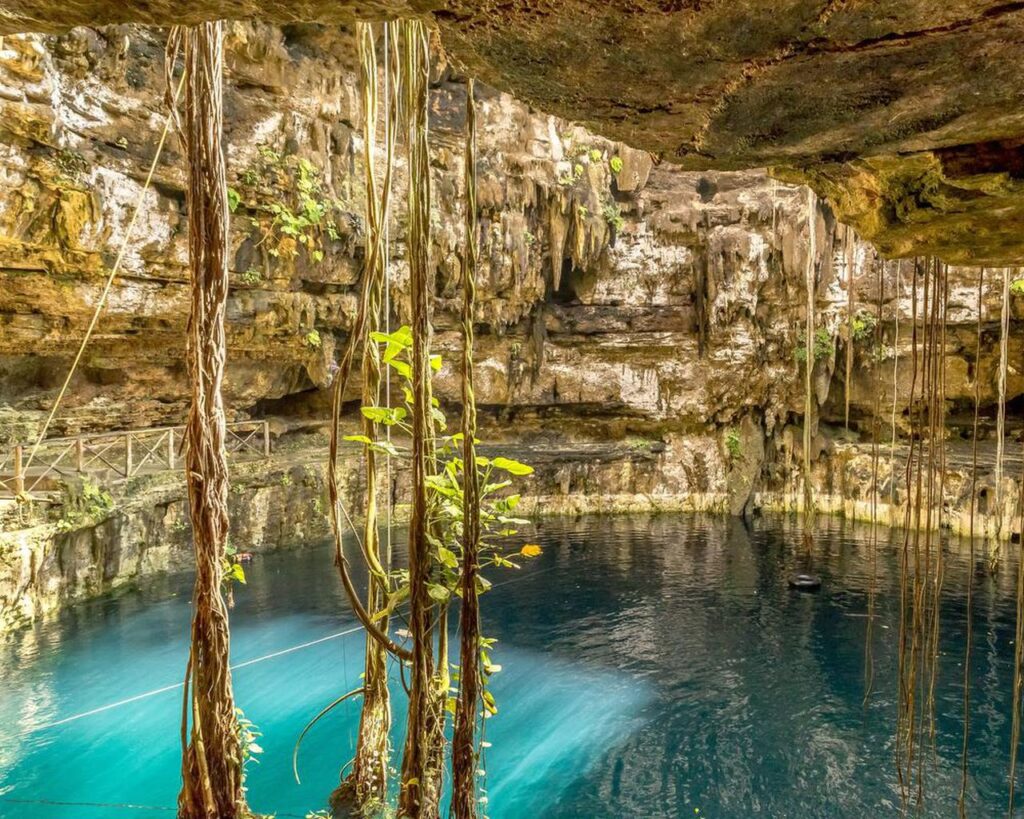 To learn more about Mexico's mysterious nature and the Mayan civilization, it is worth taking a trip to the karst caves and underground lakes of the Yucatan Peninsula. The trip is organized for a group of 3 people and lasts about 10 hours.
The cost of the tour for the whole group is $250 (additional costs: transfers, drinks and food, renting bicycles to explore the open caves).
The main types of entertainment in the resort city of Cancun:
Golf (one of the best courses in the area of the Hilton Canciin Golg & Spa Resort).
Fishing.
Ziplining.
Sailing.
Swimming with whale sharks.
Swimming with dolphins in the Nisuk Water Park.
Flyboard.
Snorkeling.
Diving.
Shopping (e.g. Fashion Harbour, Las Plaza Outlet Cancun or Luxury Avenue Canucun).
Cancun nightlife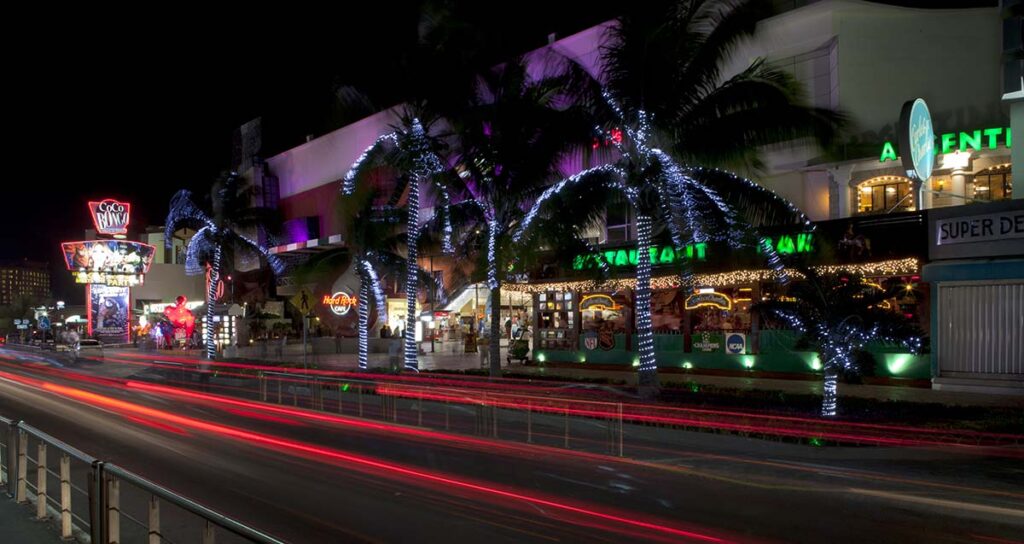 Cancun is a city that is popular among tourists not only for its world-class hotels and restaurants, beautiful white sand beaches and the clearest Caribbean sea, but also for its nightlife.
Parties in Cancun go all night and end only with the sunrise. You can find partygoers of all ages at the resort.
If during your vacation in Cancun you want to dive into the nightlife of the city, you need to know which places are especially popular. We provide information about the best nightclubs in Cancun.
1.Mandala Nightclub (Zona Hotelera):
https://www.youtube.com/watch?v=Kj72md6LDNE
«Mandala» has been one of the resort's most popular nightclubs since it opened. It is located between the famous clubs Coco Bongo and The City. Inside the club everything is done in the same style – Indian. Its special feature is an additional open terrace right on the beach of the Caribbean Sea.
Admission costs from $70 (free admission to the club all night + «open bar»).
2.Coco Bongo Nightclub (Zona Hotelera):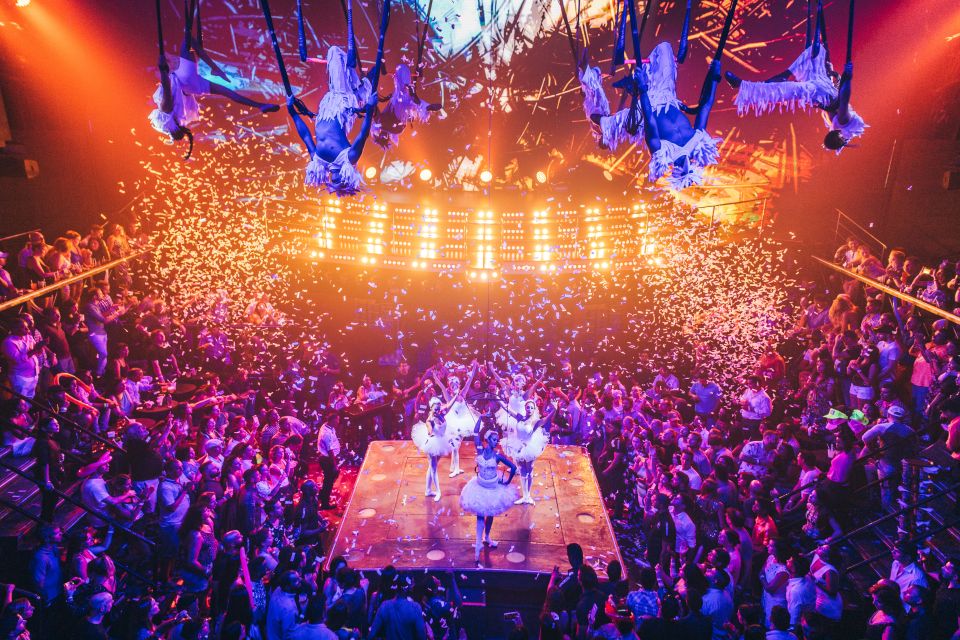 Coco Bongo is a famous nightclub in Cancun, combining acrobatic performances to the music of the 70's and 80's with show parodies of celebrities such as: Spider-Man, Beetlejuice, Michael Jackson and many others. Coco Bongo is always full of party people, especially on weekends (you can see long lines at the entrance of the club). The peculiarity of the night club is the absence of a dance floor, so everyone dances where it is convenient.
The cost of admission ranges from $75 to $200 (free entrance to the club for the whole night + «free» bar).
3.La Vaquita Nightclub (Zona Hotelera):
https://www.youtube.com/watch?v=lVxyBhfzaTk
One of the newest clubs in Cancun is La Vaquita. It is located on Boulevard Cuculcán, which means it is practically in the center of all parties. The main feature of the nightclub is that it is in the open air. La Vaquita has an unusual interior: the decoration is done in red and black colors, everywhere there are prints of cows. The club mostly plays hip-hop, go-go dancers perform for the visitors. As for the drinks, here they are sold literally in liters and you can buy them on your own or buy an all-inclusive admission ticket, then the drinks will be included in the ticket price.
Admission costs from $50 (the cost depends on the services you want).
4.The City Cancun nightclub (Zona Hotelera):
The City Cancun is probably the biggest nightclub in Cancun (the three-story building holds about 5,000 people). World famous artists and DJs are frequent guests of The City Cancun. Fergi, Akon, Ludacris, 50 Cent, Flo Rida, Snoop Dogg and others have performed in the club. In addition, at night you can enjoy amazing show programs (the club has excellent lighting and sound equipment) and acrobat performances.
Admission costs from $10 (the cost varies, the ticket costs significantly more when the club hosts the stars).
5.Dagy'O nightclub (Zona Hotelera):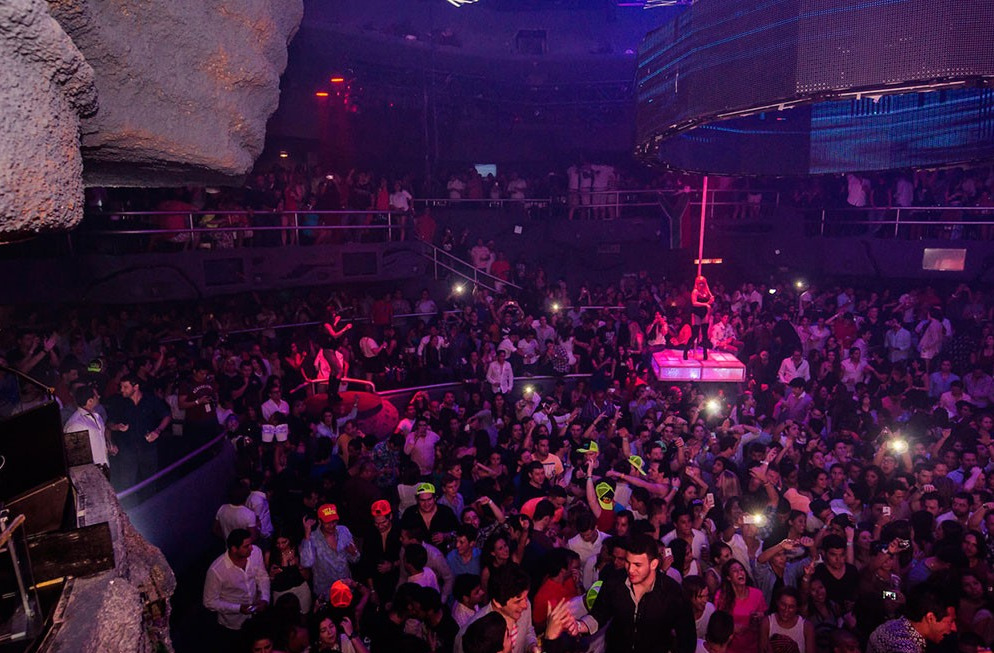 Dagy'O Night Club knows how to throw the best themed parties, especially Retro style. The venue is located 5mi from Kukulkan Boulevard. Weekly (Thursdays) there is a "Bikini" contest among the girls.
Admission costs from $10 (depending on the program).
Conclusions (advantages and disadvantages of the resort):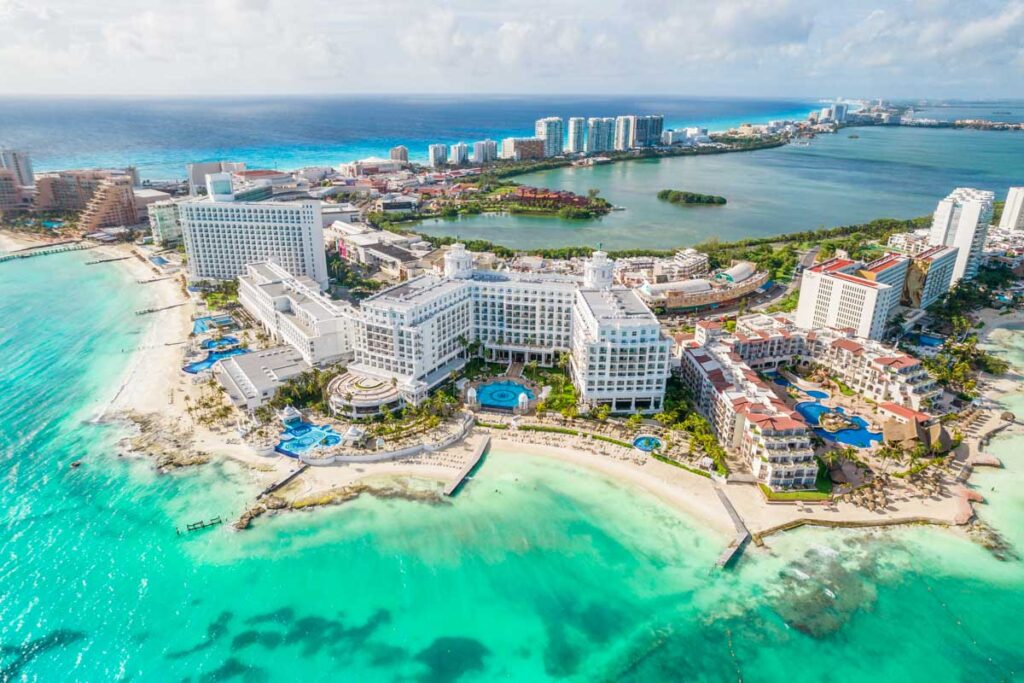 Like any resort Cancun has its advantages and disadvantages. When planning your trip, you should pay attention to them.
Benefits:
Clean and warm sea at any time of year.
Exciting tours and many interesting activities.
Wide hotel area.
Favorable climate for recreation.
Variety of beaches.
A great variety of world cuisines for gourmands.
Great conditions for surfing and diving.
Disadvantages:
The dangers of typhoons.
High cost of vacations.
Cancun is the place in Mexico where you can spend a perfect vacation. It impresses many tourists with its hospitality and true Mexican flavor.