Tulum is a trendy Mexican resort on the Caribbean coast in the eastern part of the Yucatan Peninsula. The city attracts many tourists every year thanks to its pristine white sand beaches, clear azure waters, and stylish eco-hotels overlooking the sea. In addition, Tulum is one of the best preserved Mayan cities, and there are numerous ruins of ancient structures right along the coast. Even though the city is the least developed compared to other resorts in the country, everyone can find something to do here, whether it's scuba diving, beach parties, walking through the tropics, or exploring underwater caves.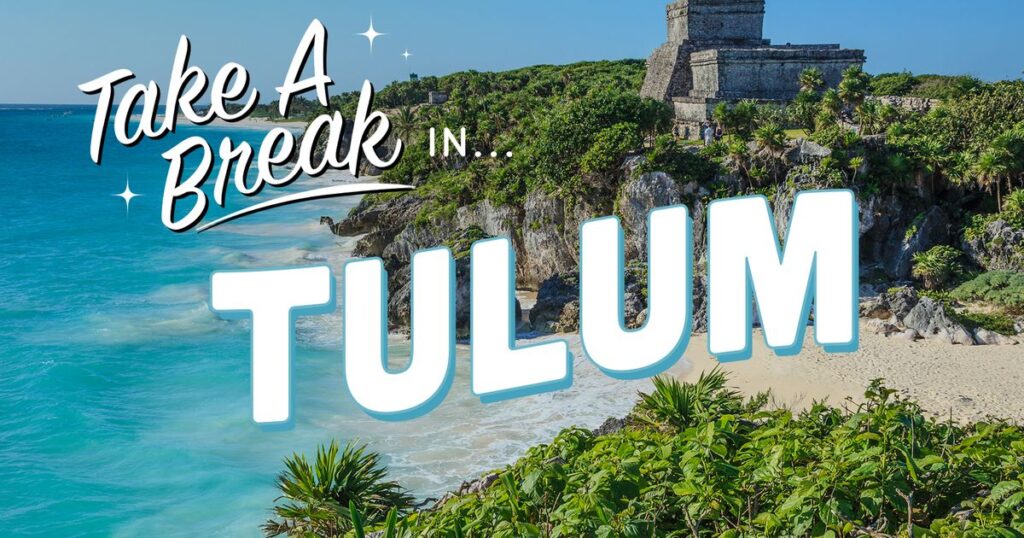 Hotel ratings in Tulum:
Hotel Bardo – Adults Only: 5.0.
Mi Amor Colibri Boutique Hotel: 5.0.
Hotel Ma'xanab Tulum: 5.0.
Conrad Tulum Riviera Maya: 5.0.
Mezzanine Colibri Boutique Hotel-Adults Only: 5.0.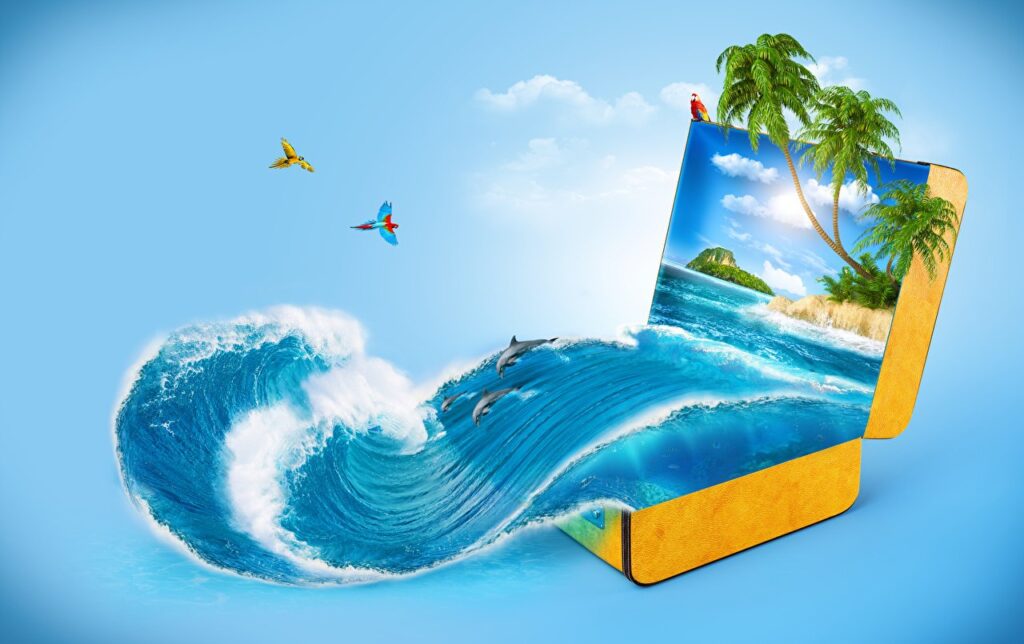 The best time to visit Tulum:
Tulum has a tropical climate, which means that it has hot weather all year long. However, instead of being divided into the usual seasons, Mexico distinguishes between dry and rainy seasons. The winter months are drier than the summer months.
December to April is the best time to vacation in Tulum. The air temperature ranges from +80 to +84 ° F and the water temperature reaches +80 ° F. During this period, there is almost no rain and the likelihood of hurricanes is reduced to zero.
| | | | | |
| --- | --- | --- | --- | --- |
| Month | Temperature during the day (°F)  | Temperature at night (°F)  | Water temperature (°F)  | Rainy days |
| January | +78 | +70 | +80 | 10 |
| February | +80 | +70 | +80 | 7 |
| March | +82 | +71 | +80 | 7 |
| April | +84 | +73 | +80 | 8 |
| May | +84 | +73 | +82 | 12 |
| June | +86 | +75 | +84 | 16 |
| July | +90 | +77 | +84 | 14 |
| August | +87 | +77 | +84 | 16 |
| September | +87 | +77 | +84 | 18 |
| October | +86 | +73 | +84 | 15 |
| November | +82 | +72 | +82 | 10 |
| December | +80 | +72 | +80 | 10 |
Note: In general, you can come to the resort at any time of the year. Keep in mind, however, that June through October can be too hot, and it is also the season of hurricanes and the most frequent rainfall. But it's a great opportunity to save money, as airfare and hotel prices drop during this time.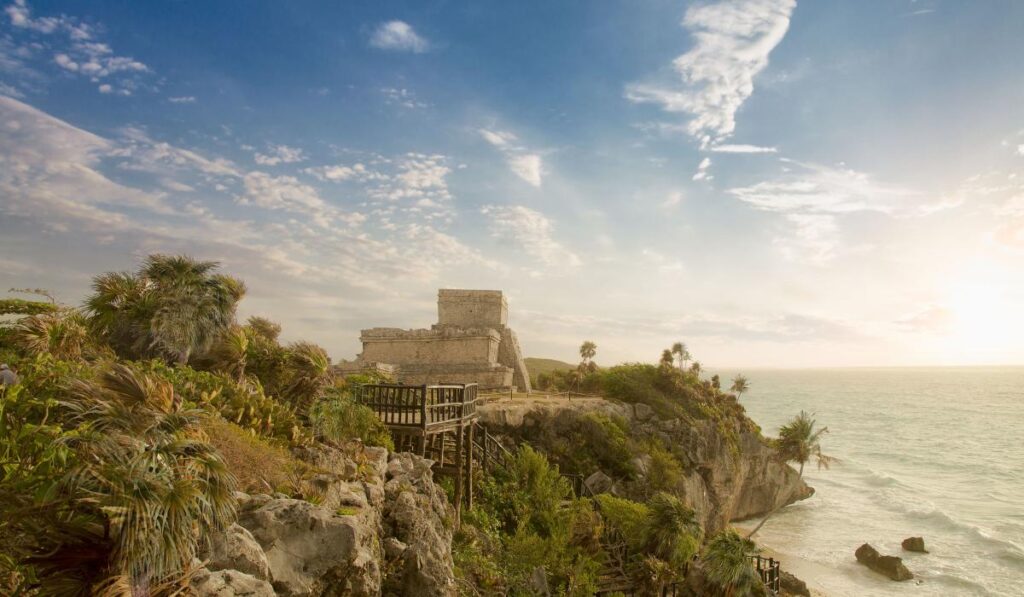 Benefits of vacationing in Tulum:
Beaches with white sand, characterized by a quiet relaxing atmosphere.
Clean and warm sea.
Tropical nature with many exotic plants and animals.
Authentic Mexican atmosphere.
The opportunity to see the ruins of the Mayan civilization.
Lots of boutique hotels for every budget.
Lots of eco-friendly options.
A large selection of restaurants for all tastes and wallets.
Lots of good beach clubs.
Excellent conditions for snorkeling and diving.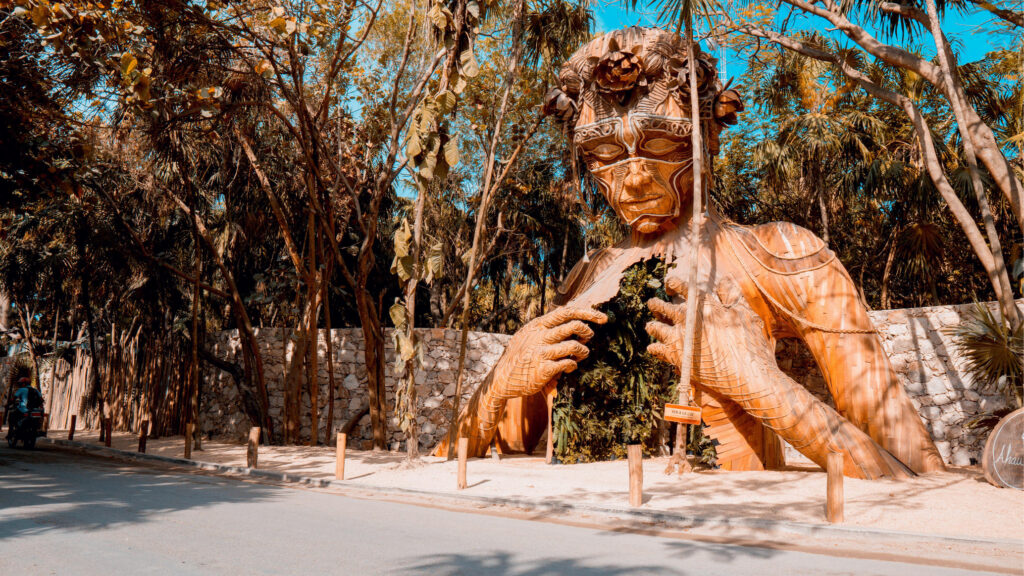 The disadvantages, according to tourists, are as follows:
No international airport – not so easy to get to.
In certain months Tulum is very hot.
There is a possibility of hurricanes.
Hotels by the sea are more expensive than other resorts.
City center and hotel area 6 miles apart.
Few entertainment and nightlife venues.
How to get to Tulum?
Due to the fact that Tulum does not yet have its own airport, you will need to fly to Cancun, and from there go to Tulum. There is a bus every hour from the train station in Cancun and it takes about 2 hours to get there. The ticket costs about 220 Mexican pesos ($11.15). Cabs, private and shared transfers, or car rentals for independent travel are also available to visiting tourists.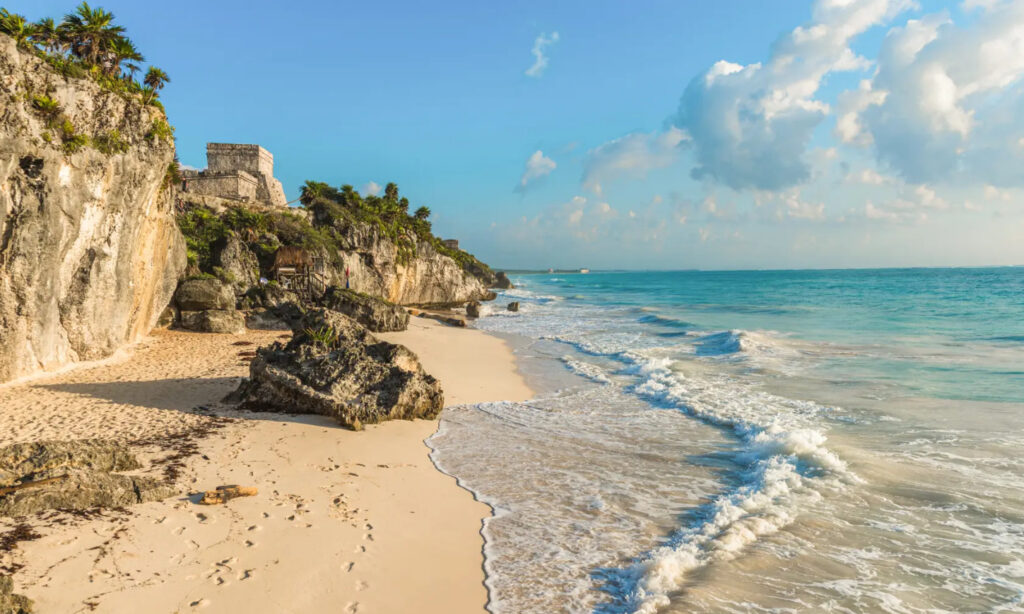 How much does a vacation in Tulum cost?
The average weekly budget for two people in Tulum is about $2,180.
Cost of lodging: rooms in guest houses and hostels will cost from $31 per person. Mid-range hotels cost about $130 per night, including all necessary amenities. High-end hotels range from $540 to $900 per week.
Meals: lunch at the most budget-friendly place in Tulum costs about $5, and mid-priced eateries cost about $15. The average check at a restaurant for two is about $27. And the total cost of a meal for two people for a week is $350.
Directions: cabs start at $1.6 and gasoline costs an average of $1. A popular way to get around Tulum is by bicycle, which costs $7.
Leisure activities: one-day excursions and cultural activities cost from $20. If you intend to visit new interesting places every day, be prepared to spend about $280 for two people.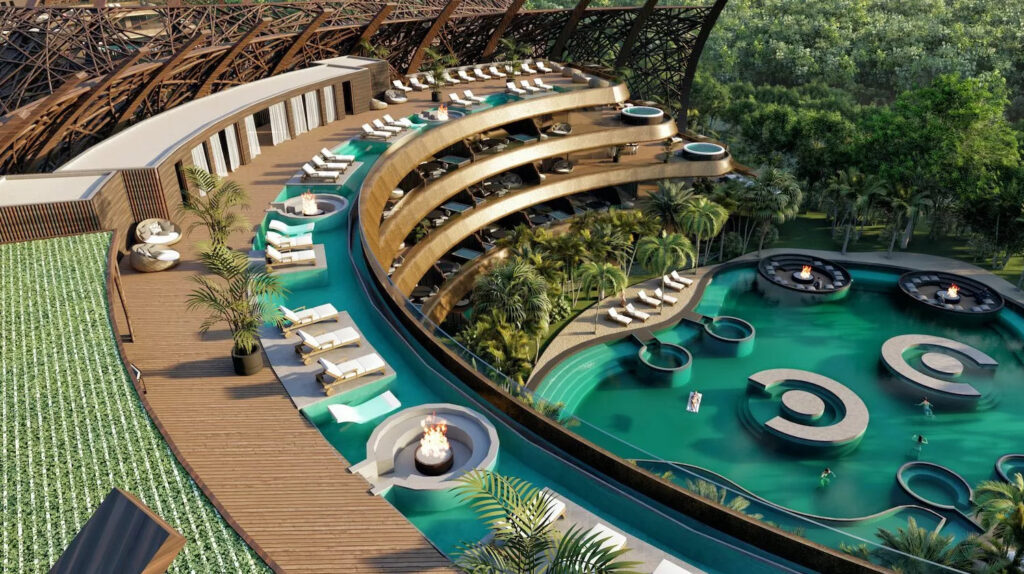 The average budget you would need for a trip to Tulum:
Hotel Reservations
Rent an apartment
Directions
by cab
The cost of gasoline
Average check
at the restaurant
from $130/night
from $120/night
Landing – $1.6, 1 mi – $0.66
$1.02 per liter
$27 for two
What to do in Tulum?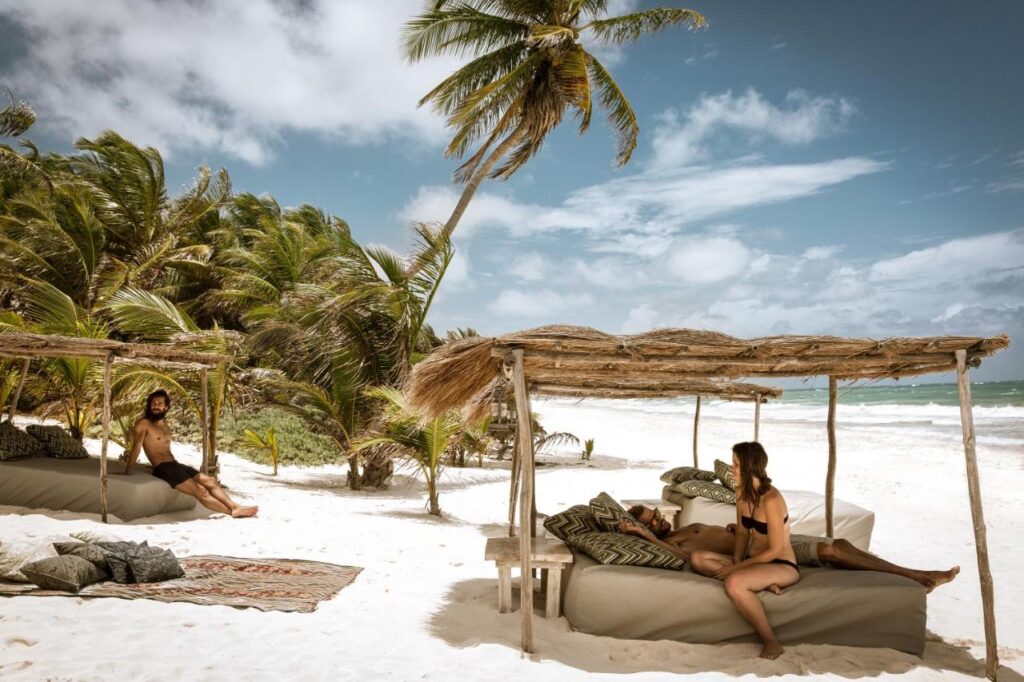 Dive into the crystal clear waters of the cenote. These are unique underwater cave complexes in which you can swim or snorkel. The most popular are Gran Cenote and Dos Ojos. Here you can see the most beautiful stalactites and stalagmites, and enjoy the wonderful underwater world with a variety of sea creatures. This marvelous creation of nature is a must-see in Tulum.
Take a tour of El Castillo, one of the most important buildings in the city. It was built in honor of the mythological Mayan deity Cuculcán. It also served in ancient times as a lighthouse for those who sailed to the coast of the city.
Explore the archaeological area of Tulum. There are beautifully preserved ancient Mayan ruins as well as a fortress wall that once served as a defense against invading enemy nomads.
Explore the Mayan culture at the Temple of Frescoes. This structure is two stories high and is considered a symbol of Tulum. Here you can see preserved Mayan frescoes depicting the ancient gods.
Visit one of the chic beach clubs. After an exhausting day of sightseeing, relaxing on the beach with refreshing cocktails and delicious food – what could be better? One of Tulum's most popular beach clubs, Ziggy's offers shaded seating areas, live music and quality service.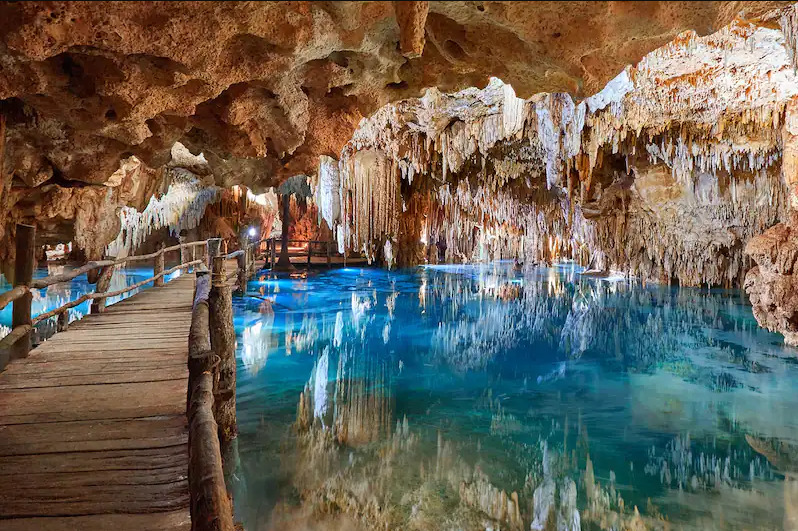 Take a tour of the Sian Ka'an Reserve. This is a unique opportunity to experience Tulum's valuable ecosystem. The vast area is home to rare animals such as cougars, manatees and crocodiles, as well as various exotic birds. In addition to walking, visitors can snorkel and explore the Mesoamerican Reef or take a boat ride on the canal.
Snorkeling with sea turtles. Do not forget about the surroundings of Tulum. The Akumal Lagoon, located in the center of the «Riviera Maya», is very popular among tourists. There is a turtle cove where you can swim with sea turtles and even learn how to take care of them.
Visit Selva Maya Extreme Park. Here you can ziplane directly over the tropical jungle, try your hand at rock climbing and rappelling down a mountain with a rope.
Try Mexican food. It is impossible to imagine a trip to Mexico without tasting traditional dishes. One of the most popular menu items in Tulum is fried fish with spicy spices. We also suggest trying the salsa with tortilla chips. This Mexican sauce made from crushed tomatoes and chili peppers is truly only made in this resort town.
Take a stroll through downtown Tulum. Restaurant courtyards with live music, souvenir shops, local markets and stores are open to visitors every day of the week.
Visit the Tulum Tower attraction. It is the only aerobar in Mexico that rises to a height of 118 feet. While there, you can view the entire city, enjoy drinks and food, and listen to a DJ. But if you are afraid of heights, think carefully, because it is really very high!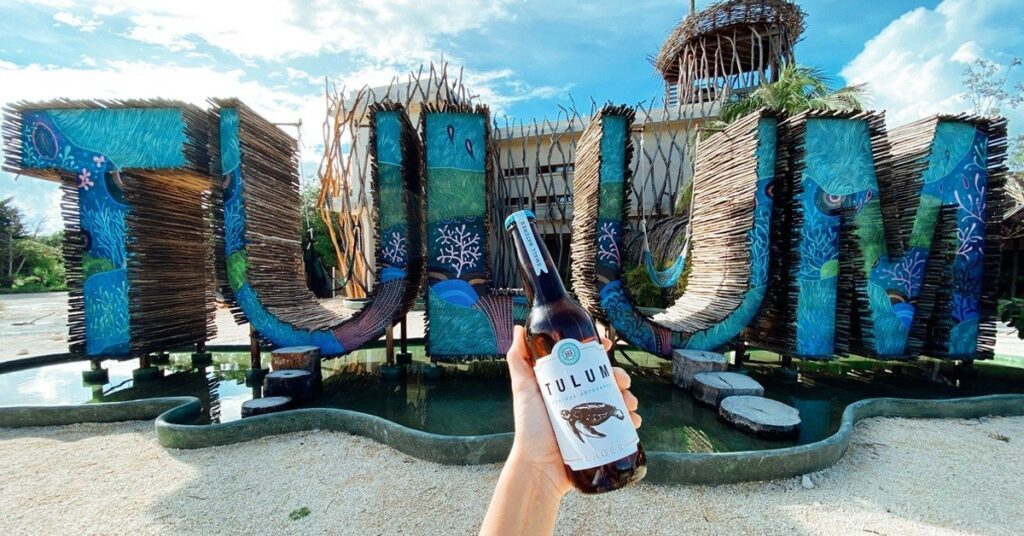 Interesting places to visit with children:
Children will enjoy watching the monkeys in their natural habitat. They live in the jungle as a family, so you will be able to see adults as well as very young ones. Admission costs 150 pesos ($7.61).
Xel-Ha Ecological Park provides the opportunity to swim with dolphins in the pool under the guidance of an experienced trainer.
The Xcaret Nature Park will be interesting for both children and adults. Here you can visit the orchid garden, aquarium museum, butterfly park, turtle farm and much more.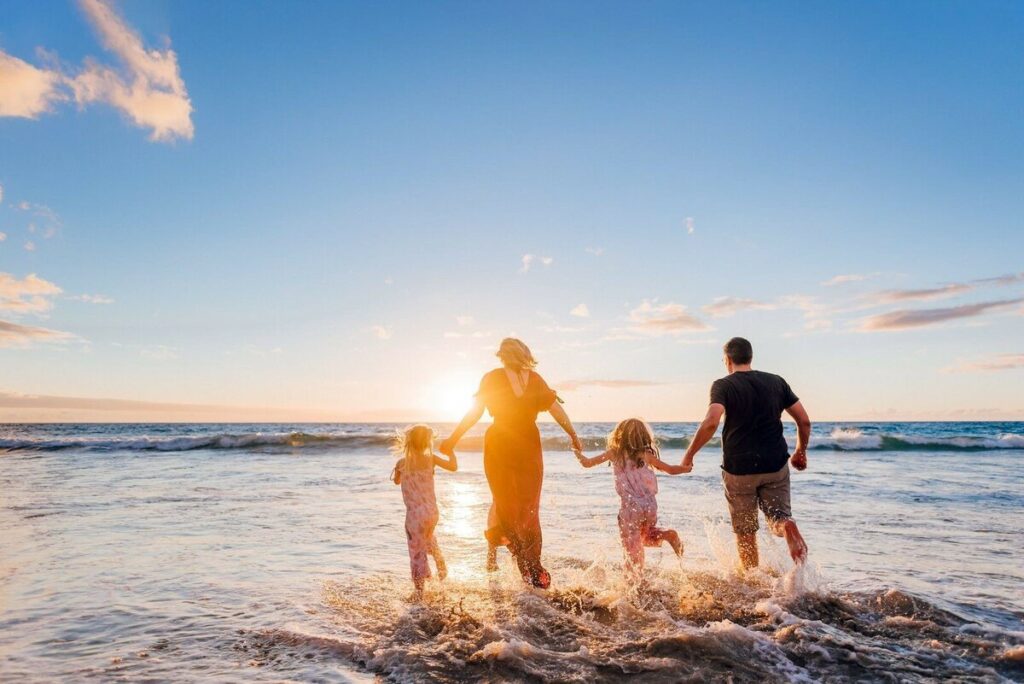 Plan to explore the city of Tulum on your own in 1-2 days.
For travelers who are visiting the city for the first time, the optimal route is as follows:
Archaeological area with Mayan ruins.
Visiting the cenotes.
Snorkeling or diving at Akumal Beach.
A visit to Xcaret Park.
A trip to Paradise Beach, where the fine sand, ancient ruins on the shore, a cave complex with stalactites and a beautiful reef.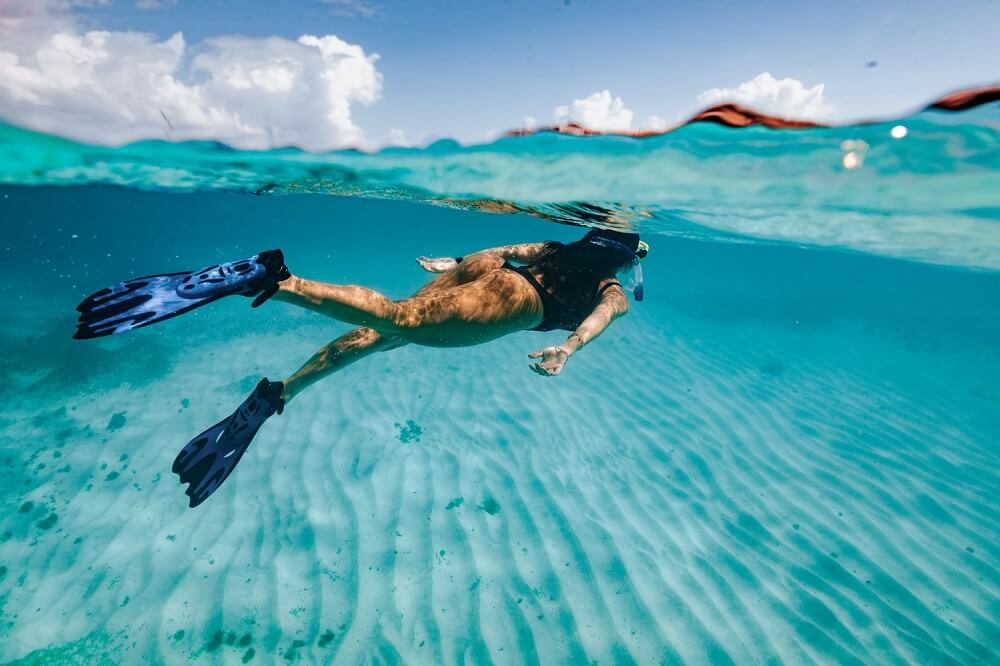 If you like extremes, you can also add an item with an ATV ride through the jungle. You can book this service at the local tour desk.
The three best beaches to visit in Tulum:
Playa Ruinas is one of the most popular beaches in Tulum, offering a glimpse of the city's history and culture. On its majestic cliffs are stunning Mayan ruins, and the El Castillo pyramid can also be found nearby. It's a popular spot for photo shoots, and there are always crowds of tourists walking around. The waves on the beach are often strong, but this does not stop you from enjoying sunbathing on the white sand.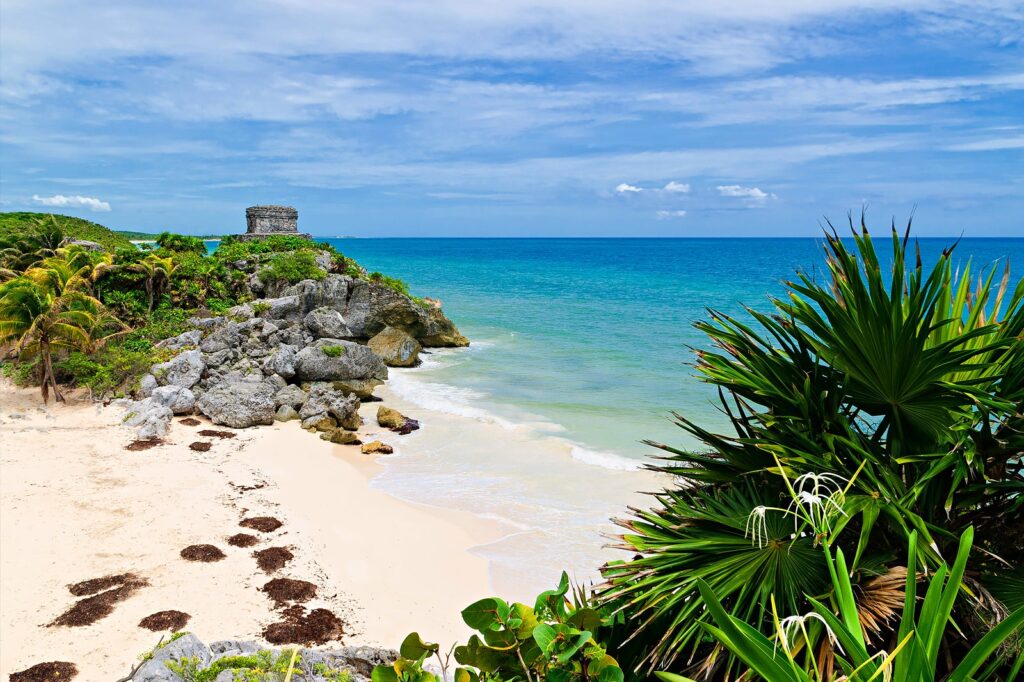 Playa Paraiso is the largest public beach in Tulum and is always crowded. Here you will find all the amenities you need, including sun loungers and umbrellas, as well as plenty of entertainment for all tastes. There is a beach club, water sports equipment rentals, and some great restaurants.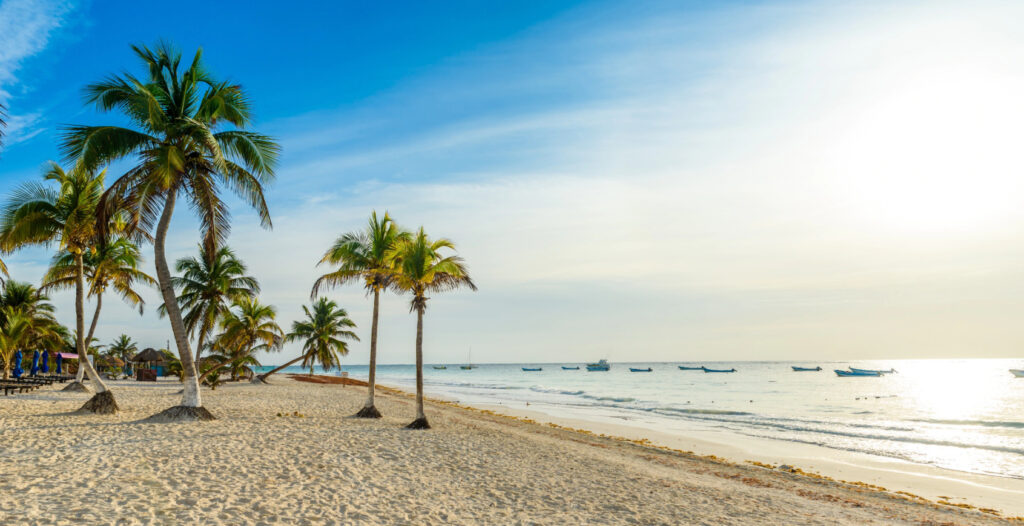 Playa Las Palmas is one of Tulum's best beaches for all kinds of water activities, particularly windsurfing and kitesurfing. Its white, clean sand is perfect for relaxing, and the on-site bars offer tasty snacks or refreshing cocktails.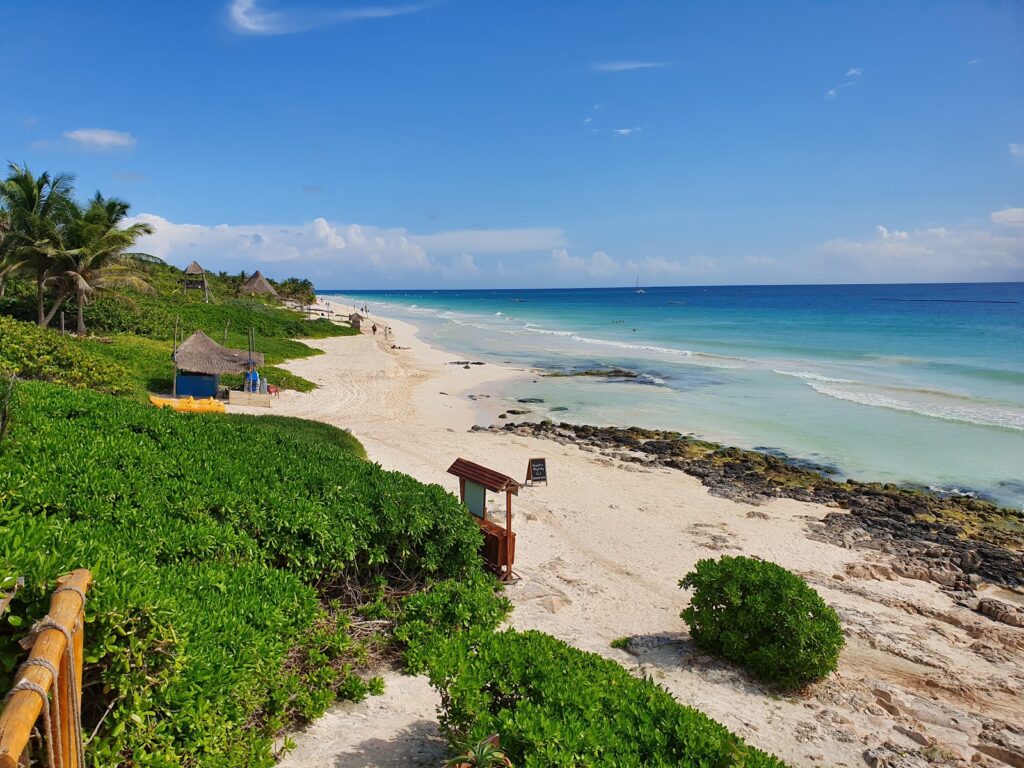 Is it safe in Tulum?
According to the OSAC (Overseas Security Advisory Council), Tulum is a safe place to visit. But, as everywhere else in the world, it is important to follow common sense and remain vigilant, especially when it comes to your valuable belongings. You should also avoid non-touristy areas and walking alone at night.
Useful Notes: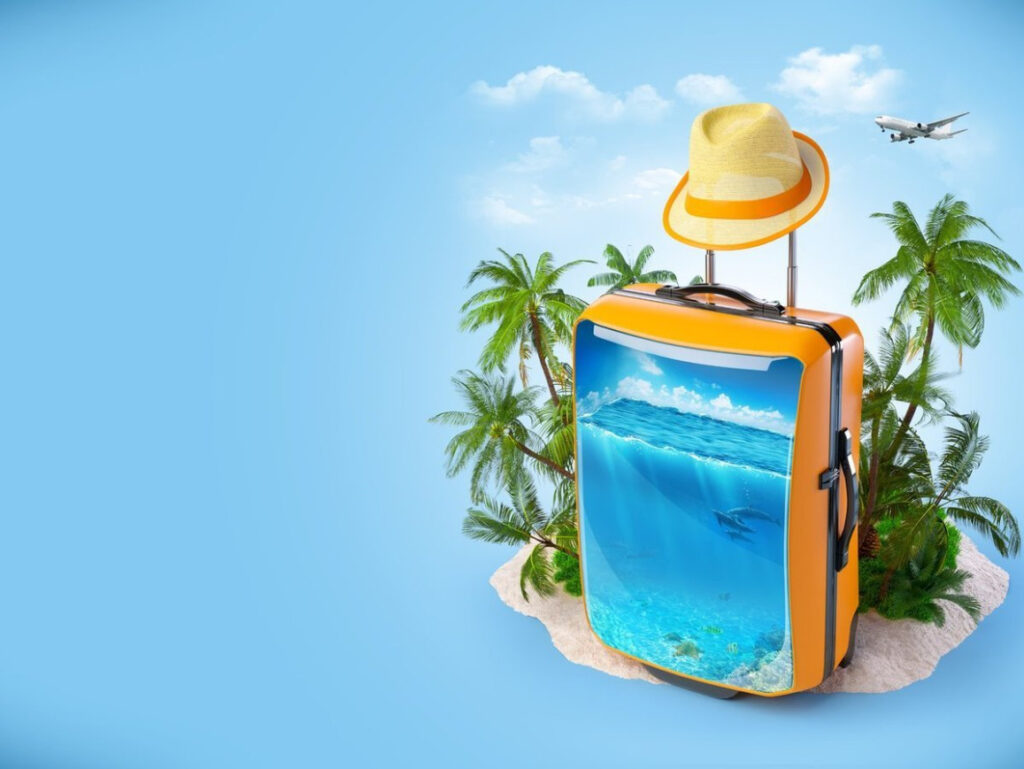 It is better to change currency at a bank or exchange office in the city than at the airport. This way you can get a better deal on the exchange rate between the dollar and the Mexican peso. You must present your passport during the procedure.
It is better to pay in Mexican pesos for purchases in stores or for transportation. Almost always the cost in dollars that you are told will be overpaid. This applies in particular to cab services.
Many large pharmacies in the city have a doctor who can examine you and prescribe medication if necessary.
Tulum is a fairly small town, and it is better to explore it on foot. For this, be sure to have comfortable shoes, headgear and sunscreen.
To take good pictures of sights without crowds of tourists, try to visit places early in the morning or closer to evening. During the day, especially in the archaeological areas of the city, it is very crowded.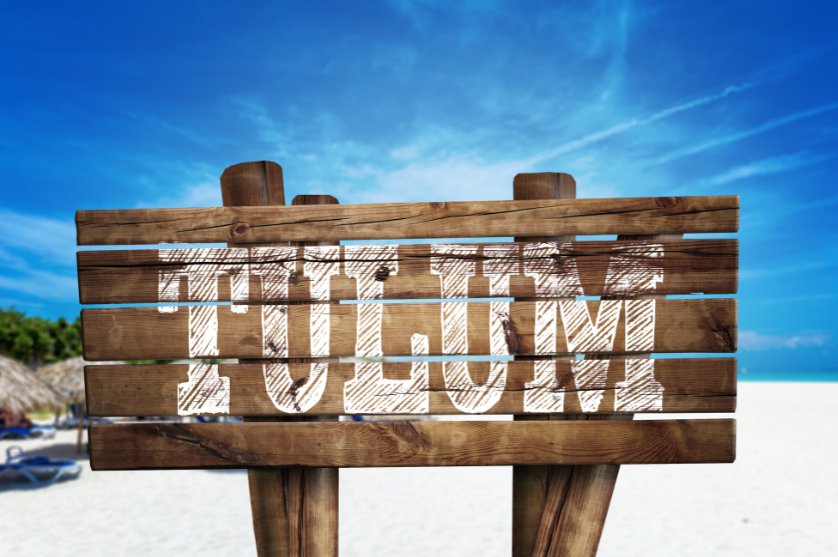 Let's note the main attractions of Tulum right away:
Temples of May.
Ancient Chichen Itza complex.
Beaches.
Cenotes.
What is important to know:
A few years ago, Tulum was considered by tourists, mainly in the context of a one-day visit to the famous Chichen Itza complex and the most beautiful local beaches.
However, social networks quickly did their job, and every year the number of guests at this resort is growing steadily. This, of course, affects not only the development of infrastructure but also the atmosphere. The expansion of free beaches is going very quickly, there are more and more people, and now it can hardly be called a quiet fishing village. Globalization is coming. Not far off is the hour when Tulum will hardly be called a paradise for introverts and lovers of quiet, secluded rest. Therefore, if you want to enjoy idyllic landscapes alone with nature, hurry up.
And yet, while Cancun and Playa del Carmen retain the title of the most famous beach resorts for fans of the all-inclusive system, Tulum is more attractive to travelers who do not like the noisy and crowded hotels on the Caribbean coast.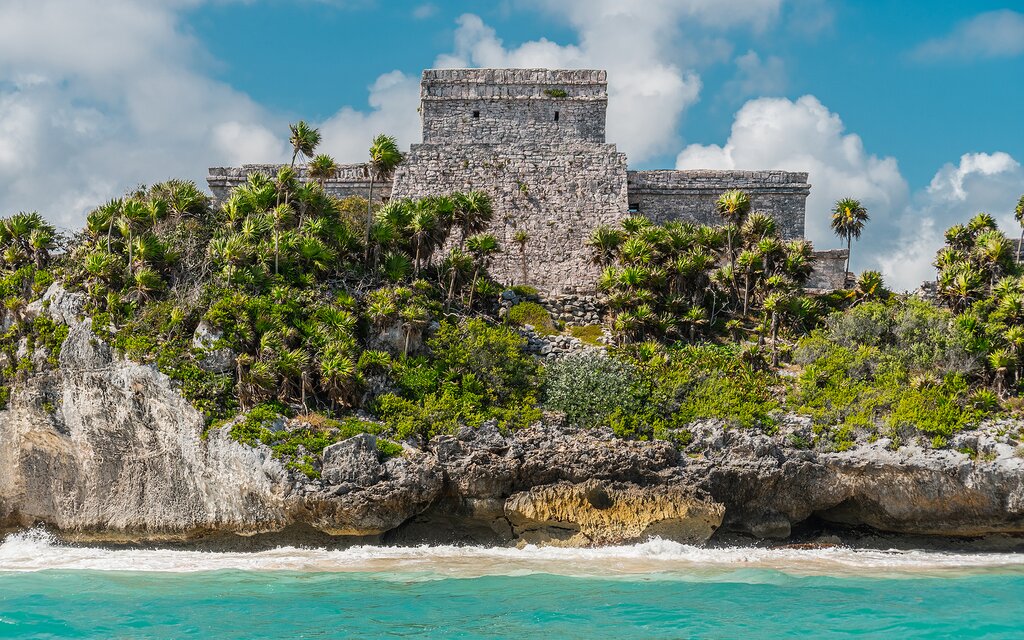 Recommendation: to be on time for everything and without haste to feel the atmosphere of the resort, we advise you to stay in Tulum for at least three days. Tulum is rightfully called the Pueblo Magico (and it is given only to the most deserving regions in Mexico).
Interesting fact: Tulum has the most beautiful beach in the world.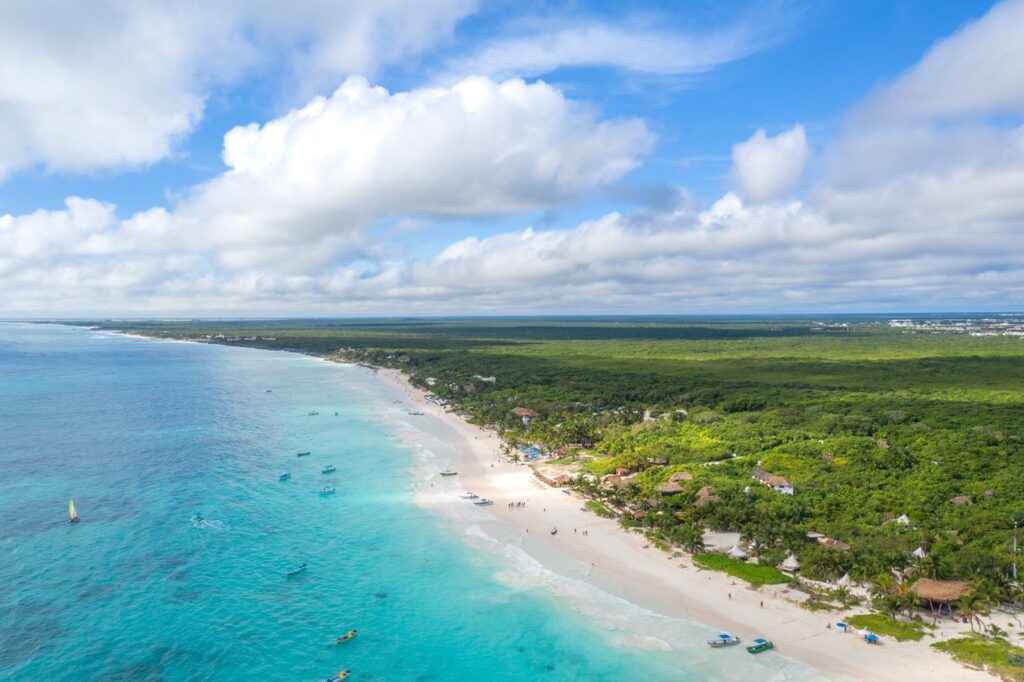 The beach «Playa Paraiso» (Paradise Beach) in Tulum, 2011 was voted the most beautiful beach in the world. Its length is about 6 miles. Snow-white and clean sand, an abundance of areas with shallow water, and a comfortable water temperature that persists all year round.

It is perfect for swimming and you can hide from the sun on hammocks in the shade of grand palm trees.
Please consider that his status greatly influences his attendance. Hypothetically, in places that are closer to the tourist infrastructure, thanks to the numerous tour groups, the beaches will be crowded even in the low season.
Of course, everyone can fall for a beautiful label, but let us remind you that the Tulum beach area is very long and there are incredible places where you can relax in a more comfortable atmosphere.
Recommended beaches:
1.Playa Ruinas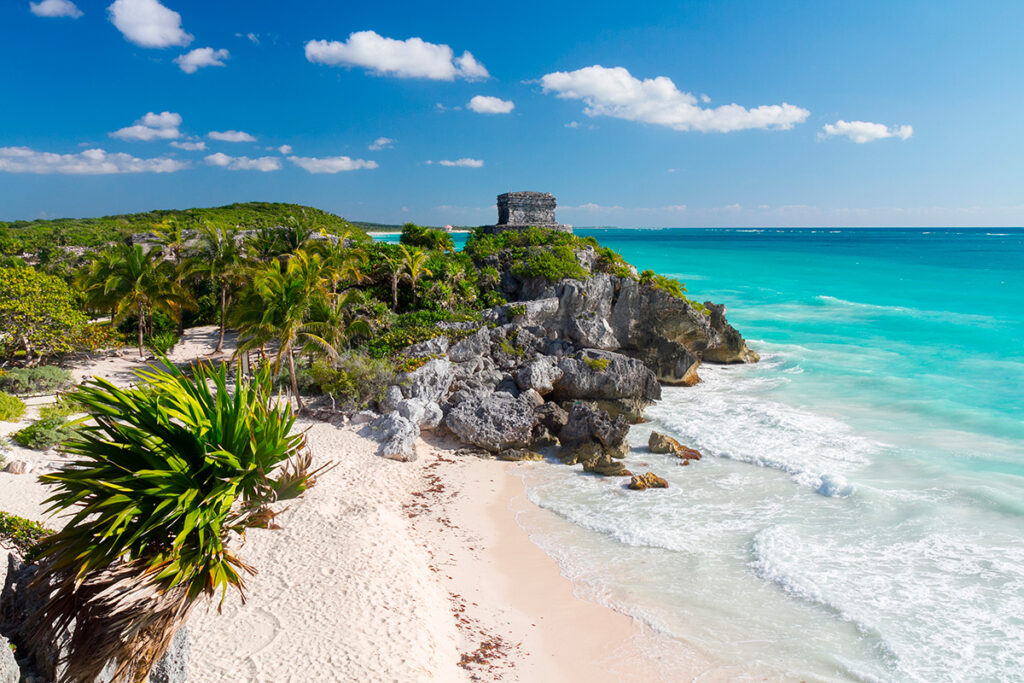 Just a fantastic place, because here the centuries-old temples of Maya literally hang above the water's edge.
Amazing rocky landscapes, decorated with architectural monuments, will leave a lasting impression. The Lonely Planet guide considers Playa Ruínas the best beach in Tulum.
As you might guess, guides of tour groups adore it, so there will be a full house by lunchtime.
2.Playa las Palmas
It can be called one of the best beaches for sheltered swimming. There are only a couple of hotels here. The infrastructure is provided only for those who live in these hotels, so there is absolutely nowhere to hide from the sun (it makes sense to take care of your own beach umbrella).
It can even be called a secret place because not everyone can find it.
3.El Ultimo Maya
https://www.youtube.com/watch?v=y05JGaYt6Os
Those who are lucky enough to find this place can be envied. It really is a secret beach! He is 10 miles from Tulum and, if you want real privacy, just enter the name in the search bar of the navigator. It will lead you to the restaurant of the same name, hidden in the jungle, to which a dirt road leads. Behind it, there will be a really wild beach.
4.Playa Pescadores
It can be called the most instagrammable. Adored by photographers because of the unique atmosphere and magnificent landscapes.
And if you come here early in the morning, you can find a lot of fishing boats that provide local restaurants with fish and seafood. Generally, there will be something to capture. And it is definitely a gorgeous place.
5.Ahau Tulum beach
https://www.youtube.com/watch?v=tQReW7r_2-E
It is worth coming here, at least for the mark next to a massive wooden sculpture 33 feet high, which is also the entrance to the beach. This beach will appeal to extreme sports fans, who often stay here in a classy hotel, which we will talk about later.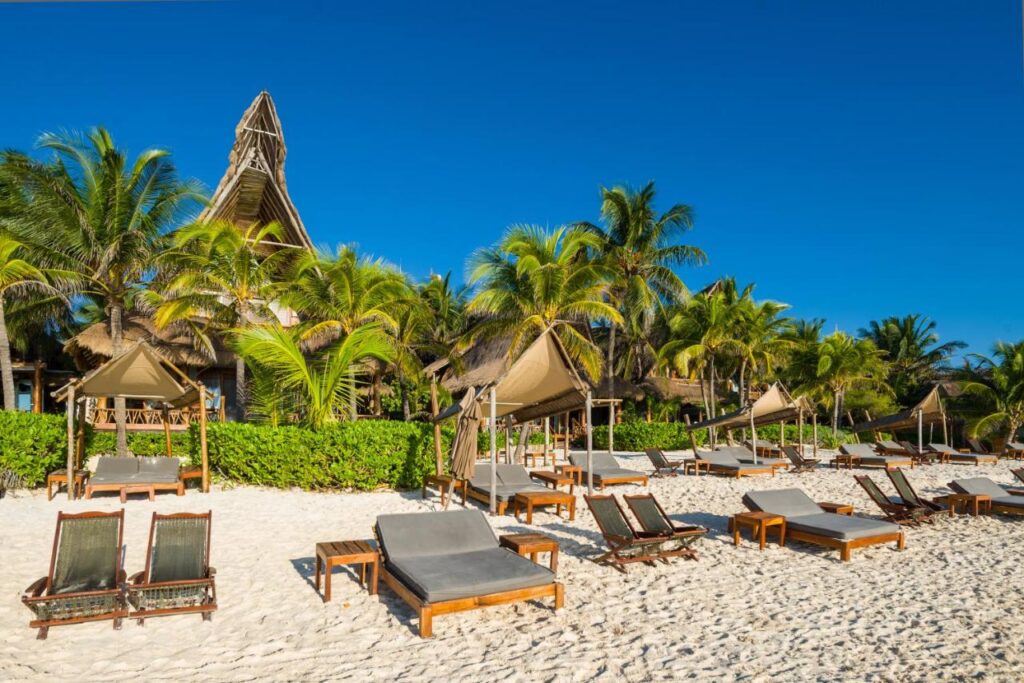 Important: One of the most frequently asked questions about Mexican beaches concerns the copious amounts of seaweed that regularly wash ashore. Unfortunately, there is no indisputable answer to the question of where there are fewer algae. It depends on many factors. We list the main ones:
Seasonality: in winter, there are objectively fewer algae on the beaches of the Mexican coast, but it is impossible to say that they are not at all.
Location: the presence of tourist infrastructure implies the possibility of removing algae, however, responsible personnel are not everywhere and do not always manage to clean everything on time. Even though the authorities value the reputation of the resorts very much and try, as far as possible, to regularly remove algae from the coast. On wild beaches, this circumstance will simply have to come to terms, with since there are locations where there is simply no one to clean the seaweeds. After all, they are just sea plants! It is unlikely that a leaf fall on your street bakes much for you. Try not to focus too much on this and enjoy your vacation.
Architectural monuments of the Mayan era in Tulum:
Did you know that the Maya architecture remains in Tulum one of the most photographed places in the world?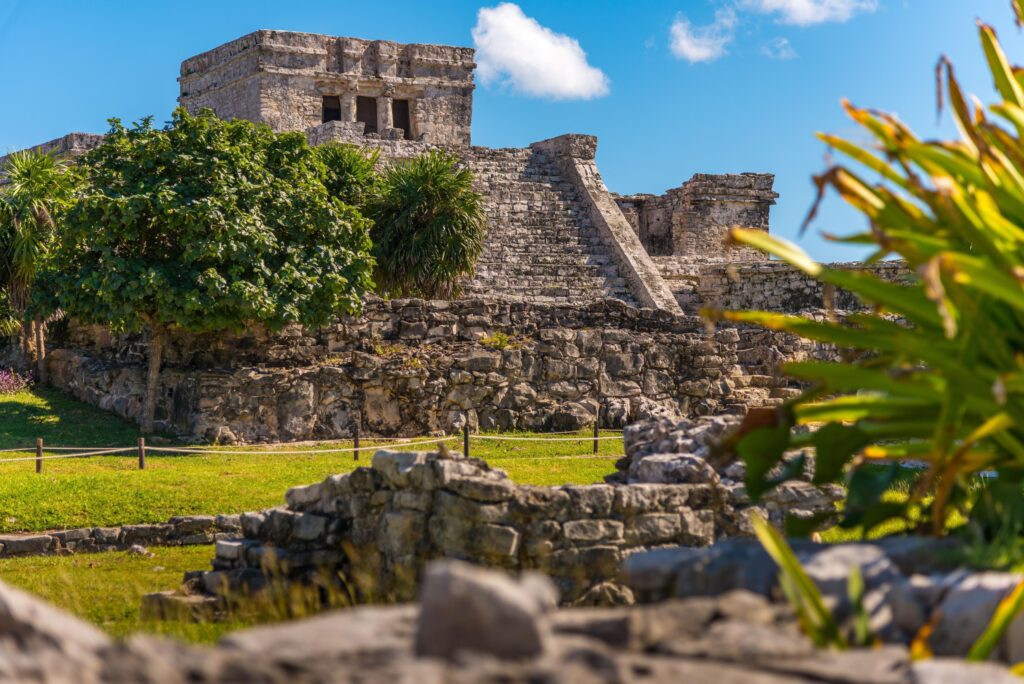 Many are located right on the cliffs on the Caribbean coast and are among the best-preserved Mayan ruins. By the way: this is the only site of the former territory of the Maya tribes, which was located on the sea coast.
The cost of visiting starts from $85 without a guide.
Location: The Maya Rivers in Tulum is about 80 miles from Cancun
Opening hours: the main architectural monuments are available for visiting from 9:00 to 16:15.
The Best Time to Visit Mayan Ruins: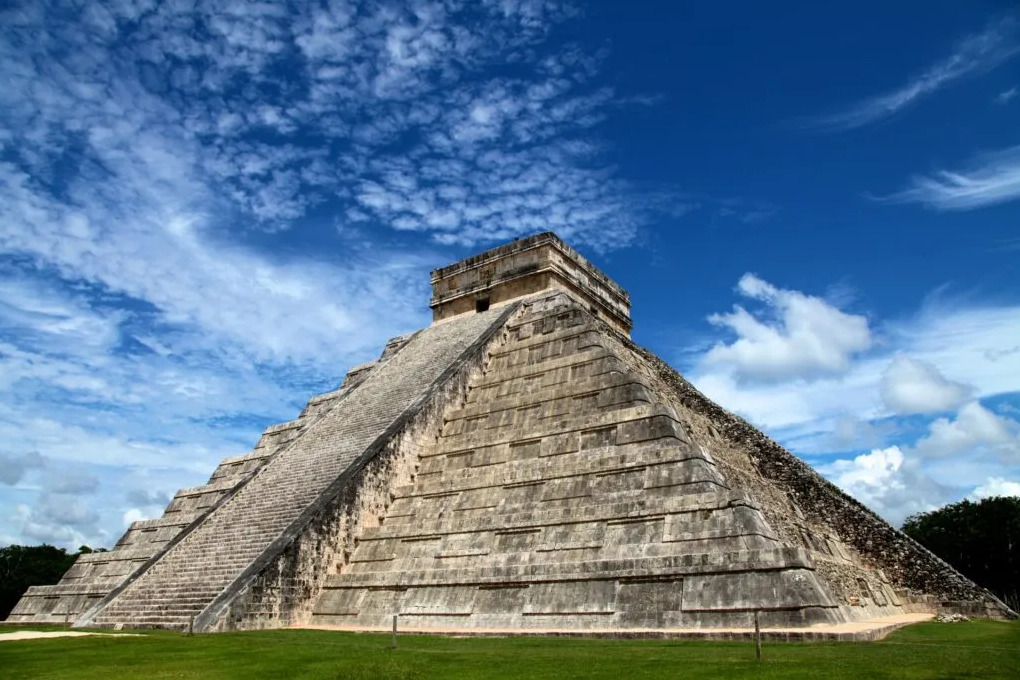 The best time to visit is early in the morning.
It's still not very hot and, if you're lucky, a light breeze will blow. Please note that already at 10 am, it may be uncomfortable here due to the scorching sun. And before noon, tourist buses from Cancun will start arriving, so it will be overcrowded.
Interesting fact: Tulum means «Fortress of the Dawn» in the Mayan language.
Diving in cenotes – caves filled with water:
What exactly are cenotes? These are unique geological formations in the form of karst sinkholes, which have appeared under the influence of underground waters and rivers. They can be combined into solid underground-underwater complexes from caves and pools of natural origin. They are very popular with divers, and in Mexico also because the warm climate allows you to comfortably dive at any time of the year. In total, there are more than 6,000 cenotes on the peninsula.

Fun Fact: During Mayan times, an underwater cave and lake complexes were used as sacrifices and simply as water sources.
There are quite a lot of cenotes in the Yucatan that you can visit, both with guides and by organizing an independent transfer. Some of them are easy to access, and others are not so easy to reach. The most famous, respectively, and the most visited cenote, is the Grand Cenote between Tulum and Coba. We offer to consider several more routes.
https://www.youtube.com/watch?v=4h_qzMuu8U8
1.Rio Secreto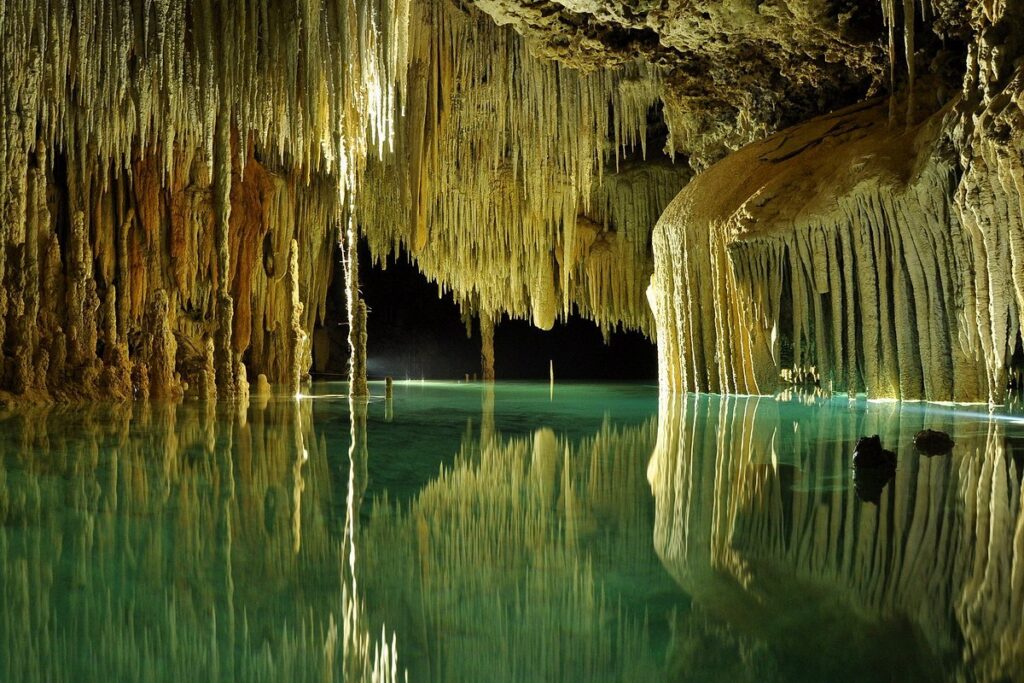 An amazing complex of an entire gallery of underground rivers and caves, which are decorated with stalactites and stalagmites. Considered to be the longest unflooded underground cave system in the Yucatan.
2.Sotuta
https://www.youtube.com/watch?v=YPiu-Ty0Enw
There are 7 cenotes here at once.
It is worth getting here, just because this complex is considered the closest in its conditions to those used by the Mayans. Such authenticity gives a special feeling of visiting. In addition, there is a lot of interesting entertainment here: from the ability to dive directly into the cenote from a thirty-foot height to descent into the water on the ropes.
3.Dos Ojos
It means «two eyes». These are two cenotes at once that connected with each other using a large cave.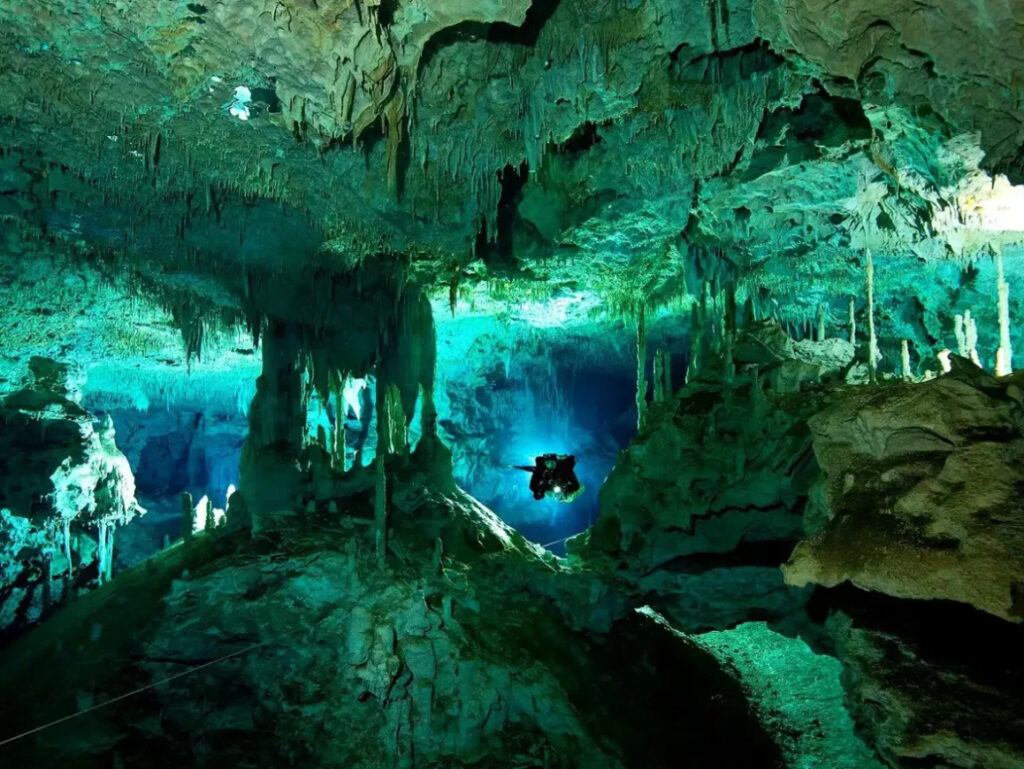 A colony of bats lives in it: you should be aware of this. The cave itself extends for as much as 130 yards. The comfortable water temperature of 77 degrees Fahrenheit and crystal clear rainwater in the «pools» will give you a lot of pleasant visiting and swimming experiences.
Tip: Rent a car with a local chauffeur, because it can show places far from popular tourist routes, but no less valuable for that.
Transfer subtleties for those going to Tulum:
Duration of private transfer approx. 1 hour and approx. 70 mi.
Duration of the bus trip (including a stop in Playa del Carmen) 2 – 2.5 hours.
In Tulum itself, you are unlikely to need a car. A bicycle or scooter is enough to move around the resort and its surroundings. You can rent them right here.
The beach in Tulum is located 2 mi from the center of the village. Mayan ruins are 2,5 mi away.
Many places can be easily reached on foot.
Accommodation:
As you already know, the best option to enjoy a good rest in Tulum is to stay here for a few nights. We have compiled a short list of hotels that you might like.
1.Ahau Tulum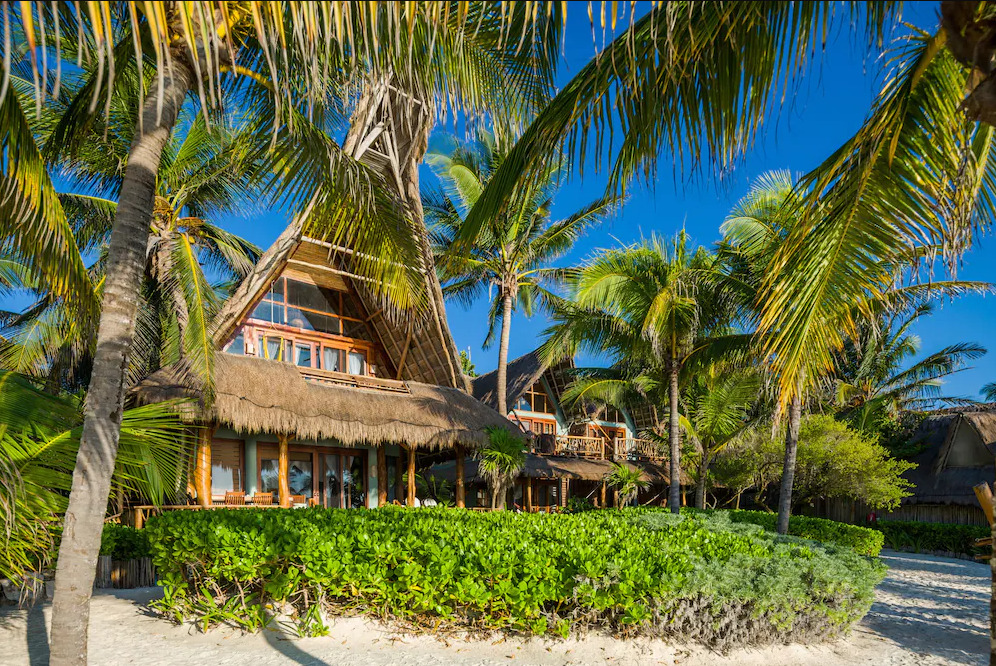 Bungalow-type hotel.
The difference between the rooms is in the category. Some may have their own beach access. Equipped with all necessary amenities. And since this location is popular with athletes, the infrastructure will offer numerous pleasant options.
In addition to all kinds of sports activities, you can also do yoga and meditation at dawn.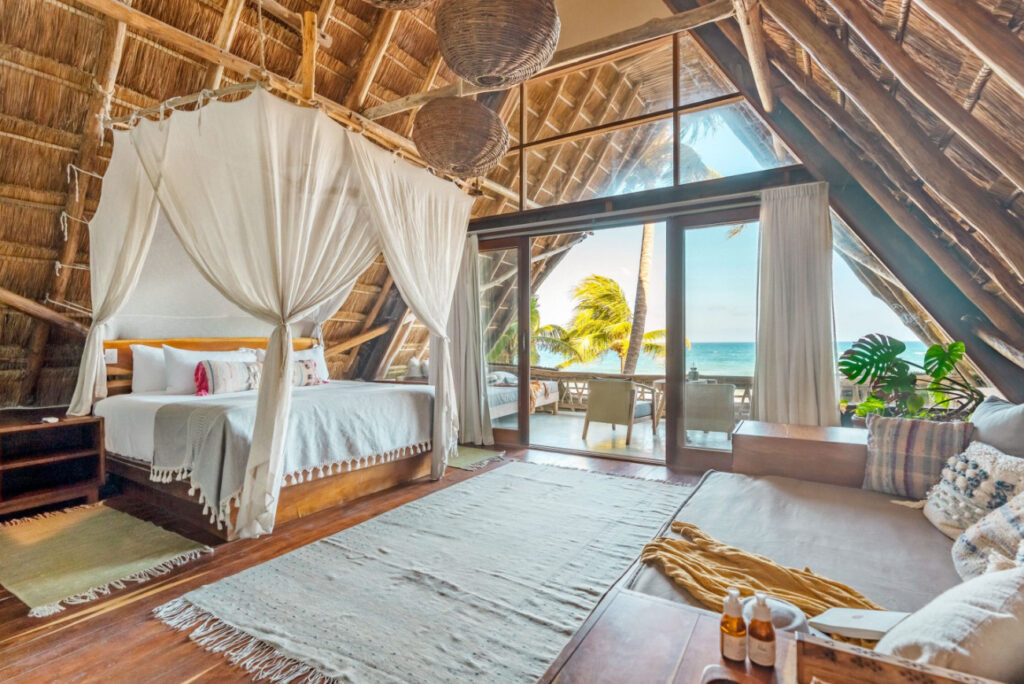 2.Hotel Villa Pescadores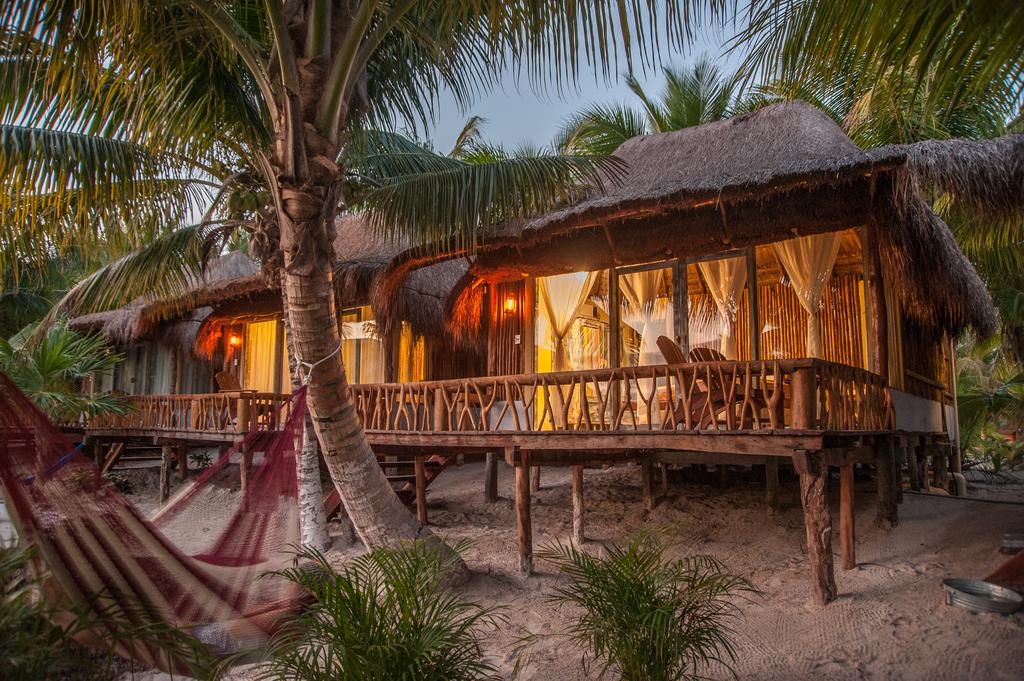 Do you remember our mention of one of the best beaches in Tulum? The Hotel Villa Pescadores will enchant you with its location and, most importantly, you will have at your disposal the same picturesque beach. And it is located next to the archaeological zone.
Rooms are equipped with king-size beds. Balconies watching the sea or the lush tropical garden.
The hotel has a beach club, a restaurant, and in-room massage services.

3.Mi Amor Colibri Boutique Hotel en Tulum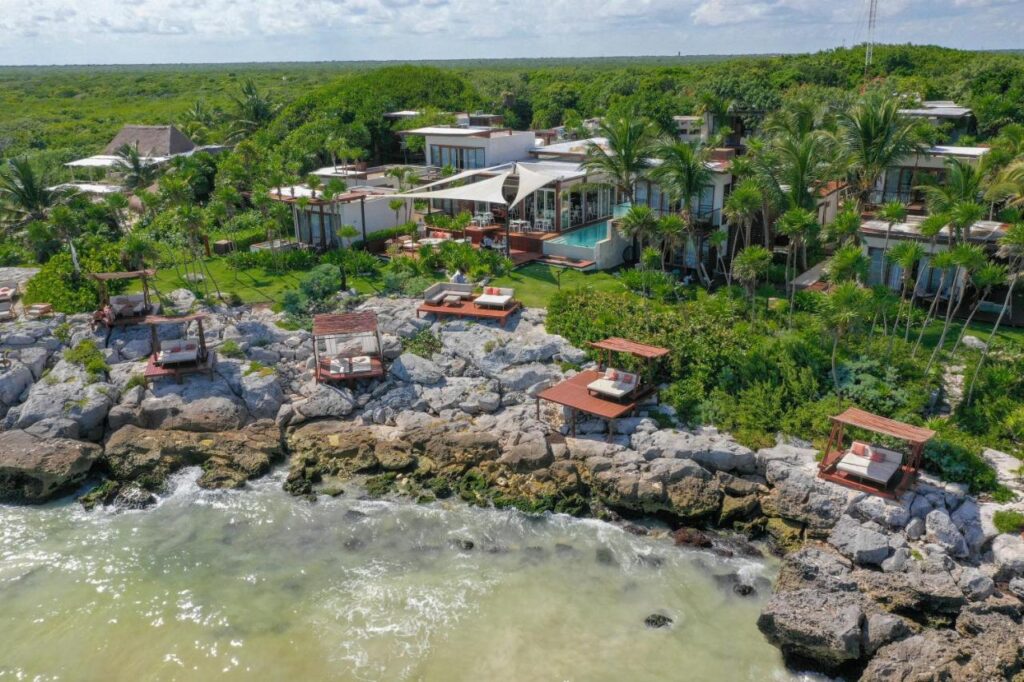 Great rooms with huge beds. Spa center, free wi-fi, a great restaurant where you can take a break from Mexican cuisine, concierge services, and a swimming pool – all the delights of a worthy vacation.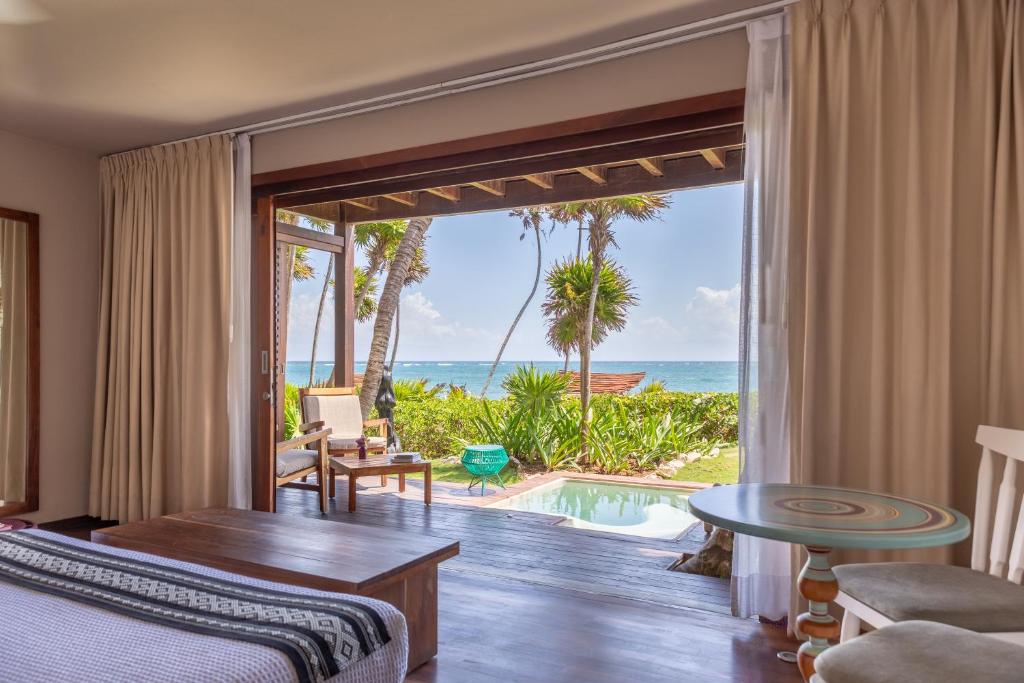 4.Hotel Azulik Tulum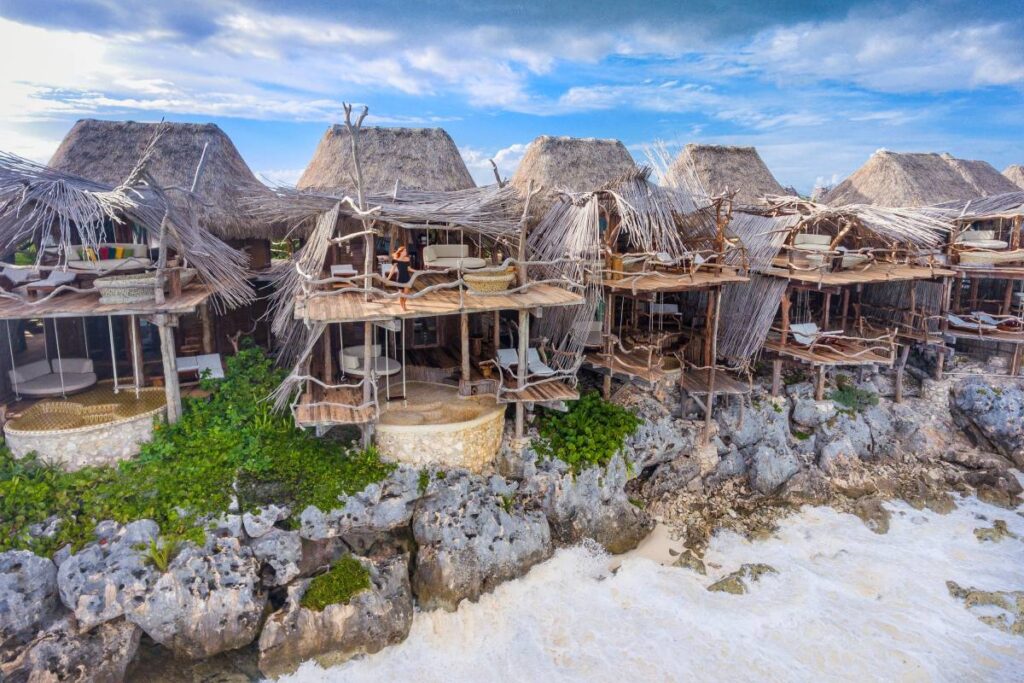 Quite interesting combination of authentic Mexican style, luxury, eco-friendly concept, and first-class service.
The hotel has 48 villas, each with a distinct eco-friendly design, some with bathtubs watching the sea.
The hotel also offers interesting trekking routes through the jungle. And after a busy walk, you can enjoy the exquisite gastronomy of four restaurants on the territory of the hotel complex.
The hotel also famous for Ik Lab Art Gallery, Maya Spa, Zak Ik Ancestral Medicine Center, Ik Al Beauty Sanctuary, and Zak Ik Boutique.
Another special feature is the private nude beach.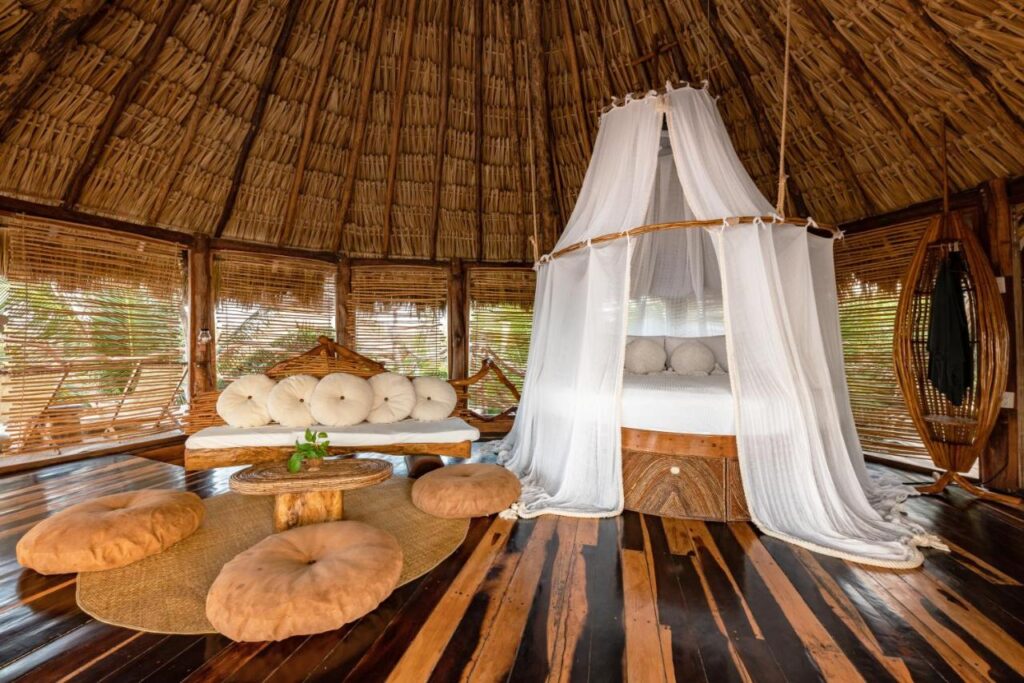 5.Papaya Playa Project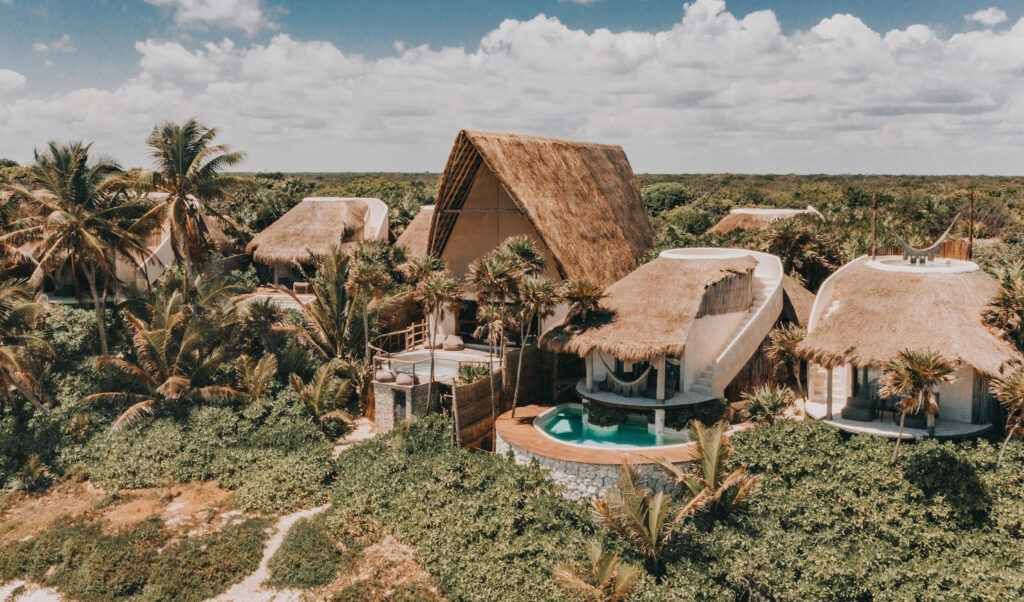 Here you can choose from a variety of categories – from beautiful rooms to bungalows and original jungle huts with a rooftop pool.
Guests can use the restaurant, cafe, and beach club. They also praise the local wellness center with yoga and meditation classes, temazcal, and spa services.
This hotel is also known for hosting famous electronic music parties featuring the world's top DJs.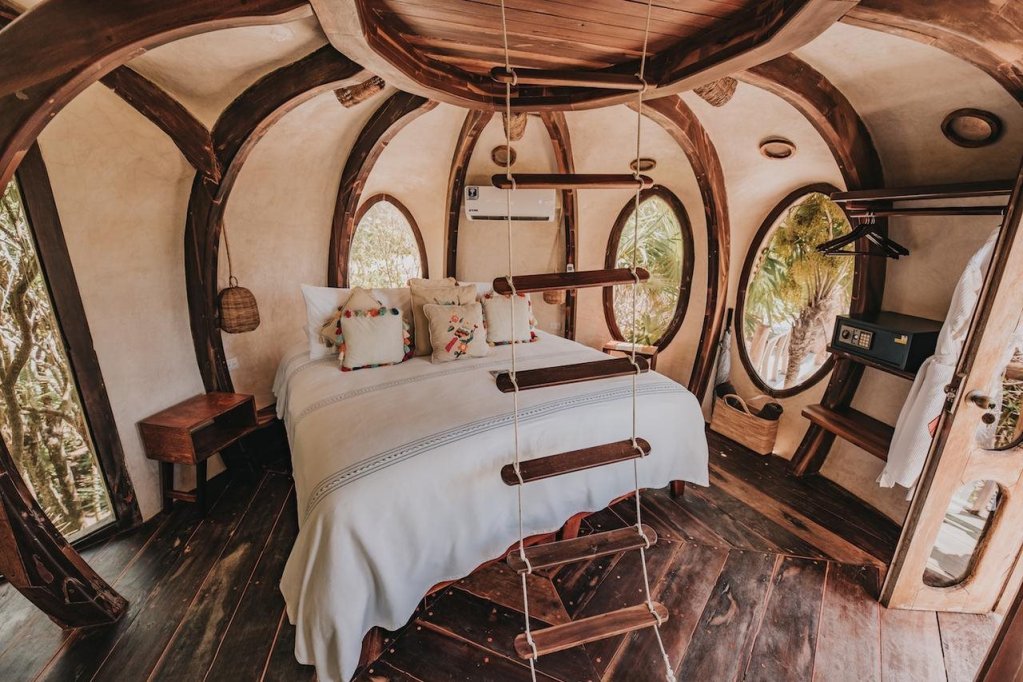 It is worth noting that all of the above hotels are likely to cost you a pretty penny. Although the quality of the services provided should not cause any complaints. Of course, there are austerer accommodation options on the coast and in Tulum itself, but you risk sacrificing quality.
The resort professes ecological tourism, so at inexpensive hotels, you may encounter a lack of basic amenities of civilization. Although, of course, someone can do without hot water for a few days.
Generally, we have listed almost everything you need when traveling to Tulum, but, for sure, you will discover something new!