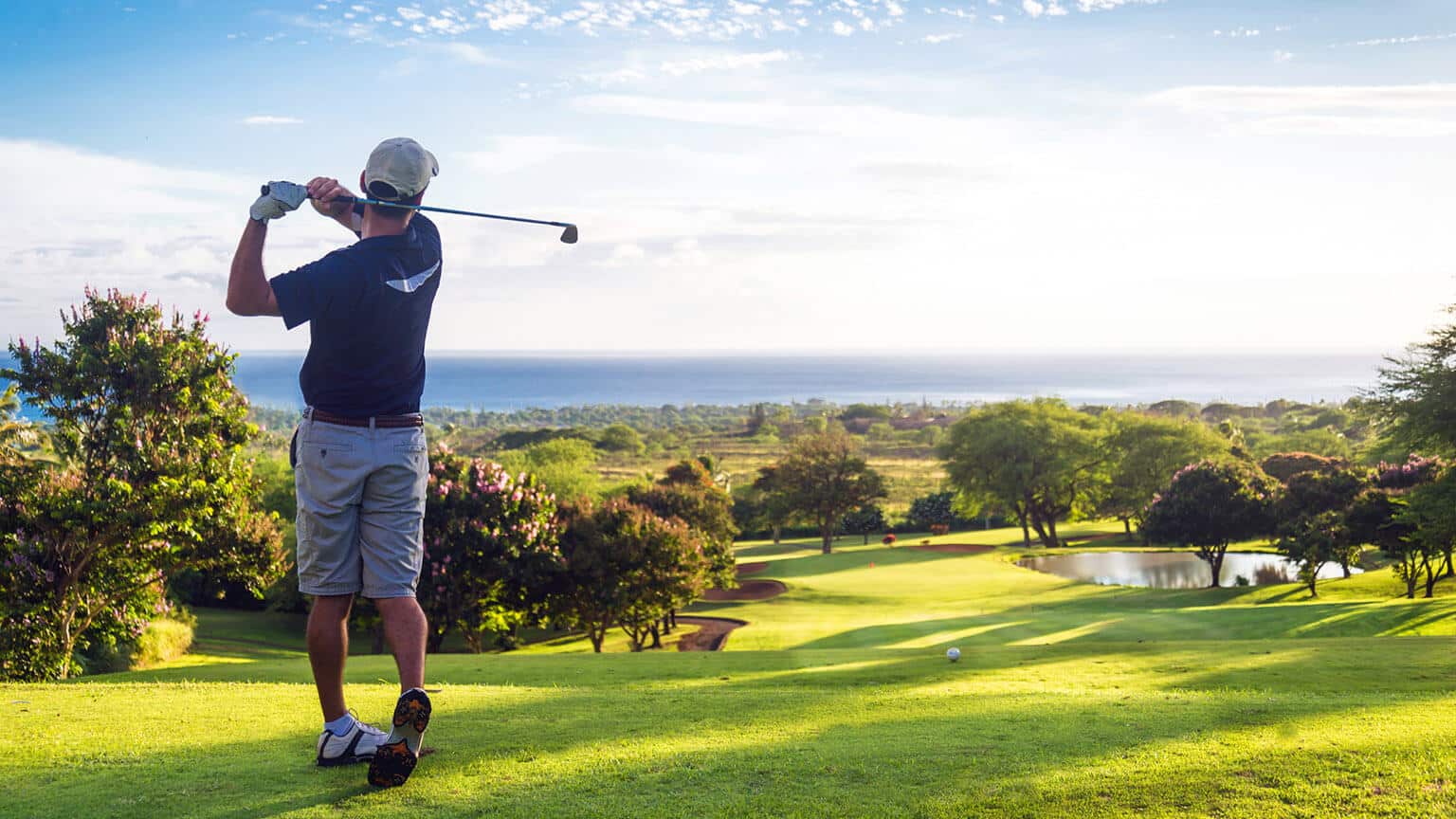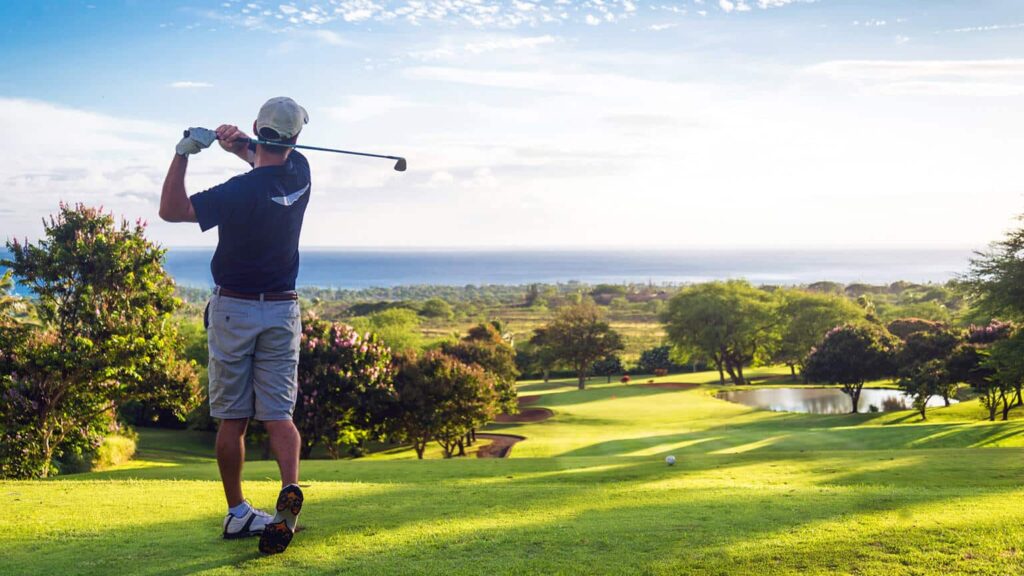 If there was a golf capital in Mexico, only Cancun could become it. There are at least 10 golf clubs with full fields for 18 holes. This resort can safely be called a paradise for golf lovers. A nice feature is that you can play golf here even if you have never heard of Tiger Woods and thought sticks were only used in the NHL. In other words, local clubs are ready to accept not only professionals but also those who saw the game only on TV.
According to surveys of tourists who prefer Mexican resorts for recreation and golf, 6 of the 10 best Mexican golf courses are located in Cancun and its environs. According to the Ministry of Tourism of Mexico, only from America and Canada, about 700 thousand golf lovers visit the country annually.
We think you got enough arguments and numbers. And now, let's take a closer look at the main characters of our review.
1.Playa Mujeres Golf Club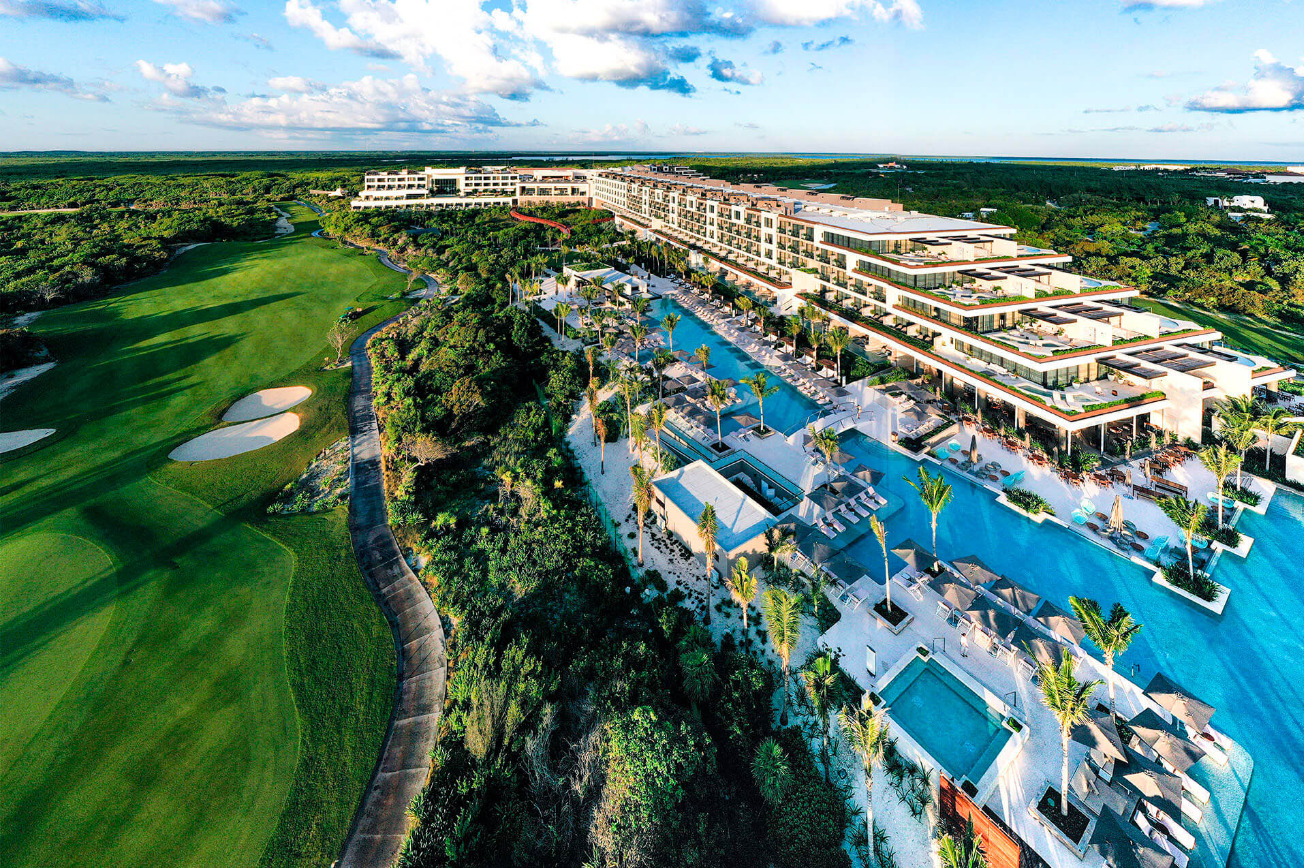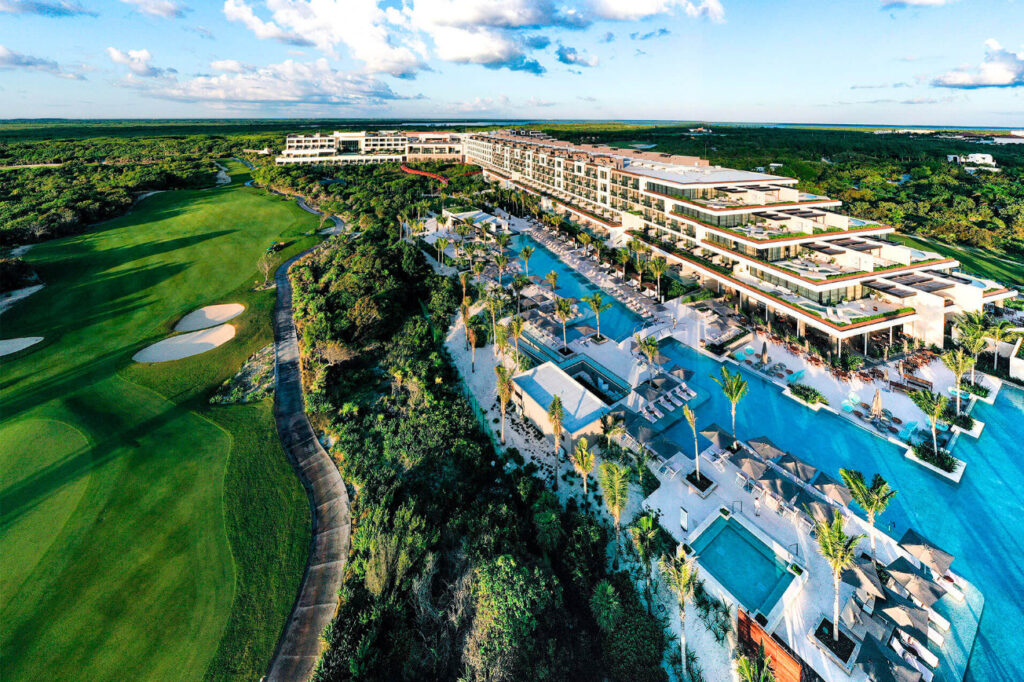 A large-scale complex with 18 holes, the passage of which will definitely take more than one day. The famous Greg Norman took part in the creation of the courses. And the administration of the complex emphasizes that when designing the complex, the terrain was carefully taken into account, and, most importantly, the minimum impact on the environment.
This complex is truly impressive. On the one hand, it goes straight to the beach, allowing players to enjoy the game with views of the stunning sea panorama of the Gulf of Mexico. On the other hand, it is adjacent to two fashionable hotel complexes. Therefore, if you want to go through all the courses without hurrying, perhaps you should stay here for at least two or three nights. The average cost of a night's stay starts at $500.
Even if you have never played golf before, you can safely go here. In the club you can rent the necessary set of clubs, take an instructor, and, if desired, have a hearty lunch.
Location: The golf club will appeal to tourists who prefer to be away from the noise and bustle of the main tourist promenade. Transfers to Playa Mujeres from Cancun International Airport can take up to an hour during rush hour.
2.Golf Puerto Cancun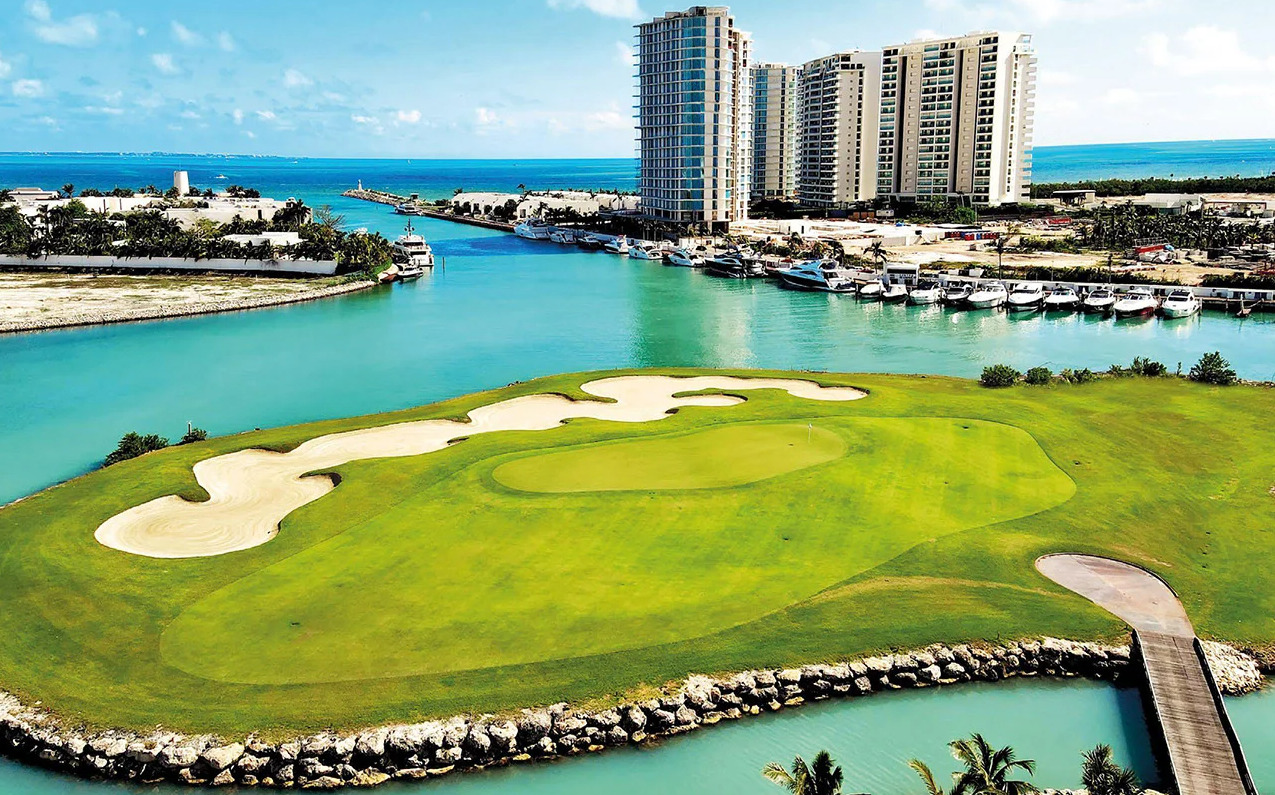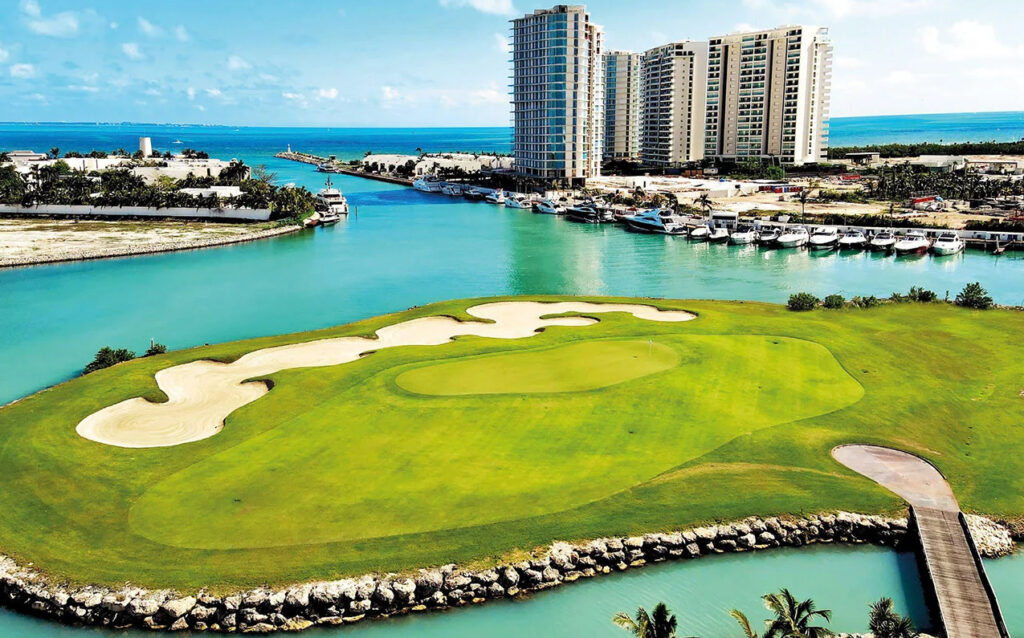 Another big complex with 18 holes. The total length of the route from the start to the last hole is over 4 miles. Its landscape is fascinating because almost all courses pass between numerous lagoons and channels, so you will need special skill and the ability to calculate the force of the hit. Otherwise, par does not shine for you, because the ball will strive to fly into the water. One can only imagine the number of balls that dot the bottom of the local bay.
Game cost:
From 7:00 am to 13:00 pm – $221.
From 13:00 am to 18:00 pm – $132.
This price also includes the rental of a golf cart, 50 balls, and a bottle of water.

Location: the complex is located at the very entrance to the Hotel zone near the Renaissance hotel Cancun & Resort Marina.

3.Iberostar Golf Cancun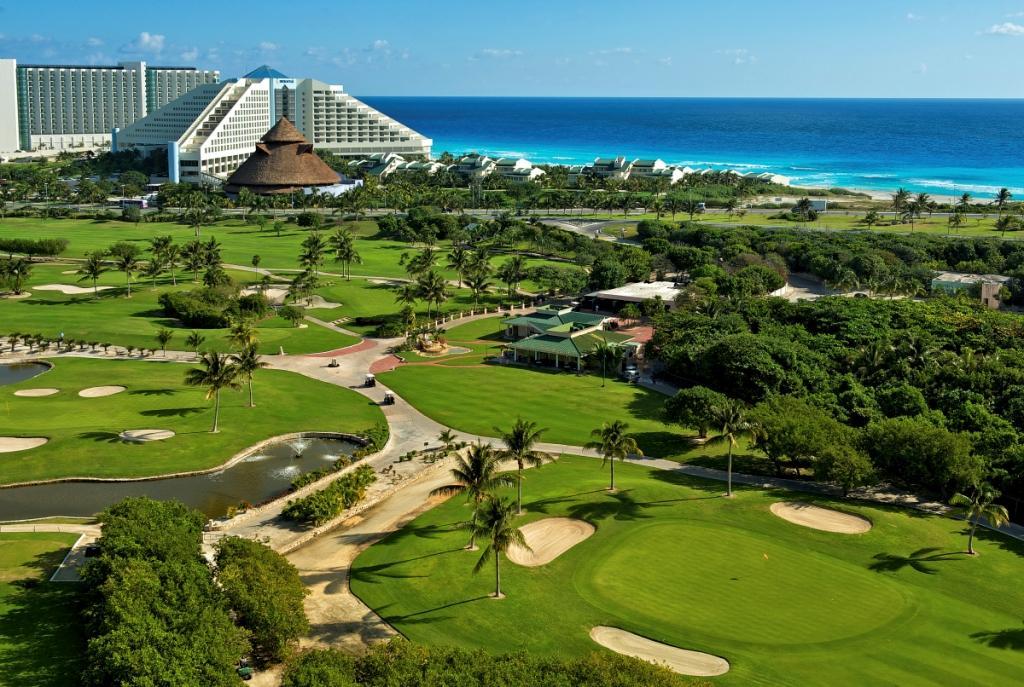 Iberostar Golf Club Cancún boasts a picturesque landscape that captivates its guests who have chosen this place in the heart of the hotel zone. The peculiarity of the location is that it is located between the Caribbean Sea and the mysterious lagoon, surrounded by mangroves and an abundance of exotic animals. Another amazing neighbor of this club is the famous archaeological site, El Rey, with many monuments from the Mayan era.
This famous complex was designed by Japanese golf veteran Isao Aoki. The sizeable 18-hole course promises players many unique, natural lagoons and waterways. The 150 acres of beautifully manicured lawns at the Iberostar Golf Club Cancún guarantee an exciting yet challenging game with unforgettable panoramic views. The average time to complete one round is approximately 4.5 hours.
Game cost:
From 7:00 am to 12:30 pm – $149.
From 12:30 am to 18:00 pm – $115.
Significant discounts and special offers are available for guests of the nearby Iberostar hotel.

Hint: The best golf season in Mexico is from October to May. Generally, in local fashionable clubs, purely in a gentlemanly way, it is customary to warn of your arrival, i.e. book a game in advance, and even more so if you have planned a holiday in Cancun during these months.

4.Campo de golf Riviera Cancun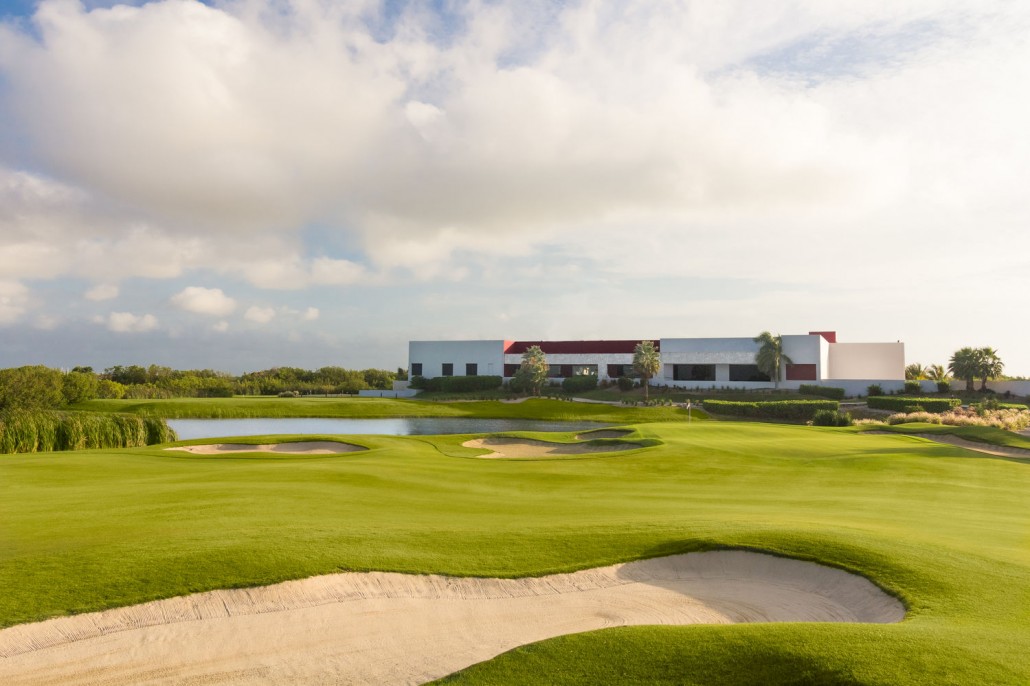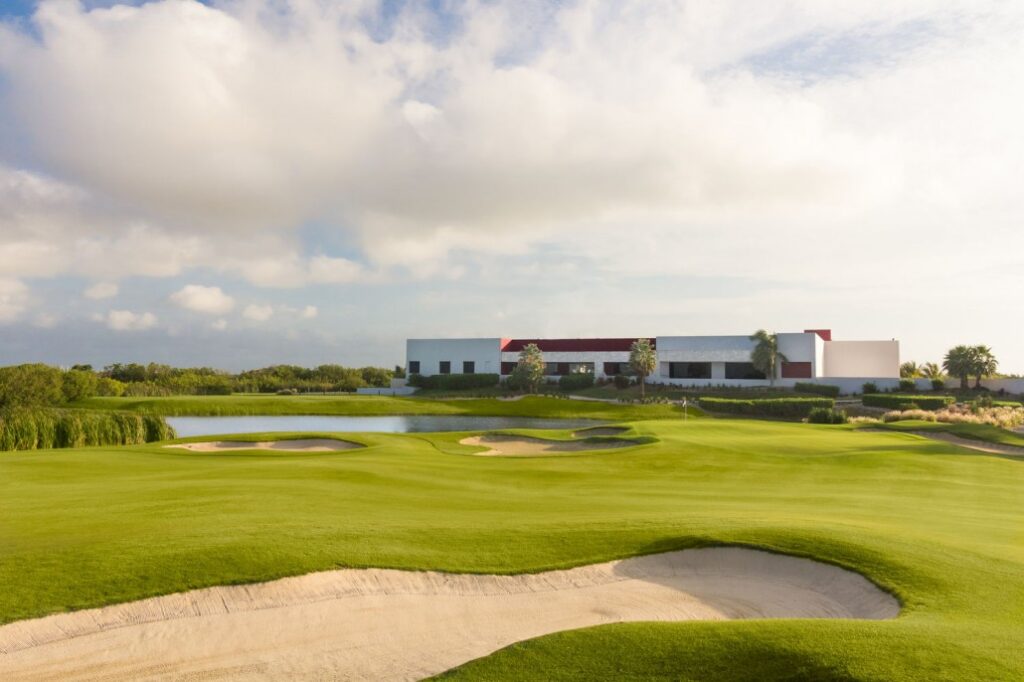 The golf club owned by the Hard Rock Hotels chain and professes an all-inclusive vacation philosophy. Therefore, the pricing policy is slightly higher here. However, the variety of packages for beginners and experienced players is captivating, as is the possibility of unlimited access to food and drinks while playing. Additionally, the complex has an attractive location and a number of good reviews. Generally, there is something to take a closer look at.
Game cost:
Full for 18 holes – $250.
Half for 9 holes in the afternoon – $180.
Special offer for teenagers 13-17 years old – $70.
The price includes the rental of a golf cart, 25 balls, food, and drinks.
You can take a separate course with an instructor – from 130$.
Location: Near Cancun International Airport – try not to hit the turbine of the landing plane with the ball.
5.Paradisus 9-hole golf course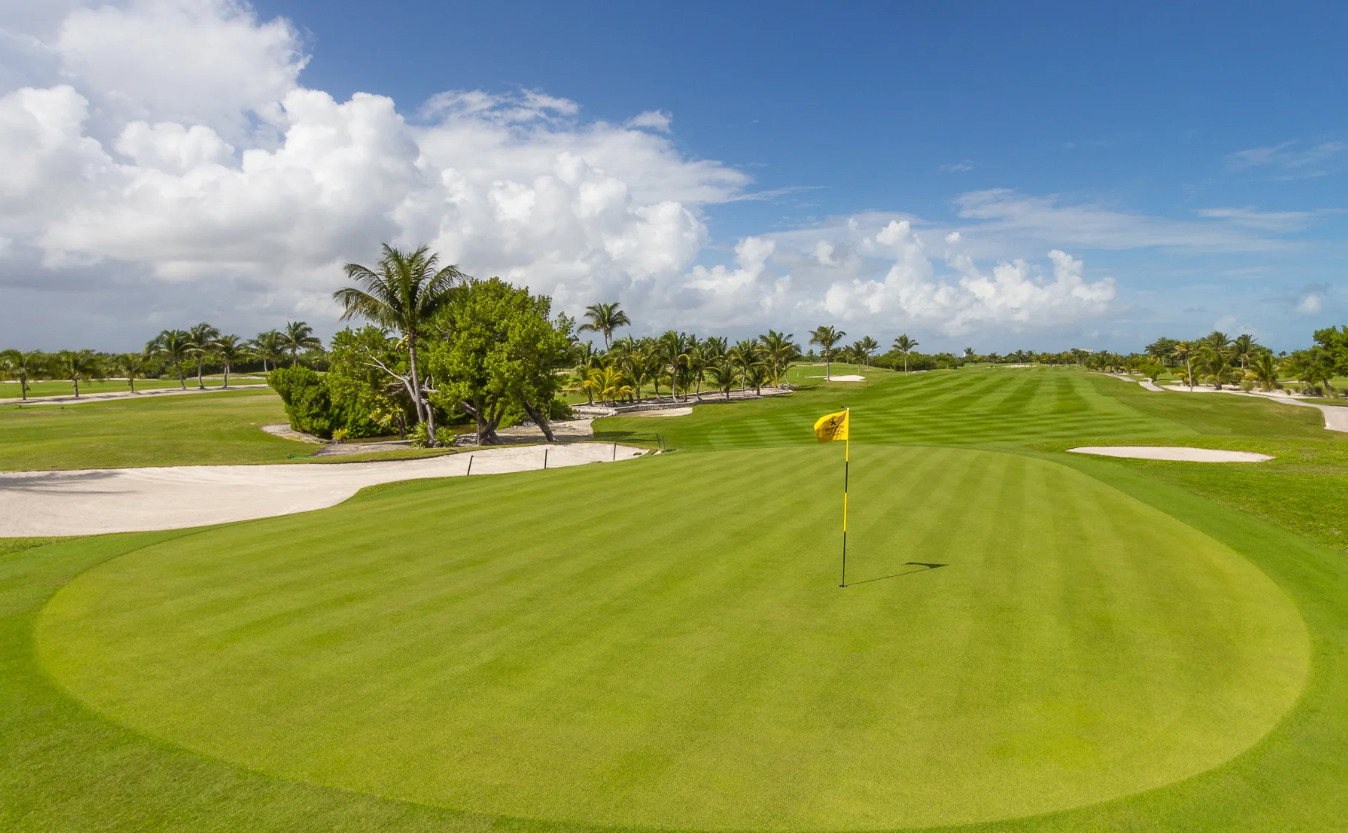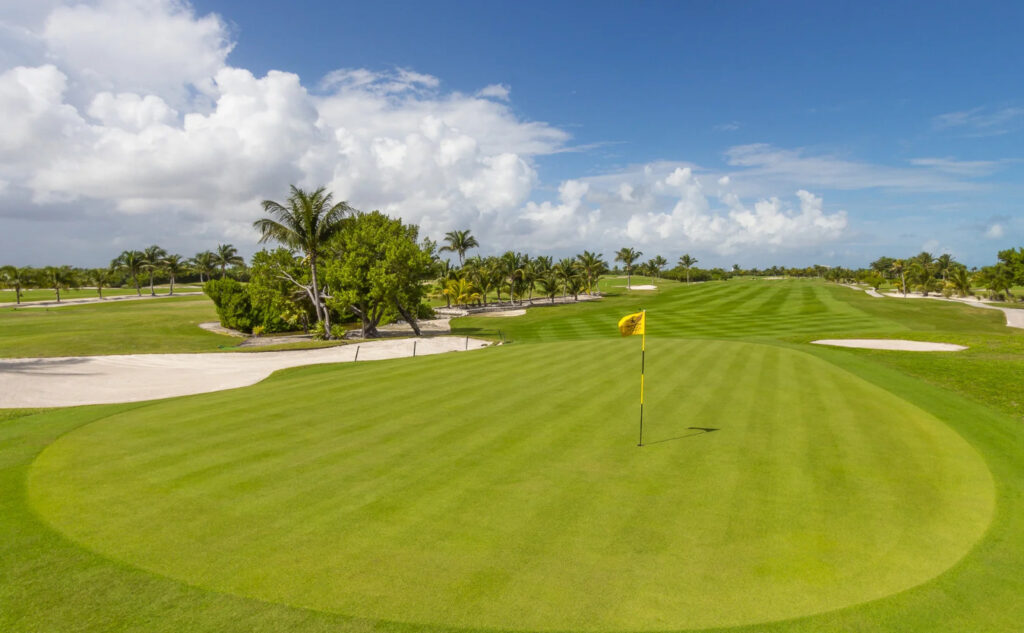 One of the most cost-effective options. If you're not an expert golfer but want to give it a try without driving too far out of the hotel area, you can take a drive at the golf course next to the Paradisus Hotel. You will find a small route and the minimum required set for its passage. The cost of visiting includes a set of clubs and balls – all this costs about $70 per person. And when you get tired of swinging a club, you can relax in the beach club, which is located right behind the hotel.
Important! Be sure to remember about the dress code, as a rule, it contains the same elements and exceptions for both men and women.
Recommended or required:
Shirt with collar and sleeves.
Bermuda or trousers.
Tennis or running shoes, golf shoes with soft spikes, or golf sandals.
Socks.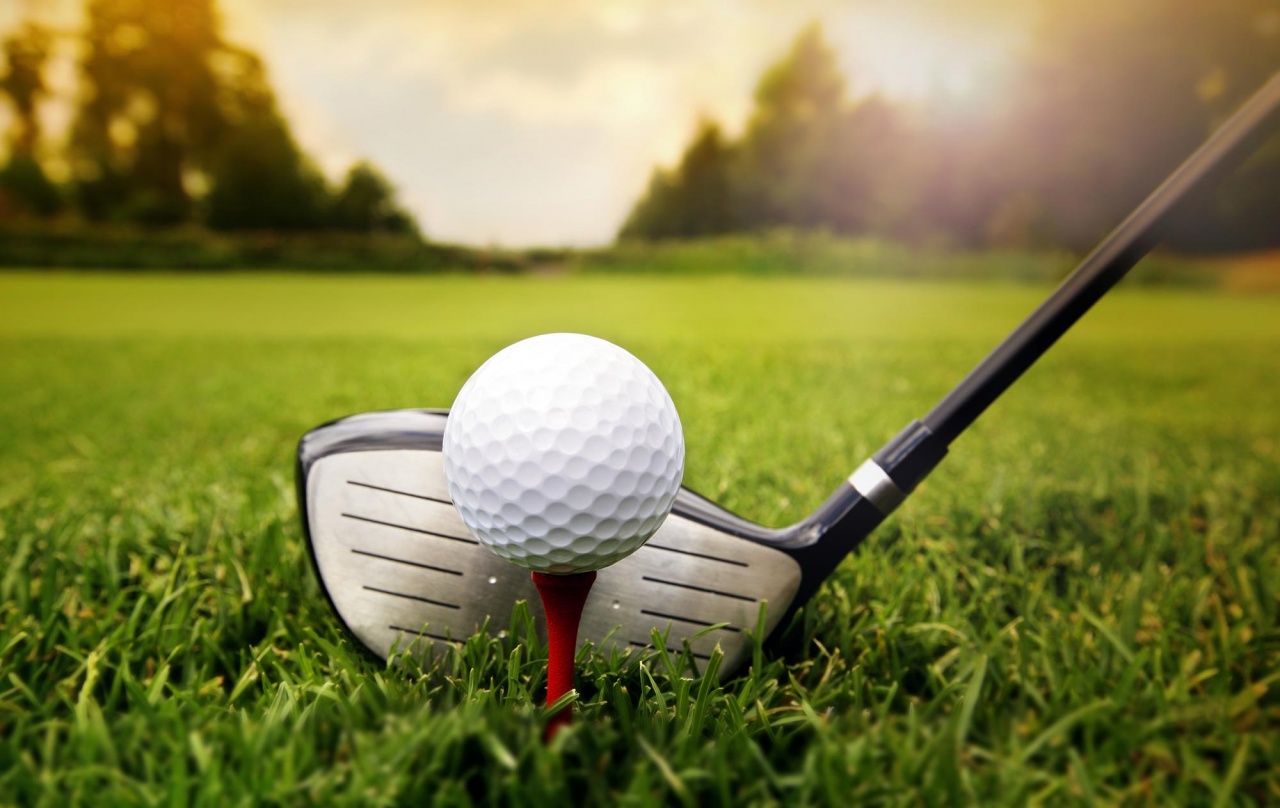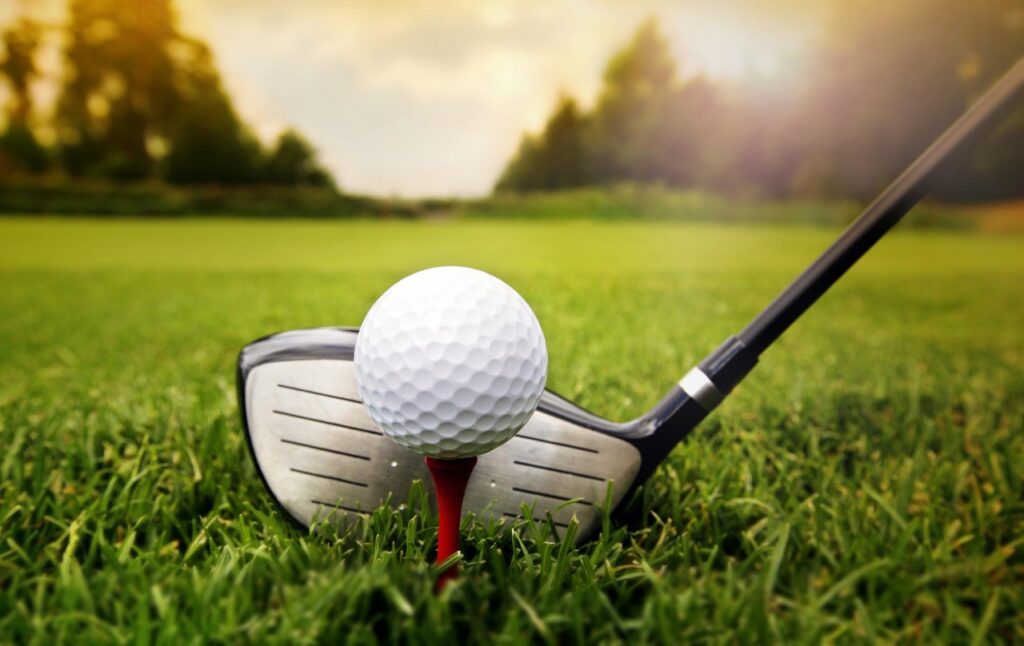 Ban:
No T-shirts.
No blue jeans.
No beach shorts or swimwear.
Of course, Cancun is far from being only about golf, but it is on this part of the Yucatan Peninsula that golf is presented at a very high level! And this is not surprising. True professionals and champions had a hand in creating the local golf industry: Jack Nicklaus – was directly involved in the opening of three clubs, Greg Norman – two, one field each created by Nick Price, and the champion of The Open Tom Weiskopf. Add to this the diversity of the local fauna, the astounding southern climate, and the prevailing number of days of the year without precipitation, and you have one of the best places to play golf.
So, it is clear that Cancun can be called one of the best places for those who like to combine an elite sport with a vacation on the seaside. In this review, we have not listed even half of all golf clubs located here. But we have listed the most deserved in terms of overall ratings, service, landscape and other important attributes for golf fans.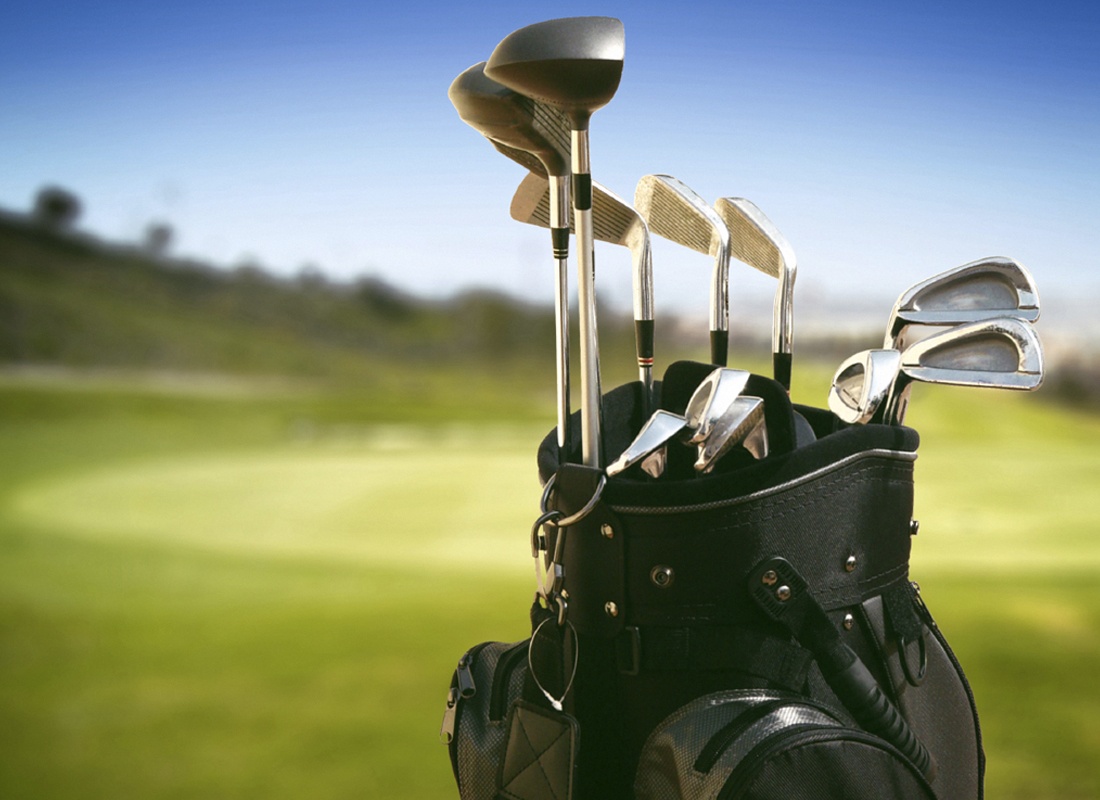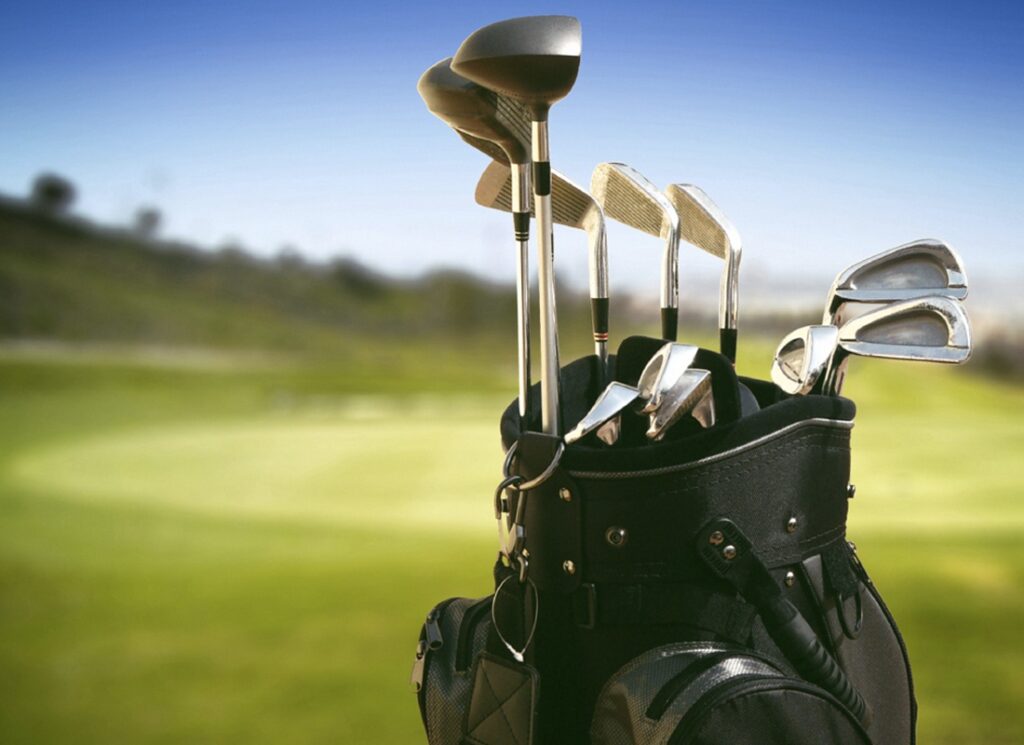 Even if you have never played golf before, have no doubt that it will leave a good impression if you just try to enter the course only as an experiment. This will be enough to feel the atmosphere. Every golfer loves golf for something different. Everyone can find something different here. Golf is uncompromising wrestling, nobility and aristocracy, real gentlemanship in the code of its rules, elegance and refinement of movements, a special aesthetics in the picturesque landscapes of golf fields. Somewhere golf is an exact mathematical calculation, and somewhere that's real luck (where can you go without it?).

Please note that golf club rates and options included in the rate may vary by season and other circumstances. Please check this information before visiting.