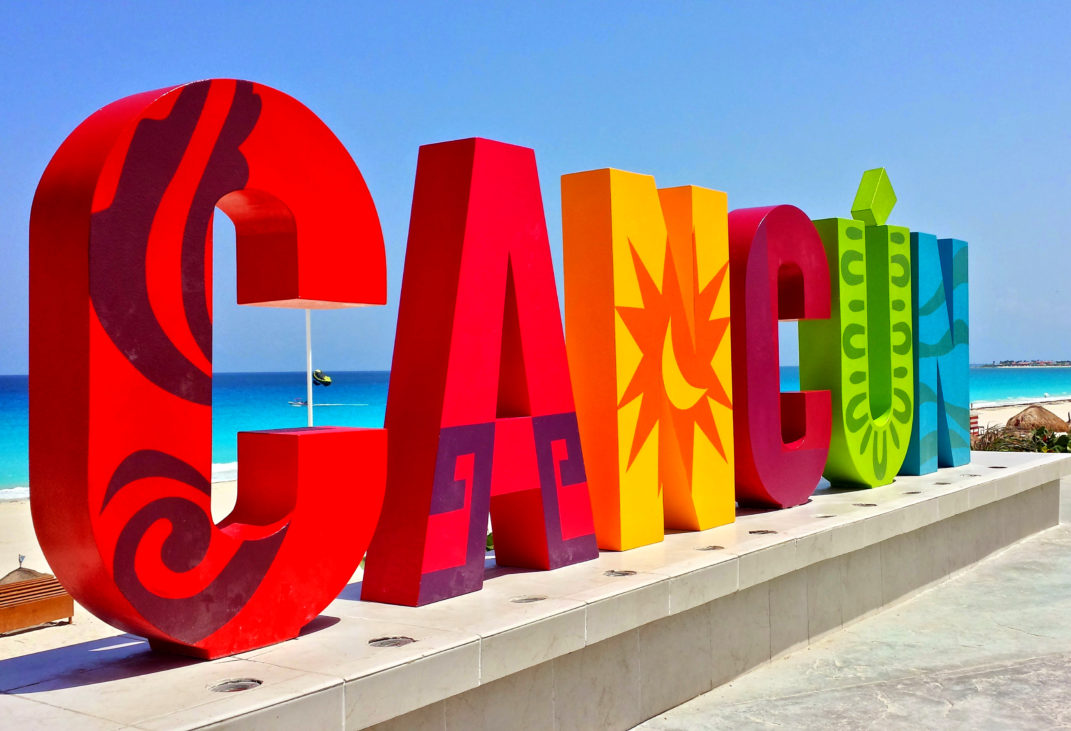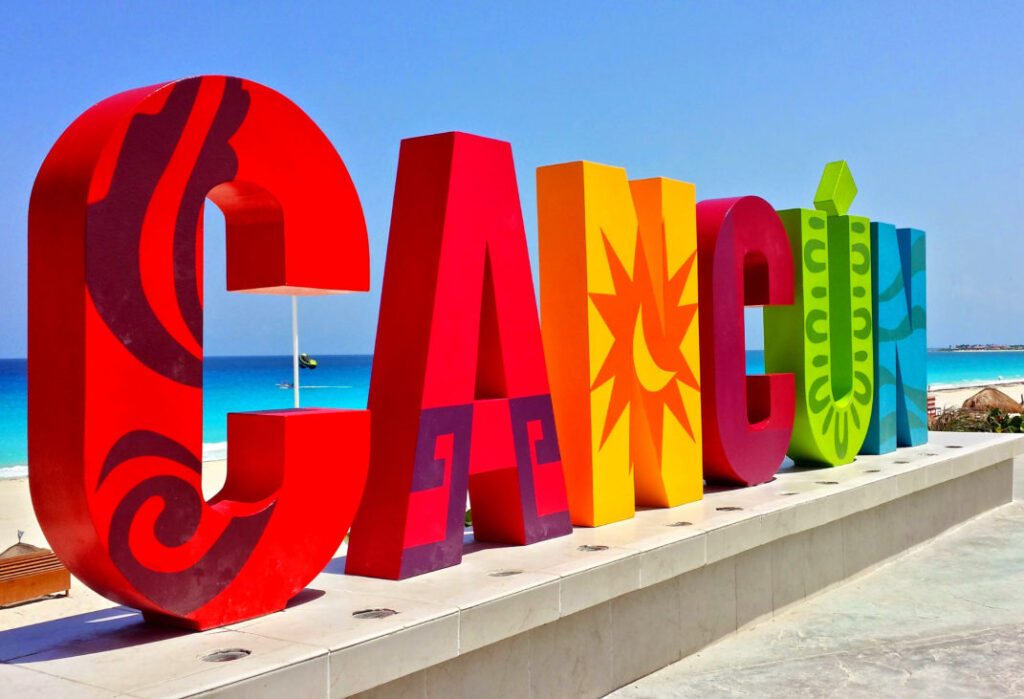 1.Take a break on Dolphin Beach and take selfies with the colorful «Cancun» sign
Dolphin Beach is one of the best beaches in Cancun, located at the southern end of the hotel area.
It used to be a quiet beach, popular only with locals, but the heyday of tourism in the city has made it extremely popular. The water here is azure and the views are incredible, and there is an iconic sign with the town's name on it. However, keep in mind that the waves near the beach are quite strong, so swimming with children here is not the best solution. Nevertheless, Delphine's Beach is still ideal for sunbathing, photo session or picnic.

2.Take a walk down Kukulkan Boulevard
Kukulkan Boulevard, stretches through the central part of the hotel area of Cancun and is named after the deity of the Mayan civilization. This is where all the major coastal hotels and all-inclusive resorts are located. But even if you are not staying in any of these hotels, no one is stopping you from strolling along the boulevard and exploring the local restaurants, stores, and entertainment venues.
One of them is Fashion Harbour, distinguished by modern architecture and popular with many luxury designer stores.Another is La Isla Shopping Village, where there are not only stores and boutiques, but also restaurants, ice cream cafes and even bars.
3.Get to the Mexican festival in Xoximilco Park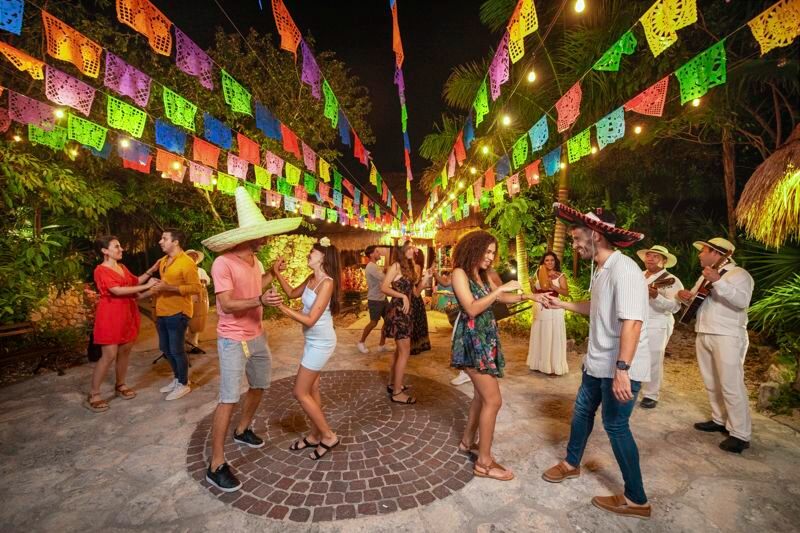 It is a theme park, one of several parks of the Ixcaret group. It was built in honor of the canals located in the Mexico City neighborhood of the same name and listed as a UNESCO World Heritage Site. A visit to the park includes a boat ride through these canals, which were originally used to carry flowers and goods for sale. On board you will also be treated to a traditional Mexican three-course dinner and various drinks, including, of course, tequila. The evening continues with a folk festival with carnival games and live mariachi music.

4.Visit the Mayan Museum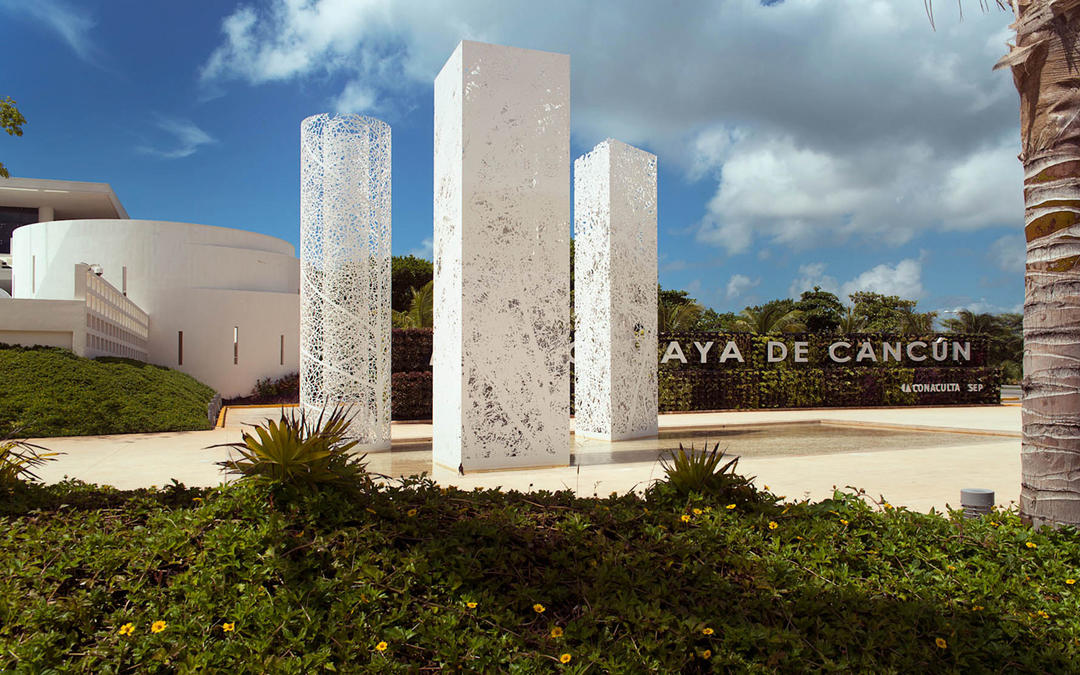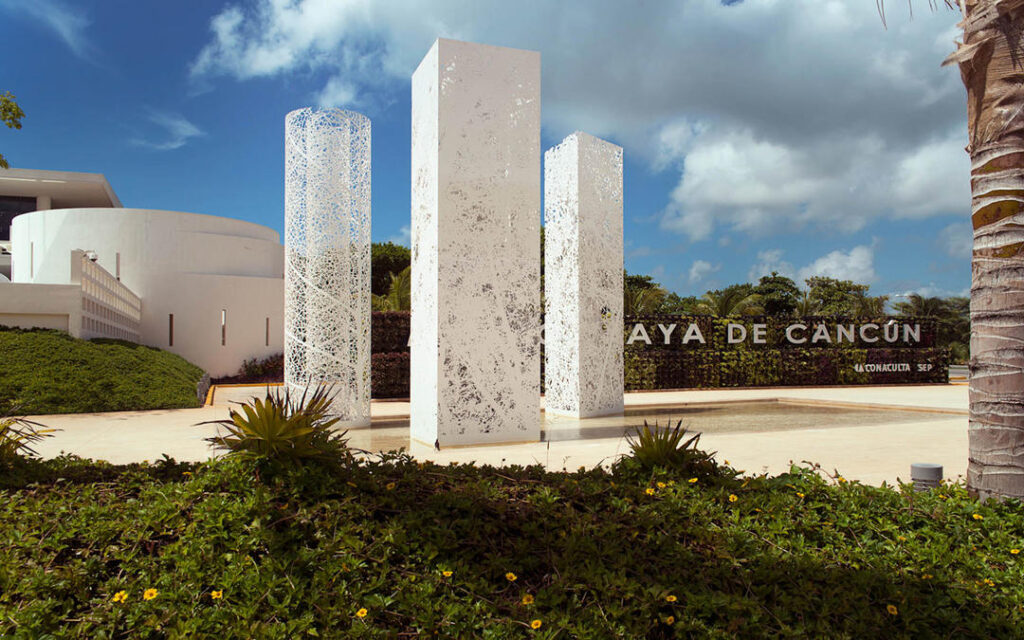 If you love history and culture and are tired of beaches and nightclubs, or if you were caught in the rain during a long-awaited vacation, the Mayan Museum would be a great solution to brighten up a boring day. Opened in 2012, this brand new museum is housed in a beautiful, modern white building that houses a collection of 3,500 exhibits related to the history of the Mayan civilization. However, only 10 percent of it is on public display, with one part of the exhibit devoted to the culture of that people and the other to archaeology.
A ticket to the museum costs about $5 and also entitles you to visit the ruins of San Miguelito nearby.
There you can see half-destroyed temples, pyramids and Mayan houses surrounded by jungle.
5.Go up to the Torre Escenica observation deck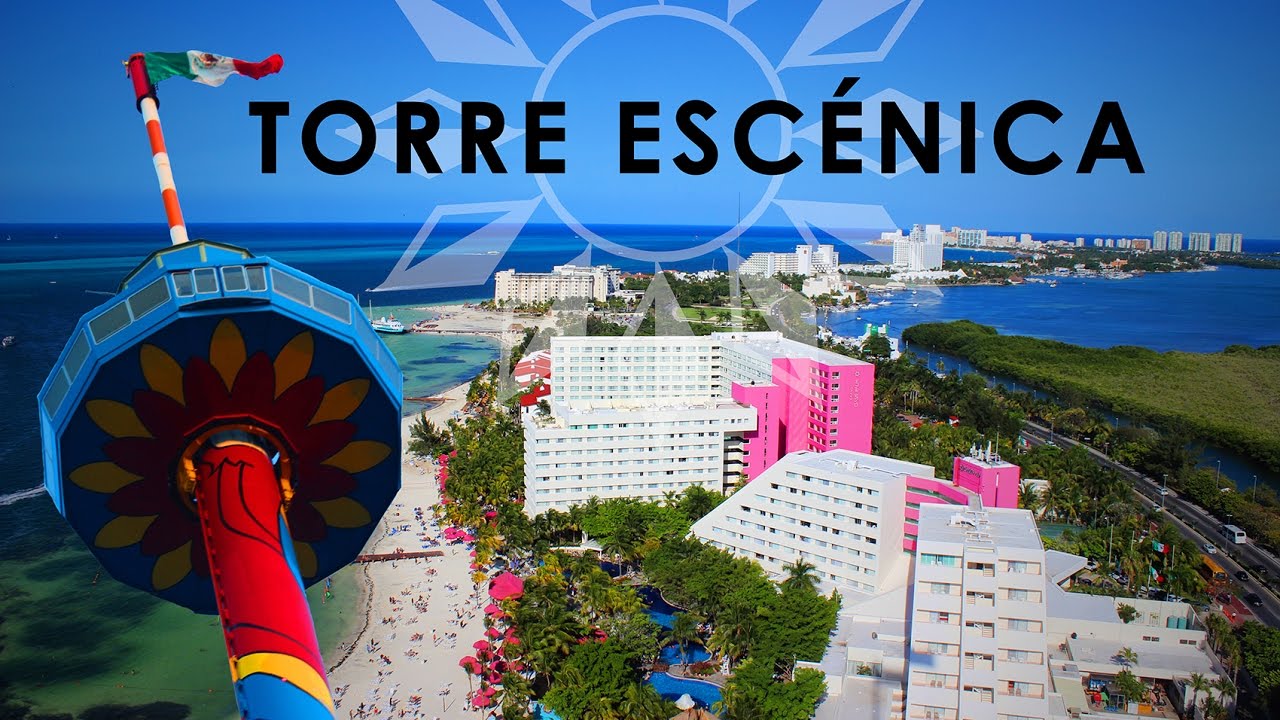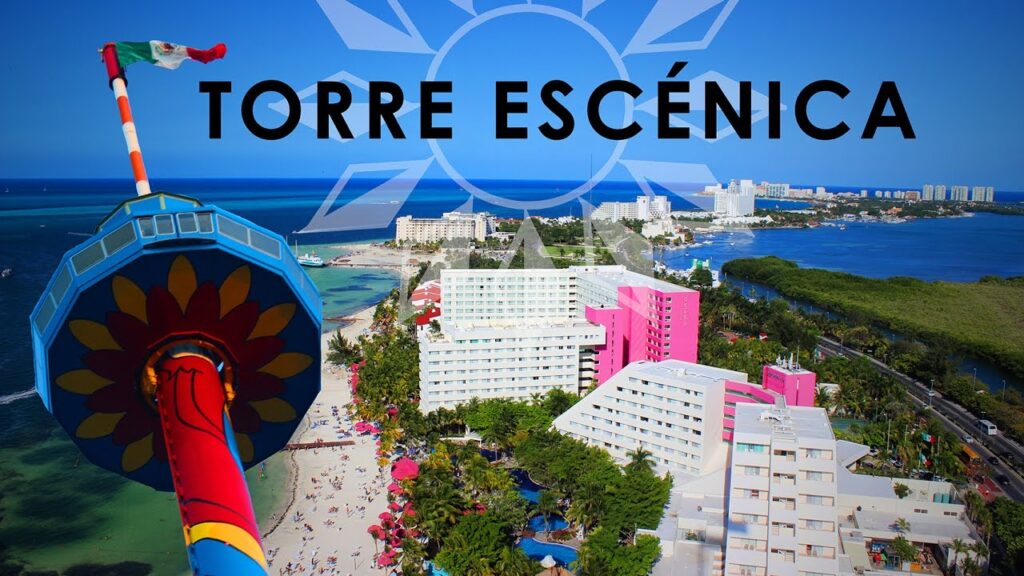 Torre Escenica is a rotating platform that rises to a height of 110 meters, making it the highest point in Cancun. From it you can see the whole city and the nearby Caribbean coast. While the tower is going up, which takes about 5 minutes, visitors are told the history of Cancun. Then they are given 15 minutes at the top to take pictures and admire the views, with the platform spinning 360 degrees around the tower.
This unusual viewing platform is open every day from 9 am to 9 pm.
6.Tickle your nerves at Xavage Park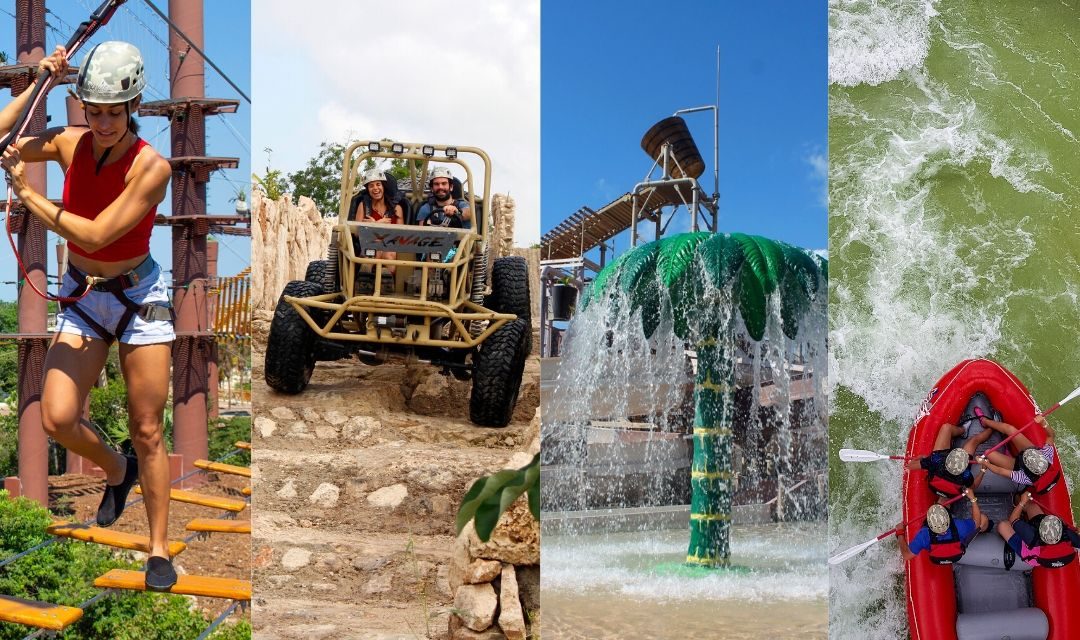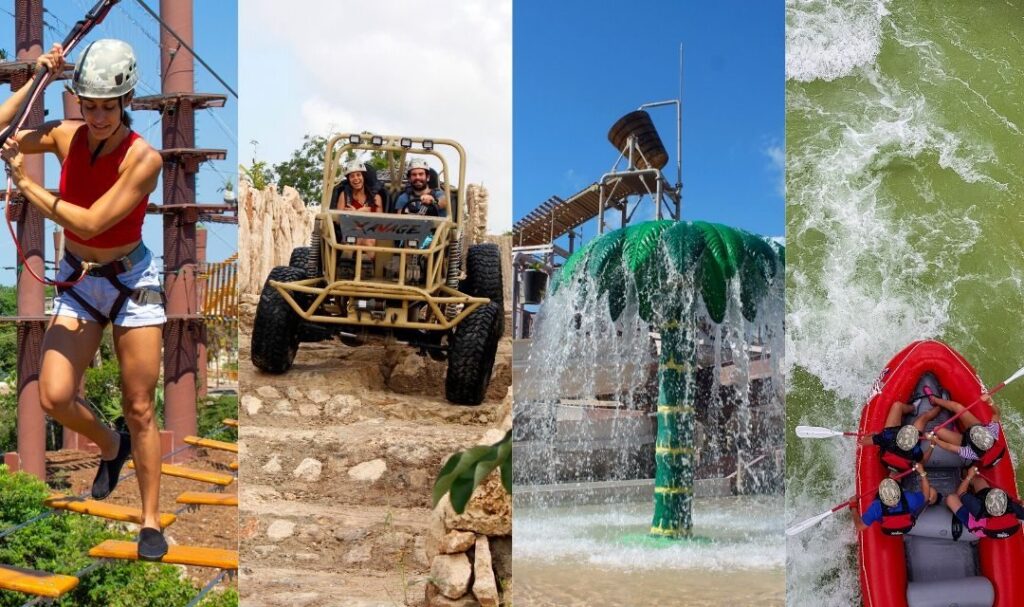 Another amusement park from Xcaret, but this time offering extreme sports and adventure.

The newest of the group's parks, it opened in 2019, but has already gained popularity far beyond Mexico's borders.
Xavage boasts all sorts of thrilling rides that will take you at the speed of light over land, air or water. For example, you can take a powerful jet boat ride, ride electrified river rapids or conquer a 20-meter horizontal ziplane. Even the most picky extreme lovers can find something here that will surprise them.

7.Explore the ruins right outside the hotels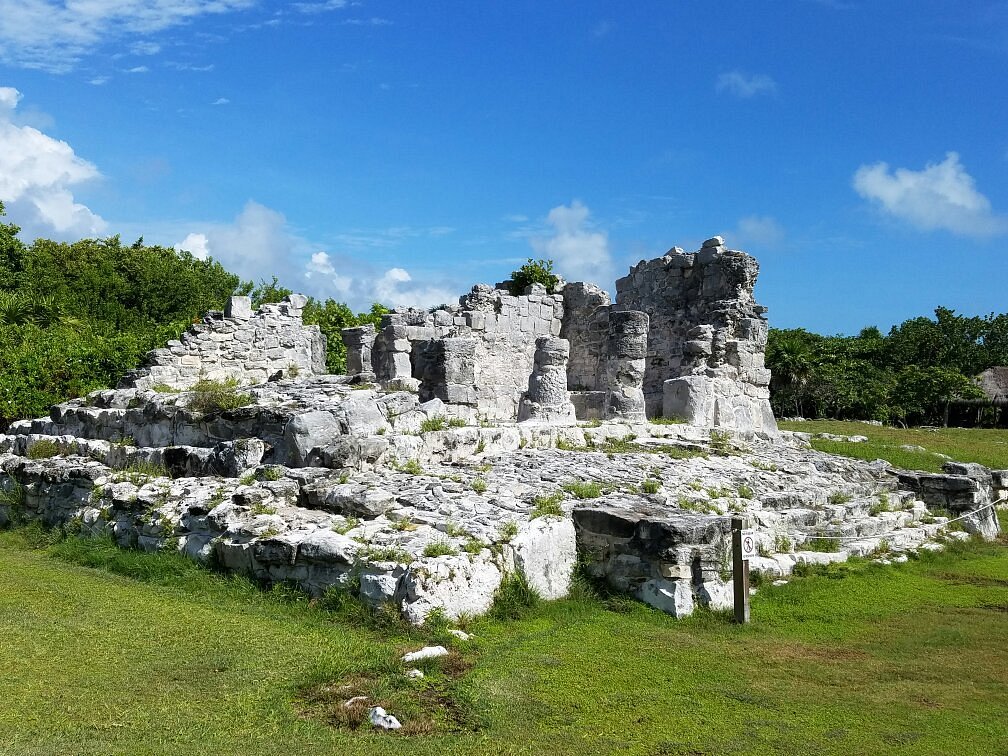 It may be hard to believe, but right in the middle of the Hotel Zone, a few minutes away from the 5-star resorts and the sign that says «Cancun», there are real Mayan ruins. This is the El Rey Archaeological Area, the ruins of a pre-Columbian Mayan city that was inhabited as far back as 200-1200 AD. Unfortunately, it is not as big a settlement as Chichen Itza or the ruins in Tulum, but you can still see 47 different structures and imagine what they used to be like.
The El Rey Archaeological Zone is open every day from 8 am to 4:30 pm. The entrance fee is 50 pesos (about $2.5).
8.Take a stroll through the historic center of Cancun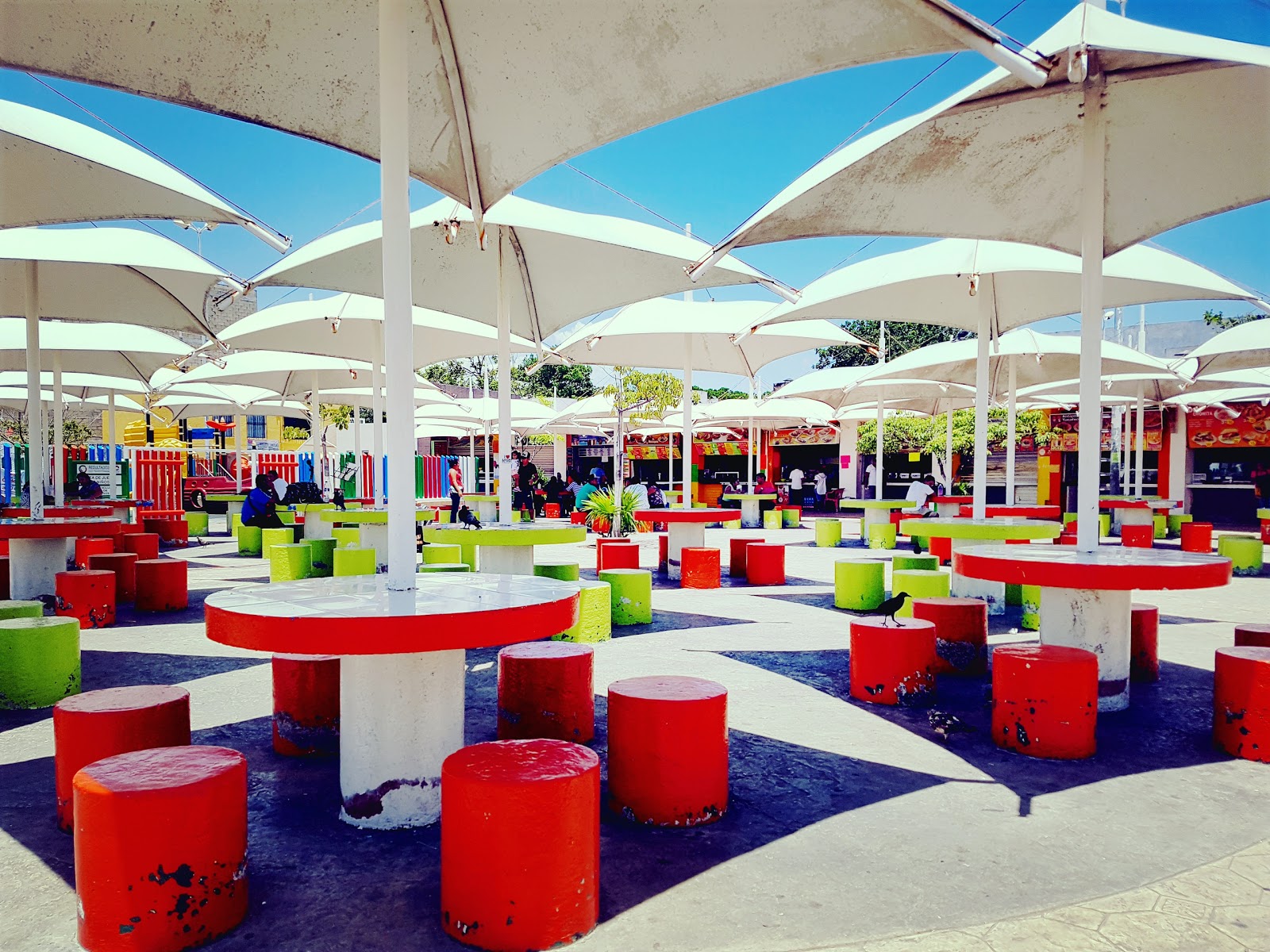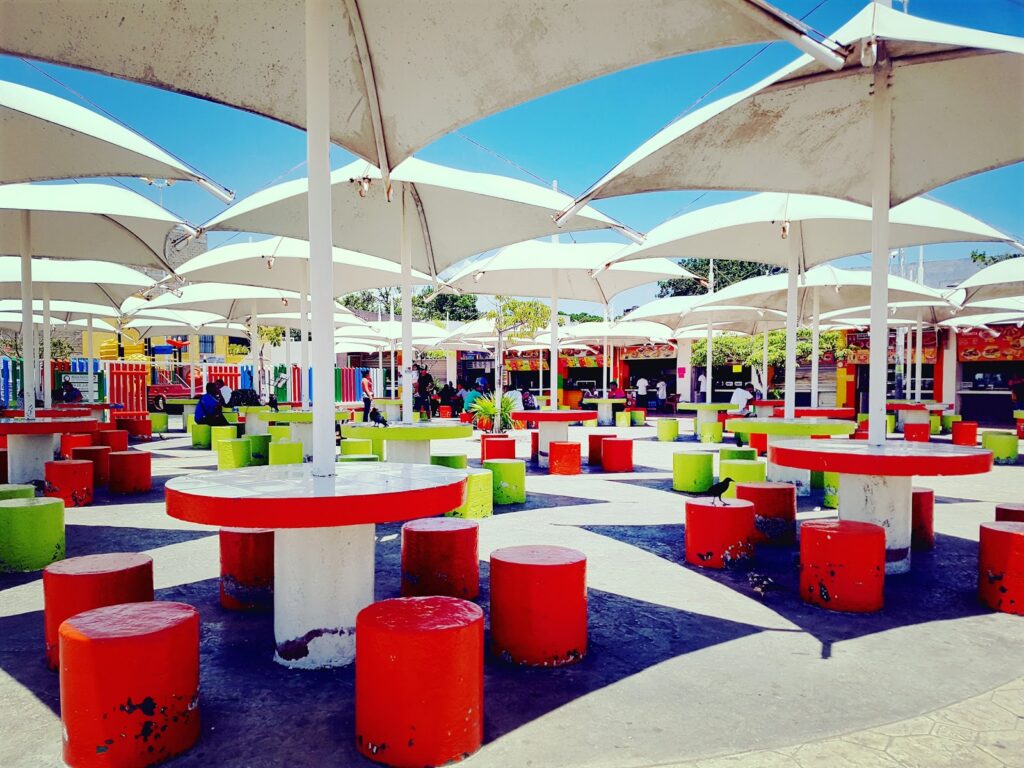 Cancun is divided into two large parts: the hotel area, where all the resorts and beaches are located, and the historic center, where the locals live. Accordingly, this is where you will find the local culture and flavor that is not present in the hotel area. It is a great place to buy traditional souvenirs, taste the local cuisine and see how ordinary Mexicans live.

If you come to this part of town, we suggest visiting Las Palapas Park.
There are Mexican food stalls, craft shops, and recreational areas.

9.Buy souvenirs at the market 28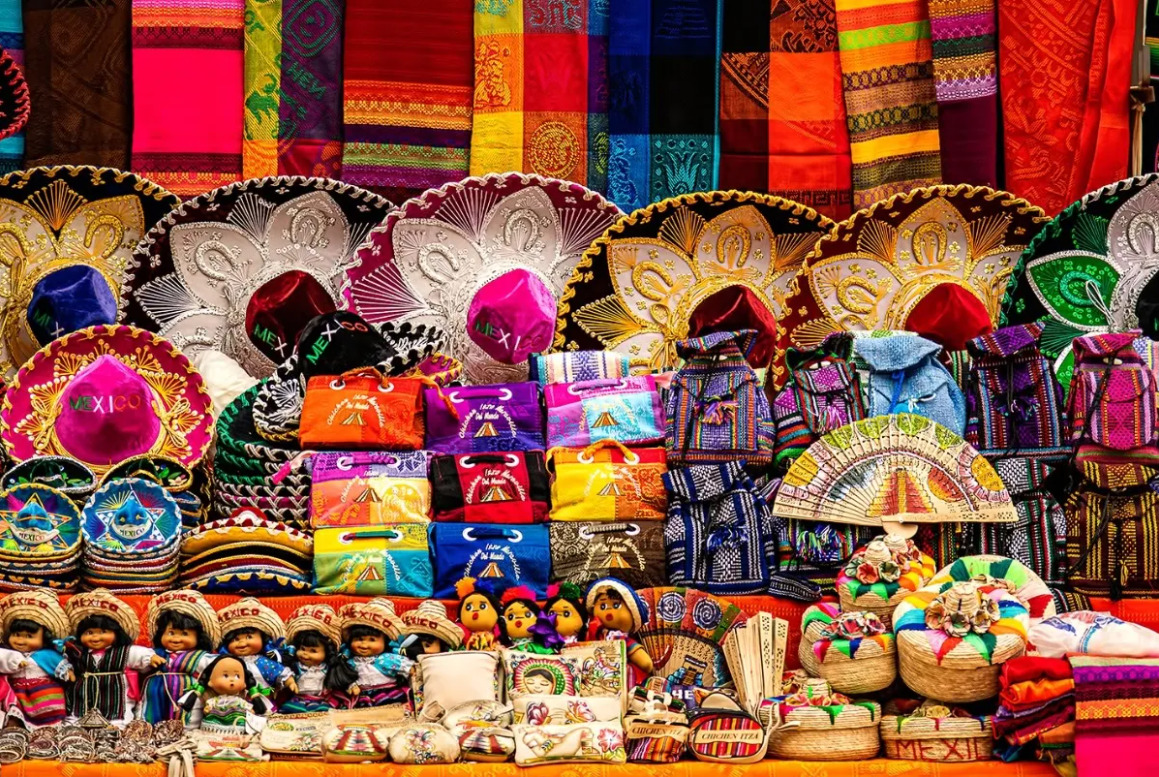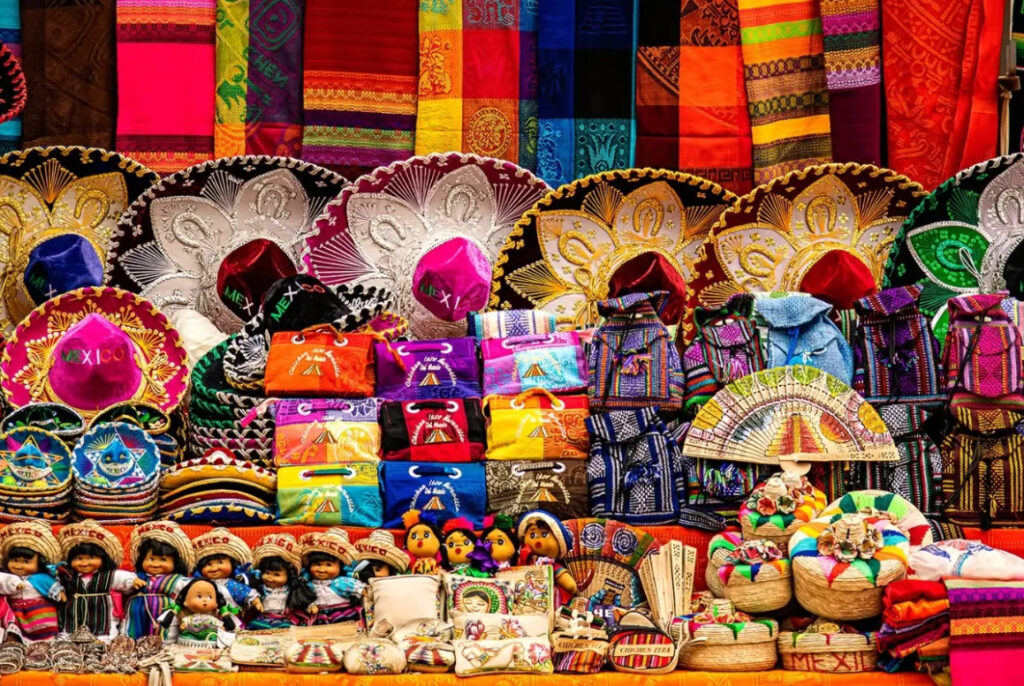 Market 28 is the main shopping point in all of Cancun, a huge pavilion filled with souvenir stands and jewelry stores. It does not look like the usual shopping malls in tourist cities, but more like a giant flea market.
In fact, there are more than 600 stands selling almost everything from textiles and leather goods to traditional maracas.
But never settle for the first price you are told! You can and should bargain here and then you can walk out of there with your purchases at an extremely good price. You can also find very tasty and cheap tacos here.

10.Go to a party at a beach club
The Mandala Beach Club doesn't just have parties every night, but bikini parties, which fits the atmosphere of the resort well. It's an outdoor club with house music and delicious tropical cocktails. And during the day, you can swim in the pools, lounge in the jacuzzis, or sunbathe in the private lounge area.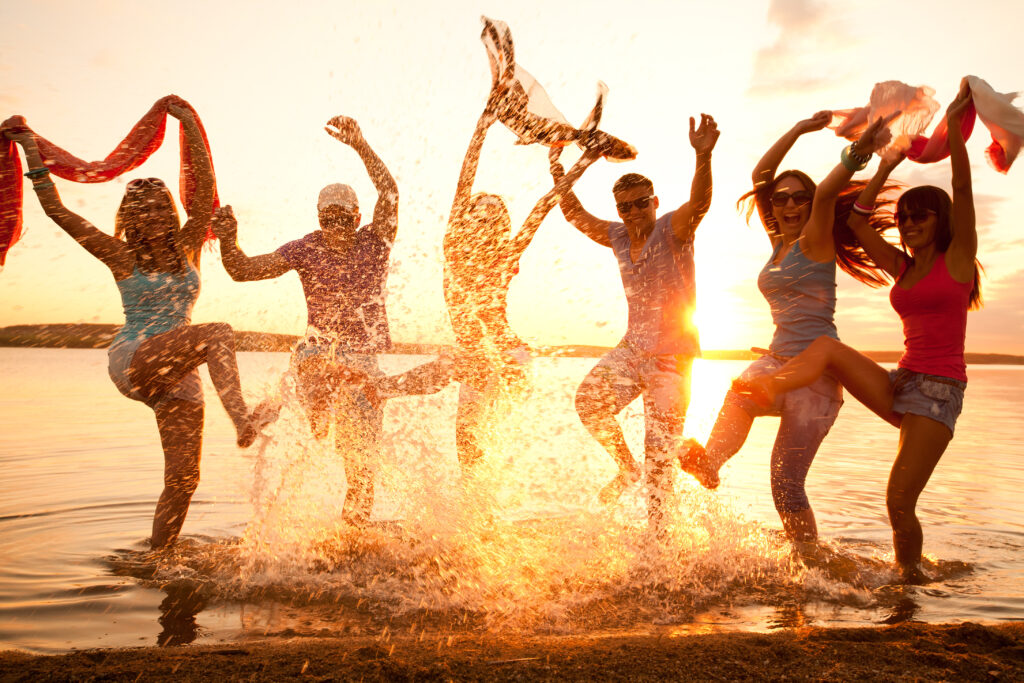 11. Swim at Karakol Beach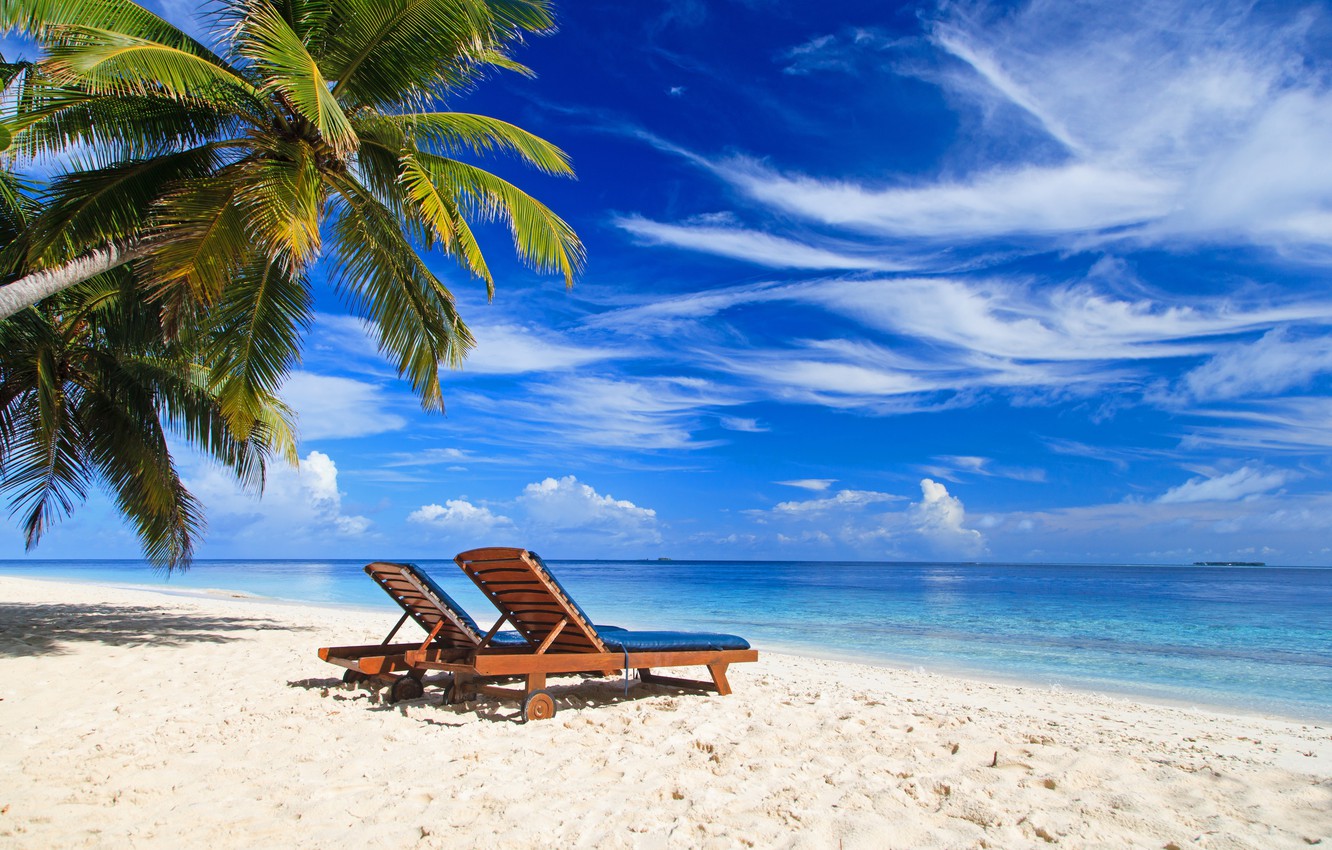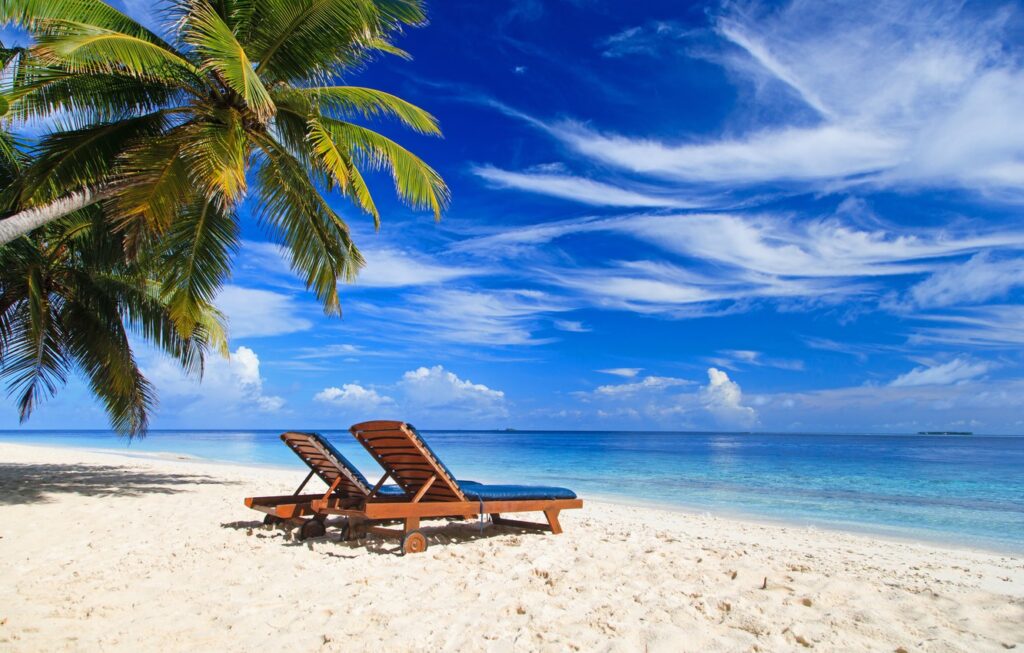 Caracol is right on the corner of the «seven»(hotel area), at the end of Kukulkan Boulevard. It is a small public beach with soft white sand and azure waters that are so hard to resist. It is shallow and there are no big waves, and the bottom is gentle, so Caracol is ideal for tourists with children. Adults, in order to swim freely, will have to move farther from the shore.
But note that because the beach is located close to the hotels, it is always crowded.
12. …or at Tortugas Beach
Tortugas Beach is also located in the hotel area, not far from Caracol Beach, but on the shore of the bay, so the waters here are particularly calm and very easy to relax on. At the same time, you can take part in various water sports such as parasailing, water skiing, diving, snorkeling and even bungee jumping. Entrance to the beach is free, and there are plenty of restaurants and bars, so you won't go hungry.

13.Swim with whale sharks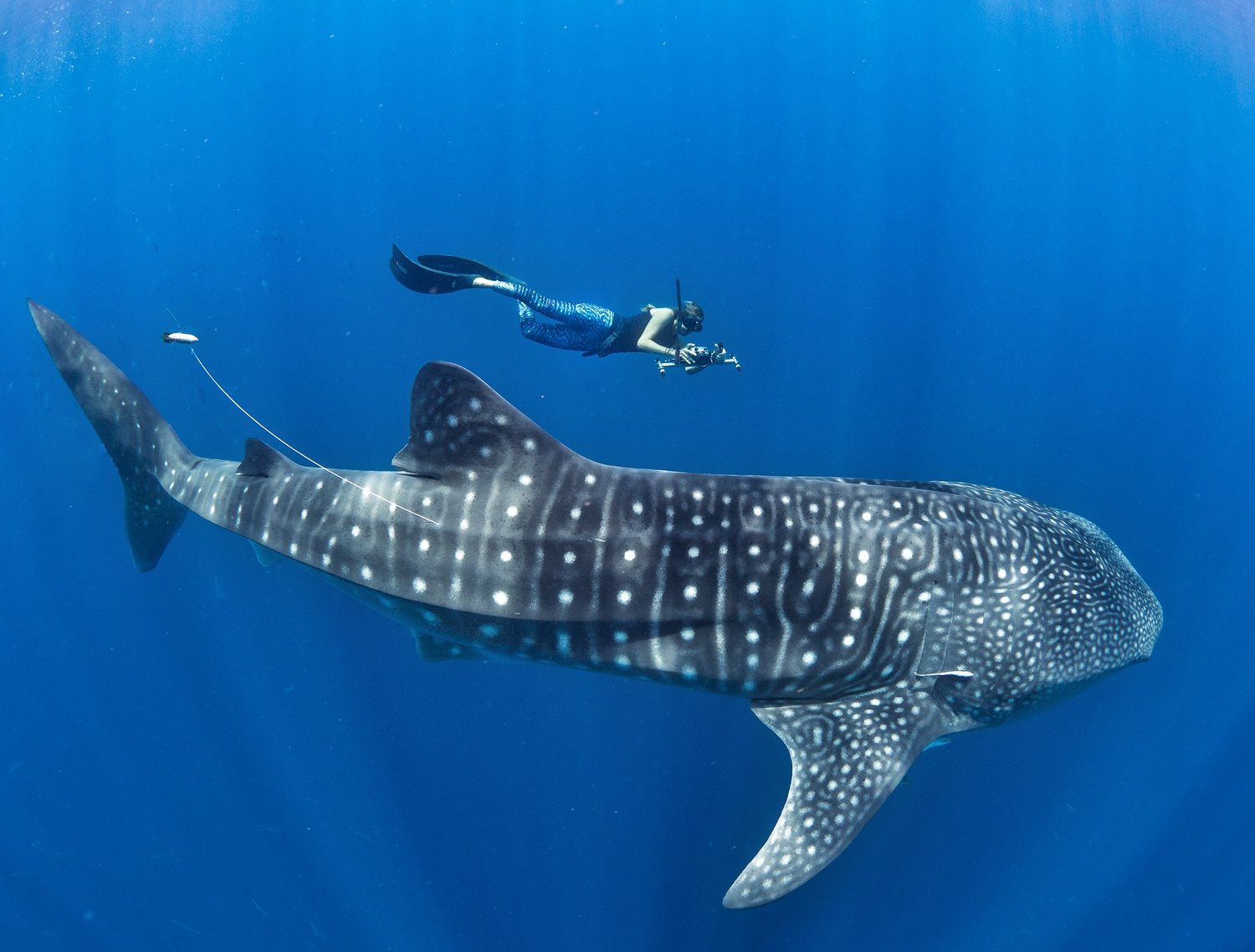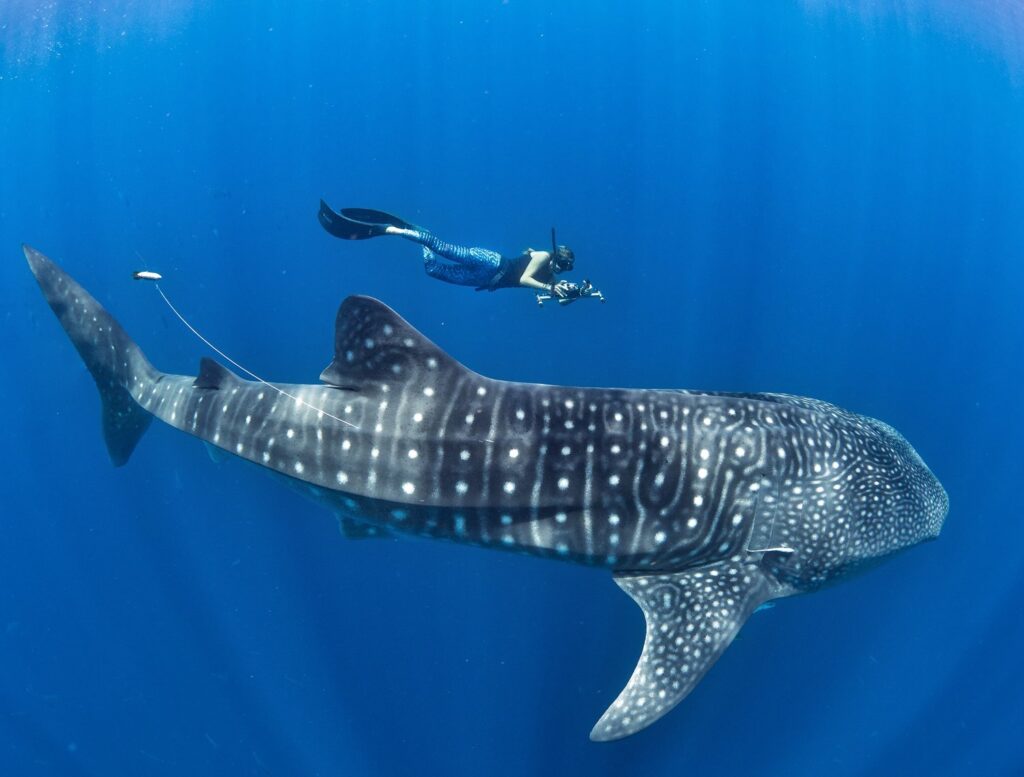 Between June and September, whale sharks swim up to Cancun to feed on plankton and krill. Most often, operators offer snorkeling (diving), but diving is not necessary because these animals tend to stay near the water's surface. Despite the scary name «shark», they pose absolutely no threat to human life.

To swim with whale sharks, you need to book a tour with an agency. The popularity of such tours in recent years has led to the government imposing restrictions on the number of people allowed to the sharks at one time. Therefore, try to choose companies that follow all the rules and do not harm the animals.
14.Try the best al pastor tacos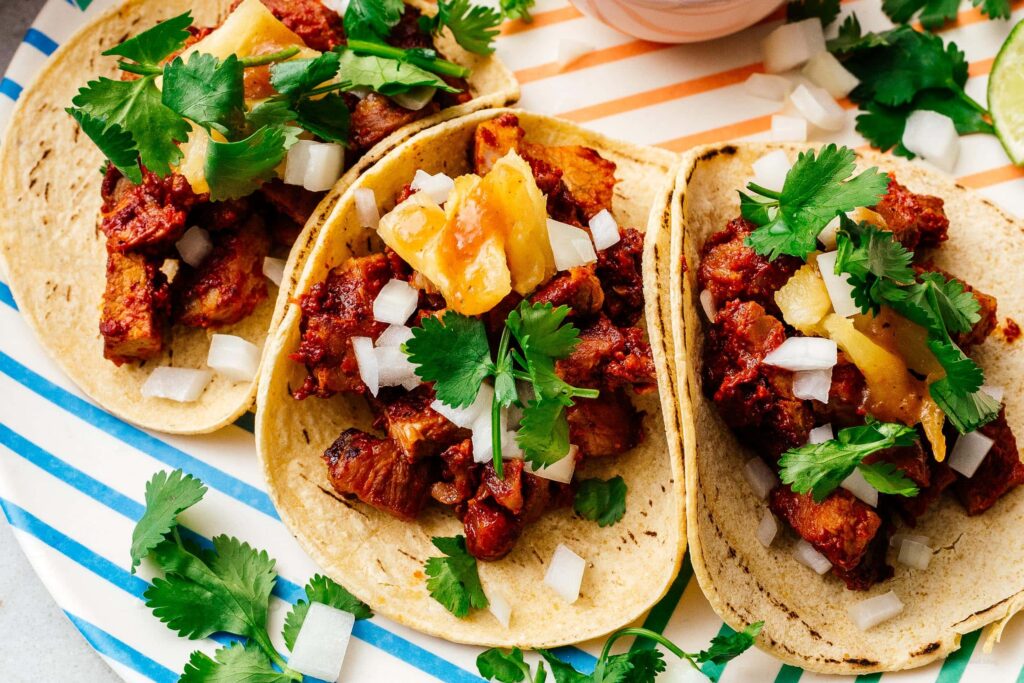 Even seasoned travelers who have been to many Mexican cities say Cancún has the best al pastor tacos in the entire peninsula. It is a type of taco whose main ingredient is pork cooked on a rotating spit. And on top of it is a pineapple, which is sliced on top of the taco at the end of the cooking.

The best places to try these tacos are either in historic downtown Cancun or near the Taxi-To booth next to Coco Bongo in the hotel area.
15.Go to a party at Coco Bongo
You can't talk about partying in Cancun without mentioning its most important nightclub, Coco Bongo. There is not only music and cocktails, but also acrobats and musicians, so guests feel as if they are at a party and an entertainment show at the same time. Speaking about the music it's worth mentioning that the world-famous DJs such as Tiesto and Paul van Dyk regularly perform here.
The club has three floors and nine bars, and can accommodate up to 5,000 people at a time.
Like many popular places, there are long lines, but Coco Bongo is worth the wait.
16.Check out the underwater art at MUSA, Cancun's underwater museum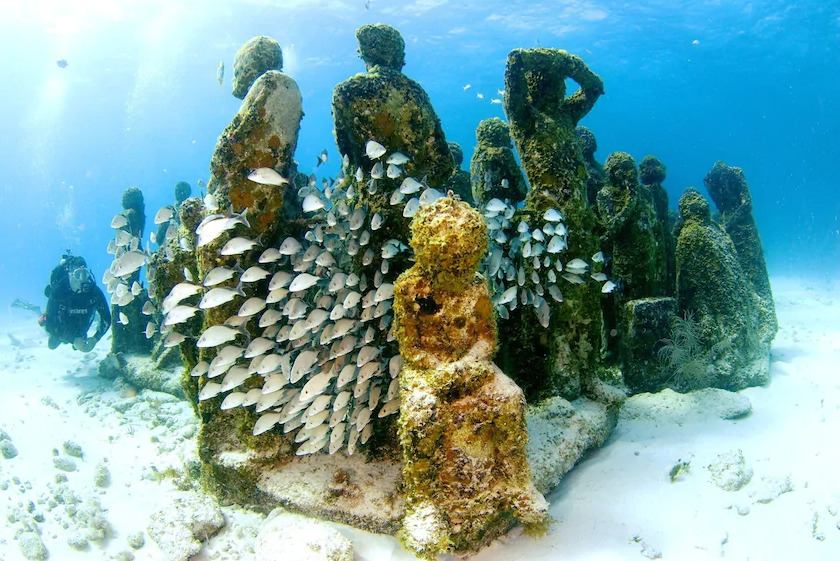 The MUSA Underwater Museum is one of the most unusual places in all of Mexico.
It is a sculpture park located closer to Isla Mujeres, about 30 minutes from the coast of Cancun. The sculptures are among the Mesoamerican Barrier Reef and were created by British sculptor Jason Taylor. He wanted to build an art gallery that would use the ocean floor as a floor and the coral reefs as walls, and he certainly succeeded. You'll find more than 500 sculptures here, and they're all about the interaction between man and nature.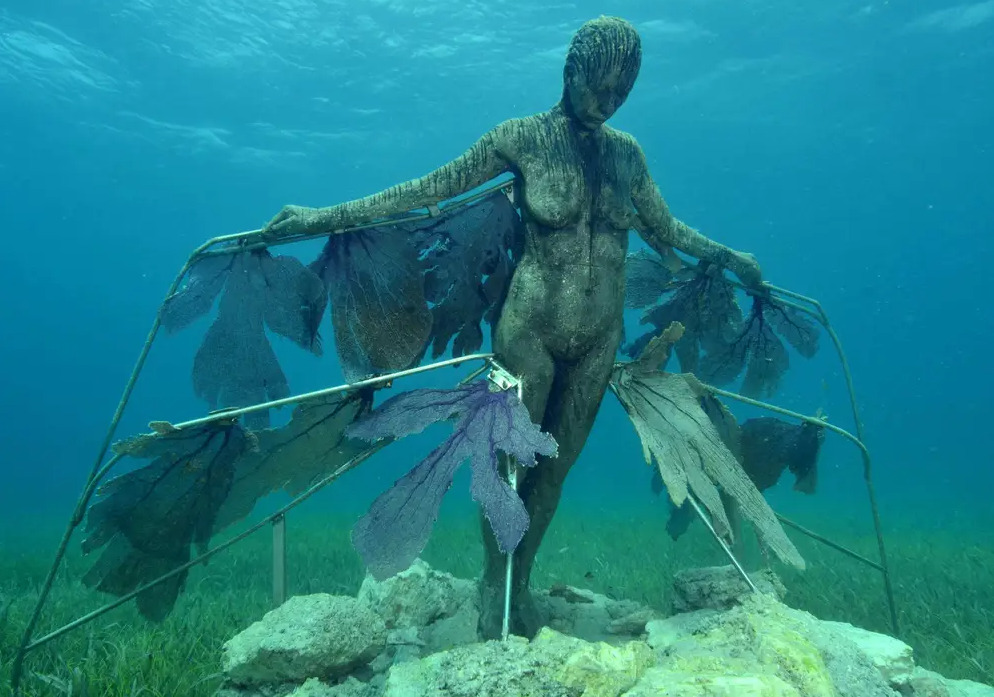 Snorkeling or diving tours usually go to the underwater museum. And in addition to the statues, you are likely to see fish and other animals swimming nearby.
17.Get to the Lucha Libre show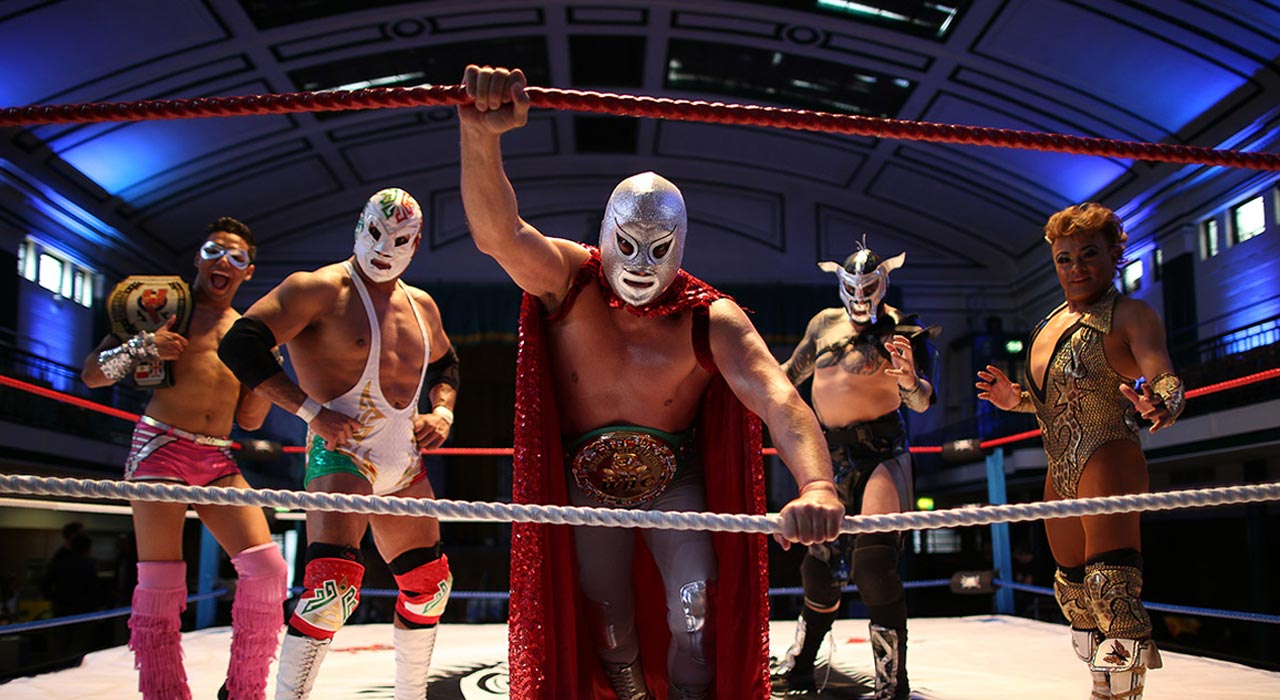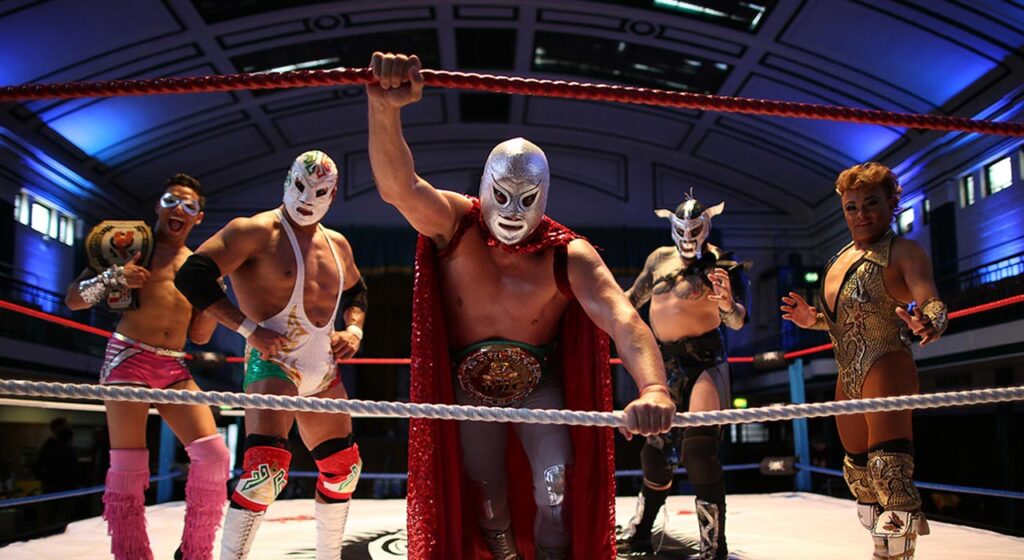 Watching the Lucha Libre show is one of the most unique events you can experience in Cancun.
It's a kind of wrestling competition with a national flavor that Mexicans love to watch, and attending it will definitely let you blend in with the locals. Even if you don't usually watch wrestling competitions, it's still a very fun and entertaining way to spend an evening and cheer on the athletes with the locals.
18.Swim in the cenotes near Cancun
The cenotes (natural cavities) are one of the most visited tourist attractions in Mexico. There are not many unusual and memorable cenotes in Cancun itself, but nevertheless you can find some beautiful ones near the city in Puerto Morelos. One of the best cenotes near Cancun is the Cioté Bocas, which has as many as 7 cenotes in one tiny area. Another is Cenote Zapote, which is a circular open reservoir that boasts turquoise water and beautiful shade from the canopy.
It is best to go to all of them early in the morning to avoid large crowds.
19.Take a swim on the sapas
SUP boards are one of the most popular water fun trends around the world, and Cancun is not exempt from it either. It's a sport that almost anyone can try because it's easy and safe enough for any level of fitness.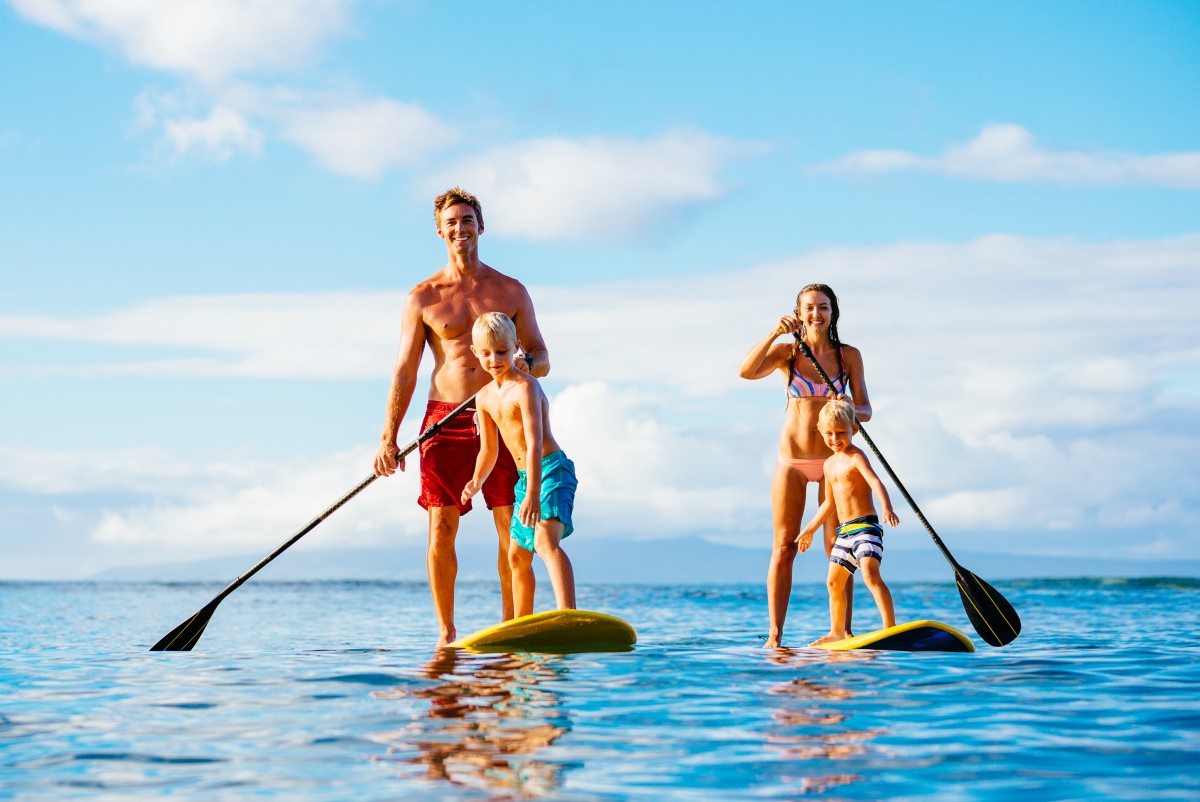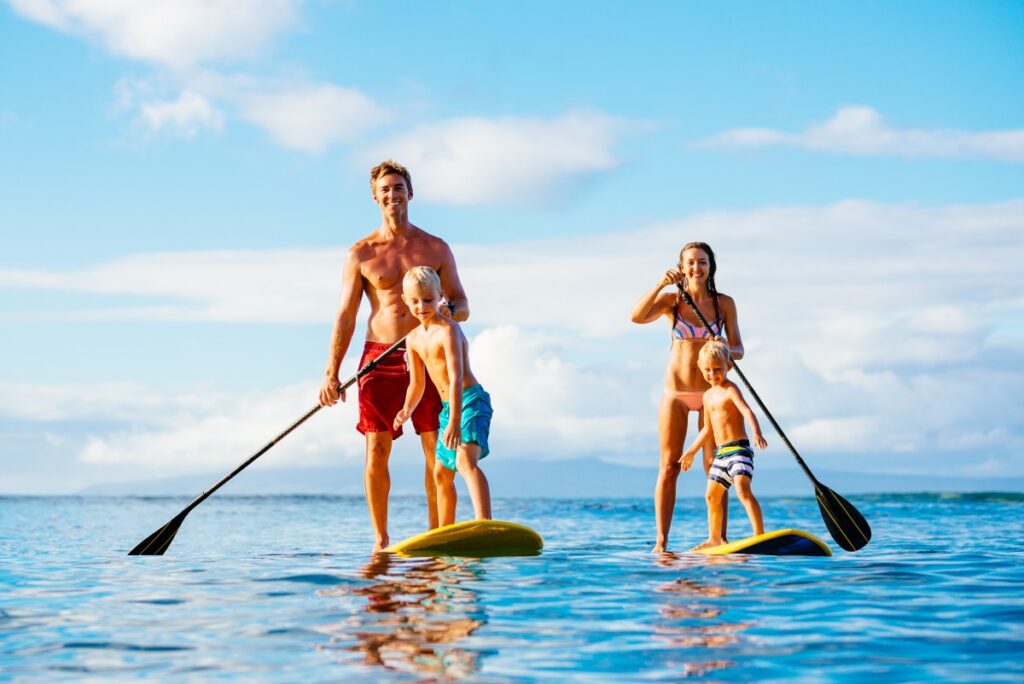 In Cancun, you can rent a sailing board at almost every beach (as long as there are no big waves) or book a tour to explore a particular area, such as the Nichupte Lagoon. Another extremely popular option is sap tours to watch sunsets in the Caribbean Sea. And if you like the extreme, you can even go on a tour that offers to swim from Cancun to Isla Mujeres.
20.Get a dose of adrenaline at Selvatica Park
Another amusement park to visit while vacationing in Cancun is the Selvatica Adventure Park. It is located in the middle of the jungle and uses it as the base for all the rides and activities. It offers many tours that include zip-lining, off-road jeep rides, snorkeling, and more. It's worth noting that this park is often called the best adventure park on the entire Riviera Maya coast! However, note that this is not your average amusement park where you pay for admission and then walk around and choose your rides.
Here you have to choose a tour in advance and then a guide will guide you through the itinerary with entertainment.
21.Try tequila
Tequila is a traditional Mexican alcoholic beverage made from the juice of the blue agave.

Not far from Cancun you can taste the real tequila in the town of Puerto Morelos, 30 minutes south of the city center.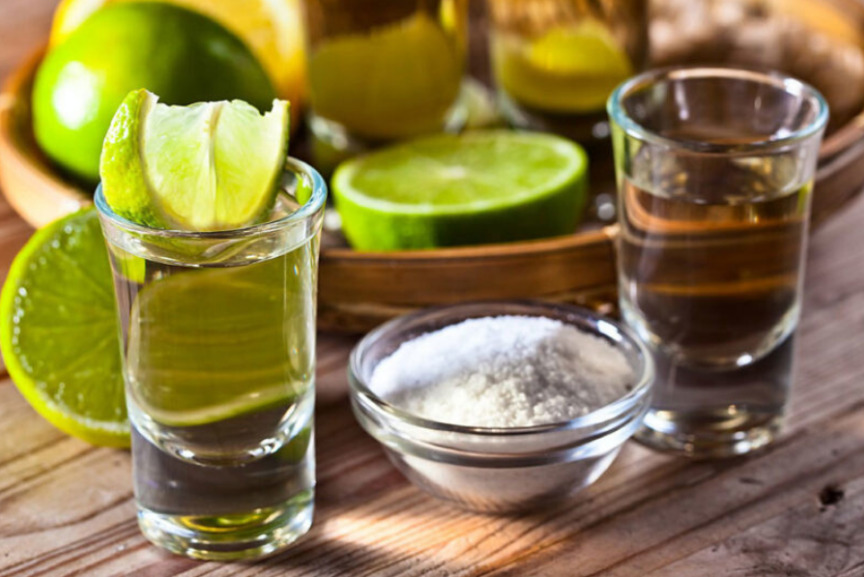 Here in La Sirena hotel on the roof terrace an expert will tell you the history of the drink, how it is made, and what kind you should choose to avoid a hangover. Naturally, you will be offered a tasting of tequila and tequila-based cocktails, as well as snacks perfectly suited to each type of drink. All this with a breathtaking view of the beach and the Caribbean Sea.
22.Go sailing at sunset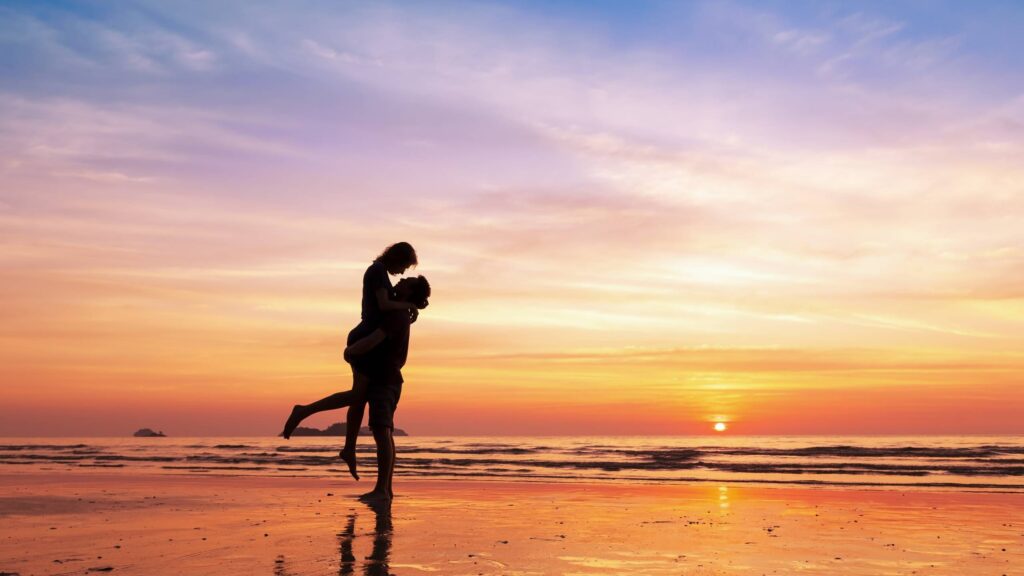 The Riviera Maya boasts some of the most beautiful sunsets in the entire Caribbean, so catching one on a boat in the middle of the sea will be an unforgettable experience. These are usually romantic outings on a sailing catamaran or yacht, where the wind will flutter your hair and the setting sun will pleasantly warm your skin. Most of these outings also offer drinks and snacks, and some vessels even provide entertainment.

The trip lasts about 2 hours, and tour operators compensate if the weather prevents you from going out to sea that day.
23. …or kayaking around Nichupte Lagoon
The Nichupte Lagoon is a huge aquatic space separating the hotel area and the historic center of Cancun.
In fact, it consists of 5 different lagoons, all of which can be kayaked or sap-boarded.
After the Hotel Zone was built, it became the only natural ecosystem unaffected by human activity. Fresh water from the ground mixes with salt water from the sea, creating a comfortable and safe environment for different species of fish and animals. Its waters are surrounded by lush jungle, so birdwatchers and tropical biologists often gather here.
24.Treat yourself to dinner at a fancy restaurant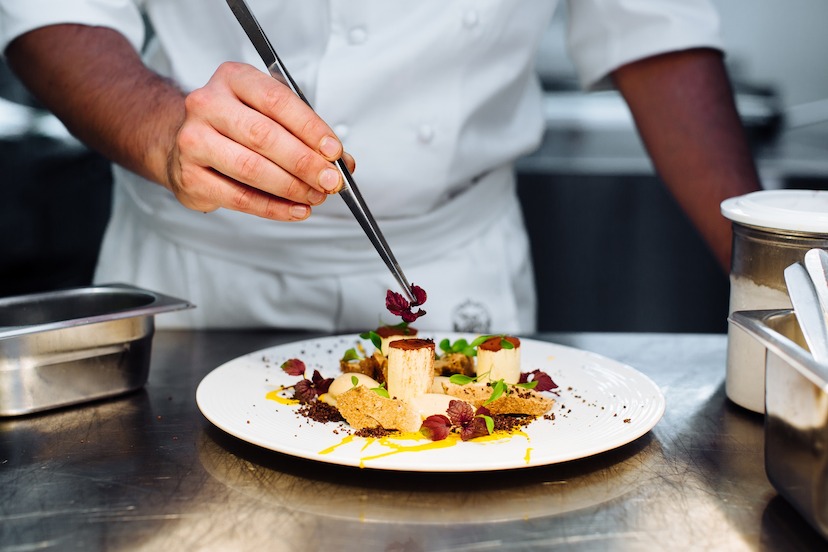 Cancun offers a huge number of restaurants of local and national cuisine, where you can not only eat delicious food, but also enjoy interesting interiors and beautiful views or live music and other entertainment.

Some of the most famous in the city are Casitas Cancun, Lorenzillo's, Porfirio's and La Fonda Del Zancudo.
The restaurant most often advised by tourists is a restaurant called Rosa Negra, located right over the water on Kukulcan Boulevard in the center of the hotel area. They serve traditional Latin American dishes from Peru, Argentina, Colombia, Brazil and, of course, Mexico. And the cheerful atmosphere is supported by musicians, dancers, magicians and so on.
25.Try other national dishes
You probably all know that Mexico has more than just tacos. Its traditional cuisine is based on local traditions and available ingredients: different meats, seafood, plants and locally grown spices. The most famous Mexican dishes include tamales, burritos, empanadas, lime soup and others.
Also very popular here are churros, whose recipe comes from Spain.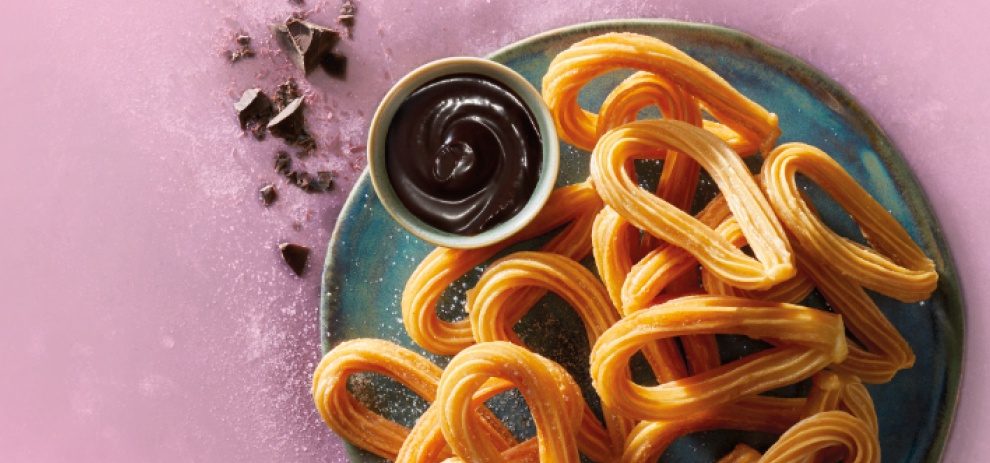 But the great thing is that all these dishes can be tasted not only in restaurants, but also directly on street stalls, which means they will be very cheap. Just make sure they follow basic sanitation rules, or you risk coming down with poisoning.
26.Go for the food and stay for the party at Señor Frogs
Senor Frog's is an extremely popular grill bar with a Mexican flavor in Cancun. However, you should come here not only for the food, but also for the entertainment. Senor Frog's is also one of the most famous places to party in Cancun. For example, it hosts foam parties on Wednesdays, «sparkling» parties on Sundays, and offers an open bar on other days. So joining a party at Senor Frog's is the best fun in Cancun at night!
27.Try snorkeling, diving or other water sports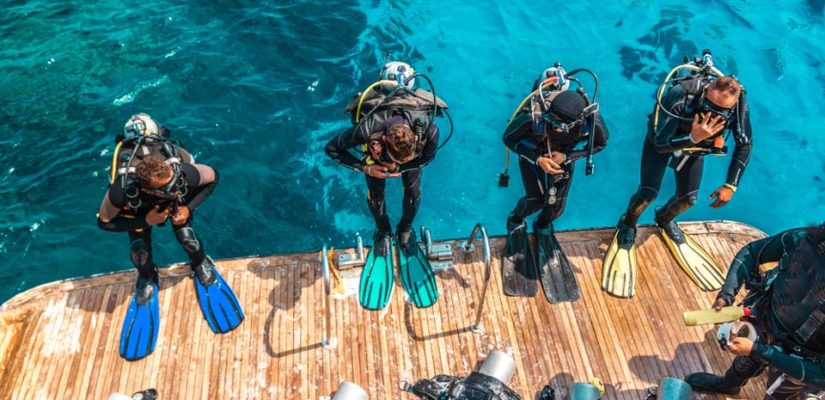 You probably know that Cancun is a great place to do all kinds of water activities. Snorkeling is extremely popular here because of the rich marine life in the region close to the Mesoamerican Barrier Reef. And the clear, warm year-round water makes watching colorful fish and corals especially comfortable. Most snorkeling tours are just outside the city.
The same can be said about diving. Beginners and professionals come to Cancun every year to see reefs, shipwrecks and underwater sculptures.
Other water sports to try in Cancun include jet-surfing, flyboarding, kiteboarding and sport fishing.
28.Take part in a Mayan cleansing ceremony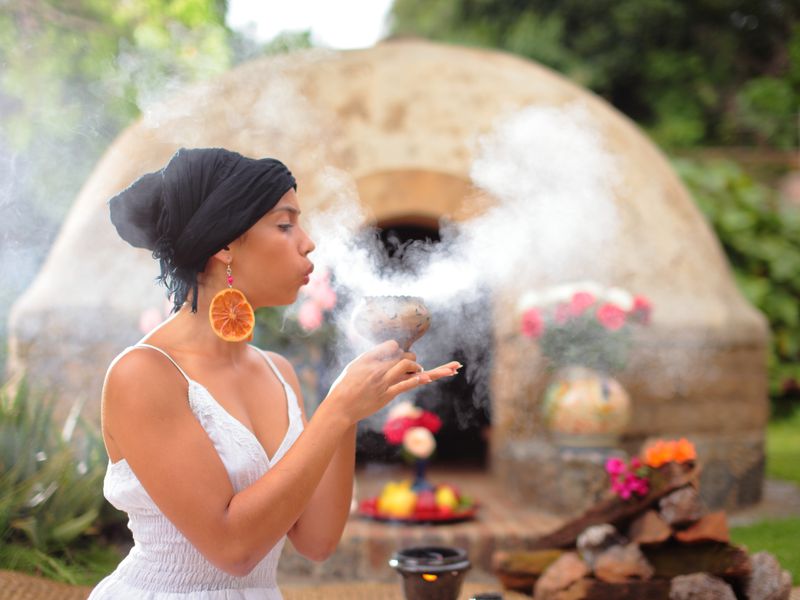 Temascal is an ancient ceremony practiced by the Mayan people to cure illnesses. The ceremony takes place in a clay structure where steam rises from the volcanic rocks and fills the room. Because of this, the whole experience is a bit like a bath. However, it takes place in the dark, with shamanic chanting and decoctions of healing herbs.

Usually this is not cheap (from 80 dollars), but in addition to the ceremony visitors get a traditional dinner and a night swimming in the cenote.
29.Visit El Meco
El Meco is a small archaeological site north of Cancun. The site has only been open for a few years, so there are no organized tours yet. However, nothing prevents you from coming on your own (by cab or rented car) and see the ancient pyramid and other buildings. Most of the time there are very few tourists in El Meco, so the whole area will be at your disposal, but sometimes school excursions come here and then the place gets noisy. Nevertheless, it is a great place to learn about Mayan history and relax in a park that is not yet popular with a large number of people.
30.Find all the street art in the city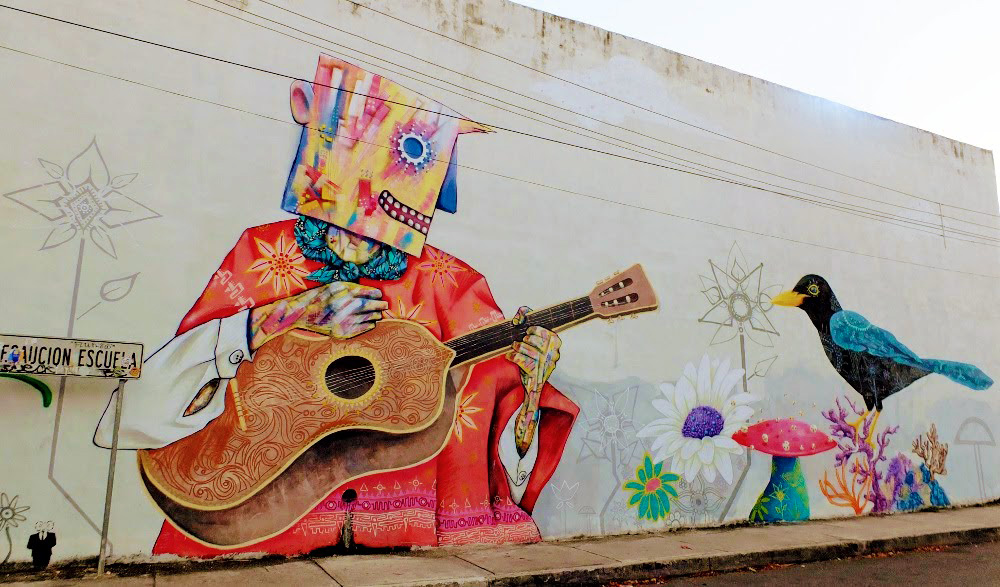 Colorful, large-scale muaras created by renowned Mexican and international street artists pop up all over Cancún, turning this bustling resort town into a lively outdoor art gallery. Many of them focus on local history and culture or the nature of the jungle and ocean.
For now, there are almost no organized street art tours of Cancun. That said, there are a few main areas where you can find the greatest concentration of work. One of them is the Avenida Bonapac apartment complex in the historic center. There you will see two murals several stories high.