Mexico is one of the most visited tourist countries in the world (more than 32 million people a year from the United States alone). Why does everyone come here? First, a huge variety of recreation: beach holidays in luxury hotels, incredible places to party, unique tourist locations (in Mexico are preserved sights that are not found anywhere else in the world – about this below). There are mountains, beaches, hiking and diving spots. And the cost of all this is on average lower than if you choose similar vacation destinations in the United States.
Official currency: Mexican peso.
Current exchange rate: 10 pesos to $0.5.
Official language: Spanish
The advantages of vacationing in Mexico
A wide variety of recreation: seaside resorts, sightseeing tours, club parties and more.
Relatively inexpensive when compared to vacations in the United States.
You can go all year round, as it is always hot (but sometimes even too hot, so about this and in the minuses).
In resort cities, everything is aimed at tourism. The high level of service in hotels, locals are friendly, a huge variety of entertainment. When you come to Mexico, you can be sure that they will do everything to make your vacation excellent.
A huge number of flights to anywhere in Mexico. As of this writing, there are 108 flights a day from New York City to Cancun.
Disadvantages of vacationing in Mexico
Weather. There is a rainy season (September to November). And also very hot from July to August: the temperature of the sea sometimes rises to 30 degrees. Summer through fall is still considered "hurricane season," but that doesn't mean you'll constantly see hurricanes and the weather will be bad.
Seaweed in the sea. In April, seaweed begins to appear in the sea and their number increases during the summer (until August). Unfortunately, this problem is very difficult to solve. Many hotels clean the beaches, and you can also find places where there is no algae at all. As you can see, the seaweed season coincides with the low and hot season.
Crime in some regions of the country. Naturally, this is not the case in the resort regions. But if you want to explore the country on your own, you need to learn in advance about the regions where you should not go.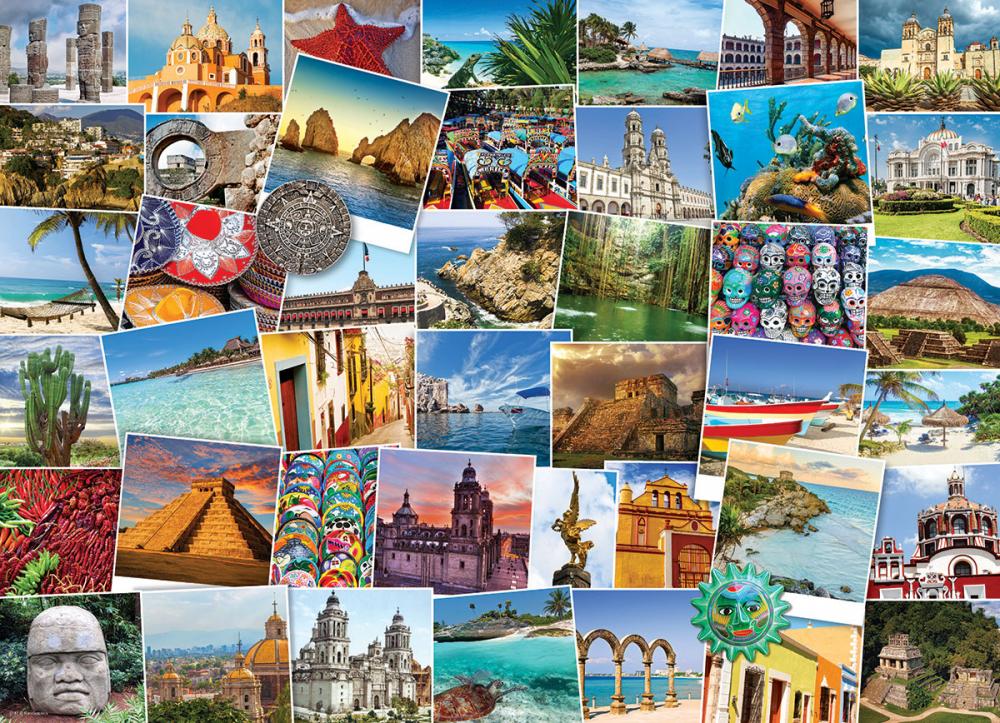 The best resort towns in Mexico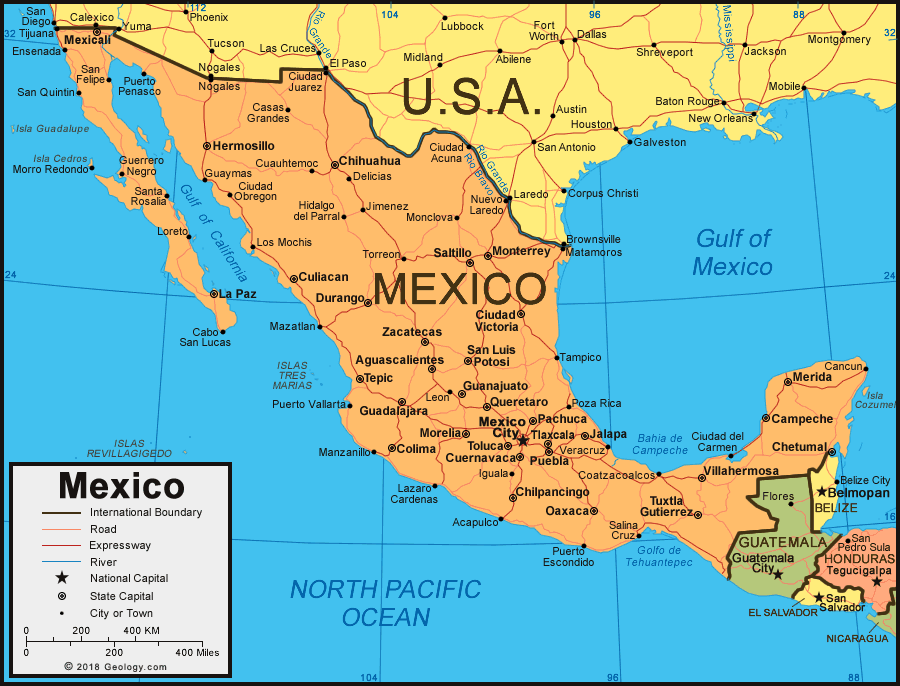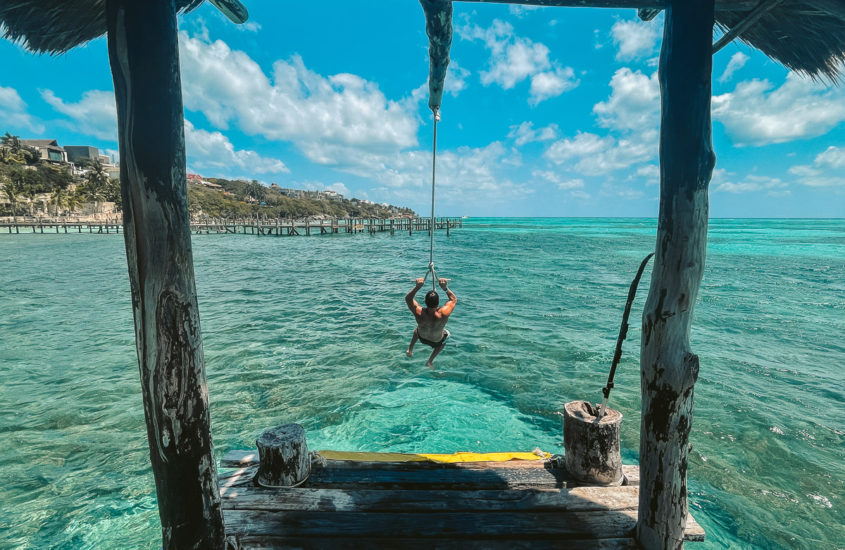 Huatulco is one of the quietest and coziest Mexican towns in the state of Oaxaca. It is famous for its fascinating nature: tropical forests, exotic plants and animals, waterfalls, coves and an amazing underwater world. But the lively infrastructure here is very modest – there are few restaurants and stores in the area, so this place will be really perfect for the lovers of solitude away from the hustle and bustle.
Acapulco is a famous tourist center located on the shores of the Pacific Ocean. Due to its comfortable climate and beautiful beaches, the resort annually attracts millions of travelers from all over the world. It will especially appeal to young people and all lovers of nightlife because of the large number of clubs, bars, restaurants, casinos and other nightlife.
San José del Cabo is a small town in Mexico, perfect for a secluded and comfortable vacation. San José del Cabo has it all: natural beauty, excellent scuba diving, interesting sights and places to walk, golf courses, as well as inexpensive stores and cozy restaurants with local cuisine.
Ixtapa is a resort town in southwestern Mexico, located on the Pacific side. It is a rapidly growing resort with well-appointed beaches and azure waters, a good selection of hotels, restaurants, and nightlife. A popular tourist attraction here is the luxurious water park, done in the «Disney Universe» theme.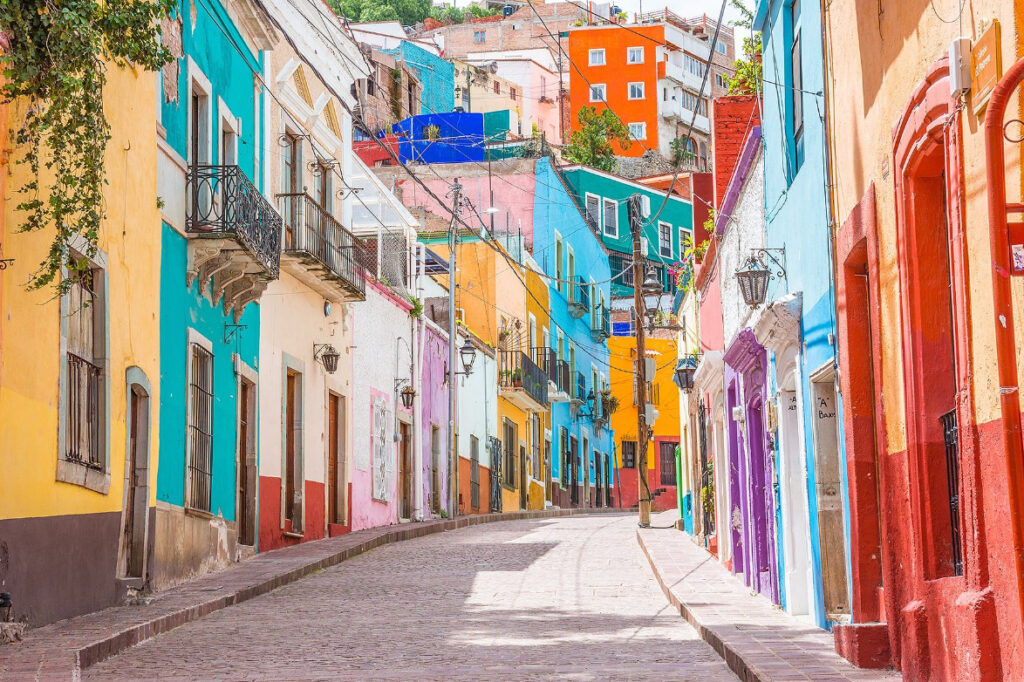 Sayulita is a picturesque city located on the Pacific Ocean in western Mexico. Accommodation options are dominated by modest boutique hotels, there are many family-run restaurants, and stores with local artisan goods. The golden sand beaches and high waves are ideal for surfing. And because of its authentic atmosphere, the city is perfect for experiencing Mexican culture.
Sihuatanego is a quiet beach resort, considered the fourth largest in the Mexican state of Guerrero. Because of the extremely quiet environment, it is most often frequented by older couples, but otherwise it is business as usual: cozy coves, snow-white beaches, majestic cliffs and many palapa-restaurants in the area.
Puerto Escondido is a city in the Mexican state of Oaxaca, adjacent to the Pacific coast. The resort is divided into two parts: the first – a tourist area with many restaurants, bars and hotels, the second – a residential area, dominated by the local population. The city is famous for huge waves, so these places are loved by surfers from around the world.
Manzanillo is a lively tourist destination on Mexico's Pacific coast that retains the warm atmosphere of a small port town. Sport and recreational fishermen come here every year. The town's beaches offer good conditions for swimming and water sports. The historic center of the city is great for walking and Boulevard Miguel de la Madrid is the best location for nightlife.
Akumal is a small beach resort on the shores of the Caribbean Sea. The name of the city does not in vain translates as «turtle place». The waters of Playa Akumal Bay are home to many sea turtles, which can be seen during scuba diving. Clean water, almost no waves, beaches, both with developed infrastructure, and more secluded – these and other advantages make tourists return here again and again.
Punta Mita is a seaside resort located on the north shore of Banderas Bay in the state of Nayarit. The amazing nature of the peninsula invites you to take walks or cruises around the bay, which offer a unique opportunity to watch whales. It's also a great place for surfing, fishing, and snorkeling. The resort's beaches are well maintained and clean, and the hotels are considered the best in the region.
Weather and Climate in Mexico: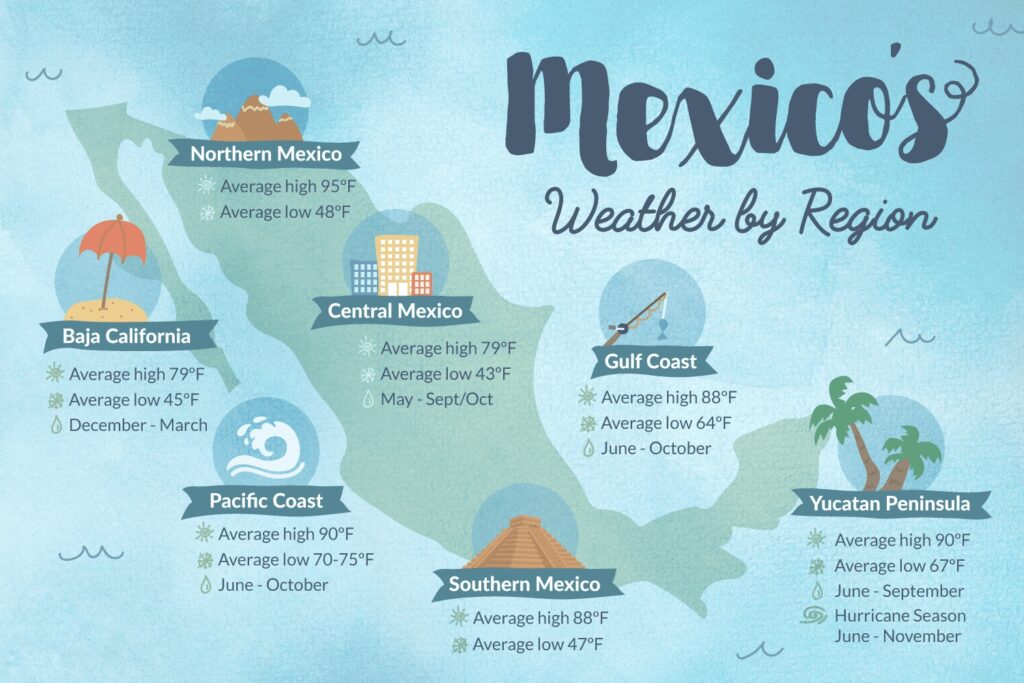 Mexico has two climatic zones: subtropical in the north and tropical in the rest of the country.
The best time to visit is the dry season from November to May, when the skies are clear, temperatures range from +82 °F to +89 °F, and rain is rare. However, be prepared for higher prices for accommodation and airfare than, for example, in the off-season.
The worst time to visit is the wet season from June to October, when there is a high probability of rain, strong winds and even hurricanes. During this time, the number of tourists decreases markedly and prices fall.
Below is a chart of the weather in Mexico by month:
Month

Temperature during the day (°F)

Temperature at night (°F)

Water temperature (°F) 

January
+80,6
+66,2
+75,2
February
+80,6
+68
+77
March
+83
+70,3
+80,6
April
+84,2
+71,6
+80,6

May

+87,8

+

77

+84,2

June

+87,8

+77

+84,2

July

+89,6

+77

+86

August

+89,6

+77

+86

September

+87,8

+75

+84,2

October
+86
+73,4
+80,6
November
+82,4
+71,6
+78,8
December
+80,6
+68
+78,8
Mexico enjoys a warm climate and high water temperatures year-round, although there is a not-so-good rainy and hurricane season. But if the weather doesn't stop you, you can save a lot on accommodation and flights during this period.
What to do in Mexico?
If you're a beach lover, feel free to choose any of the resorts and enjoy a great time, from swimming and sunbathing to snorkeling, diving and fishing. Many of Mexico's beaches have a gentle entrance to the water and calm waters, so they're great for families with kids.
Among the most popular beach resorts are: Cancun, Cabo San Lucas, and Playa del Carmen. Almost all of the beaches in these cities are equipped with the necessary facilities and services for recreation.
If you are a history buff, you will find Mexico to be a paradise. The country is famous for its historical sites, because its lands have been home to ancient civilizations for centuries: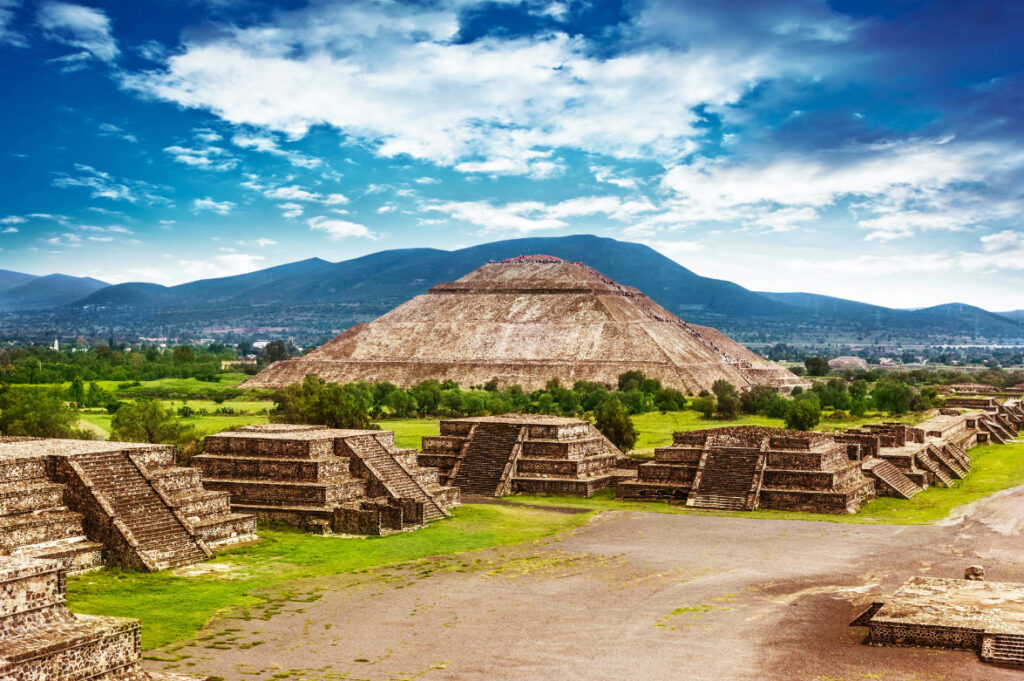 Visit the archaeological area of Chichen Itza, which allows you to touch the Mayan civilization. Here you can see the Temple of Warriors, the pyramid of Kukulcan, the archaic observatory and other ancient monuments. Near the complex there is a huge natural well – Ik Kil cenote, where you can swim or snorkel.
Explore the abandoned city of Teotihuacan, which has perfectly preserved pyramids, temples and palaces, as well as a museum with many ancient artifacts.
Walk through the ruins of Palenque, another ancient Mayan city. More than 1,400 different structures are beautifully preserved here.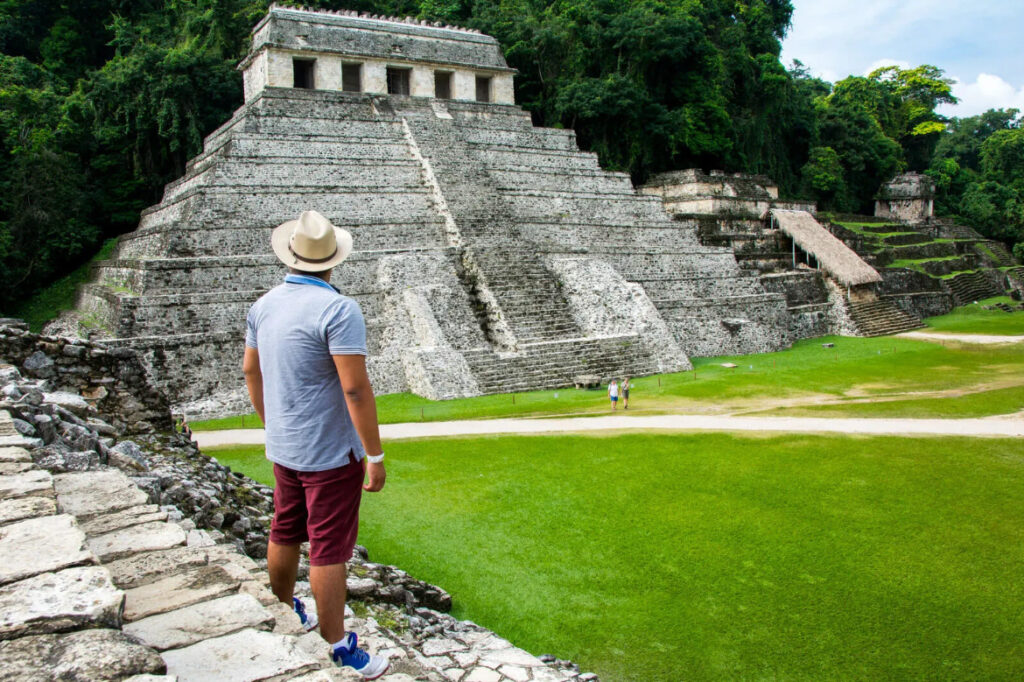 If you're a nature lover, then you're going straight to the country's national parks, perfect for walking and showcasing the amazing local landscapes:
Shel-Ha National Park is a natural aquarium naturally formed in a mountain cave. There you can go snorkeling and see exotic fish of the most amazing colors.
The Shkaret Ecopark is famous for its Butterfly Pavilion, a bird sanctuary and a huge aquarium with a coral reef, where you can see a variety of sea creatures. It is a truly unique place with preserved ancient monuments in the area, as well as a lot of cultural and entertainment programs.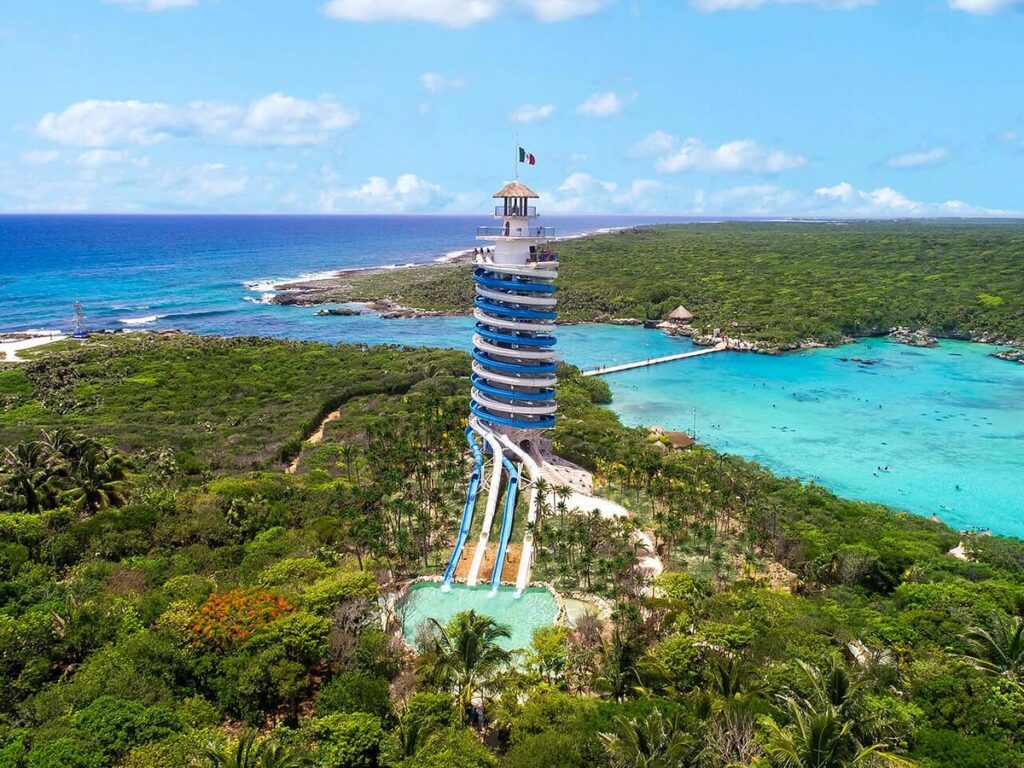 If you are a lover of outdoor activities, you can be sure that Mexico provides all the necessary conditions for this:
Take up water sports such as snorkeling and diving. Many Mexican beaches provide all the necessary equipment for rent. The Pacific coast of Mexico is ideal for surfing.
Visit Selvatica Amusement Park, distinguished by its extreme character. Here you can fly a zipline over the jungle, descend a cliff with a rope and take a tour on a military truck.
Head out to conquer the mountain peaks. Popular hikes hold trails to Orisaba, Jorullo, and Popocatepetl volcanoes.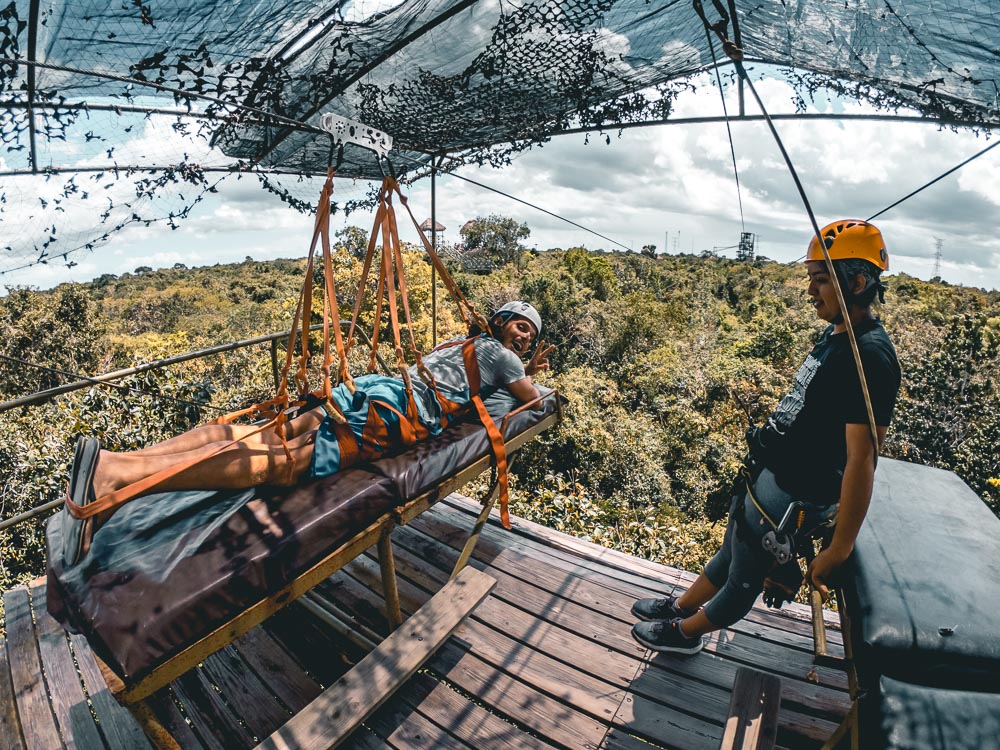 If you can't imagine your life without partying, you've come to the right place. If you choose such tourist destinations as Cancun, Acapulco, and Mexico City with their many party resorts and nightclubs, you won't be disappointed:
Coco Bongo, Cancun is the most famous nightclub in the country with a rich entertainment program. The institution combines a concert hall, a bar, a dance floor and even a circus. Here you can enjoy the performances of famous DJs and dancers, as well as stunt numbers of acrobats.
The City, Cancun is the largest nightclub in Mexico with a capacity of over 5,000 people! At the same time the club is always full of people, because such popular stars as 50 Cent, Fergi, Snoop Dogg, Dj Tiesto often perform on stage.
Palladium is the most popular nightclub in Acapulco. Huge grounds, open terrace overlooking the city, famous DJs, light show, and, fireworks every night after the party is over.
https://www.youtube.com/watch?v=WDRYRET41c0
If you are traveling with children, Mexico offers many hotels with special programs for younger guests, as well as a lot of interesting excursions and entertainment for children:
Magic World Waterpark, Ixtapa is like a fairy-tale world, where a child will feel like a hero of a fun adventure. Numerous slides, playgrounds, waterfalls and pirate paraphernalia are sure to give an unforgettable experience.
Aquaventuras Water Park, located in Puerto Vallarto, includes water slides and rides, as well as shows with sea animals and swimming with dolphins.
The Crocodile Farm in Cancun allows you to hold baby crocodiles and observe other exotic animals.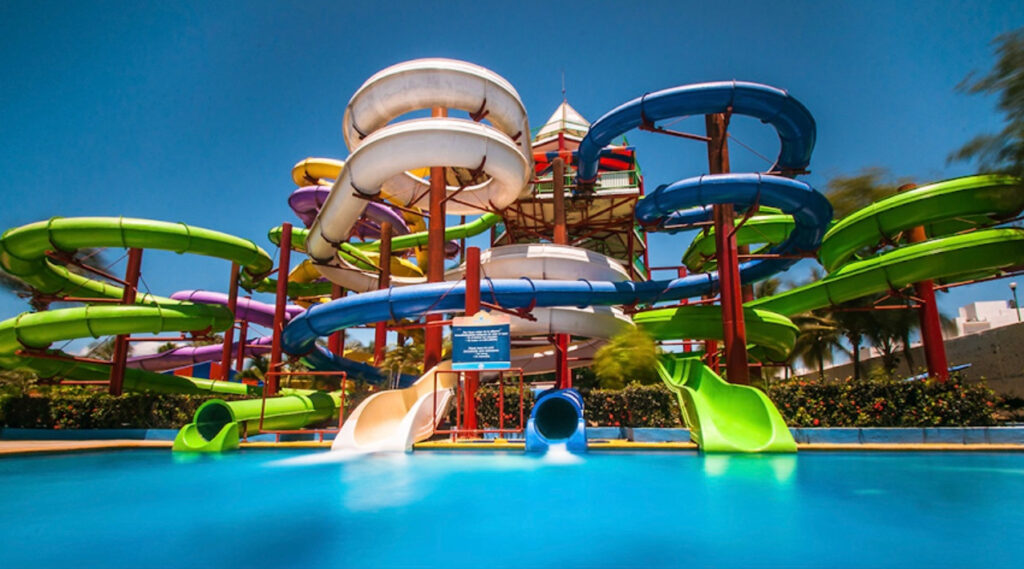 Useful tips for tourists:
In public places beware of pickpockets, there is a possibility of being robbed.
Avoid non-touristy areas of the country.
In Mexico, it is illegal to drink alcoholic beverages in the street, except in bars and restaurants by the sea.
If you have rented a car, for safety reasons, try to drive on toll roads.
Do not drink local tap water, it is better to drink bottled water.