Cabo San Lucas is one of Mexico's most popular destinations, renowned for its gorgeous Pacific Ocean beaches, wide variety of restaurants, clubs and activities. Whatever time of year you choose to visit Cab San Lucas, there's definitely no shortage of entertainment.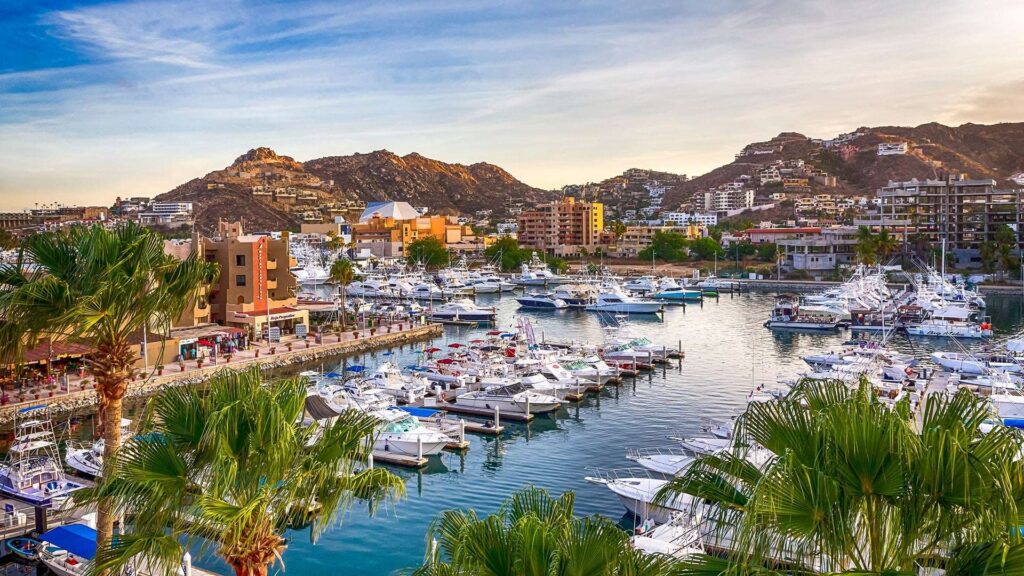 Located on the Baja California Peninsula, this renowned resort is the perfect place to enjoy the sun and ocean in a fun, festive atmosphere. Its proximity to the United States means that it is as close to the American way of life as possible. The abundance of entertainment venues, shopping malls, luxury resorts, spas, and huge golf courses is immediately apparent.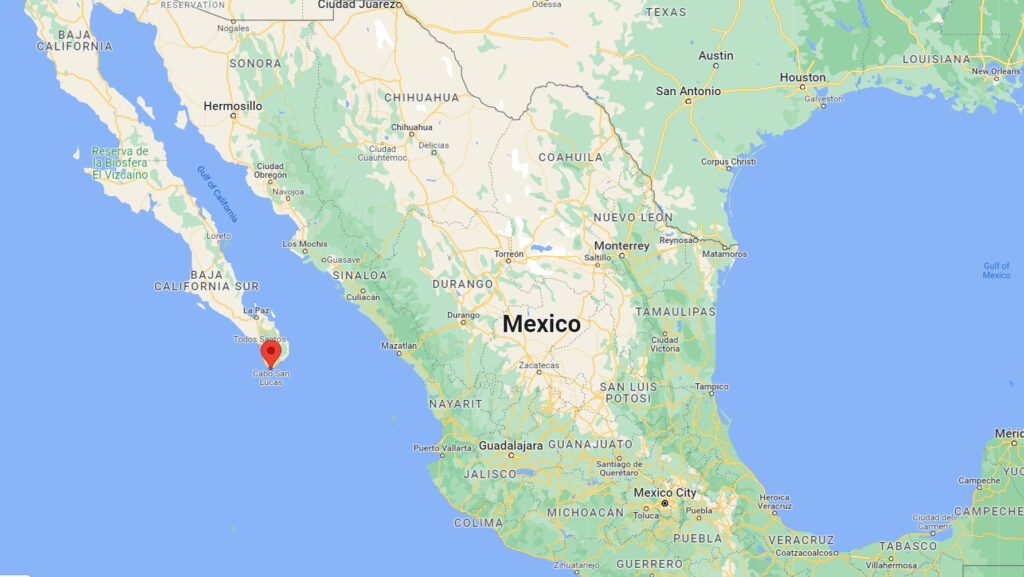 The beaches of the peninsula are ideal for water sports, and in addition can delight fans of scenic landscapes. In some places, they are astonishing in terms of wide sandy area, and in other places they are bordered by steep cliffs, which come right up to the water.
Things to visit in Cabo San Lucas
Paradise beaches, breathtaking views of the ocean, and all the conditions for an active nightlife. The local beaches are definitely a source of pride for the locals, and we will return to their detailed description.
It's perfect to vacation here in large groups, and even if you don't have one, just drop into one of the local clubs, and you'll quickly be initiated into the lively nightlife of this city. And leaving Mexico without going to a tequila tasting is an unforgivable waste of vacation time!
So, our small TOP of the most interesting locations and attractions:
1. El Arco de Cabo San Lucas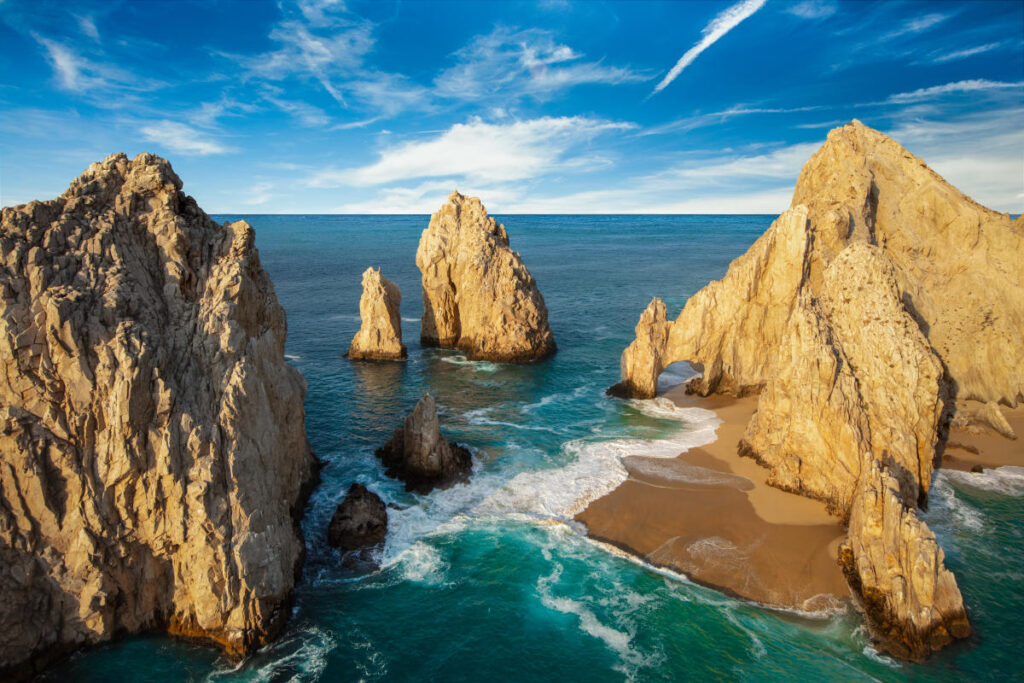 A place of pilgrimage for all tourists coming to Cabo San Lucas. It is impossible to overestimate this cinematic landscape. The breathtaking Pacific Ocean against a backdrop of striking rocky scenery, and that very fantastic arch. Definitely recommend a visit!
2. Playa de los Amantes
If you are going to admire the Arch of Instagram itself, then plan to sunbathe at the famous "beach of lovers. In fact, thanks to its unique location, it is one of the most amazing and secluded beaches in the area.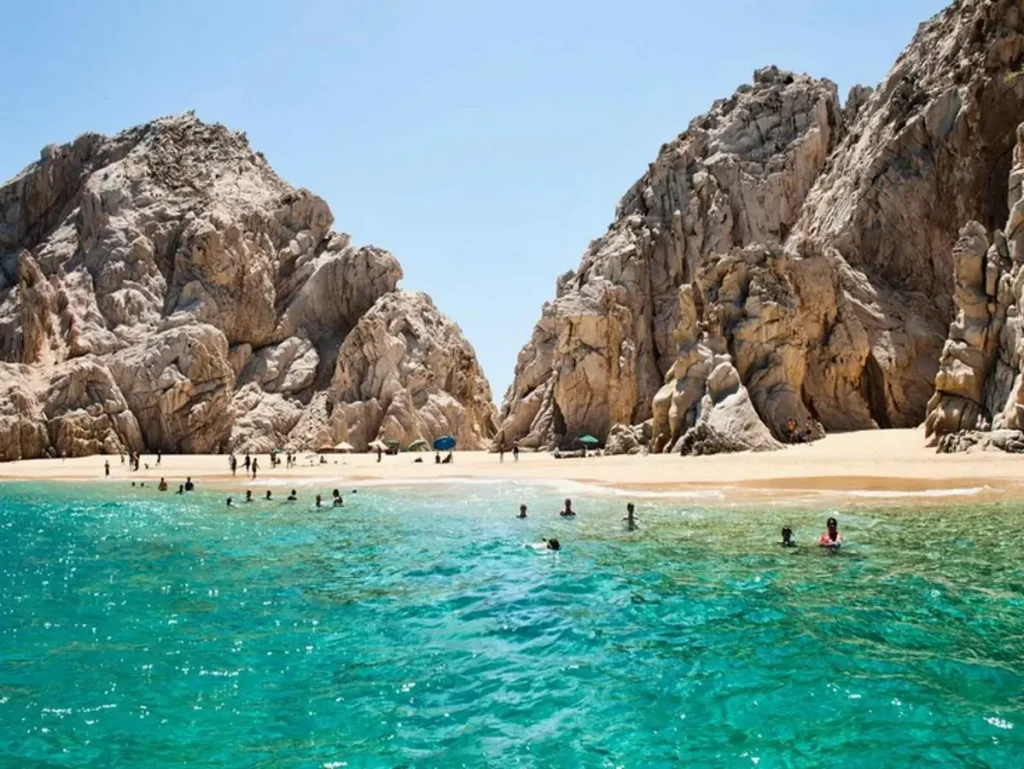 Our recommendation: let's discover a little secret – if you do not live near the cape where the above attractions are located, the easiest way to get here is by boat. Such tours in local agencies in abundance. You can also rent a yacht or a boat yourself at the local marina – the trip by sea does not take an hour. Another advantage of renting an individual watercraft – the opportunity to see the local colony of sea lions.
If you choose to visit the famous cape by land, enjoy the magnificent panorama from above, which is called Lands End. Of course, it's not the end of the Earth, although you can see it from a different perspective.
3. Buccaneer Queen
.
Feel like a pirate! Set sail on a replica of a pirate galleon. Salty air, sun and ocean at your disposal. Includes drinks, dinner and an entertainment show. A delightful sunset to watch right out in the open ocean is a gift!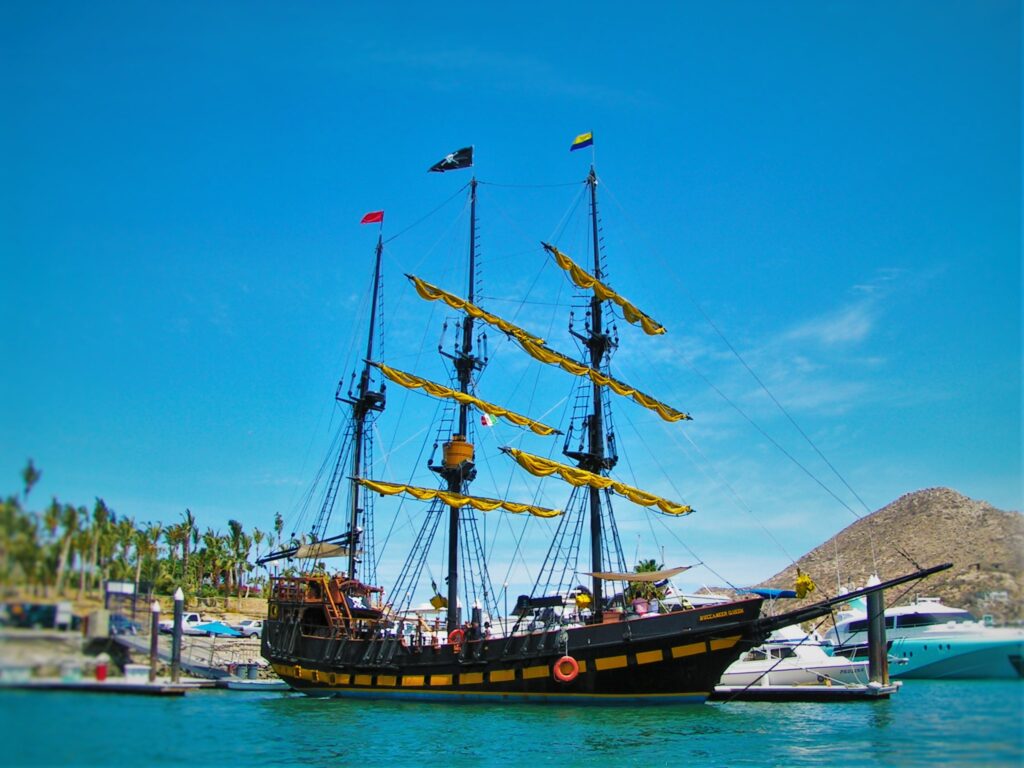 The cost of such a cruise starts at $89
If you are lazy to allocate separate time for each of the attractions, just book a sightseeing boat tour of Cabo San Lucas: so you can in one day to admire the most beautiful beach locations and get the most portion of the southern sun.
5. Tequila tasting
Well, you're in Mexico! Tequila will surround you everywhere. Cabo San Lucas has many specialty stores that specialize exclusively in selling tequila and mescal. It is said that mescal is almost as popular as tequila. They will also give you a tasting and recommend which drinks to take as souvenirs for friends and family.
"Dos tequilas por favor!"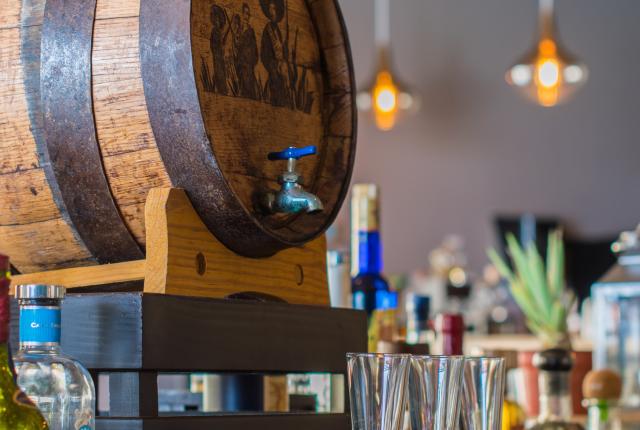 Tequila tasting prices: The average cost of a tequila tasting is about $35 per person. This usually includes four or five tequilas and mescalas + snacks.
6. Reserva de la Biosfera El Vizcaíno
If the beaches and nightlife bore you, we have another recommendation, although it is not in Cabo San Lucas itself. This amazing location is 560 miles away from our destination, but it is worth a visit for anyone who likes to observe wild animals in their natural habitat. Reserva de la Biosfera El Vizcaíno is a large coastal reserve that is home to endangered species of birds and marine animals, including whales.
Nightlife in Cabo San Lucas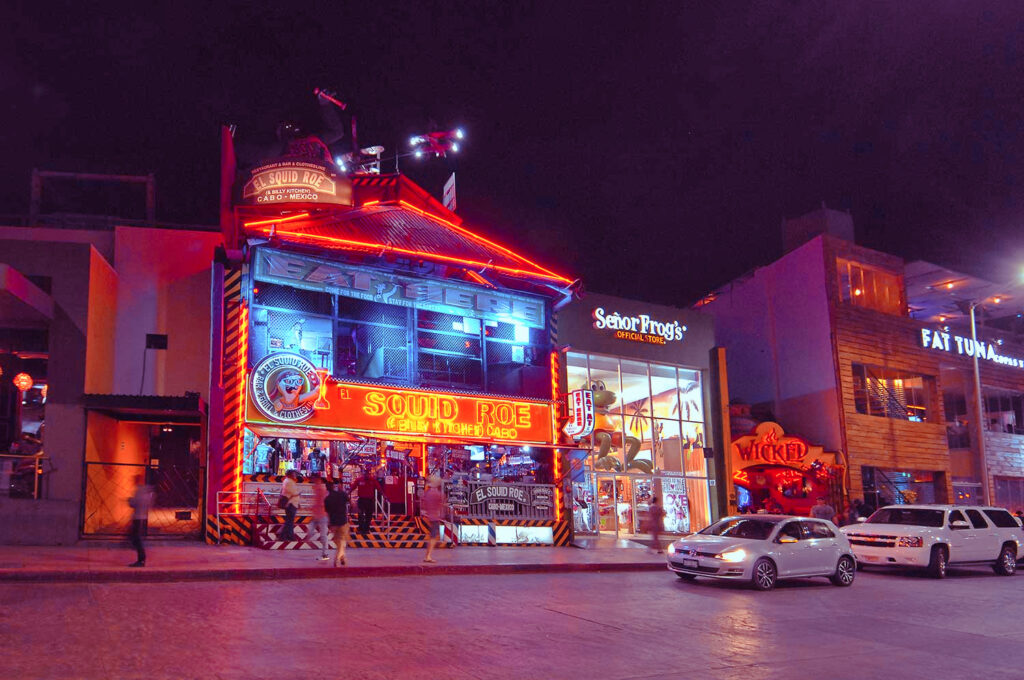 Every tourist in Cabo San Lucas simply needs to visit the noisy local discos. But how to choose the best from the abundance of nightclubs? Of course, this is a matter of taste, but in order to get the maximum amount of impressions at one time, we can recommend special tours to the most popular clubs. It is quite inexpensive, given that in one night you can visit 2-3 places of entertainment at once. Just leave this question to the party guide. You will not have much trouble finding such a person right there on the spot, although you can order such a tour in advance.
The cost of the nightclub tour: To have a promenade through the best discos in the city will cost, on average, from $100/person. This is a very affordable price tag, considering that it is likely to include the opportunity to enter through the VIP line, a few cocktails, a guide escort and transfer to the hotel.
Shall we dance?
The best beaches in Cabo San Lucas
The geographical location of Cabo San Lucas is a strong trump card when it comes to Mexican beach resorts. The Pacific Ocean creates a special atmosphere that is quite different from the beaches on the Caribbean coast. There are locations to suit all tastes. There are beaches that are great for relaxing with children, or doing sports. There are also wild places where you can relax alone with nature. So, who will be included in our rating?
Playa de los Amantes and Playa del Divorcio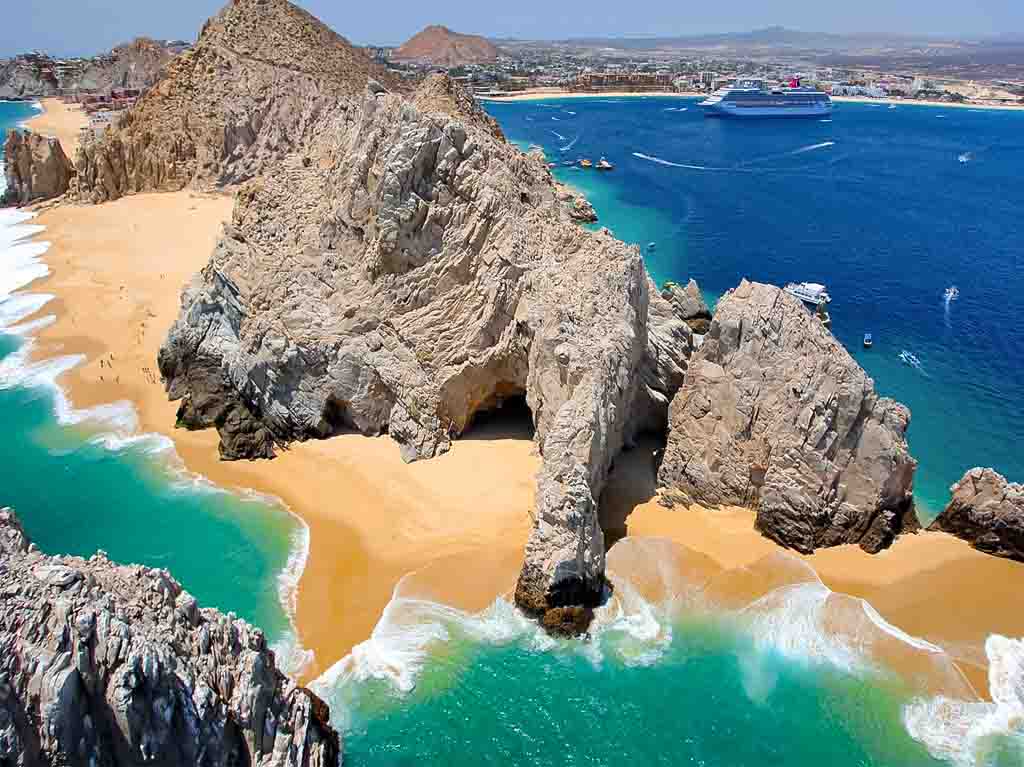 Although located, in fact, on the same territory, for some reason are considered separate beaches. However, this is not the main thing. They are deservedly the leaders of the hit-parade of beaches in this region, thanks to its unique landscape. Undoubtedly, this is the best place where you can relax in the sun, and there is enough room for everyone.
+ Stunning scenery
– Nuances with logistics – it is not easy to get here by yourself. A complete lack of infrastructure.
Playa el Chileno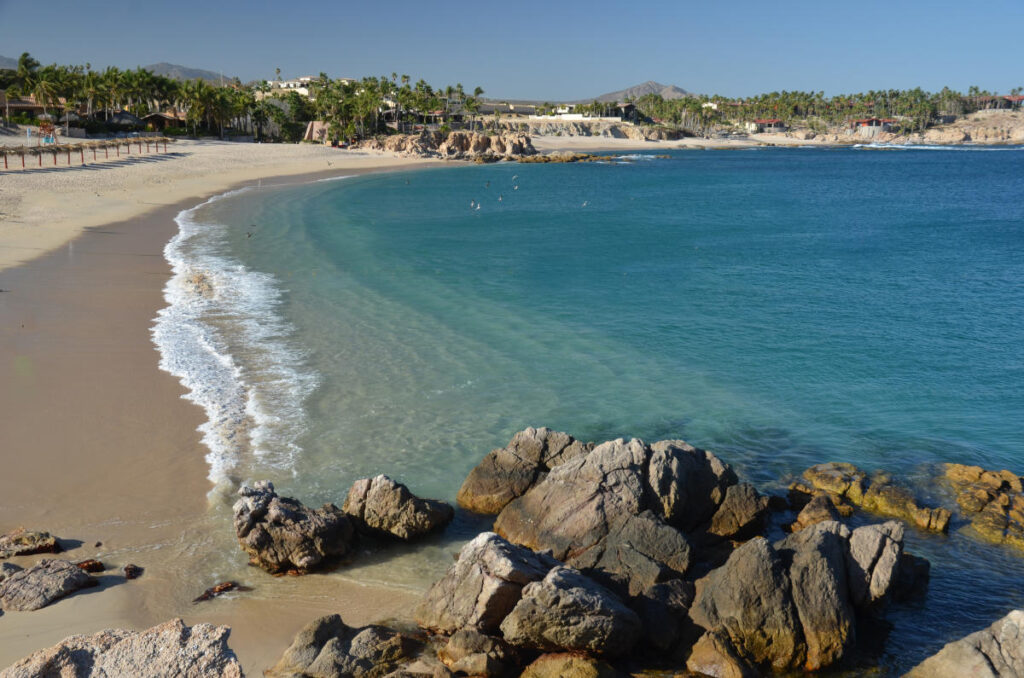 Chileno is a Blue Flag beach. It is probably the most popular beach on the coast between Cabo San Lucas and San Jose del Cabo. It captivates with its picturesque landscape and is suitable for all categories of tourists, from families with children to fans of diving and water sports. The only drawback is that it is outside the city limits. Rent a car, or order a cab to get here. And you can also stay in a great hotel, which is located right on this beach.
+ There is a well-developed infrastructure: convenient parking, lifeguard service, showers and toilets.
– The beach is not located in the city. From the center you have to drive about 15 kilometers.
Playa El Medano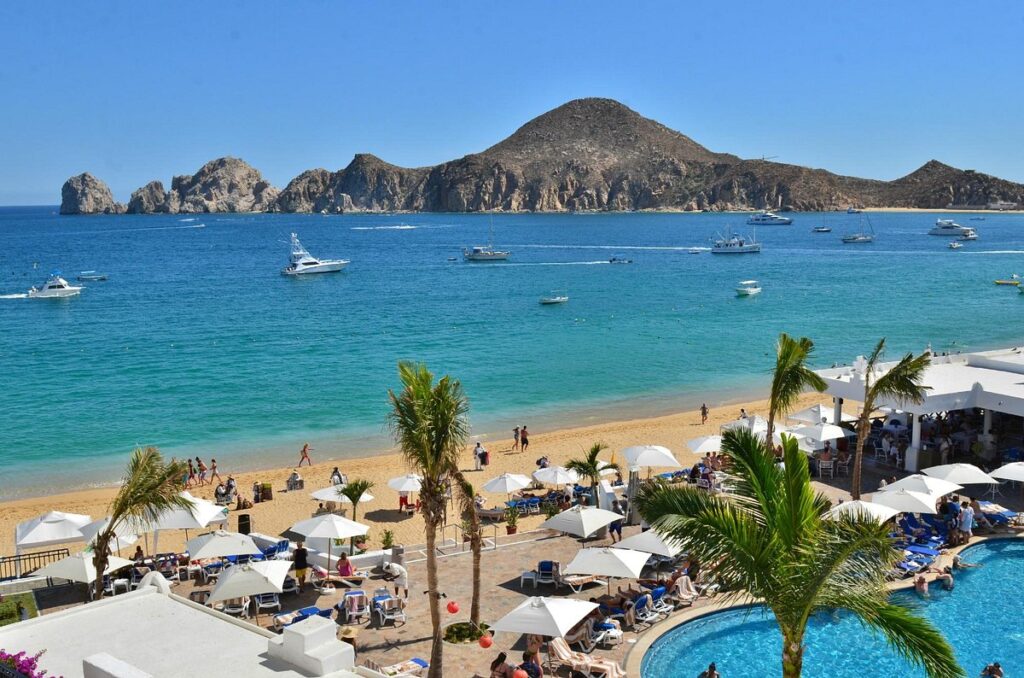 In terms of location, El Medano, which is located on the east side of the port and stretches along the bay, is much closer to the city. Hotels, restaurants and nightclubs are scattered along its coastline. And don't forget the rowdy beach parties!
Playa Santa Maria
This wonderful location is located between the beaches of El Medano and El Chileno. Santa Maria Beach could rival de los Amantes Beach in terms of scenic beauty due to its location – it is a beautiful bay surrounded by rocky cliffs on which the pacific surf breaks. Expensive yachts and catamarans like to stop here for a short stay – the atmosphere is very conducive to swimming in the clear water. Definitely recommend!
+ Very picturesque bay, a wide beach.
– The infrastructure is only at the hotel on the coast. Independent tourists towels and umbrellas will have to take with you.
Of course, if you are vacationing directly in Cabo San Lucas, you can easily swallow the beach strip in the city. It extends for several kilometers and within its boundaries are all you need for a comfortable holiday by the water: restaurants, cafes, beach clubs, etc.
When to go to Cabo San Lucas: Climate, Temperatures and Seasons
Cabo San Lucas is located at the southern tip of the Baja California peninsula, and is one of the most famous resorts. In fact, this wonderful place has an ideal climate that persists here almost all year round. Temperatures are able to stay at 25-27°C (77-80°F) in the winter, but severe drops to minus with the onset of darkness are possible. Water temperatures will remain around 22-23°C (71-73°F).
Noticeable precipitation occurs during the summer, starting in July and continuing until October with the arrival of the monsoon. This is what you might call a low season for Cabo San Lucas. But during this period, guests get a chance to enjoy lower rates in local hotels and a nice warm ocean. Temperatures will rise above 30°C (86°F). High humidity is possible.
From the above it can be concluded that the best time to visit Cabo San Lucas is spring. During this period, sunny and cloudless days and comfortable temperatures are almost 100% guaranteed. The Pacific Ocean in these areas warms well throughout the year, and acts as a natural weather regulator, keeping a nice balance between hot and cool. Although, of course, everyone determines the best time of year for himself.
Which Hotel to Choose in Cabo San Lucas
A question that is always difficult to answer unequivocally, since it depends on many factors: seasonality, comfort level, etc. Let's try to answer it using an example, a conditionally low season.
Naturally, prices vary by category and location. Thus, we can say that the average cost of accommodation will be about $200-250. Even four-star hotels can be found in this price segment. Of course, there are more than enough options with accommodation and cheaper, but you should understand that often financial savings can affect comfort.
The cost of accommodation in 5* hotels starts from $500-600, and in luxury boutique hotels it can reach up to $4000 per night.
Where to eat in Cabo San Lucas
What can we say with absolute certainty? Mexican cuisine, in its homeland, sounds great. Abundance of fresh vegetables, meat, fish and incredible hot peppers merge in a beautiful gastronomic dance. Take even the salsa! You probably remember that it is both a dance and a delicious appetizer.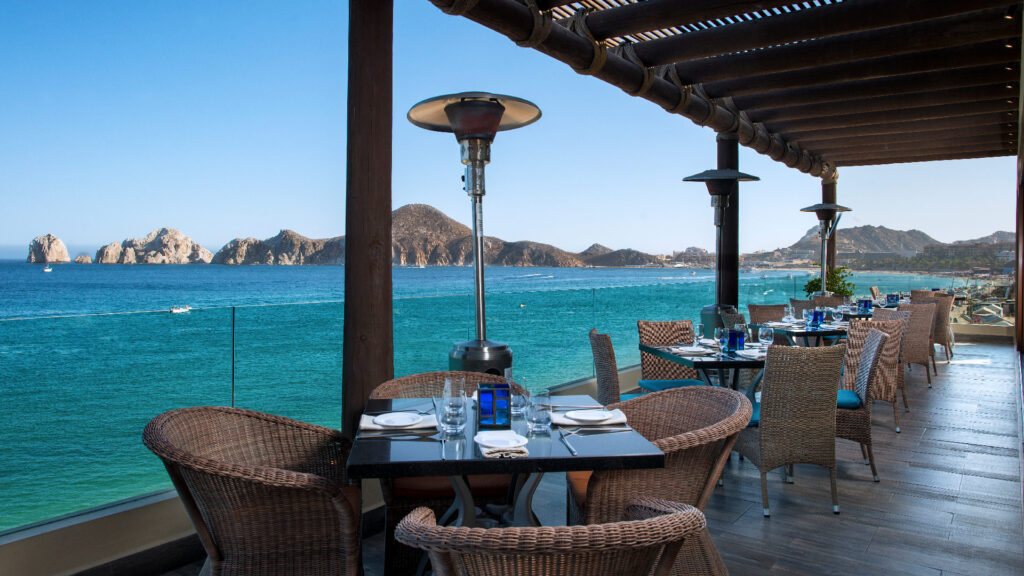 We, in turn, can endlessly list hundreds of local restaurants and cafes, but it makes no sense. Guessing your taste preferences will be quite difficult, and it is much easier to focus on the ratings on Tripadvisor or Google. As a rule, they can be trusted. But we can orient you to the local pricing policy. In local establishments, it is usually not much different from each other. The average bill will be about $60-80 for two people.
Here are the approximate prices for popular dishes:
Caesar salad $11
Shrimp taco $12
Chicken quesadilla $13
Lobster enchilados $40
Steak 50$
Prices for classic Mojito/Bloody Mary/Margarita cocktails – 6$
To summarize, Cabo San Lucas is an amazing place that has a tangibly different feel and atmosphere than the Caribbean coast of Mexico. The presence of the United States can be felt here, although the border with California is almost 1,000 kilometers away. However, Cabo San Lucas conquers with its picturesque landscapes, excellent services, excellent infrastructure and rich in entertainment tourist environment. Most likely, a week will be enough to get acquainted with the local attractions, but will it be enough time to enjoy the magnificent beaches, comfortable climate and delicious local cuisine?
The main pros and cons of vacationing in Cabo San Lucas:

Developed tourism infrastructure
Comfortable climate all year round
Picturesque landscapes with rocky shores and excellent beaches on the Pacific coast
A small number of attractions
Essentially 1 city beach
In the summer you can get into the rainy season