Isla Mujeres is a small island off the coast of Mexico's Yucatan Peninsula, a 25-minute ferry ride from Cancun. Located on the Mesoamerican Barrier Reef (the second longest coral reef system in the world), Isla Mujeres has turquoise Caribbean waters, white sand beaches, and plenty of diving and snorkeling opportunities.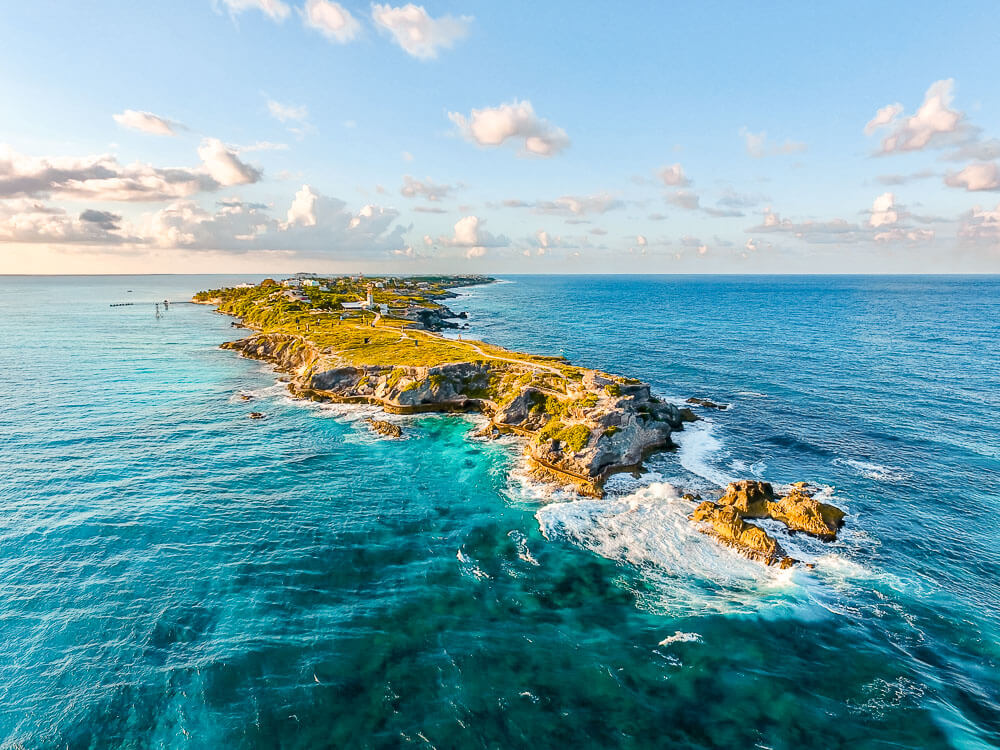 Today, Isla Mujeres can be called the ideal of island life. Here all visitors to the Riviera Maya can find quiet serenity and a break from the parties of Cancun or Playa del Carmen.
A peaceful atmosphere, charming people, great beaches, and of course, delicious food await everyone who comes to the island. Although many tourists only stop here for a day, there is more than enough entertainment to keep people of all ages interested for days or even a week.
Hotel ratings on Isla Mujeres:
Casa de los Sueños Hotel Boutique – 4.5.
Zoetry Villa Rolandi Isla Mujeres – 4.5.
Privilege Aluxes (Adults Only)- 4.5.
Mia Reef Isla Mujeres – 4.5.
Hotel Belo Isla Mujeres – 4.0.
The best time to visit Isla Mujeres: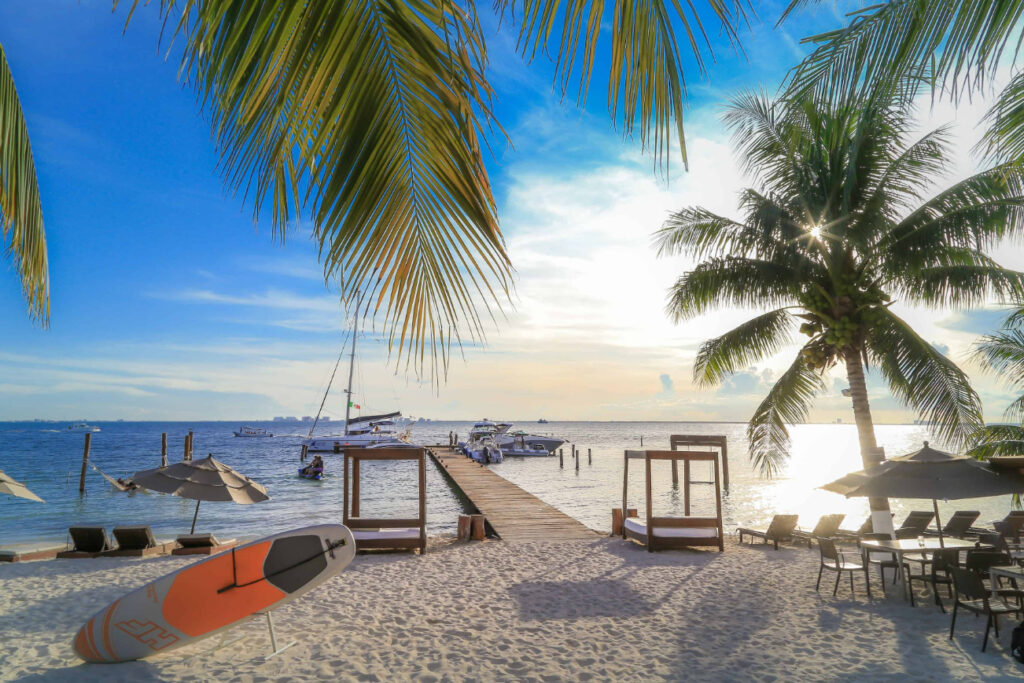 The tropical climate on Isla Mujeres is quite predictable. There is not much variation in temperature throughout the year (average temperature is around 83 ℉), only the rainy and hurricane season should be taken into account.
January-April: perfect weather, but there is the highest influx of tourists.
May-October: hottest and rainiest months of the year, but still lots of sunshine and fantastically warm water for snorkeling and diving.
November-December: the hurricane season is over by this time, and the humidity is low. In the evenings it can be a little «chilly».
Tip: Isla Mujeres hurricane season begins in late May and lasts until early November, peaking between August and October. The likelihood of a hurricane hitting Isla Mujeres is slim, but hurricanes passing near the island can still bring inclement weather. Be sure to check weather forecasts in advance, and take out travel insurance during these months just in case.
The benefits of vacationing on Isla Mujeres:
Clean water and air. In good weather, the water in the sea is perfect.
Good Internet. Not very high speeds (more than 50 Mbit/s), but you still get good speeds, such as 20 Mbit/s.
Food: Mexican food is delicious. But there are also many international cuisine offerings.
Opportunities for close connections. It's a small island where you'll meet the same people and be able to make friends with other vacationers and locals.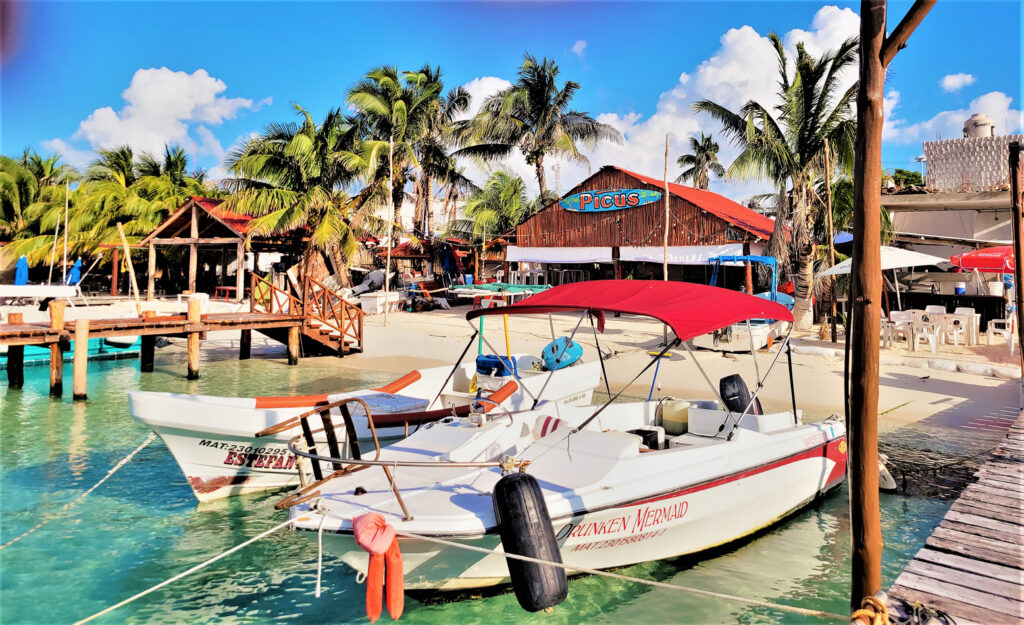 A lot of activities. Most of them are water-related, such as snorkeling, whale shark watching and diving, but you can also play soccer, volleyball or salsa dancing on the island.
A safe place compared to other parts of Mexico and in general.
Good climate with warm weather all year round.
Despite the fact that the island is small, it is not overcrowded with tourists, such as Cancun. So there is a place for everyone.
The level of traffic accidents is quite low.
The atmosphere of a quiet holiday on a small island.
Disadvantages, according to tourists:
Vacations can get expensive. If you stay in the main area, where there is more entertainment, you can spend a lot of money even by American standards.
Many do not speak English or speak very poorly.
Although the food is great, the choice of cafes and restaurants is not very large.
There is almost no nightlife.
Not much entertainment for children at all.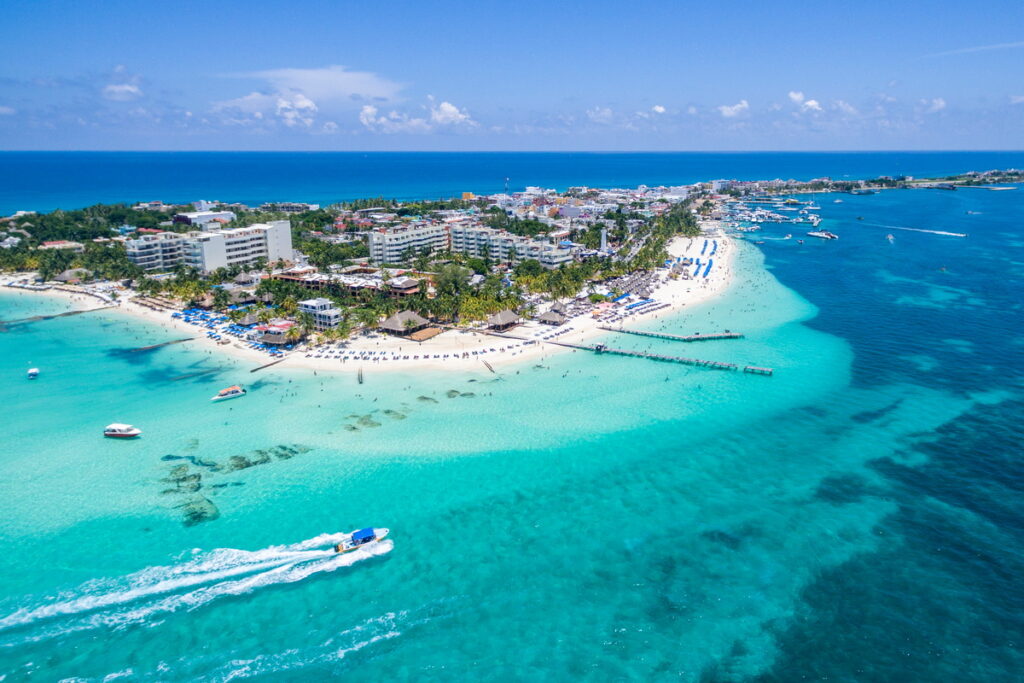 How to get to Isla Mujeres?
Isla Mujeres does not have its own airport. Moreover, it is an island that can only be reached by ferry from Cancun. Ferries leave from the pier of Puerto Juárez and can be reached by cab or bus. The ferry ride takes about 30 minutes and the fare is about 80 pesos one way (about $4).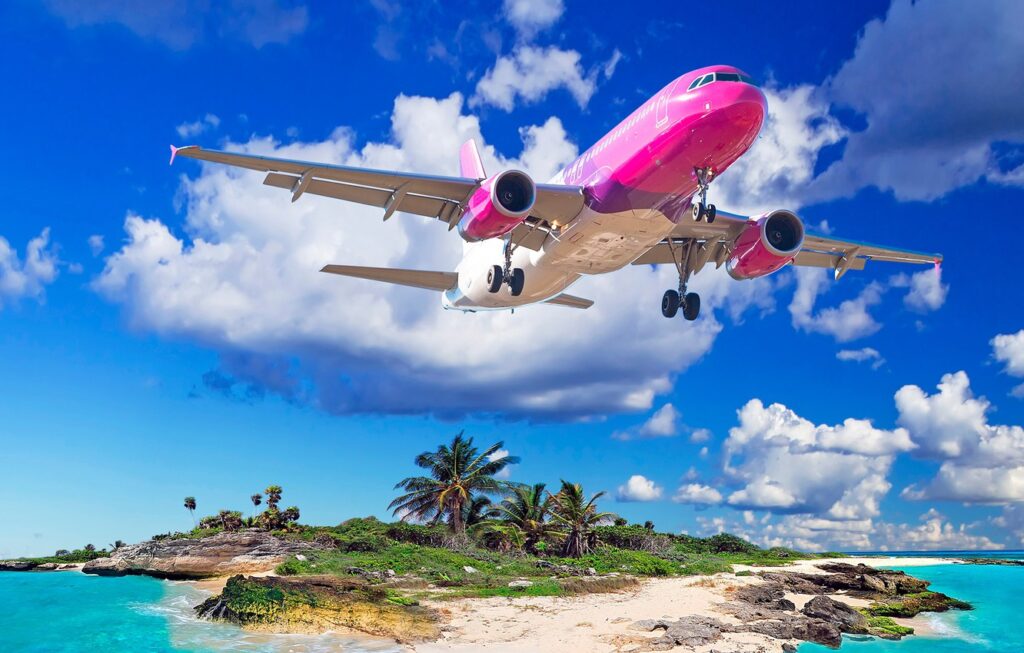 How much does a vacation on Isla Mujeres cost?
The average weekly budget for two people on Isla Mujeres is about $1,427.
Flight costs. Based on the place of departure and time of year, round-trip economy class airfare is about $320-500 per person. During the peak season (winter), the highest prices are.
Cost of lodging. Rooms in guest houses and hostels will cost from $54 per person. Mid-range hotels cost about $108 per night, including all necessary amenities. Luxury 5-star hotels can cost from $500 per night.
Meals. Breakfast or lunch at a place with Mexican food will cost about $20 per person. And the average check for dinner at a restaurant for one is about $30. The total cost of food for a week for two people is $440.
Fare. Cab fares can cost as much as $24 a day. And renting a golf cart will cost $35 for 12 hours.
Leisure. One-day excursions and cultural activities can vary greatly in price. For example, admission to Tortugranja Park is only $2, and swimming with whale sharks is $75.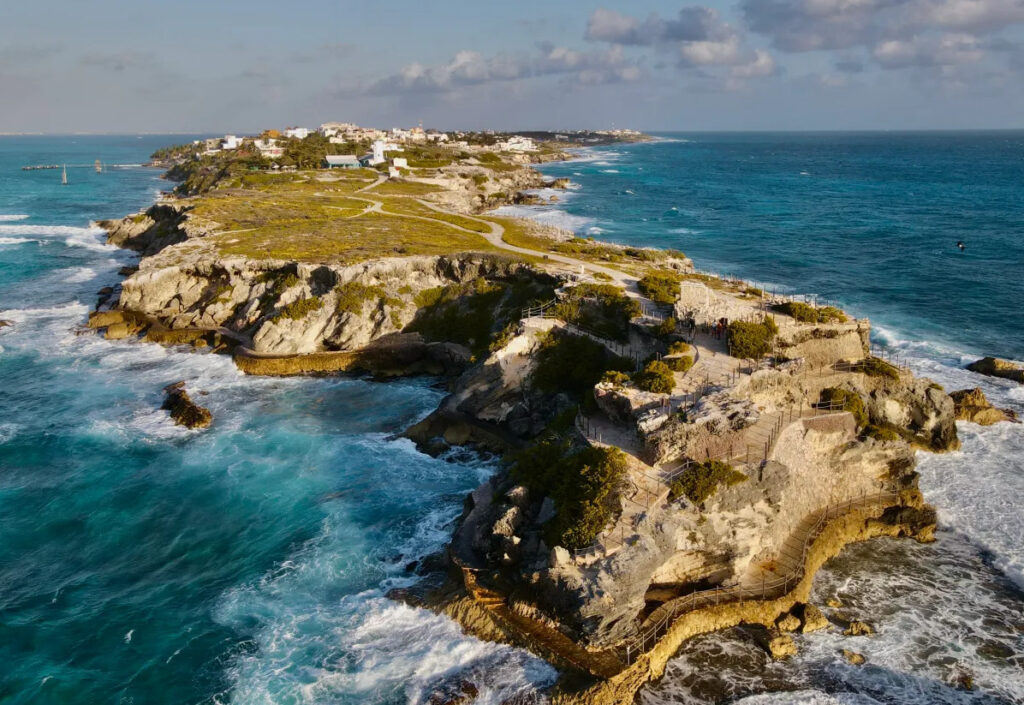 The average budget you would need for a trip to Isla Mujeres:
| | | | | |
| --- | --- | --- | --- | --- |
| Hotel Reservations | Rent an apartment | Directions by cab | Entertainment | Average check at the restaurant |
| from $108/night | from $46/night | average of $24 | 2-75$ | $60 for two |
What to do on Isla Mujeres?
One of the most unique activities on Isla Mujeres is swimming with whale sharks. From May to September, whale sharks live in the warm waters between the island and nearby Holbosch Island, and any traveler can swim near them. And it's perfectly safe!
One of the best ways to spend a day on the island is to rent a golf cart! Rent one from one of the many rental companies in town and spend the day driving around the island and visiting inaccessible places like Punta Sol or Garrafón de Castilla.
Relax on the beach. For the perfect vacation, all you usually need is a delicious cocktail and a visit to the beach. On Isla Mujeres you can find both – the most beautiful beaches possible, with soft white sand and bright blue water.
Whether you like to greet the morning sun or see off the evening sun, head to Treehouse, a beautiful open-air yoga studio located above Buho's Bar right at the entrance to Playa Norte. Yoga classes on the beach here are held at 7:30 a.m., 9:30 a.m. and 6 p.m.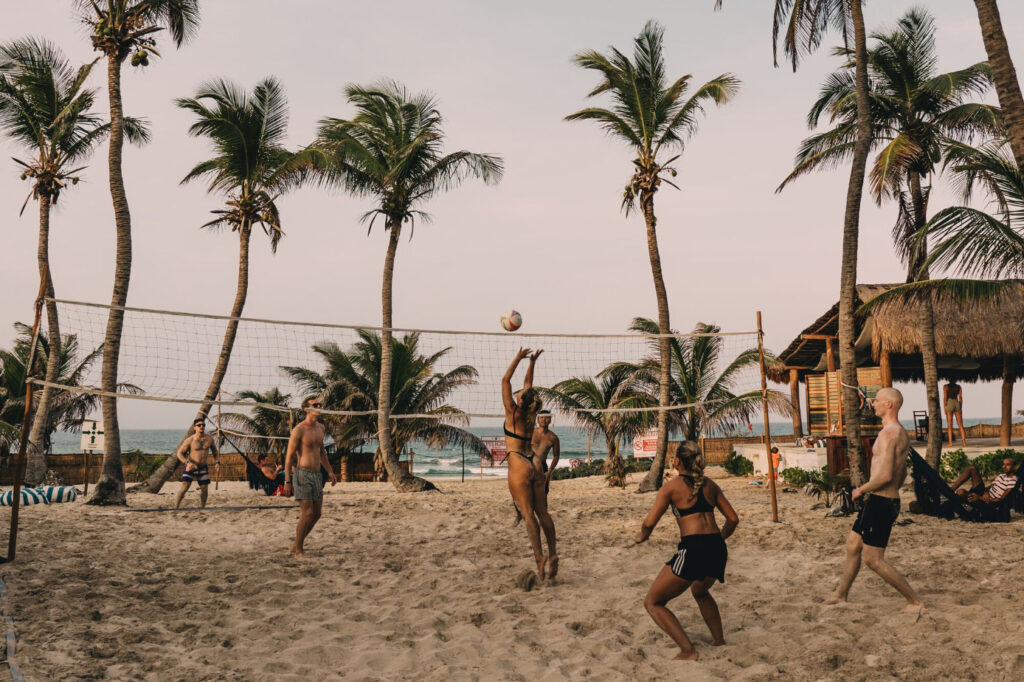 Take a walk along Avenida Miguel Hidalgo. It is a pedestrian street that represents the «center of the city» of Isla Mujeres. There are souvenir stores, restaurants, tourist offices and an ineffable resort atmosphere.
Spend a day at a marine amusement park, such as the Parque de los Suenos. There is snorkeling, swimming, endless pools, rope swings, rock climbing, water slides, kayaks, and a beach. All the fun on the beach or in the ocean can easily be found in this park.
Go snorkeling at the Garrafon de Castilla Beach Club. Located next door to Garrafon Reef Park, you will find the much quieter and totally stunning Garrafon de Castilla. Here you can snorkel and swim in the sea, relax on lounge chairs, use the facilities and enjoy lunch at a delightful restaurant serving fresh ceviche and shrimp cocktails.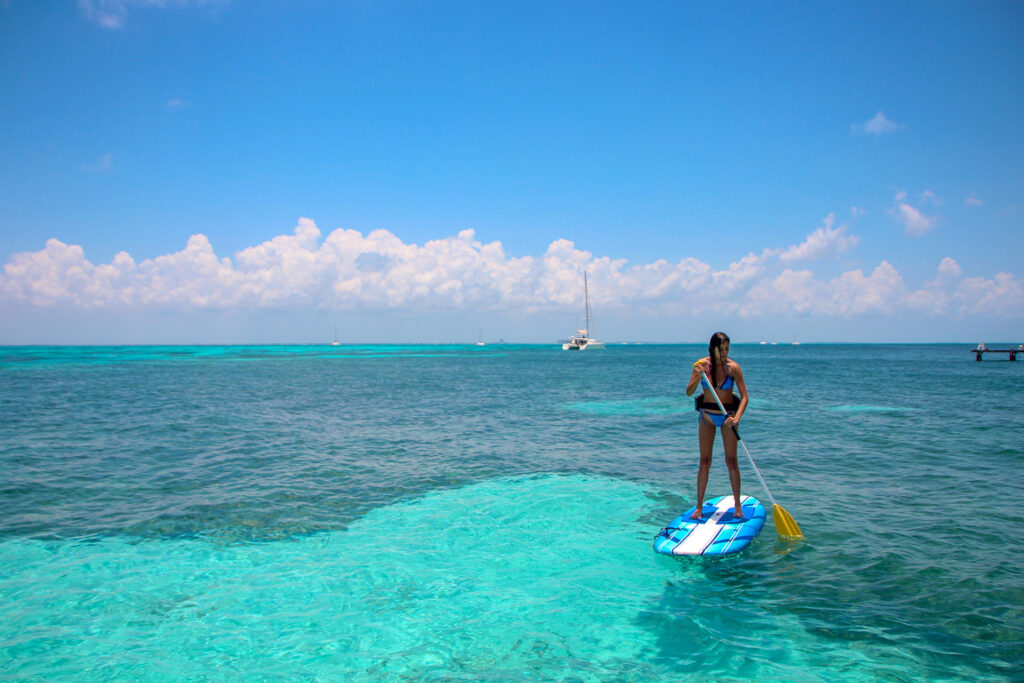 Snorkeling or diving at the Underwater Museum of Fine Arts. Off the coast of Isla Mujeres there is an underwater art museum called MUSA, which is a collection of statues but on the ocean floor, covered with marine flora and fauna. More than 500 statues have been built here, and all of them have become part of the coral reef in an artistic combination of art and nature.
Visit the temple of the goddess Ixchel on Punta Sur. Punta Sur is located on the southern tip of the island of Mujeres, on a rocky coastal cliff. It has beautiful scenery and you will also find a lighthouse, a sculpture garden and the remains of a Mayan temple, as well as a statue of Ixchel herself.
Watch the sunset on Playa Norte or Playa Sol.

Interesting places to visit with children:
Go to Garrafón National Park. It is located in the southern part of the island near Punta Sur, on a beautiful rocky coastline with incredible snorkeling spots, but also offering many other activities such as ziplining, biking and kayaking. This is a very popular attraction on Mujeres Island, but they hold the infamous «swimming with dolphins» event, with animals that could swim freely in the ocean instead of entertaining tourists.
https://www.youtube.com/watch?v=3a0PoxvQ9Lc
Children will love the Tortugranja Oceanarium. It is actually a state sanctuary and hatchery for endangered sea turtles. The hatchery helps breed turtles, rehabilitates sick or injured turtles and other marine animals, and then releases them into the wild. For 30 pesos, you can get a guided tour and sometimes even participate in «release ceremonies!».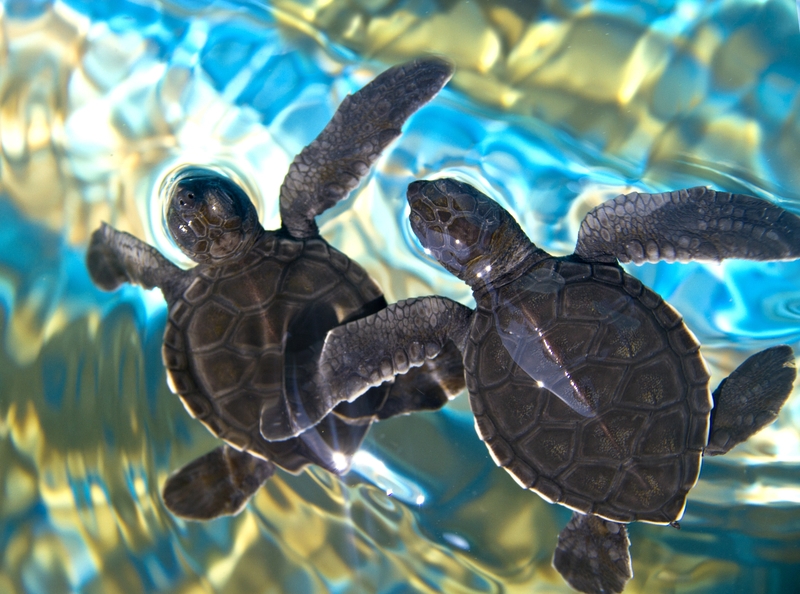 The Kin Ha Beach Club is suitable for all ages! Spend the day in one of the 3 pools, enjoy a meal from their delicious restaurant or enjoy the many activities this park has to offer: snorkeling, kayaking, sliding, kayaking and much more!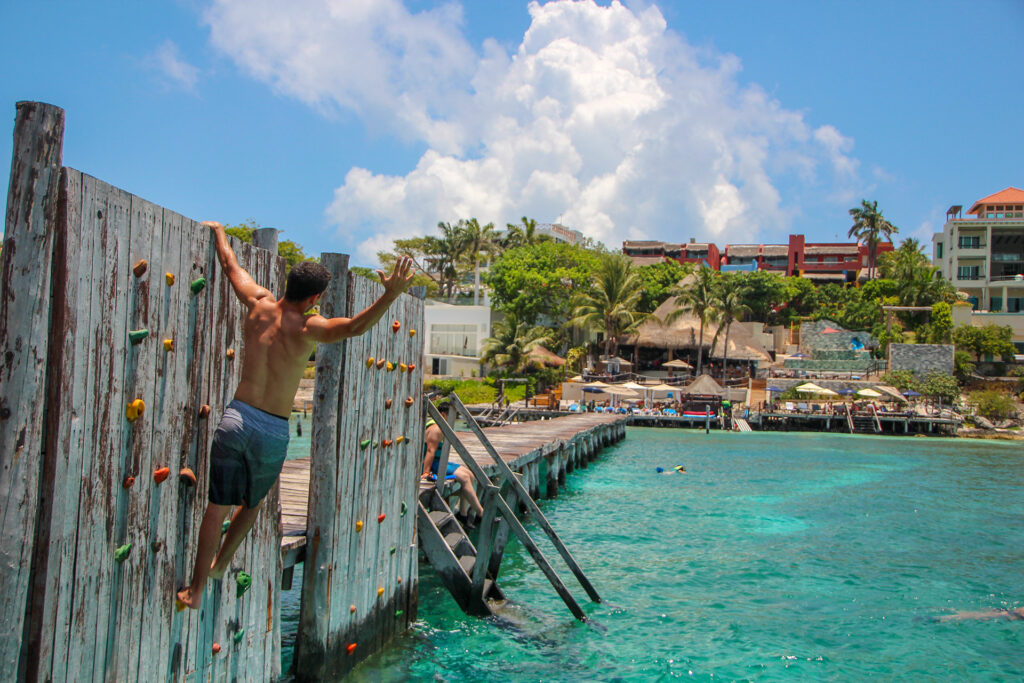 The three best beaches on Isla Mujeres:
Playa Norte is the main attraction of Isla Mujeres. It is often called the best beach in Mexico, and there is some truth in that. It stretches along the entire length of the eastern side of Isla Mujeres. It's a busy beach, so if you're looking for tranquility, it's best to consider other beaches or head there early in the morning. In the afternoon it can get crowded, especially at the southern end of the beach.
Playa Centro – Continue west from Playa Norte, around the northwestern tip and eventually you reach Playa Centro. This is another beautiful beach, although the water here is a little murkier than on Playa Norte. Because of this, it tends to be a little less crowded and has slightly cheaper food and drinks. Perhaps the biggest advantage of this beach is the very beautiful sunsets.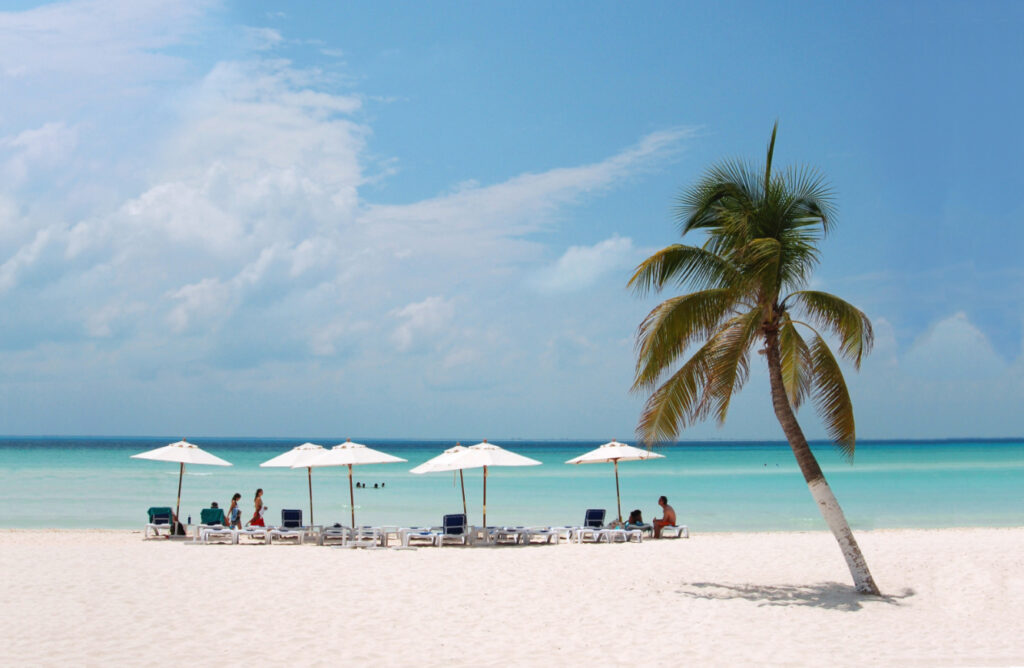 Playa Lancheros – this beach has an open bar restaurant where you can try the fish of the island: tikin xik. Compared to other beaches, its sand is a little lumpy, but the palm trees around it make it a very nice place. You can also admire sunsets from the pier and take beautiful pictures.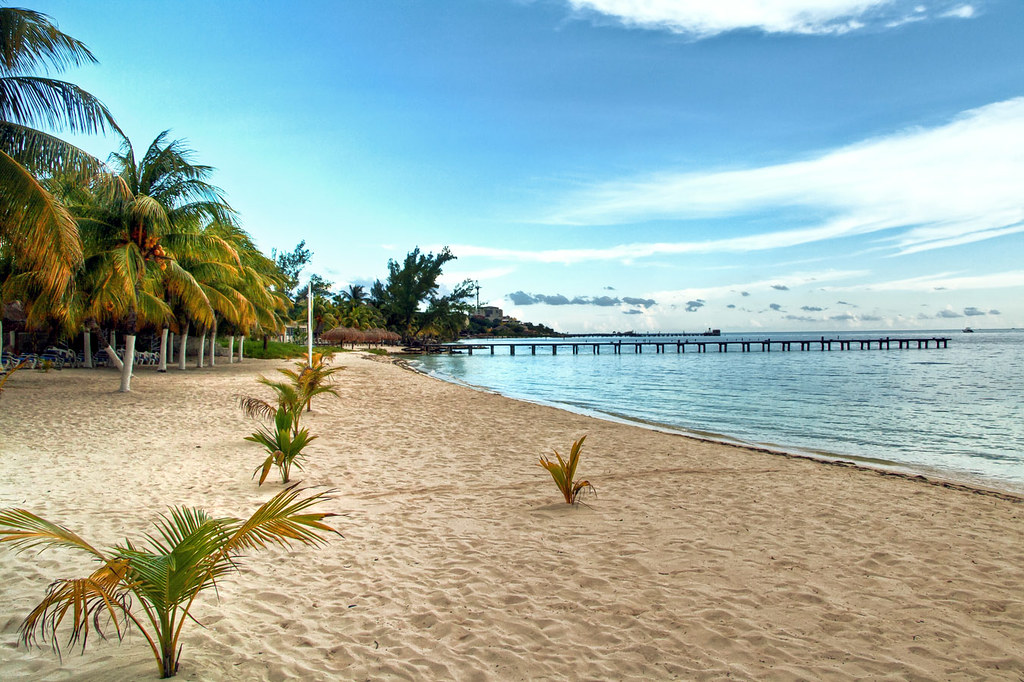 Plan to explore Isla Mujeres on your own in 1-2 days
For travelers visiting this island for the first time, the following itinerary is optimal:
9:00 – breakfast at Cafe Mango.
10:00 – Rent a golf cart and drive to Punta Sur.
13:00 – lunch at Acontillado (great seafood).
14:00 – relax on any of the beaches (if you are not afraid of the heat of the day) or choose another water activity.
5:00 p.m. – Meet the sunset on Playa Norte.
19:00 – Have dinner at Olivia's (Moroccan cuisine).
10 p.m. – go to the party at Poc Na.
Good restaurants on Isla Mujeres: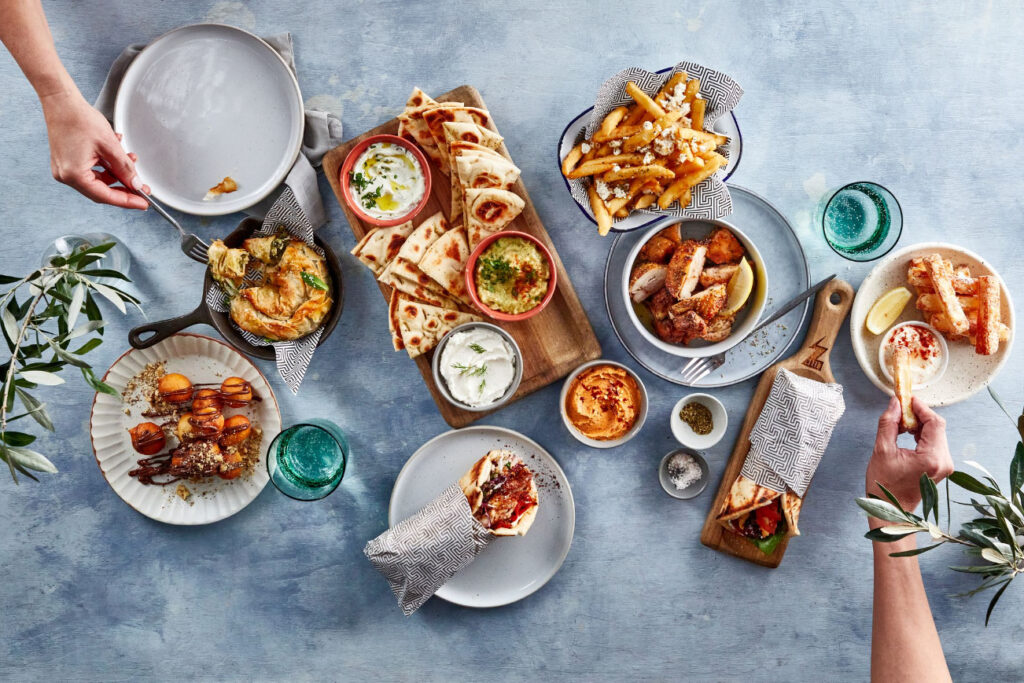 Café Mogagua is a great breakfast place. A huge plus is that it has great Wi-Fi, so you can work in the shade with a refreshing drink in your hand and a fan over your head.
Also great breakfasts at Cafe Mango.
Head to your favorite local cafe, Poc Chuc, for an authentic Mexican inexpensive meal. «Poc Chuc» is actually the name of a local pork dish, and of course, the local specialty. But everything on this place's menu is great!
Ruben's Restaurant is another budget establishment. The portions are generous, the service is friendly, and the food is delicious. Order any seafood or Yucatan specialty, and be sure to get the lemonade.
La Lomita is incredibly popular, and for good reason: They serve delicious Mexican food at reasonable prices. They say their black bean soup is amazing.
Is it safe on Isla Mujeres?
Isla Mujeres is widely known as one of the friendliest places in Mexico and is considered very safe. The island itself is extremely small, which makes it very difficult to commit serious crimes.
There is also a large naval base on the island that provides peace and quiet. Only petty crimes like pickpocketing happen here, so be sure to keep an eye on your belongings and use common sense.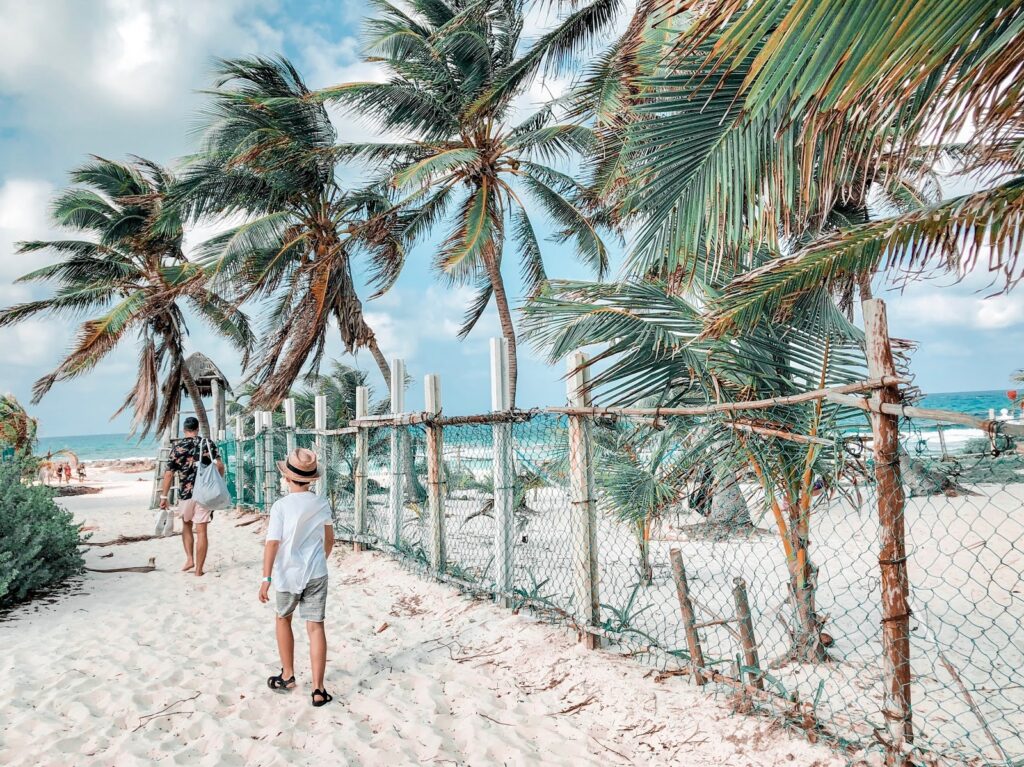 Helpful tips:
Exchange your currency for pesos at Cancun airport before heading to Isla Mujeres. Almost no credit cards are accepted anywhere on the island, and there are very few ATMs. There is an ATM near the ferry docks and another at the Xpress supermarket.
Getting around Isla Mujeres is very easy. You can rent a golf cart or a bicycle and take a nice tour of the island. And if you are close to town, it's best to just walk around the neighborhood and walk to the beach, since everything is within walking distance of each other, including the ferry terminals.
During the ferry ride to the island, they will try to sell you a rental golf cart. Don't agree to anything until you get to the island and see a real golf cart in front of you and make sure it's in good condition.
Don't forget to take water with you, especially during the humid summer season.
People accustomed to living in temperate climates can get very sunburned in the scorching sun without proper protection. So be sure to bring waterproof sunscreen with a high protection factor, as well as a hat and sunglasses.