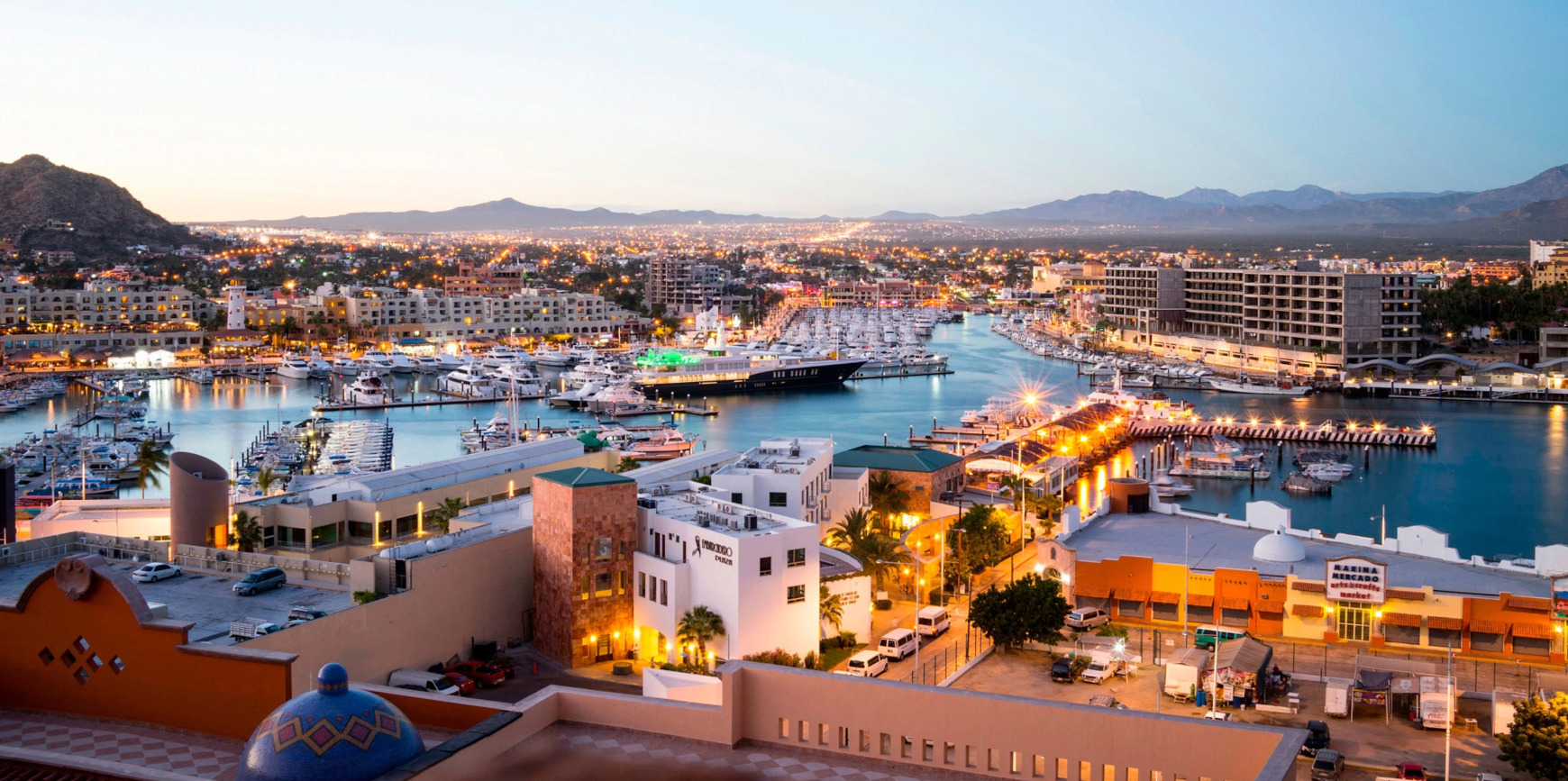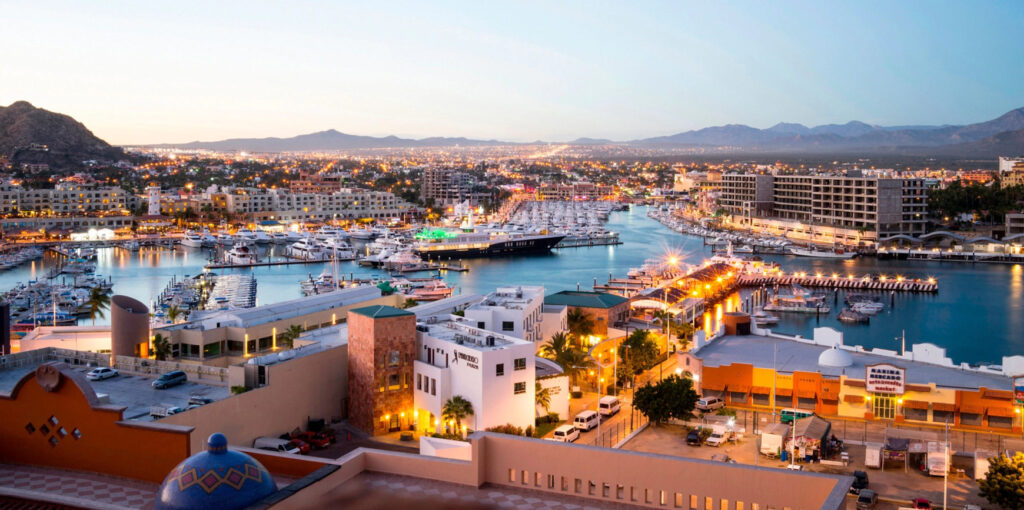 With such colorful wildlife, the resort boasts a huge range of places to see and activities you should definitely try, especially scuba diving and fishing.
We've made a top list of the most popular attractions, excursions, and activities so you can see your Cabo San Lucas vacation from different angles and plan your trip in advance.
1.Visit the majestic natural arch of Cabo San Lucas – El Arco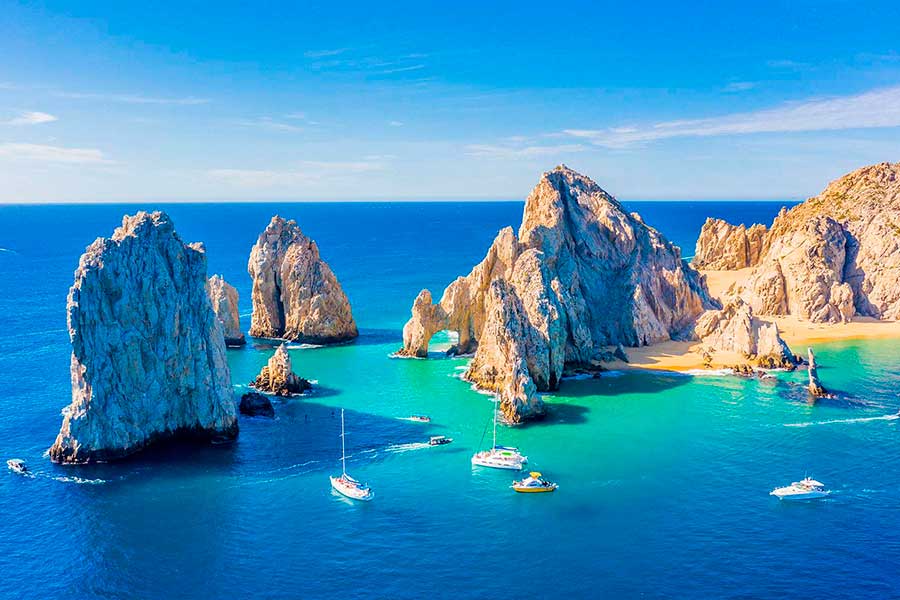 It is a natural wonder that is a must-see in the first place. The main feature of Cabo San Lucas. You can get here only by water transport. There are even boats with a transparent bottom. The trip takes no more than 10 minutes.
An incredibly beautiful combination of rocks and two enormous waters: on one side the arch is washed by the Pacific Ocean, on the other by the Sea of Cortez. This place is called «the edge of the earth».
It is ideal to arrive at dawn, when the tide is out – in the afternoon part of the arch will be covered with water.
You can see whales! A boat will take you to a place where whales will swim right around you. And there are often pelicans and sea lions basking in the sun on the shore, and if you're at sea, they can curiously peek aboard you.
Around the arch there are many pretty little coves formed by rocks, where you can stop and enjoy the solitude surrounded by nature.
2.Take a walk on lovers' beach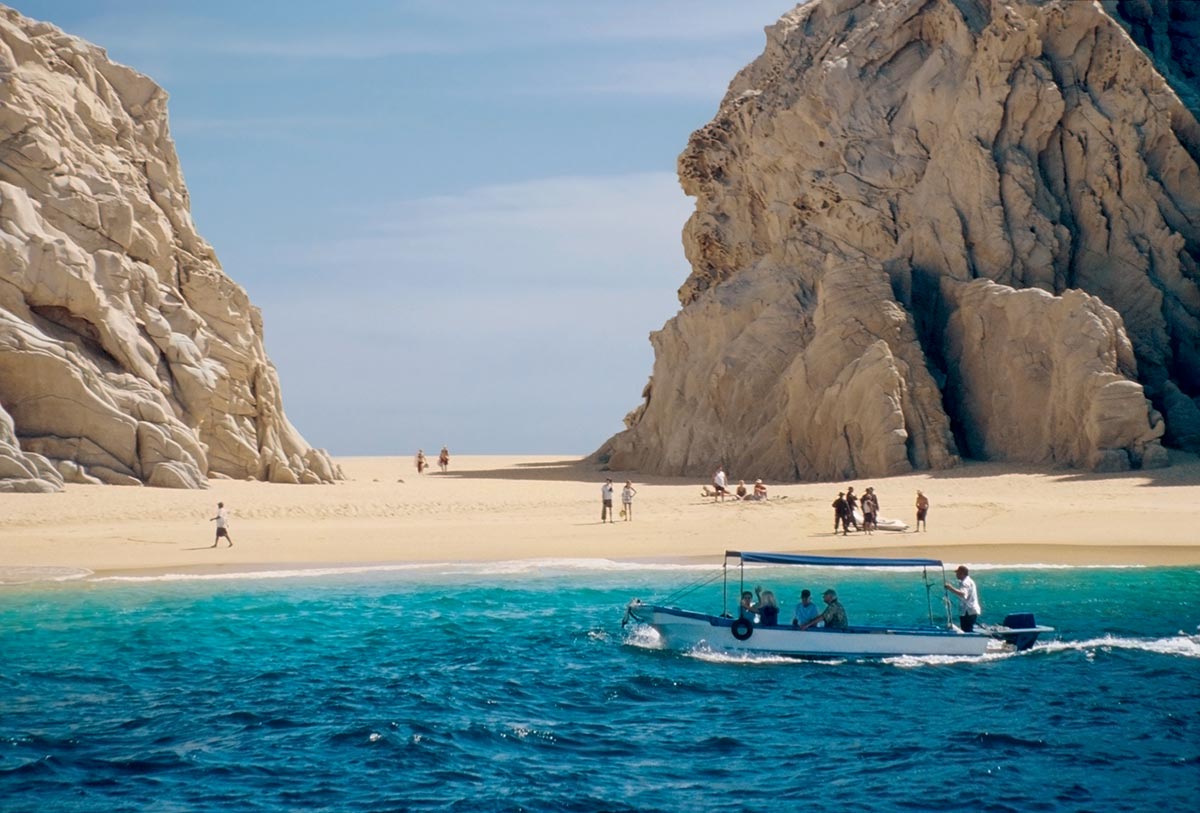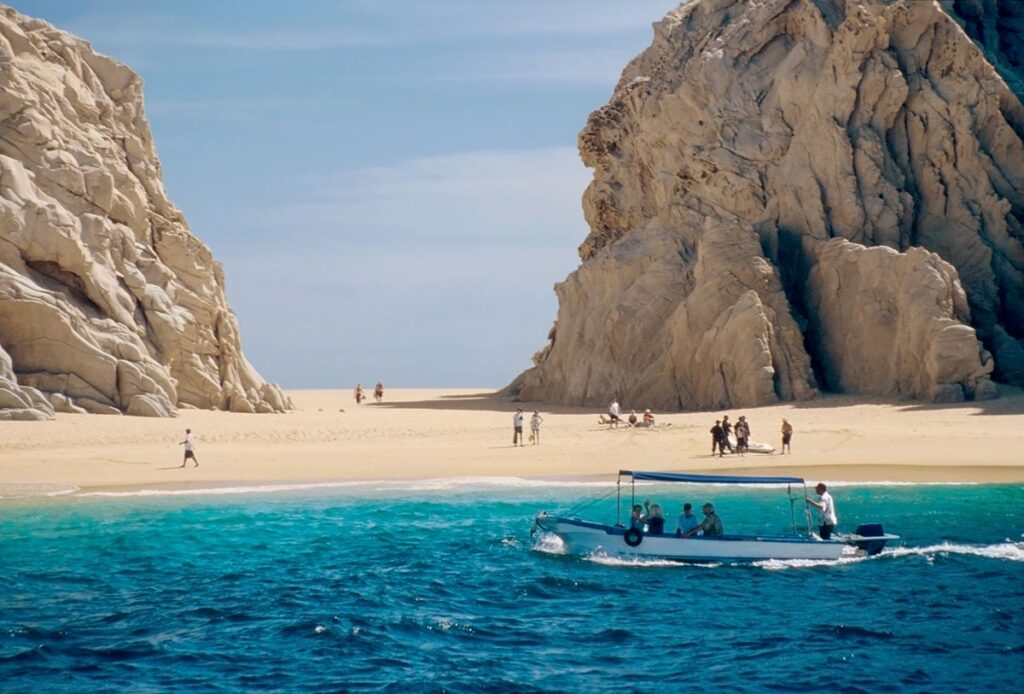 Right next to El Arco you will find Playa del Amor, which is considered the most romantic beach in Cabo San Lucas.
There is even romance in the fact that it can only be reached by boat, of which there are many moored at the pier.
According to tourists, walking on this beach puts you in a pleasant dreamy mood and allows you to enjoy each other's company.
Of course, it's worth noting a few nuances – because of the popularity of the beach, it's not always possible to have privacy. And there are no restaurants where you can sit, but you can take a snack with you and have a romantic picnic overlooking the ocean.
3.Chileno Beach
One of the best public beaches. You will love the gradual gentle entry into the clear water, where right at your feet you will see a lot of small fish, fine white sand surrounded by many palm trees.
There is convenient free parking, showers, and the area itself is well maintained and clean.
There are a lot of locals on the beach, but there are not a lot of "beach vendors", quite a quiet atmosphere. So if you want to feel the atmosphere of ordinary Mexican people, you can pay attention to it.
On the downside, there are not enough places to eat.
4.Medano Beach
The largest tourist beach within the city, overlooking El Arco.
A favorite place for young people. A lot of entertainment: boat rides, snorkeling, jet skis. Quite a lot of restaurants for all tastes and budgets. You can buy a beautiful trinket as a keepsake from one of the many merchants.
On the beach, paid parking, quite noisy and crowded, so not recommended for those who want a quiet secluded vacation.
5.Hang out at one of the raucous parties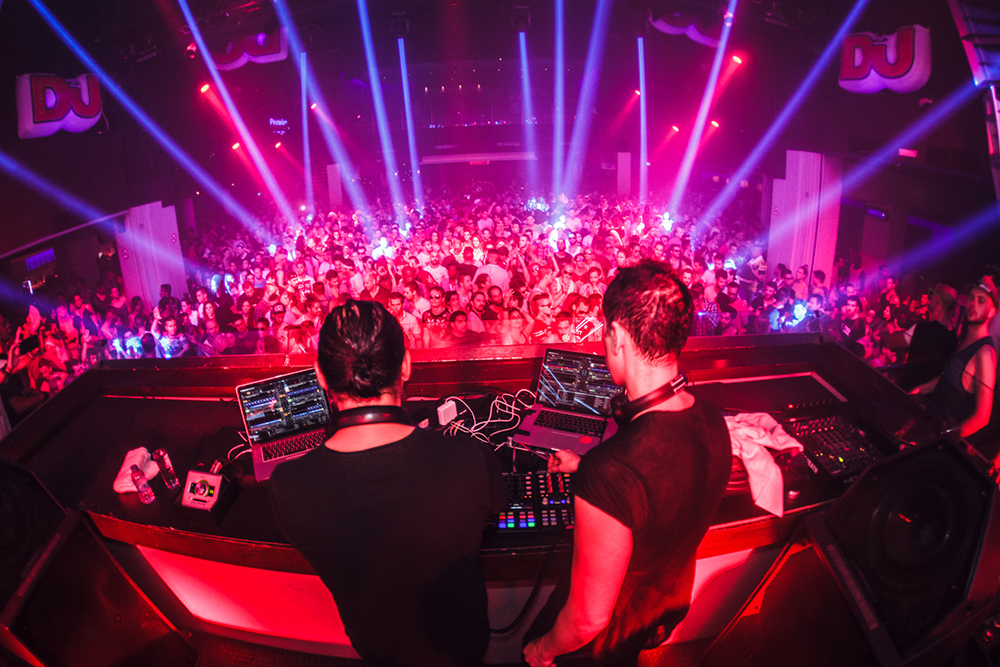 Cabo San Lucas has a very active nightlife. There are a lot of club-type places in the center of the city.
You can warm up at a cozy little pub, like No Worry's Grill Bar or Slim's Elbo Room, and continue the evening at one of the popular nightclubs: El Squid Roe is very bright, loud, colorful, Cabo Wabo is famous for its loud rock performances, or Two For The Road is a place for jazz fans.
6.Visit the provincial town San Jose Del Cabo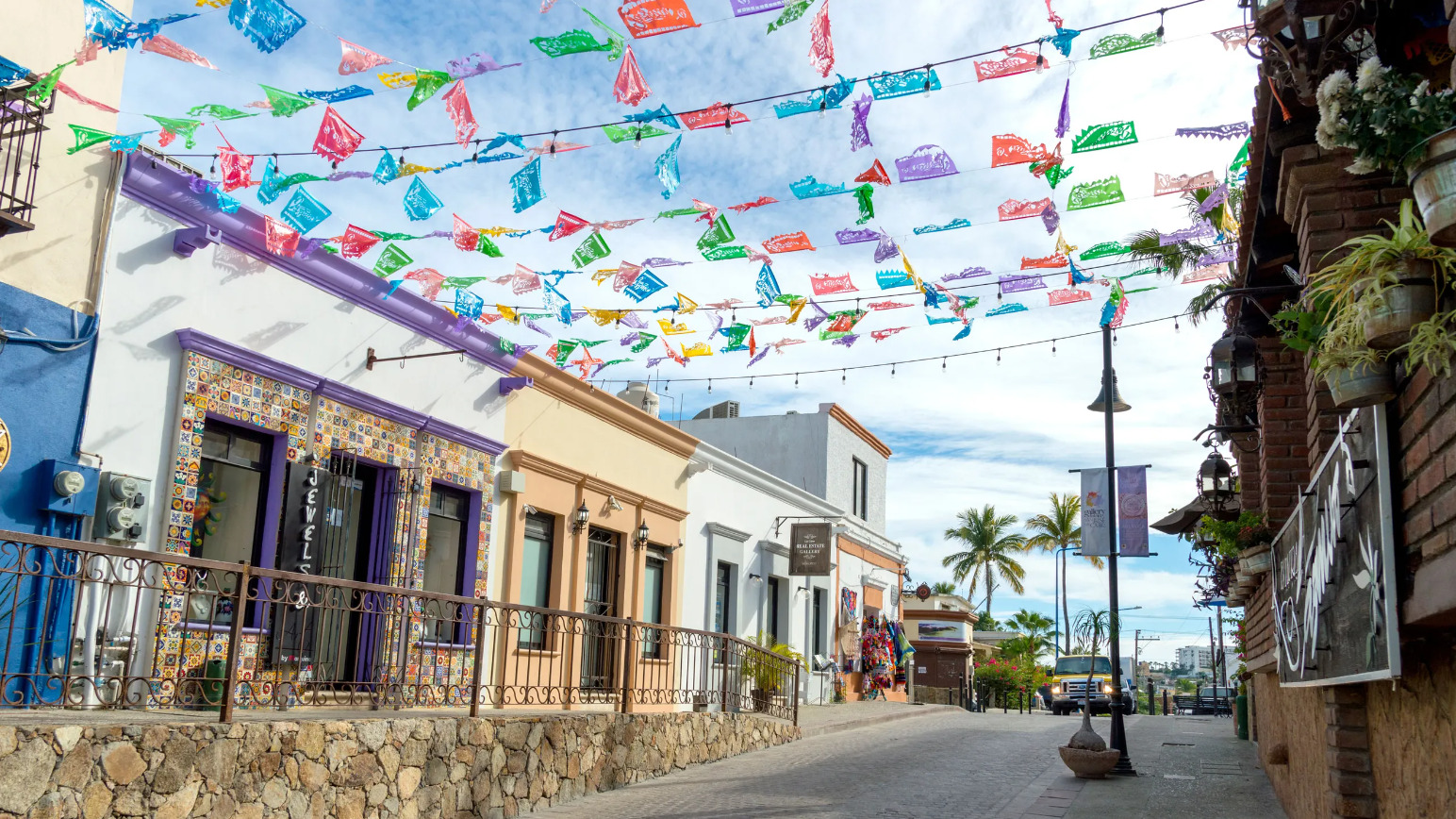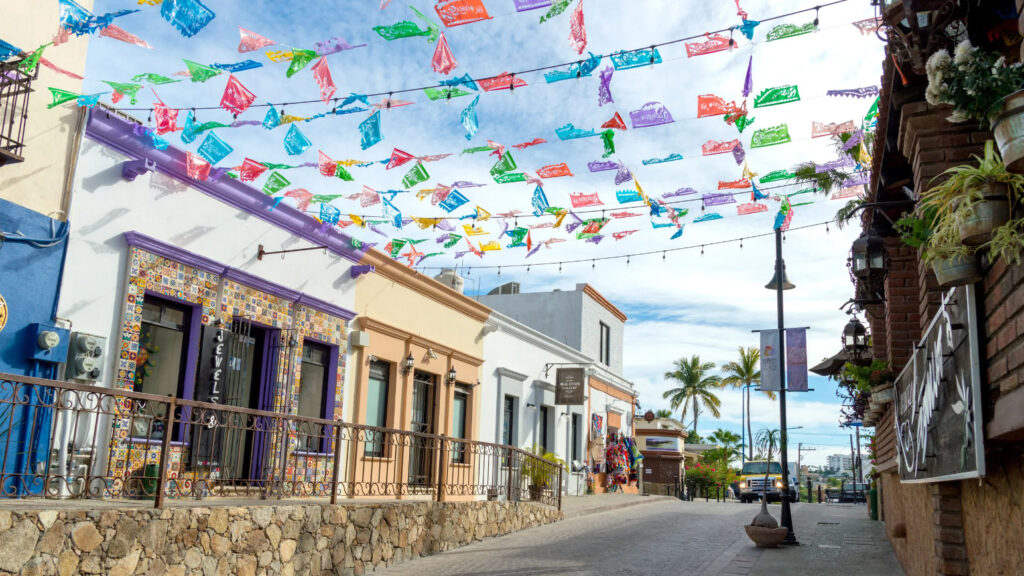 This little old town is a half-hour drive from Cabo San Lucas. It is a very authentic world where you can observe the quiet, measured life of Mexicans.
Take a leisurely stroll through the city center, visit the old square and take a look at the local souvenir shops, jewelry and art stores, where you are sure to find memorable gifts for yourself and your loved ones.
Every Tuesday there is an Art and Walk exhibition of local artists downtown, and on Saturdays there is an Organic Market.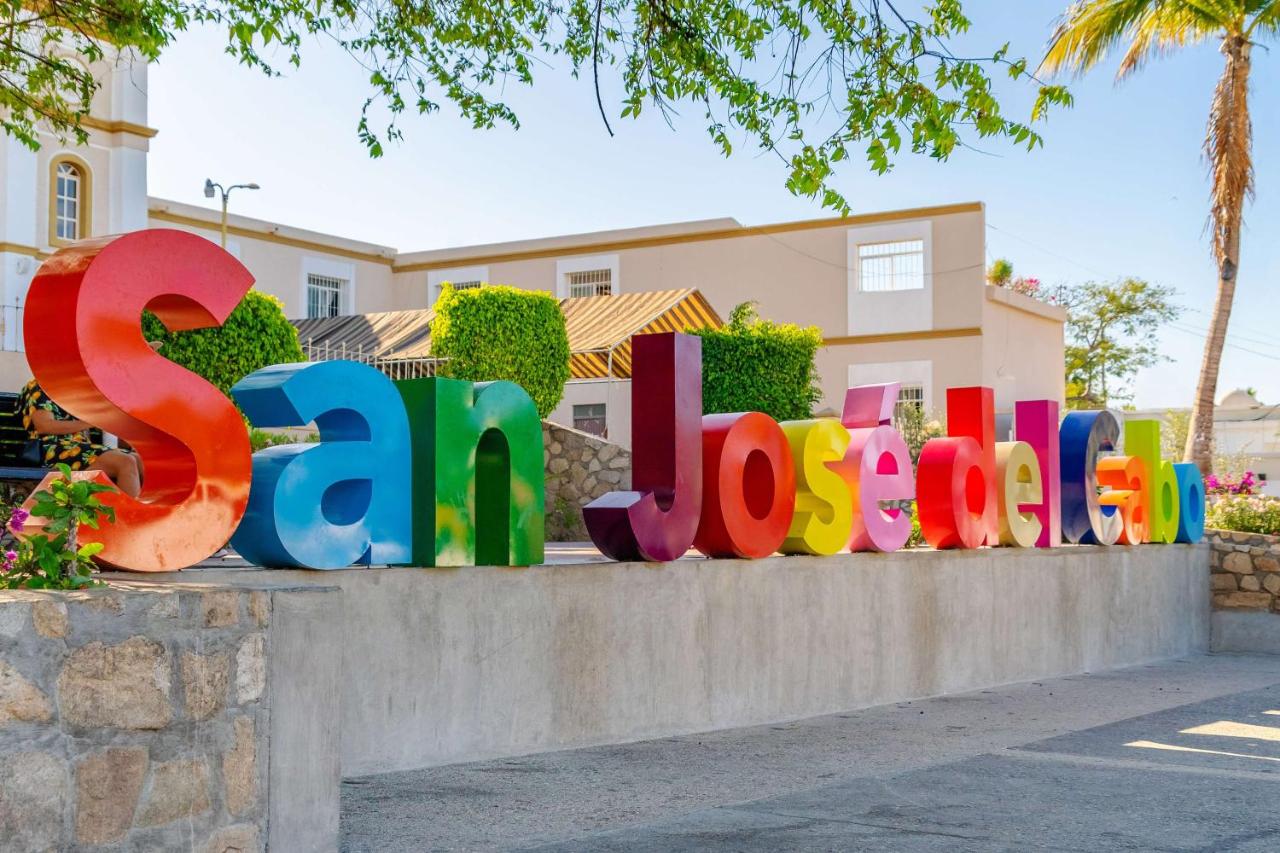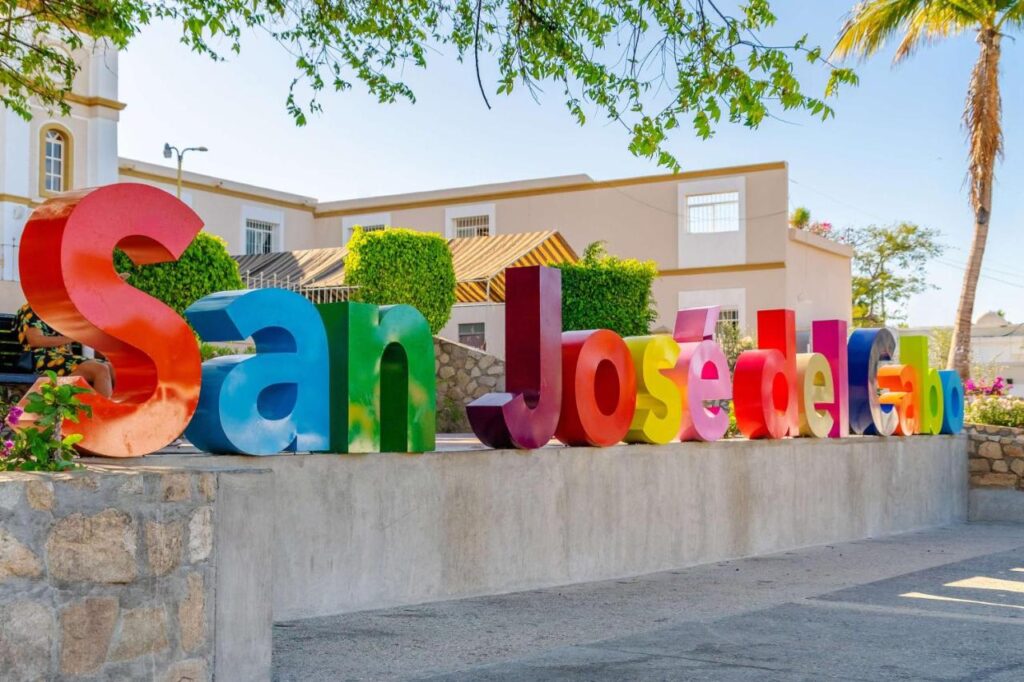 And it is highly recommended to visit one of the local restaurants to taste the national Mexican cuisine. Some places offer tequila tastings, where you will be told about the tequila and blue agave plantations.
7.Mango Deck Cabo San Lucas Beach Club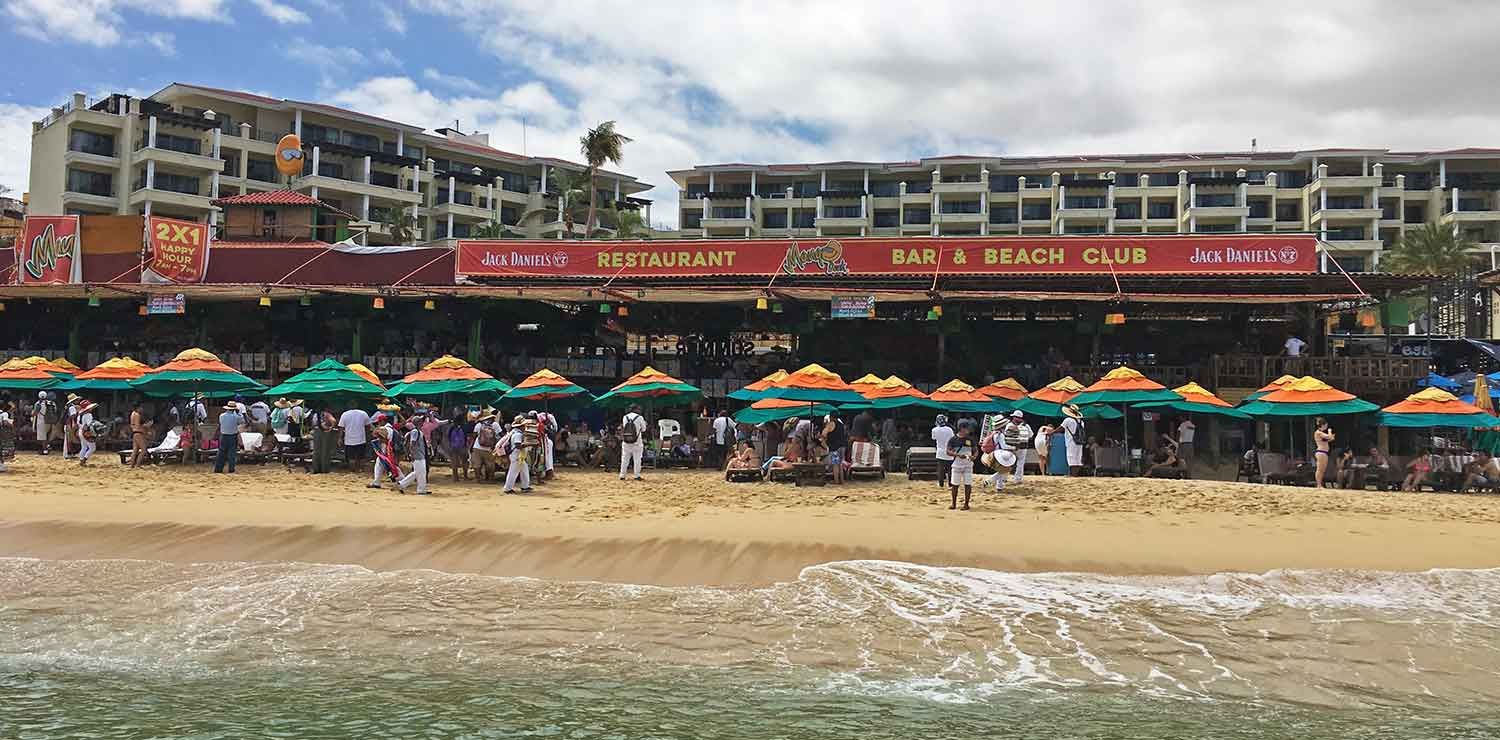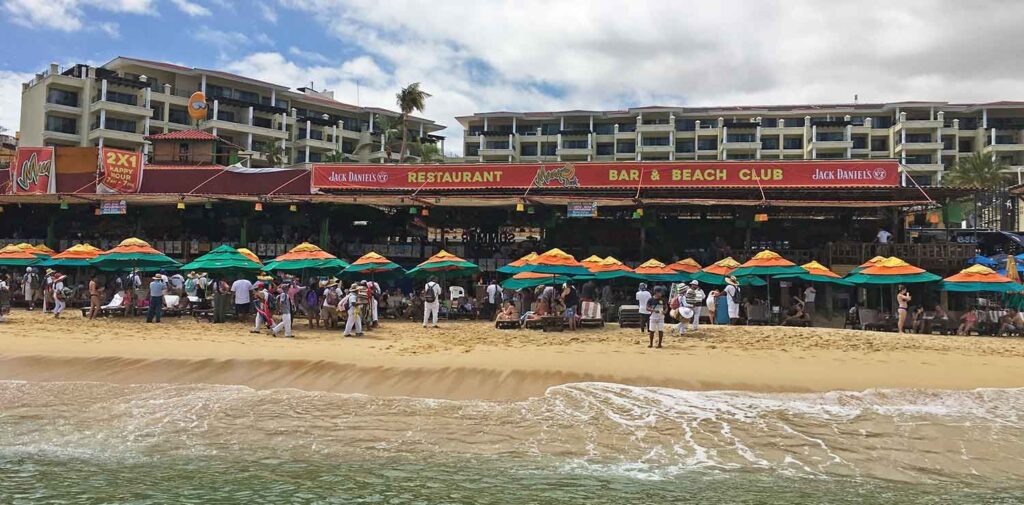 Recommended for those who want a rich entertainment program right by the sea.
The beach club is open from early morning until late at night. You can drop in for breakfast, lunch or dinner and try Mexican dishes ranging from mouth watering pancakes to fresh seafood.
In the afternoon the evening program begins, you can listen to nice songs performed by local rock bands, take part in competitions and just enjoy the program.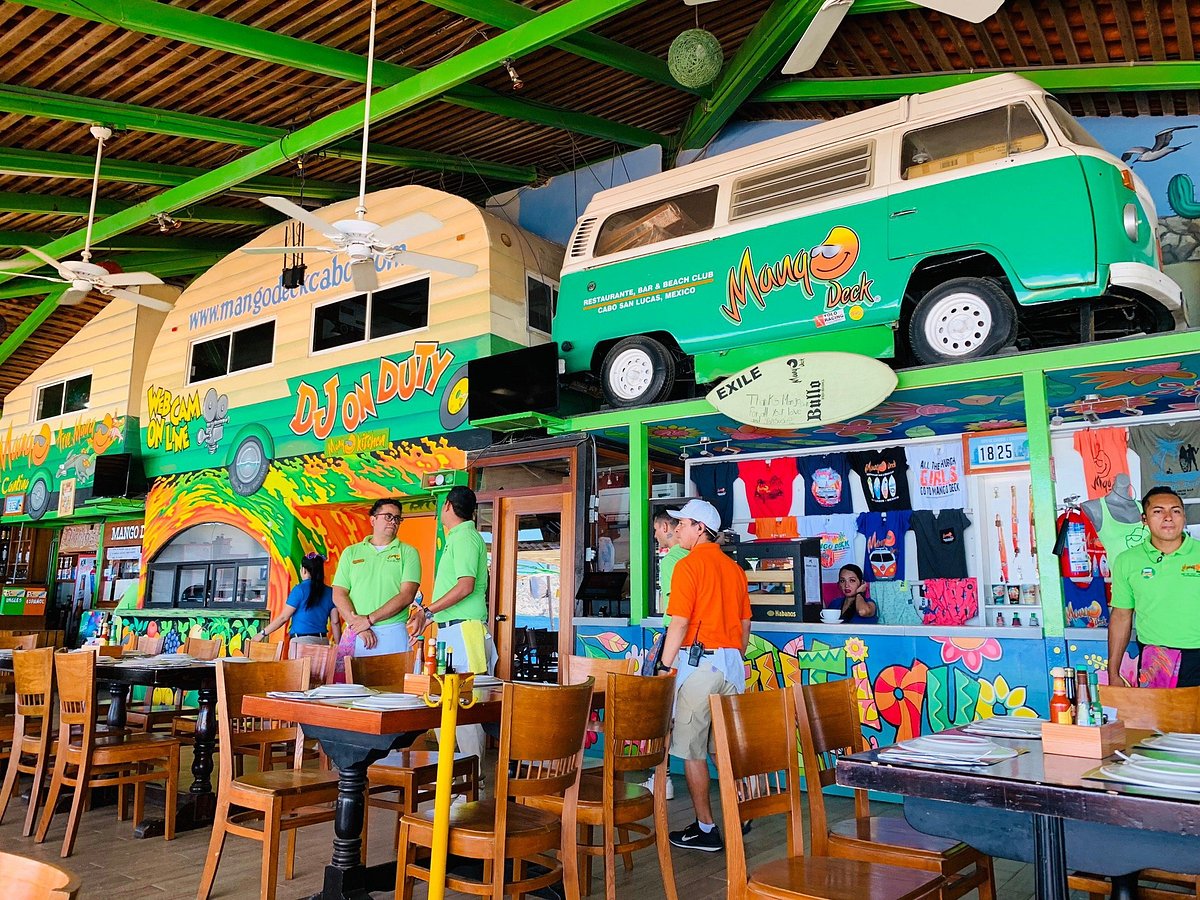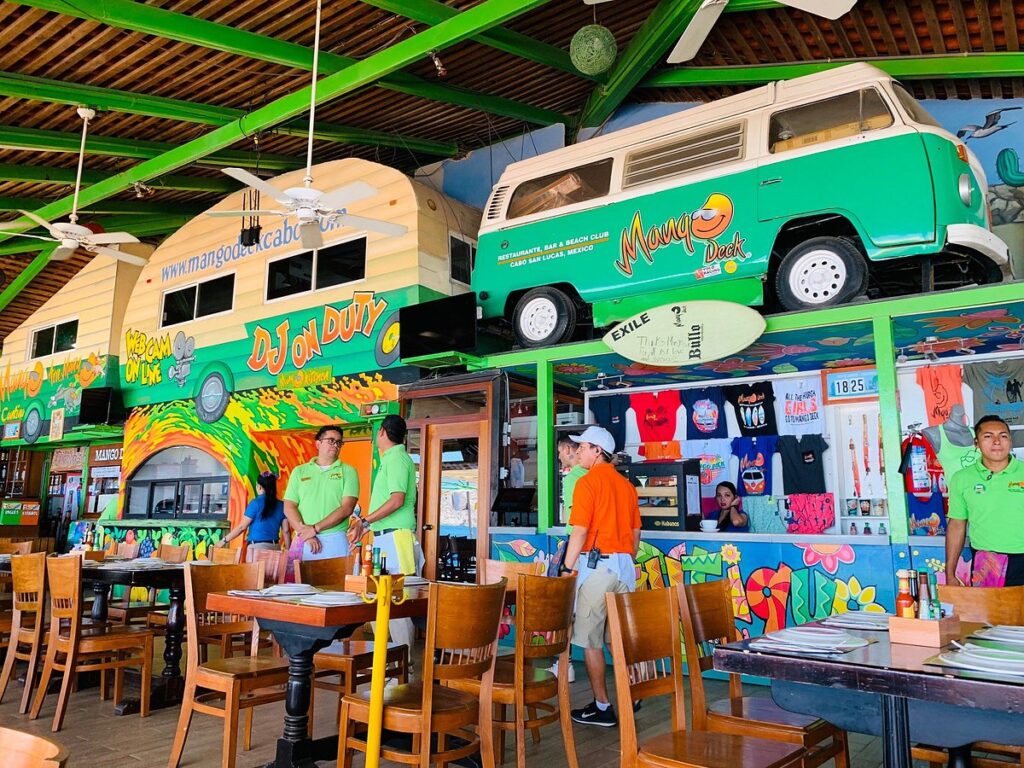 The Beach Club is located on Medano Beach, so it will be convenient to get to from almost anywhere in the city.
8.Catch big fish on a fishing trip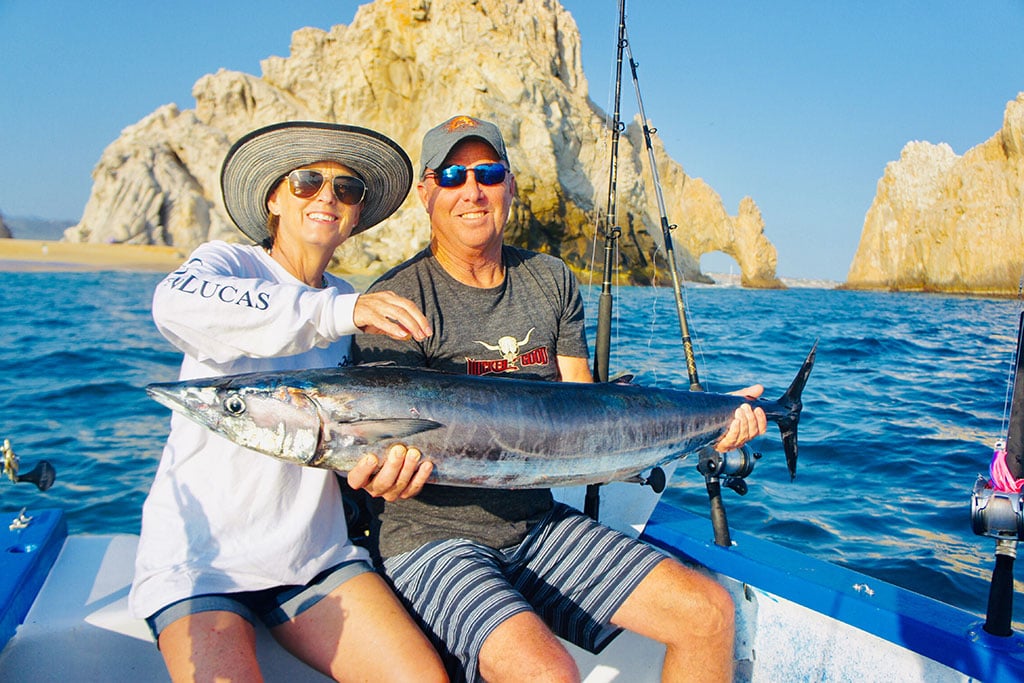 Cabo San Lucas is considered the best place in Mexico for sport and recreational fishing. Specifically, marlin fishing.
For more than 70 years fishermen from around the world come here to hunt for blue, black and striped marlin, so the resort has long been called the «Marlin Capital of the World».
You might also get lucky on fish such as wahoo, sailfish or dorado. And you might encounter dolphins, whales and harbor seals along the way.
For fishing you can rent equipment, a comfortable boat or even a yacht for your budget. And if you are a beginner, experienced fishermen will be happy to share with you the secrets of fishing.
9.See the gray whales
Such an experience is sure to be remembered for a lifetime. From December to April, you can meet these huge, amazing sea creatures in the open ocean. Some companies that organize such excursions even guarantee that you will get your money back if you do not see the whales.
You can watch them directly from shore, rent a boat to get as close to them as possible, or even take a liner cruise that includes a tour over 3 hours with lunch or light refreshments.
10.Try diving
Cabo is considered one of the best places for diving, thanks to the diversity of the underwater world in the local waters.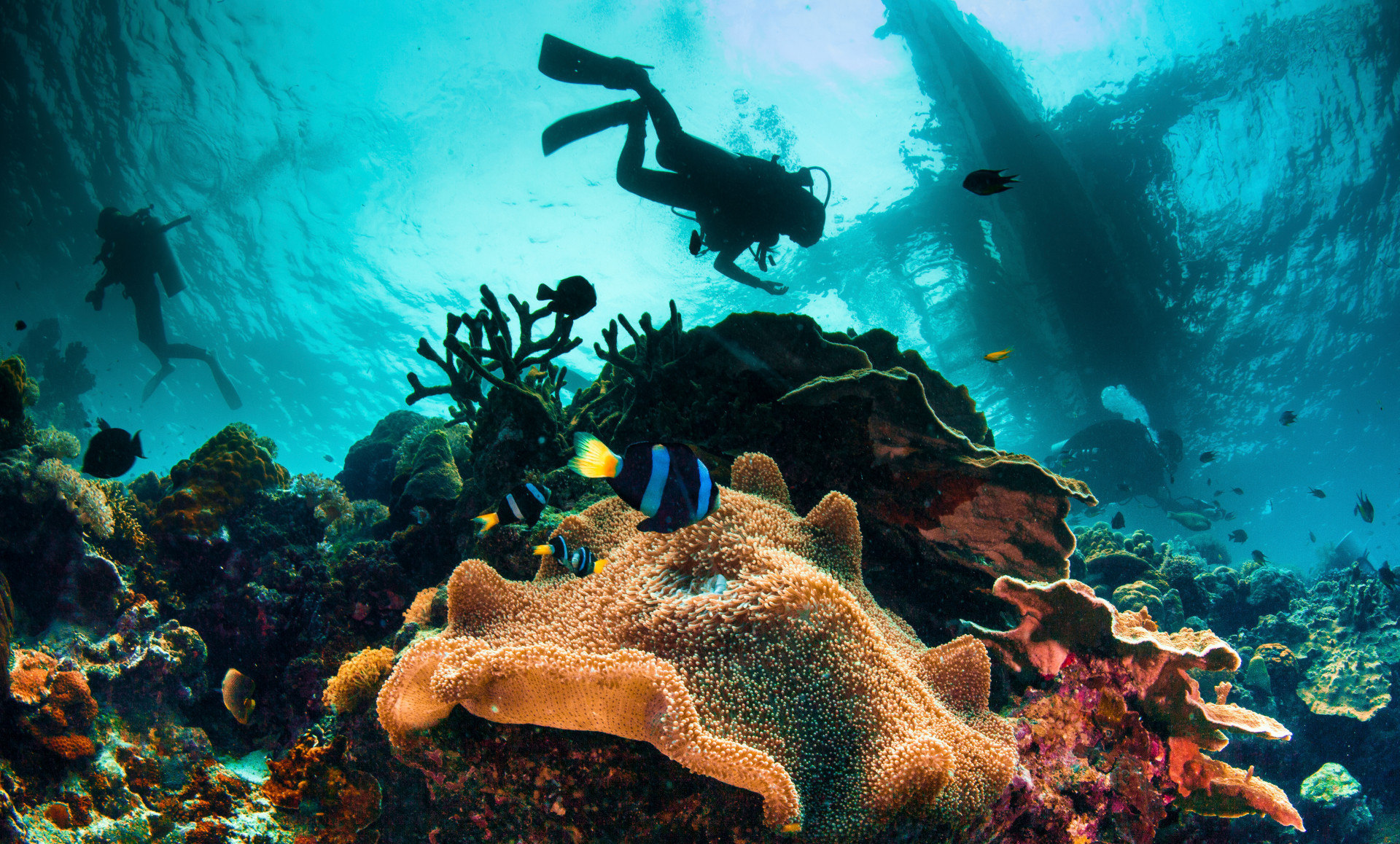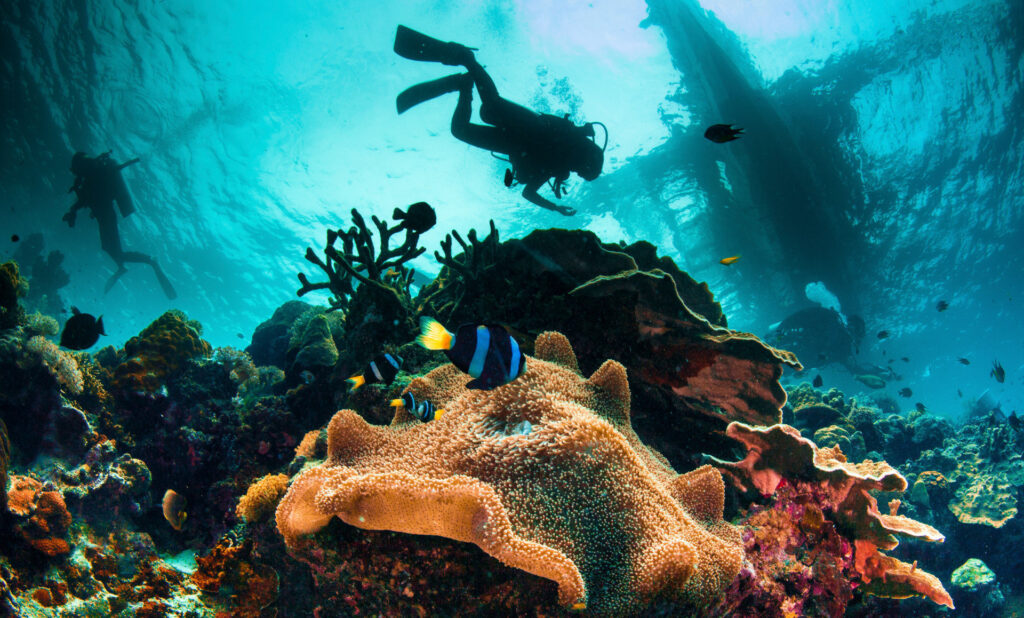 Here, for example, you can capture a striking natural phenomenon: sand that rolls down a dune, just like in a real desert. And it has to be mentioned that there is a huge variety of sea creatures, from starfish to stingrays and even a hammerhead shark.
You can get a beginner's diving lesson or go on a 3-hour scuba diving adventure.
11.Embark on a snorkel tour on a catamaran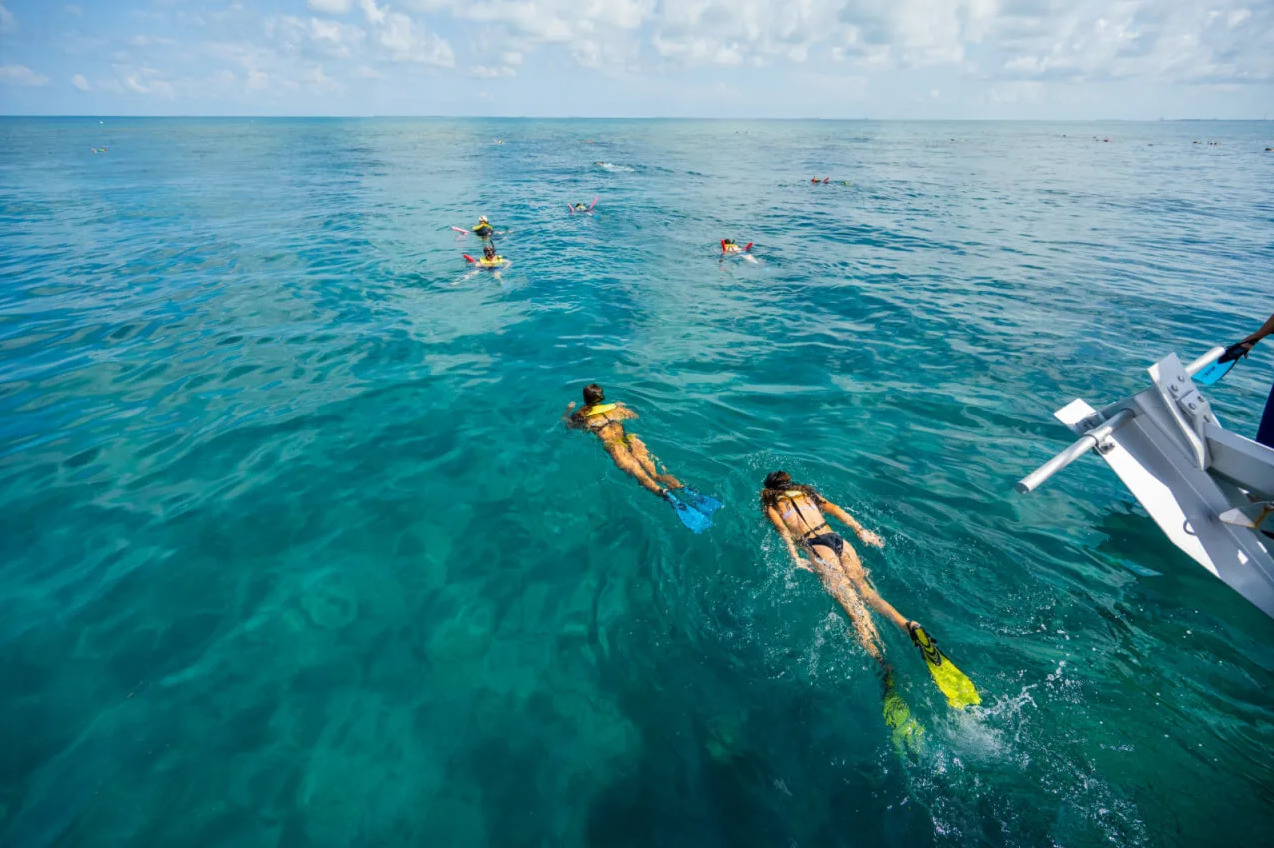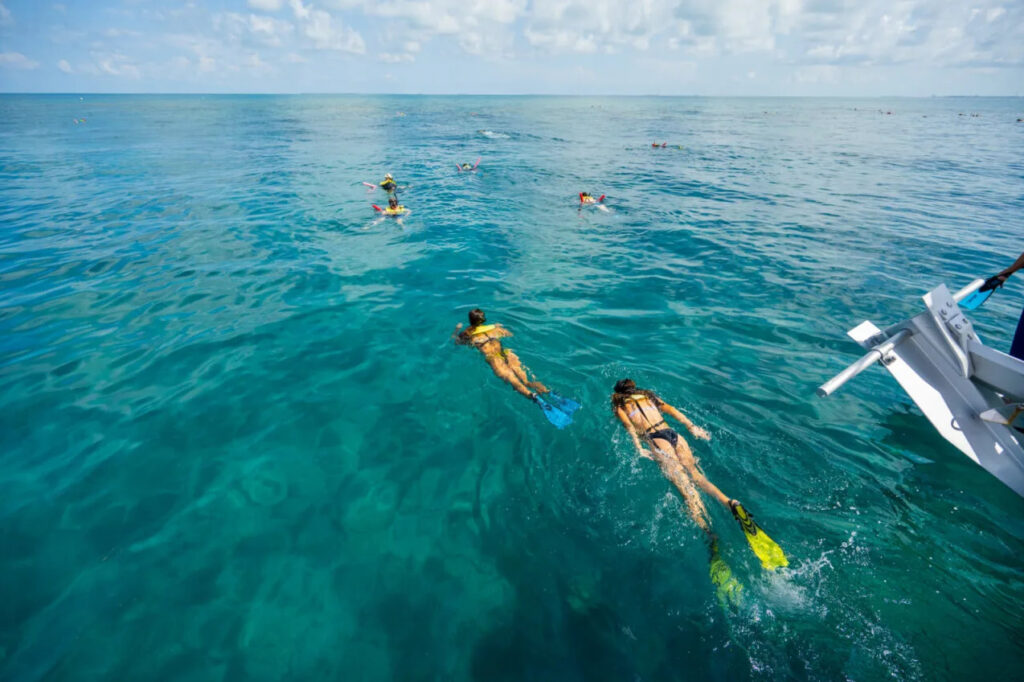 No one is surprised by a cruise liner, and a catamaran cruise is a beautiful and unusual alternative. It resembles a small yacht, with an open bar with drinks and snacks and space to relax and sunbathe on a lounge chair.
During the cruise there will be an opportunity to try snorkeling and explore the waters of the Sea of Cortez with its red coral reef.
12.Discover Cabo Pulmo Marine Park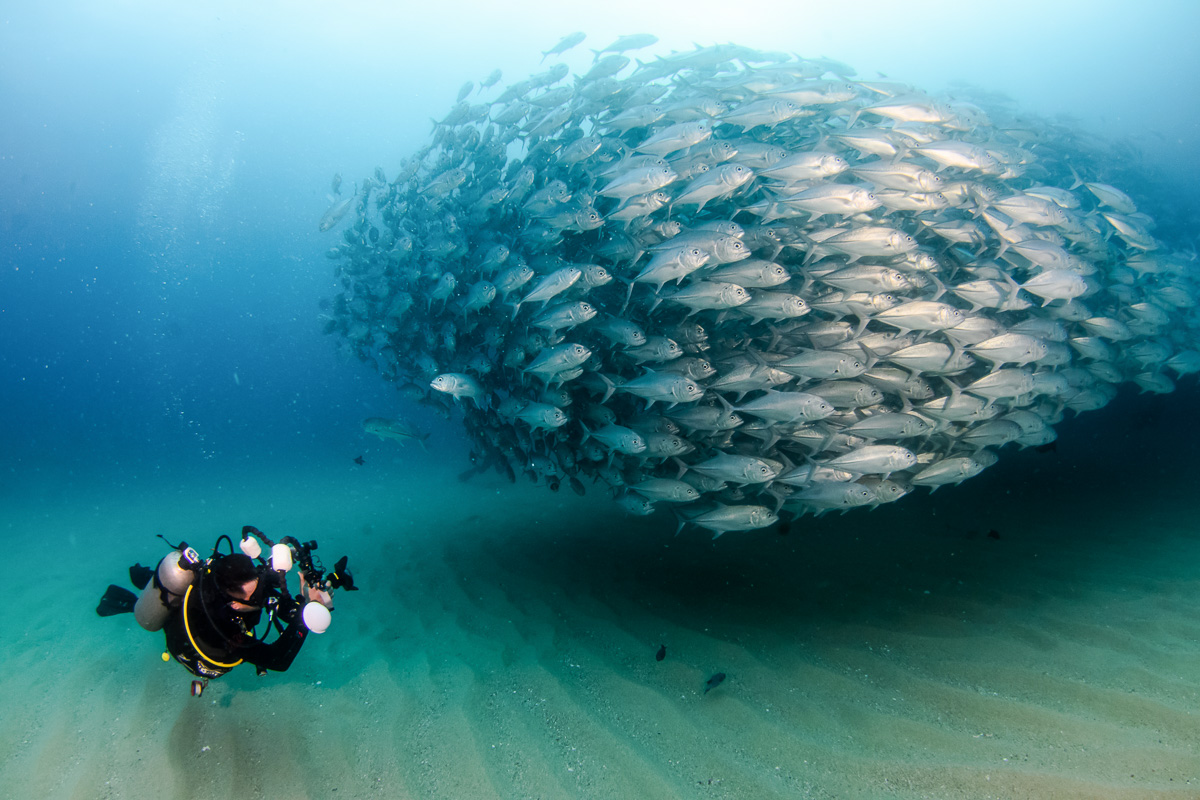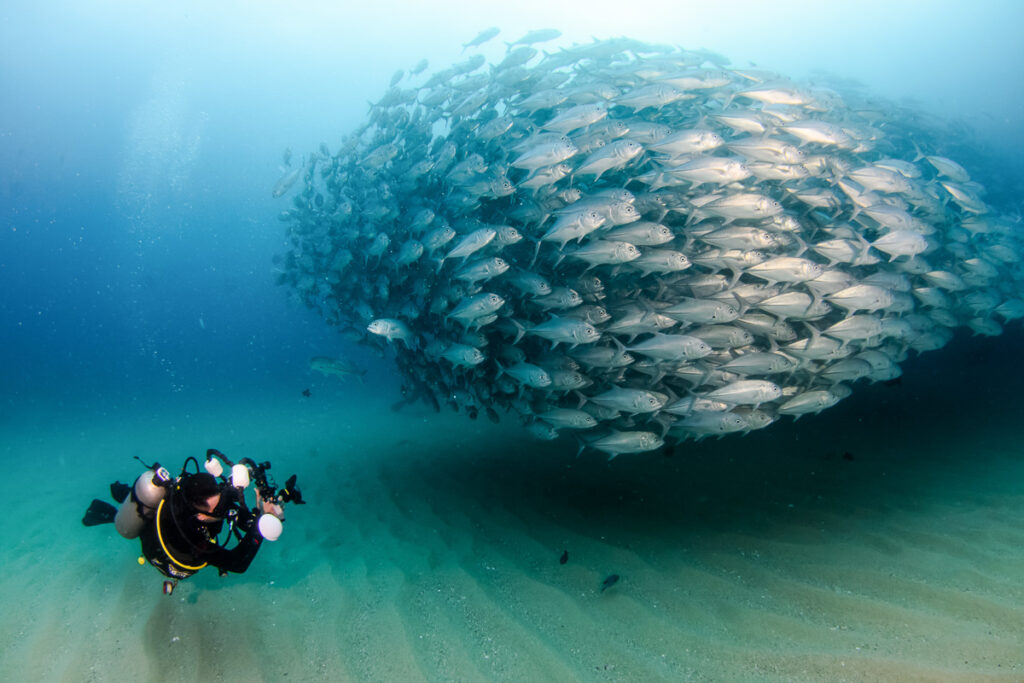 The star of underwater travel can be called excursions to the marine reserve.
To visit it, you have to scuba dive, or if this is your first dive, you can sign up for a certified diving course. The tour is led by an underwater guide who will help you see the abundant marine life: stunning underwater scenery, including rock formations, huge schools of tropical fish in the middle of which you can find yourself, lobsters, sea lions and even whale sharks.
13.Take a breeze ride on ATVs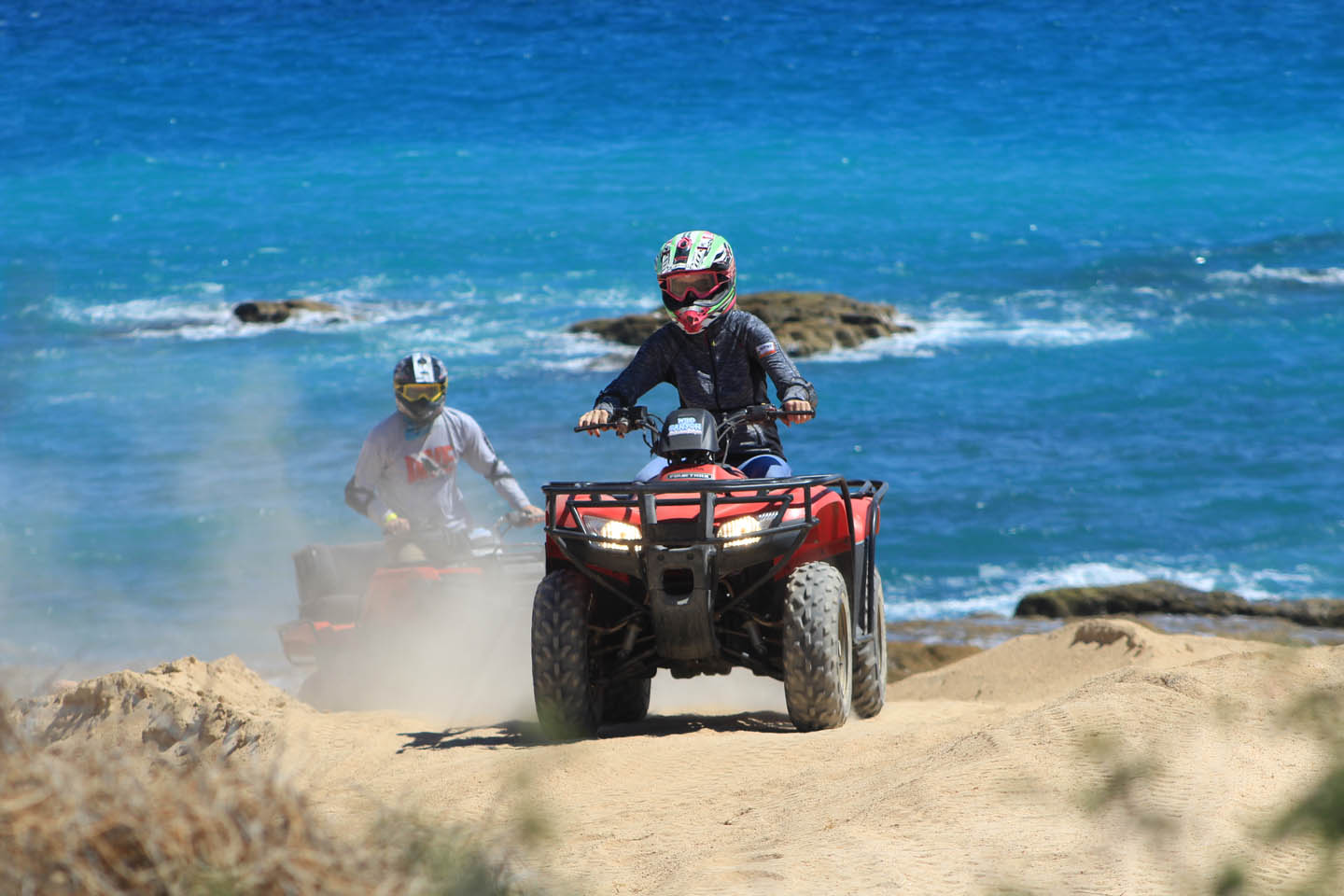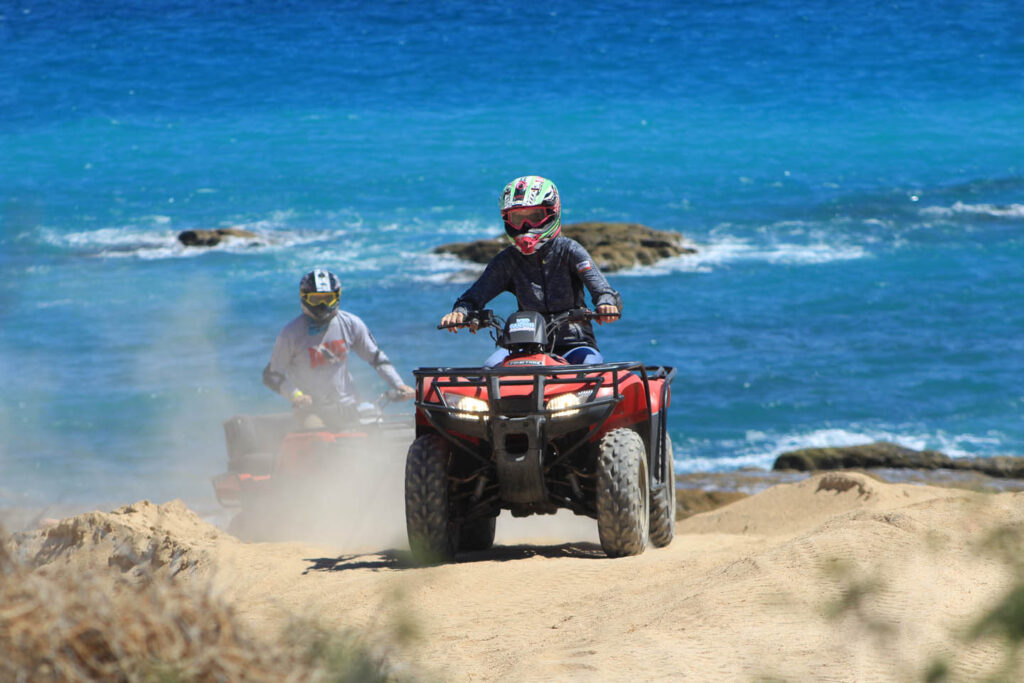 At Los Cabos Beach, you can rent an ATV and ride for fun along the seashore.
This beach is different from the others because of its nature. On one side you will be surrounded by the waters of the Pacific Ocean, and on the other by miles of wild desert with cacti instead of palm trees, mountains, and canyons.
Have an extreme race, be sure to make a stop to take a photo in front of this unique landscape. It's a great way to get your adrenaline pumping and energized.
And to make everything safe, you will be instructed and provided with all the necessary equipment.
14.Get aboard a pirate ship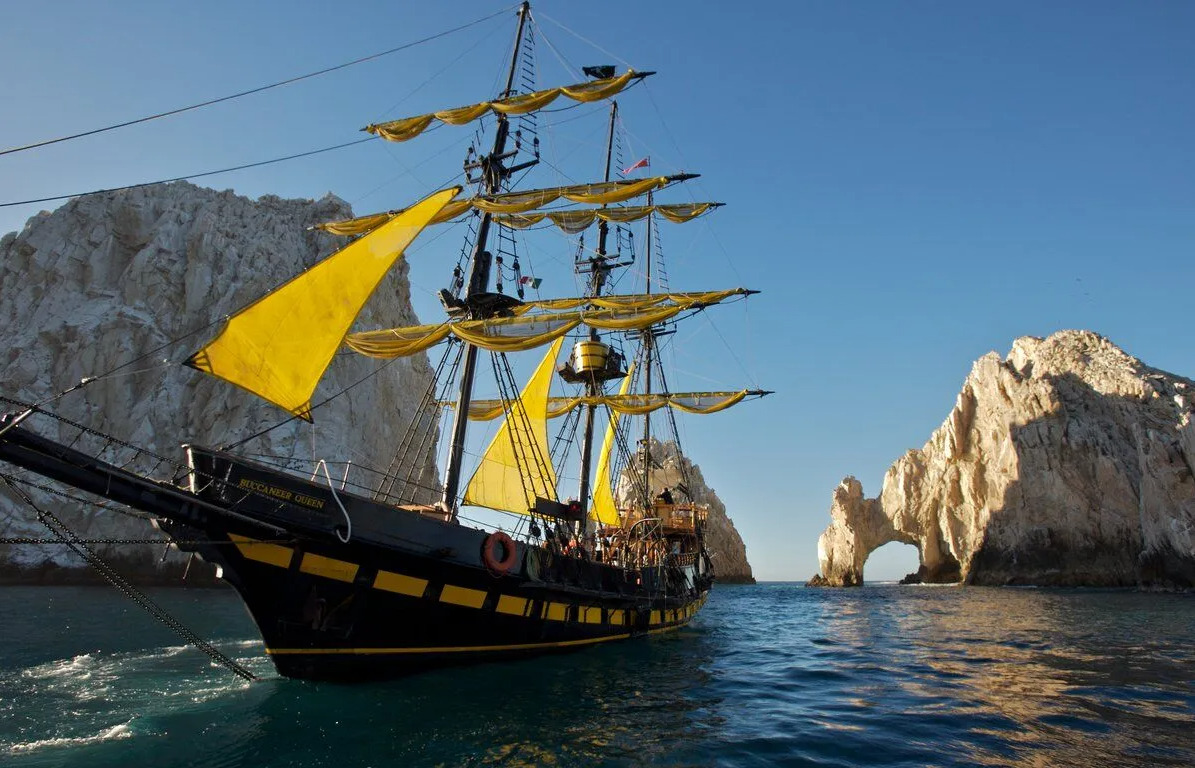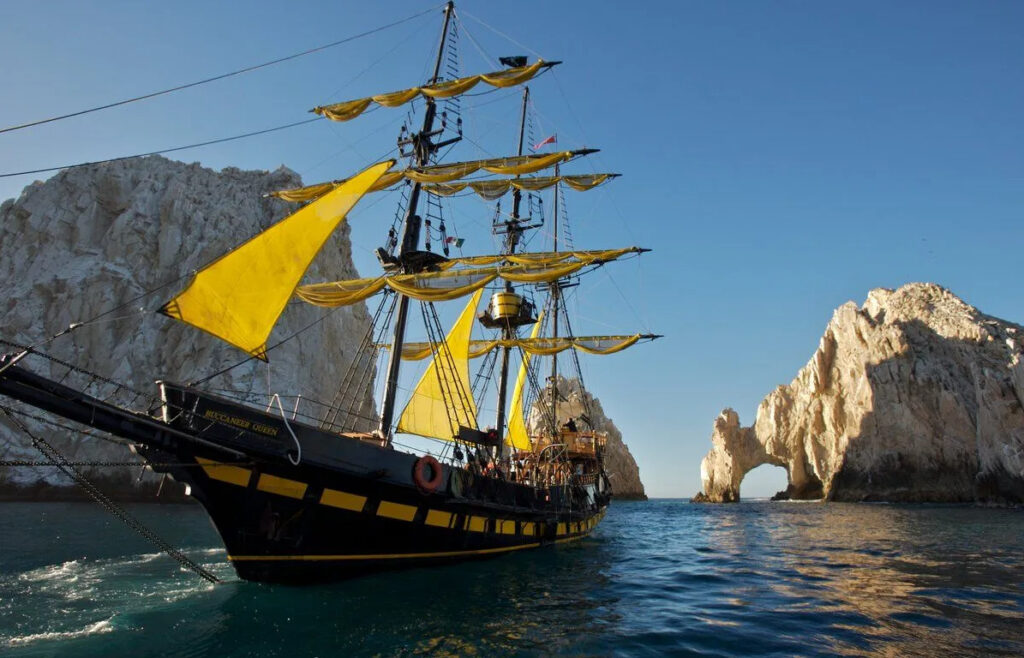 In Cabo San Lucas, you can take an evening cruise on a pirate ship and meet the sunset in the waters of the Gulf of California.
An open bar with tasty cocktails, soft drinks and mouth watering snacks like barbecued pork or chicken ribs await you on board.
And the crew of the ship, consisting of real pirates, will give you a real show, singing pirate songs, dancing and climbing the ropes.
15.Go on an adventure in Wild Canyon Park
This adventure park is designed for the real extreme. Here you can try bungee jumping, ziplining, sling swinger and capture your emotions with a GoPro camera.
The glass-bottomed gondola, which is 300 feet above the ground, is sure to impress you.
In addition, you can ride camels, take children on excursions with exotic animals and birds – parrots Ara, turtles, different types of snakes, crocodiles and iguanas.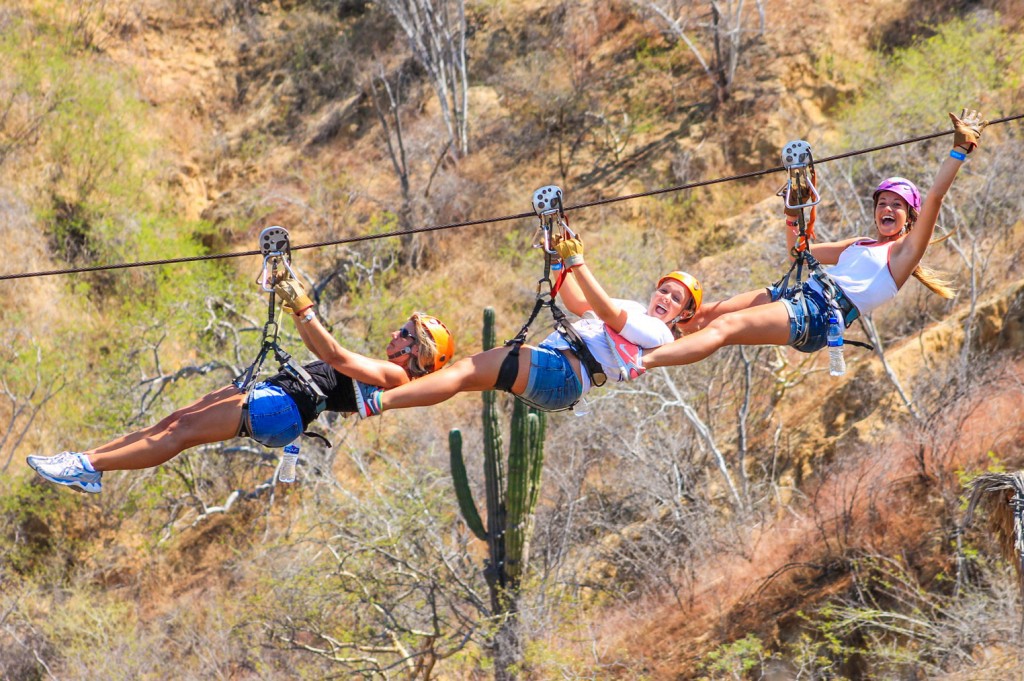 16.A romantic sunset cruise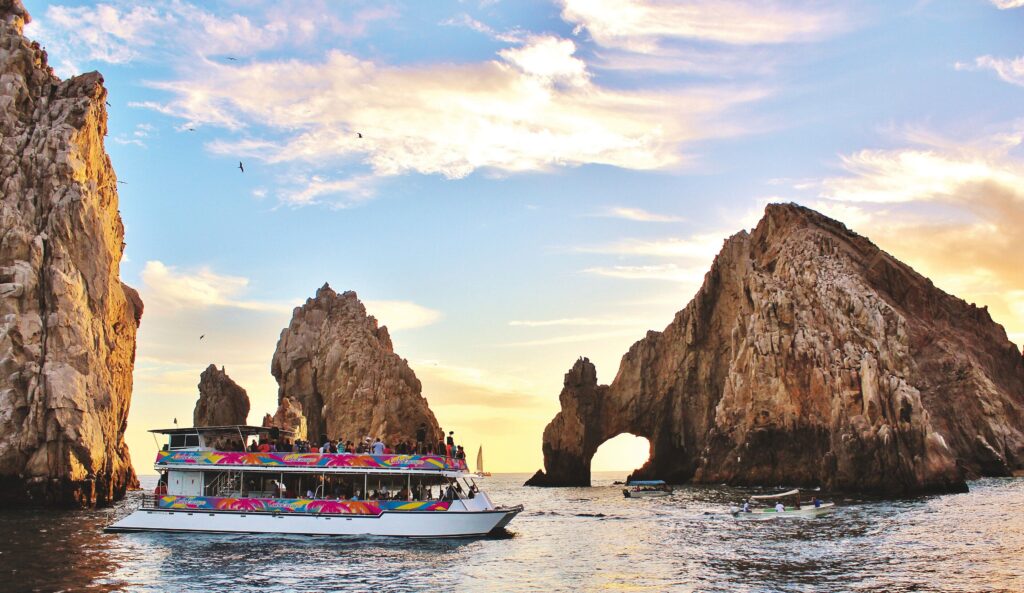 If you want to ask your date out, take a cruise on a chic white yacht. You'll see a stunning panorama of the coast of Cabo San Lucas.
You will be treated to a high-class service with a choice of premium alcoholic beverages and gourmet food.
The evening will be accompanied by jazz accompaniment and the light of the setting sun.
17.Organize a shopping day
For avid shopaholics, Cabo San Lucas is a paradise. Be sure to visit the largest shopping center, Puerto Paraiso Shopping and Entertainment Plaza, where you can shop for any budget.
Premium boutiques are located in the Shoppes At Palmilla shopping center. It's also home to stunning art galleries, handmade goods stores, and cozy bakeries.
Also don't miss the Shoppes At Palmilla, where you will find exclusively Mexican products – pottery and vases, traditional Mexican furniture, paintings, cigars and various souvenirs in the form of jewelry, amulets and talismans.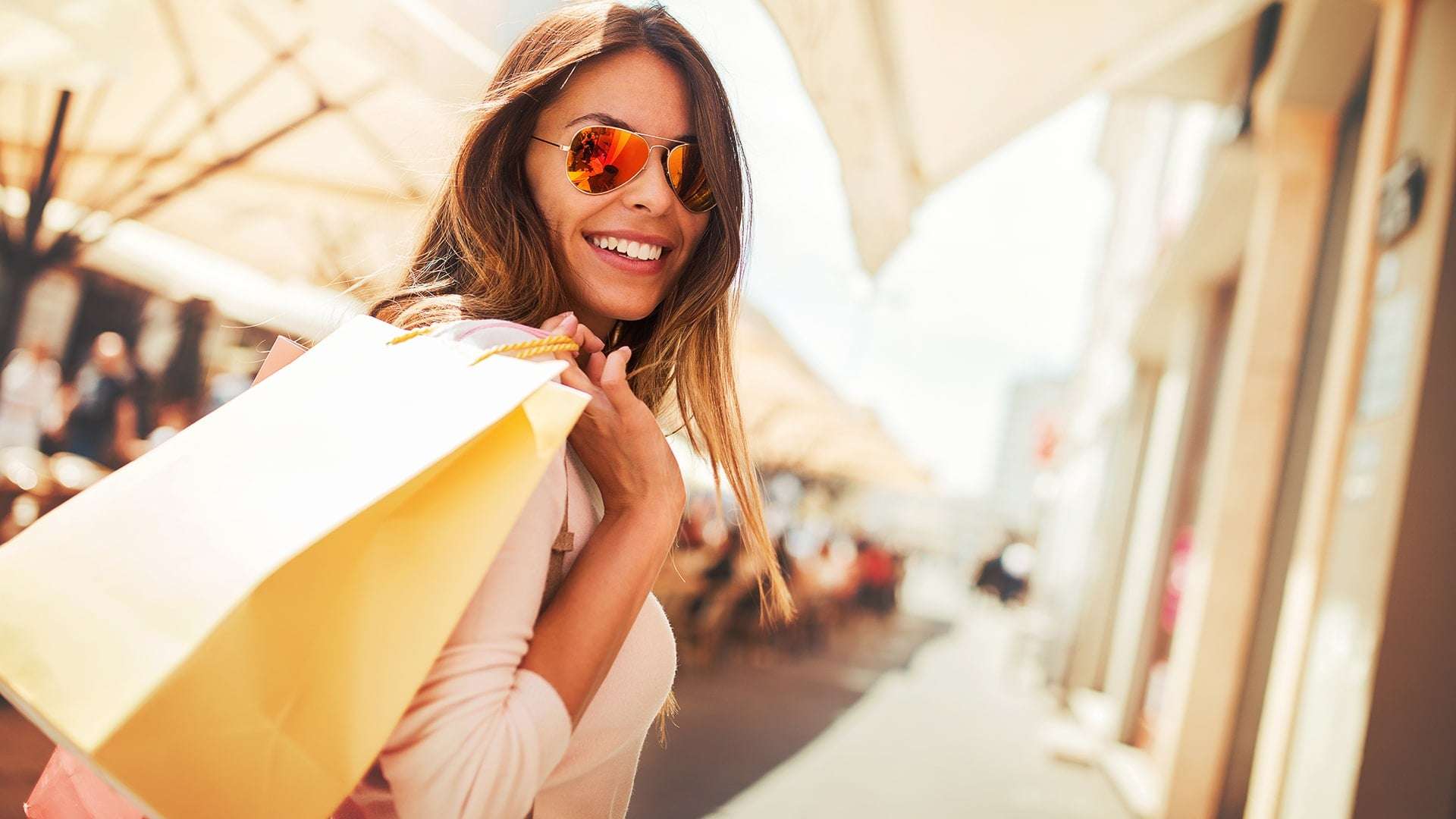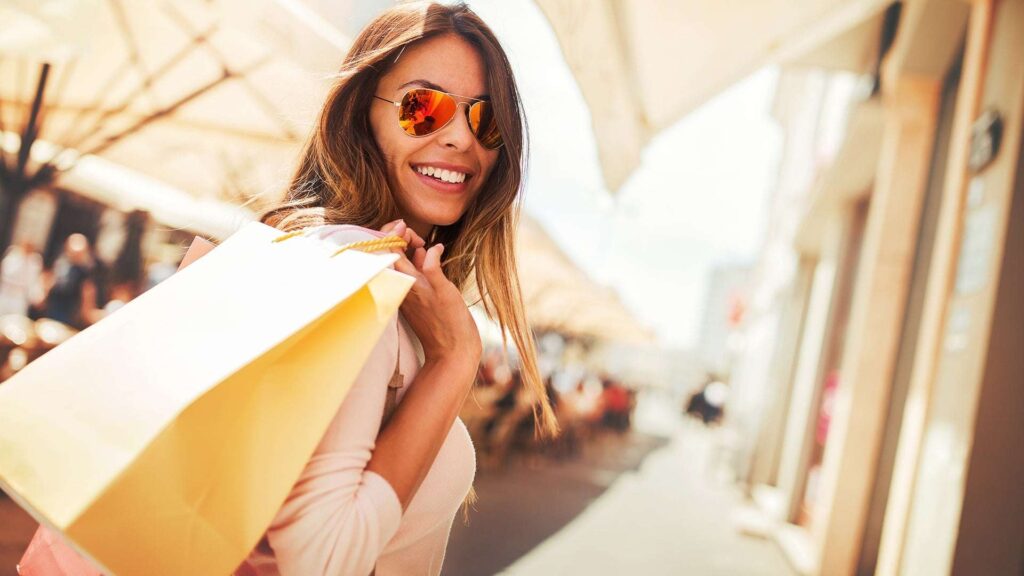 18.Have dinner at a restaurant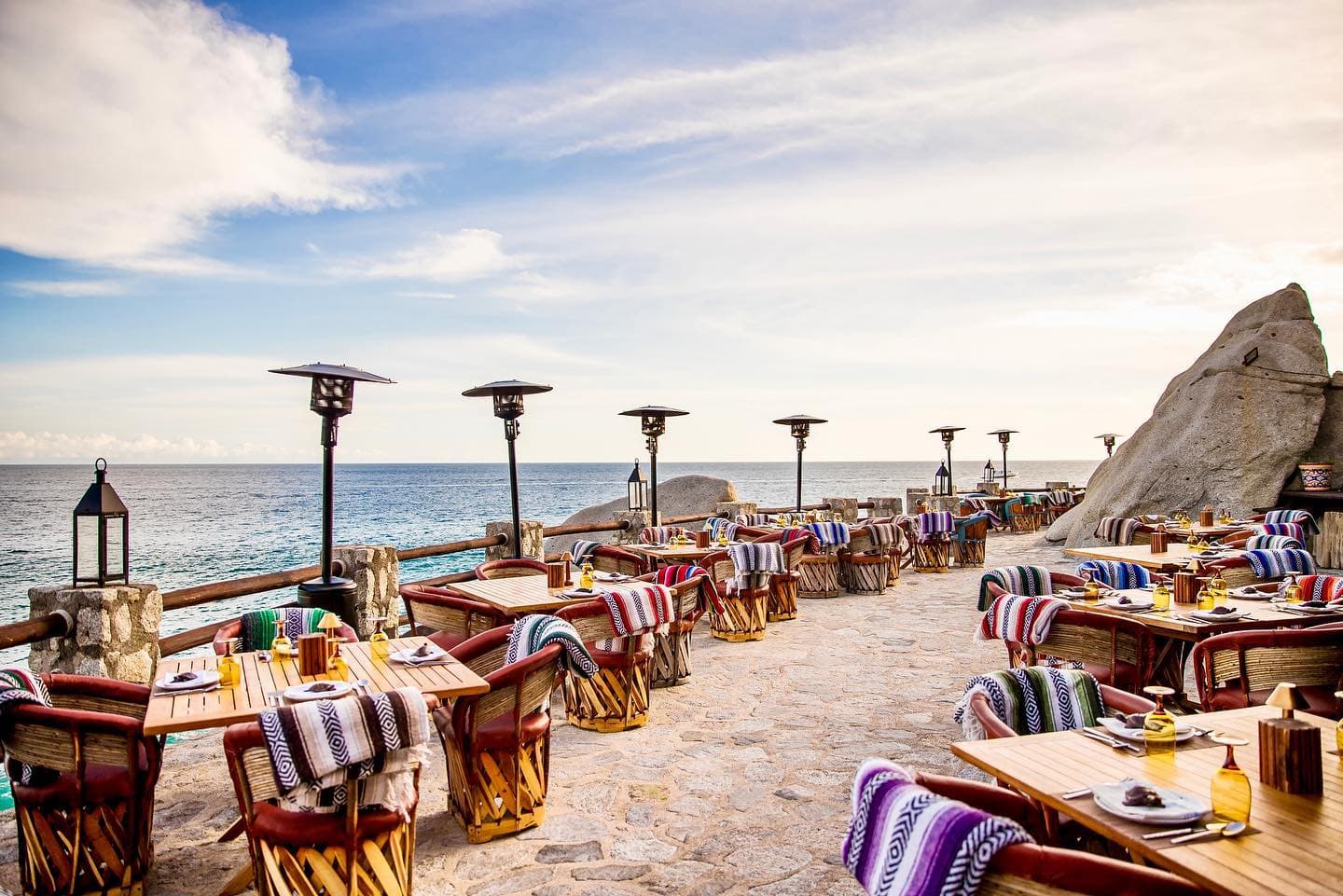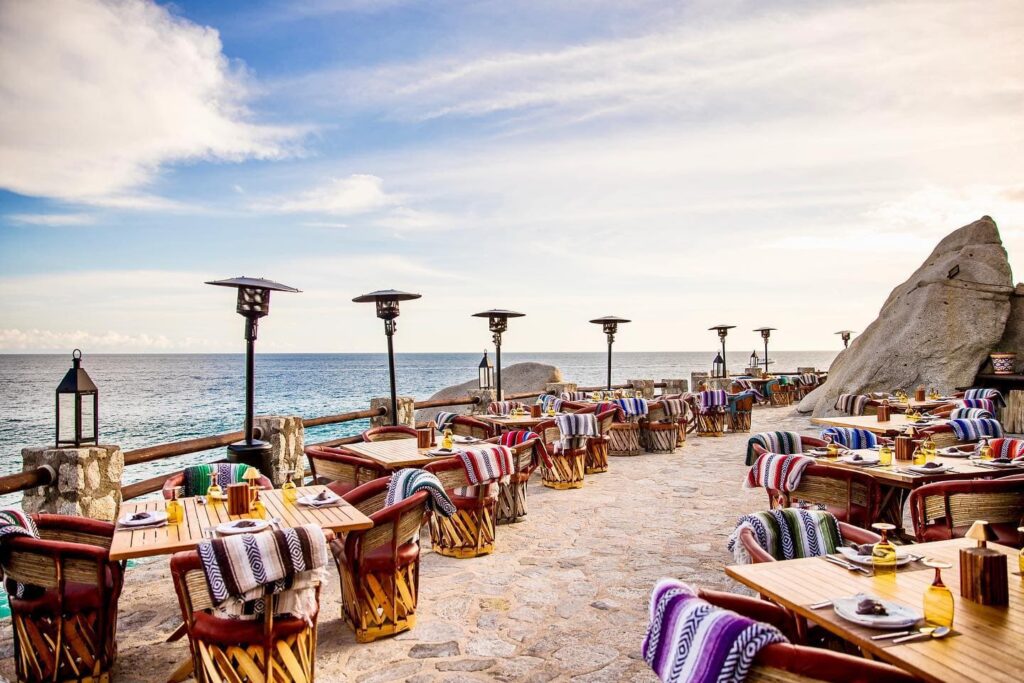 Like many cities in Mexico, Cabo San Lucas is famous for its authentic ambiance and signature cuisine, where you can taste both national dishes and variations of Peruvian, European, Japanese, and international cuisine.
You can pay attention to Peacock's Restaurant – the best European restaurant with a modern interior and top-class service.
Check out La Dolce, a typical Italian restaurant serving aromatic pizza, perfect al dente pasta and lasagna.
And if you want to feel the local color and appreciate the national cuisine, we recommend El Coral – one of the first local restaurants with reasonable prices and cuisine with an emphasis on seafood, or La Casa Country – you will find the best fajitas and a lively entertainment program.
19.Go to a golf tournament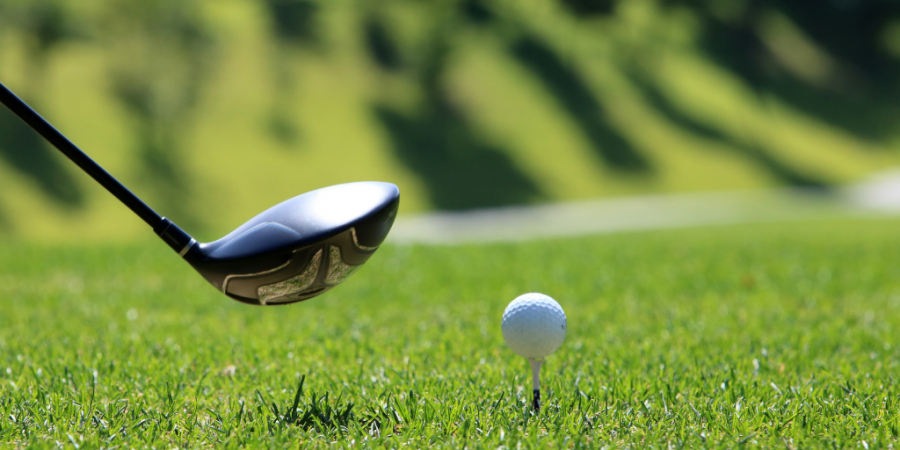 Or take part in it yourself. Cabo San Lucas is home to some of the most beautiful and largest golf courses. It is such a common sport here that some hotels even have their own courses – large or miniature.
If you have a desire, you can take a golf lesson and try this game of aristocrats, or you can just enjoy watching the other players and the beautiful landscape panorama that opens from many of the courses.
Cabo del Sol Desert Course and Ocean Course, Diamante Cabo San Lucas and El Dorado Golf Course are recommended. They have 18-hole courses with water obstacles and unspoiled greenery.
20.Visit St. Luke's Church
Iglesia de San Lucas is the main church of Cabo San Lucas. It is close to the port, so when you return from a sea cruise or just tired of a beach vacation, visit this place to learn about the local architecture and traditions. Remarkably, the architecture of the main church has remained unchanged since the 19th century.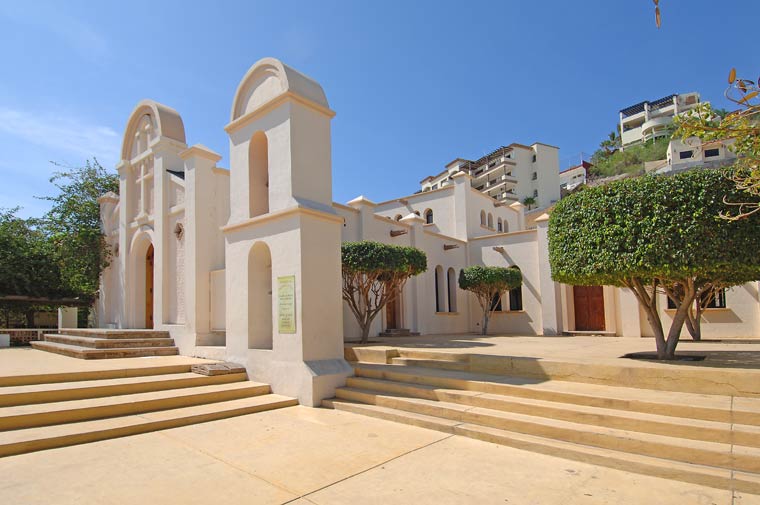 It's free, and you can even go to Mass, which is held on Saturdays and Sundays. And afterwards, you can stroll through the town square, where there are many stores and restaurants to suit all tastes and budgets.
21.Check out the «city of magicians»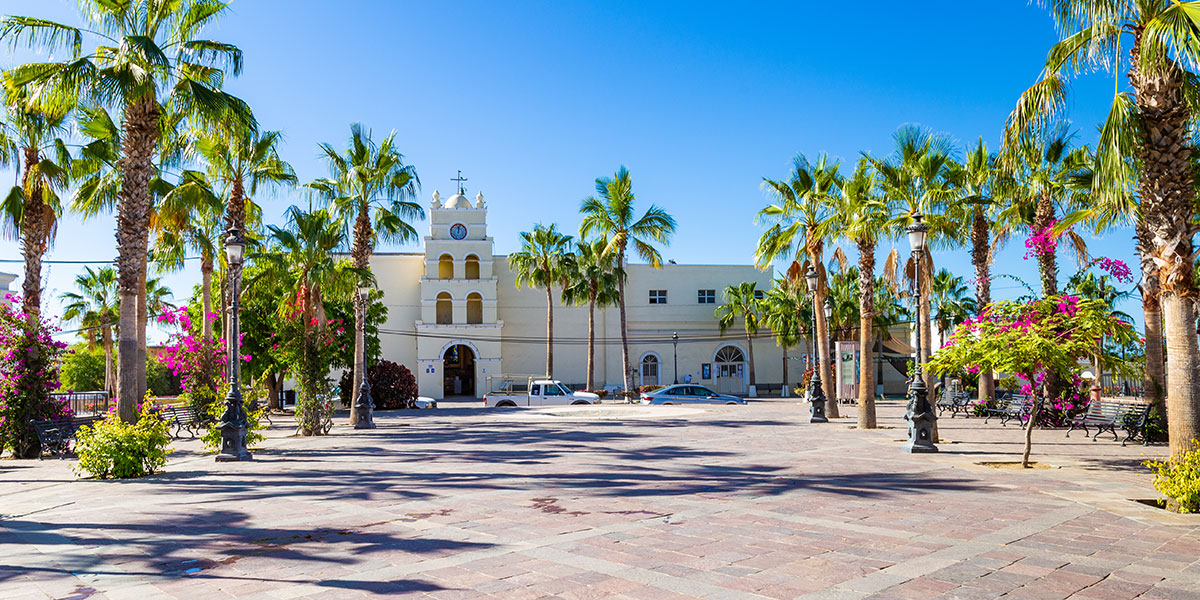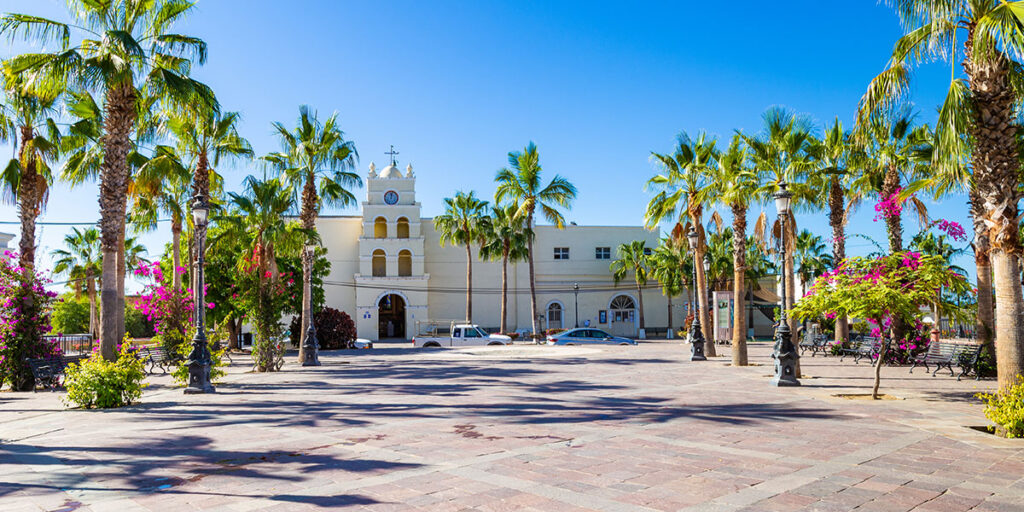 That's what they call the neighboring little town of Todos Santos, 40 minutes from Cabo, which has a magical atmosphere.
It is a regional cultural center. There is a huge community of artists and various creative artists, so the city regularly holds exhibitions, art festivals, you can find unique art objects and unusual objects in the stores.
The city is also famous for the Hotel California, which is said to be the one sung about in the Eagles' song, Hotel California.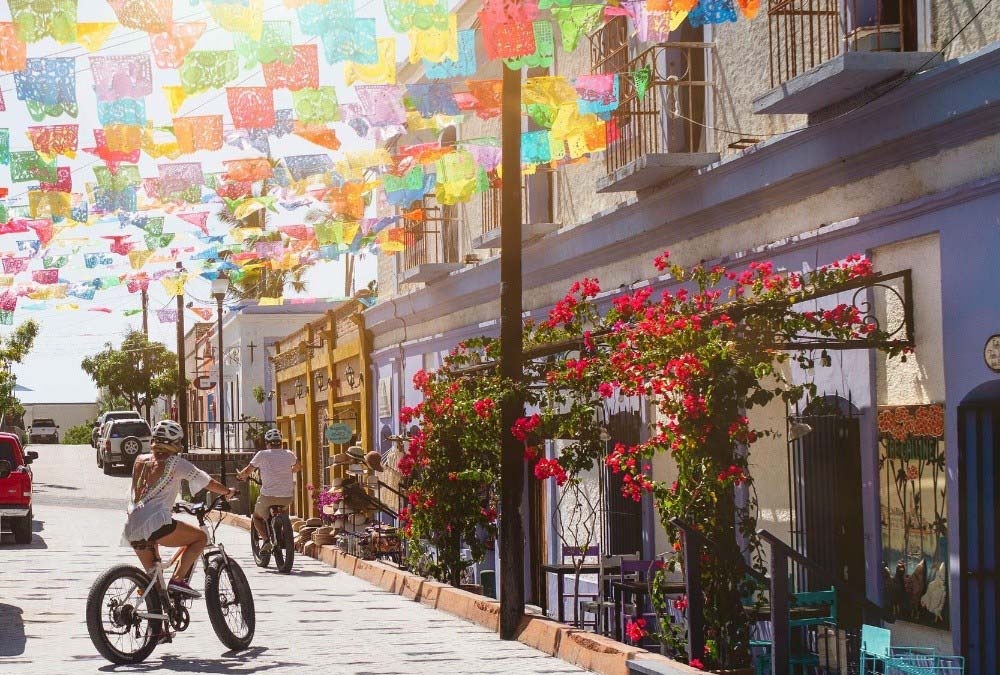 22.Meeting the sunrise and watching the sunset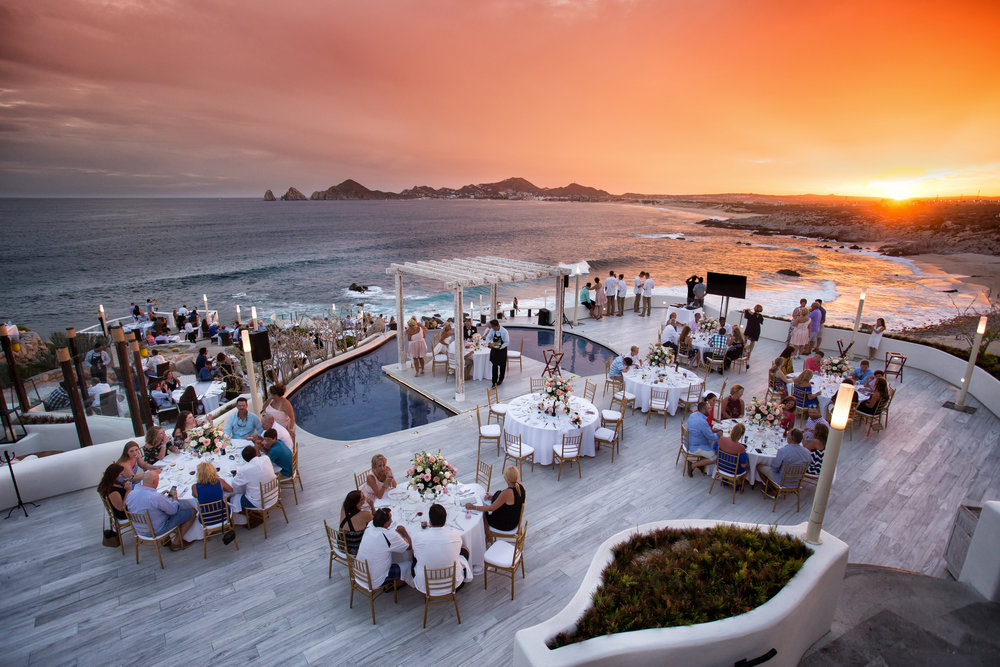 Cabo San Lucas has very bright, rich and unique sunsets.
Many travelers recommend deciding in advance where and how you will greet your morning or evening, because the panorama that you will see depends very much on the place.
For example, you can book a table at one of the coastal restaurants – the cozy Milky Beach Cabo, located on the beach, or the elegant La Roca with a semicircular terrace overlooking the ocean.
Or take a boat trip to observe all the beauty surrounded by the ocean and mountains.
23.Go on a horseback ride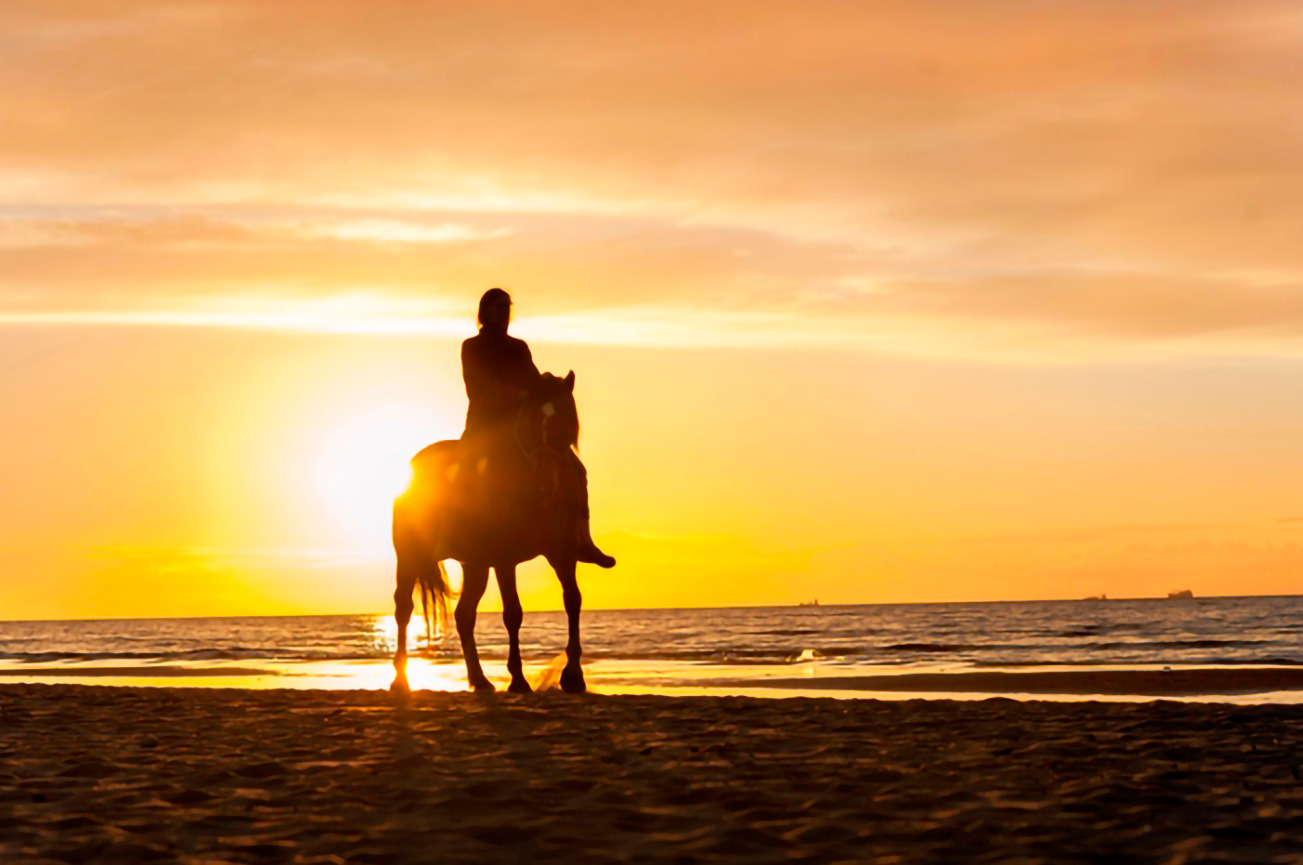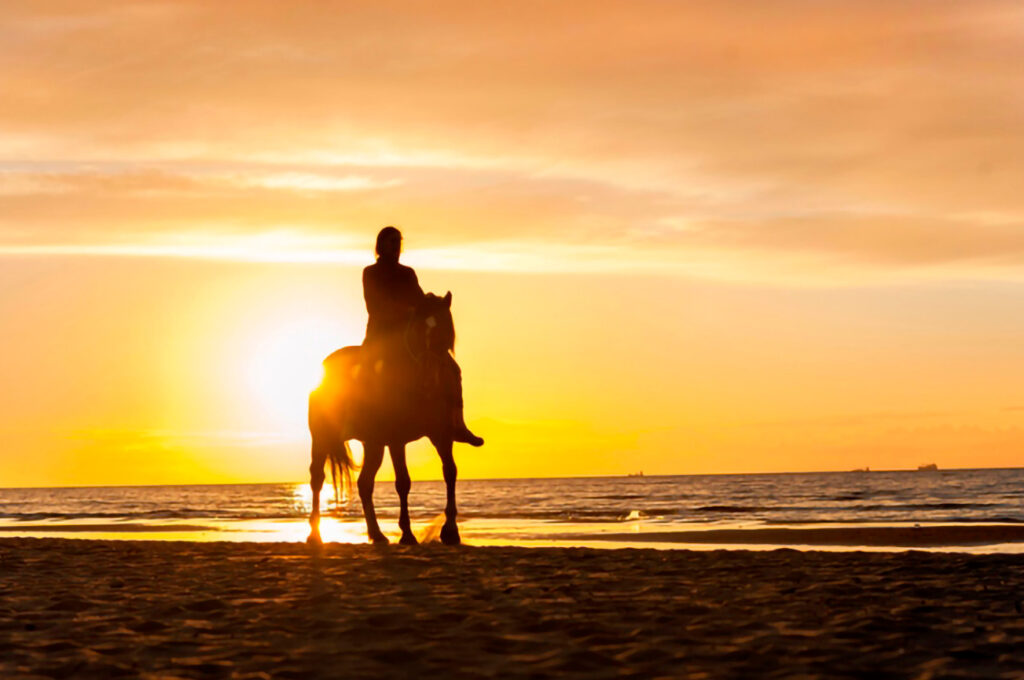 There are numerous ranches at the resort where you can take a riding lesson or just ride horses and interact with these smart and friendly animals.
As a rule, ranches are located in very picturesque places, so the walk will be a separate aesthetic pleasure.
Many tourists recommend Cuadra San Francisco, which is the business of a local family. The ranchers take great care of their pets, but you can ask them to let you feed your horse right out of their hands.
24.Catch the wave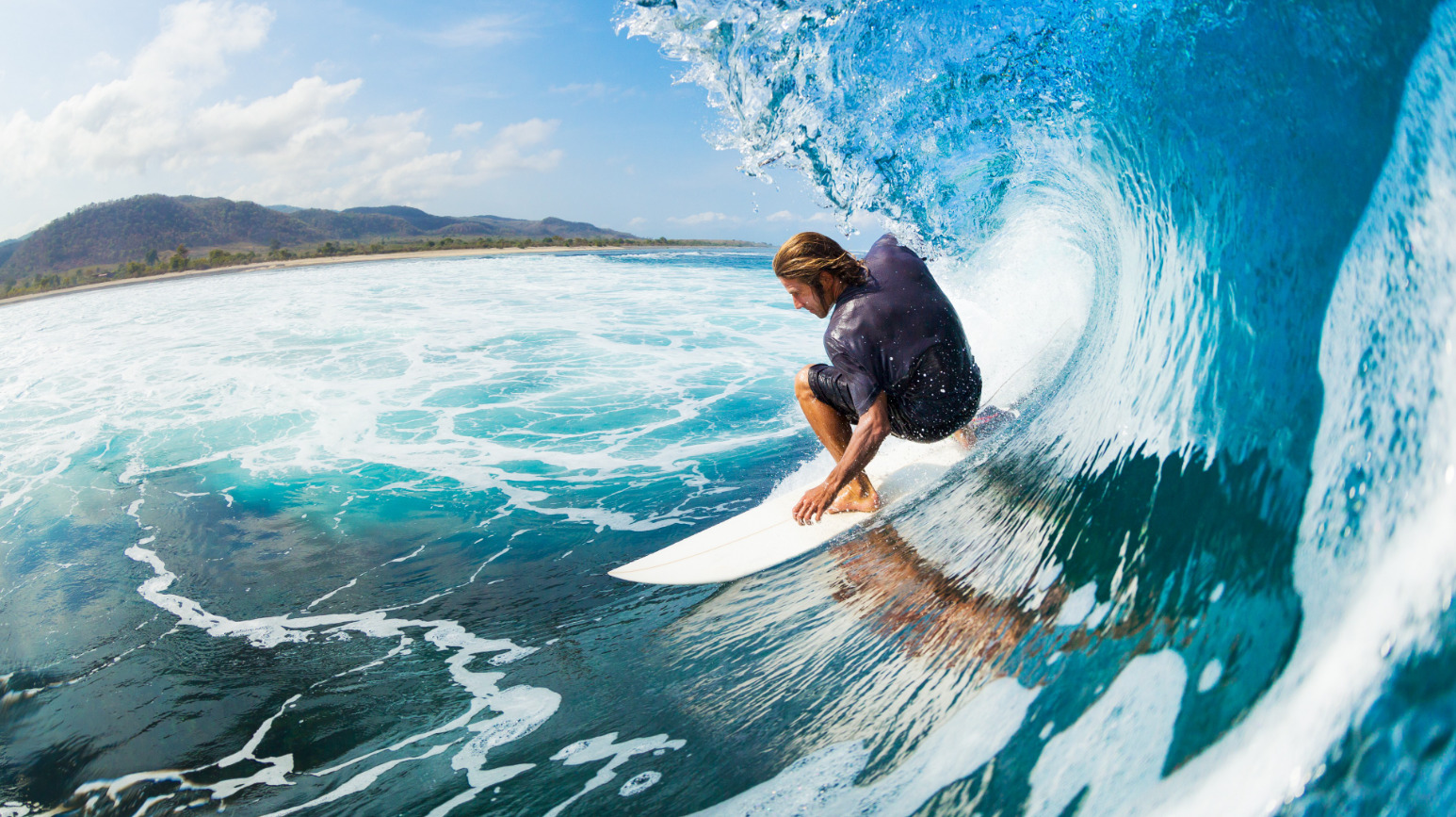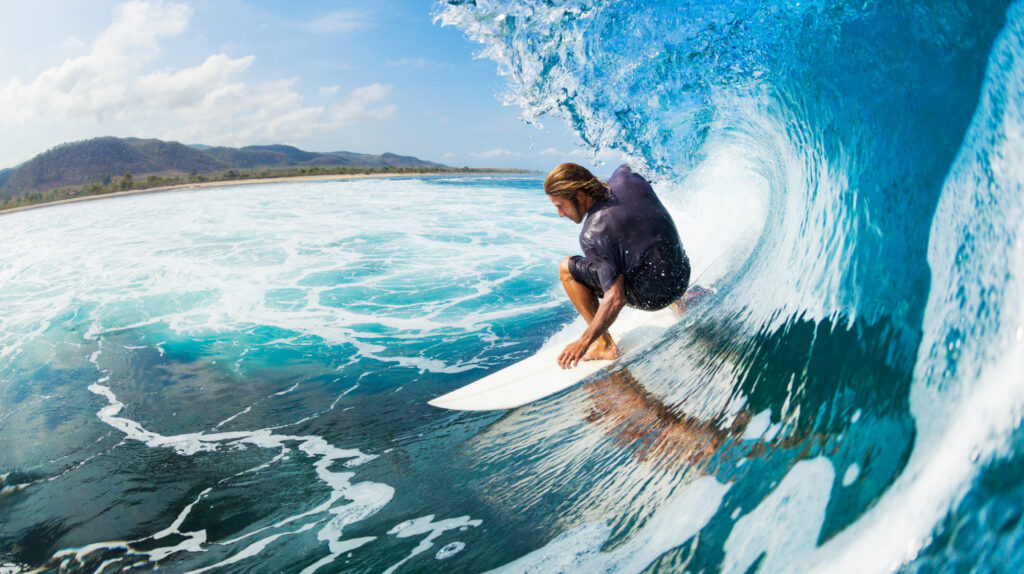 Of course, surfers have a great time on Cabo San Lucas. Thanks to the large number of beaches, you can choose the one that is comfortable for you and your level of training.
Medano beach is perfect for beginners – it is very long, so even a large number of people will not disturb you. The sea is quite calm and the surfing will be very safe.
For avid surfers, we recommend the opposite place, Costa Azul, also called Zipper Beach. The waves here are considered some of the strongest and fastest in the world, perfect for honing your skills. You can also stay here at the Cabo Surf Hotel, specially equipped for surfers.
Well, if you are confident, be sure to participate in the annual championship Los Cabos Open of Surf.
25.Climb the mountain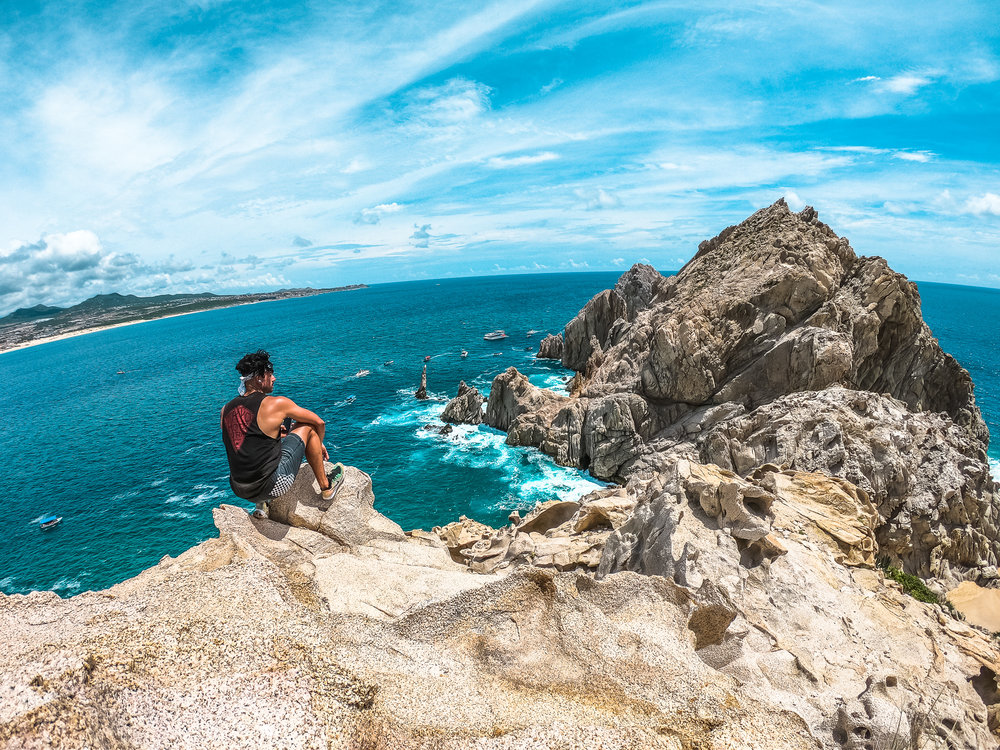 If you love mountains and dogs, you should definitely climb Mount Solmar. Cabo organizes hikes up this mountain with a guide and accompanying group of furry friends.
The guide's name is Enrique – he is a local resident who runs a kennel and «daycare» for the dogs. He is a professional dog handler, so the dogs are trained, know basic commands and are already used to constant interaction with different people.
Mount Solmar offers stunning views of the surrounding area – the beaches of Playa del Divorcio and Playa de los Amantes, the Pacific Ocean and the Sea of Cortez. And with four-legged company, the climb will be easy and fun.