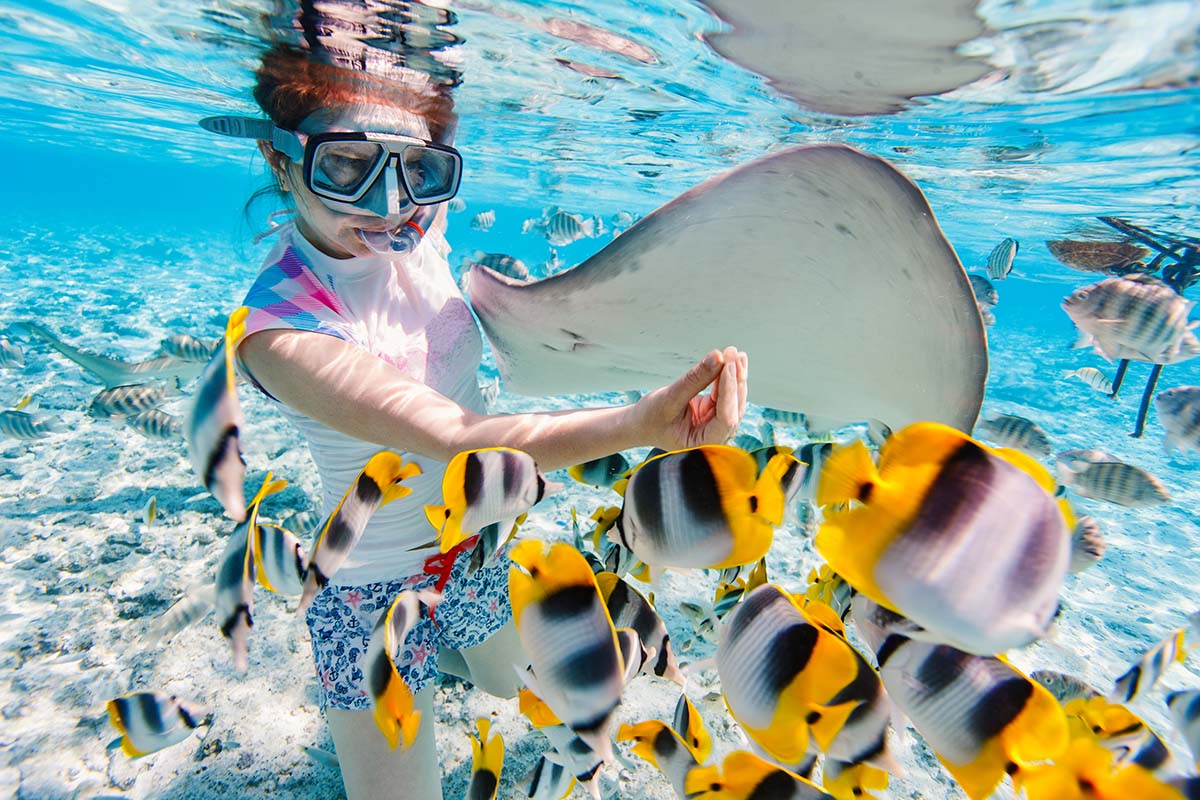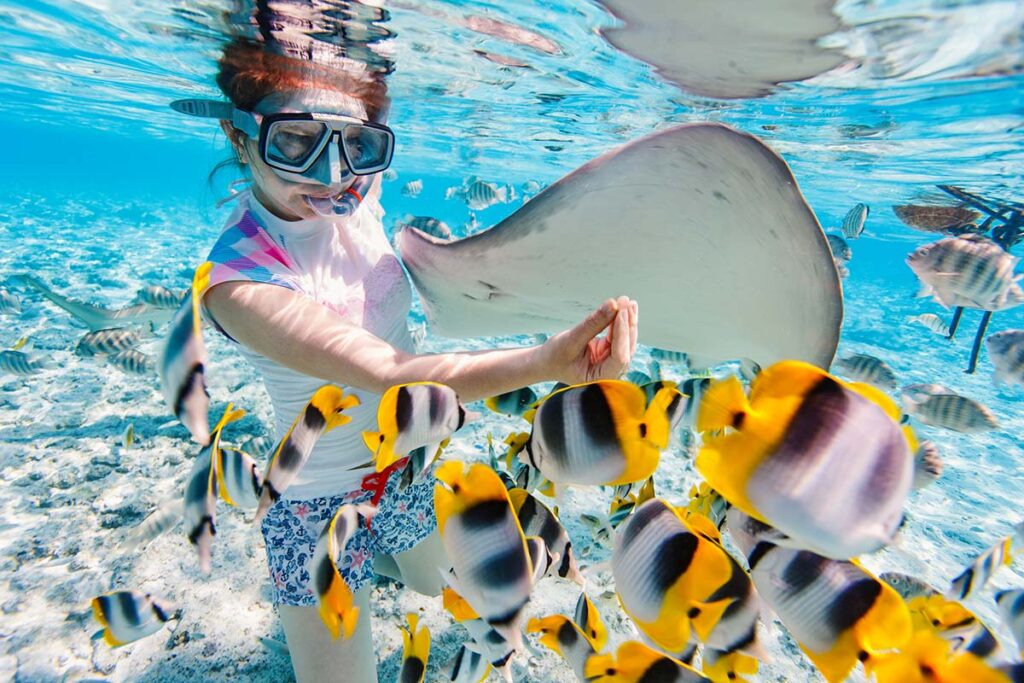 Divers will appreciate the calm waters and colorful marine life on the west side of Isla Mujeres. While the eastern region presents more difficult options for advanced divers with diving depths up to 100 feet and deeper.
There are over 40 dive spots on the island. The most popular dives are Media Luna, Sleeping Shark Cave, Manchones Reef, and several shipwrecks. At Sleeping Shark Cave, fresh water bubbles with a higher oxygen content attract many sharks, which lie motionless at the bottom posing for the drivers.
Dive Sites:
Diving in Isla Mujeres is a year-round activity. The rainy season starts in June and can last until November. High season from December to March. The average air temperature is kept within 77-88 °F. Temperature indicators of water in winter are about 77 °F, and in summer – 84 °F.
Visibility fluctuates on average from 65 to 100 feet. Currents can vary from low to medium, but do not interfere with the exploration of dive sites.
1.Manchones Reef
The reef is over 2,600 feet long and hosts stunning fields of soft and stony corals.
The bright colors of the reef and the large shoals of wrasse, grunts, and bass became a real decoration of the dive site. Large parrot fish and royal angels make this place even more spectacular. While diving, divers may encounter wrasse, napoleons, perches, dragonflies, and sea breams. This area is home to the Underwater Sculpture Museum, which has become an iconic diving site on Isla Mujeres.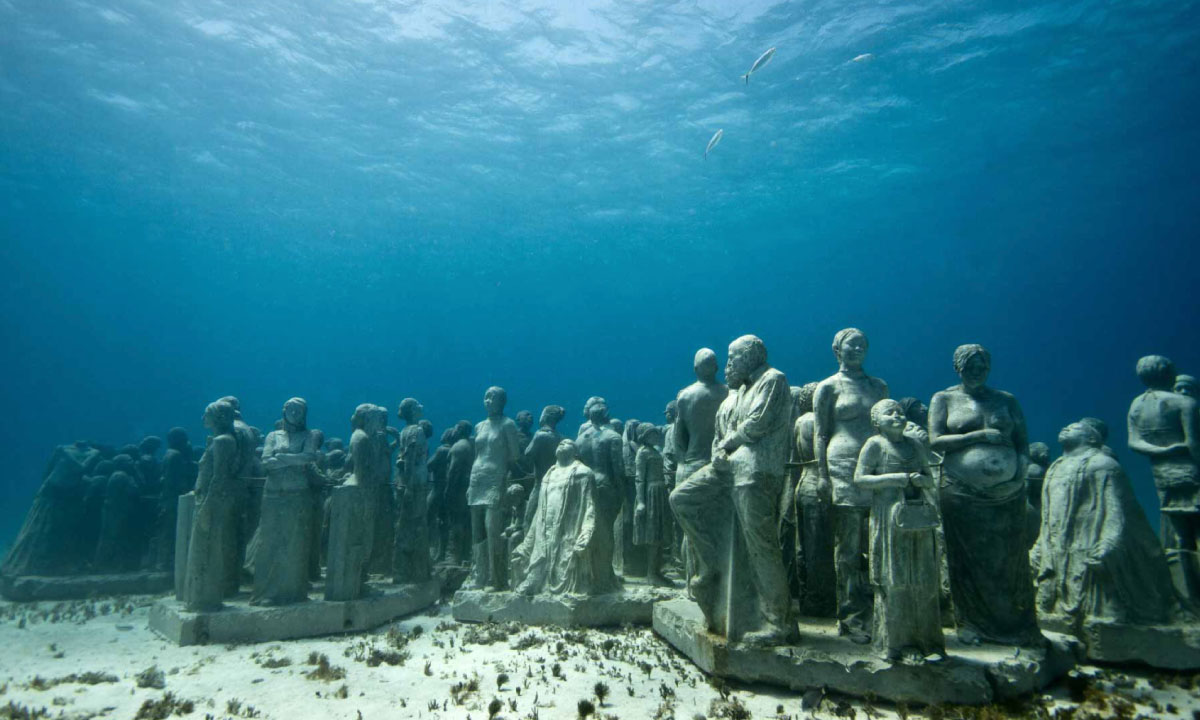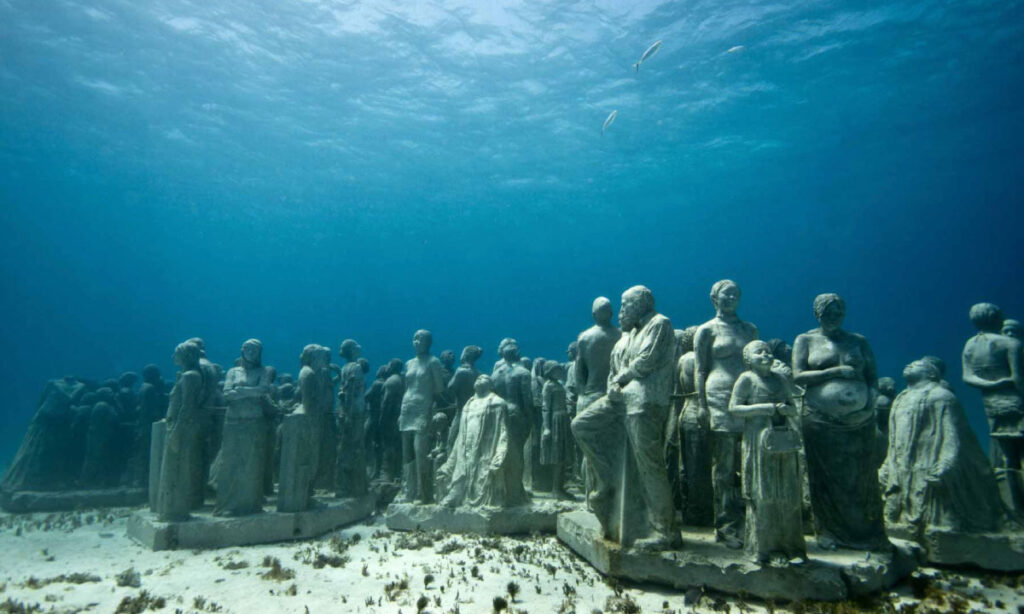 2.Mine C-55 and C-58

C-55 and C-58 minesweepers of the Mexican Navy during World War II. They were sunk by the Mexican army. C-55 Gun Ship is an interesting dive site due to its history and variety of marine life.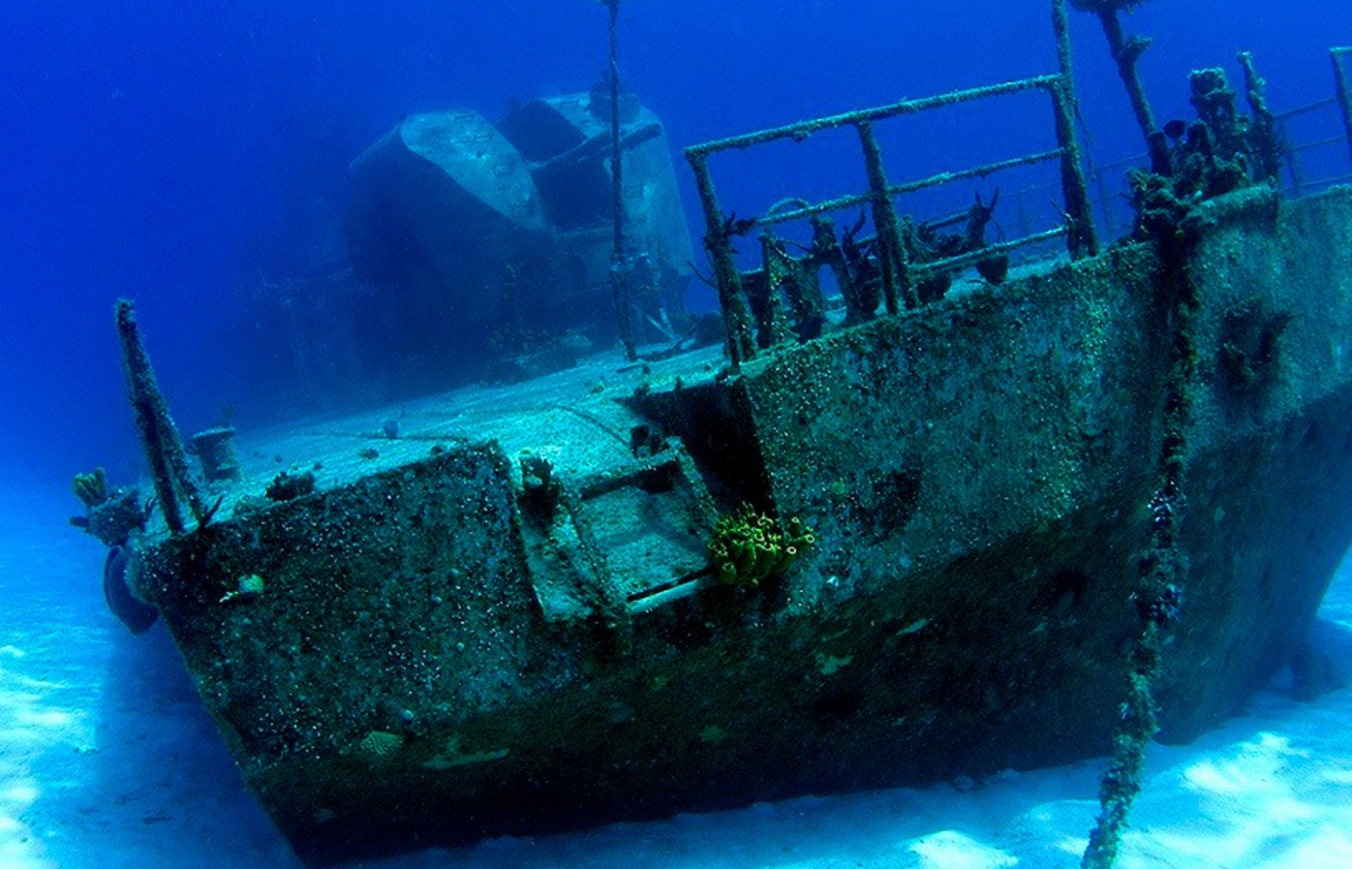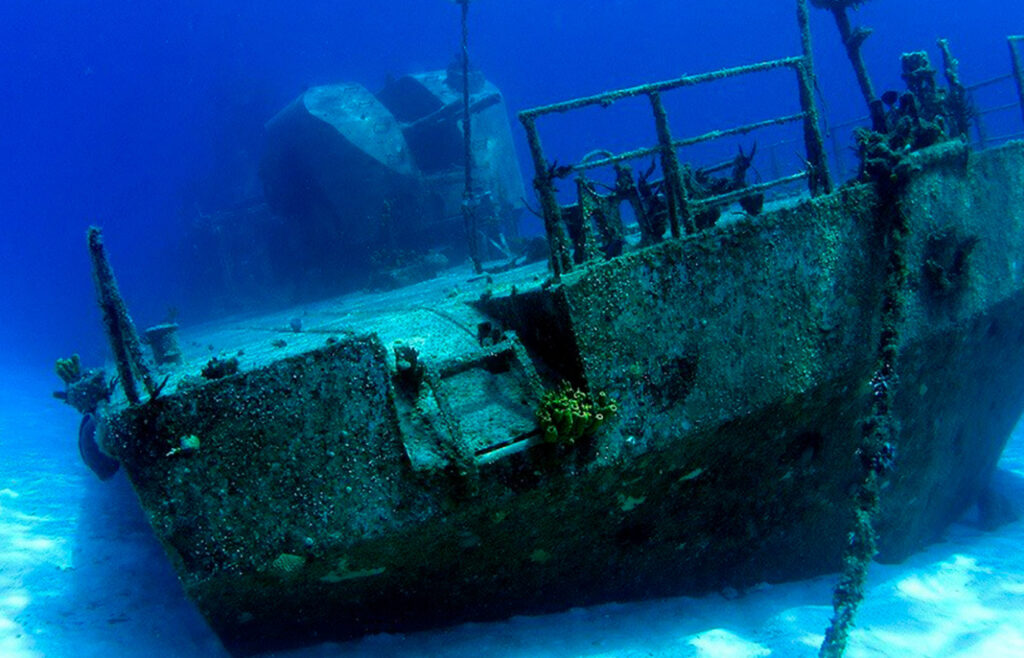 C-58 is also known as General Anaya. Weather conditions must be taken into account when diving. It is not recommended to dive at this place in a storm. Divers can walk around the ship as well as get inside. The vessel is divided into two parts, and all rooms are available for scuba divers. Inside the vessel, there are many species of fish, starfish, seahorses, porcupine fish, parrot fish, octopuses, lionfish, jellyfish, sea bass, green moray eels, barracudas, sharks, and other underwater inhabitants.
Shipwrecks are visited by large schools of eagle rays, which migrate here during the winter months.
3.Bandera Reef
Located halfway between Cancun and Isla Mujeres, Bandera Reef is a long, elongated patch of coral topped with «moose antlers» and riddled with crevices and ledges.
The reef is teeming with schools of barracuda, as well as large crabs, spotted moray eels, spiny lobsters, and angelfish.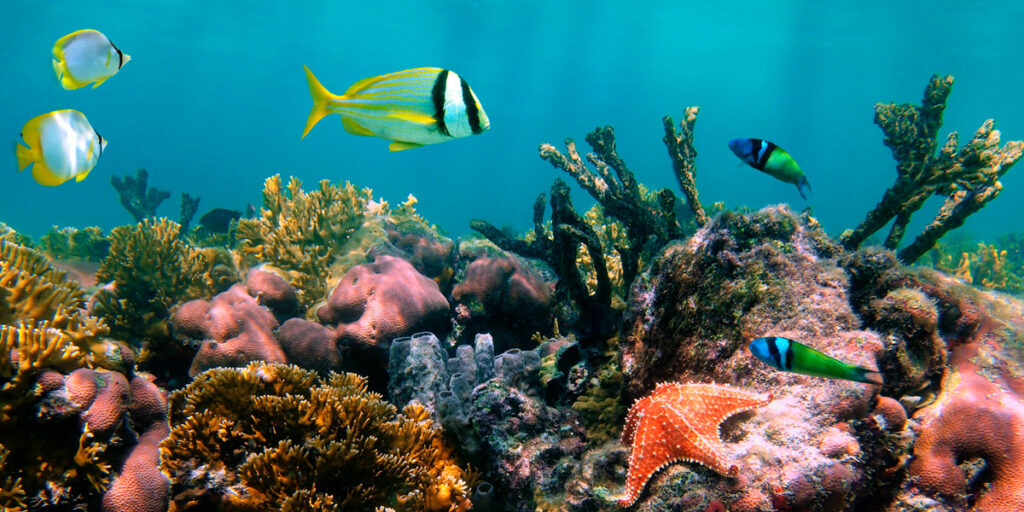 4.Media Luna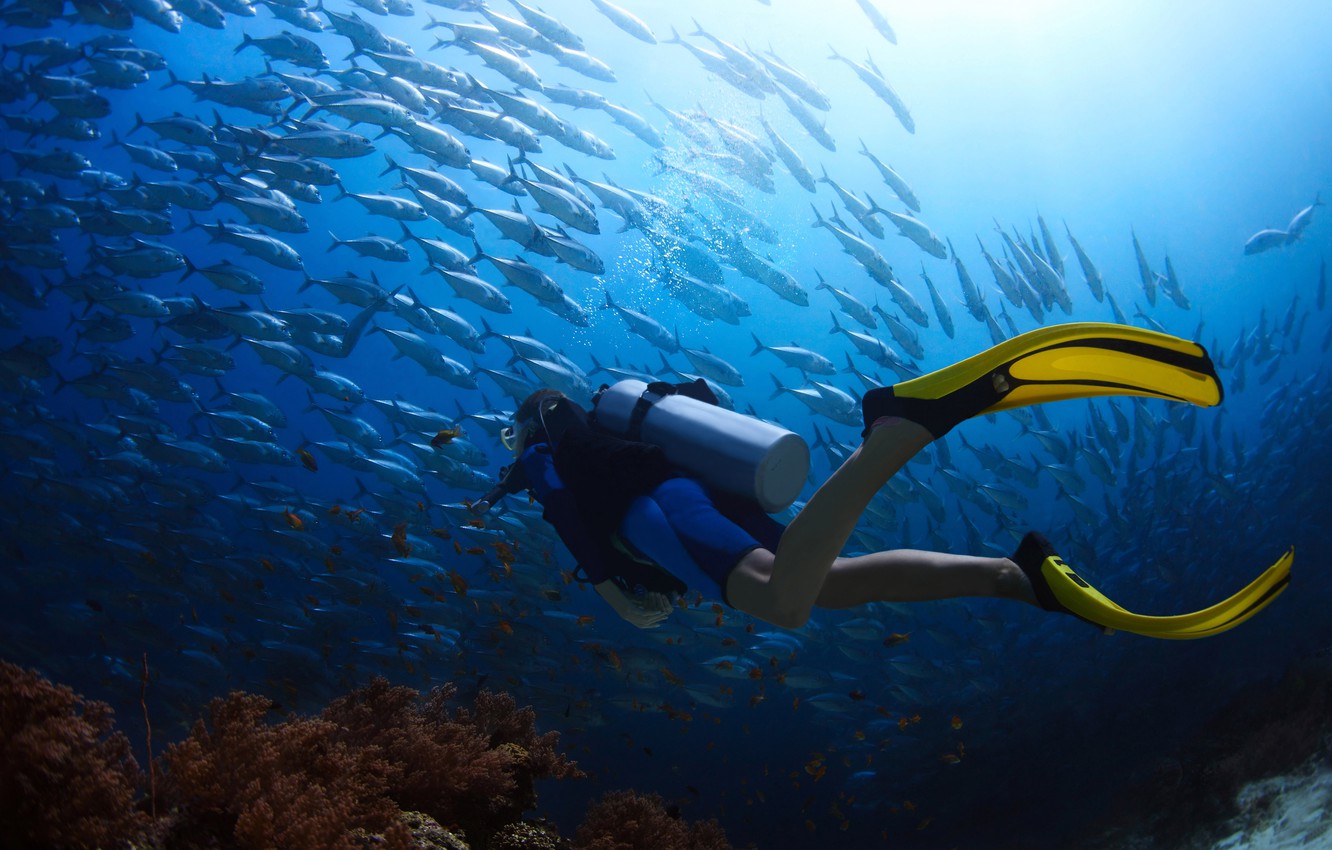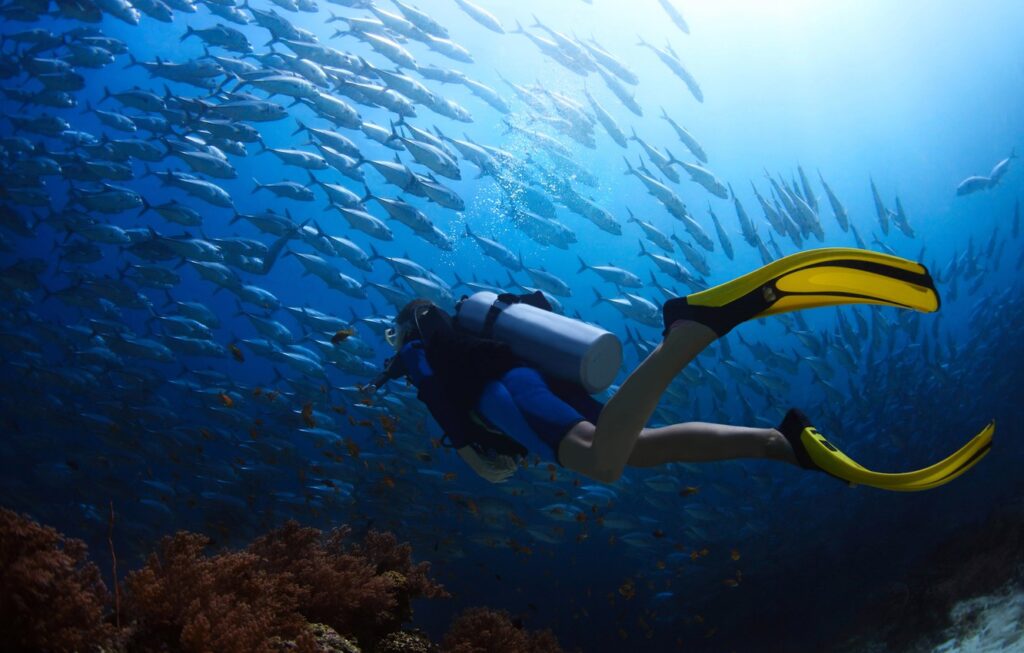 The diving spot is located on the east side of the island. This is a unique shallow reef with many corals, arches, ridges, and ledges. Diving is possible all year round.
The average water temperature is around 77 °F in winter and 86 °F in summer.
Divers will have the opportunity to explore caves with sharks, groupers, and some other underwater species. Ridges and ledges provide shelter for spiny sea urchins, crawling Caribbean lobsters, shrimp, and colorful sea anemones. You might be lucky enough to pick up something tasty here for a fresh seafood dinner.

5.Tavos Reef
This is a little-known diving site. It is a small reef with unique limestone formations, many cracks, and tunnels, many of which are large enough for divers to pass through. This site also has the unique feature of attracting gray and white reef sharks, who also seem to enjoy swimming through the natural arches.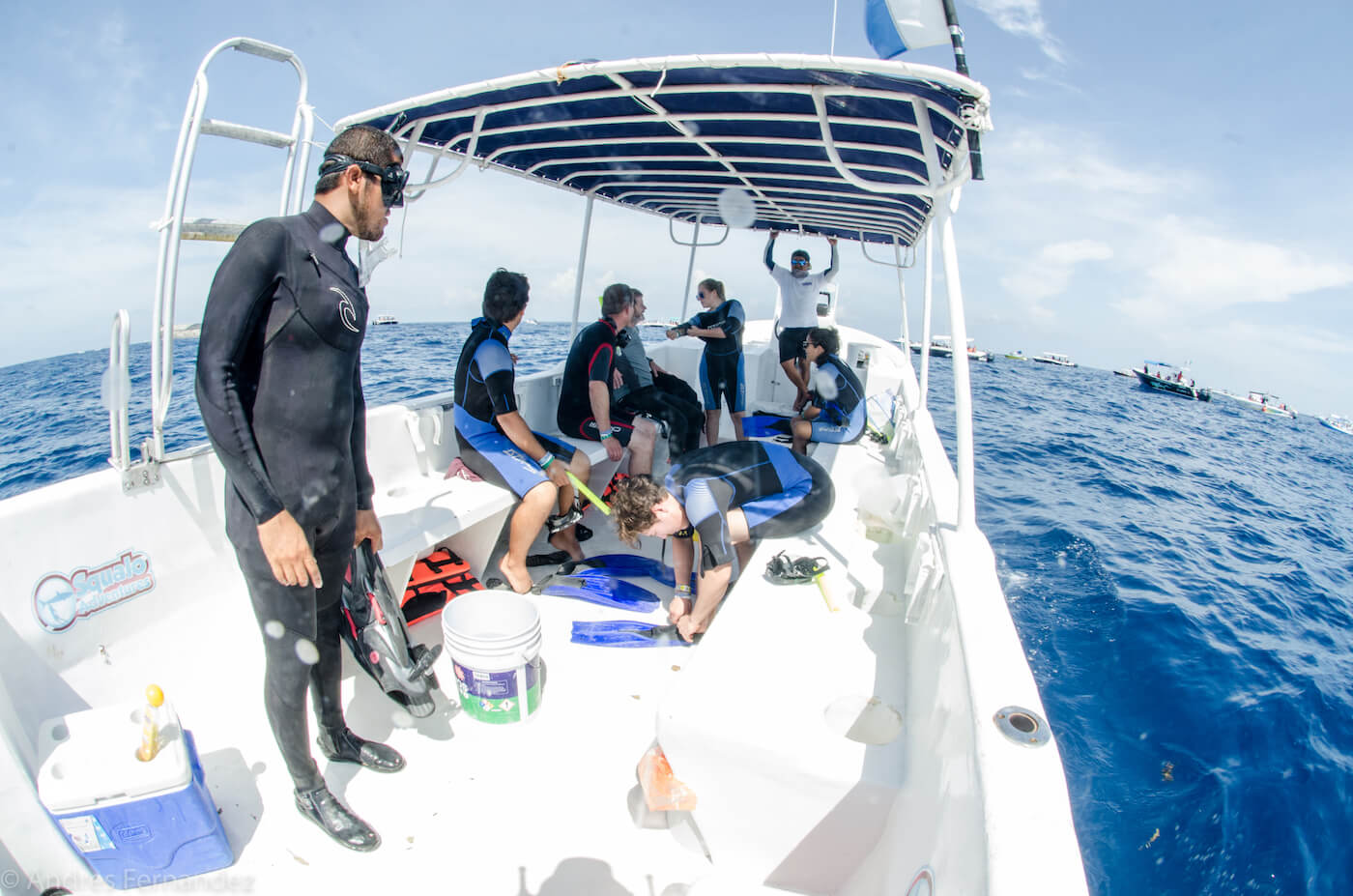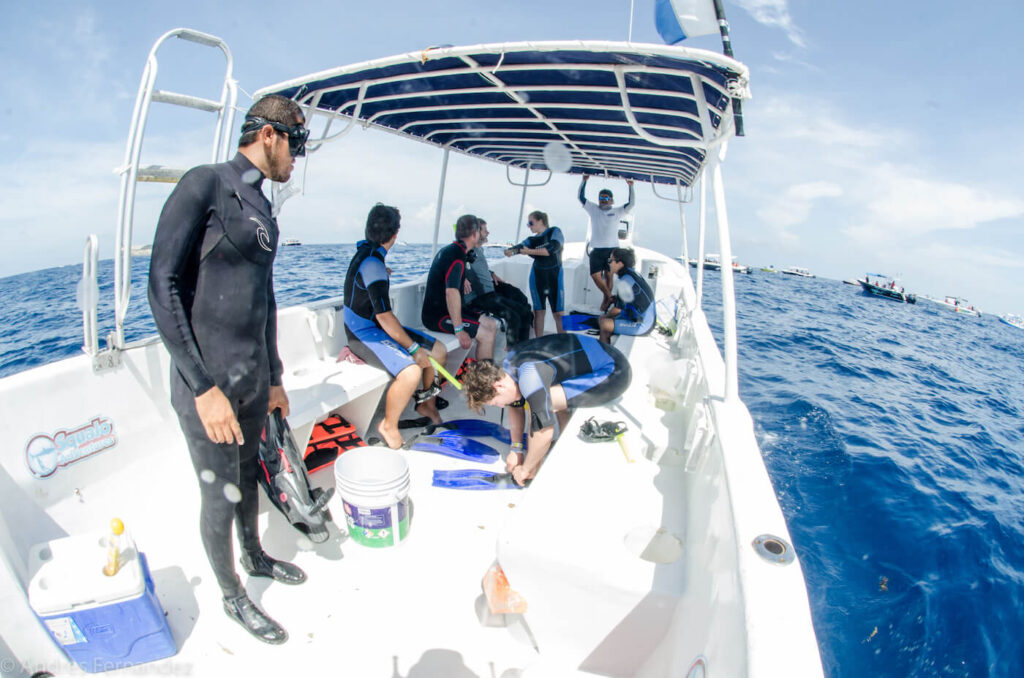 We could say it's a secret spot. You won't be able to find it just by typing its name into a Google search.
However, you can find it if you contact one of the local dive centers. Usually when you organize a tour you can discuss the dive sites right away. So just write down or remember the name and ask about the possibility of diving there. Surely the local guides will know what they are talking about.
6.Ultrafreeze Wreck
Another great place to dive with its own special atmosphere, which is in high demand among fans of diving near sunken vessels at shallow depths.
El Frio is a 200-foot-long sunken freighter located 3 miles south of Isla Mujeres.
The body of this artificial reef is practically intact. The temperature all year round ranges from 65 °F to 90 °F. Many marine species live here. Including manta rays, barracudas, groupers, moray eels, big jewfish, and other species worth watching. This is a popular spot for underwater photographers.
7.Diving with whale sharks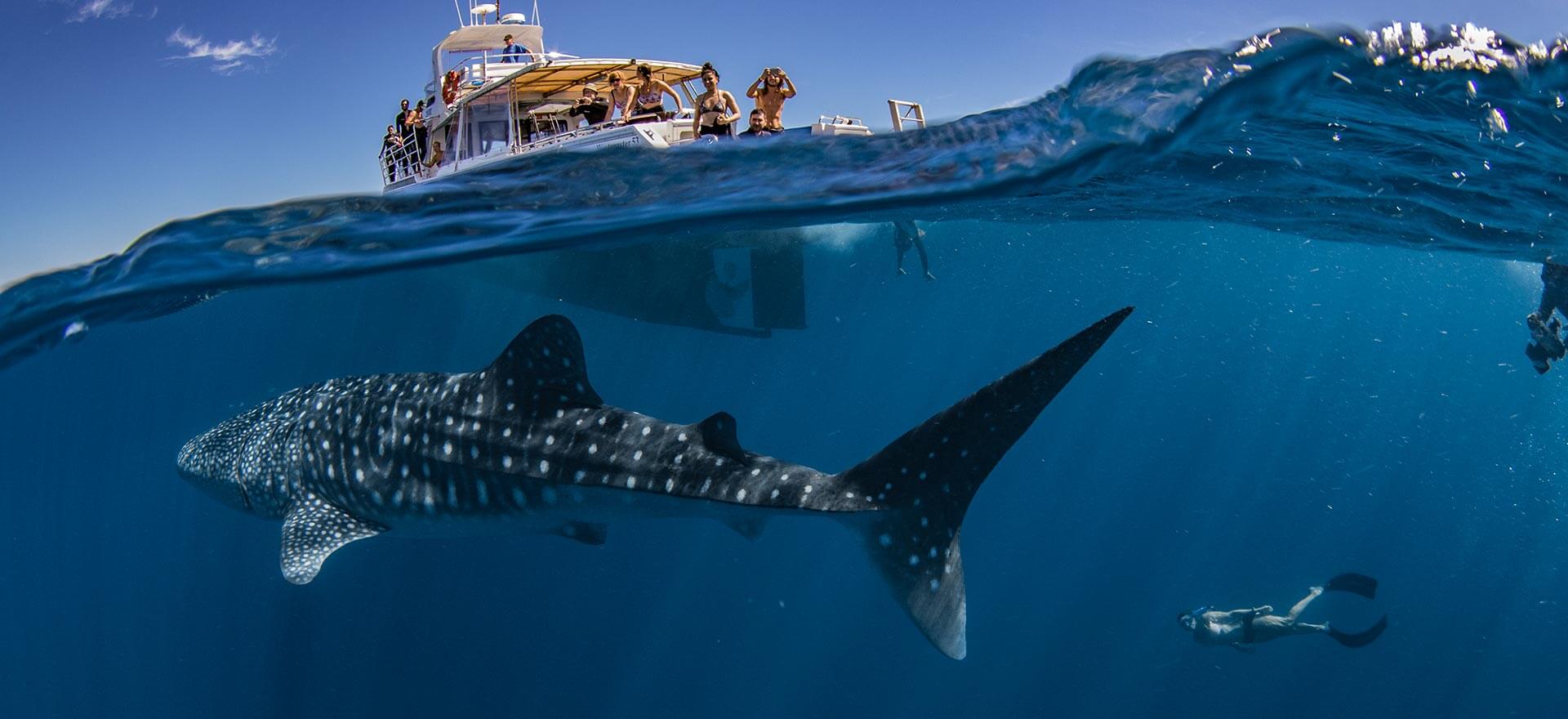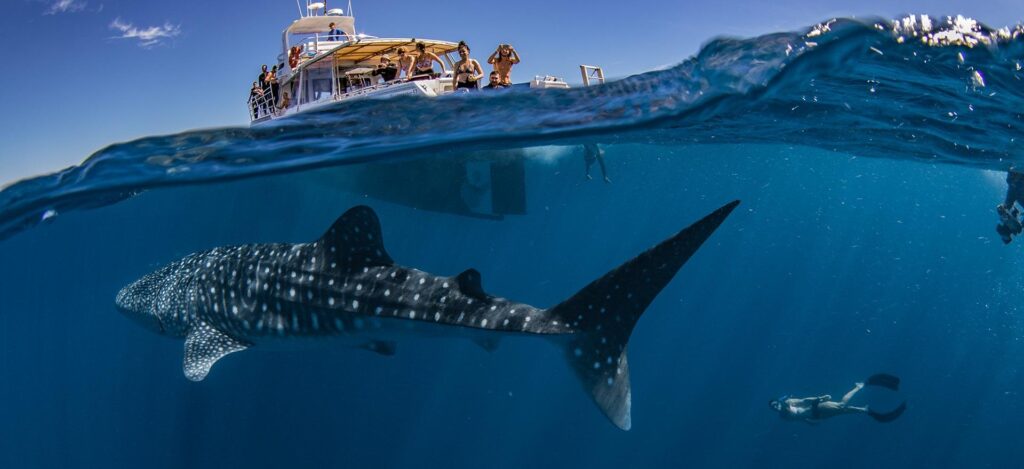 Isla Mujeres is one of the unique places in the world that offers divers the exciting opportunity to meet whale sharks in their natural habitat.
Between June and mid-September, hundreds of whale sharks migrate to the tip of the Yucatan Peninsula to feed on the plankton of the algal blooms. Harmless predators rarely gather in large groups.
While feeding, divers can see up to 400 whale sharks in one place. Although they can reach 45 ft in length, they are harmless to humans.
It is important to note that under current regulations, snorkelers and scuba divers are not allowed to touch whale sharks. Divers can watch and take pictures from a distance. There are also sailboat fish, manta rays, and golden stingrays.
8.Sleeping Shark's Cave
This is an isolated and wild diving area that was discovered by one of the local fishermen, Carlos Garcia. This dive site is made famous by Jacques Cousteau and Dr. Eugene Clark. Freshwater bubbles with increased oxygen content allow sharks to breathe normally without any movement. This is a great opportunity to study the predators, as they say, close-up.
Bull sharks, blacktip sharks, gray reef sharks, and nurse sharks are occasionally seen.
9.Cancun Underwater Art Museum
MUSA is an underwater museum located near Cancun and Isla Mujeres.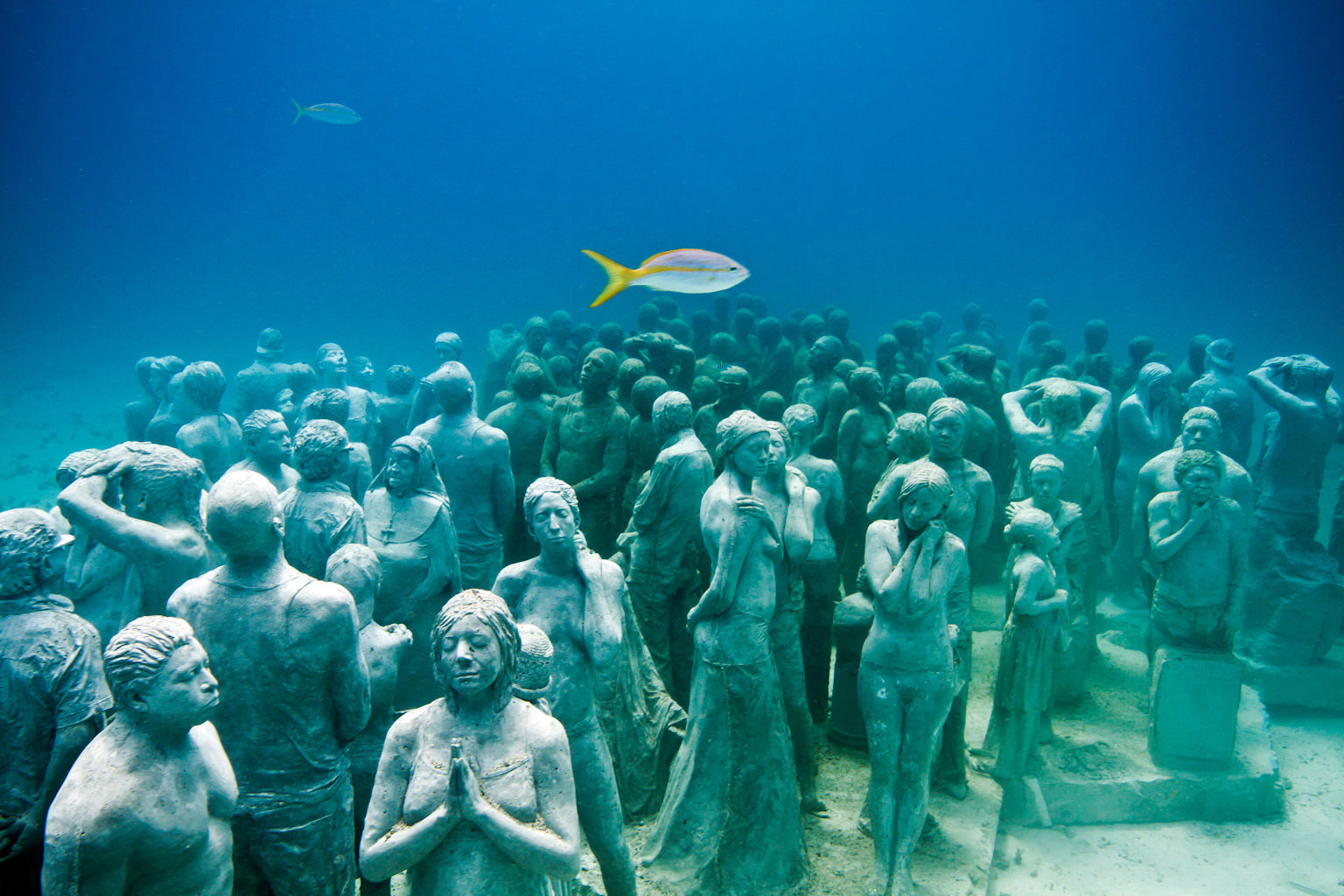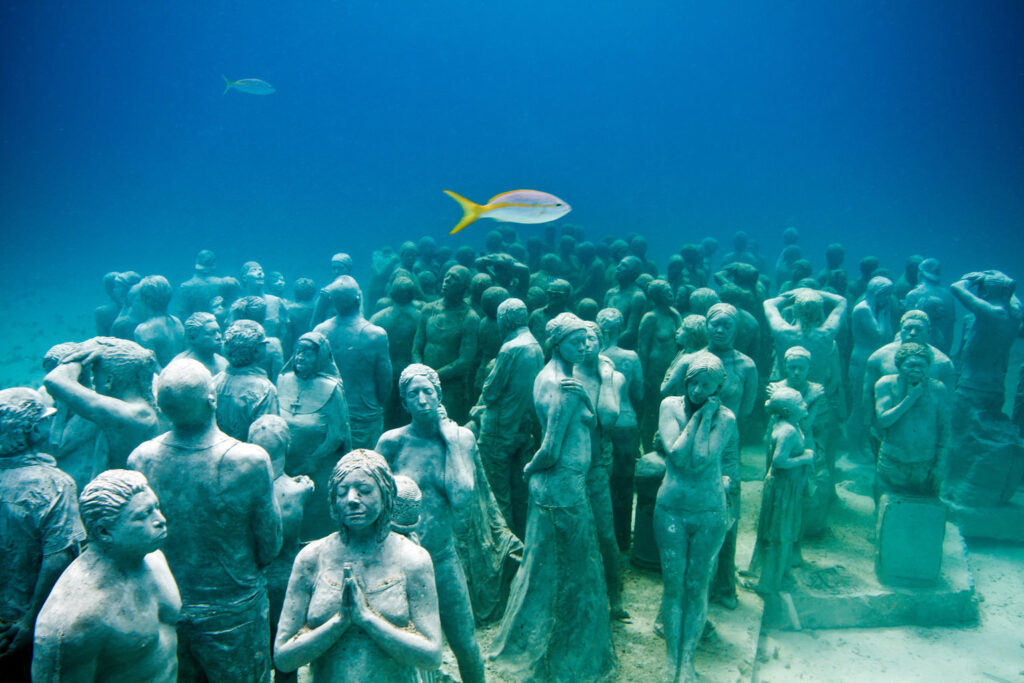 The project was created in 2009 by artist Jason deCaires Taylor. The purpose of this project was to protect coral reefs. The museum features over 400 original sculptures, each made from materials that promote coral growth and attract marine life. The site is available for lovers of snorkeling, diving, or excursions on a glass-bottom boat.

Most of the models were locals from Puerto Morelos. Some of the statues that can be seen here are the Man on Fire, the Dream Collector, and the Banker. Divers can find schools of fish, turtles, rays, and other marine life here.
Dive clubs: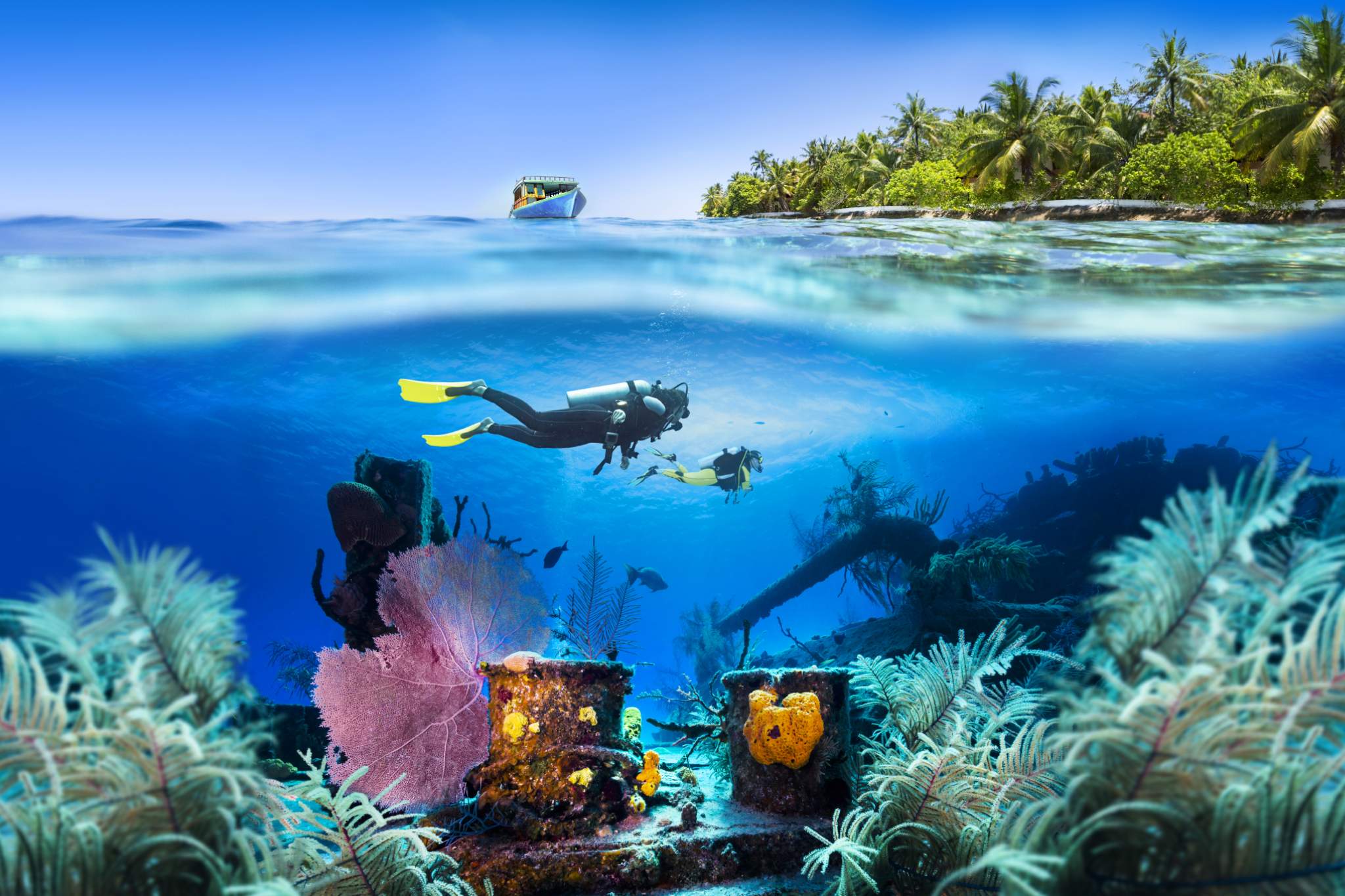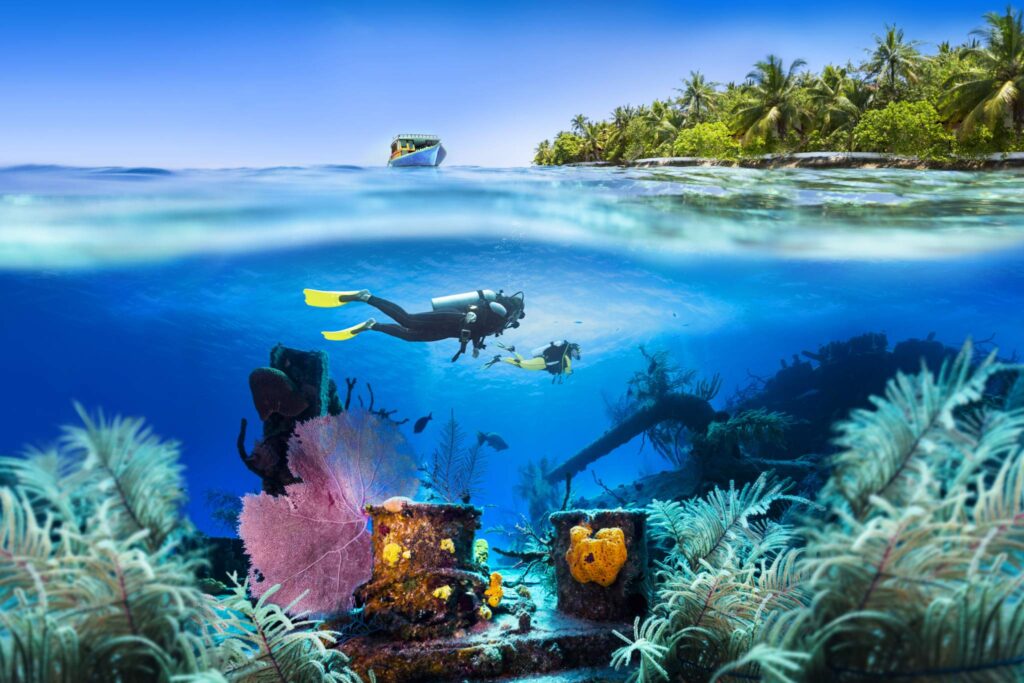 One of the easiest ways to have an unforgettable trip to the best reefs near Paradise Island is to buy a tour at one of the local dive clubs. There are good dive centers on Isla Mujeres where you can rent scuba diving equipment or get certified. Among the popular clubs, attention should be paid to:
1.Squalo Adventures
This is a friendly and professional dive shop and an international scuba diving center located on Hidalgo Avenue. The club is opposite the Rooster restaurant and next to Lola Valentina. The center offers scuba diving for beginners and experienced divers, as well as tours for small groups.
It provides a full range of PADI courses, from one-day programs like Discover Scuba Diving to Open Water Diver, Advance, Rescue, and Divemaster.
Guests can enjoy shallow dives close to the island with excellent visibility, calm conditions, and slight currents, perfect for divers with minimal experience. There are several great dive zones to choose from, such as the amazing Underwater Museum and Cross of the Bay. And the shallow depths of Manchones Reef are excellent for spotting turtles, pufferfish, rays, and butterflyfish.
2.Sea Hawk
The dive shop is fully stocked with everything you need to explore the Caribbean waters surrounding Isla Mujeres, including snorkel equipment for sale, as well as a wide range of sustainable tanning products. The warm, clear turquoise waters are the perfect place to get certified, as most of the local reefs are only 35 feet deep.
Here you can get PADI certification, which is valid throughout your life.
It includes a theoretical guide for beginners, instructions, equipment, issuance of documents, shallow water exercises, and 4 training dives in open water. The course takes 3 to 5 days to complete. The instructors have years of experience, are bilingual, and can schedule your vacations. Scuba divers who have completed academic and confined water training eventually receive an international certificate that allows them to independently use diving equipment anywhere in the world.
3.Diving Center Cary
The crystal clear waters surrounding Isla Mujeres are the perfect place to enjoy amazing diving adventures. Every beginner or experienced diver will enjoy diving into reefs and wrecks teeming with marine life among healthy corals.
Carey Dive Center is one of the most famous and popular dive shops on the island.
It also specializes in PADI diving courses, and family, group, and private trips. The club offers not only diving but also snorkeling, fishing, tours with whale sharks, and even expeditions for divers to the cenotes on the mainland.
Carey Diving Center is owned and operated by Gilberto Pat Hoil, a PADI and NAUI diving instructor.
Gilberto has been diving in the waters around Isla Mujeres since he was 15 years old. Since becoming a diving instructor in 1996, he has certified thousands of students from all over the world. His students often return to dive with him. Many become scuba diving instructors.
Snorkeling:
1.Playa Norte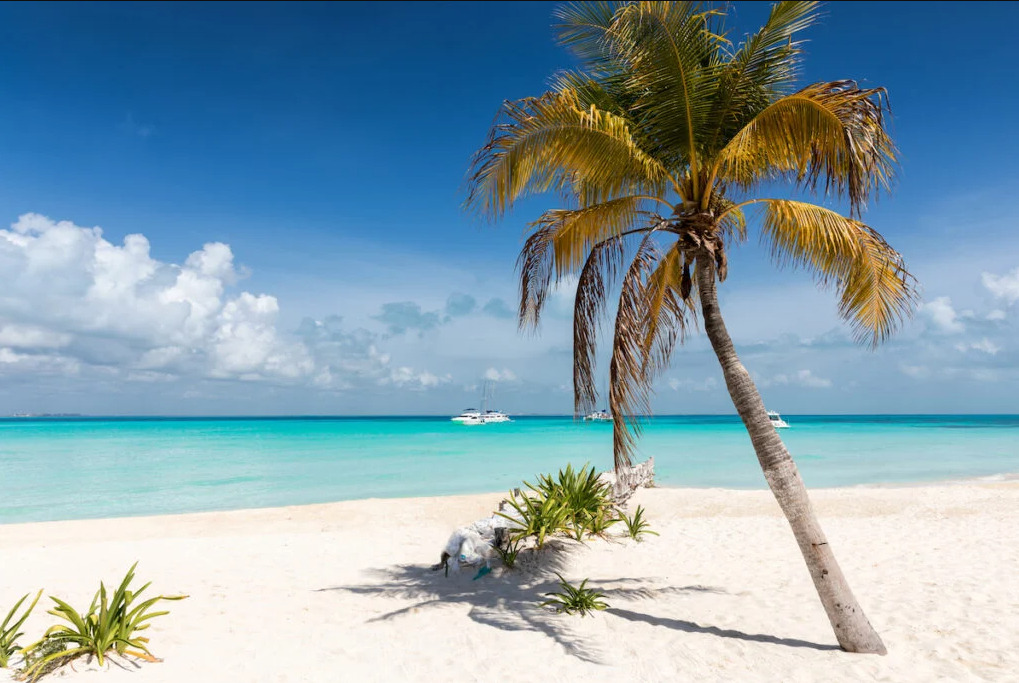 Playa Norte is considered one of the best places for snorkeling. This amazing beach has crystal-clear water and no currents. Visitors can snorkel and spot exotic fish literally 200 feet from the beach.
Of course, the abundance of marine life here cannot be compared with snorkeling on special boat tours, but still, it is a great way to explore the underwater world and spend a sunny day at the seaside with new sea friends.
2.Garrafon de Castilla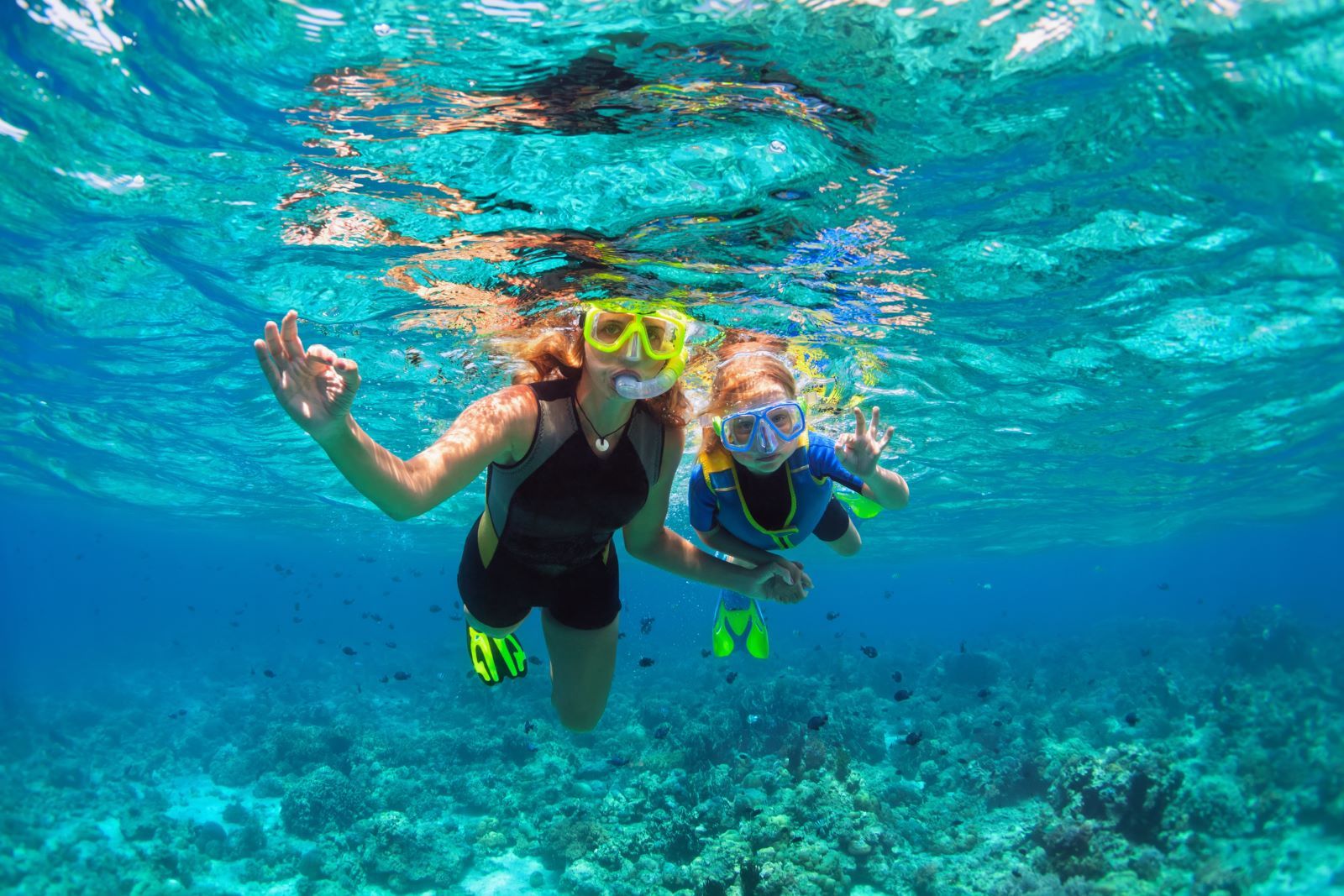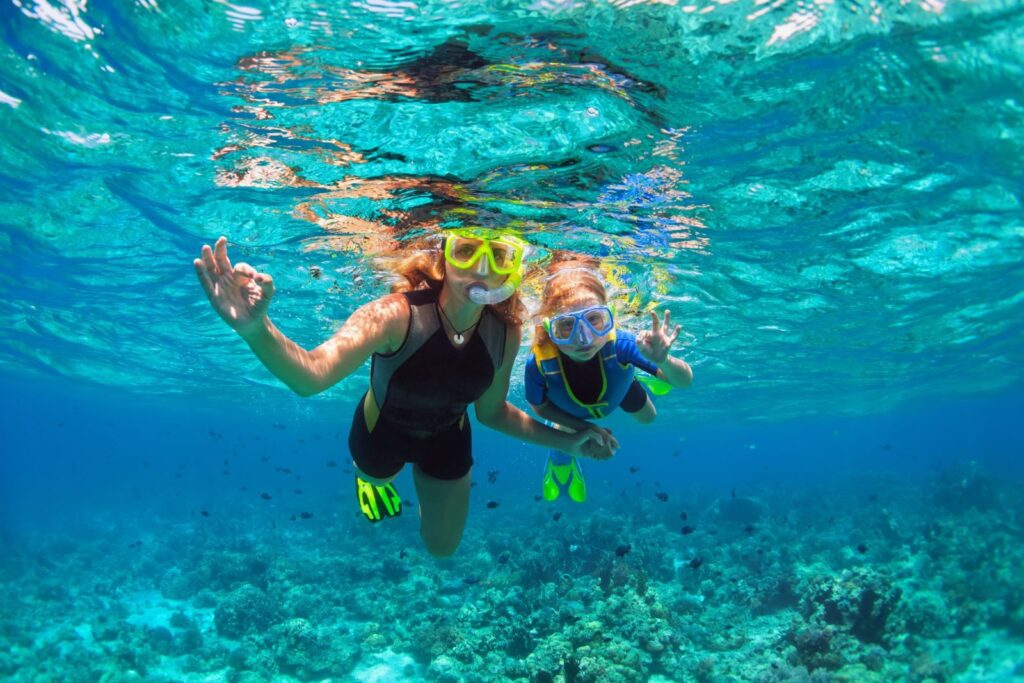 This small complex on the southern tip of Mujeres Island is one of the best places to go snorkeling on your own.

The entrance ticket for one person costs only 5 USD + additional equipment rental – life jackets, masks, fins, and snorkels!
This place is home to many types of marine life, including various types of colorful fish and corals. However, there are many controversial reviews on the Internet regarding the wealth of the local reef. But here, in addition to snorkeling, there is also an excellent zip line, where you can ride over the azure water.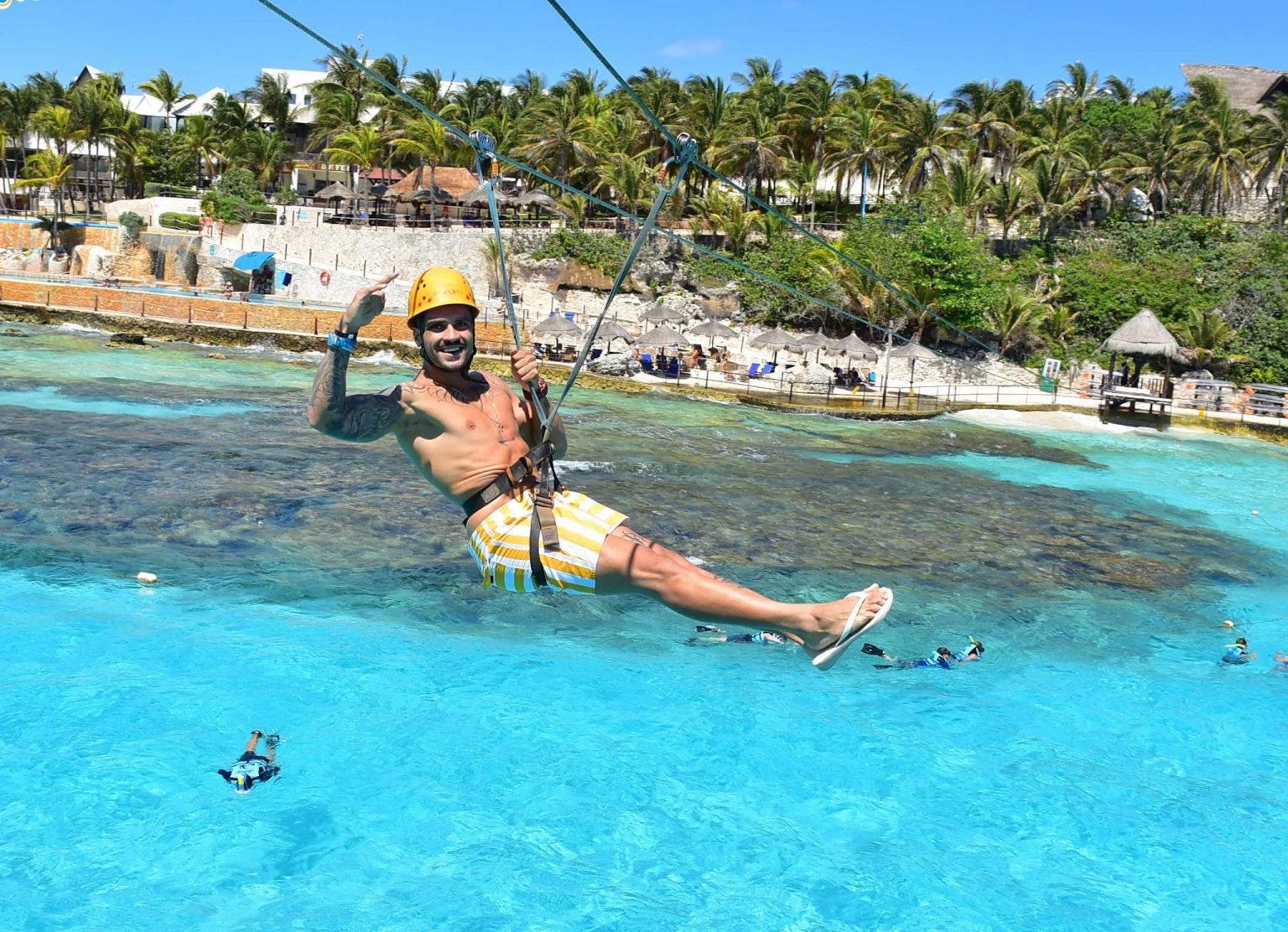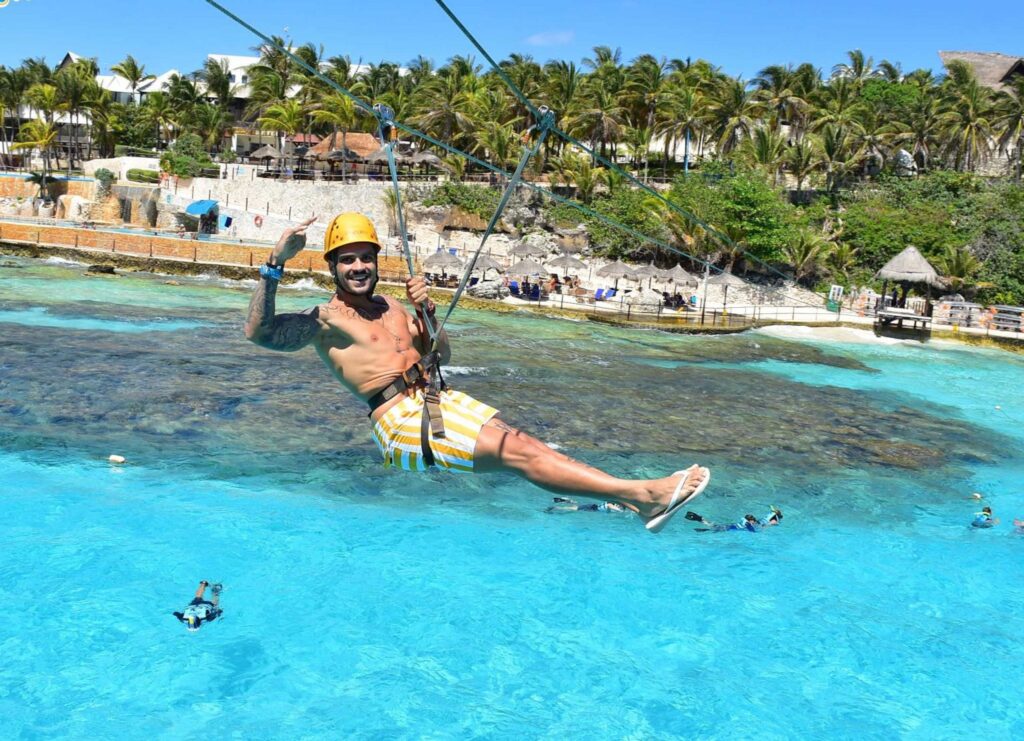 If you don't feel comfortable swimming with fins, aqua shoes are highly recommended as the beach is rocky with sharp rocks.
3.El Farito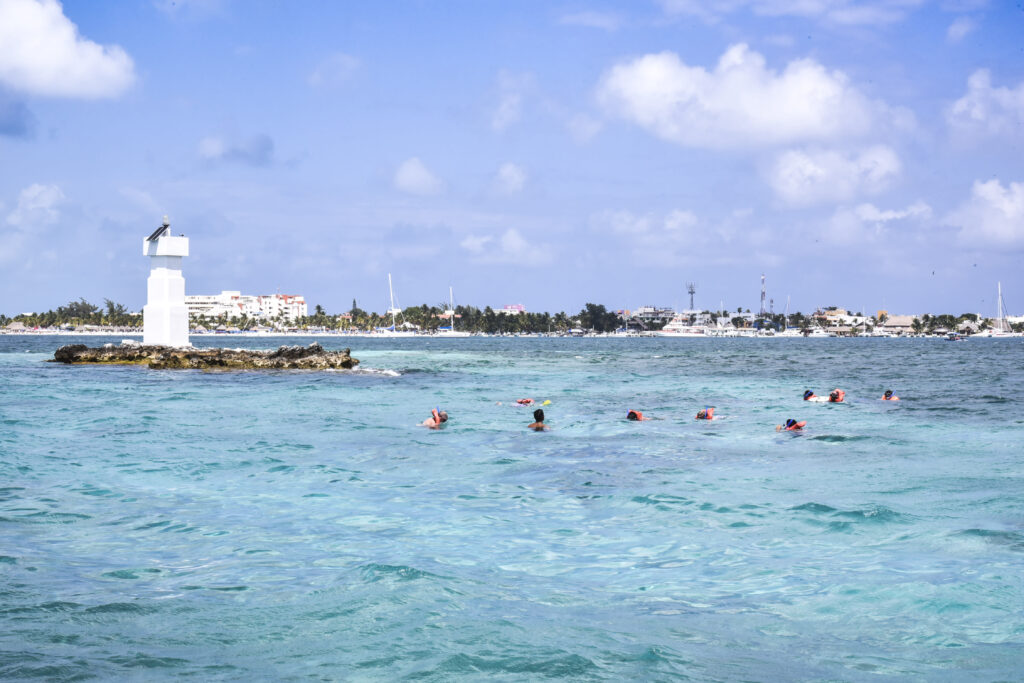 El Farito (also known as Lighthouse Reef) is one of the most popular snorkeling spots on Isla Mujeres.
Located just 5 minutes by boat from the coast of Isla Mujeres, it is easily accessible and offers fantastic opportunities for those who want to explore life underwater. This snorkeling spot is unique because it has a small abandoned lighthouse in its center.
Because it's very shallow here (about 10-15 feet deep), it's a great place for kids to practice snorkeling.
For the more adventurous, the diving tour will take you to the «Virgin of El Farito» an underwater sculpture that was submerged in 1966 to protect local fishermen.
4.Reef Manchones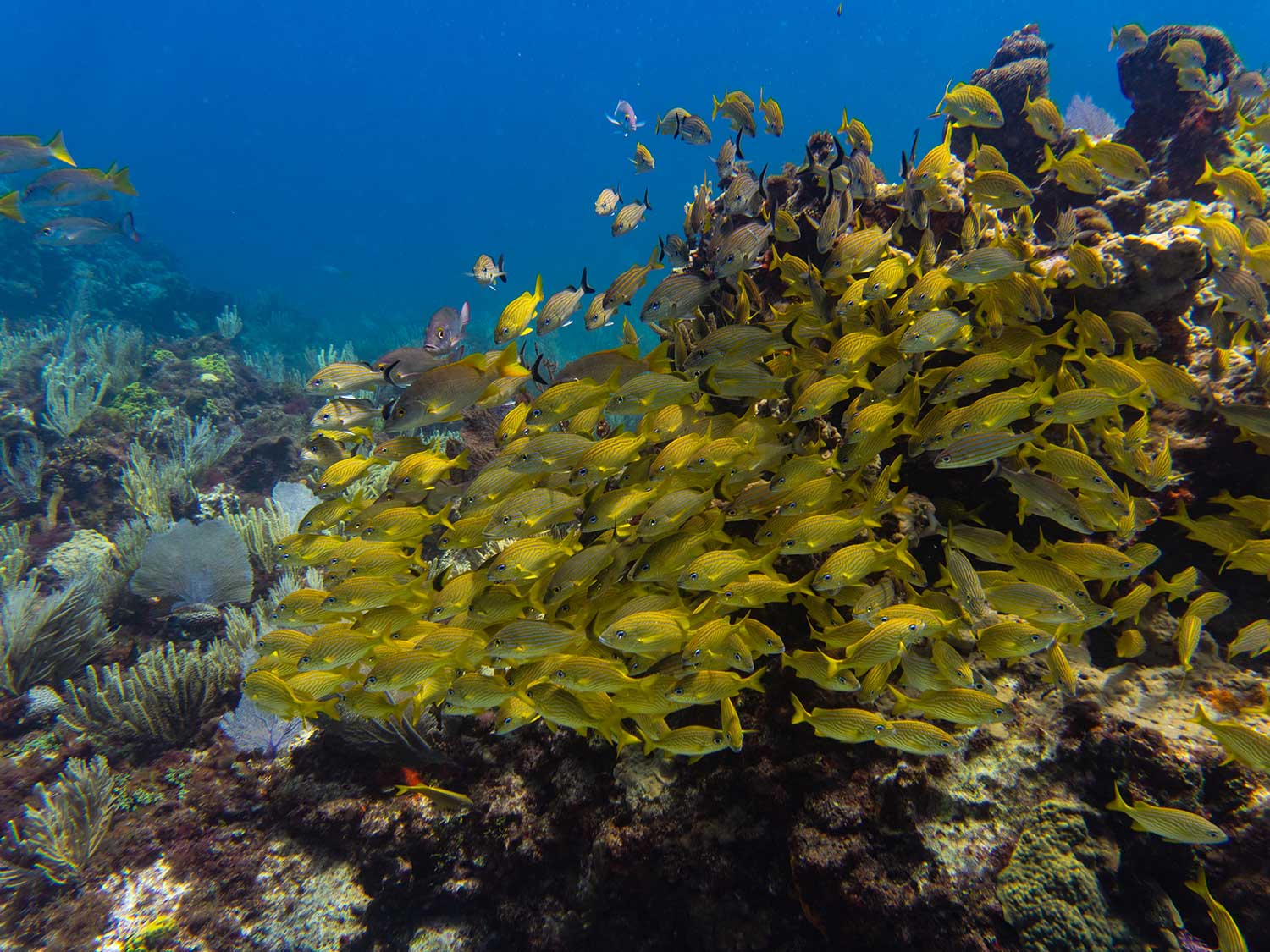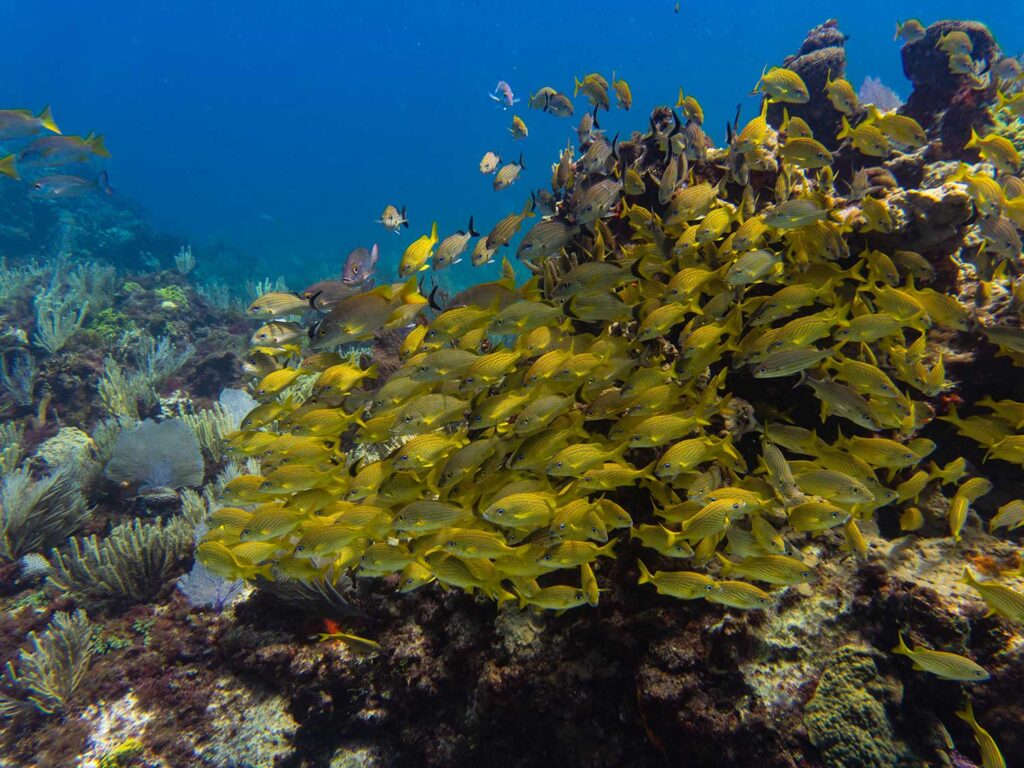 Yes, not only for experienced divers. Be sure to visit the Manchone reef if you like snorkeling. This place is characterized by shallow waters and calm currents, making it perfect for families or inexperienced snorkelers.
The clear waters provide excellent visibility and unique photo opportunities. This is home to large concentrations of tropical fish, colorful corals, rays, and barracudas. Part of the Manchones reef also intersects with MUSA, where 2 famous sculptures from the art museum are located.
But that's not all! Try to discover the «Cross of the Gulf» – this impressive underwater sculpture was submerged underwater in honor of those who died at sea.
5.MUSA – Underwater Museum of Art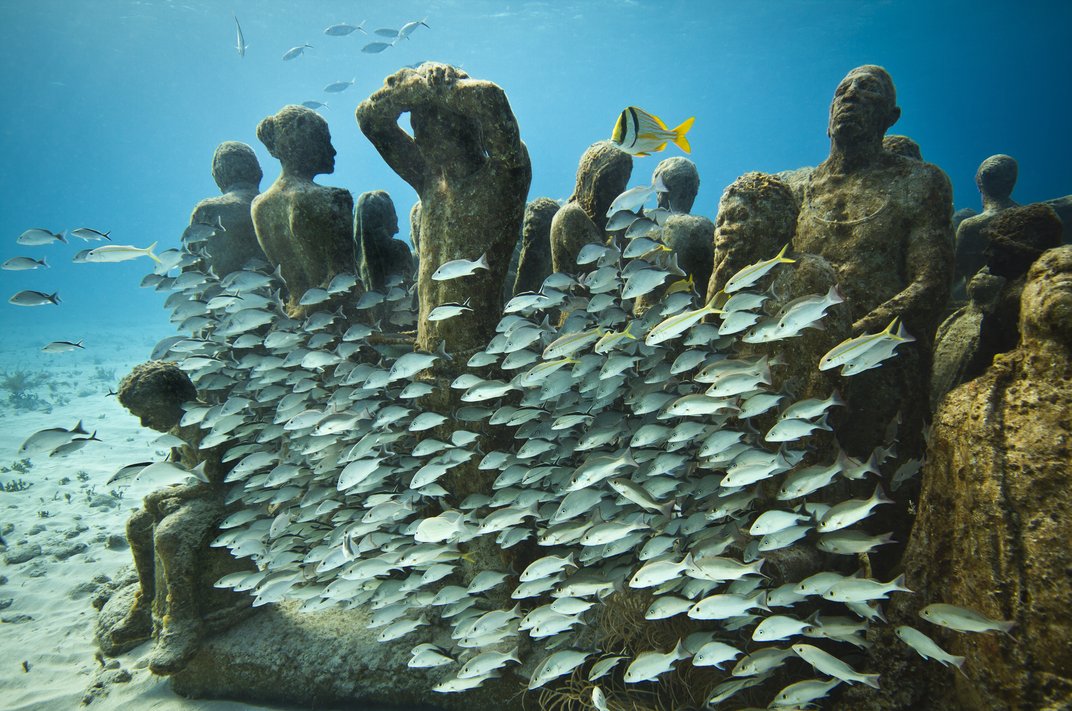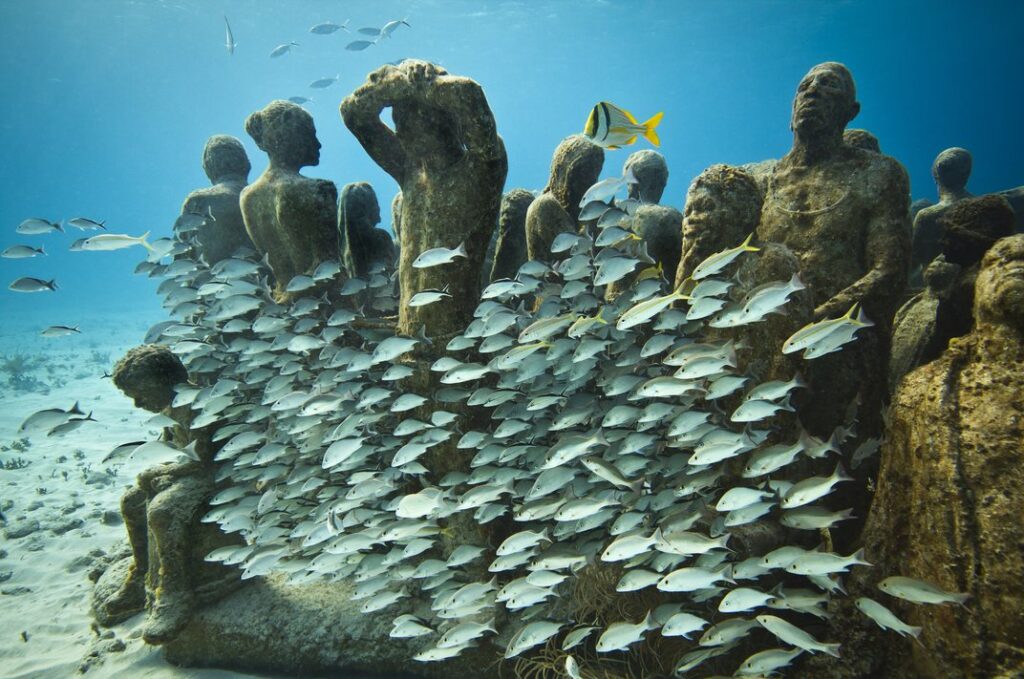 And again MUSA – yes, we have already mentioned the world's largest underwater museum, located off the southern coast of Isla Mujeres. Its founder made sure that those who are not ready to dive with oxygen tanks can enjoy an underwater walk through this museum.
The shallow depth and crystal clear water will allow you to enjoy the contemplation of the sculptures, even if you are not ready to dive deeper than 10 feet.
Even if you are just snorkeling, without diving, you will be able to see some of the most beautiful works of art in a truly unique setting.
6.Reef El Meco
El Meco is a small reef off the north coast of Cancun and is a paradise for beginner snorkelers.
Like the sculptures at MUSA, artistic figures have been installed here to preserve the reef, creating an oasis for marine life. The shallow waters of El Meco are one of the best snorkeling spots in the area. You will find countless species of marine life here. Just remember that you are their guest.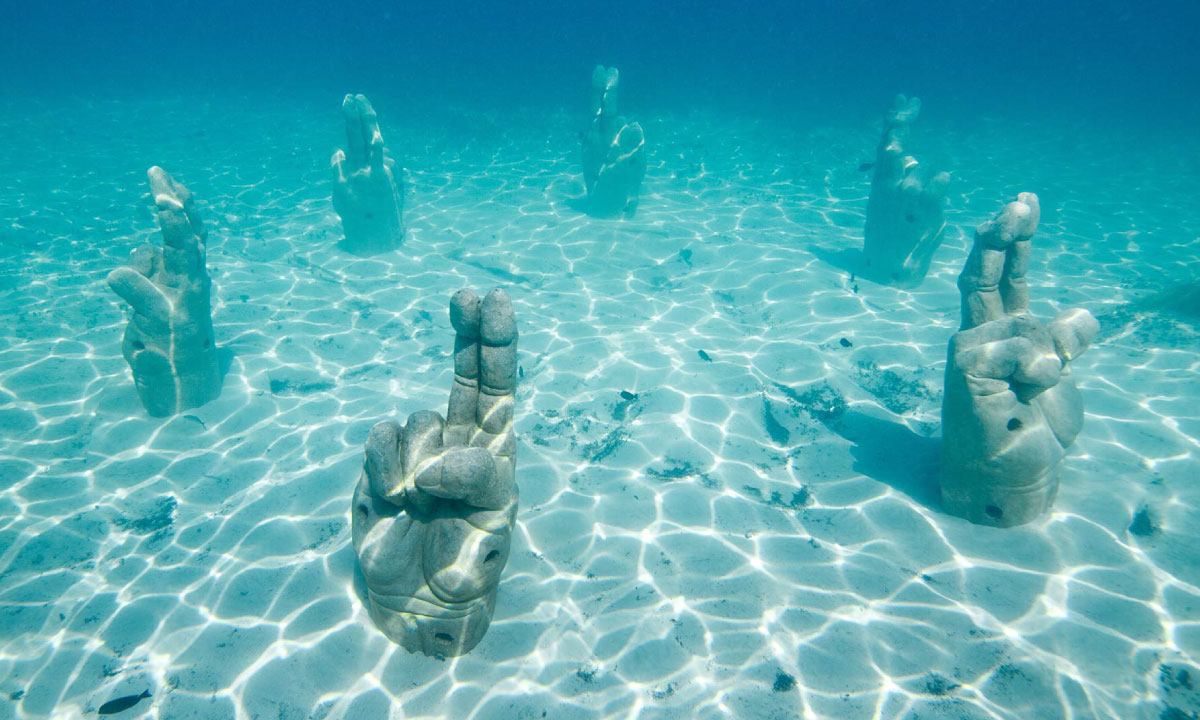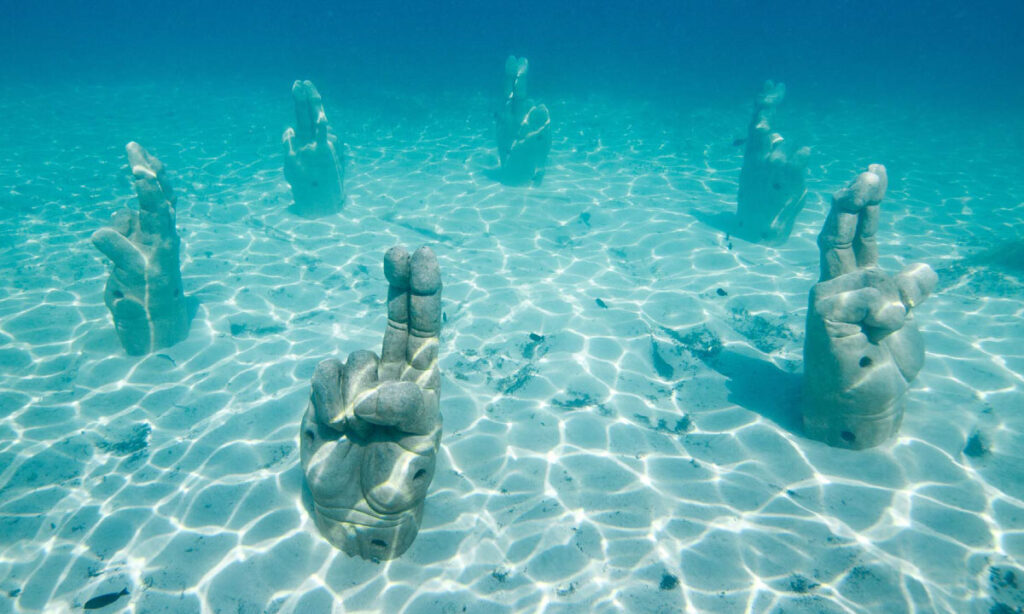 We understand that you may be overwhelmed by such an abundance of great dive and snorkeling spots. Therefore, we recommend that you either decide on the purpose of your visit. If simple snorkeling is enough for you, you can choose one of the popular central beaches. If you want to fully enjoy the local stunning reefs – it is better to take a good tour for divers in one of the local agencies.
Average cost of dives and equipment rentals:
Diving course, 3-4 days – $300.
Diving for certified divers – $70-120.
Rental of equipment for snorkeling – $15.