1.Coco's Beach Club Cancun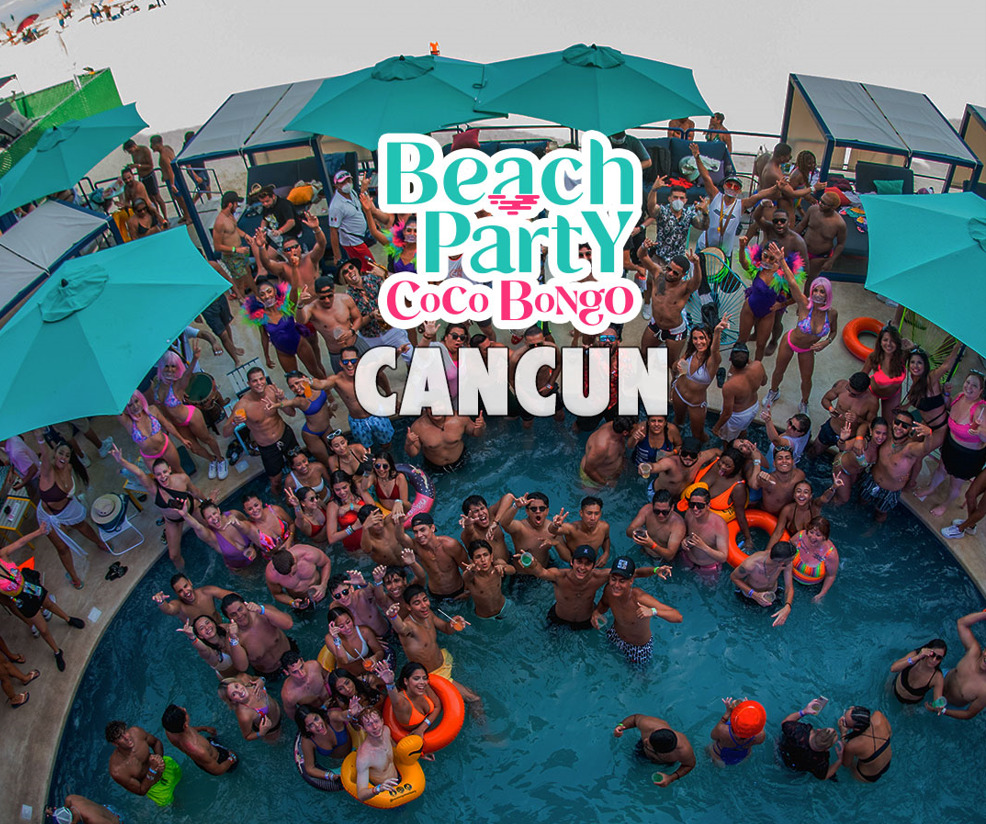 This club has a lot of positive reviews. It is located on a picturesque white sand beach. There is a kids club at the Paradisus hotel, but it is better to check on the spot if it will be possible to leave children there under the supervision of animators while you drink cocktails. Conditions for guests with children and additional options for children may vary depending on the season and hotel occupancy. There is also a tiny 9-hole golf course. So, in addition to traditional beach fun, you can still have fun with sports for millionaires.
Location: between Delfines and Marlin beaches, landmark – Paradisus golf course, near the Paradisus Cancun hotel.
Entrance from $70 – the price includes a deposit for the bar and restaurant menu.
+ rich infrastructure.
– not detected.
2.Mandala Beach Club


A popular beach club that energizes the club atmosphere for outdoor enthusiasts near the water. There is a swimming pool on the territory, and animators and staff regularly arrange a variety of activities for guests.
Entrance $65 – this amount usually includes a sun lounger and a deposit that can be spent at a bar or restaurant.
Various beach pavilions are also available, which can accommodate from 4 to 8 guests. Their cost is from $300 to $1500, depending on the location. This amount also includes a deposit for alcohol from the bar and the kitchen.
Available for visiting from 11:00 a.m.
Location: Playa Lagarto/Playa Forum.
+ great option for those who can't live without parties, day or night.
– this club is hard to recommend for lovers of a relaxing holiday.
3.Picnic A La Playa – https://picnicalaplaya.com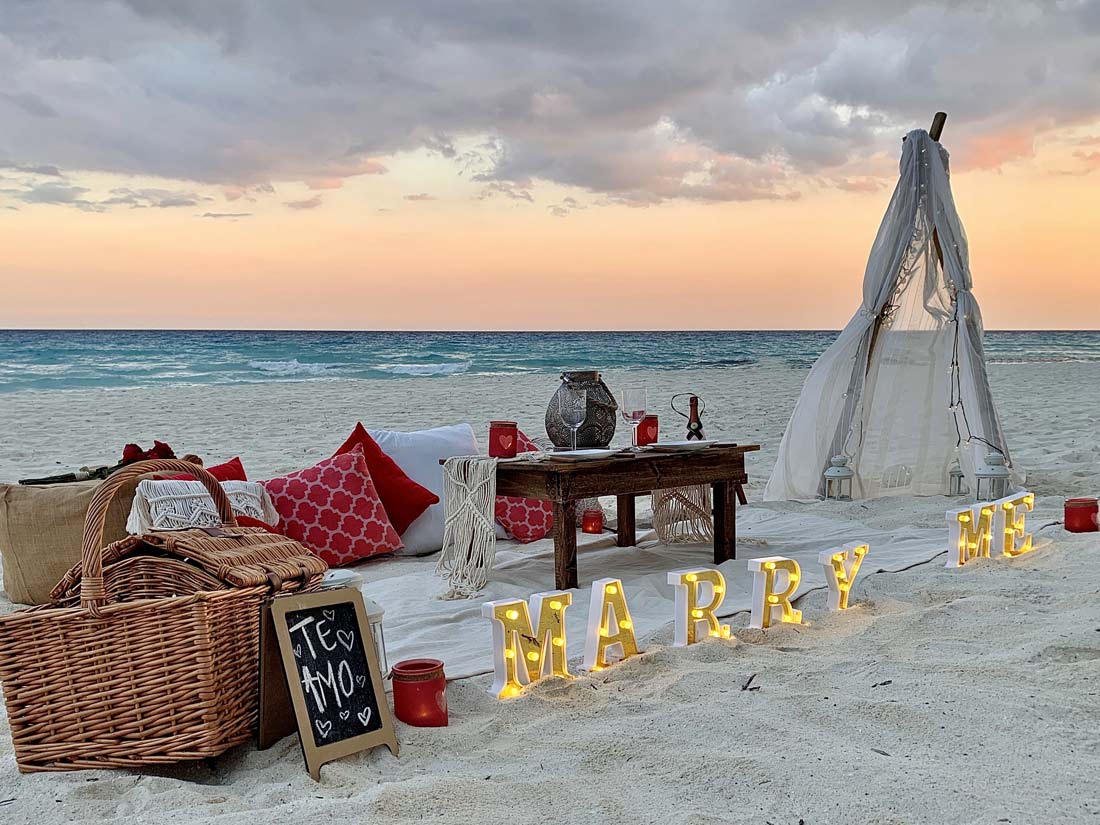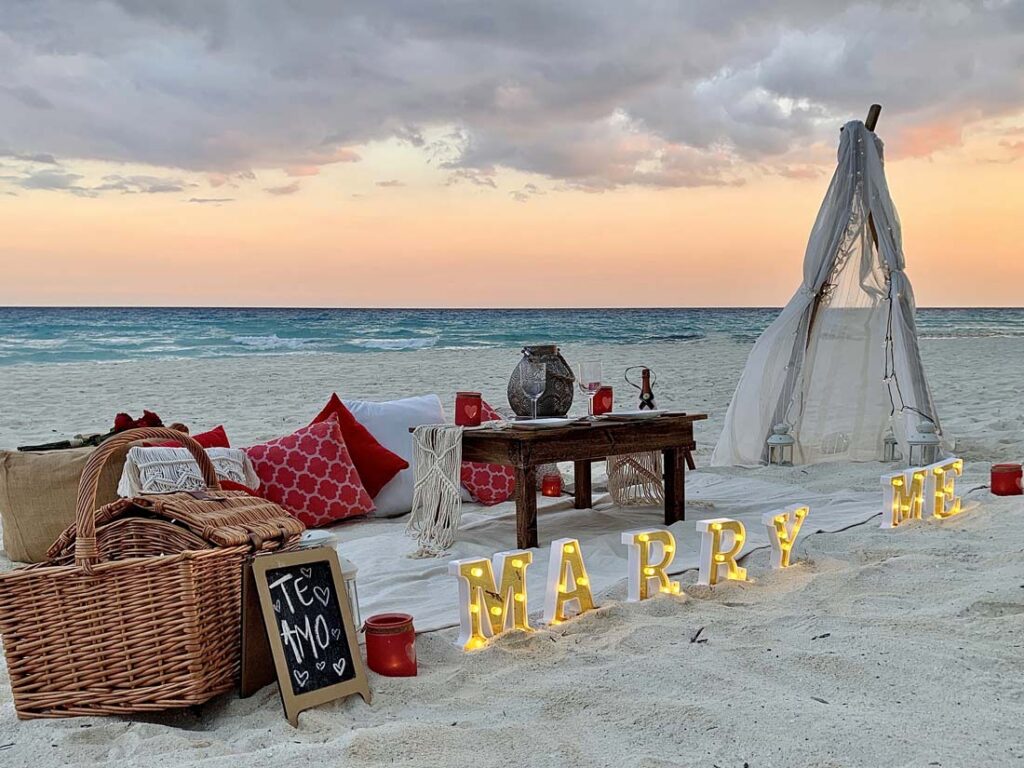 Here's another idea for you! You can organize your own beach club in the Playa Chac Mool area. And to be more precise – a whole beach picnic! You will have beach umbrellas and cozy seating, and a table with delicious food and drinks. A local company will organize a picnic with all the attributes, in any place convenient for you, right on the seashore! There are as many as 6 picnic options to choose from, including a vegetarian one, and the number of guests at such a picnic can be up to 14 people – this is already a whole beach party! It is also possible to organize such an event on a yacht.
The minimum order for two starts at $180.
Location: Playa Chac Mool, or as agreed.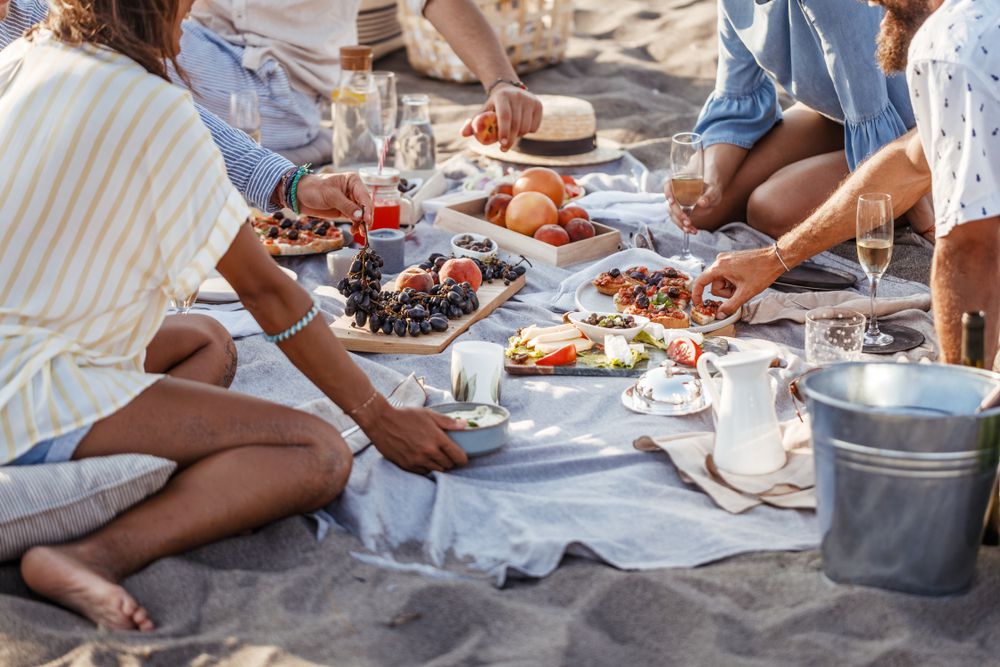 Beach clubs on the island of Mujeres:
If you are fed up with a beach holiday on the coast of Cancun, or you want to try something new, go to the island of Mujeres. Here you can rent a golf cart and go around all the surroundings. It won't take that long if you take into account that the length of the island is about 6 mi. But it will be possible to quickly check in at the most beautiful viewing platforms, for example, Mirador Punta Sur, and then relax on a comfortable sun lounger at one of the local beach clubs.
We recommend considering the following locations: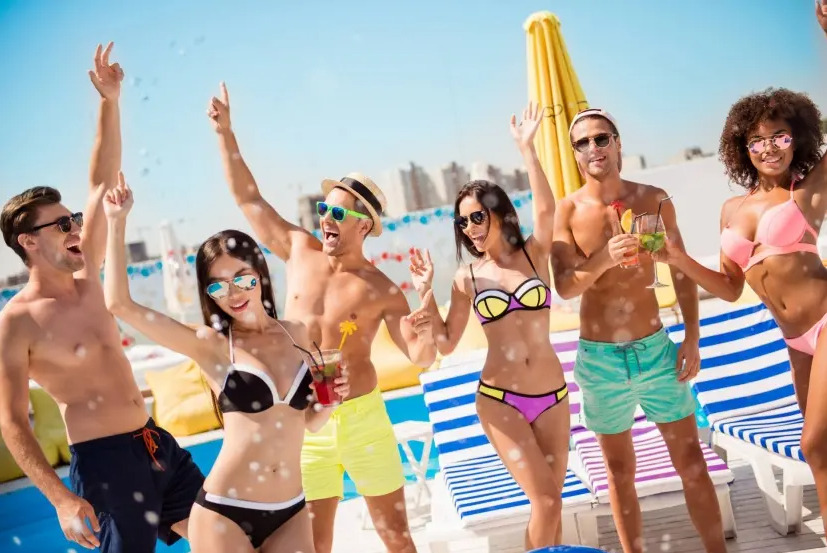 4.Amazon Beach Club
Perhaps the best place in terms of price and quality. The territory of the club itself is not very large, but it is very cozy here and the atmosphere of a real tropical resort reigns. This club is suitable for both families with children and noisy companies. Here you can eat deliciously in the shade of palm trees, and take cool photos on the swings, which were prudently placed right in the water, especially for your Instagram.
Cost of visiting: $40 – entrance + deposit for a buffet and drinks. They write that the deposit is unlimited, i.e. For this money, you get all-inclusive meals for the entire period of your stay in the club. However, we think this is too good to be true, so it is better to check the current conditions when booking. This can be done through the form on the beach club website.
+ great club for the whole family.
– not detected.
5.Zama Beach Club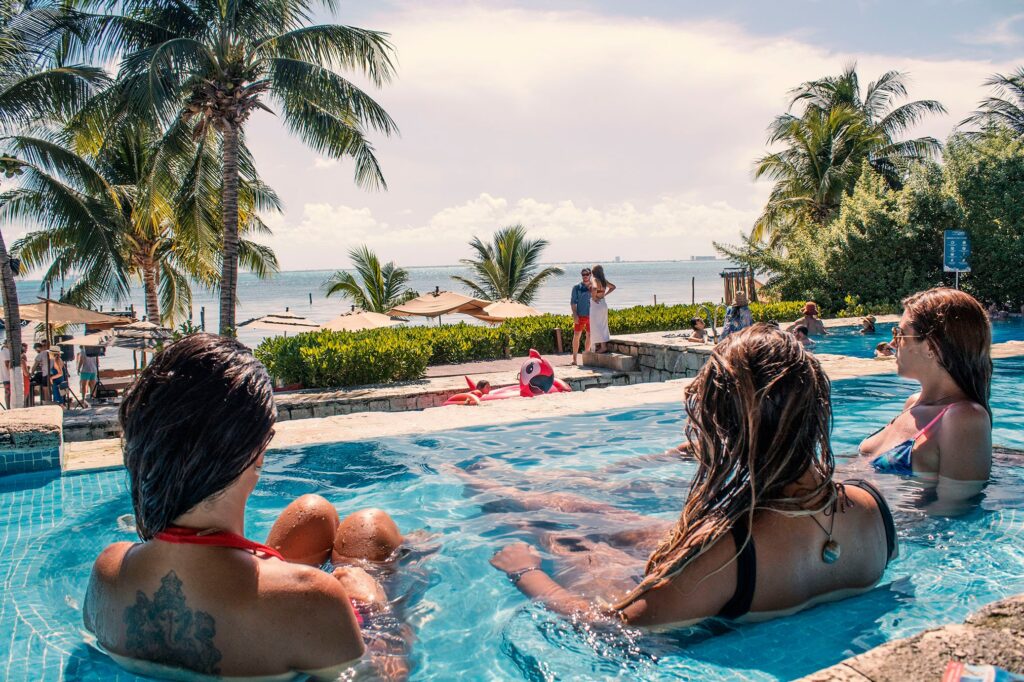 The feature of this club is its own small marina, where you can moor if you decide to visit the island of Mujeres on your own or rented yacht. To do this, you will need to go through a picturesque channel to get to the inner bay. Restaurant, bar, several swimming pools overlooking the sea – everything for a pleasant stay.
The average check per guest will be about $100. At the same time, the service here is praised more often than the cuisine, but we hope you understand, this is very subjective. In general, this beach club has a pretty good rating among other similar places on the island.
+ location, infrastructure.
– in the reviews, there are complaints about the size of portions in the restaurant.
6.Guru Beach Club by Lotus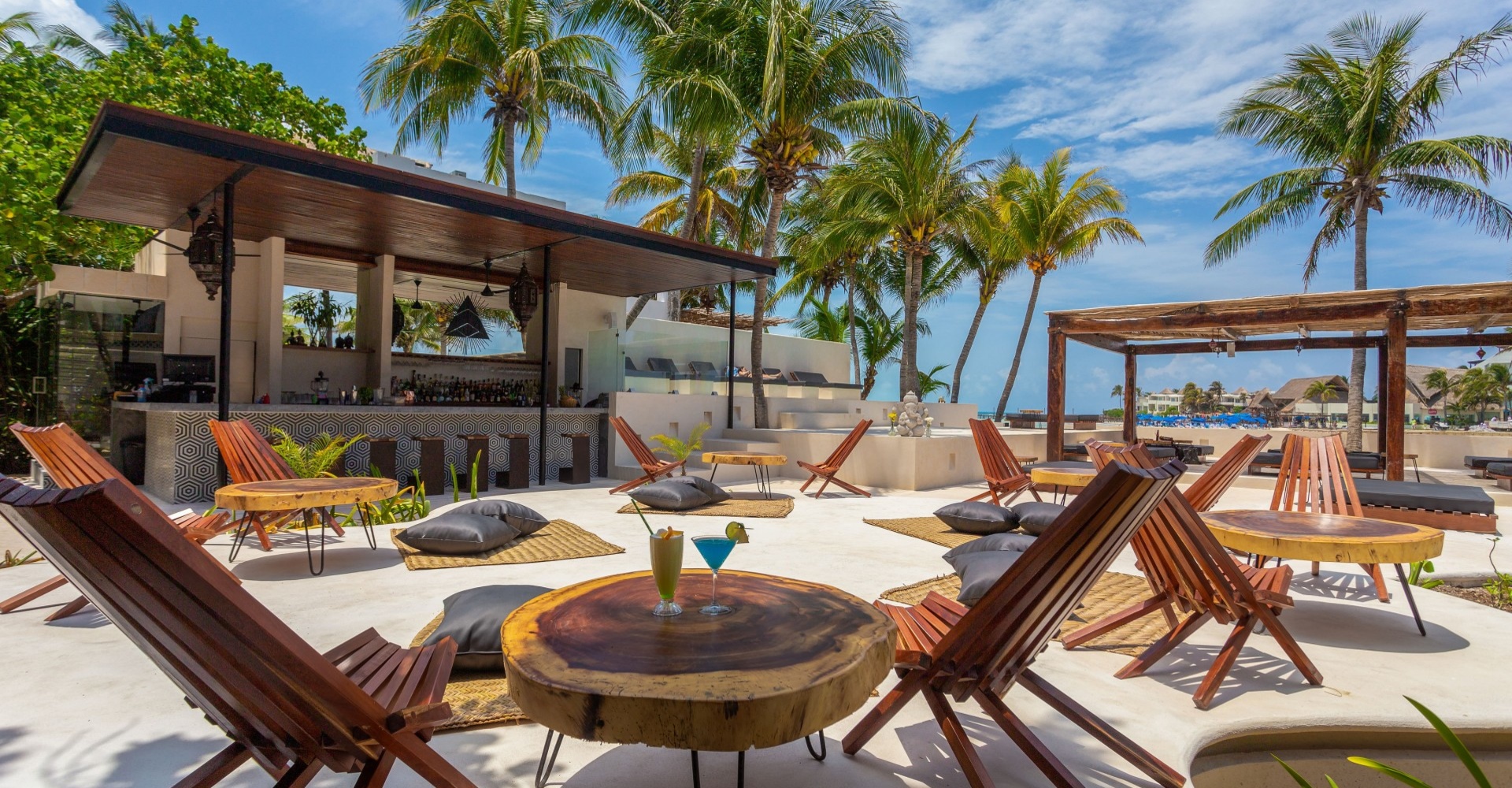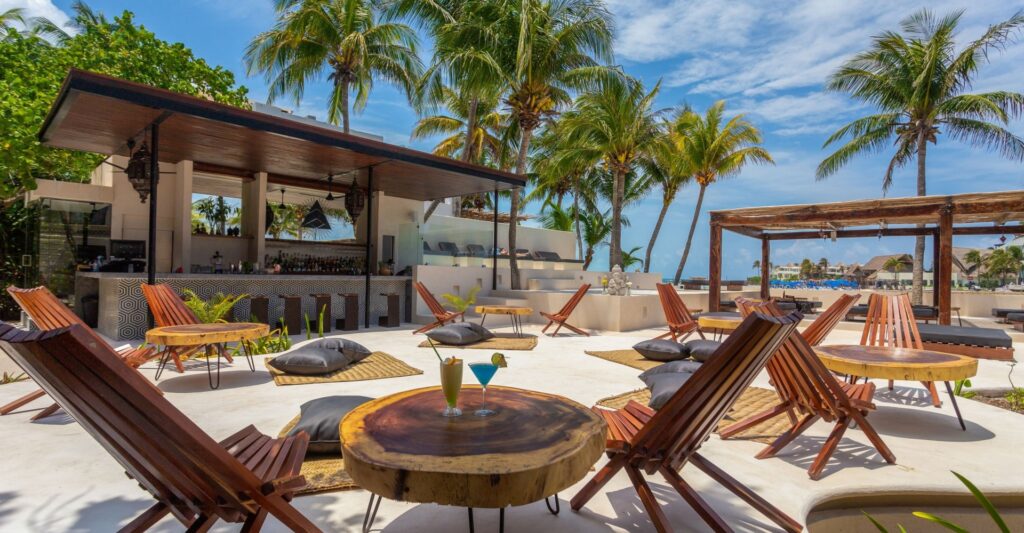 This club is located on the territory of the hotel of the same name, so if you really like it there, you can consider the option of staying overnight, although it can hit your wallet – one night here costs from $ 500. Otherwise, there are no complaints about this beach club. Delicious cuisine, great location, and many amenities for guests: a swimming pool, sun loungers and pavilions, DJ sets, and much more for a comfortable stay by the sea. And from here you can take a walk to the neighboring island, which is connected to the main wooden bridge. There is also something to see: for example, Pool Del Rey is a small lagoon of natural origin, similar to a natural pool. And for dessert, there will be a stunning sunset, which will only add pleasant colors to your trip to the island.
Entrance ticket: access to this beach club is free, however, the pricing policy regarding the rental of pavilions and sun loungers may change depending on the season. This information can be clarified in advance through the booking form on the Lotus website.
+ location, infrastructure, working hours – until 23:00.
– not detected.
Logistics:
You can get to the island of Mujeres using a ferry crossing, which is organized from several beaches of Cancun at once. The most popular ferry route on the island starts at the Ultramar terminal in Puerto Juarez, which is located in the northern part of Kankyn. From the hotel area you can get there by the city bus line R-1.
With the cost of travel to the island and back, the ferry costs approximately $15/per person.
The ferries depart every half an hour from 5:30 am to 11:30 pm, which is quite convenient and will allow you to fully enjoy such a trip. The last ferry returns from Isla Mujeres to Cancun at 24:00. Travel time is usually no more than 25 minutes. Keep in mind that if the sea is rough, the ferry service may operate intermittently or be canceled altogether.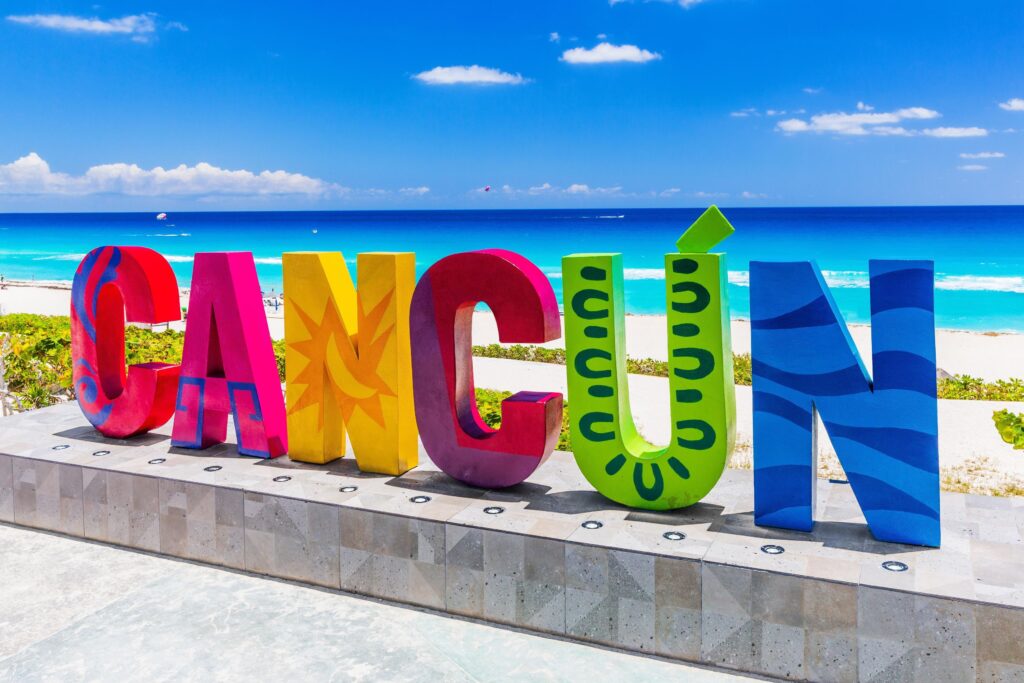 To summarize: the Cancun beach club industry can hardly be called actively developing. There are not so many such kinds of places because if we are talking about the infrastructure of coastal hotels, it is usually equipped with everything necessary for a good rest.
Nevertheless, existing locations do not experience a shortage of visitors, because they have their own unique atmosphere. You can come here for a special party, or combine a trip to the island with a beach holiday, as is the case with a visit to Isla Mujeres. In the end, maybe you just like the atmosphere of beach clubs, and you just need to choose the format: an active holiday by the pool with games and competitions, or a calm and measured lounge. Or maybe a picnic on a yacht?