Cancun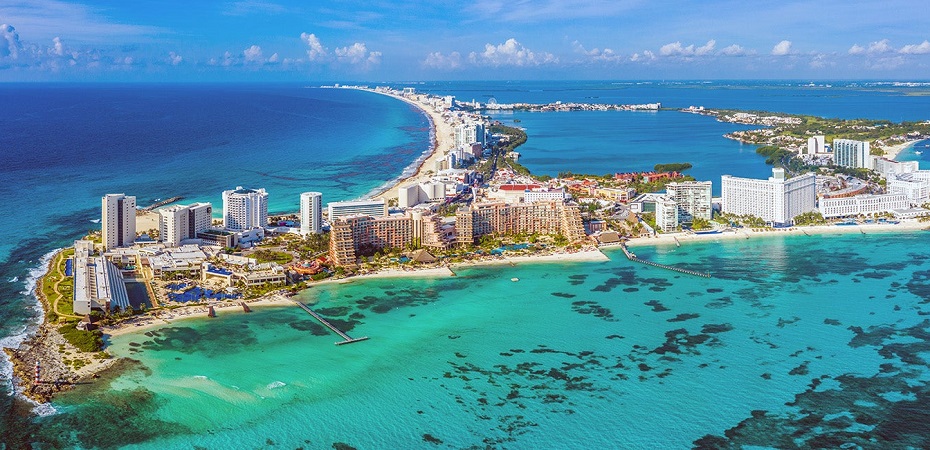 Cancun is the most visited destination in the Mexican state of Quintana Roo by those tourists who are looking for a rich vacation with lots of entertainment.
Located in the eastern part of the Yucatan Peninsula, Cancun is divided into two zones: the historical center and the tourist hotel area. The hotel area is a long coastal strip, which is all the lively life of the resort town with many all-inclusive hotels, restaurants, malls and nightclubs. The historic center has a distinctly Mexican flavor and is dominated by the local population, with many small restaurants, markets, and street food stalls.
Because Cancun is a very large city, there is a local bus system and cabs for getting around. And to explore the city on your own, you can rent a car or a bicycle.
As for this destination, it is impossible not to mention the magnificent white sand beaches where you will find all the amenities you need. The city is also part of the ancient Mayan civilization, so in the surrounding area there are many historical and natural attractions, which can be visited as a part of day tours. Another factor contributing to the resort's ever-increasing popularity is the climate zone in which Cancun is located.
Cozumel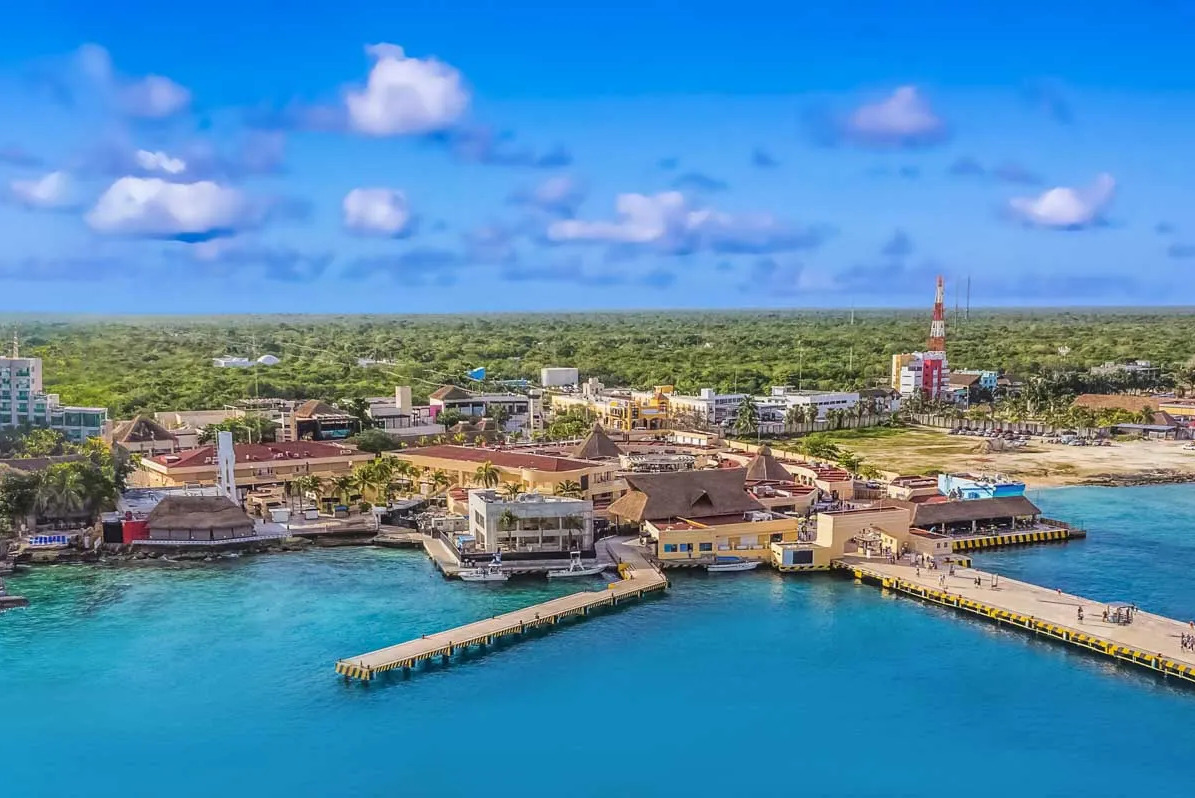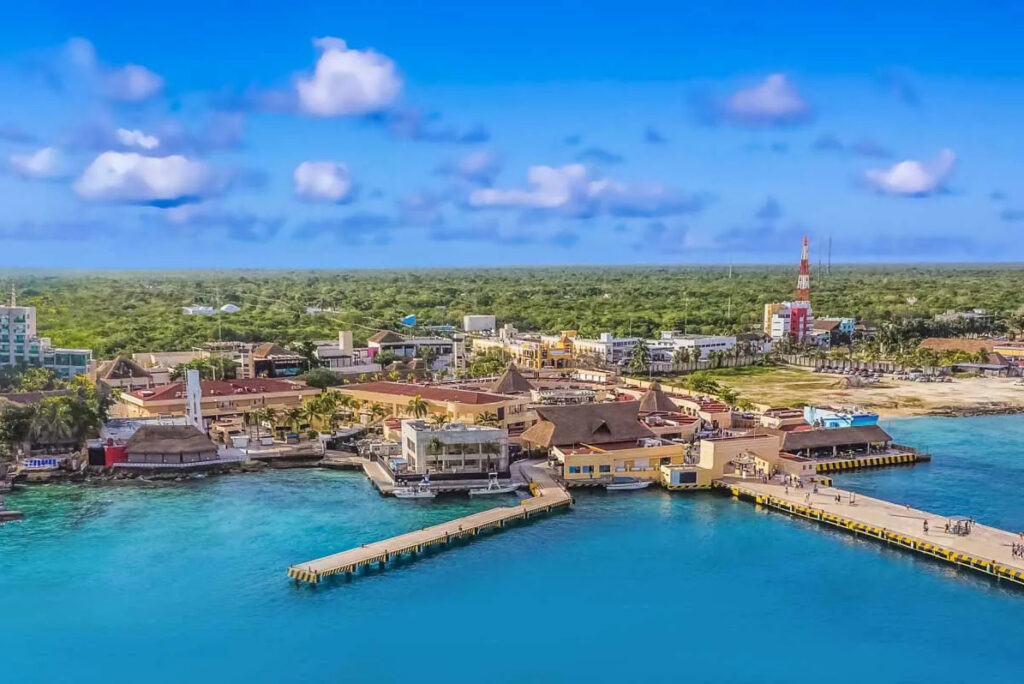 Cozumel is Mexico's largest island, washed by the Caribbean Sea and located off the east coast of the Yucatan Peninsula.
The more developed part of the island is on the west side, where you will find the capital city, San Miguel de Cozumel. The city does not boast as extensive infrastructure as Cancun, but is still great for a stroll or a meal in one of the local restaurants.
The island is famous for its underwater world and the second largest coral reef in the world, so it is a popular place in Mexico among diving enthusiasts. The island's snow-white beaches account for only 3% of the territory, while the rest consists of dense tropical vegetation. There are also several archaeological sites preserved here, so tourists have a good opportunity to get acquainted with the Mayan culture.
Cozumel has a more relaxed and secluded beach vacation atmosphere. However, because the island is a stopover for cruise ships, during the day you can see crowds of tourists exploring the area.
Despite the fact that the island is less developed than other Mexican destinations, every traveler will find entertainment to his liking and discover Cozumel in his own way.
Climate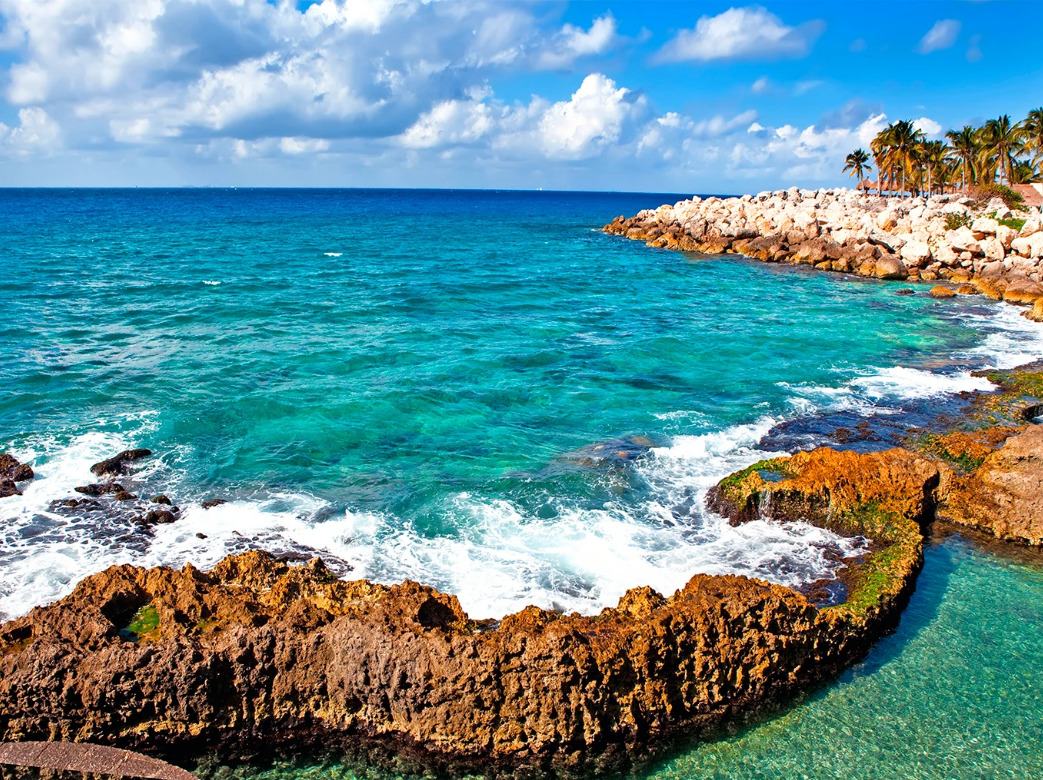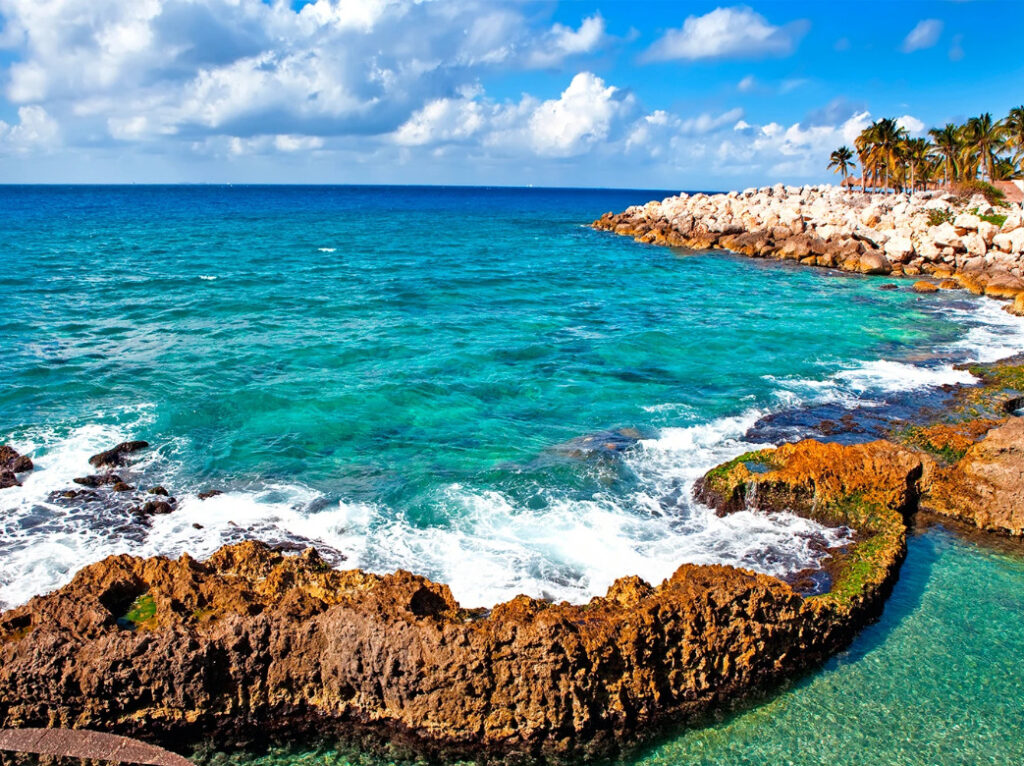 Cancun and Cozumel are about 60 miles apart, which means that both resorts have the same climate – tropical.  The weather here is comfortable all year round and depends more on temporary natural phenomena.
The best time to visit Cancun and Cozumel is the peak season from January to April, when the weather is at its driest. The mercury gauge during this period fluctuates around 82 F during the day – the perfect temperature for swimming and sunbathing. Keep in mind, however, that during spring break crowds of tourists come here. To avoid large crowds, the ideal month for vacation is May, when there are fewer vacationers and students and the rainy season has not yet begun.
The worst time to visit these two destinations is during the humid summer period from June to September, as this is the hurricane season and the most frequent rainfall. However, during this time there is a decrease in airfare and hotel prices, as well as a decrease in the number of tourists.
With such a short distance from each other, both destinations generally have the same climate and weather conditions.
Location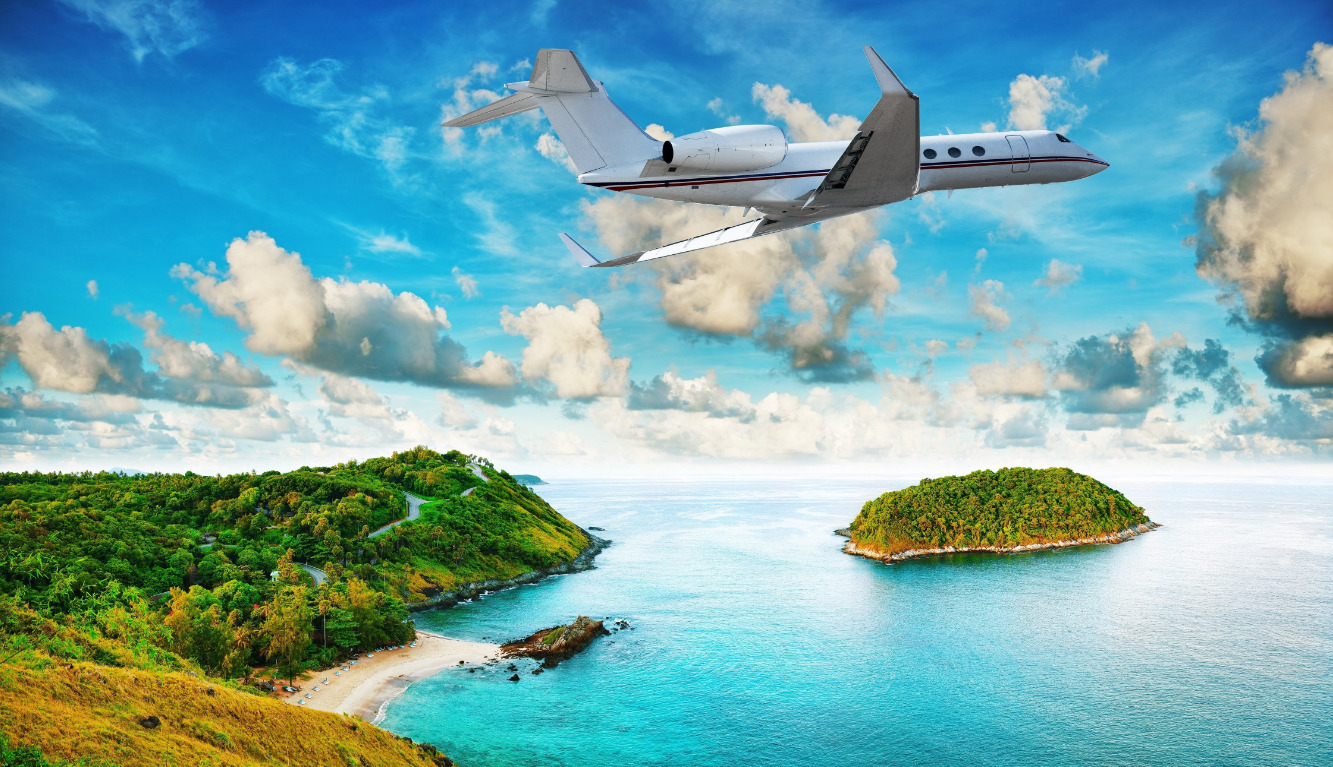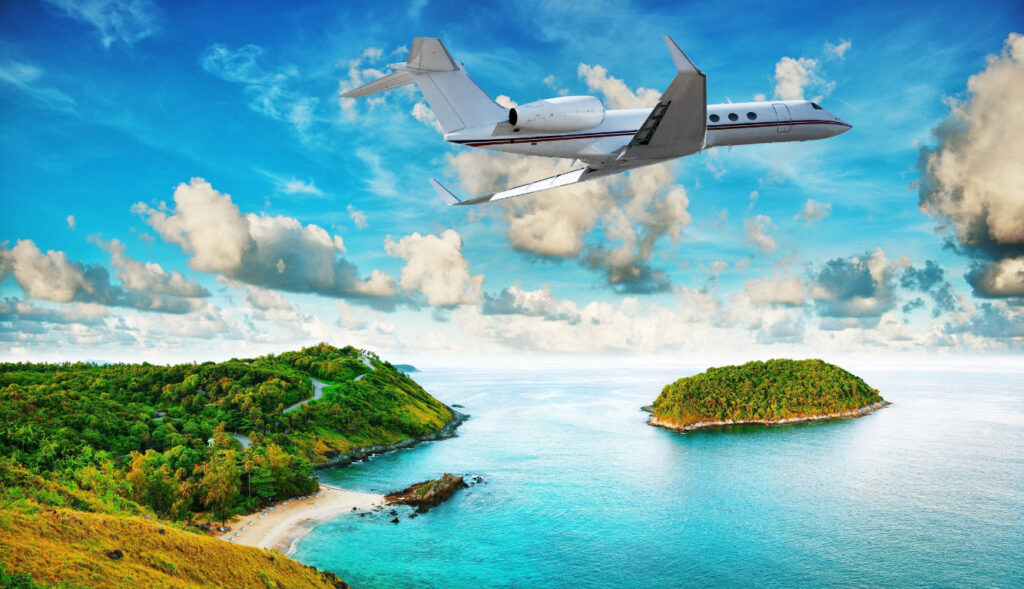 Both Cancun and Cozumel are located on the eastern side of Mexico and the distance between them is short. However, Cancun is on the mainland and Cozumel is a separate island, so arrival to these tourist destinations will be different.
How to get to Cancun:
Cancun International Airport is the largest airport in Mexico, a fact that allows direct flights from most major U.S. cities, including Dallas, New York, Los Angeles, Miami, as well as many cities in Europe.
The drive from the airport to the hotel and resort area takes about 15 minutes by cab, bus, rental car or private transfer.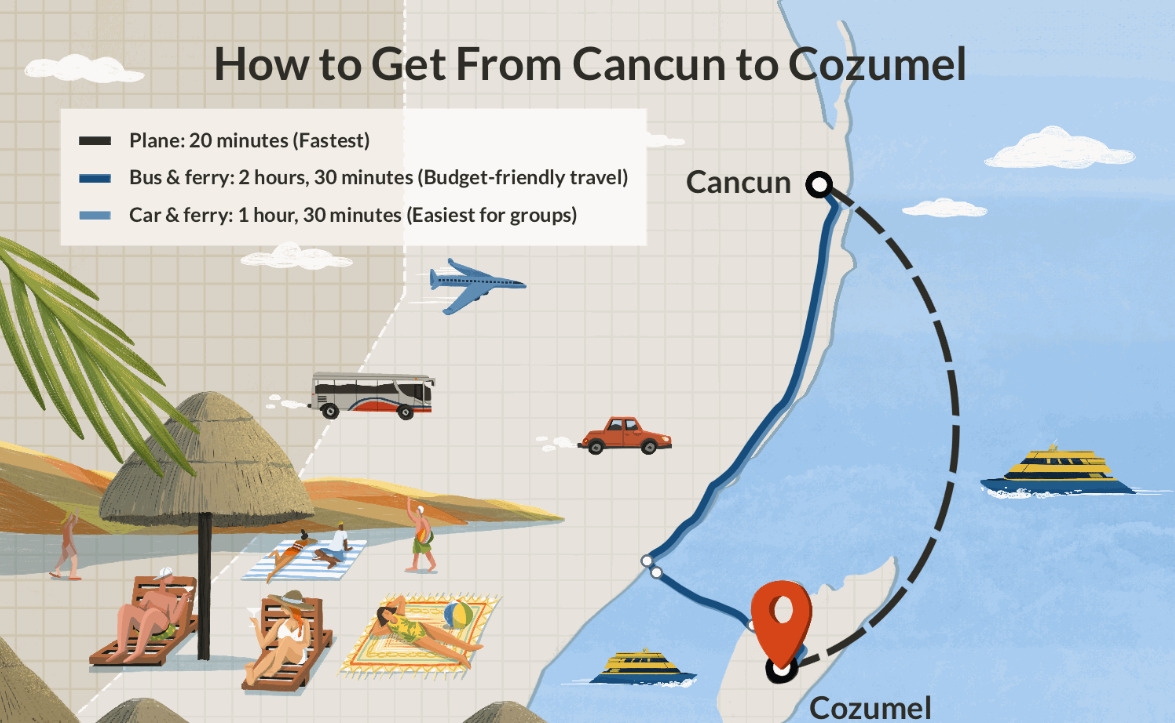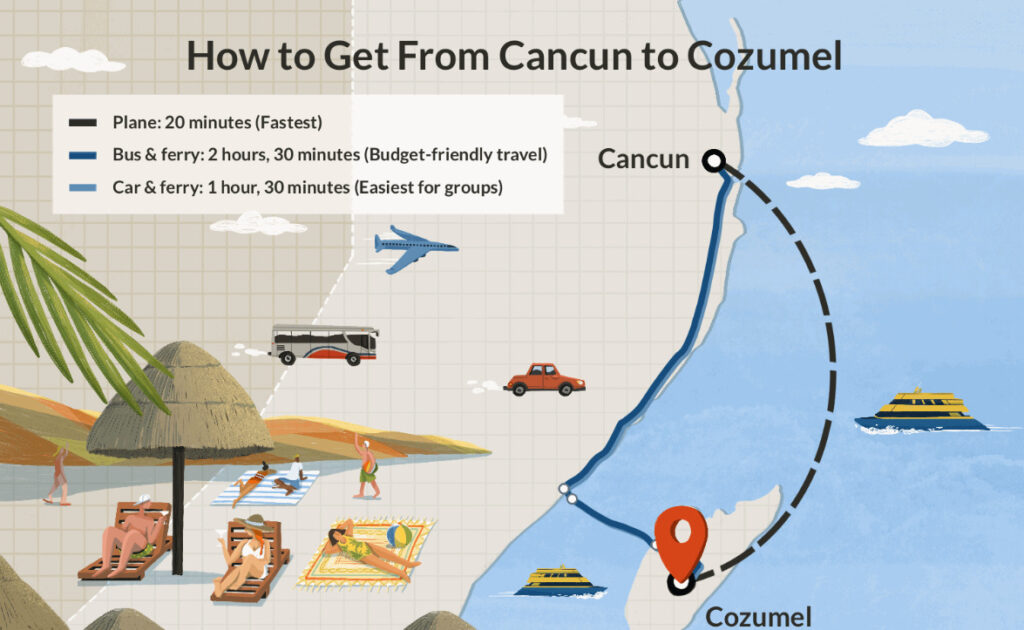 How to get to Cozumel:
Cozumel International Airport does not boast as well-established air service as Cancun, and only a few U.S. and Canadian cities have year-round direct flights to the island.
Another way to get to Cozumel is through Cancun. It can be done in two ways: by air or by water.
The first option is to take a direct Maya Air flight from Cancun Airport to Cozumel Airport.
The second option is to take a bus to Playa del Carmen and then take the ferry, which takes about 45 minutes.
If you're cruising in the Caribbean, you can stop at the port of Cozumel too and see the island.
Cancun is the larger of the two airports, and has plenty of direct flights from anywhere, so it's easier, faster and cheaper to get there.
Cancun or Cozumel: which is cheaper?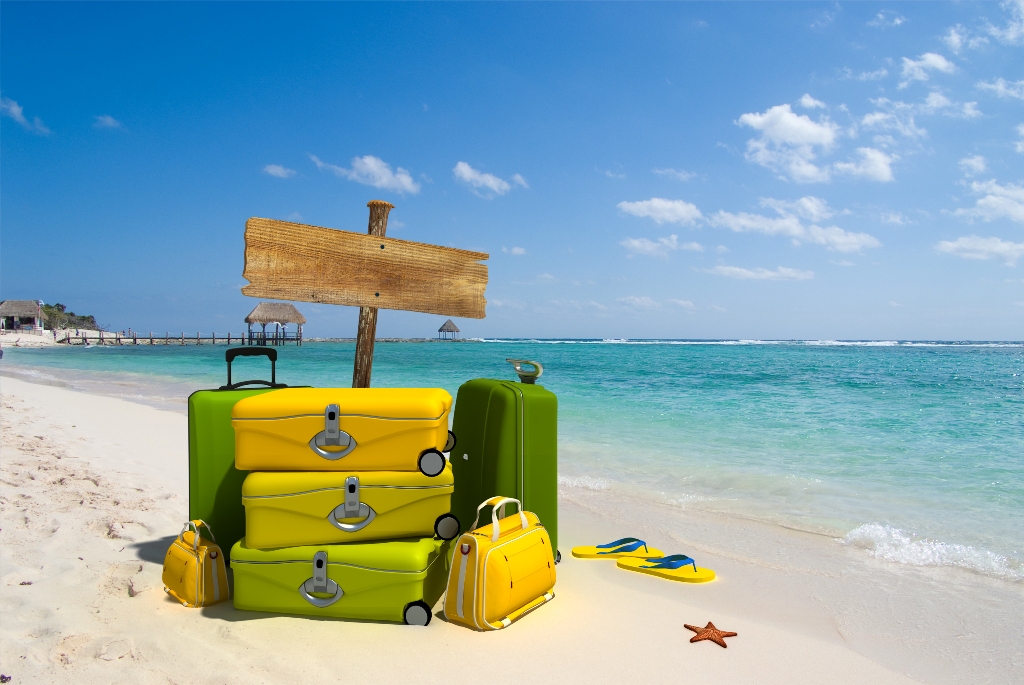 When deciding to go to Cancun or Cozumel, you need to consider your budget, as it helps to narrow down your choice to a greater extent.
Cancun, as the most developed tourist destination, can offer good accommodation options, especially during the off-season. However, prices in its upscale resorts can be much higher than in Cozumel. Food, drink and entertainment prices in Cancun are also higher than in Cozumel, so it's best to book a hotel with an all-inclusive package that covers most of the costs. Inexpensive local stores and markets can be found in historic Downtown.
Cozumel has an advantage over Cancun because of the larger number of inexpensive breakfast-inclusive hotels and guest houses. Food prices here are also more affordable, with cheap snacks on almost every corner in the central part of the island. A popular means of transportation here is a scooter, which you can rent for $15 a day, thus reducing the cost of cabs or buses.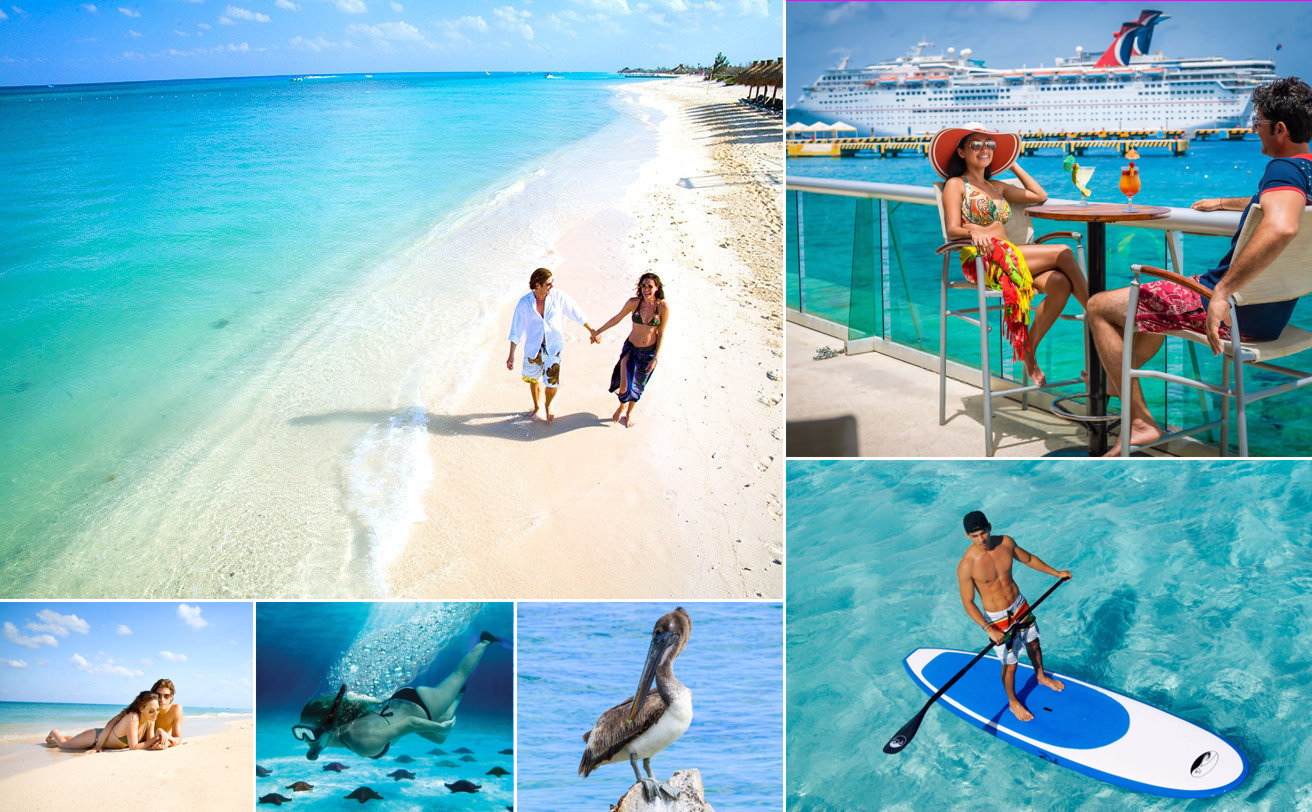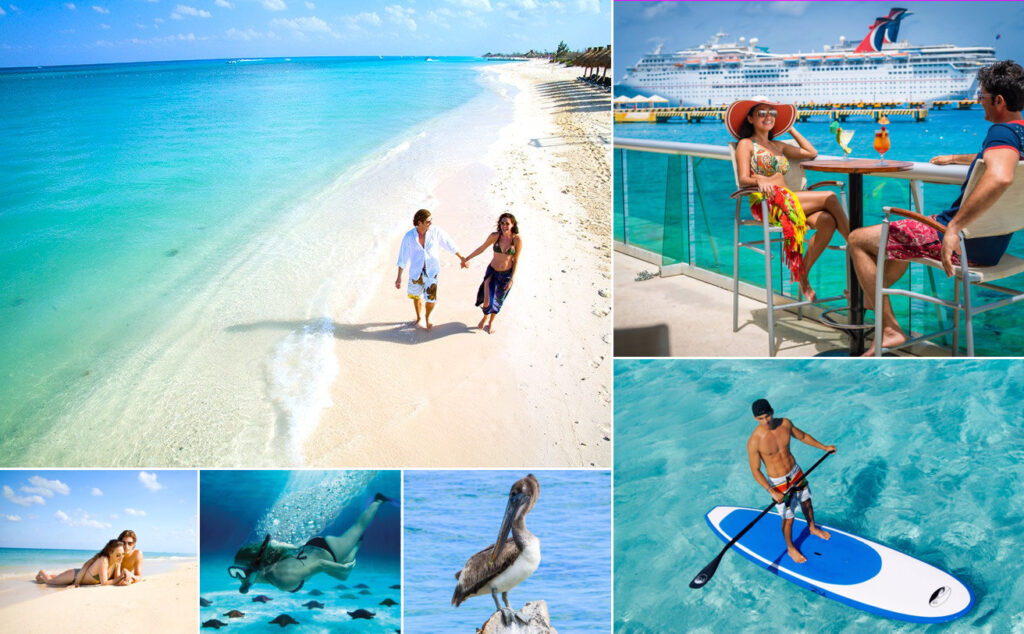 The only factor that can increase your costs for a trip to Cozumel is the numerous connections on the way to the island. Also, flights to Cozumel International Airport are usually more expensive than to Cancun International Airport, which is larger and has more direct flights.
| | | |
| --- | --- | --- |
| | Cancun | Cozumel |
| Hotel Reservations | from $35/night | from $26/night |
| Rent an apartment | from $18/night | from $12/night |
| Cab | from $1.8 | from $1.7 |
| Bus | 0,4$ | 0,3$ |
| Average bill in a restaurant | from $25 for two | from $15 for two |
Cozumel is definitely a more affordable option when you consider the cost of food and accommodation. Since Cancun is designed for tourists, prices here are higher in all aspects. However, the flight to Cozumel tends to be more expensive because of transportation costs.
Beaches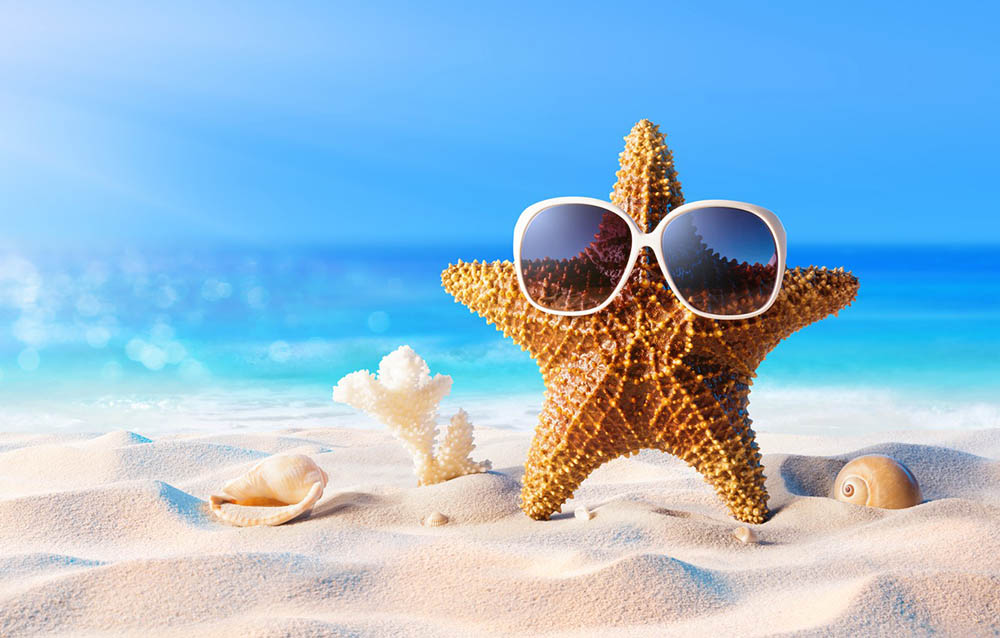 Both Mexican destinations boast wonderful Caribbean beaches with azure waters, but there are visible differences between them.
Cancun is known for its large, snow-white beaches, which offer many amenities, beach services, and water sports opportunities. They are crowded with resort hotels and attract thousands of tourists from all over the world each year. Cancun's beaches also have a generally lively atmosphere that is conducive to outdoor activities.
The most popular beaches in Cancun are Delphinez, Marlin, Las Perlas, Tortugas and Linda, which have a gentle entrance to the water and are excellent for safe bathing.
The beaches in Cozumel are smaller and often rockier than those in Cancun, but not without mesmerizing tropical beauty. They are also more secluded, allowing you to relax away from the hustle and bustle. Tranquil waters suitable for swimming can be found on the west side of the island, where most of the resort hotels are located. On the eastern side there are also some suitable beaches for swimming and snorkeling, such as Punta Morena.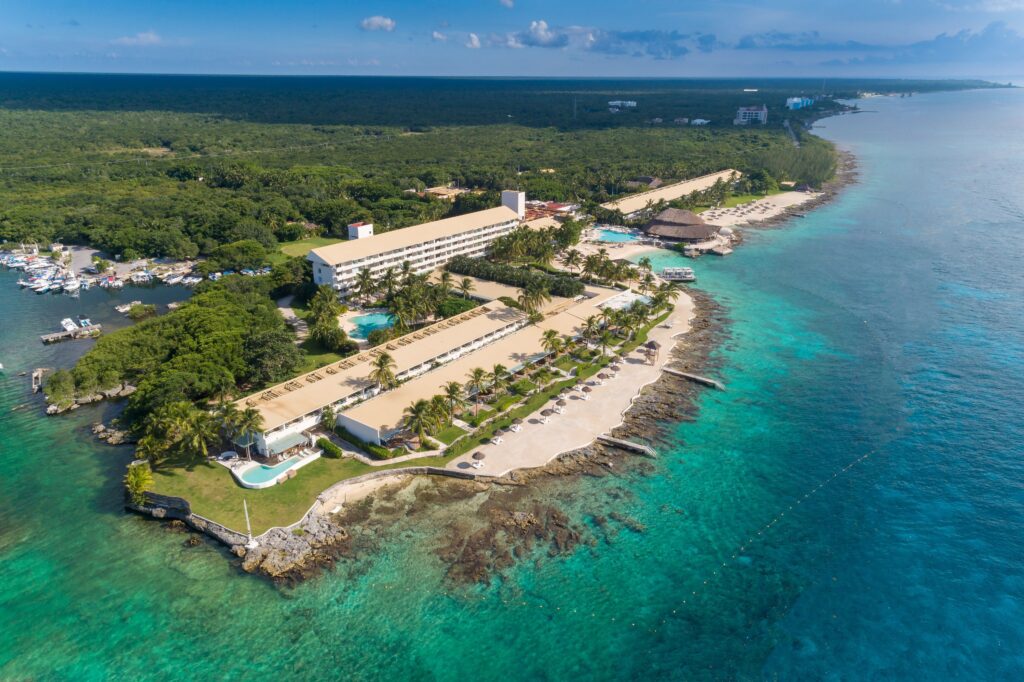 The whole thing is that the beaches of Cozumel are located close to the reef system, which is part of a huge Mesoamerican reef, so these places have long been fond of diving enthusiasts.
When planning your trip to the island, also consider your location near the seaport, where cruise ships often stop, so that you do not have to share space with many visiting passengers.
If you enjoy a comfortable beach holiday with all the necessary amenities, of course, you can choose Cancun.
If you like peace and quiet, the beaches of Cozumel are more to your liking, but keep in mind that some beaches here are more rocky than in Cancun. Also, Cozumel's beaches will definitely appeal to diving enthusiasts due to their proximity to a large coral reef.
Hotels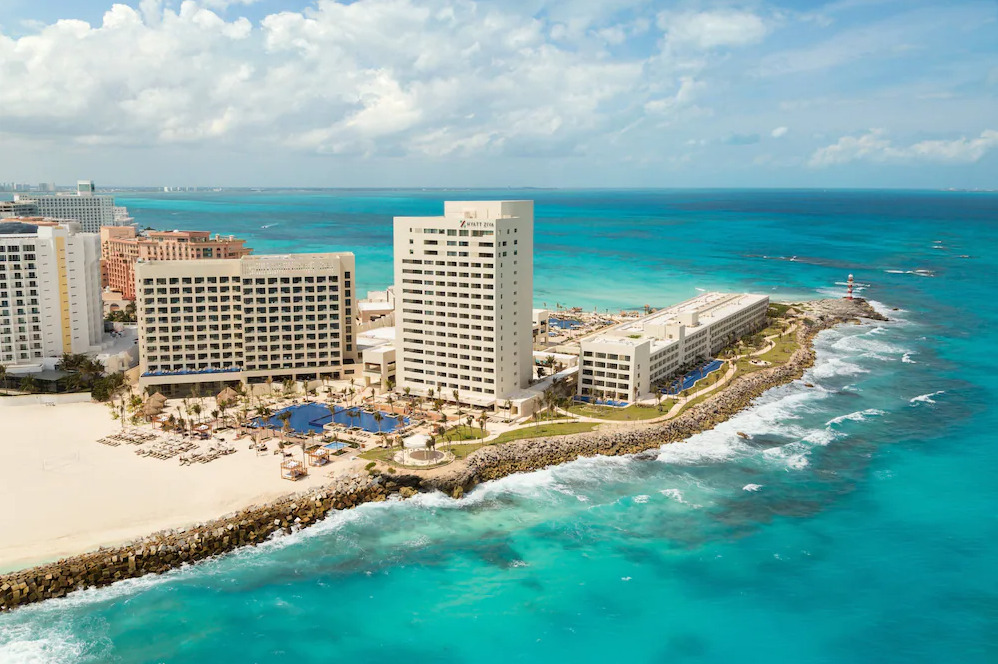 Both Cancun and Cozumel have a good selection of resorts with a wide range of amenities. Nevertheless, let's look at some key differences.
Cancun has more than 300 hotels on its territory, most of which are concentrated in the Hotel Zone, a 15-mile stretch of sand. Thanks to this location, almost every hotel here has a wonderful view of the sea, and the beach is within walking distance.
Cancun has all types of accommodations, from inexpensive hotels to luxury all-inclusive resorts. You can find the perfect fit for your needs: adults only, for honeymooners, hotels suitable for holidays with children or for business travel. In the historic city center you can find cheaper options. In general, Cancun has a lot to choose from.
Best all-inclusive hotels: Wyndham Alltra Cancun, Paradisus Cancun, Live Aqua Beach Resort, Hyatt Zilara Cancun, Garza Blanca Resort & Spa.
Best hotels for adults only: Haven Riviera Cancun, Temptation Cancun Resort, Le Blanc Spa Resort, Iberostar, TRS Coral Hotel.
Best hotels for vacations with children: Hotel NYX Cancun, Grand Fiesta Americana Coral Beach, Hyatt Ziva Cancun, The Ritz-Carlton Cancun, Moon Palace Cancun.
Best boutique hotels: Marazul Hotel Boutique, Beloved Playa Mujeres, Mia Cancun.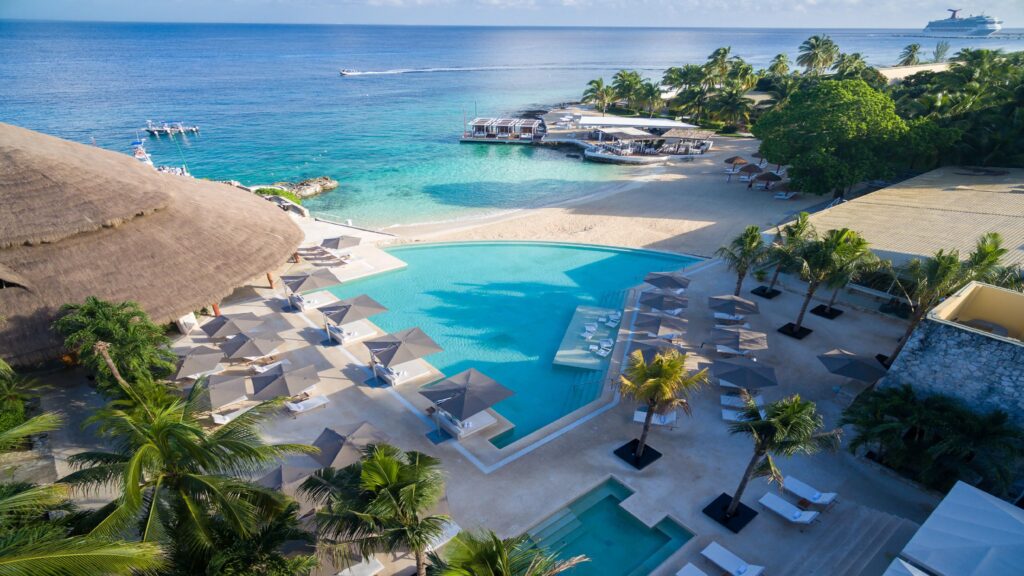 You can also find great all-inclusive hotels in Cozumel, but there are more guesthouses, villas, and bed and breakfasts full of Mexican flavor. If you like a more secluded vacation with an authentic atmosphere, then you will like Cosumel a little more. A definite plus is also the lower cost of living compared to Cancun.
Best all-inclusive hotels: Iberostar Cozumel, Cozumel Palace, Occidental Cozumel, Melia Cozumel, Fiesta Americana Cozumel.
The best hotels for holidays with children: Allegro Cozumel, Cozumel Hotel & Resort Collection by Wyndham, Grand Park Royal Cozumel, Hotel El Cozumeleno Beach Resort.
Best boutique hotels:Hotel Boutique Vista Del Mar Cozumel, Kinta Kan Cozumel.
Best villas: Hotel Villas El Encanto, Casa Colonial, Villa Aldora, Villas Colibri Cozumel.
Cancun
offers many more resorts than Cozumel and will appeal more to all-inclusive vacationers.
Cozumel will suit those tourists who prefer a more unique and authentic places to stay, besides the cost of rooms here is lower.
What to do in Cancun and Cozumel?
For many people it is very important to spend interesting leisure time on vacation. Let's compare what both resorts offer for this purpose.
Water activities in Cancun: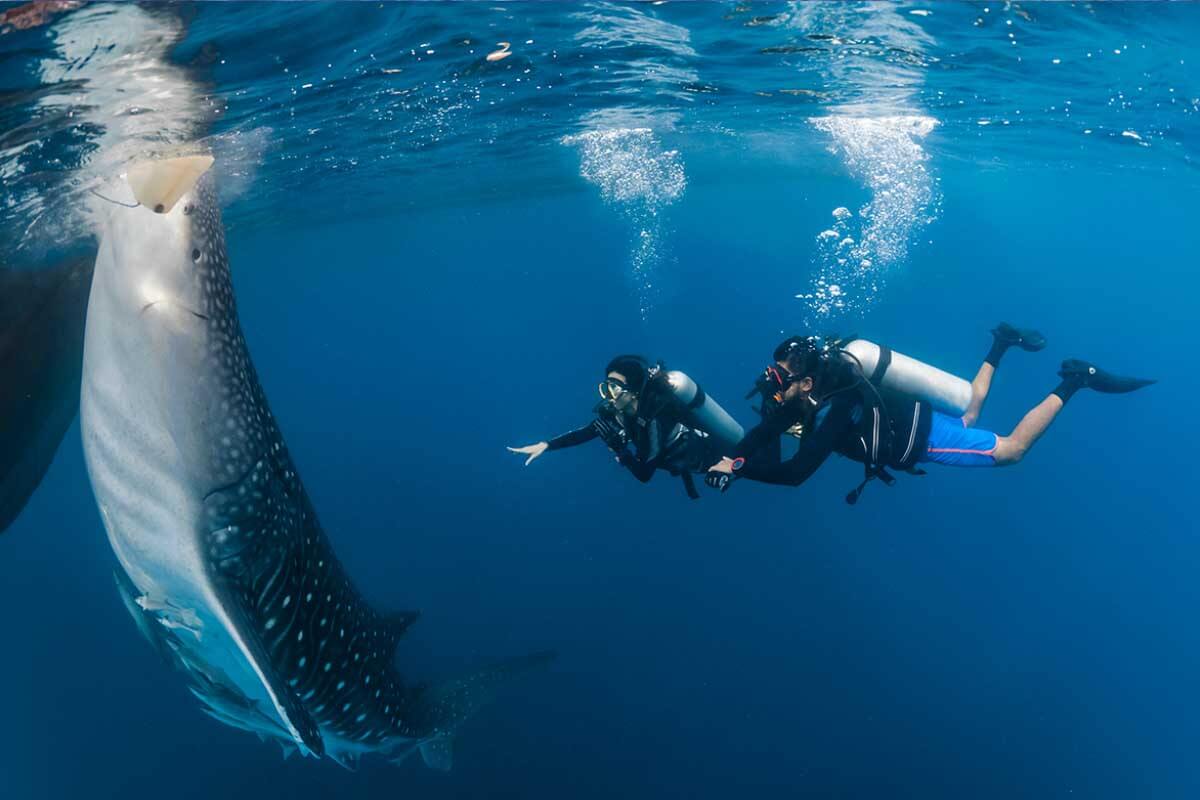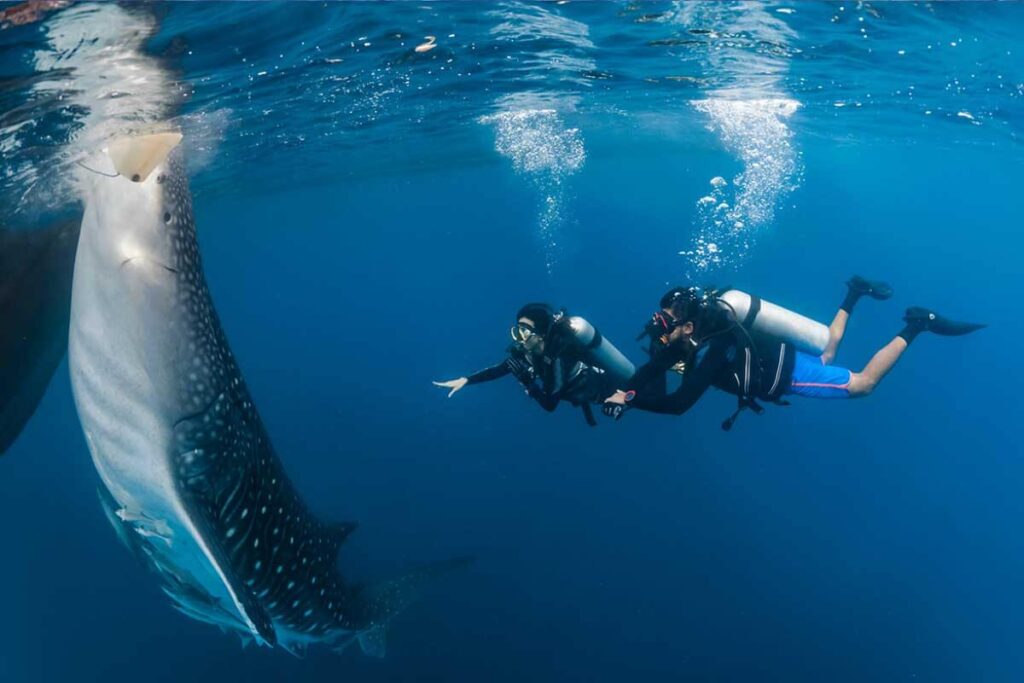 Fans of snorkeling and diving must visit the MUSA Underwater Museum, where about 500 life-sized sculptures of people, cars and other objects are built directly on the seabed.
Scuba diving with whale sharks is available from June to early September.
Snorkeling with sea turtles in Turtle Bay.
Reef and shipwreck tour with snorkeling.
Jet skiing, sailing, surfing, kayaking.
Water activities in Cozumel: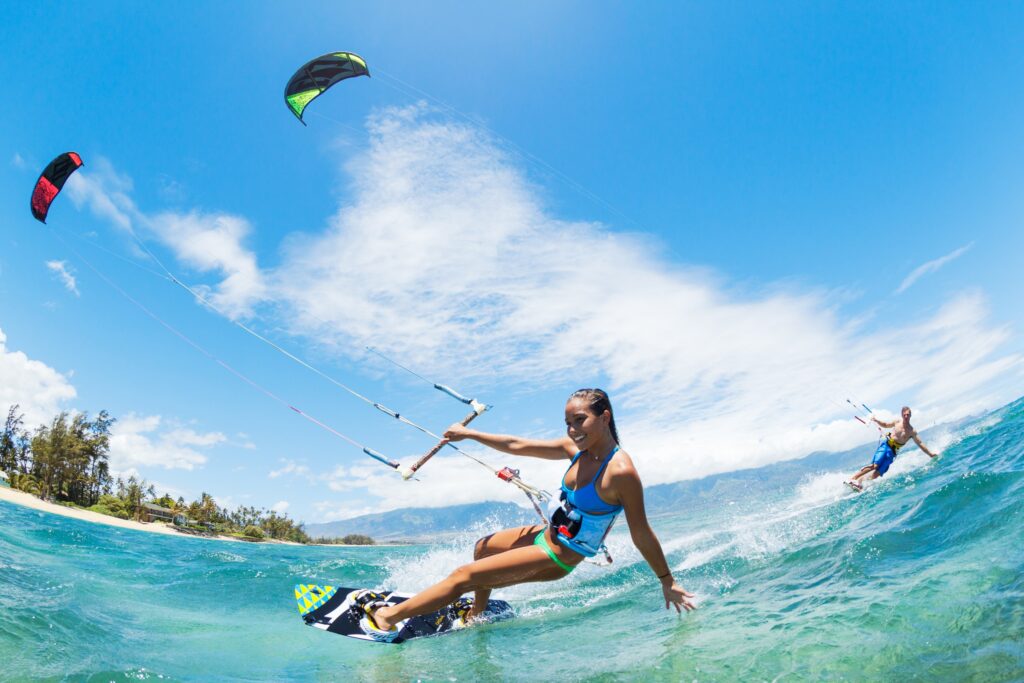 Diving tour at the beautiful Palancar Reef with giant caves through which you can swim and see sea creatures such as moray eels, lobster, barracuda, and amazing black corals in the depths.
Boat tours to the best snorkeling spots.
Night swimming with stingrays in the light of bright spotlights as part of a one-day tour.
Swimming with dolphins.
Expedition on a submarine with a dive to a depth of 100 feet.
Surfing and Kitesurfing.
Both Cancun and Cozumel offer plenty of opportunities for water activities.
But if we're talking specifically about a dive-oriented vacation, Cozumel definitely wins because of its location next to the huge Mesoamerican Reef.
Sports and activities in Cancun: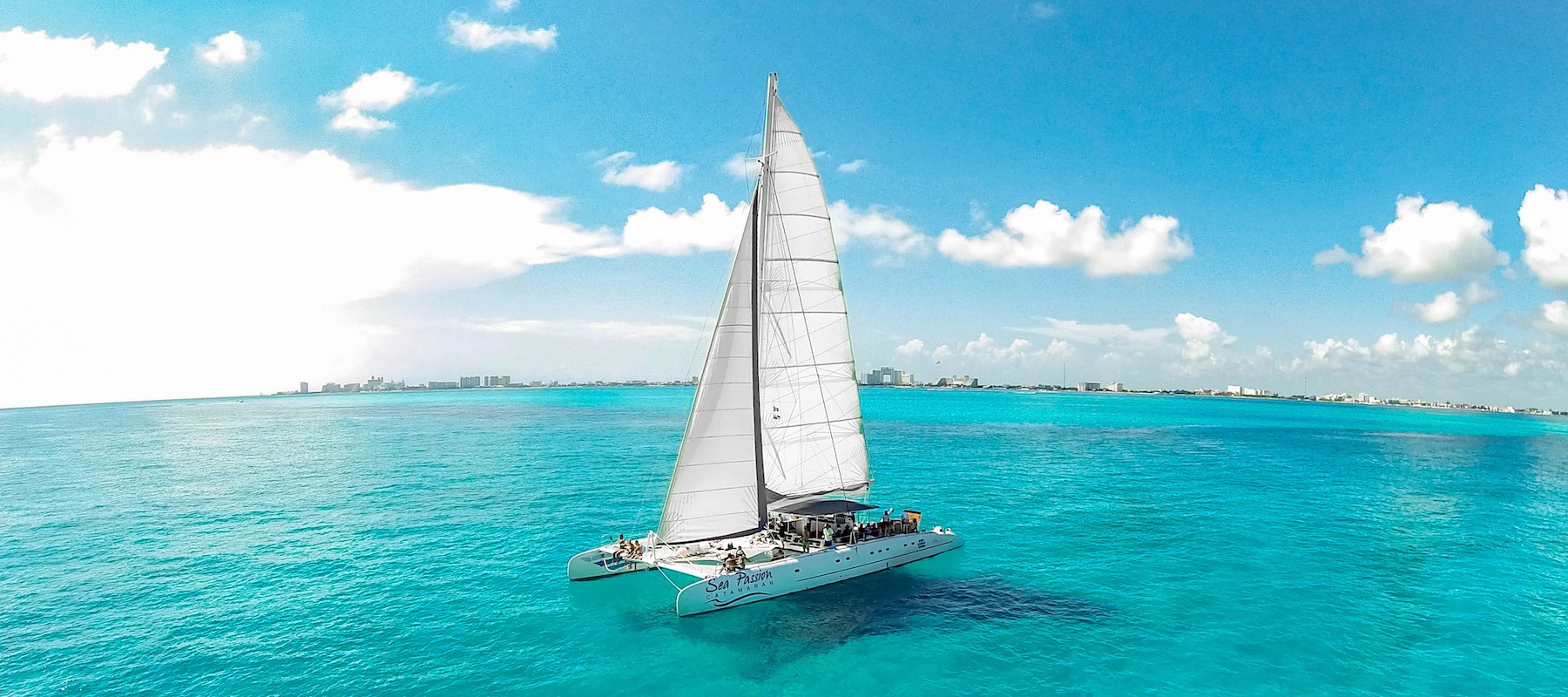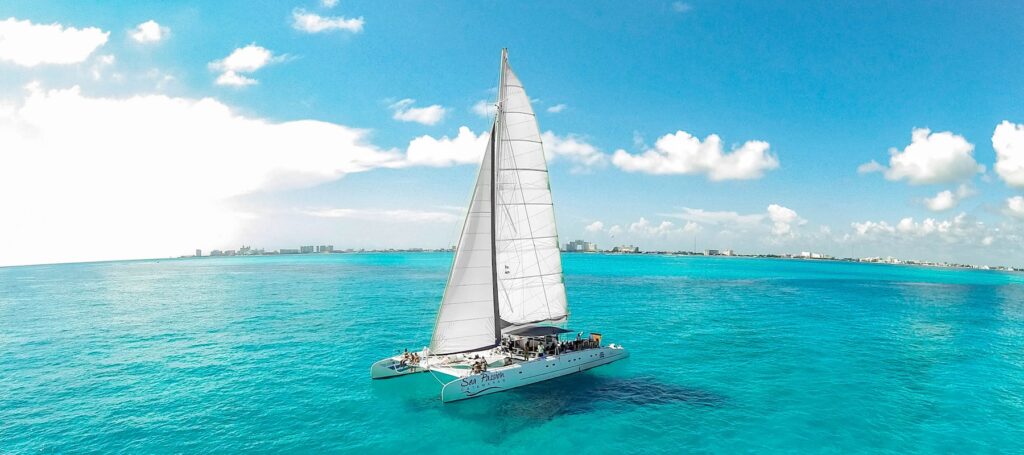 Diving in the Cenotes. It is considered an extreme sport available only to experienced divers. Participants have the unique opportunity to explore underwater caves, stalactites and stalagmites, as well as sunken Mayan artifacts.
Waves on the north coast of Cancun have long been beloved by surfers.
Sailing, catamaran trips.
In the surrounding area is the famous Xcaret Nature Park, where you can raft on an underground river through gorges and caves.
Explor and Selvatica Extreme Parks offer zipline rides over the jungle, off-road buggy rides and bungee jumping.
Sports and activities in Cozumel:
ATV or jeep tours through mangrove forests and jungles.
Parasailing – an opportunity to admire the beauty of the island from a bird's eye view.
Sport and recreational fishing as part of a boat trip with experienced instructors.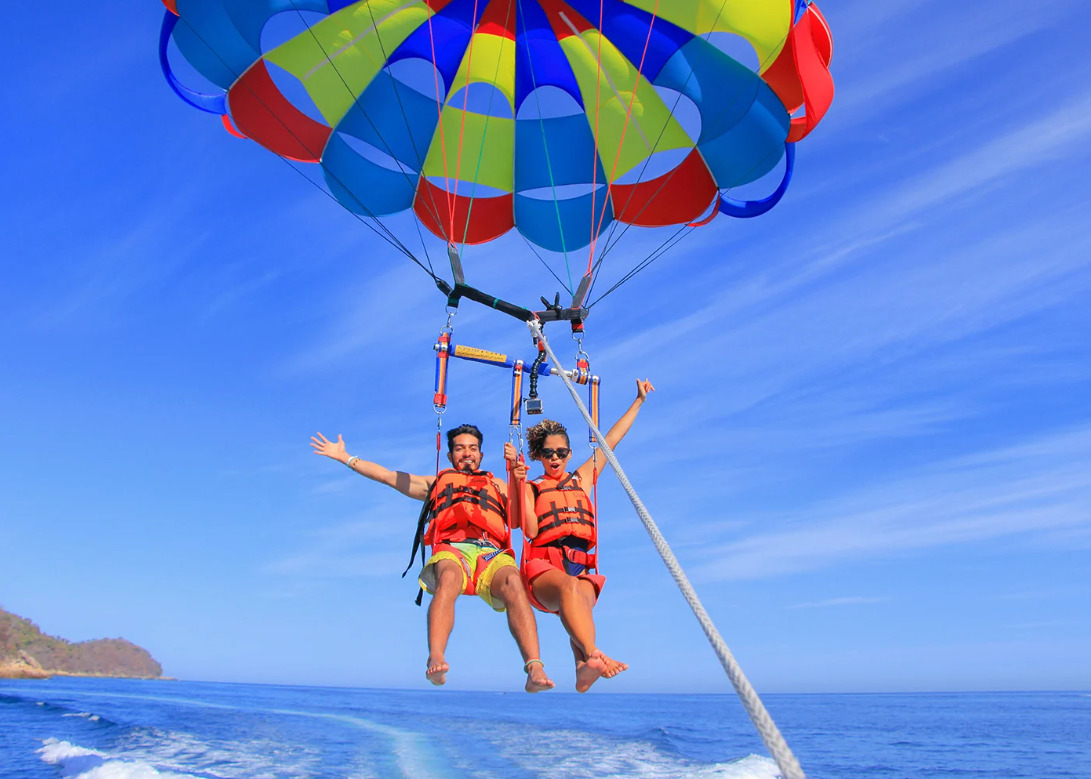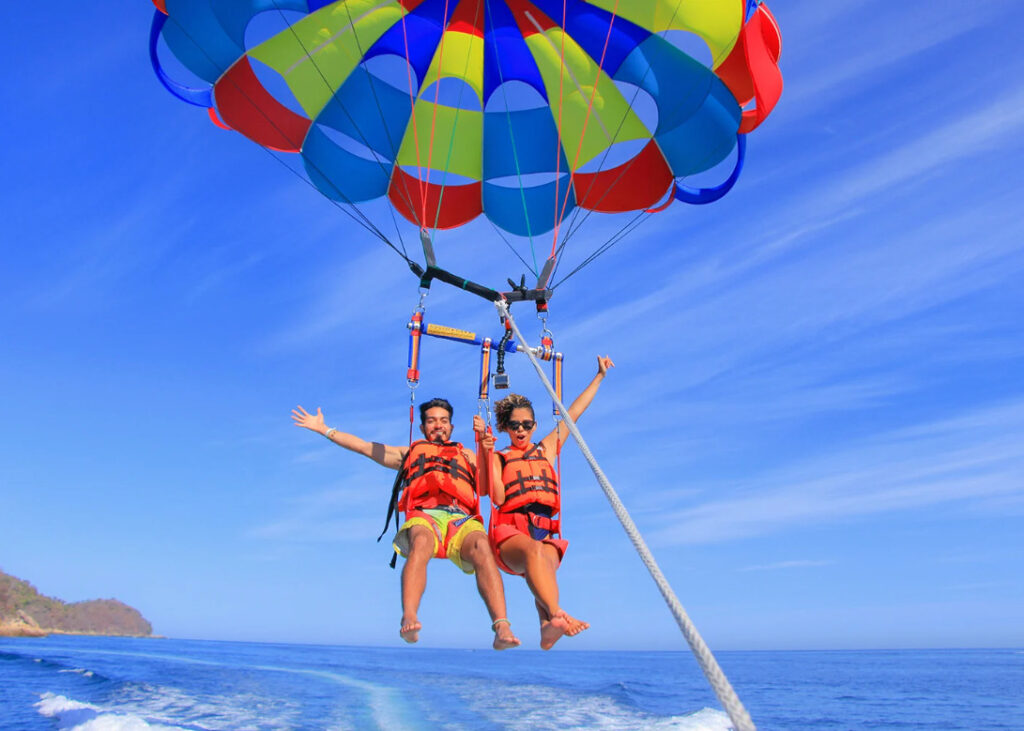 As we can see, Cancun offers more activities than Cozumel. However, it is worth considering that some of them are located in the outskirts – a disadvantage for those who do not want to go outside the city.
On Cozumel, most of the activities are within the island.
Local attractions in Cancun: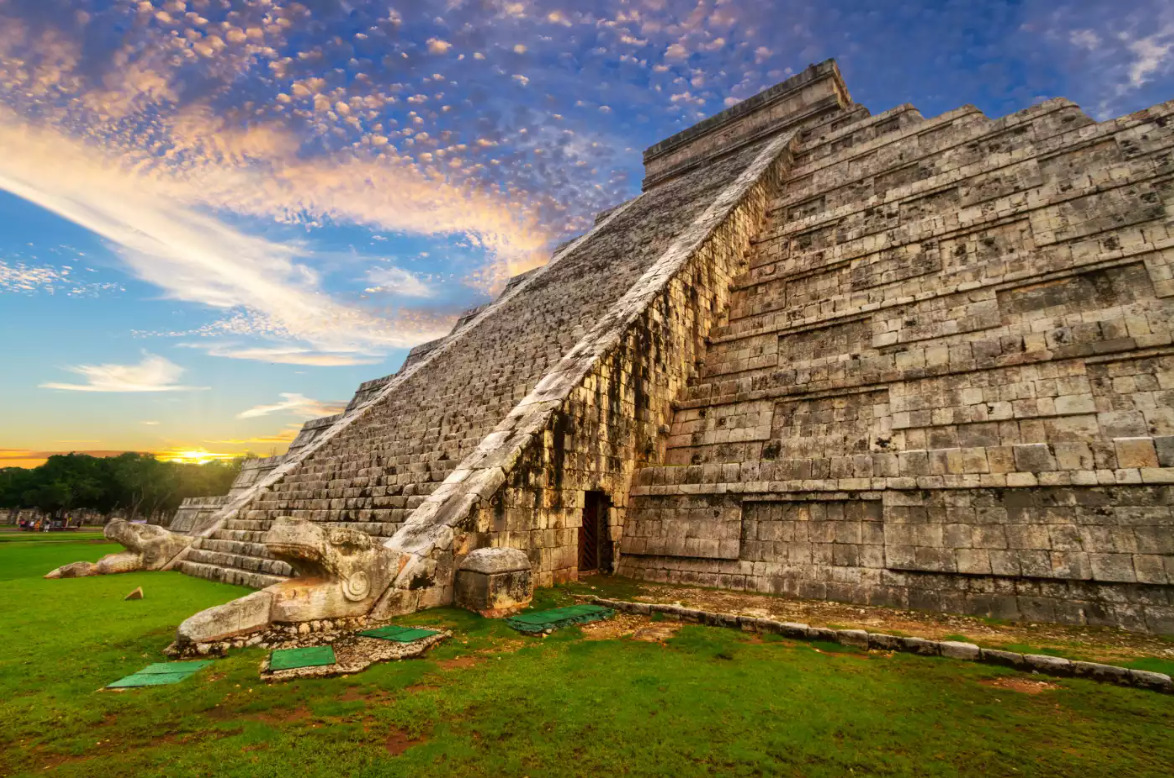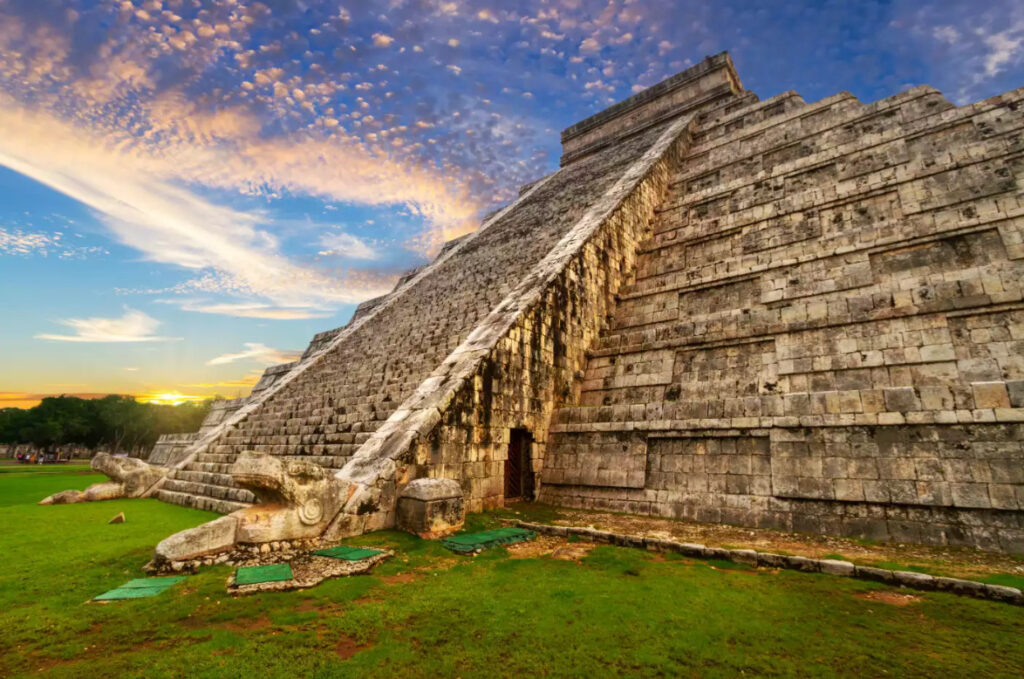 Valuable archaeological sites of Maya culture: El Rey, El Meco, Chichen Itza, the ruins of Coba.
Arena Plaza de Toros, where the famous spectacular bullfights are held.
Isla Mujeres or Women's Island, which can be reached by ferry.
MUSA Underwater Sculpture Museum.
Akumal Lagoon, which is home to Turtle Bay.
Local attractions in Cozumel:
The Chancanab Lagoon with crystal clear water in the National Marine Park of Cozumel.
The Legacy of the Maya Civilization – San Gervasio Ruins.
Museum of the island, which contains the work of local artists and unique ancient artifacts found during excavations.
Punta Sur Ecological Reserve, where you can see rare exotic plants, crocodiles and many beautiful and unusual birds.
Parque de la Cozumel, where cultural and historical monuments are presented in miniature structures.
Celaren Lighthouse.
Cancun offers many archaeological sites that allow you to explore the culture of ancient peoples, while in Cozumel you will find more natural, historical and cultural attractions.
Nightlife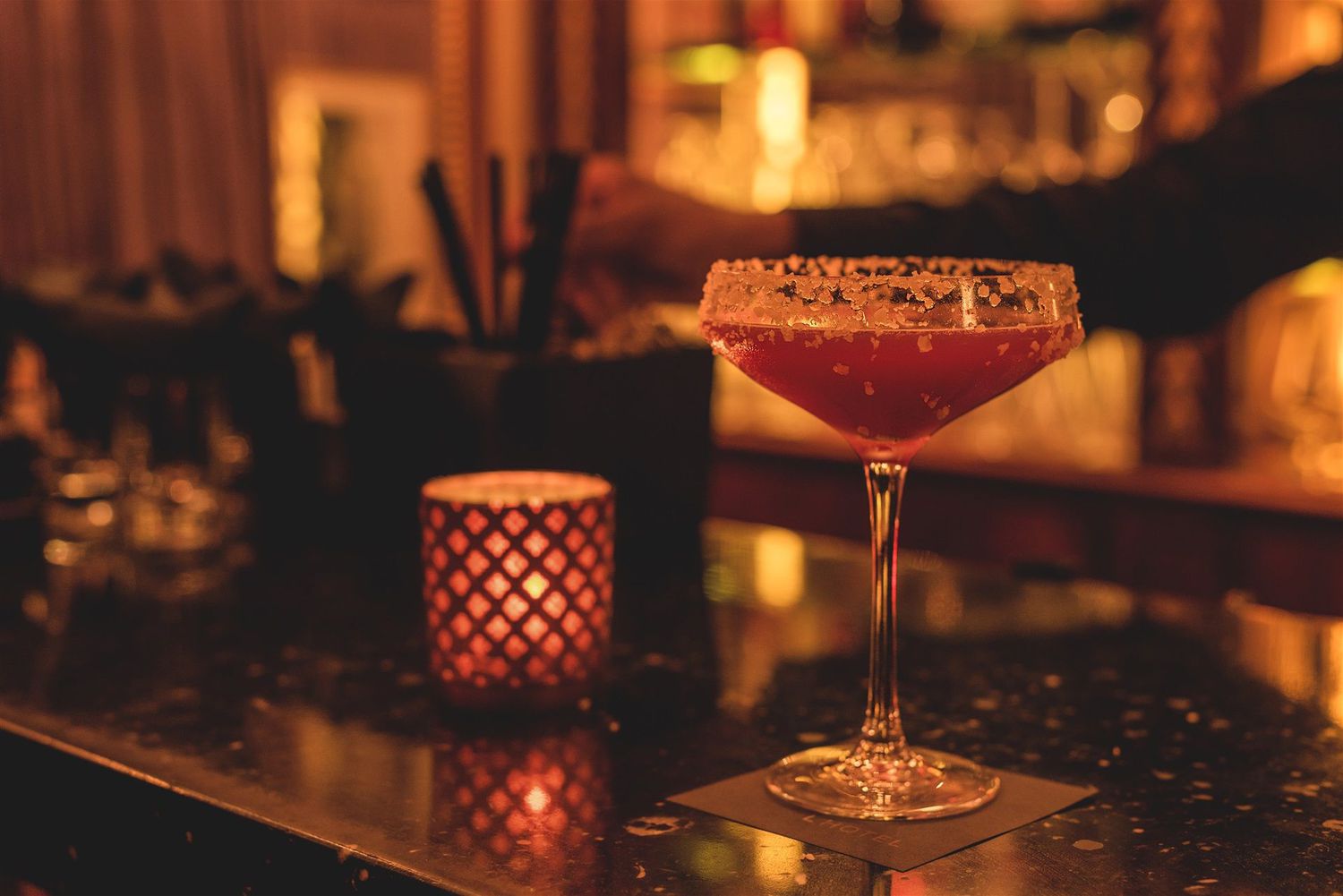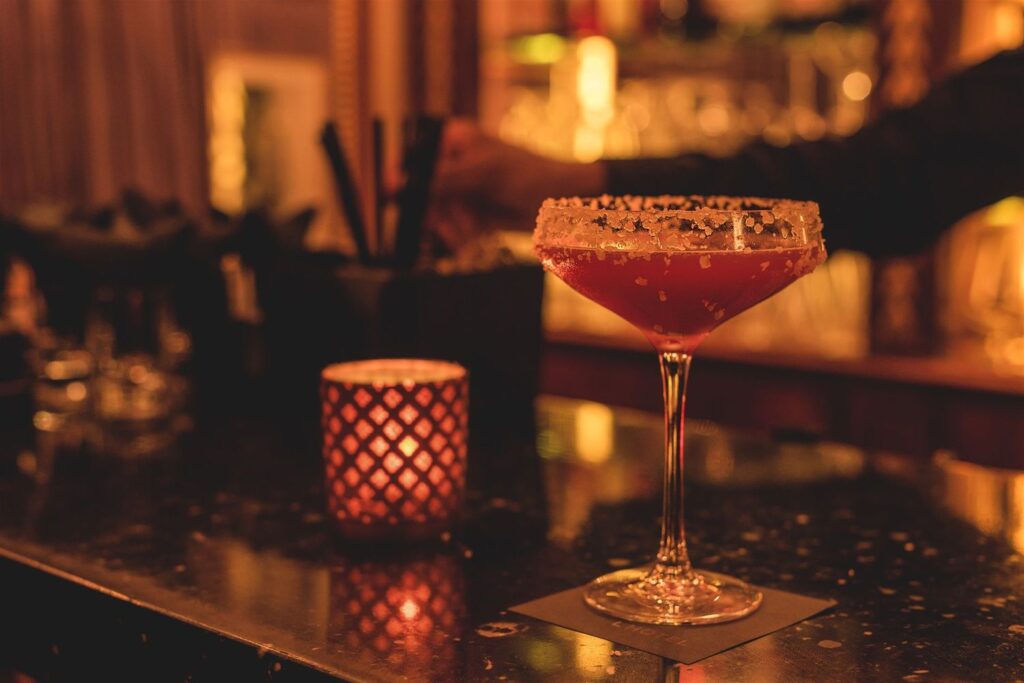 Cancun is famous for its vibrant and busy nightlife. Many tourists choose this destination precisely for the purpose of settling down all night long to the fiery DJ sets in one of the nightclubs. Here you can even book a night tour of all the popular clubs and bars of the city.
All the best clubs are located in the Hotelera Zone and among them we can highlight: Mandala, La Vaquita, Rakata, and of course Coco Bongo, famous for its amazing acrobatic shows.
Cozumel does not have as many nightclubs and bars as Cancun, but you can still find several entertainment venues in downtown San Miguel. Among the most popular are Senor Frog's and Woody's Bar, but don't expect the party atmosphere here to be as crazy as in Cancun. Most of the bars in Cozumel are located near the water, so be prepared to spend the sunset with a margarita in hand to light music instead of neon lights and electro music.
Cancun wins by a wide margin, with a huge amount of nightlife for all tastes. Cozumel, on the other hand, may be the perfect balance of nightlife.
Restaurants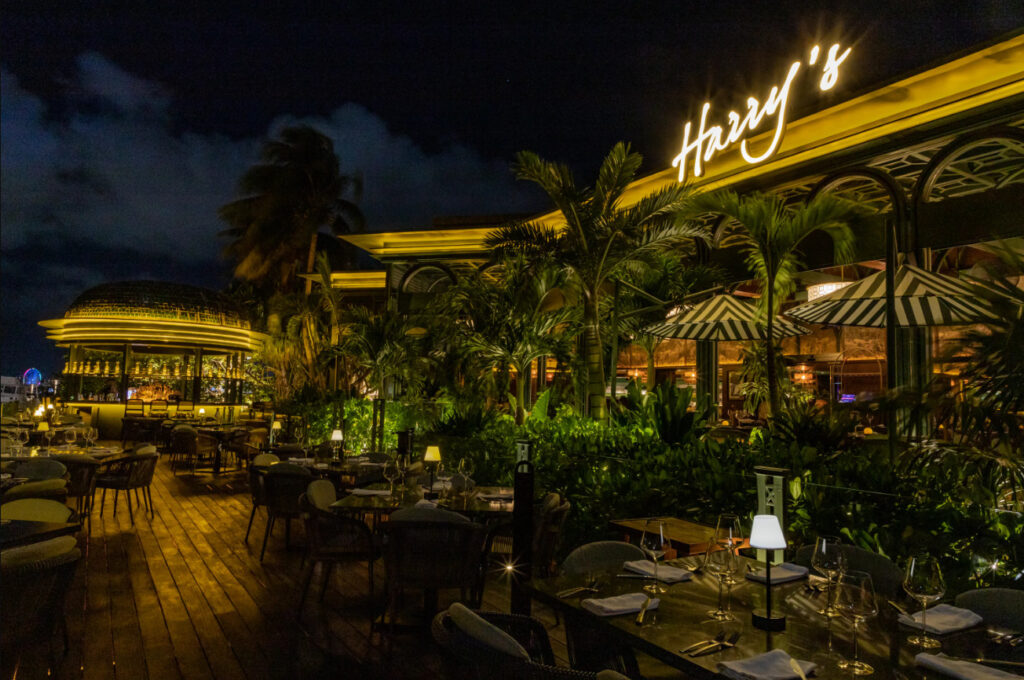 Cancun offers a myriad of dining options, from gourmet restaurants to street-level taco stands. For a taste of Mexican cuisine, head to the historic center of the city. In addition to the traditional, Italian, French and Japanese cuisine, there are many steakhouses, as well as fast food.
Seafood lovers should not miss the excellent El Fish Fritanga, a seafood restaurant located in the hotel area of Cancun. It also serves great steaks, but the main gastronomic delights are the local lobsters and octopus. If you have a reason to celebrate, we suggest checking out the sophisticated Porfirio's restaurant, where first-class cuisine is combined with an excellent wine and cocktail list.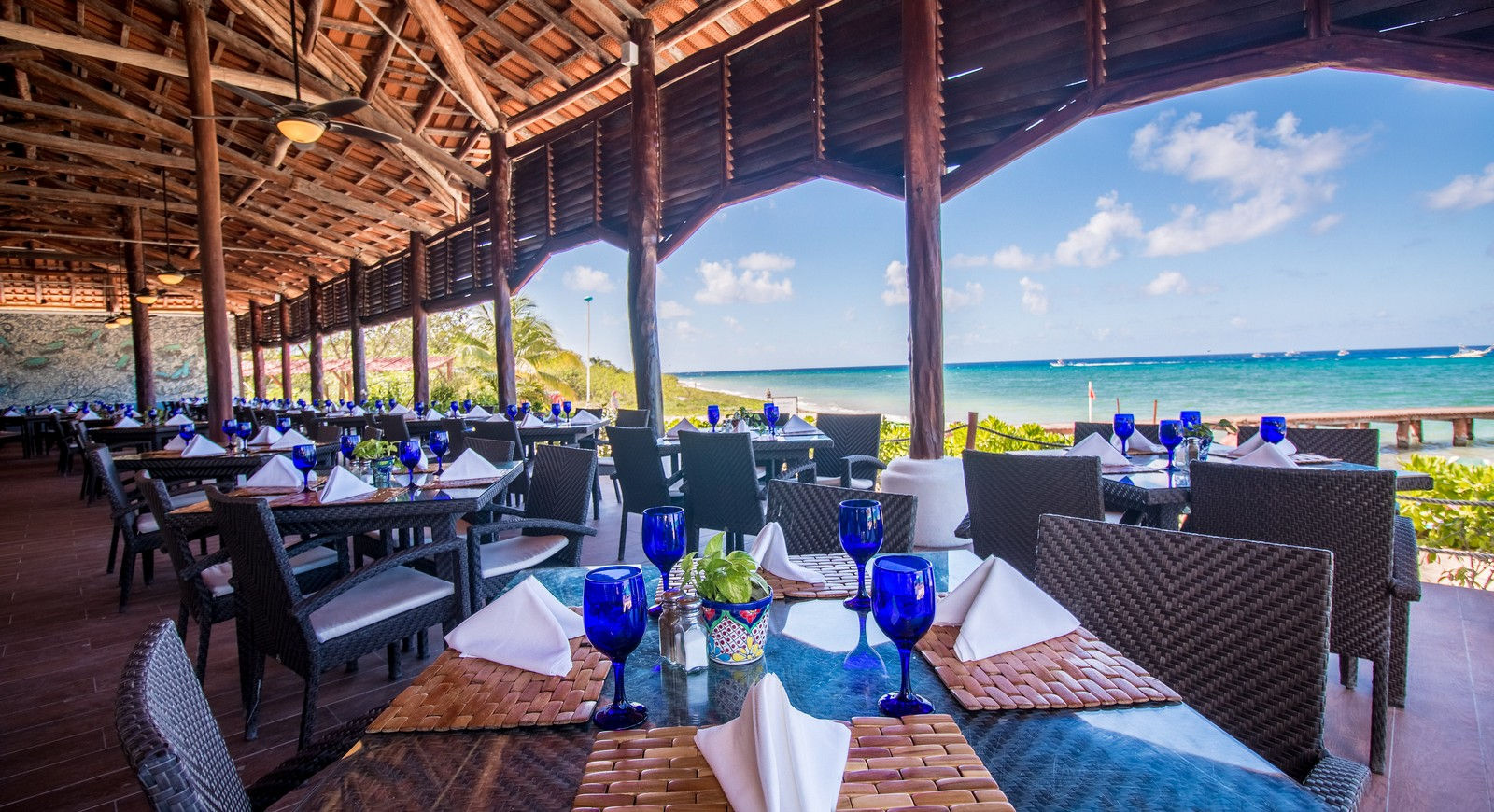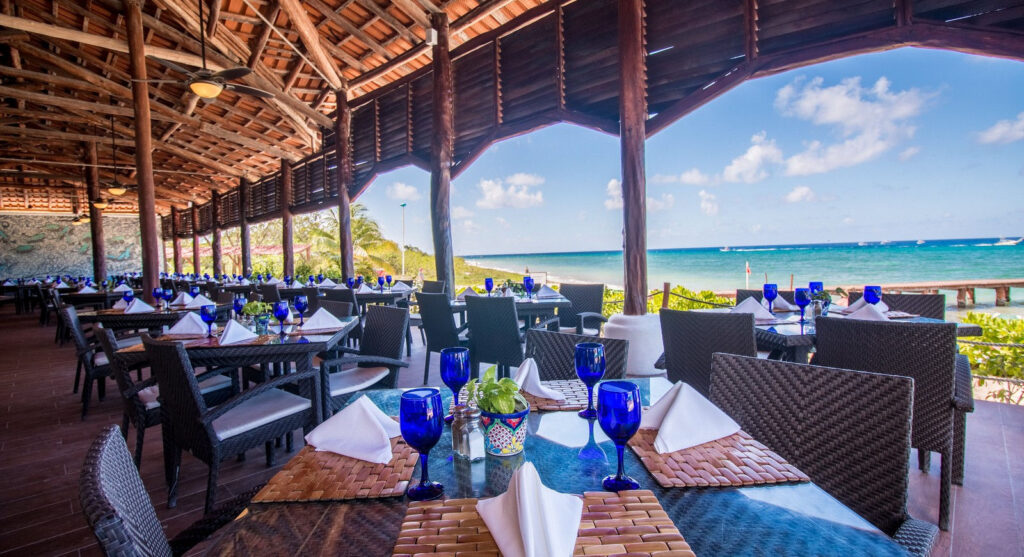 In Cozumel there is a good selection of restaurants in the capital of San Miguel. Here, more than anywhere else, traditional Mexican recipes are preserved, and at extremely affordable prices. A classic local fast food is the burrito, a dish made from wheat tortillas, which can be filled with a variety of fillings.
One of the favorites among tourists is Casa Denis, the oldest restaurant in Cozumel, which offers the best Mexican cuisine and Yucatan specialties. If you're a real foodie and prefer more refined cuisine, check out Buccanos At Night, where you can sample seafood delicacies right on the beach.
Here it is safe to declare a «draw» between Cancun and Cozumel, as both resorts offer a huge selection of traditional Mexican food. However, Cozumel has an advantage over Cancun due to its more affordable prices.
Conclusion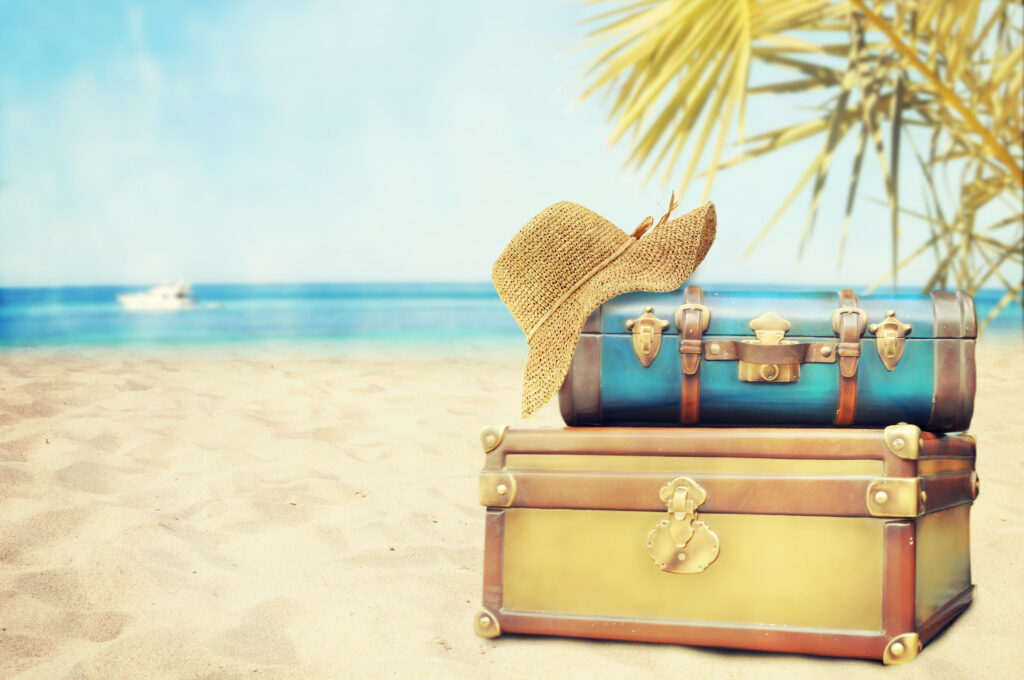 Ultimately, the choice toward Cancun or Cozumel depends on your personal preference. If you want to be wowed by incredible underwater life and then relaxed happy hours at sunset, then Cozumel is for you. If you like a bustling beach atmosphere with lots of restaurants, clubs and malls in the area, then Cancun will be the perfect choice.
Below we briefly outline the pros and cons of both directions to make the right decision even easier.
| | |
| --- | --- |
| Pros of Cancun | Minuses of Cancun |
| Best beaches | It's always crowded. |
| Easy access to the airport | More expensive than Cozumel |
| A busy nightlife | Not a very relaxing environment |
| Lots of restaurants and stores | It's not easy to research |
| | |
| --- | --- |
| Pros of Cozumel | Cons of Cozumel |
| Spectacular diving and snorkeling | More remote, harder to get to |
| A more relaxed atmosphere | Beaches can be rocky |
| Better prices on all | Not such a busy nightlife |
| It's easy to research | Not many restaurants and stores |