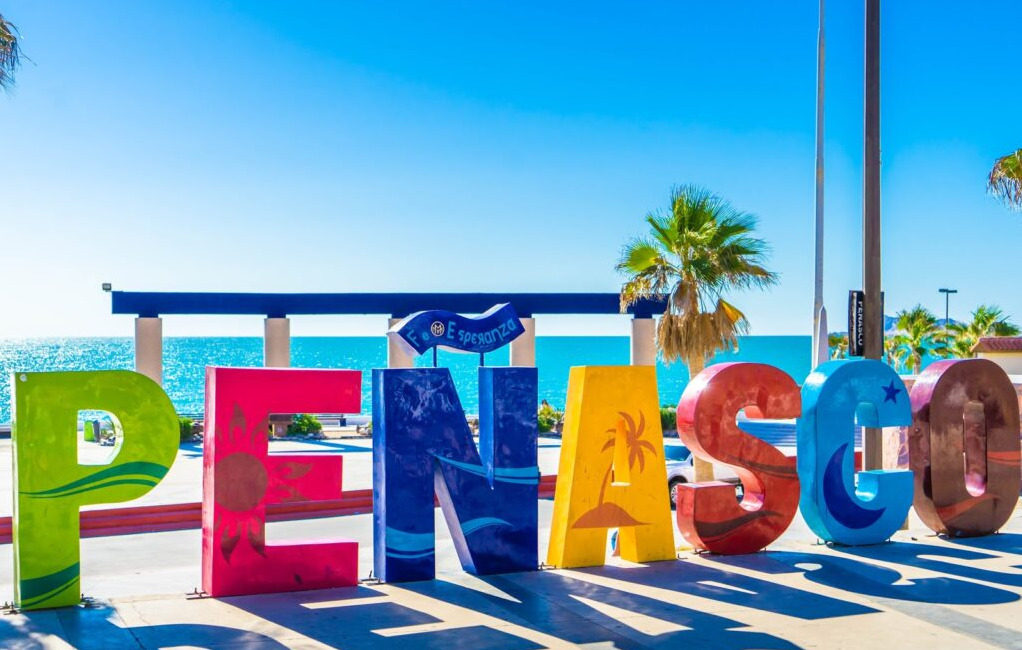 In this city you can spend your vacations, as well as long weekends, enjoying the surf at the most popular beaches of the resort (Sandy Beach, Playa Bonita, etc.), exploring nature and marine life on excursions, sampling Mexican cuisine, seafood and tequila (Mexico's most popular alcoholic drink made from blue agave juice), visiting nightclubs and much more.
To make sure your vacation goes as well as possible, we've compiled for you a selection of the best places, most popular entertainment and activities in Puerto Peñasco.
1.Take a tour of the El Pinacate Biosphere Reserve and the Gran Desierto de Altar
The nature reserve is located in northwestern Mexico. It is a UNESCO World Heritage Site.
The area of El Pinacate and Gran Desierto de Altar is 2,758.95 mi².
The reserve is conventionally divided into two parts: the eastern, where a stony desert and a plateau with many extinct volcanoes spreads, and the western, where the Gran Desierto de Altar desert with a variety of sand dunes, reaching a height of 0.12 mi is located. It should be noted that the reserve attracts tourists not only with its unique landscape, but also with the plants (more than 500 species), animals (about 40 species) and birds (200 different species) found in this area.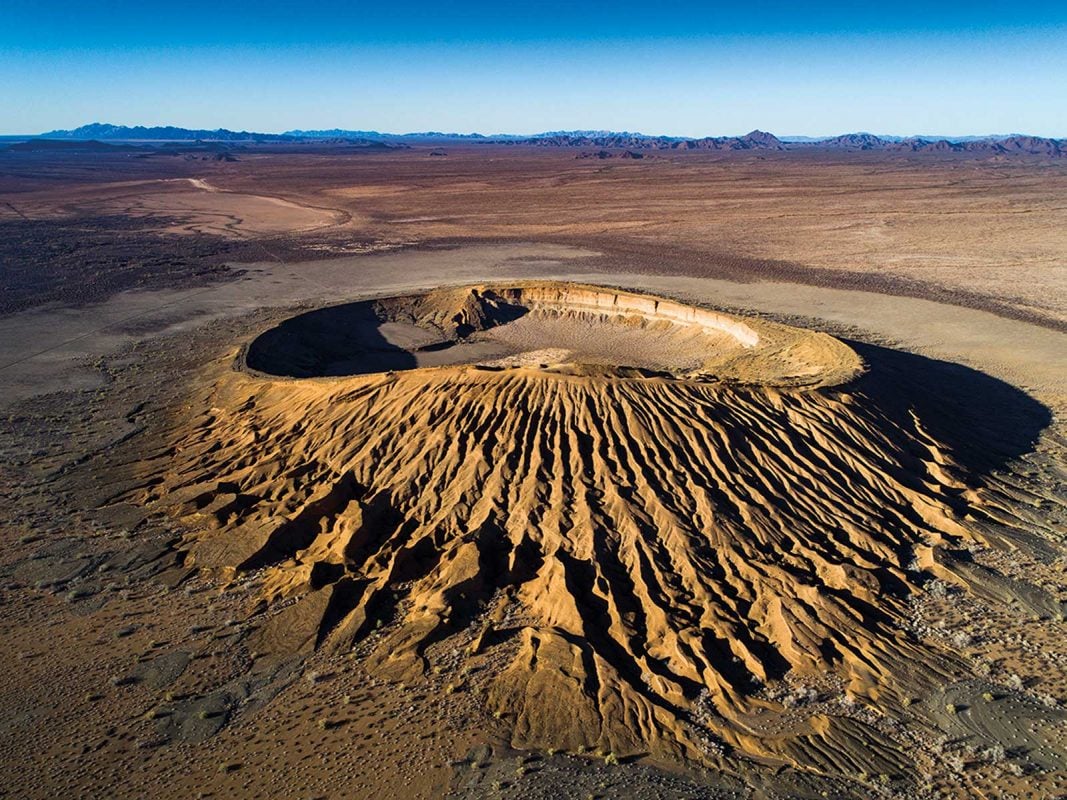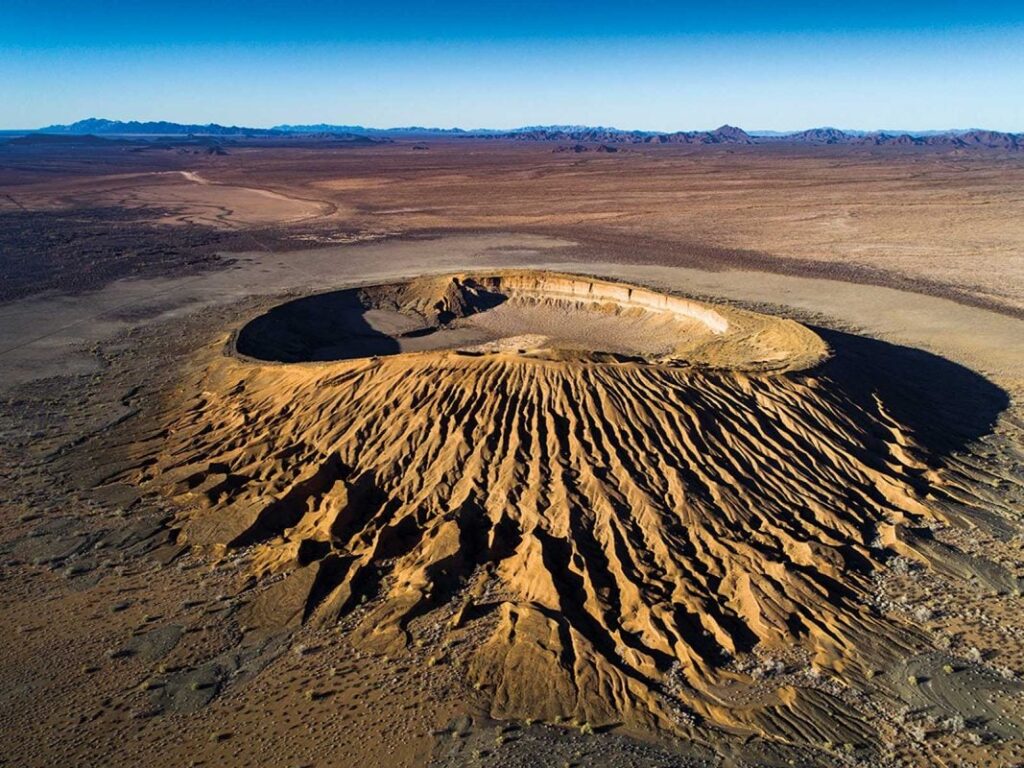 When you go to the reserve, you will have to register at the entrance and buy a ticket. The most convenient means of transportation in the area is a car. If you do not come as part of the tour, but by your own car, you can use a special map with the route marked on it. In the reserve there is an opportunity to spend the night, for this purpose it has been equipped with entire tent cities.
Interesting fact: it takes about 5 days to walk around the biosphere reserve.
2.Take a walk around Old Port
One of the attractions of the state of Sonora is considered to be the Old Port.
It was once a place for mooring ships, and now locals and travelers stroll here. In Old Port you can see the preserved old hotel, where Al Capone himself lived for some time, a monument to fishermen, the architectural heritage – the pillars of strength and vulnerability. In addition, there are many tents with souvenirs, gifts of the sea (which will please seafood lovers).
Interesting fact: Every fall (in October) in Old Port there is a «Shrimp Festival».
3.Do not miss the opportunity to visit the Ziplines at Rocky Point
For extreme and thrill-seekers, Rocky Point offers the Zipline, located more than 0.37 mi above the dunes. It consists of five slings, between each you can take a little break, enjoy the mesmerizing view of the dunes, the desert, the Sea of Cortez and, of course, take pictures that will remind you of this place.
Interesting fact: this place provides everything for your convenience, even the phone is inserted in a special case and attached to the seat belt.
4.Watch birds and sea creatures on Isla San Jorge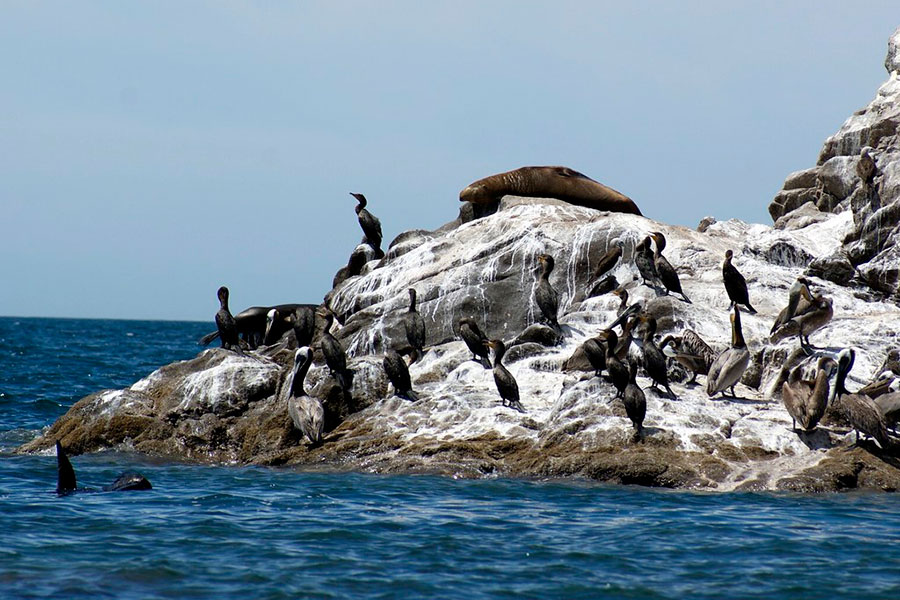 San Jorge is an island located 25 mi from Puerto Peñasco.
There you can be away from the hustle and bustle of the city, enjoy the amazing beauty of the wildlife, watch rare species of birds nesting on the island (such as Sterna antillarum, Sula leucogaster, etc.), the California sea lions, as this is their habitat and breeding ground, there is an opportunity to see dolphins and whales.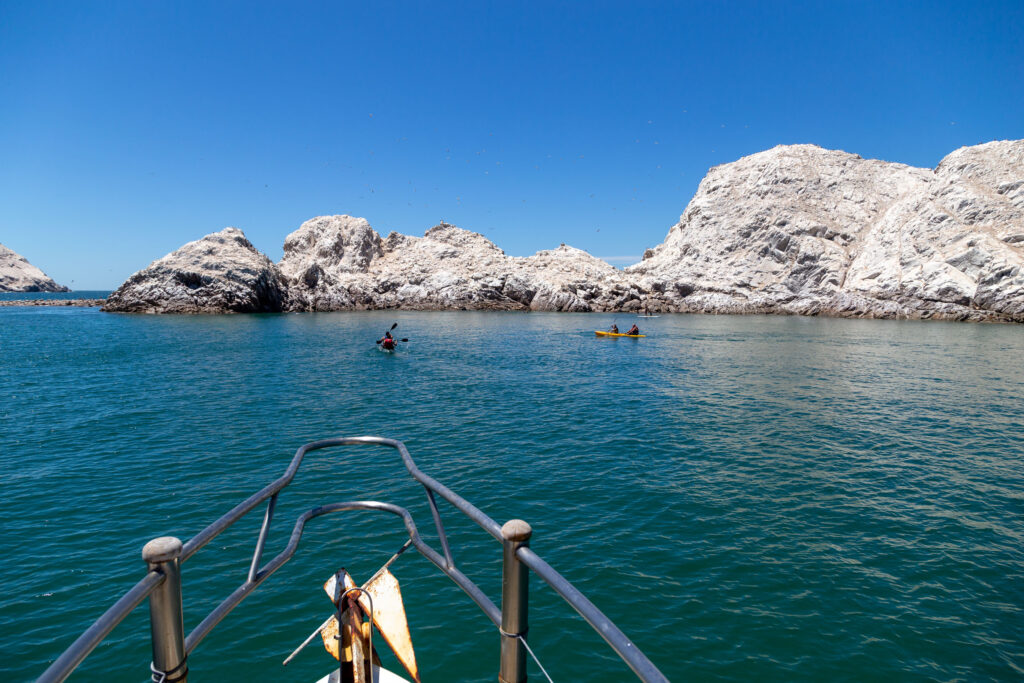 Del Mar charters offer a full-day excursion to Isla San Jorge. During this time you will be offered food and drinks (menu from $ 60-90), various water sports (diving, snorkeling), and tourists have a unique opportunity to swim with sea lions.
Interesting fact: San Jorge Island is a Federal Reserve.
5.Go on a whale-watching excursion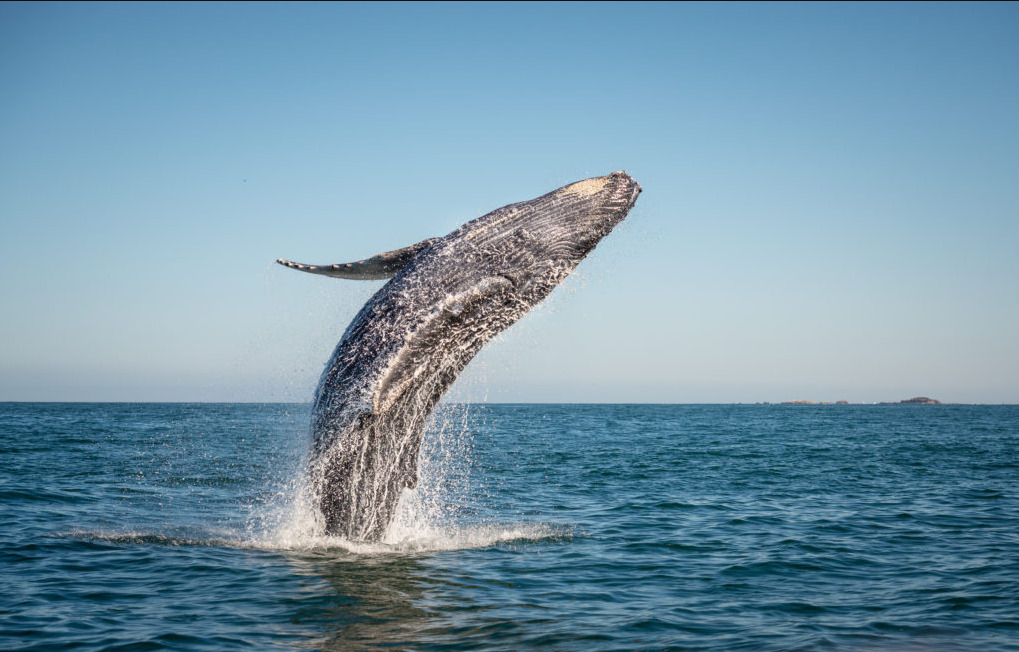 There are many companies in Puerto Peñasco that offer whale watching tours. The most popular is Dev Ocean Charters.
Travelers are offered to go on a tour (for 2-3 hours) on special equipped boats. The cost of such excursion is from $30,86 and above (all depends on the number of seats in the boat, there are also individual excursions). Experienced guides always know exactly where there will be a large concentration of gray whales at certain times of the year, and will take you there. On the tour, if you are lucky, you can see the spectacular spectacle of whales making fountains, releasing a jet of water to a height of 1,8 mi.
Interesting fact: whale watching season is short, only a few months, so the best time for this kind of excursions is considered the period from January to April.
6.Enjoy your vacation at Playa Bonita Beach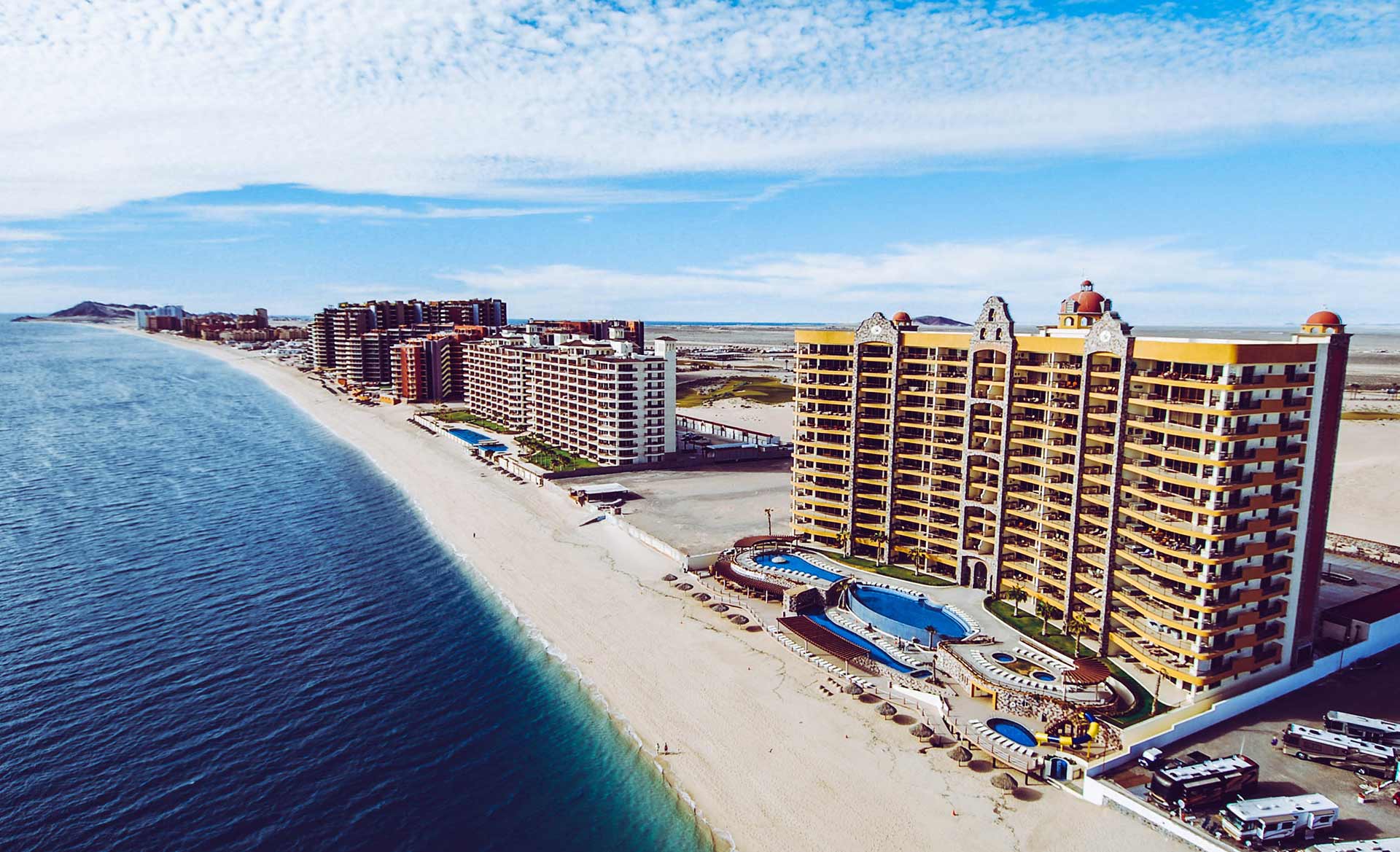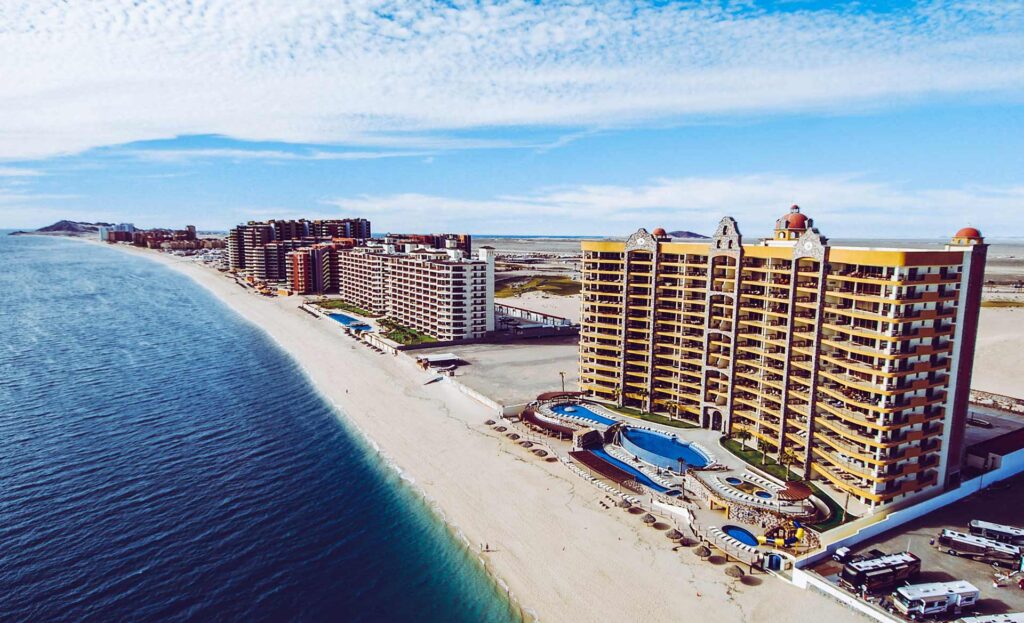 Playa Bonita Beach is very conveniently located, as it is very close to the center of Rocky Point. To the west it borders Playa Arenas beach.
Playa Bonita Beach has everything for a comfortable holiday: sun loungers ($), umbrellas ($), food and drinks ($). It is quiet, not crowded, fine sand, crystal clear water, so the beach is great for families.
Interesting fact: the main distinguishing feature of this beach (which gave its name) – is the simplicity of literally everything.
7.Take a swim at Sandy Beach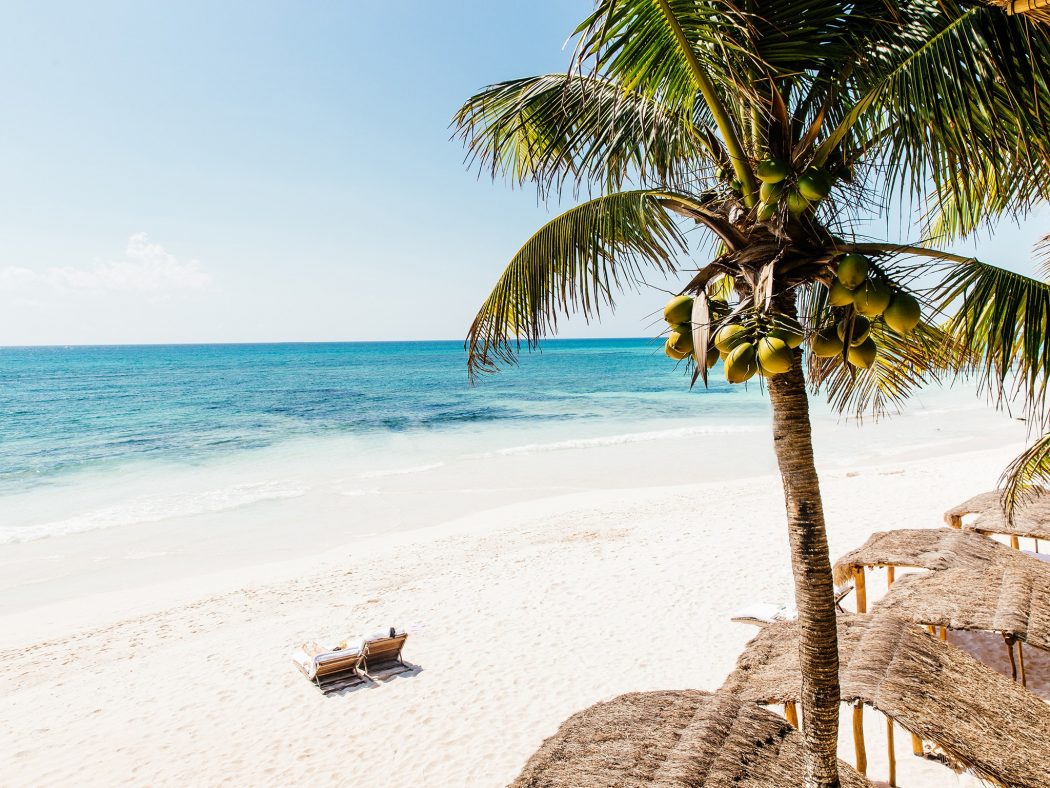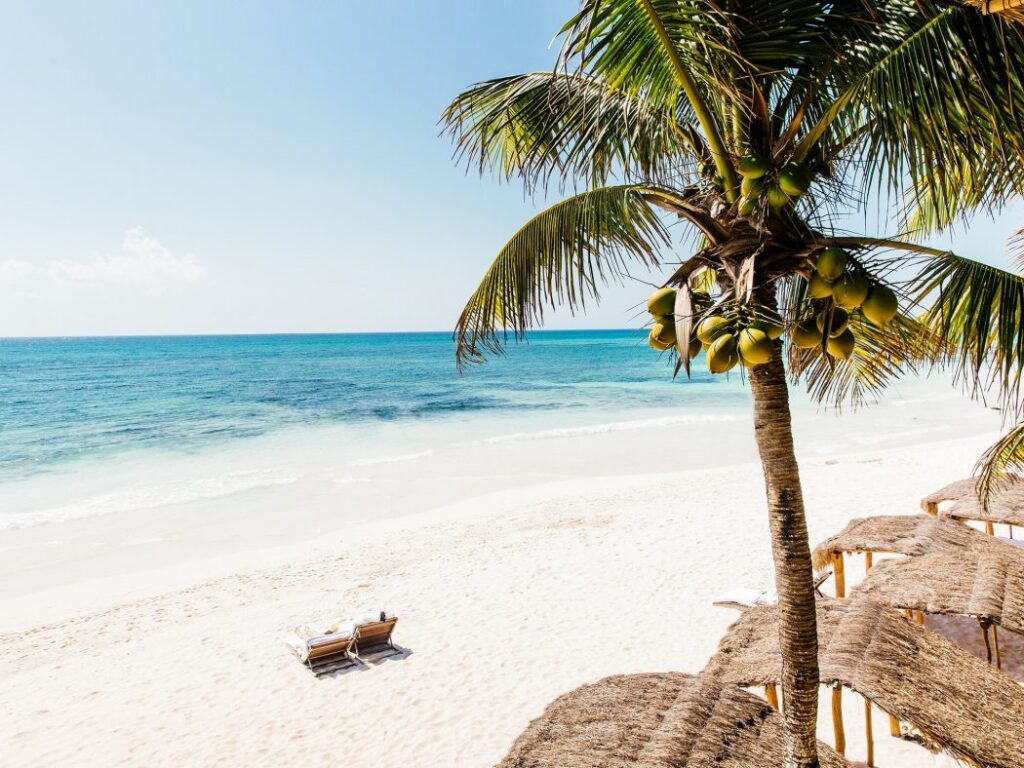 Puerto Peñasco has a great variety of beaches occupying the shoreline of the Sea of Cortez.
One of the most popular is Playa Arenosa (admission is free).
Playa Arenosa beach is equipped with everything you need (sun loungers, sun umbrellas), there is a place to play beach volleyball, a place for children to play with sand, there are bars and cafes on the coast, so you should not worry about going hungry. For those wishing to snorkel and explore the marine life of the Sea of Cortez, Playa Arenosa has a point where you can rent the necessary equipment. This beach is suitable both for families and for a holiday in a noisy company.
Interesting fact: The beach is adjacent to many of Rocky Point's all-inclusive hotels: Esmeralda Beach Resort, Sonoran Sky Resort Oceanview Condo, Playas Hotel Suites and others.
8.Play world-class golf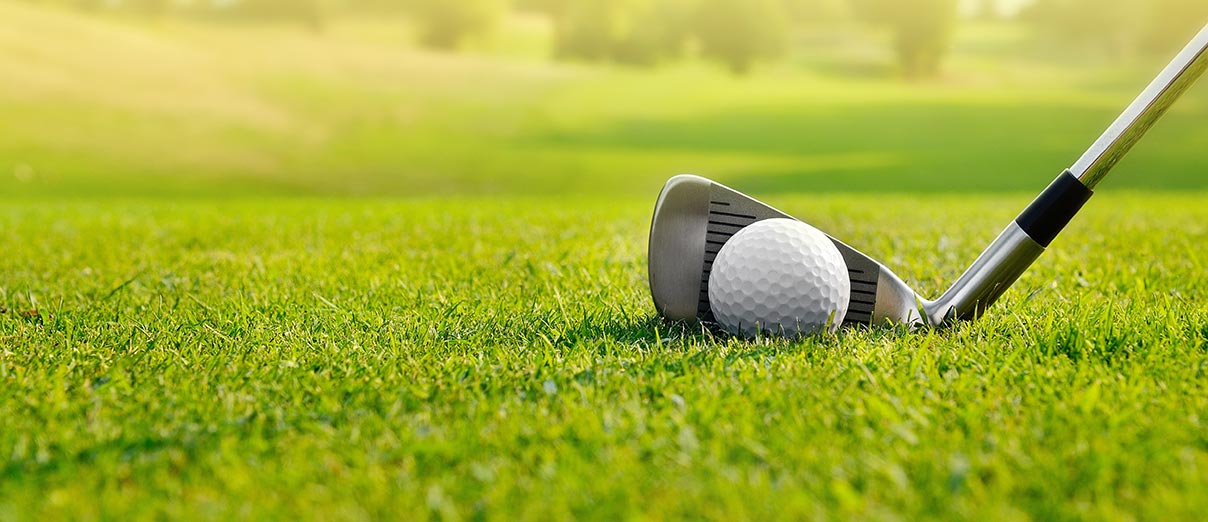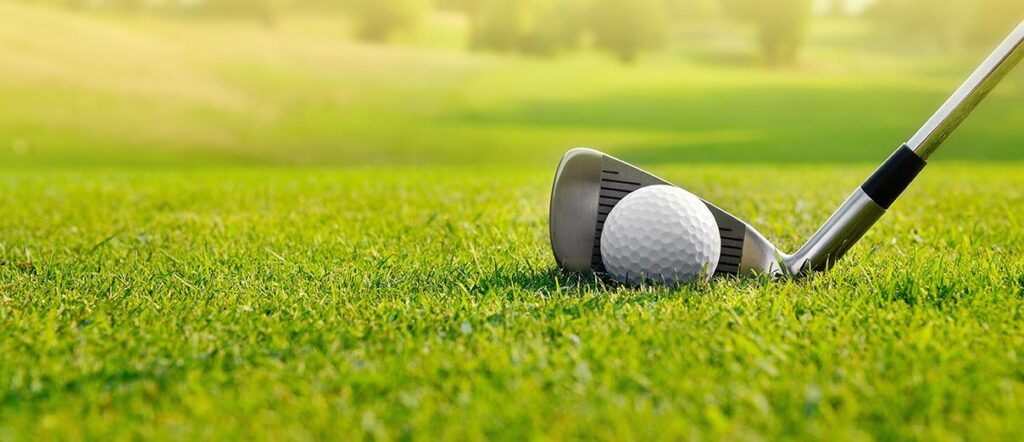 The resort town of Rocky Point is famous for the best golf courses. Here you have the opportunity to improve your golf skills. To play golf on the famous championship course designed by Arthur Jack Snyder and Forrest Richards, head to Las Palomas Beach & Golf and purchase a membership.
If you are a «beginner» but dream to play golf professionally, the Mayan Palace Puerto Penasco offers courses by Jack Nicklaus himself. The practice will take place on an 18-hole course of 4,09 mi (the largest course in Mexico).
Interesting fact: In order to get into the Jack Nicklaus Golf Club, you need to make a reservation in advance (it is recommended to do this 3-4 weeks before your stay in Puerto Peñasco).
9.Take part in the annual Oktoberfest golf tournament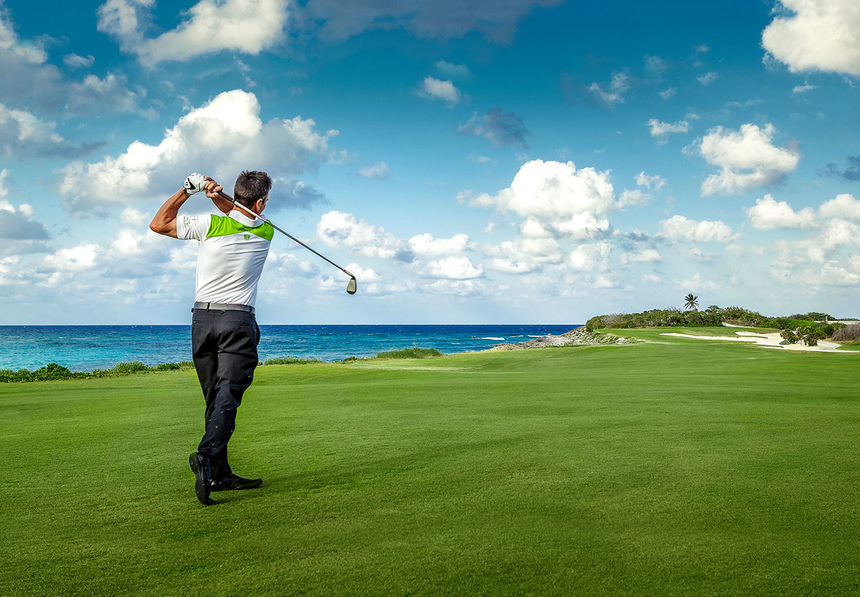 «Oktoberfest» is a three-day golf tournament held yearly in Puerto Peñasco on the third weekend in October. Participation costs $189.
Once you pay, you get access to literally all of the activities taking place during the tournament. There are 2 rounds of golf on Saturday and Sunday on a 36-hole course with four competitors. At the conclusion of the tournament there is an awards ceremony. Valuable prizes usually include: unlimited Puerto Peñasco golf passes, spa treatments, golf bags, clubs and more.
Interesting fact: during the Oktoberfest there is free beer (on Saturday) and two completely free lunches for the participants.
10.Dine at one of Puerto Peñasco's best restaurants, Mare Blu
Mare Blu restaurant is a favorite for lovers of Italian cuisine as well as seafood. More than 1000 tourists visited this place and noted the best dishes. For example, Octopus Alla Mare Blue (tender octopus in marinade by the chef), Ravioli (with various fillings), Lubina ala pescatoro (seabass with seafood sauce) and others.
Mare Blu is also known for its unique ocean views that can be enjoyed during lunch or dinner at the restaurant.
Interesting fact: Mare Blu is so beautiful, atmospheric and comfortable that hundreds of weddings are held every year at the restaurant, and photo shoots take place right in front of the ocean.
11.Feel the pleasure of riding your ATV around Puerto Peñasco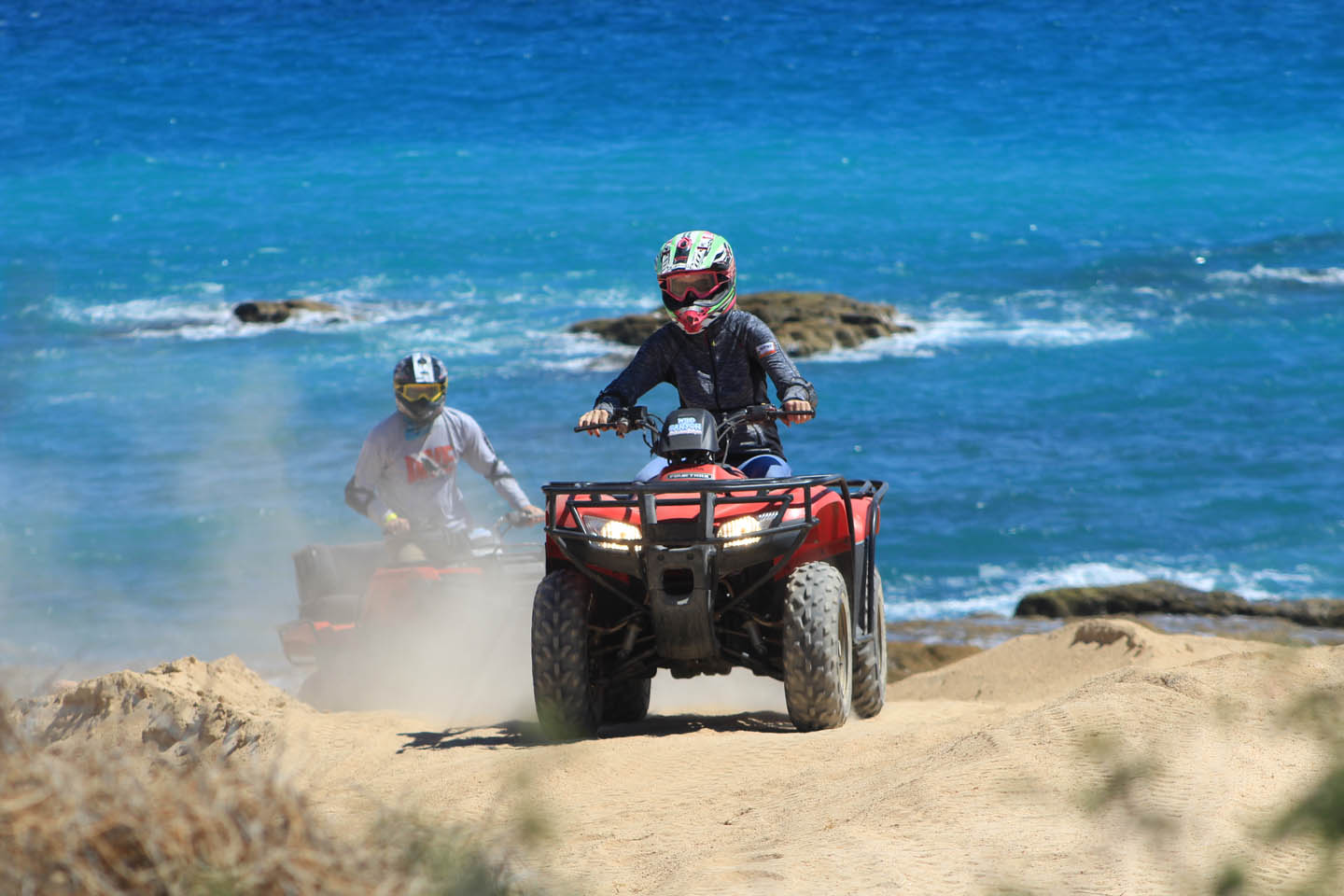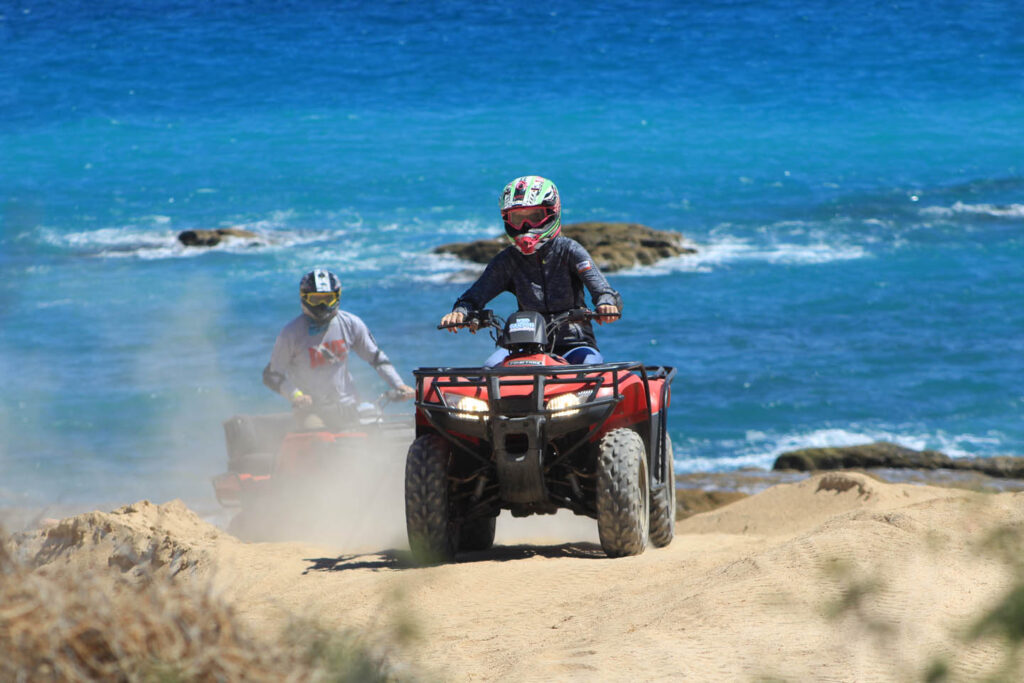 In Puerto Peñasco you will find many places that are ideal for quad biking. For example, the beaches of Playa Arenosa, Las Conchas, Playa Encanto. If you do not have your own ATV, it is not very difficult to rent it, it will be enough to show a driver's license, as well as to sign a contract.
Rentals in Puerto Peñasco are located literally all over the city. The cost of renting a vehicle per hour varies from $10 to $15.
Interesting fact: the most powerful ATV (about 250 hp) is the best to ride in the deserts and sand dunes of Mexico.
12.Visit an unusual place in Puerto Peñasco – SeaShell Museum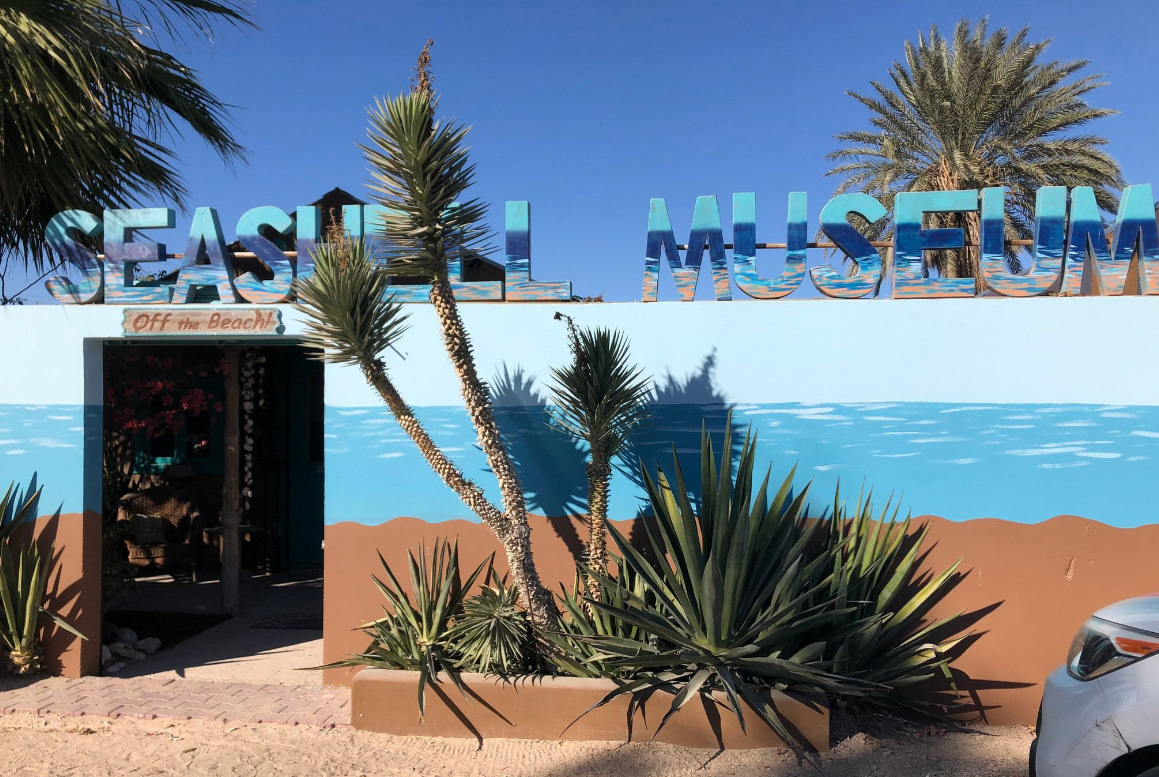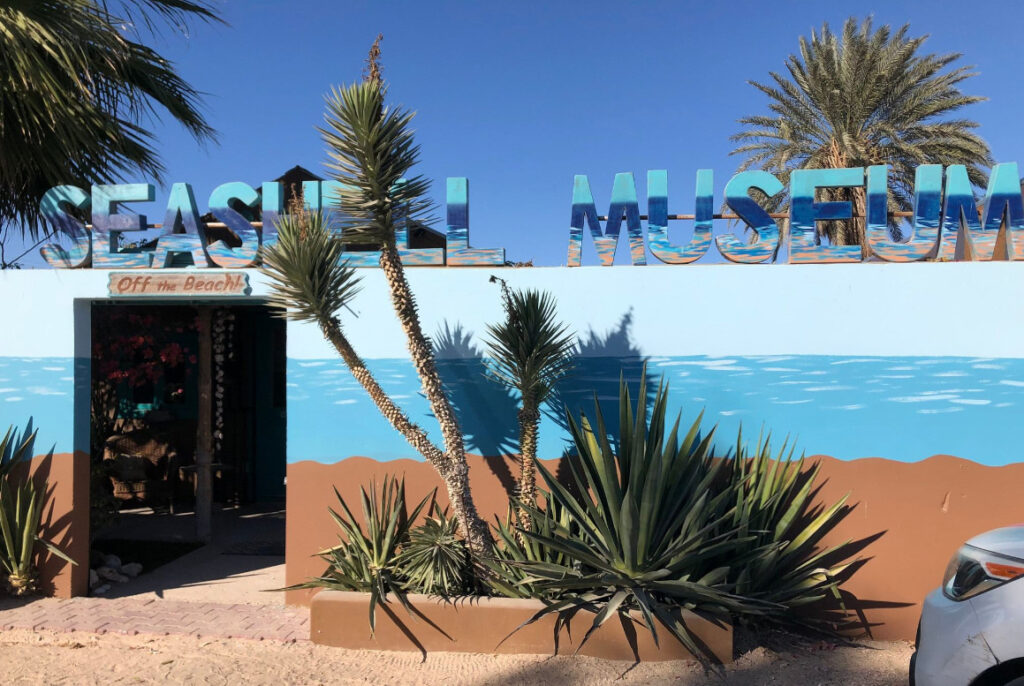 In order to enjoy the authentic Mexican culture, learn the history of Puerto Peñasco and all about the Sea of Cortez shells, you must visit the Sea Shells Museum. It works mostly on Fridays from 10 to 17 hours (you can check all the information you need on the official website of the museum, there is even a pre-registration).
SeaShell Museum is an unusual place with a large private collection of seashells, marine artifacts, and hand-crafted exhibits. On the same territory as the museum there is a workshop, a souvenir store. Do not miss the opportunity to look into it and buy memorable gifts for family and friends (items for decoration, jewelry, etc.). Each souvenir is unique, unusual in its own way thanks to SeaDebris Designs.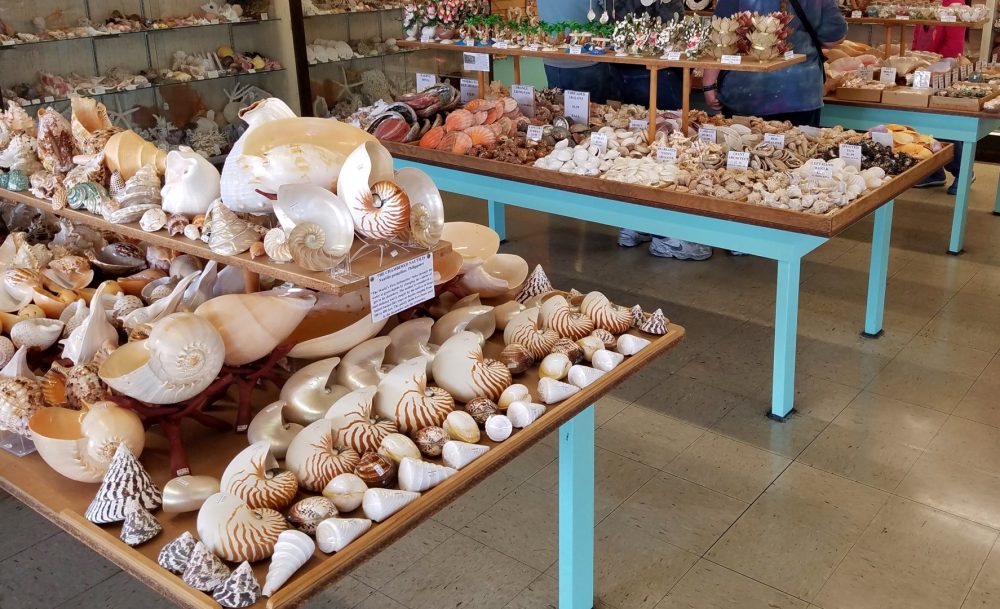 Interesting fact: admission to the SeaShell Museum is free, so everyone can visit this amazing place.
13.Go fishing in the Gulf of California
Rocky Point has plenty of places to fish: the pier at Playa Arenas Beach, Old Port, Cholla Bay, the Las Conchas section of the beach, the open sea, etc.


If you want to enjoy fishing, take on no responsibility for preparation, and have no need for search all over the resort town for fishing gear, then Sea Best's charter is the best solution.
You'll go fishing on a Legacy boat that seats up to four passengers. You'll get everything you need: rods, tackle, bait, and an ice box to store your catch.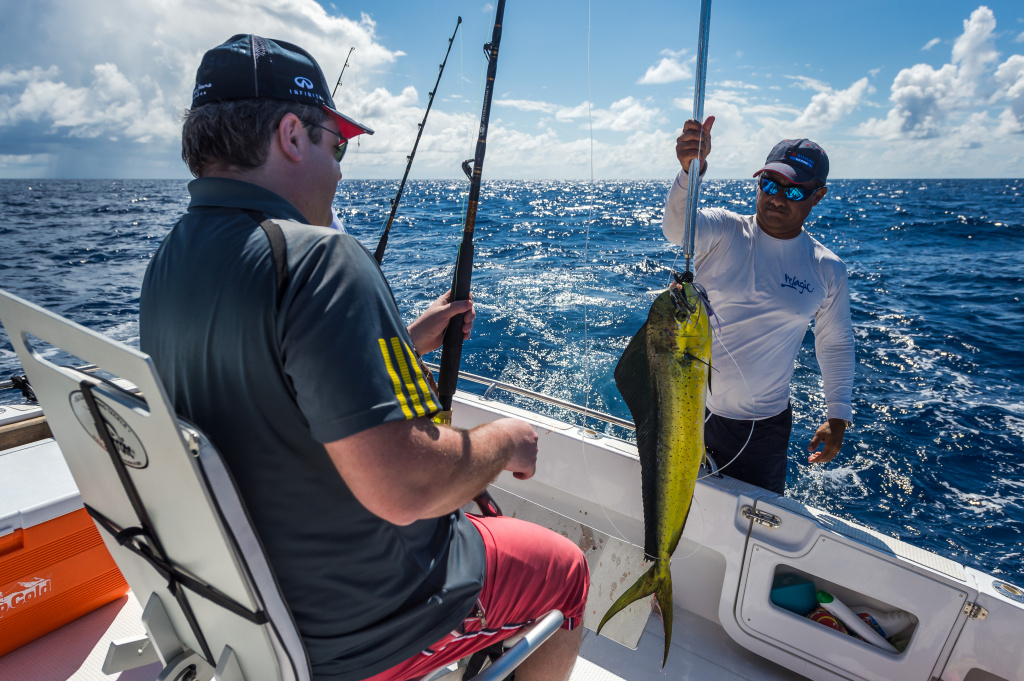 All you need to take with you when you go fishing is a hat, sunscreen, drinking water and something to eat. About 12 to 15 miles of shoreline you have the opportunity to catch: flounder, king mackerel, black sea bass, sea bass, California corbina and other fish. At the end of your fishing trip, the captain will clean the fish you have caught and fillet them for convenience.
Upon arrival on shore, you can easily prepare and enjoy your catch. A 4-hour fishing trip costs $284,50 and a 6-hour trip costs $305,19.
Interesting fact: for an additional fee ($) while fishing you can take time to explore the reefs.
14.Take part in a fishing tournament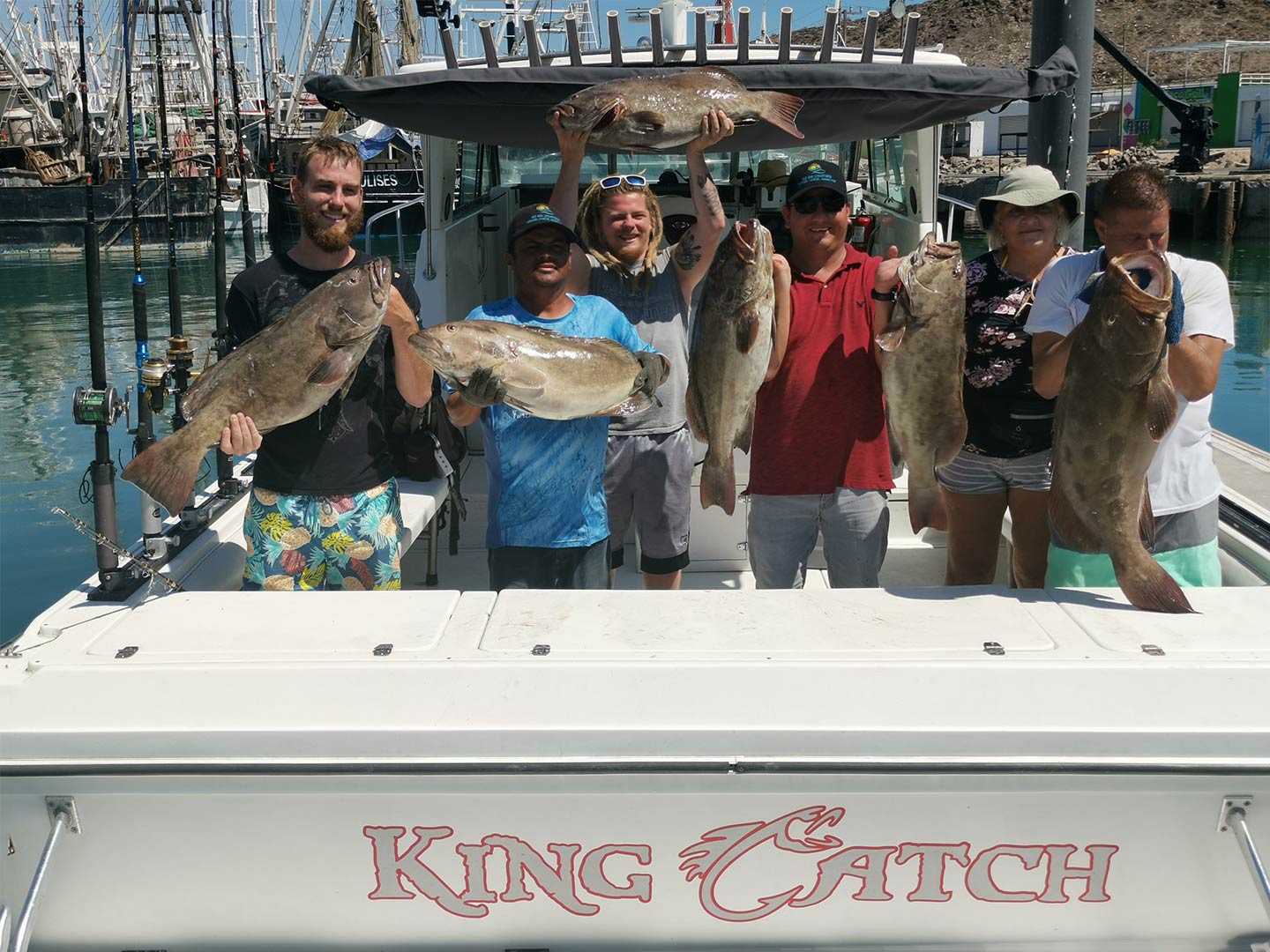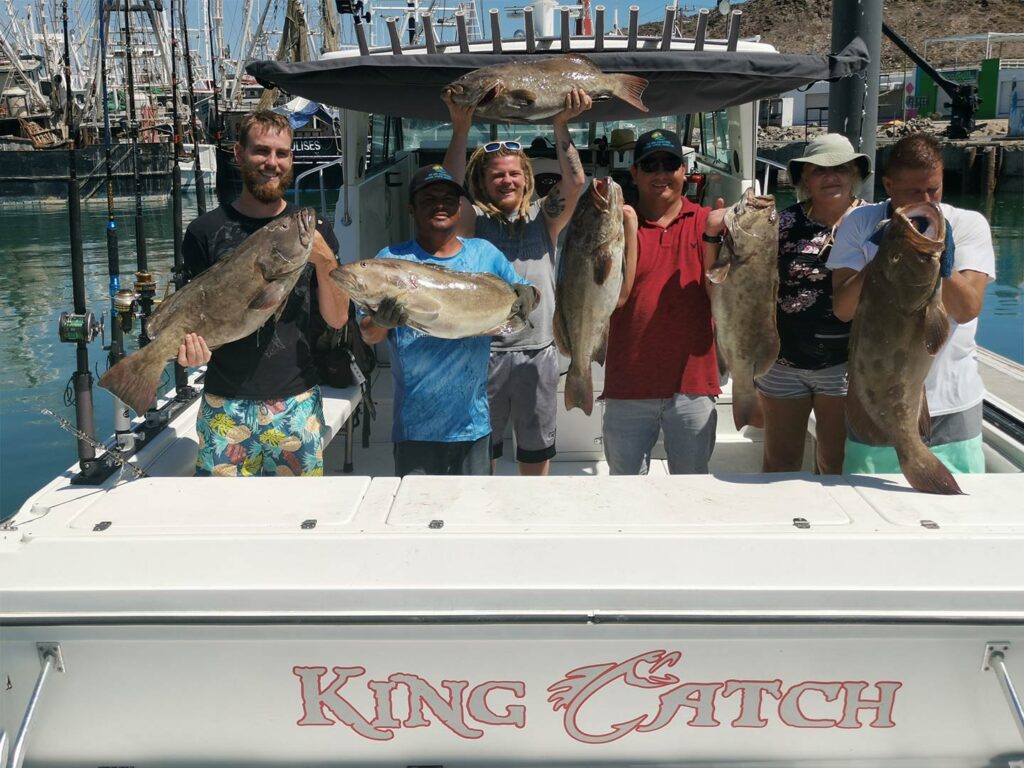 During the summer months (July through June), Puerto Peñasco hosts fishing tournaments. The most famous are the bass fishing tournament and the Gulf of California deep-sea fishing tournament. Competitors can be locals as well as tourists (if you want to participate on your own boat, be prepared to provide a Mexican fishing license). The winner will be the fisherman with the largest catch (judged by weight).
The prizes for the tournament are symbolic: fishing tackle, artificial fish bait, bags of bait, etc.
Interesting fact: you can take part in the tournament by boat (there are restrictions on their length). In this way they try to level the playing field.
15.Visit the Punta Roja Oyster Farm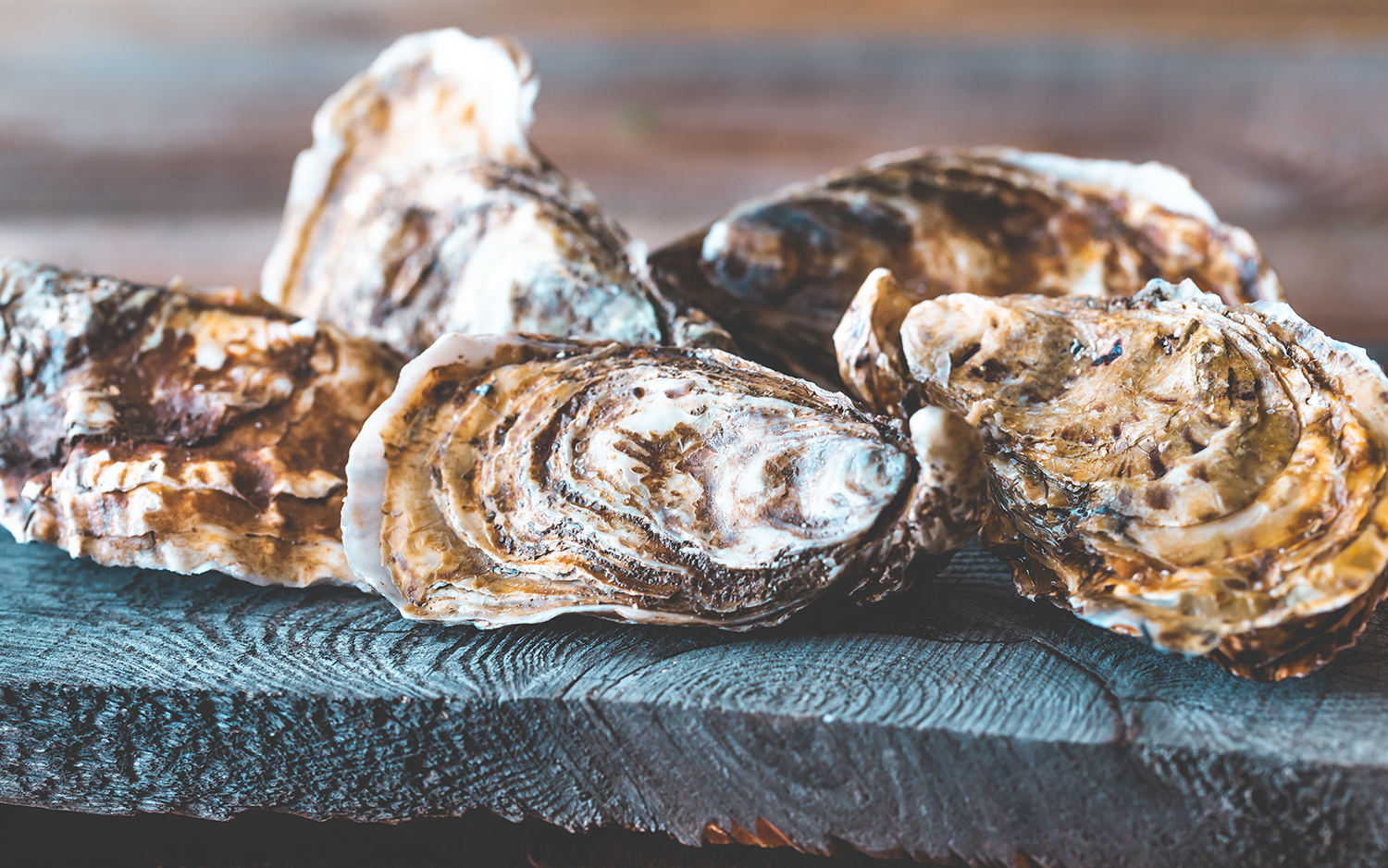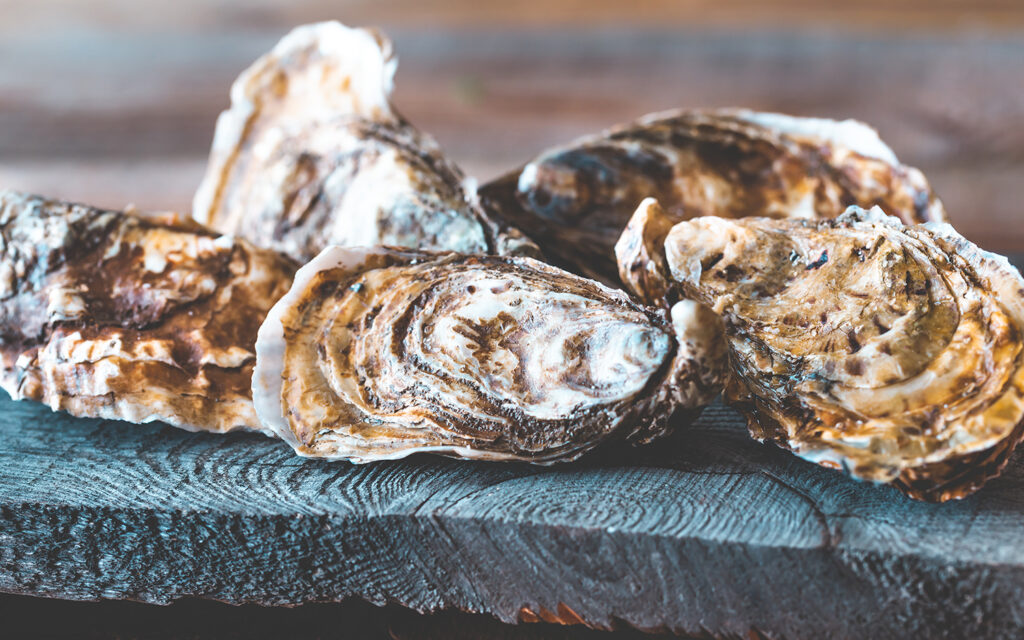 CEDO, the Intercultural Center for the Study of Deserts and Oceans, offers tours of various places in Sonora. For seafood lovers and people eager to learn more, a tour of an oyster farm is recommended. The tour is suitable for adults and children. It lasts about 5 hours. The price of $50 (per person) includes: transportation, lunch (seafood, international cuisine), drinks, insurance, provision of binoculars, and guide services.
At the tour you will learn literally everything about oysters: ontogeny of clams, growing, their natural habitat, collecting and sorting by size. You can also practice cooking oysters during the tour.
Interesting fact: there are brochures with the best oyster recipes for the participants of the Punta Roja tour.
16.Go snorkeling in the waters of Cholla Bay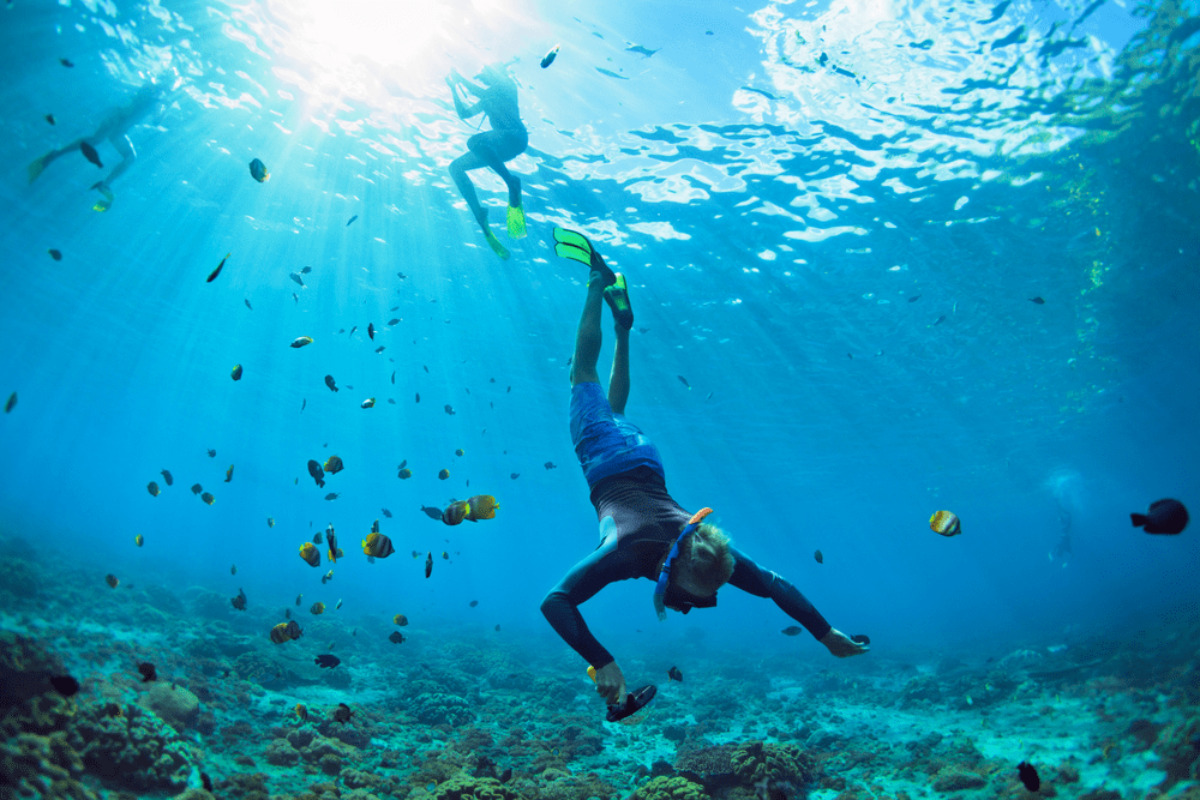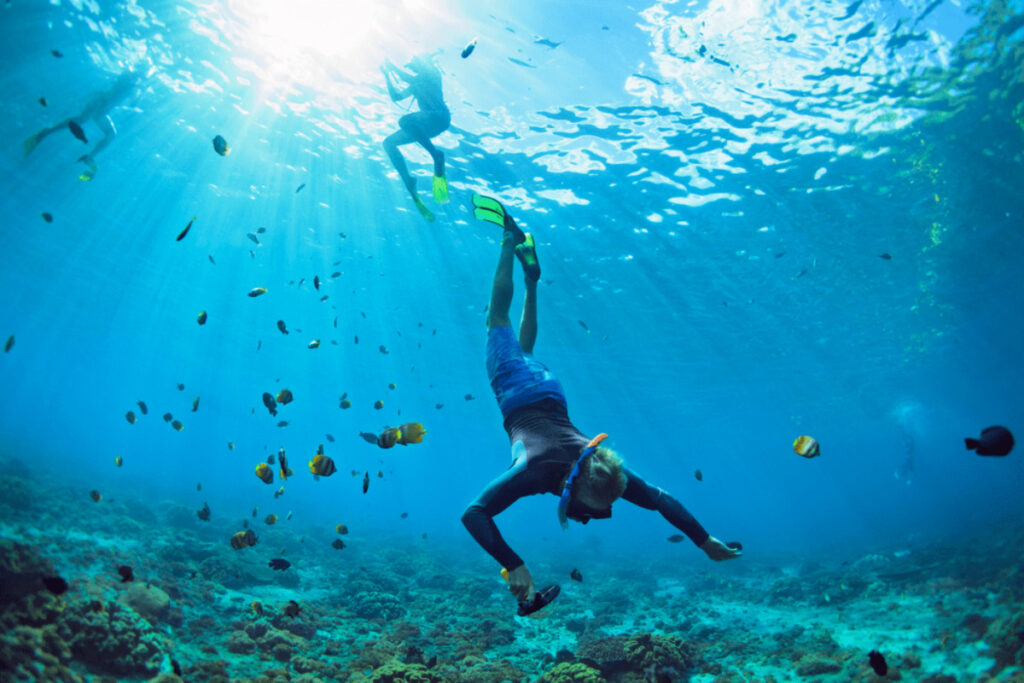 The advantages of Cholla Bay are the depth, which is great for snorkeling from a boat and allows you to see more sea creatures (e.g., shovelnose guitarfish, stingray with shark features, etc.), the lack of dangerous currents, sheltered from the wind.
Snorkeling and scuba diving in Cholla Bay can be enjoyed on excursions organized by Rocky Point Boat Charters (averaging $60 per adult for 3 hours), or you can rent a boat yourself ($12 per hour).
An interesting fact: for safety reasons, the boat from which you will dive must be equipped with a flag, for example, a diver's flag.
17.Visit Galeria Del Mar Bermejo, an open-air gallery of street paintings
The landscape on the southwest side of Rocky Point has always attracted and inspired local and foreign artists: the azure sea, the majesty of the desert, the hilly mountains. Over time, the city has developed an entire artistic community of street artists.
If you are interested in street art, you can admire the works of talented artists when you visit Galeria Del Mar Bermejo. It is located near Malecon, literally in the open air. You will be delighted by the works that decorate the network of central streets. Every year their number increases.
Interesting fact: In Puerto Peñasco you can admire international art: jewelry from all over the world, as well as pottery.
18.Listen to the music of the band Agua de Coco right on the streets of the city
Agua de Coco is a popular salsa band in Puerto Peñasco that has been around since 2011. The members are natives of the state of Sonora. They are the pride of the resort city. They perform in the streets and always draw big crowds.
If you manage to get to their performance, you can be sure that you will definitely start dancing, because the jazz performed by these musicians is just beautiful.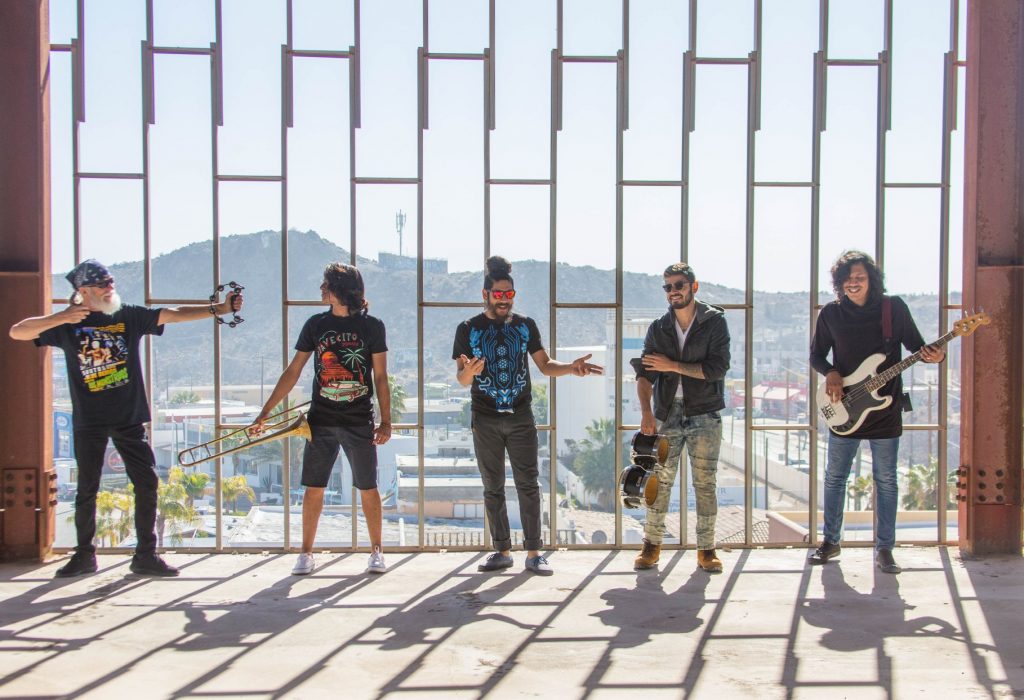 Interesting fact: The band Agua de Coco became famous because of the International Festival held in Mexico.
19.Try to pass the fascinating quest together with your family or friends
If you like adventures, are not bad at logic tasks, can solve puzzles, then be sure to visit one of the rooms in the quest «Escape Room Rocky Point». It is located near the Old Port (0,2 mi).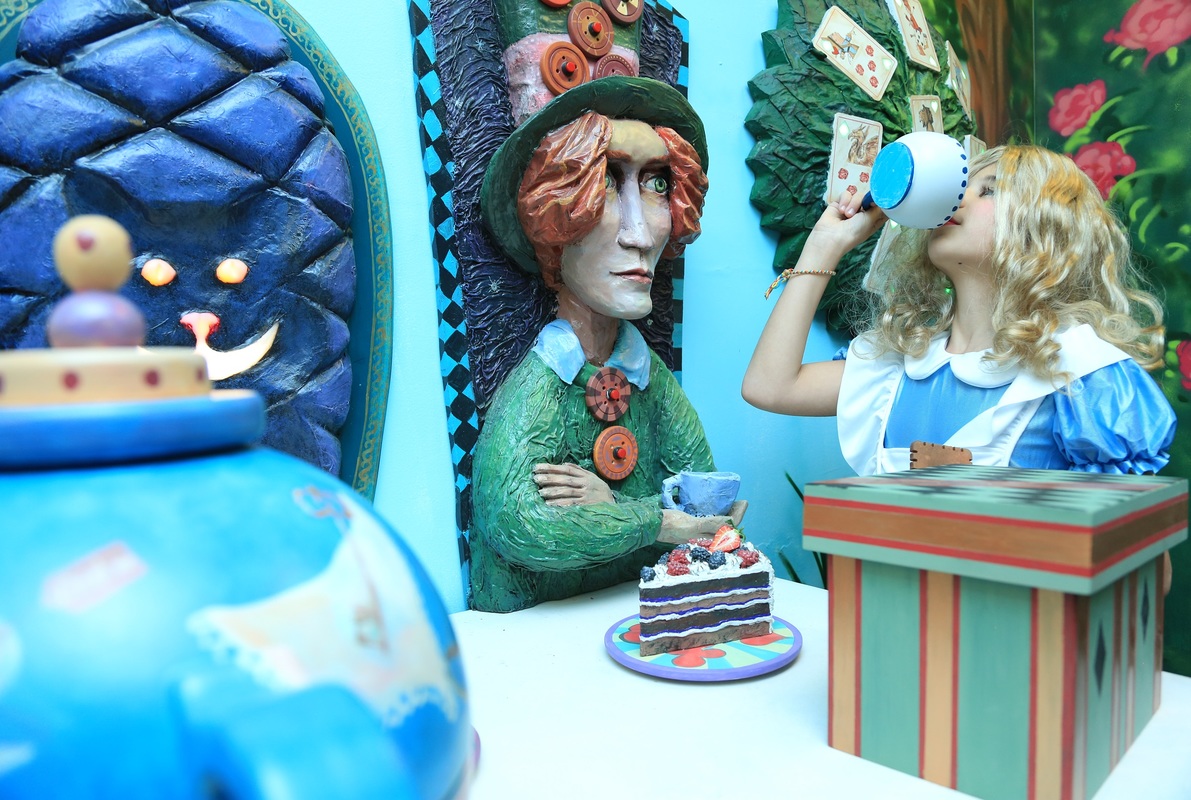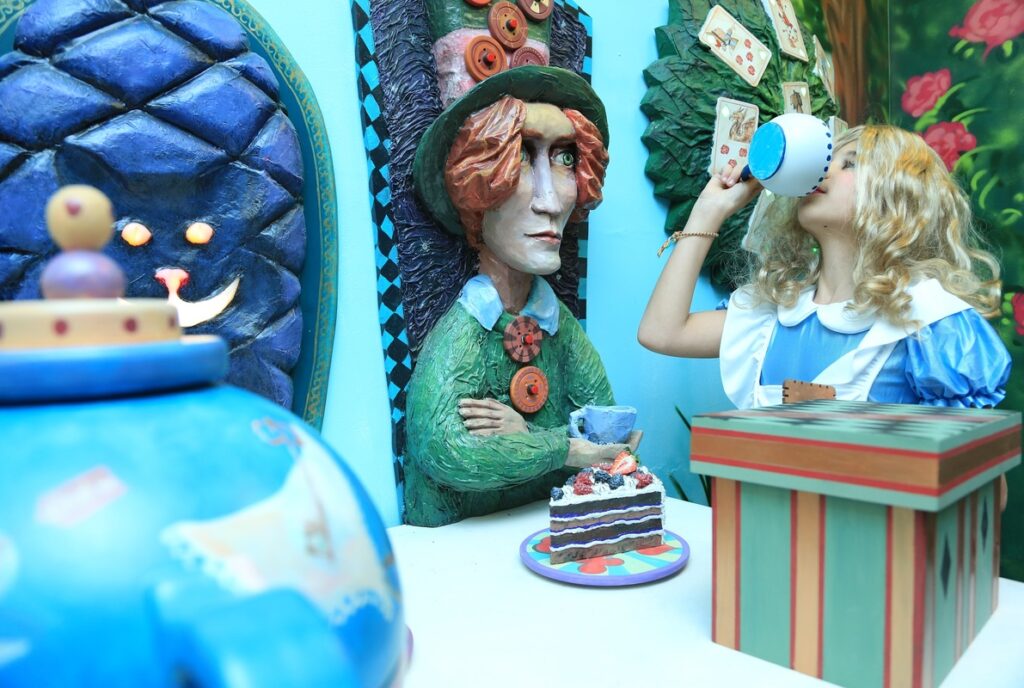 There you will be able to take part in an exciting quest, the goal of which is to cope with various tasks in a closed room in sixty minutes. The theme you choose when booking. The team takes from 2 to 8 participants. Throughout the game, difficulties may arise, but there is always the opportunity to ask for a hint. The best teams are noted on the championship table. The cost of a private reservation is $85.
Interesting fact: the interest lies in the fact that all the quest rooms with tasks are as close to reality as possible. For example, participants are offered to: rob a bank, solve a case, save the world, etc.
20.Explore the sea creatures on the tour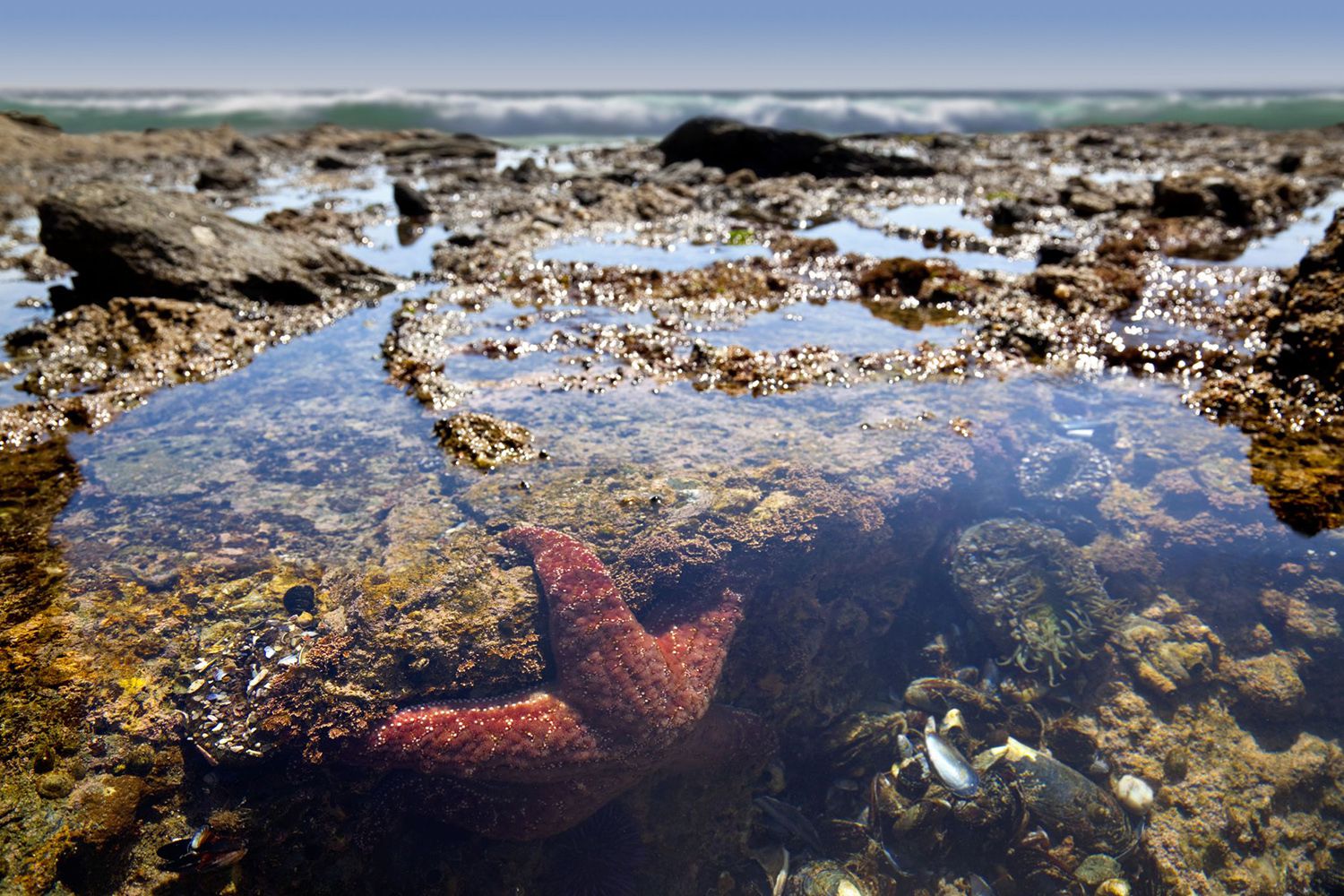 You can study sea creatures, examine them in detail and take pictures of them on a tour of the tide pools in Puerto Peñasco. This eco-tour will appeal not only to you, but also to children. Tide pools are called places filled with water, on rocks near the ocean. It's full of inhabitants: sea hares, anemones, hermit crabs and others. Thanks to experienced naturalists, you'll learn a lot.
Interesting fact: eco-tours are held only at low tide.
21.Try tequila at Rocky Point's best bar, Tekila Bar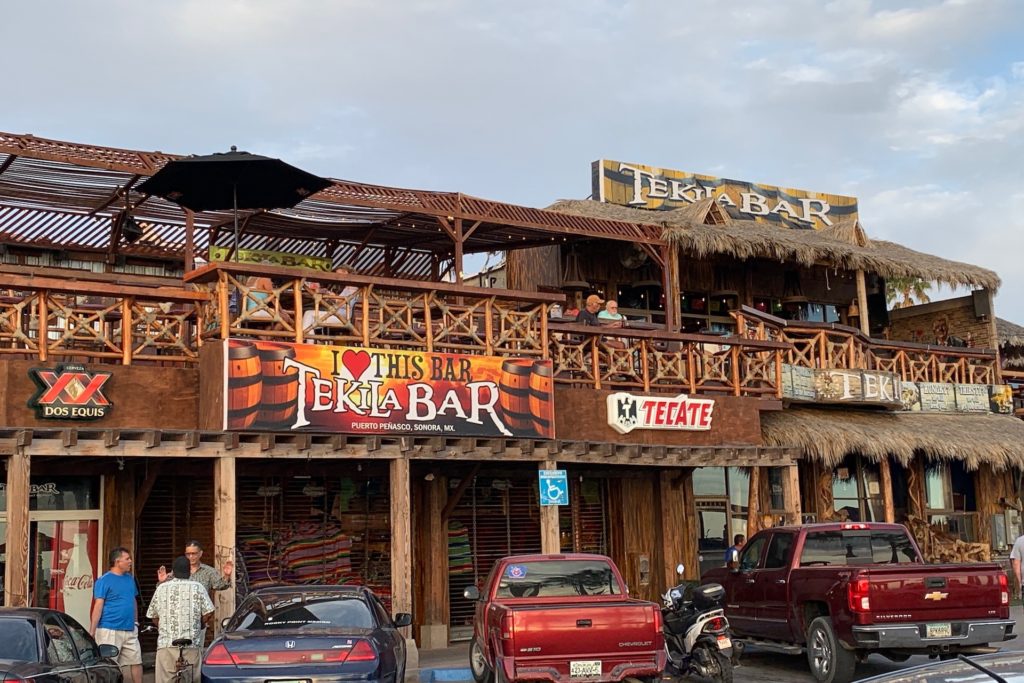 Interesting fact: Tekila Bar is open until 3 a.m. almost every day, with the exception of Sunday (closing at midnight). Wednesday is the day off.
22.Enjoy Mexican cuisine at Xochitl's Café
You can't go on vacation to Mexico without trying the country's national dishes. Xochitl's Café is a small place with a beautiful view of the bay and the best Mexican food. It is located far from the road in Cholla Bay (20-30 minutes by car if coming from downtown Puerto Peñasco). The cafe has tables inside the building as well as on the roof. When ordering food, we recommend giving preference to: chilaquiles, tortilla soup, and potato tacos. When planning your itinerary, keep in mind that Xochitl's is only open until three o'clock in the afternoon.
Interesting fact: nearby Xochitl's is Tucson Beach. Don't miss the opportunity to visit it in the afternoon.
23.Shopping at Cholla Mall
While strolling around the Old Port in Puerto Peñasco, don't forget to check out the Cholla Mall.
This is probably one of the best places for shopping in the resort town, where you can buy exclusive items for yourself, as well as gifts for family, friends and relatives: furniture, decor, pottery, jewelry, handmade costume jewelry.
Interesting fact: Many tourists do not know about the existence of Cholla Mall, so the mall is not very crowded.
24.Visit baseball games in Puerto Peñasco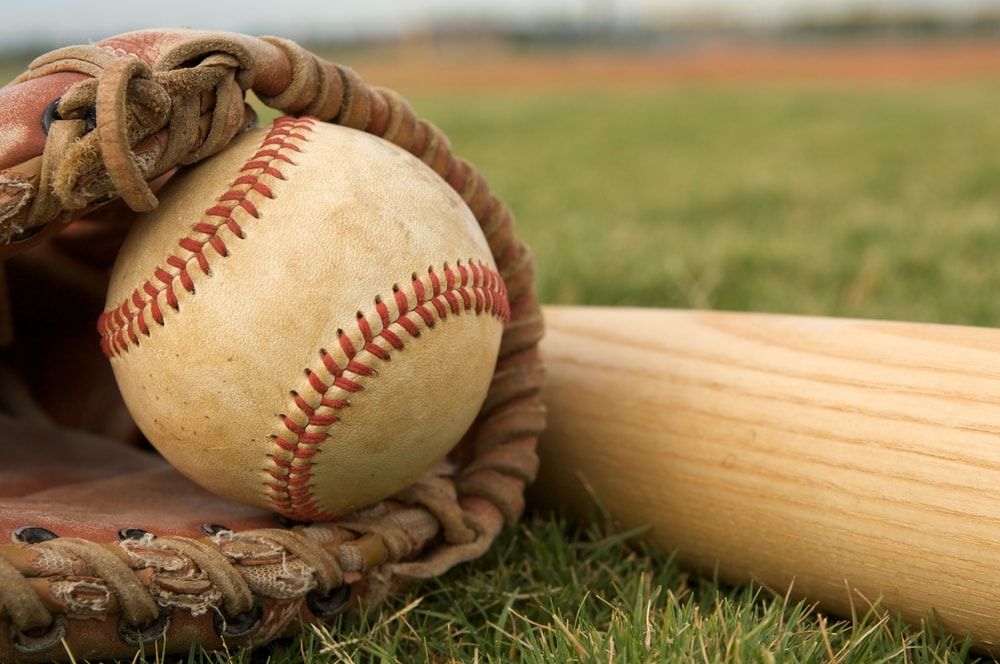 While on vacation, you can enjoy the sports play of local teams. The favorites in Puerto Peñasco are the Tiburones, the best players in the state with a lot of experience. Their baseball games are seasonal, taking place from April through July (on weekends) at the Francisco Leon Garia Stadium (near Plaza La Madre). Cost to attend is no more than $5 (for 1 person). The area sells hot dogs, tacos, Teacate beer, and fan paraphernalia.
It has already been said that Tiburones baseball games are seasonal. Don't feel bad if you're on vacation at a different time, because the municipal ballpark (right behind the stadium) hosts off-season baseball games with local teams. Attend the games, support the players, and meet the other fans.
Interesting fact: The name of Sonora's best baseball team translates as «sharks».
25.Take selfies in front of balloons at the Festival de globos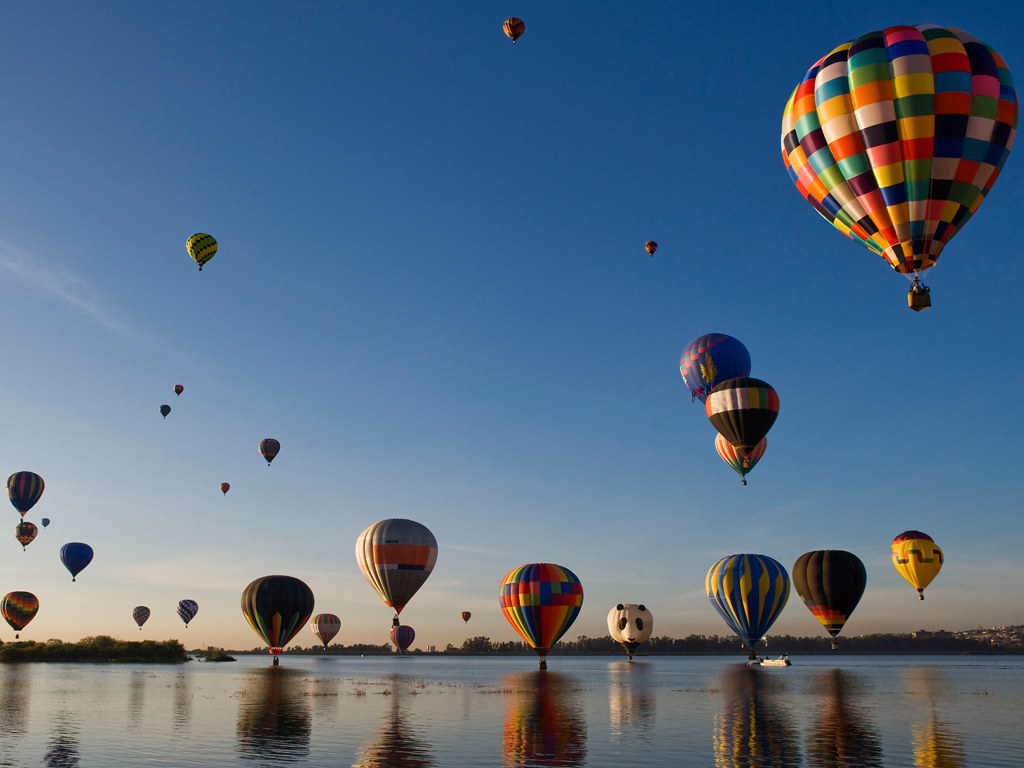 Every summer, Puerto Peñasco hosts a Balloon Festival.
Balloons of different colors and sizes are launched into the sky over the Sea of Cortez. It is breathtaking not only for children, but also for adults. Do not miss the opportunity to take part in the Festival de globos and take beautiful pictures to remember. The event is always fun: large crowds gather, locals sell food and drinks, live music plays, people arrange dance battles right in the street, many organize picnics. There is a fee to participate in the Balloon Festival.
Interesting fact: not only classic balloons can be launched at the festival, but also creative ones. In 2019, a balloon in the shape of Darth Vader was released into the sky.
26.Purchase unique handmade items at Su Casa
Su Casa is a small store of exclusive handmade goods on Radeo Drive. Here you'll find quality work by talented local artisans: unbeatable glass, porcelain, metal pieces, various paintings, jewelry, wicker baskets, linens and much more. Su Casa is open daily from 10 a.m. to 5 p.m.
Interesting fact: Su Casa also makes custom-made items.
27.Go sandboarding in Puerto Peñasco and get a dose of adrenaline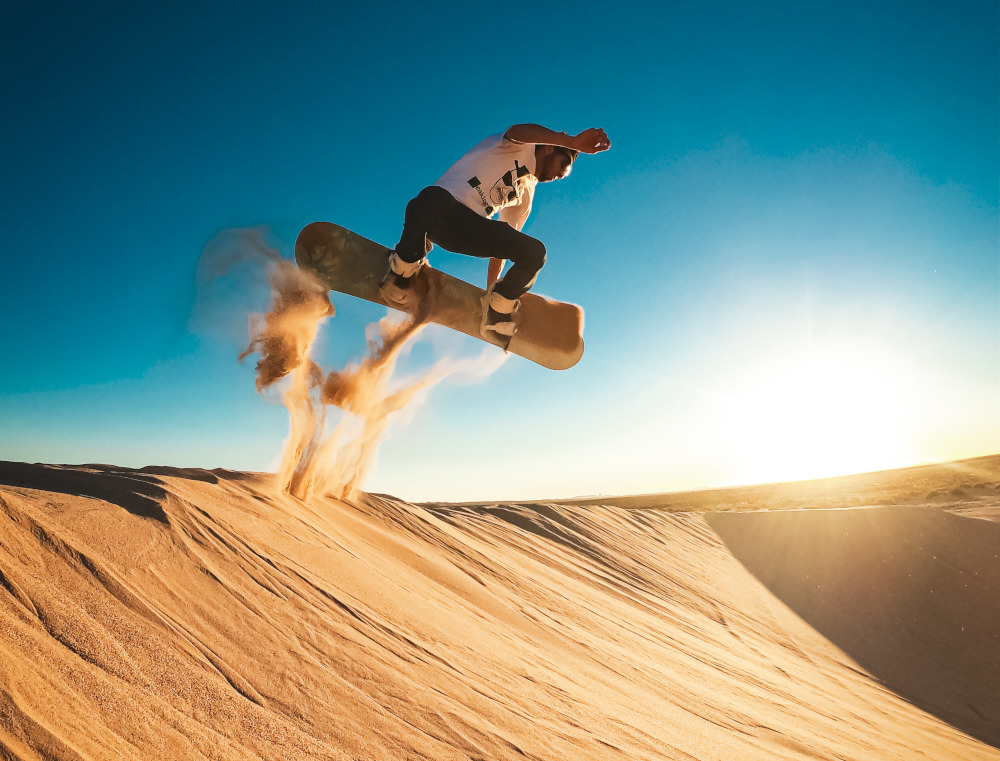 Extreme sports like sandboarding have been available in Puerto Peñasco for a long time. In the areas of the Morua estuary, as well as in the Playa Arenas beach area, it is possible to snowboard on the dunes. Contact the professionals who can escort you to safe places to ride.
Trips are usually organized in groups (of no more than 10 people). Departure from Estero Morua. Cost from $25 (per person for 3 hours), it includes: rent a snowboard and protective helmet. You pay separately for travel, goggle rental, and transportation. It is best to wear a long sleeve sweatshirt, pants, and comfortable shoes for sandboarding. Take water and sunscreen on the trip.
Interesting fact: you can do sandboarding from the age of 4 to 99.
28.Admire the sunset from aboard the ship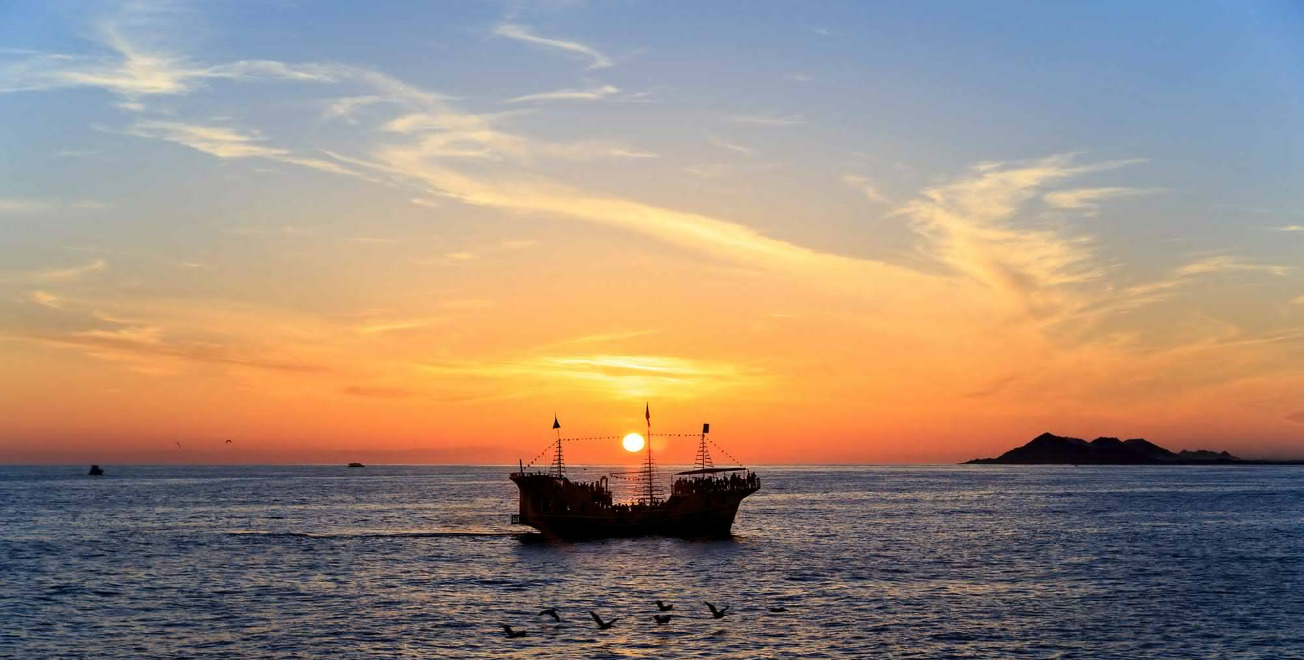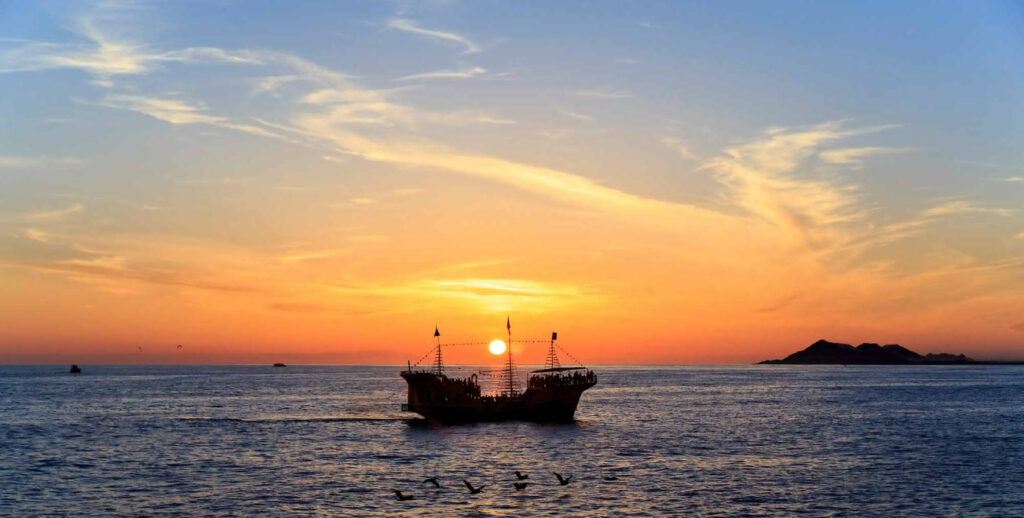 In addition to nature reserves, magnificent beaches and bays, Puerto Peñasco is famous for its sunsets. There's nothing better than admiring them on the water. Various charters in Rocky Point are happy to offer you a wide variety of sunset cruises.
Rocky Point Boat Charters organizes cruises on the pirate ship Rey Del Mar. The stay on the ship will be unforgettable, because in addition to food and drinks you can enjoy games on deck with the captain and his crew, a mini photo shoot, fireworks.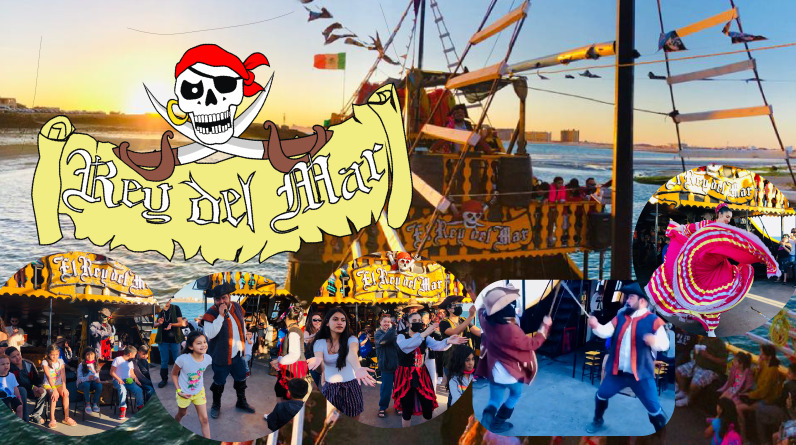 Eco Fun Rentals offers a sunset cruise on a large double-decker boat. The trip is for adults and children (ages 12 +). Food, drinks (soda, water, margaritas, beer, etc.) will be available.
Interesting fact: If you want to watch the sunset in a romantic setting with the person you love, then contact Del Mar Charters. They will organize such a cruise for you.
29.Go to JJ's Cantina bar and have a good time
It must be said that nightlife in Puerto Peñasco is boiling! The resort town is full of bars and clubs working until dawn. If you prefer noisy parties, loud music, dancing, plenty of drinks, then go to JJ's Cantina. This bar is located right on the beach in the Cholla Bay area. The staff regularly organizes fun events (volleyball tournaments, fishing competitions and others).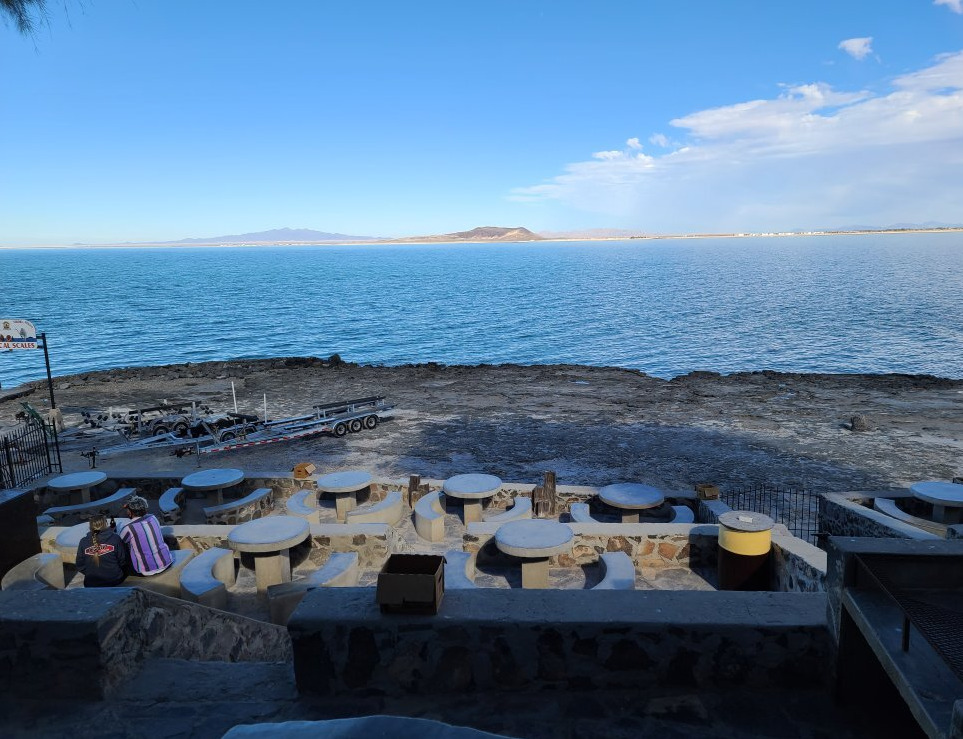 Interesting fact: Roger Kline as well as the Peacemakers give concerts at JJ's Cantina in high season.
30.Travel around the city by bicycle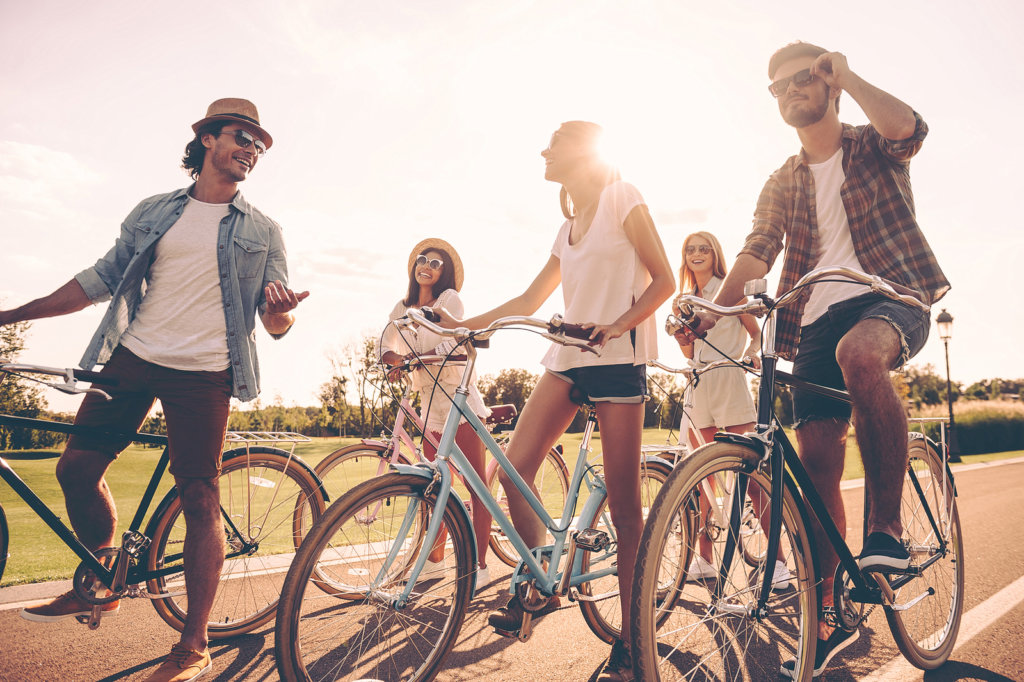 Just imagine how wonderful it is to ride a bike through the streets of Puerto Peñasco and how many sights you can visit in one day: the Malecón, El Lapiz City Park, museums and others. The rental of classic and electric bicycles is located in the center of the city, in the area of the Old Port. Along with the transport you are given a special bike lock. For such trips you must have your documents, headgear, as comfortable clothes and shoes as possible. Bicycles are not available for rent to people who are intoxicated.
Interesting fact: in the El Picante Nature Reserve there is a bicycle route through the hills and valleys. For this purpose, mountain bikes are excellent.