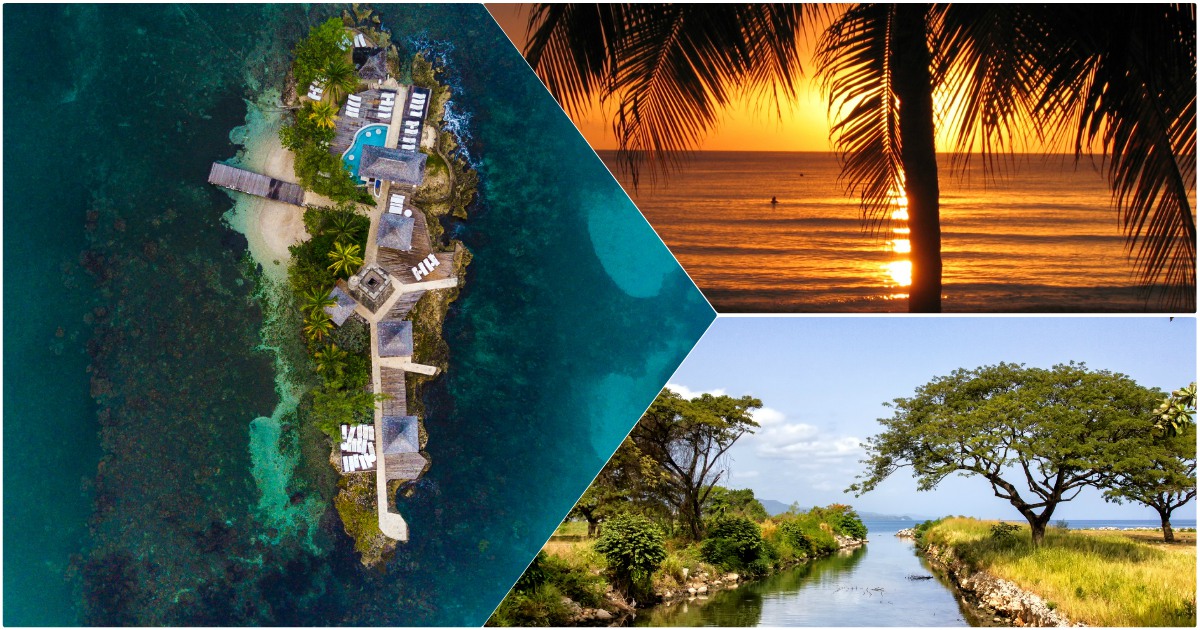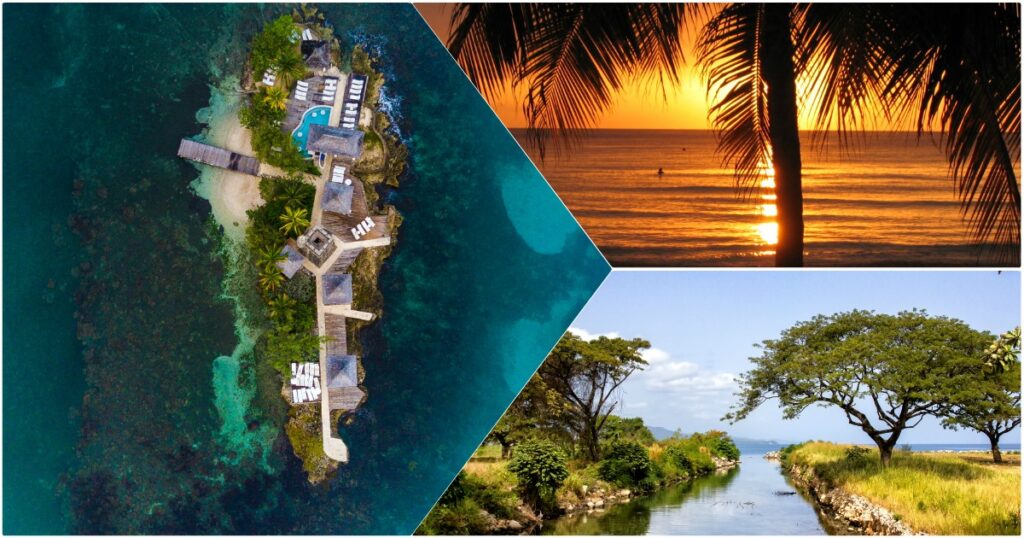 Jamaica is the third largest island in the Caribbean Sea (after Cuba and Espanola) with a population of about 2.7 million. Along with Puerto Rico, Haiti and Cuba, Jamaica is among the Greater Antilles of India. The capital of the resort is the city of Kingston.
Although the history of this state has many terrible and violent pages, Jamaica today is a tourist paradise, combining the beauty of tropical forests, sandy beaches, picturesque mountains covered with lush vegetation, and delightful waterfalls. The atmosphere of this island, perhaps, cannot be fully described in words, it can only be felt with the soul.
Every year Jamaica opens its hospitable arms for tourists from all over the world. This island is a place where you can get away from the hustle and bustle of everyday life, relax and have fun.
Travelers planning their vacation in Jamaica always face a difficult choice: where to stay. The fact is that the island has several popular vacation resorts: Montego Bay, Ocho Rios, and Negril. In addition to these three towns, of course, there are others (lesser known) that have the potential to be a source of exciting adventures while vacationing on the island.
Brief information about the spa towns
Montego Bay (capital of St. James County on the north coast of the island).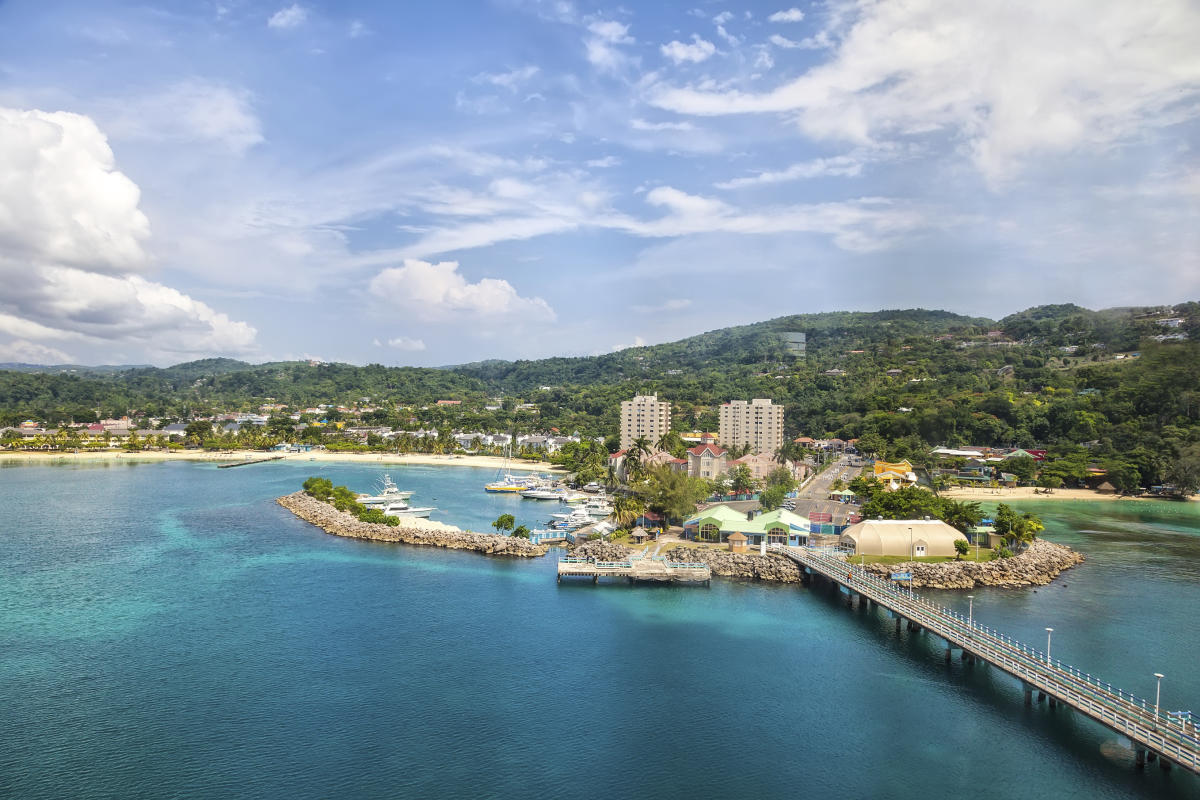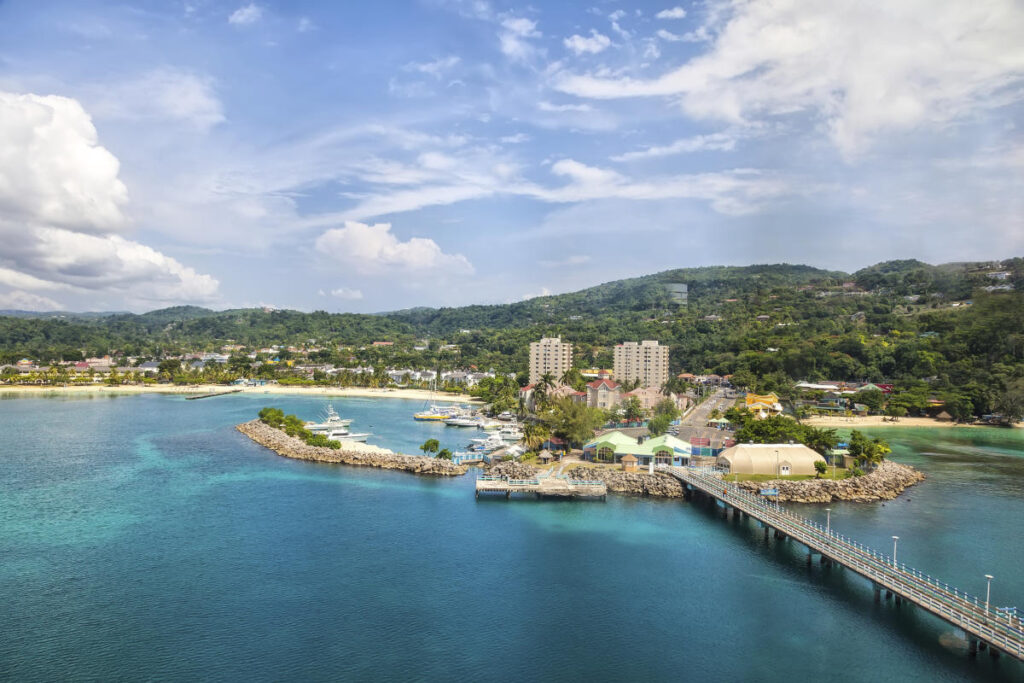 Montego Bay has long been considered the tourist center of Jamaica. It is famous for its picturesque nature, beautiful sandy beaches, year-round access to water sports (e.g. diving, snorkeling), first-class restaurants and bars, fine hotels (many all-inclusive), golf courses, numerous excursions and sightseeing tours, and the proximity of Donald Sangster International Airport and cruise ship port.
In short, in Montego Bay every tourist will find what he needs on vacation: accommodation, beaches and various activities, entertainment and excursions.
Ocho Rios (the city of Ocho Rios is located in northeastern Jamaica).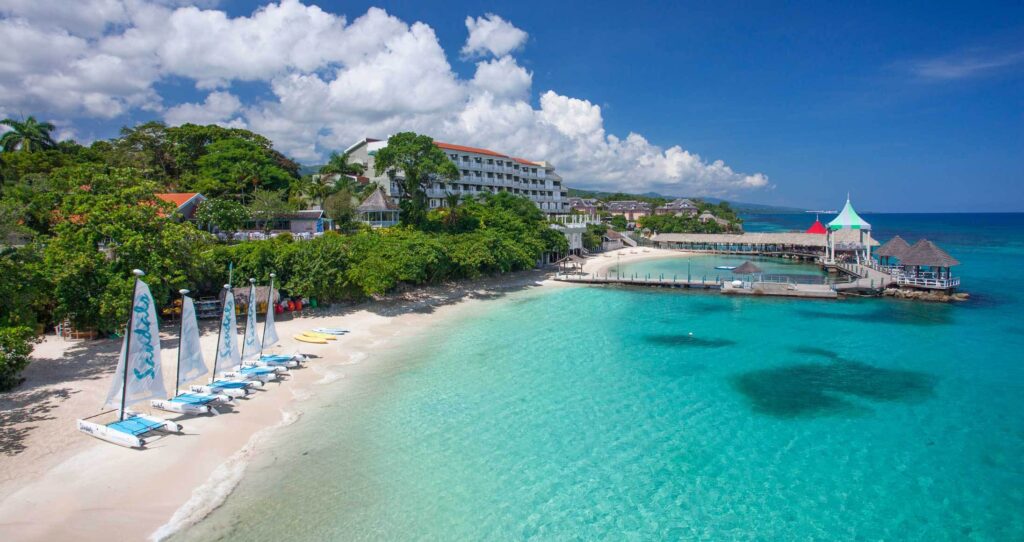 In the past it was a small fishing village that was built with tourism in mind. Today the resort town is a popular center for cruise ships.
It should be noted that Ocho Rios is a great place to stay. The resort has many luxury hotels, snow-white beaches, popular attractions (such as the Blue Hole, Dunns River Falls, etc.). Everyone can find something to do, whether they stay in their resort all the time and enjoy the spa, golf, water sports, or go outside in search of adventure.
Tourists looking for a thrill and a budget vacation are sure to appreciate the free-spirited atmosphere of Ocho Rios.
Climate

Montego Bay:
Montego Bay has a tropical climate, so it is warm all year round. Temperatures range from 82 ° to 89 ° Fahrenheit. It rains in different months, but sometimes there is a so-called «dry season» (quite short). The average annual rainfall is 1,530 mm.
The best months to visit the resort are November, December and January. During this time, the weather is warm, it rains little (no more than 6 days per month), the sea temperature reaches 83 °F.
Ocho Rios:
The resort town of Ocho Rios has a mild tropical climate. Summer temperatures reach 89 °F and winter temperatures dip to 84 °F. The average annual rainfall is 960 mm.
The best months to visit Ocho Rios are February, March, and December. During this time, the weather is good, there is little rain (no more than 4 days per month), and the sea temperature reaches 83 °F.
month

Montego Bay

Ocho Rios

Average air temperature (°F)

Average number of rainy days, precipitation (mm)

t sea water (°F)

Average air temperature (°F)

Average number of rainy days, precipitation (mm)

t sea water (°F)

January

85,1

4 days; 40.9

81,6

84,6

2 days; 42.3

81,3

February

85,6

2 days; 42.1

81,3

84,7

4 days; 42.9

80

March

85,4

1 day; 25.4

81,3

86,3

1 day; 45.9

81

April

88

3 days; 60.6

82,4

87

2 days; 51.2

81,6

May

88,5

7 days; 103.6

82,7

87,8

6 days; 70.8

82,4

June

87

4 days; 76.2

82,7

88,5

2 days; 37.9

82,5

July

88,3

2 days; 32.4

83,8

88,7

3 days; 35.0

83,4

August

89,2

5 days; 88.8

85,2

88,7

5 days; 62.2

84,9

September

87,8

8 days; 111.4

85,4

88,3

4 days; 49.9

85

October

86,7

8 days; 100.2

85

88,5

5 days; 93.6

85

November

85,2

6 days; 60.7

83,4

86,9

6 days; 76.8

83,4

December

83,8

2 days; 45.4

82,4

84,5

3 days; 49.2

81,8
Conclusion: Both resort towns have a tropical climate. The warmest months in Montego Bay are May, July, August, the coldest months are December, January, February, March, and the rainiest are September, October and May. In Ocho Rios, the warmest months are July, August, June and October, the coldest months are December, January and February and the rainiest months are May, August, October and November. If you are flying to Jamaica in winter (the coldest period in both resorts), know that Montego Bay is slightly warmer at this time of year than Ocho Rios.
Hotels and Rates
Montego Bay: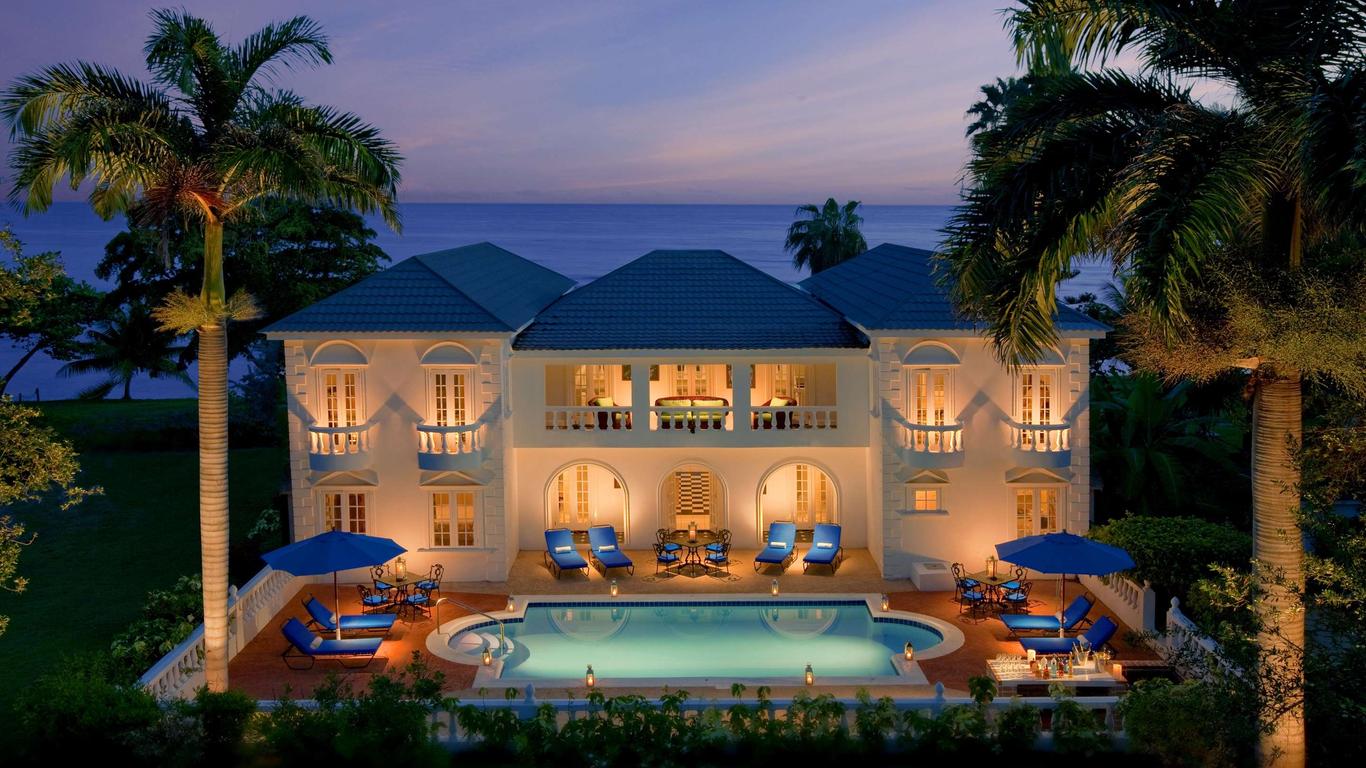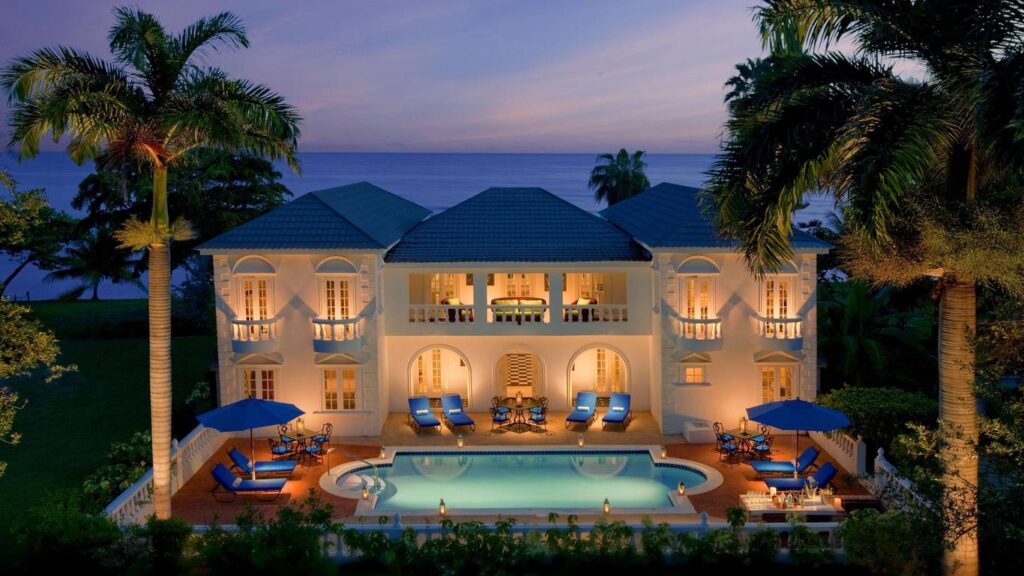 Finding a hotel in Montego Bay is not difficult, as it is a prestigious resort town in Jamaica. The best area to stay in Montego Bay for those who are here for the first time is Freeport . Tourists have the opportunity to choose for accommodation an adults-only resort, a family resort (for holidays with children), an all-inclusive hotel, or to give preference to a high-class luxury resort. Everything will depend on your preferences and, of course, your budget. Keep in mind that many of the best hotels in Montego Bay can be a long distance from the city center.
The best hotels for recreation with children
The room rate is for 1 night for 2 adults:
Hyatt Zilara Rose Hall Adults Only (from $659).
S Hotel Jamaica (from $529).
Zoetry Montego Bay (from $341).
Royalton White Sands Montego Bay, An Autograph Collection Resort (from $305).
Seagarden Beach Resort (from $199).
The best five-star hotels
The room rate is for 1 night for 2 adults:
Round Hill Hotel and Villas (from $1,533).
Secrets Wild Orchid Montego Bay (from $900).
Half Moon (from $751).
Breathless Montego Bay Resort & Spa (from $700).
Castlevue B&B (from $212).
Best hotels for adults only
The room rate is for 1 night for 2 adults:
Luxury Apartments and Rooms, The Lagoons (from $1,046).
Secrets Wild Orchid Montego Bay (from $900).
Secrets St. James Montego Bay (from $781).
Sandals Royal Caribbean All Inclusive Resort & Private Island – Couples Only (from $609).
Iberostar Selection Rose Hall Suites (from $454).
Ocho Rios: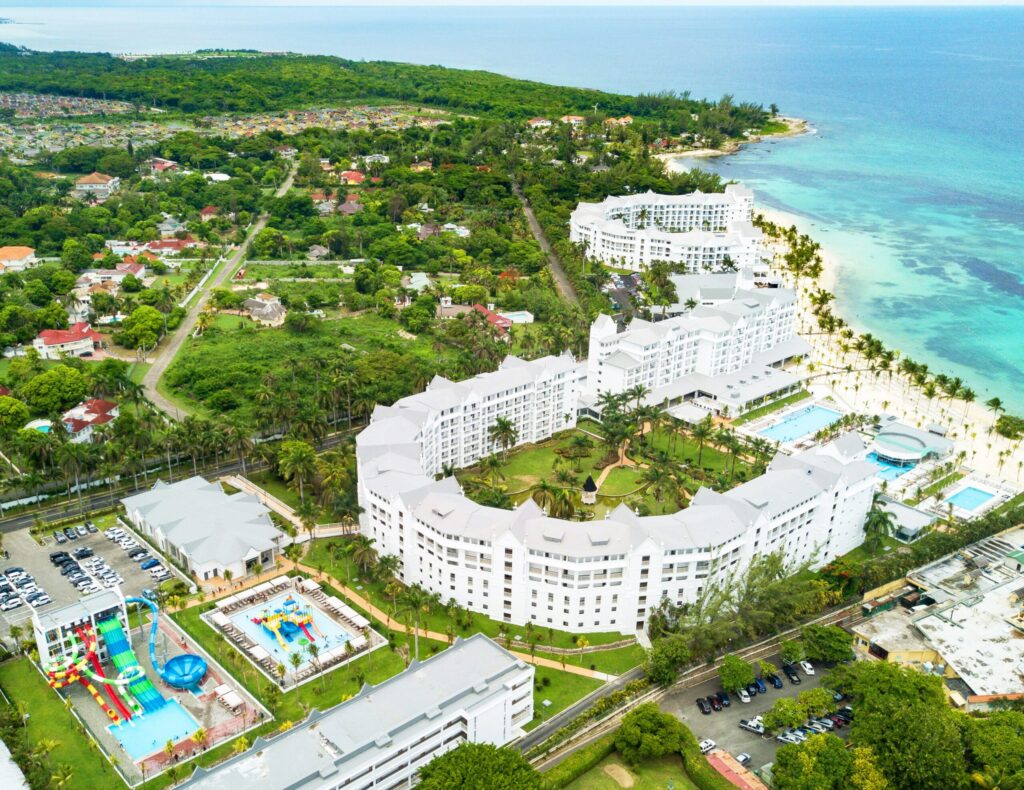 Ocho Rios has accommodations for every budget, from inexpensive hostels to luxury hotels overlooking the Caribbean Sea. For those who are in this resort city for the first time, it is recommended to choose the area where Ocho Rios Bay is located for accommodation. You are sure to find something to your liking in this area, as there are not only various resorts on the coast or cliff tops, but also the central port, stores and much more.
Planning a vacation in Ocho Rios, Jamaica, try to study all the proposals among popular resorts, see their rating, photos taken by tourists and the reviews left by them. So you can find the best option for your accommodation.
The best hotels for recreation with children
The room rate is for 1 night for 2 adults:
Goldeneye (from $711).
Jamaica Inn (from $658).
Gc Resort (from $183).
Sandcastles Deluxe Beach Resort (from $149).
Columbus Heights Condominiums (from $120).
The best five-star hotels
The room rate is for 1 night for 2 adults:
Sandals Royal Plantation All Inclusive – Couples Only (from $5,241).
Goldeneye (from $711).
Moon Palace Jamaica (from $708).
Couples Sans Souci (from $540).
Ocho Rios Vacation Resort Property Rentals (from $125).
Best hotels for adults only
The room rate is for 1 night for 2 adults:
Moon Palace Jamaica (from $708).
Couples Sans Souci (from $446).
Jewel Paradise Cove Beach Resort & Spa (from $304).
The Blue House Boutique Bed & Breakfast (from $192).
Hibiscus Lodge Hotel (from $138).
Conclusion: As mentioned above, the choice of hotel accommodation in the selected city depends on both personal preferences and the estimated budget. It is worth noting that if you are going on vacation with your spouse, or decided to spend a honeymoon in Jamaica and are looking for a hotel only for adults, you should look at the resorts in Ocho Rios. Hotels in this town cost less per night for two adults than in Montego Bay.
Beaches
Montego Bay: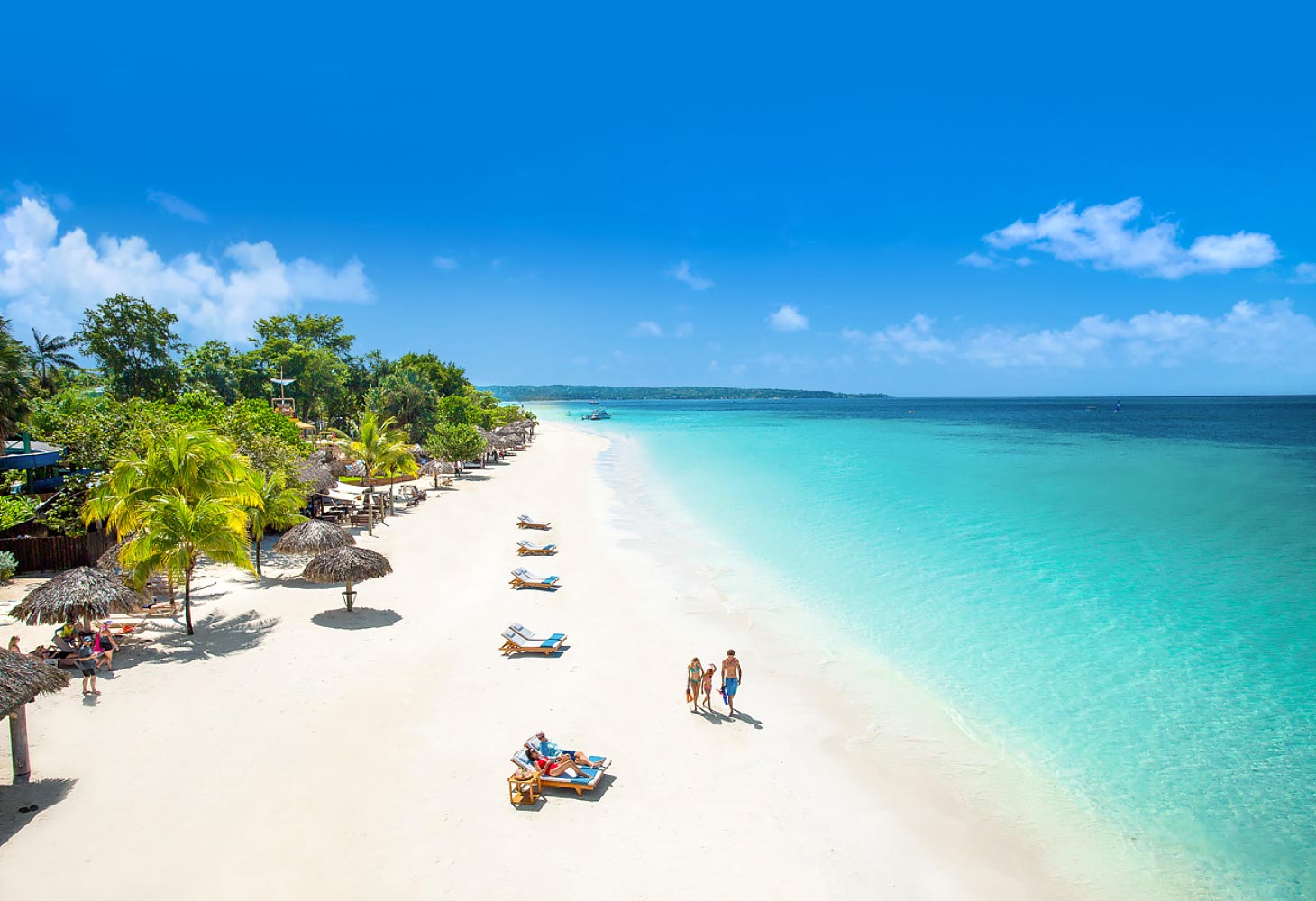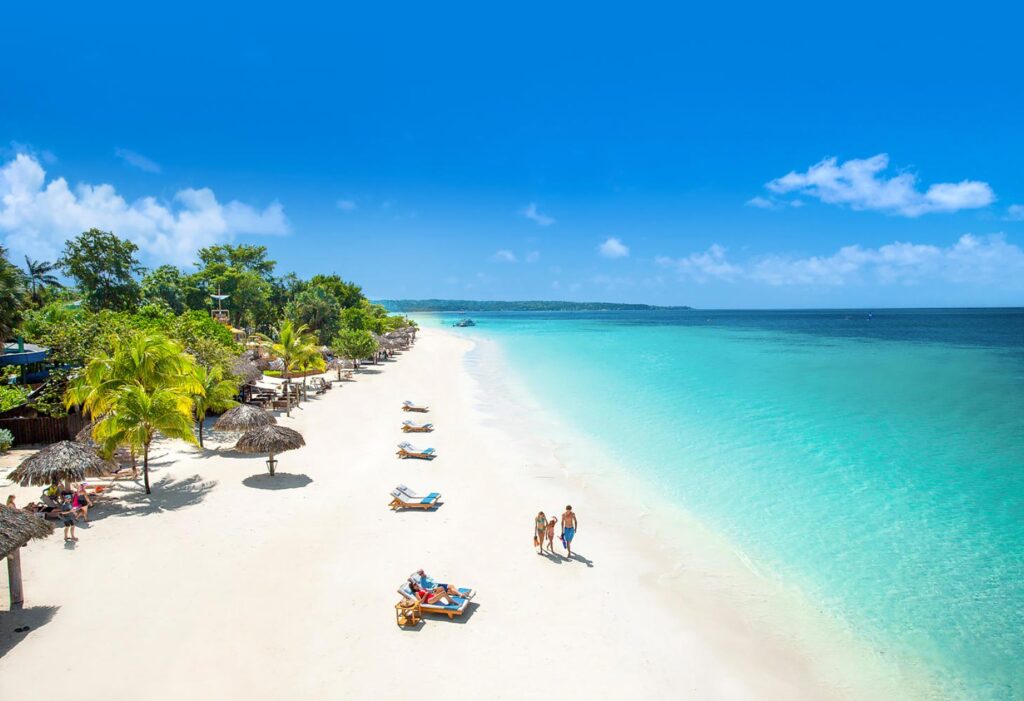 The part of the island where Montego Bay town is located is bordered by mountains and also has incredible beach resorts and beaches with white sand and crystal clear waters of the Caribbean Sea. In Montego Bay, tourists can enjoy not only relaxing on the coast, but also diving, snorkeling, kayaking, kayaking, and water skiing.
It must be said that not all popular beaches are freely accessible to locals and travelers. Some of them are private and belong to all-inclusive hotels. In this regard, to be free to visit such a beach, you must be a guest of a particular resort, otherwise you have to pay for entry.
For you, we've compiled the top 5 best beaches in Montego Bay where you can have a great day.
1.Doctor's Cave Beach:
Doctor's Cave Beach is a private beach at Gloucester Hotel. It has everything you need for a beach holiday: sun umbrellas, sun loungers, a bar with free Wi-Fi, and a restaurant serving local cuisine (such as fish burgers). Entrance to the beach is paid (except for people who are staying at the hotel). The only drawback is the large crowds on weekends.
2.Cornwall Beach: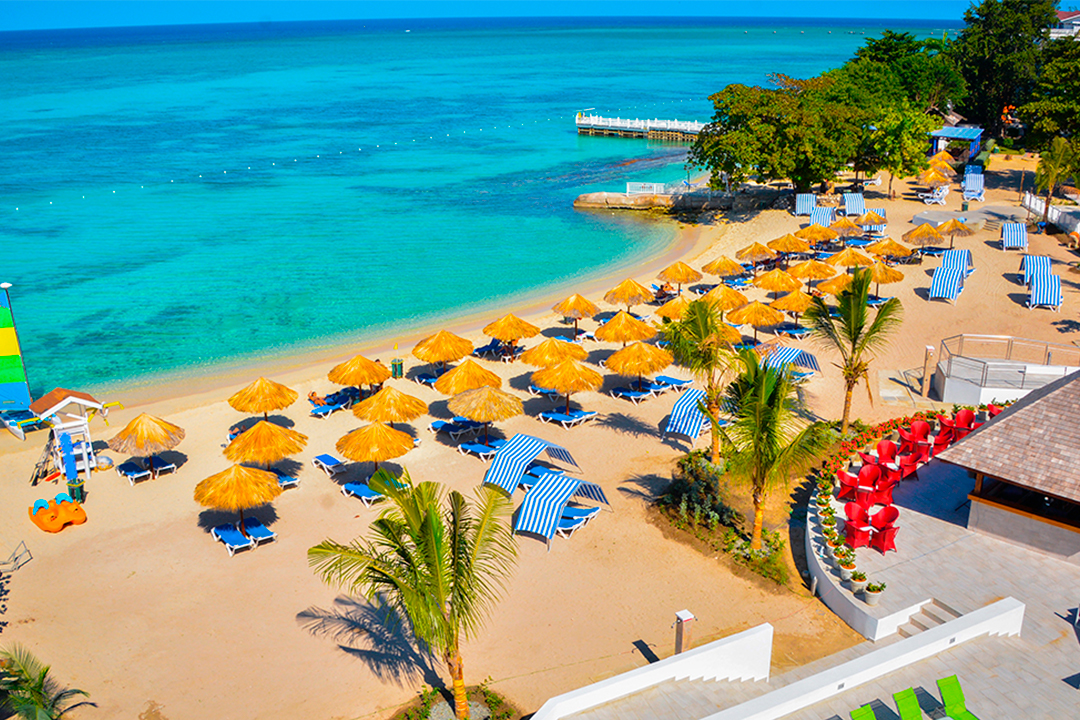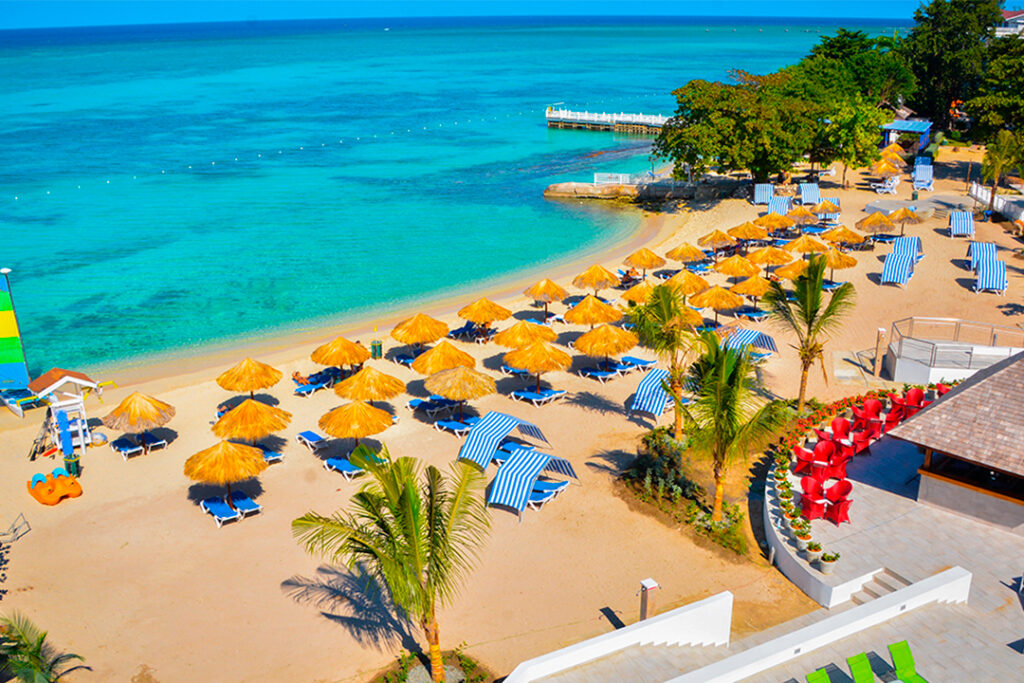 Cornwall Beach is a private beach since it was purchased by the Royal Decameron hotel chain a few years ago. To access Cornwall Beach and enjoy the white sand and swimming in the waters of the Caribbean Sea, you must pay for a day pass from the hotel. The beach is large enough that vacationers never have trouble finding a free spot.
3.Aquasol Beach Park: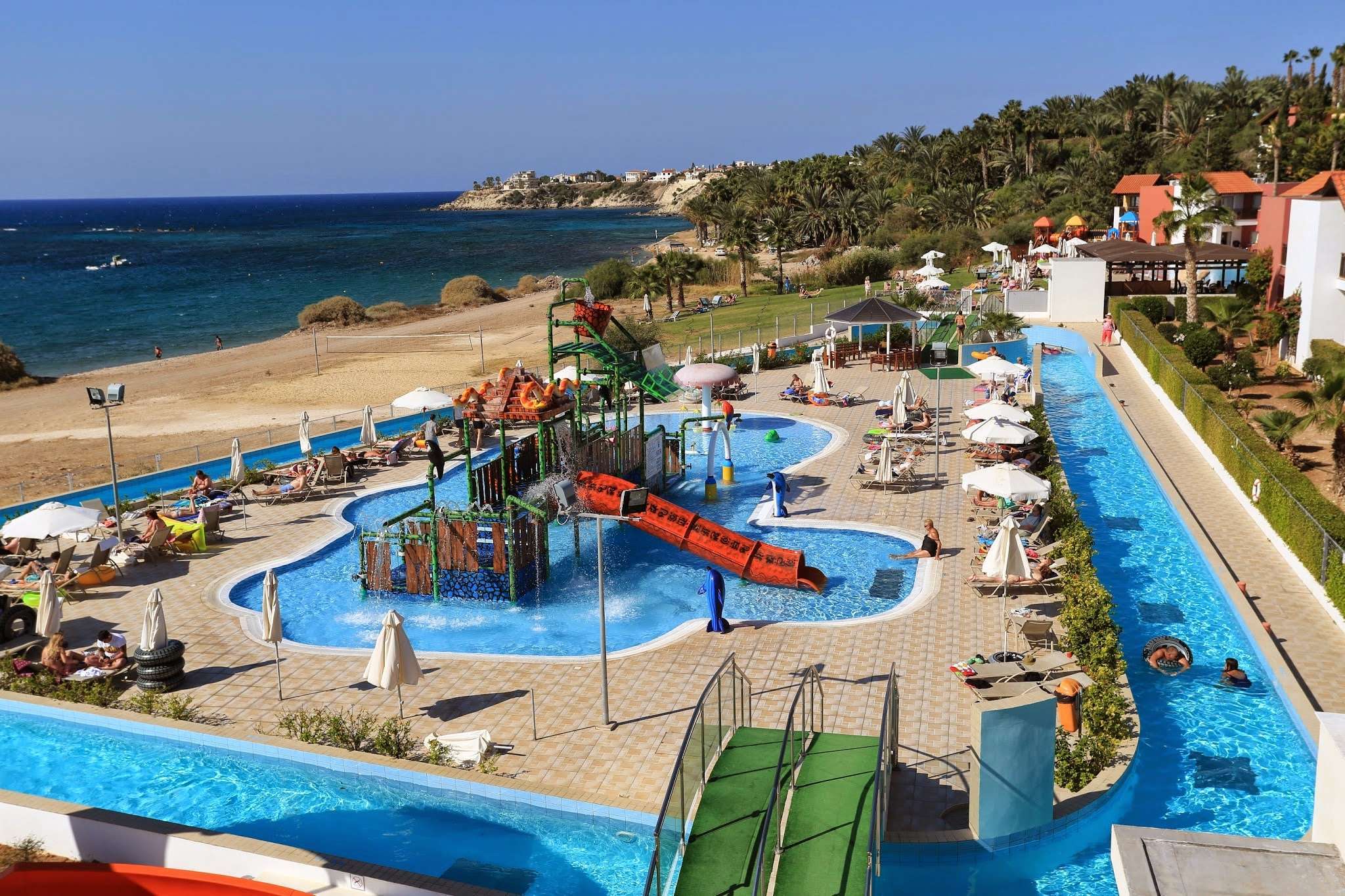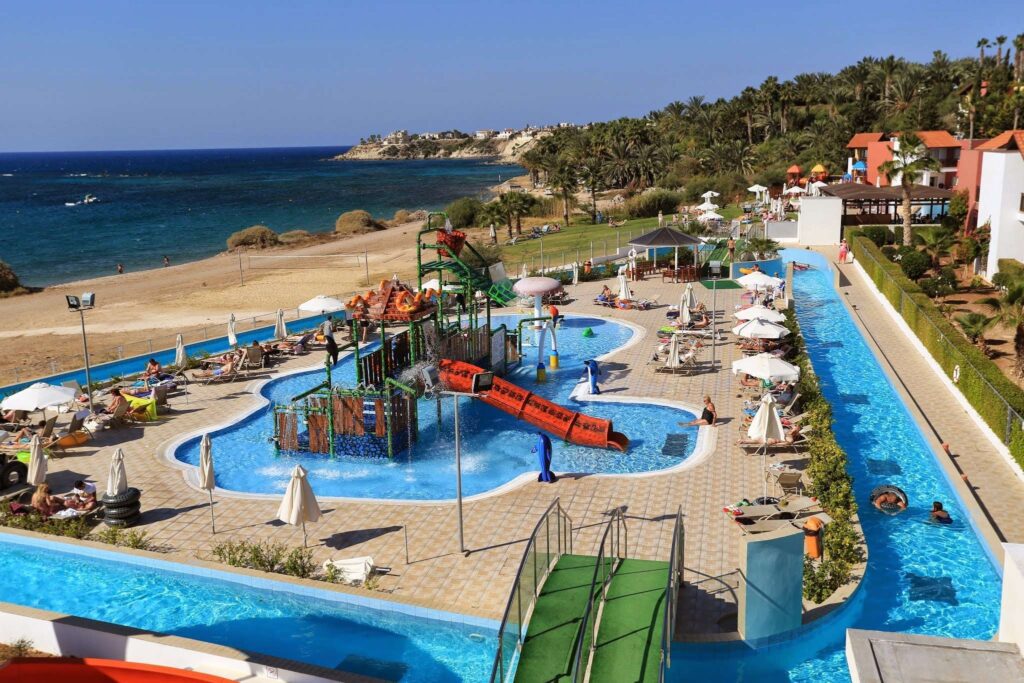 Aquasol Beach Park is located near the port. It is open, so not only on weekends, but also on weekdays a lot of people gather on the beach. Aquasol Beach Park is more suitable for holidays with children, as the shore is flat, there are no currents and strong waves, and the area has water slides, karting and other no less interesting entertainment.
4.Dump-up Beach: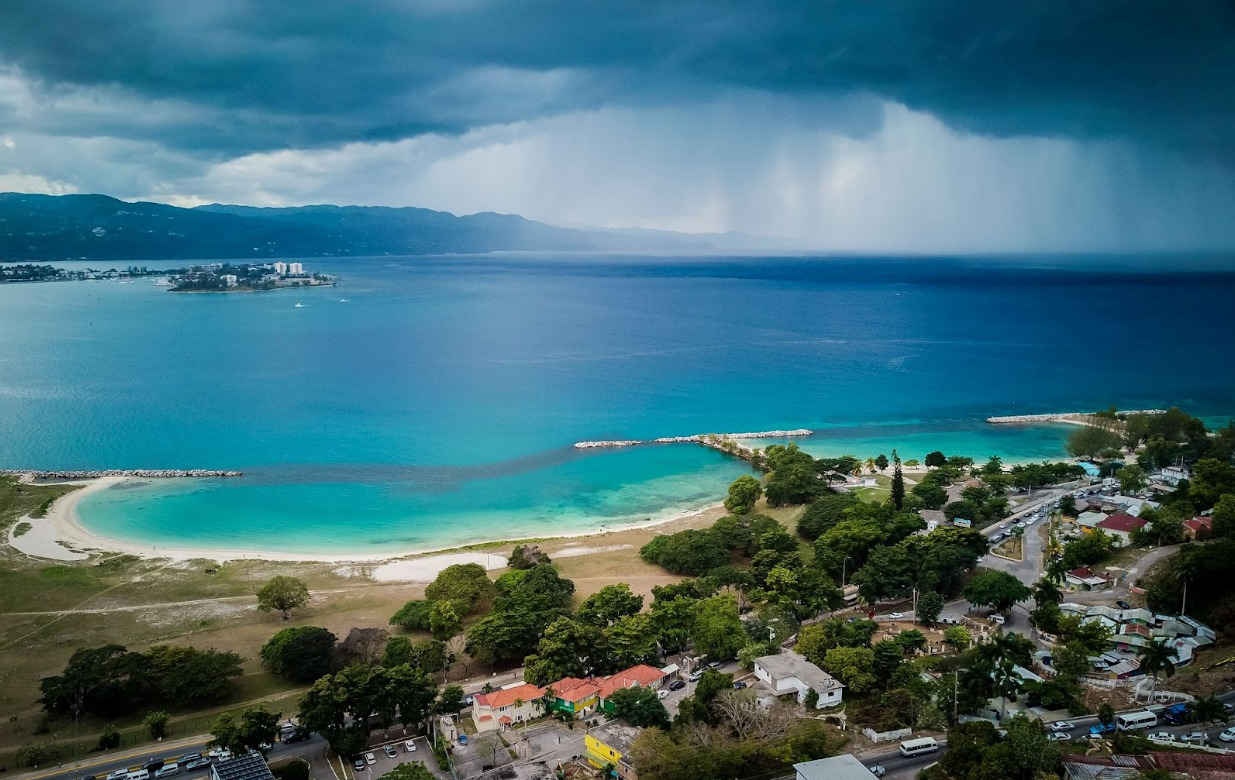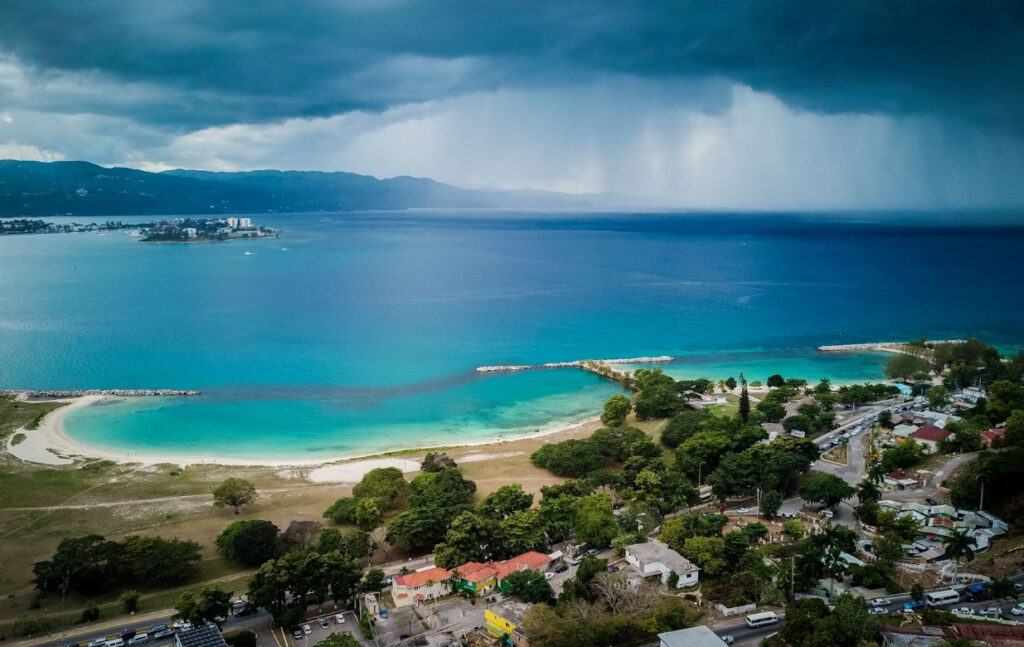 Dump-up Beach is among the best beaches in Montego Bay. Entrance to the beach is free. On a regular basis, locals hold parties on its premises. If you too like loud music, dancing and fun, then you should definitely visit Dump-up Beach. In addition, the beach offers mountain views and a swim in the azure waters of the Caribbean Sea.
5.Dead End Beach: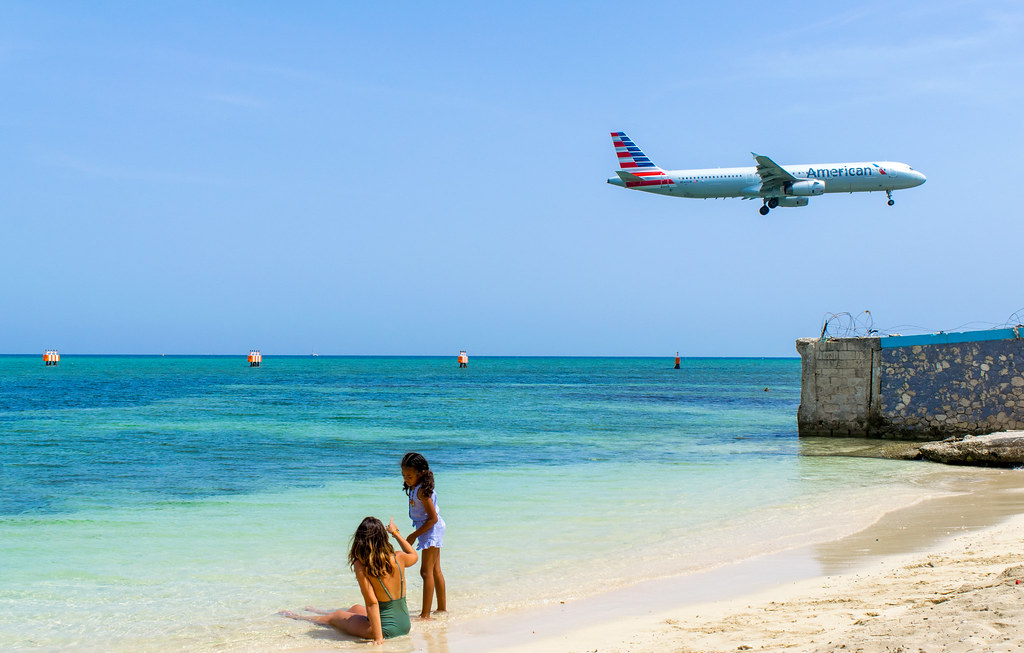 Dead End Beach is a public beach located at the end of Gloucester Avenue. The main advantage of the beach is the opportunity for seclusion. It is at Dead End Beach that you can take a break from the noise and constant hustle and bustle, because the beach is practically at the end of a dead-end road where there are not many cars. Dead End Beach does not have many amenities (such as showers), but there is a bar within walking distance where you can buy drinks and snacks.
Ocho Rios: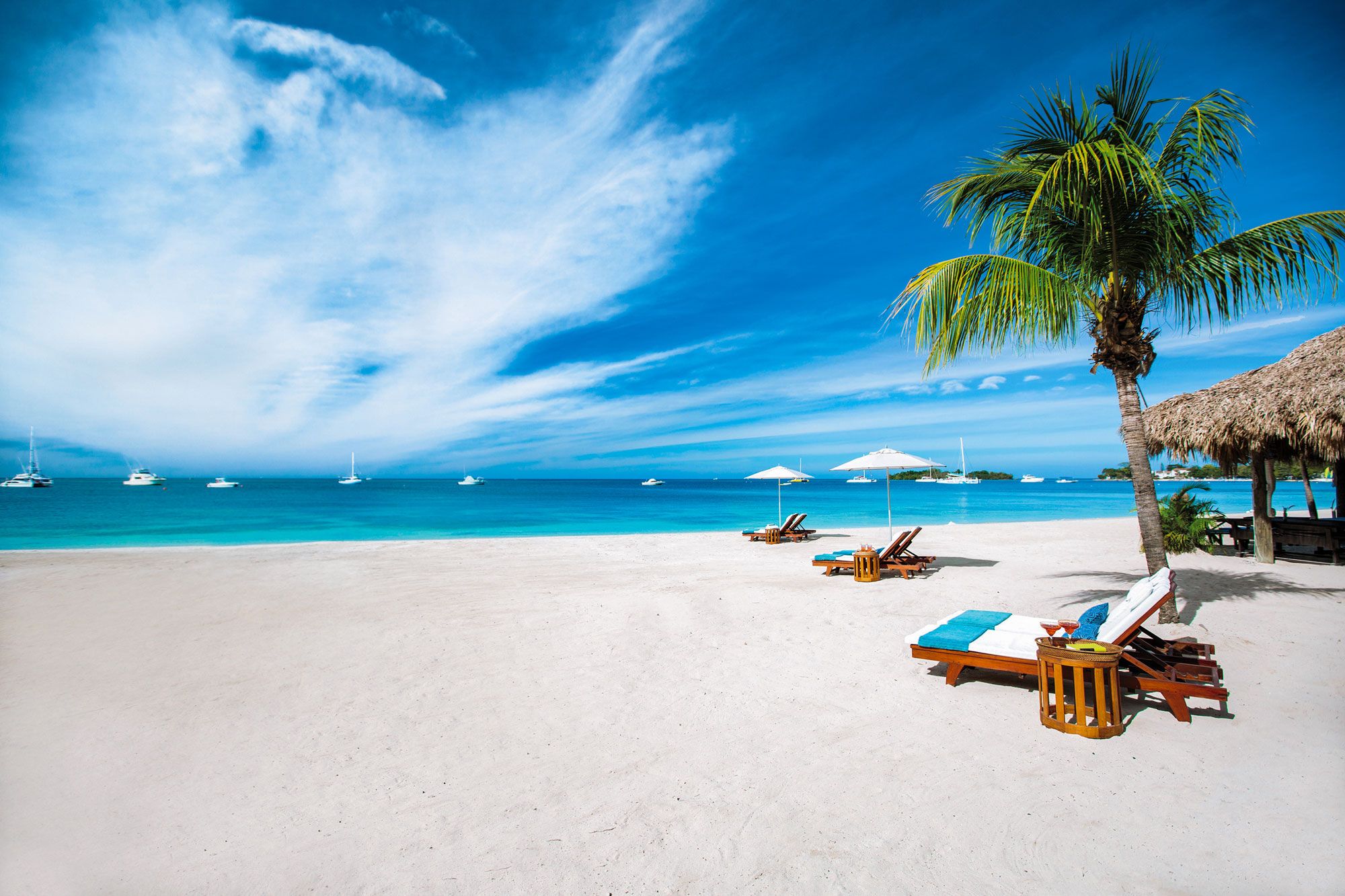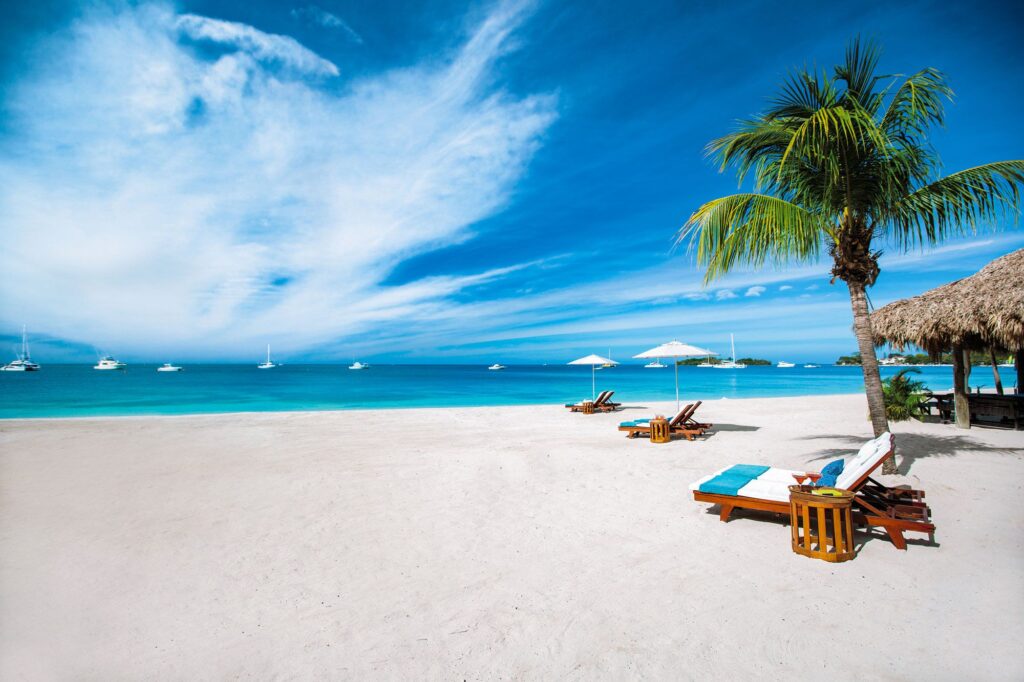 The resort town of Ocho Rios is known in Jamaica not only for its amazing sights, but also for its beautiful coastline with many sandy beaches.
For tourists who prefer a comfortable beach vacation, we have made a selection of the five best beaches in Ocho Rios.
1.Ocho Rios Bay Beach (Turtle Beach):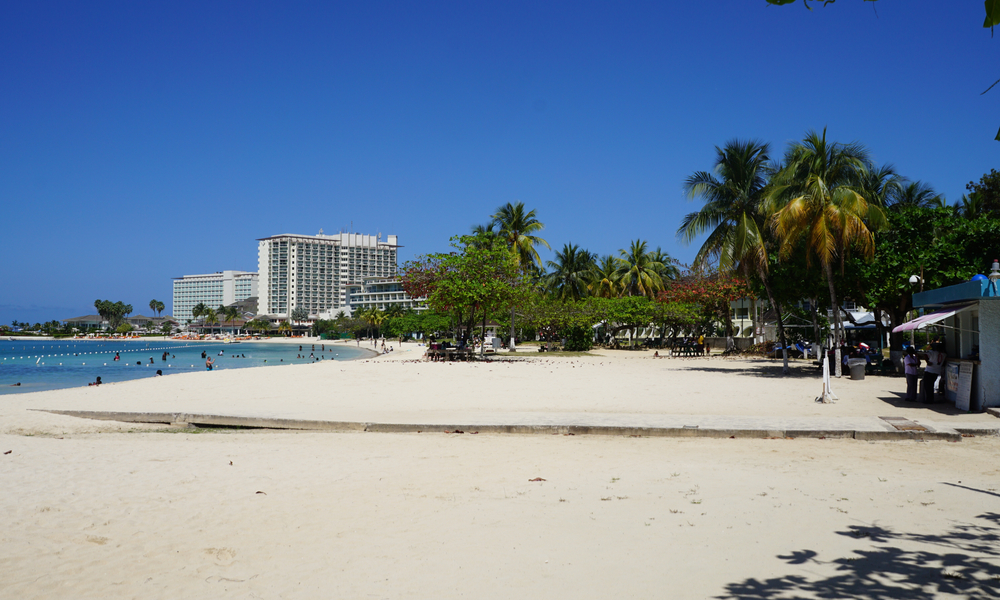 Turtle Beach is located near the bay of Ocho Rios and attracts tourists with its extraordinary beauty. There is white sand, tall palm trees, there are no strong waves in the sea, so the water is clear that you can even observe small fish swimming near the shore at shallow depths. Entrance to Ocho Rios Bay Beach is free. Additional costs will be incurred if you want to rent sun loungers and umbrellas. There are several bars within walking distance.
2.Bamboo Beach Club: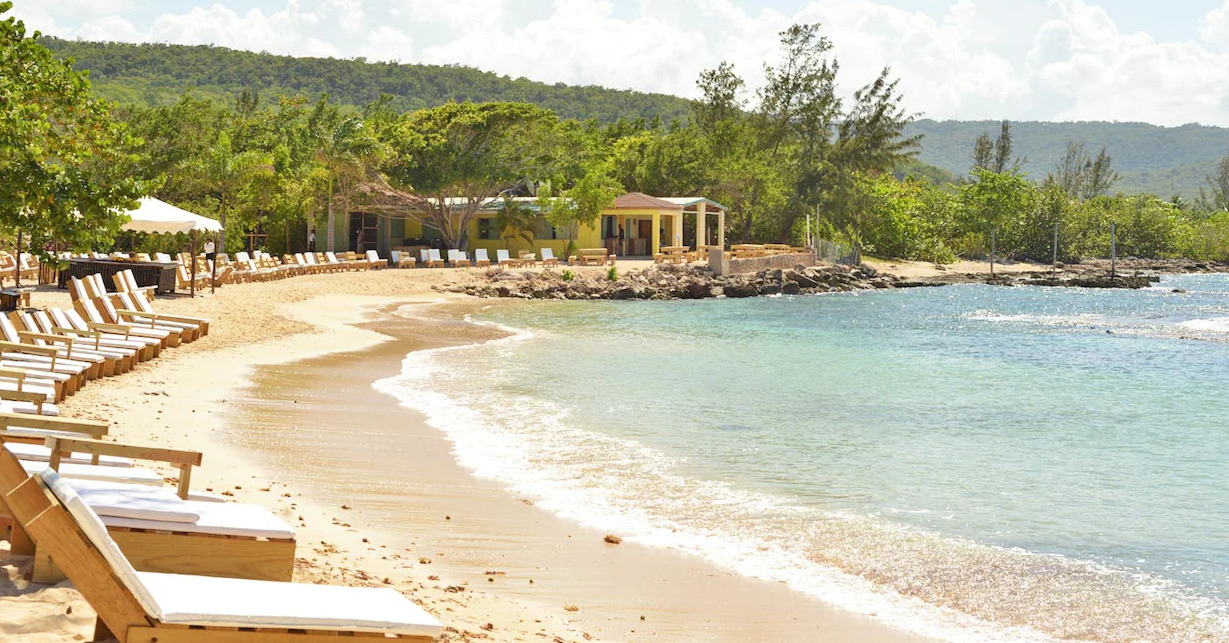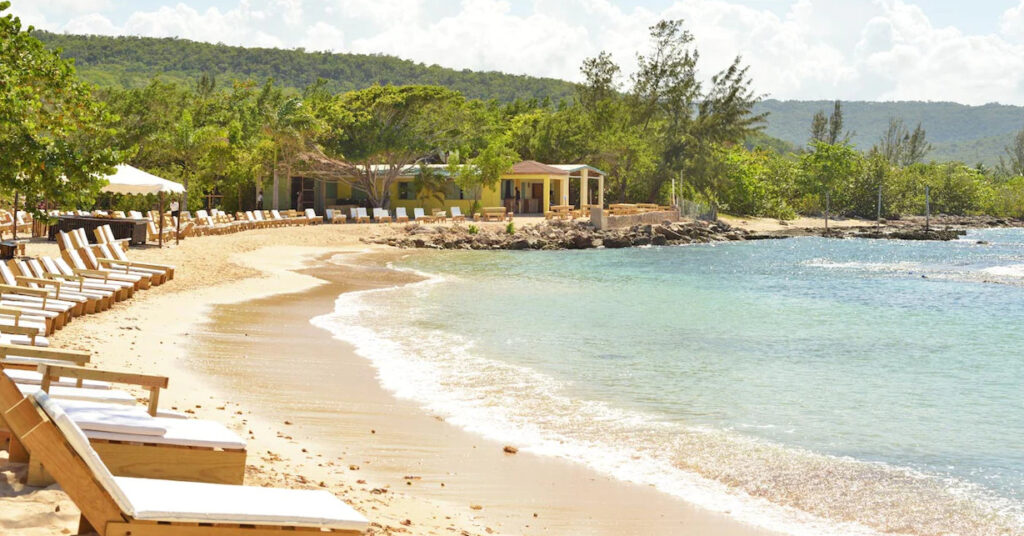 Bamboo Beach Club is private and only a few miles from Ocho Rios. There is a fee to enter. Note that the beach offers an all-inclusive service (food and drinks are brought by waiters, the cost of renting sun loungers and umbrellas is included). The area is well-developed infrastructure. Nearby you will find an artisan market, stores, restaurants and bars.  The only drawback, according to older tourists, is the loud music on the beach all day (DJ works). For families who come on holiday with children, it is not a disadvantage. On top of everything else, they regularly put on shows for the kids right on the shore of the Caribbean Sea.
3.James Bond Beach: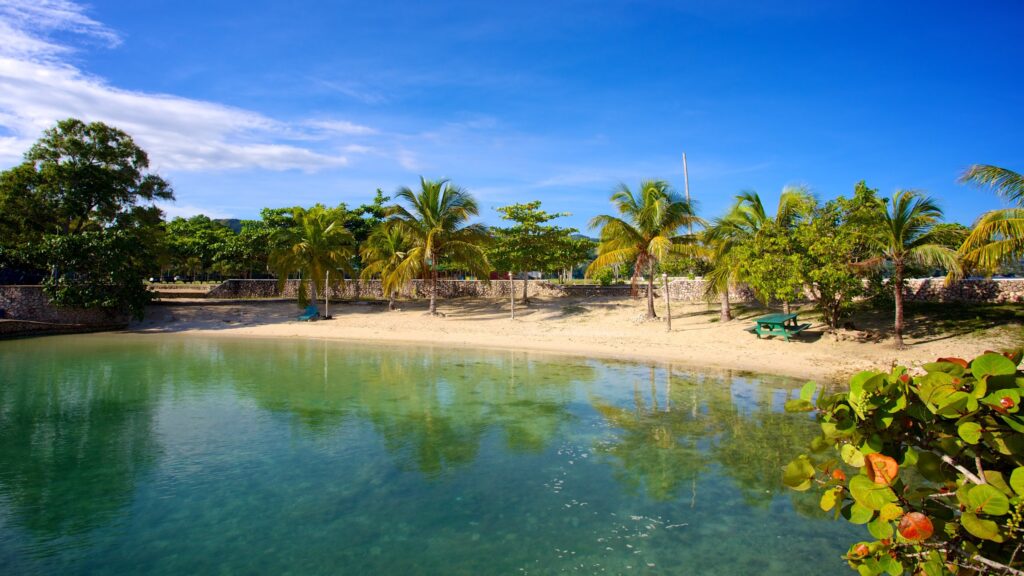 James Bond Beach is located in a small cove. The name of the beach is not accidental. The fact is that not far from it there was the house of the author Ian Fleming, where he wrote a series of famous works about Agent 007 James Bond. If you want to feel a real Jamaican atmosphere, then James Bond Beach is the place for you. Here the locals right on the shore play soccer, volleyball and dominoes, sometimes get together, offer to join their company and travelers, and then tell incredible stories about the adventures of fishermen. At the bar, which is located nearby, you can try traditional cuisine and delicious drinks.
4.Pleasure Cove: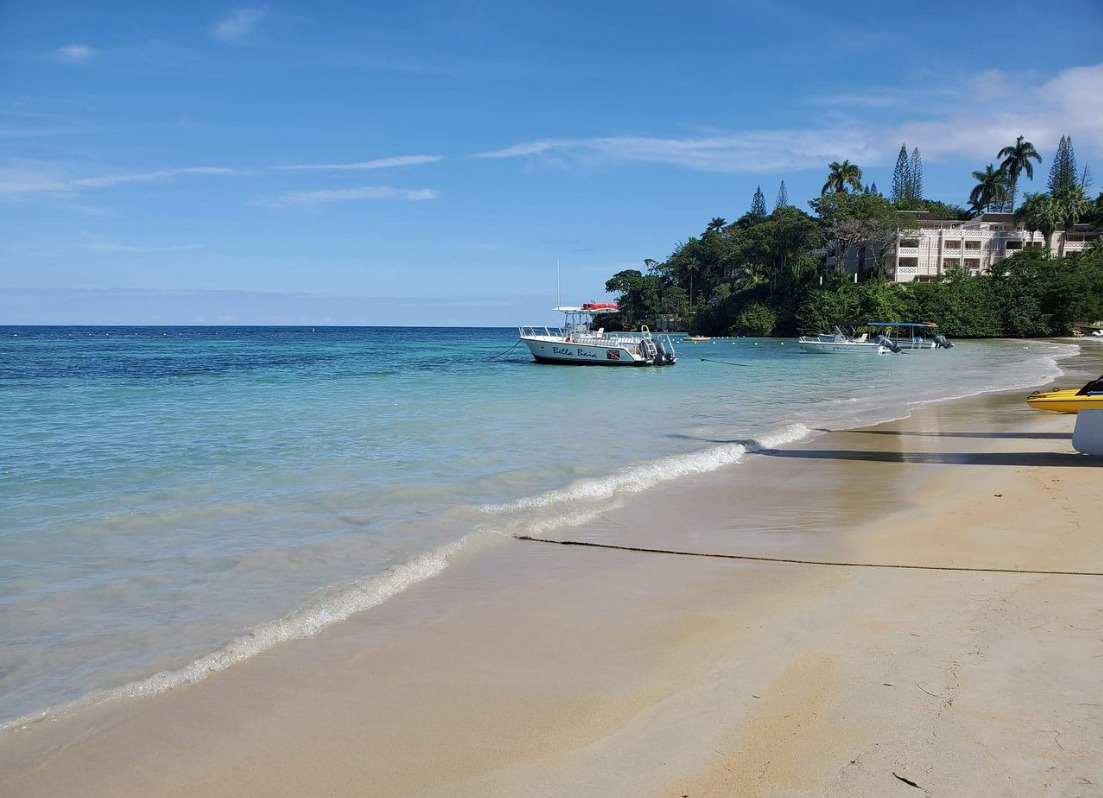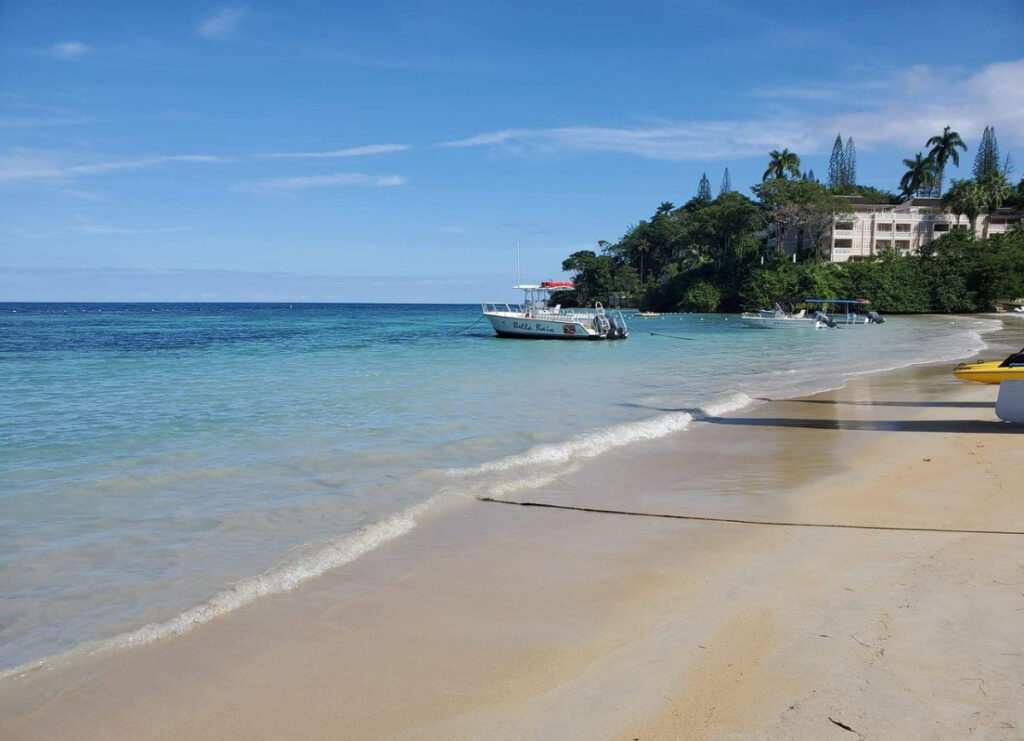 Pleasure Cove is one of the best beaches in Ocho Rios. Although entry to the beach area is free, it is not very crowded. Pleasure Cove is a great place for families with children and for those who do not know how to swim. The water in the Caribbean Sea is calm, there are no waves or strong undercurrents, the water is shallow. The restaurant, which is located nearby, cooks freshly caught fish (the most popular dish from the escovitch) and also makes cocktails, so during the beach vacation you definitely will not go hungry. Unfortunately, there are no sun umbrellas at Pleasure Cove, but there are lounge chairs and a large almond tree that provides good shade for those who don't like to sunbathe.
5.Beach at Dunns River Falls: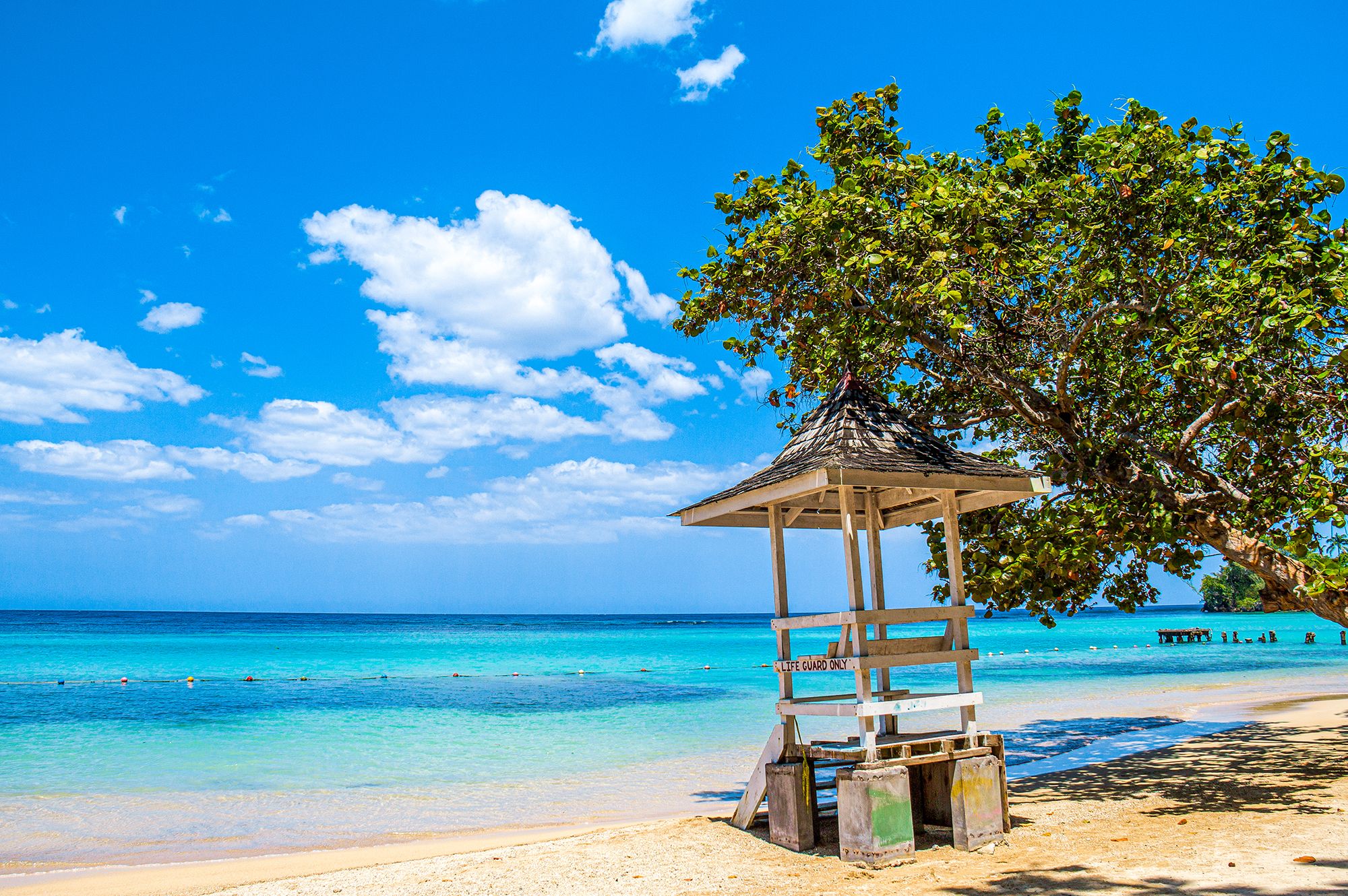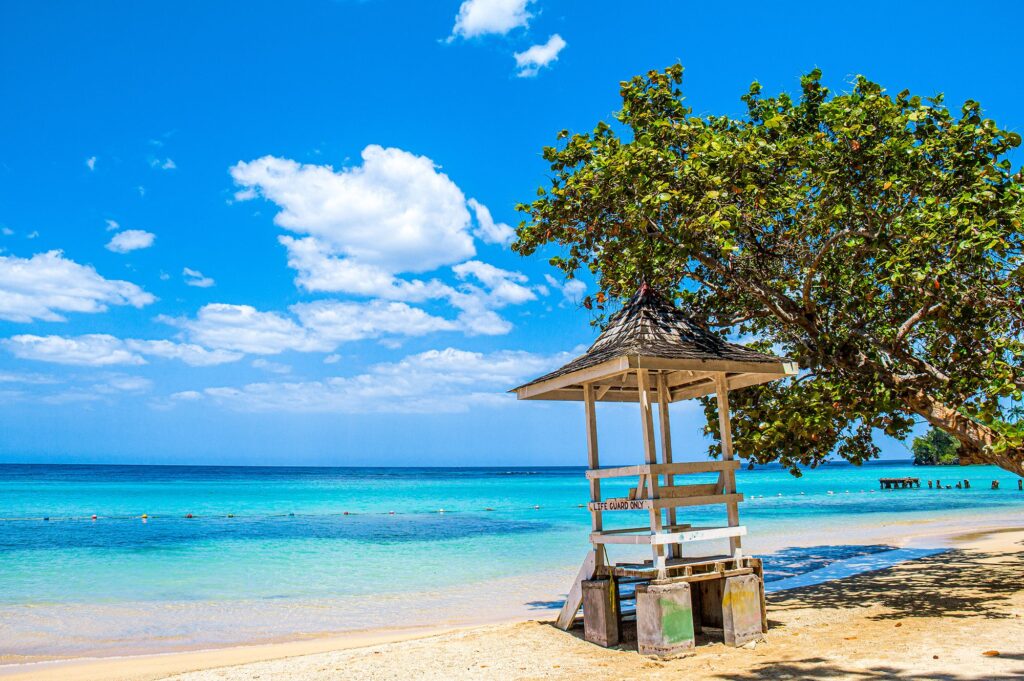 The beach is located near the famous Dunns River Falls in Jamaica. Admission is chargeable (included in the ticket price for the famous attraction). At Beach at Dunns River Falls, you can go scuba diving and explore interesting and colorful formations up to 30 feet deep. All necessary equipment can be rented.
Conclusion: if you consider all the beaches located at the resorts, there are more of them in Montego Bay, so tourists have the opportunity to choose from the variety of the most suitable option for the holiday: it can be not only a beach with free entry, but also a paid beach with many facilities, services and entertainment.
Restaurants
Montego Bay: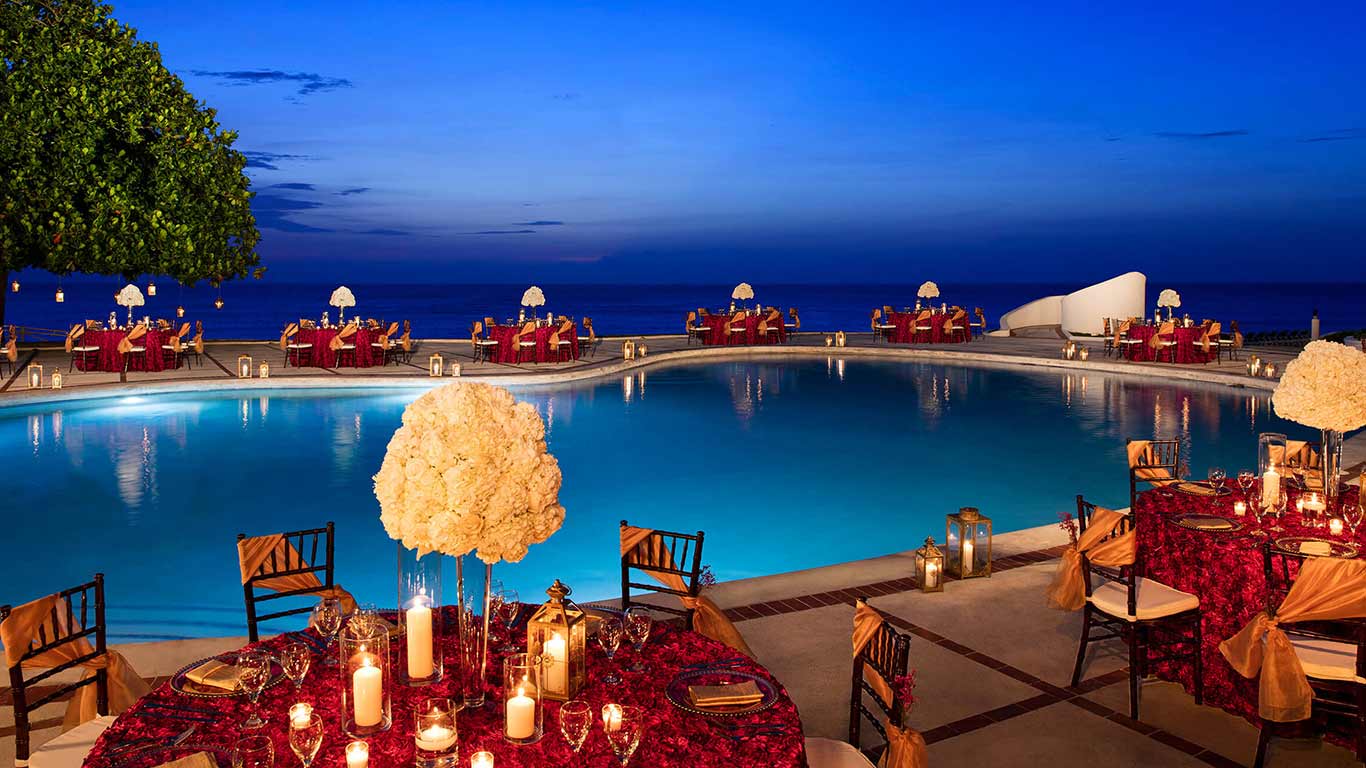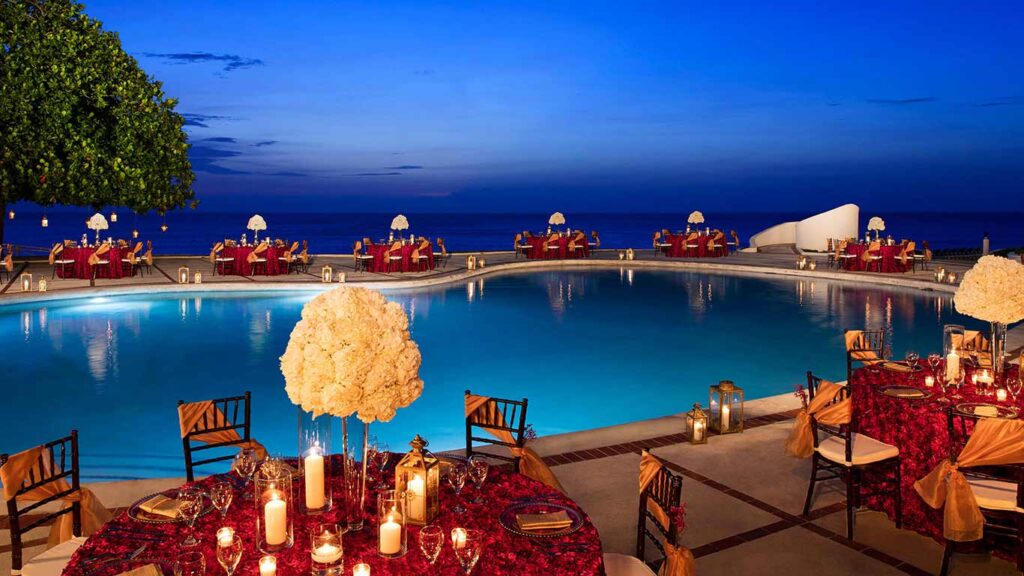 Many restaurants in Montego Bay vie for the title of best place in the resort. When going on vacation to Jamaica in this resort town, we recommend visiting the most popular establishments.
1.Marguerites:
Location: Gloucester Avenue.
Marguerites is a beautiful and cozy, award-winning restaurant on the shores of the Caribbean Sea. In this institution, the most popular dishes are Caesar salad cooked by the chef's signature recipe, risotto with lobster and black truffles, and rack of lamb.
2.Pelican Grill:
Location: Gloucester Avenue.
For almost fifty years this restaurant pleases its customers with a variety of local dishes, as well as seafood (fried lobsters, marinated octopuses, etc.). Pelican Grill has a cozy atmosphere, lots of live plants, and most importantly – affordable prices.
3.Mystic India:
Mystic India is an institution that is perfect for lovers of traditional Indian food. The interior is also decorated in Indian style (there are many paintings and sculptures). In Mystic India there are always a lot of visitors, so it's better to book a table in advance. The most popular dishes are Malay broccoli salad, Tikka salmon, and Naan sesame flatbread.
4.Mystic Thai:
Location: Fairview Towne Centre.
At Mystic Thai you can taste only Thai dishes: chicken curry, dim sum, vegetable pancakes with stuffing, corn croquettes and many others. The most noteworthy thing is that all the dishes are originally designed.
5.876 Good Eats:
Location: Shop 13 Fairview Market Place.
876 Good Eats is an institution that cooks and serves vegan and vegetarian food at affordable prices. Even the most demanding gourmets will be satisfied with the assortment of this restaurant.
Ocho Rios: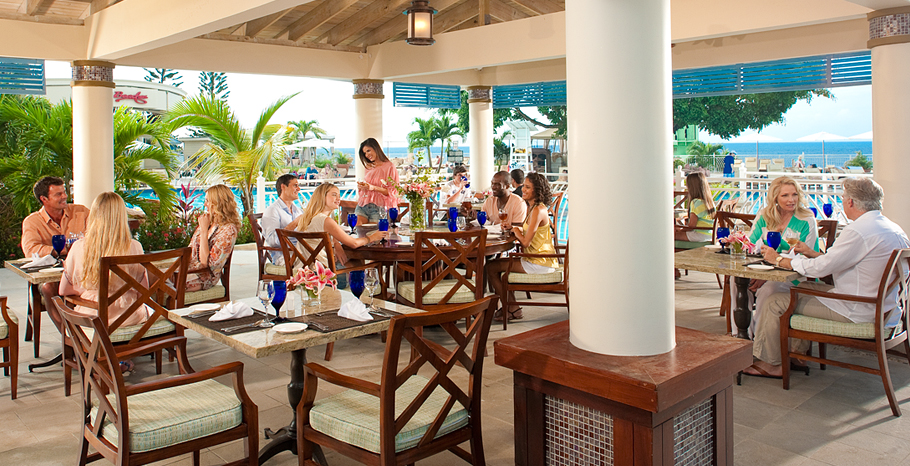 In Ocho Rios, restaurants can be found on nearly every block. You can taste not only the excellent Jamaican cuisine, but also popular dishes from other countries.
1.Rivaz Ultra Lounge:
Location: Beecham Plaza, 76 Main St.
Rivaz Ultra Lounge has both indoor and outdoor (rooftop) dining areas. Popular dishes at the restaurant are: chicken roll, barbecue pork ribs with sweet and sour sauce, dried chicken, tempura and fish sticks.
2.Curry House Jamaica:
Location: 15A Soni's Plaza, 50 Main Street.
Curry House Jamaica is a place for those who want to try new unique dishes of Indian cuisine (spicy or incredibly flavorful due to the spices used). Popular items on the menu: curries, vegetable chutneys, fruit chutneys, cereals. At Curry House Jamaica you will enjoy not only the dishes prepared by a professional chef in a fairly short time, but also a wonderful atmosphere (the interior is made entirely in the Indian style: lamps, works of art).
3.Linda's Jerk & Sea Food:
Location: Exchange to Bonham Spring Rd.
Linda's Jerk & Sea Food is one of the popular restaurants serving not only meat and vegetables, but also seafood. Visitors sit at tables not indoors, but outdoors. All furniture in the facility is made from sustainable material – wood. All around the restaurant there are pots with palm trees, which makes Linda's Jerk & Sea Food more cozy.
4.Calabash Ital:
Calabash Ital is an Italian restaurant for vegetarians. On the menu you will find vegetable salads, soups, smoothies and freshly squeezed juices. The establishment also has a showcase for buying books and DVDs, which makes the restaurant unique among competitors.
5.The Healthy Way:
Location: Ocean Village Mall, Main St.
The Healthy Way is another restaurant in Ocho Rios for vegetarians. It is located in the popular Ocean Village shopping center. The restaurant recommends the following dishes: braised cabbage with banana, peanut mamaliga, plantain porridge with sesame, bulgur and carrots, cheeseburger with tofu, pinto beans, and herbal teas.
| | | |
| --- | --- | --- |
| | Lunch/dinner in an inexpensive restaurant for one person | Lunch/dinner for two at a mid-range restaurant (including alcohol) |
| Montego Bay | From $3 | From $39 |
| Ocho Rios | From $3,5 | From $41 |
Bottom line: Both resort towns have a wide variety of restaurants serving traditional Jamaican and other world cuisines as well as food for vegetarians and vegans. It's worth noting that lunch or dinner for one person or a couple of adults is slightly cheaper in Montego Bay than in Ocho Rios.
Entertainment
Montego Bay: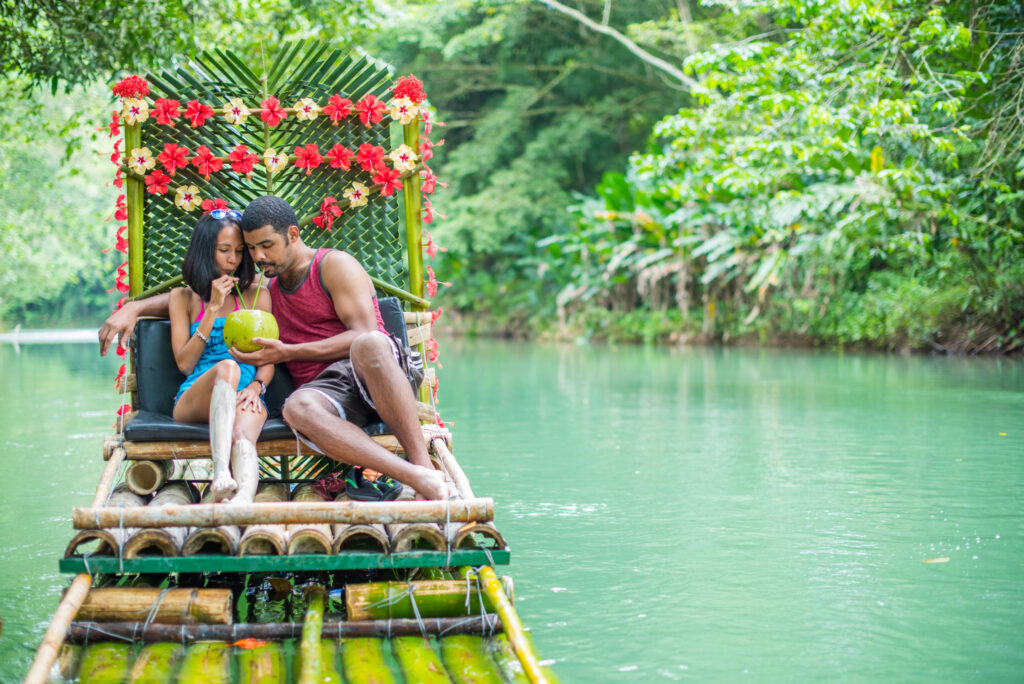 In Jamaica, Montego Bay tourists can find a lot of activities: diving, golf, biking, coastal and deep sea fishing, rafting (for example, on Martha Brae or Black River), horseback riding or swimming with horses in the Caribbean Sea, as well as many excursions.
Rafting on bamboo rafts (Great River) – cost from $50 per adult.
Ocean Outpost tour (hiking, horseback riding, ziplining) – ticket price from $179.
Dunns River Falls excursion (climbing the falls, riding ATVs, swimming in Montego Bay) – cost from $263. per person.
Day trip to Blue Hole Falls (multiple waterfall tour) – cost from $125.
Rastafari (quad biking, swimming in the sea, visiting the field in Gayanja) – from $164.
Glistening Waters Night Tour of the Glistening Lagoon – tickets from $60 per adult.
Caribbean Sea Cruise (snorkeling) – from $110.
Guided excursion to Bob Marley Mausoleum – cost from $165.
Lucea Dolphin Cove Tour (an opportunity to see dolphins and rays at Dolphin Cove Tropical Resort) – cost from $109 for a group of up to two people.
Private trip to Rocklands Bird Sanctuary – cost for two adults from $79.
Ocho Rios: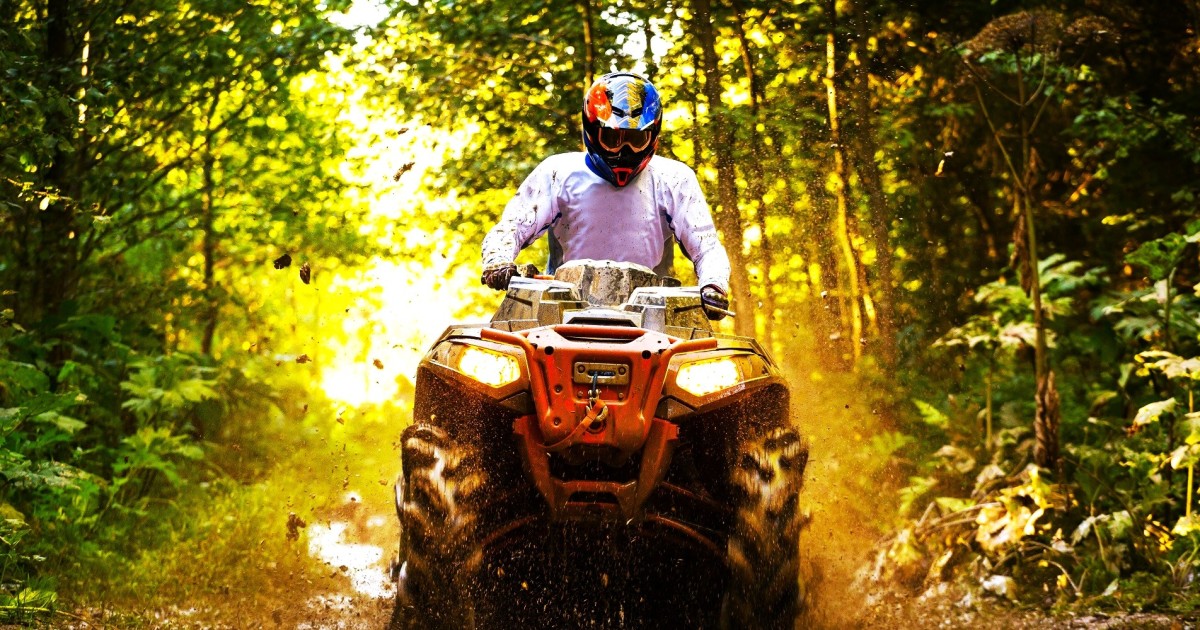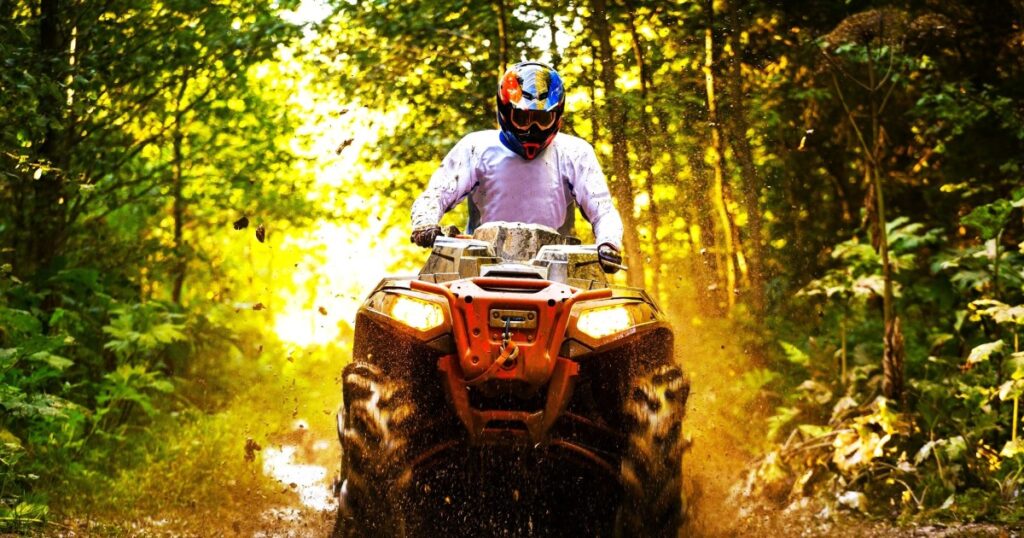 Ocho Rios is one of Jamaica's popular resorts for outdoor activities and entertainment. This part of the island has excellent beaches, which allows you to walk by the sea, fishing, snorkeling, and surfing. In addition, there are opportunities to learn horseback riding, rafting, hiking in the jungle, visiting iconic landmarks and much more.
ATV tour to Yaaman Adventure Park (Jamaican forest, aviary) – cost per adult $139.
A tour of the 18th century haunted house Rose Hall – tickets from $59 per person.
Flavors of Jamaica Gastronomic Tour (visit St. Mary's Parish, carriage ride, Prospect Manor exploration, cooking lesson, lunch) – cost from $89 per person.
Private Blue Mountain Bike Tour – from $250 per adult.
Excursion to the mineral healing spring «Firewater» (St. Anne's Bay) – from $55 per person.
Guided off-road ATV safari tour – cost from $135.
Visit Mystic Mountain Adventure Park (chairlift and rides, excursion to Dunns River Falls – admission from $149.
Visit the Bratso Stables – admission from $186 (for a group of 4 people).
One-day tour to Conoco Falls (botanical garden, observation deck, fern valley) – cost from $80 per person.
Excursion to the caves of the Green Grotto (labyrinthine limestone cave, an opportunity to see unusual rock formations) – the cost for 1 person from $134.
Transportation costs

Montego Bay

Ocho Rios

Cab

From $25

From $23

Public transportation

From $140

From $130

1 l of gasoline

From $35

From $33
Conclusion: Montego Bay and Ocho Rios in Jamaica offer tourists a wide range of activities. You just have to decide what you like: extreme or water sports, wildlife tours or local attractions. If we talk about transportation costs while traveling through the resorts, in Ocho Rios prices for cabs and public transportation are slightly lower, as well as the cost of gasoline for personal or rented car.
Nightlife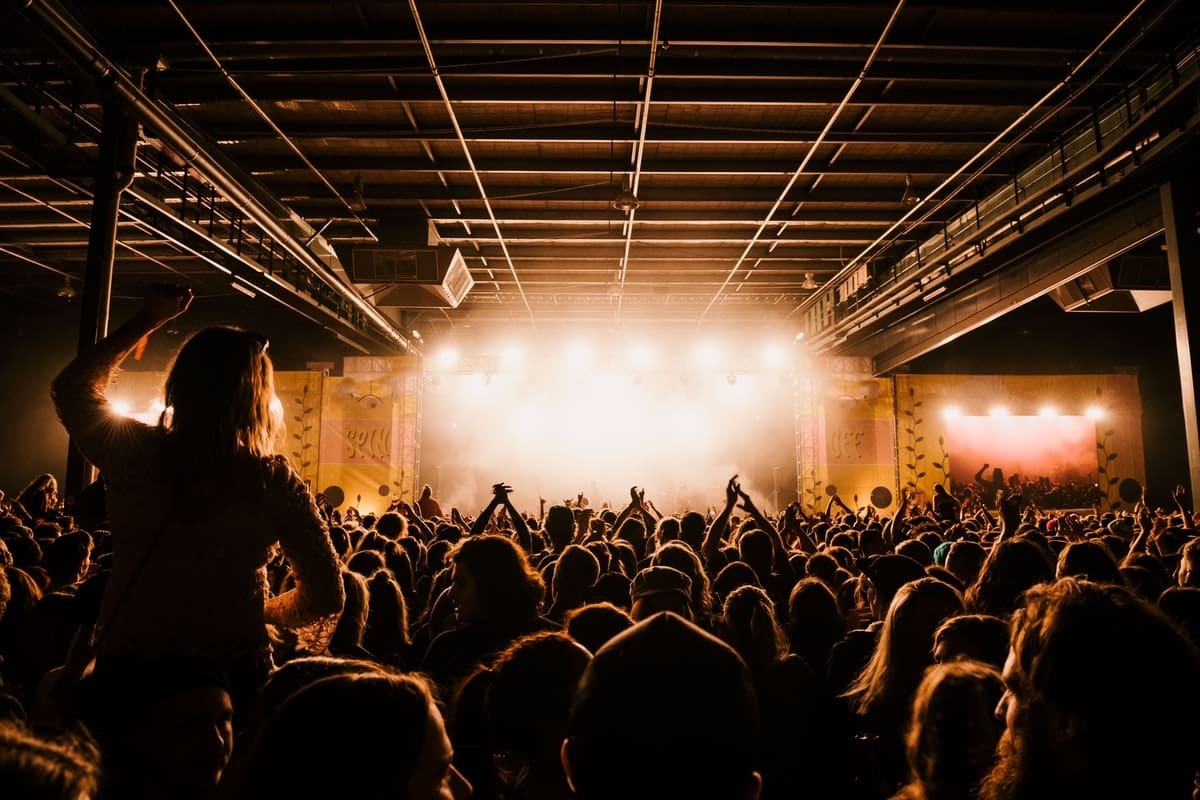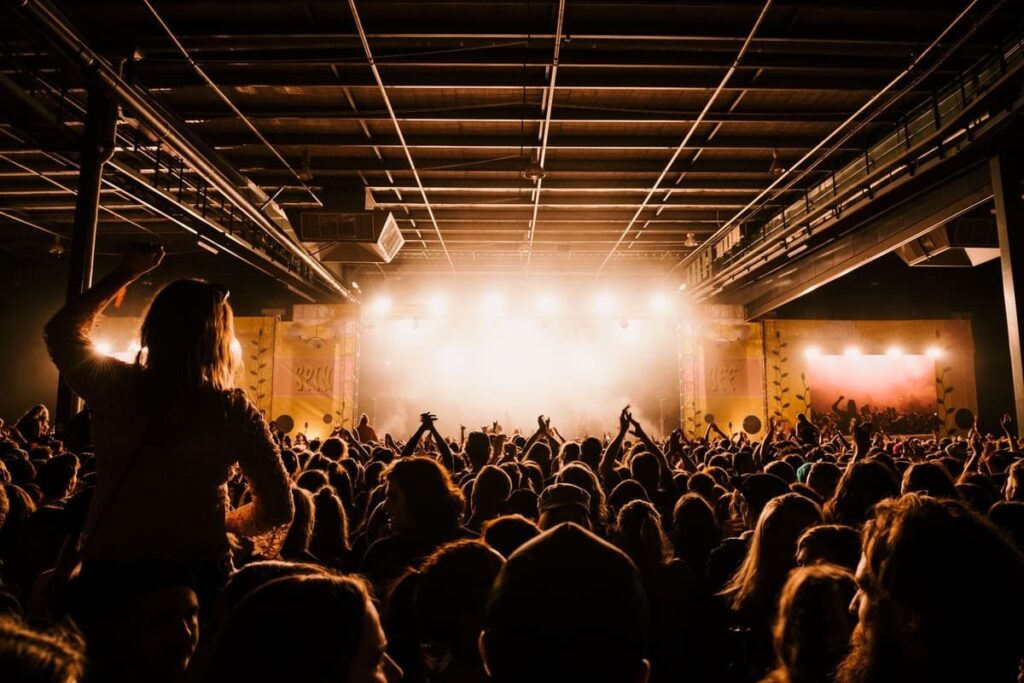 Montego Bay:
The nightlife at the resort is centered on Gloucester Avenue and is very diverse. It's here that the crowds gather in the nightlife and the hottest parties take place.
The most popular places are Blue Beat Ultra Lounge, Pier One, Tilted Kilt.
Ocho Rios:
Nightlife in Ocho Rios includes not only fun in clubs, bars, and restaurants, but also parties that locals throw in the open air (songs are played, everyone dances and has fun for all to see). Sometimes they invite tourists into their company.
The most popular places are Noir Nightclub, Amnesia, Margaritaville.
Conclusion: Montego Bay and Ocho Rios both excel in Jamaica's nightlife. But if you've always wanted to party in a more casual setting, dance the night away outdoors, learn more about the locals, and make new friends, Ocho Rios is perfect. By making the right choice, you can enjoy a complete Jamaican vacation even when the sun goes down.
Conclusions
The main difference between the two resorts is that Montego Bay is a more lively town, it is just bustling with life and always crowded, while Ocho Rios is a quiet town and is more suitable for tourists who want to be in solitude, explore the nature and rest from the hustle and bustle of the city.
We have covered various aspects of a vacation at each resort. On this basis, we have made a list of advantages and disadvantages of Montego Bay and Ocho Rios.
Montego Bay: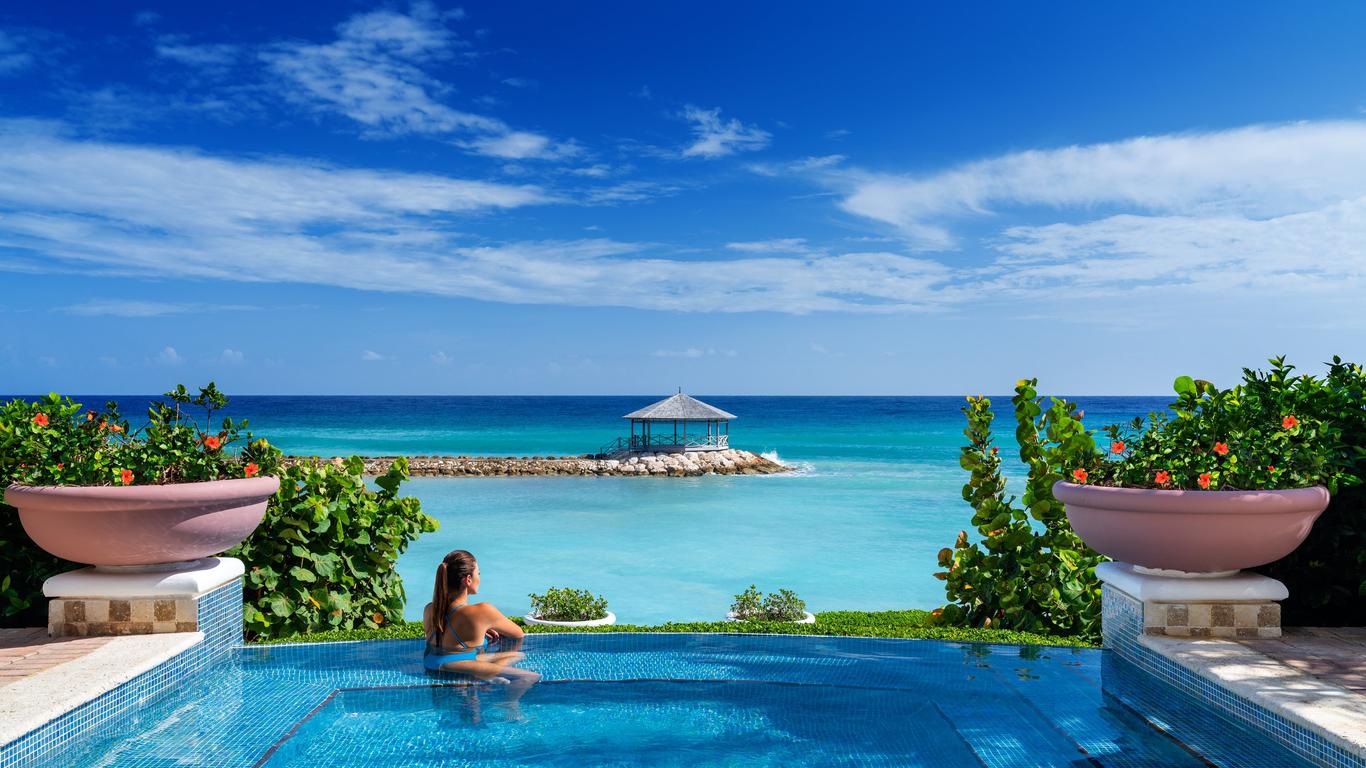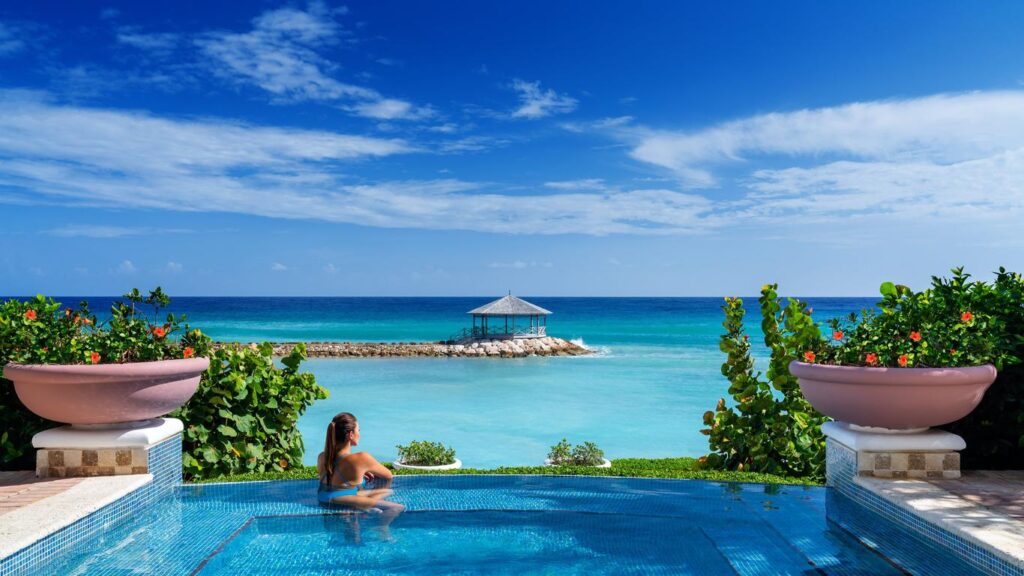 Advantages:
Convenient location (proximity to the international airport).
Favorable climate (good weather all year round).
A wide variety of hotels (including all-inclusive).
Extensive infrastructure.
Many options for lunch and dinner.
Various beaches for recreation by the sea.
A wide range of entertainment and excursions to suit all tastes and budgets.
Disadvantages:
Too many tourists (especially during peak season).
Prices are higher than in Ocho Rios.
Ocho Rios: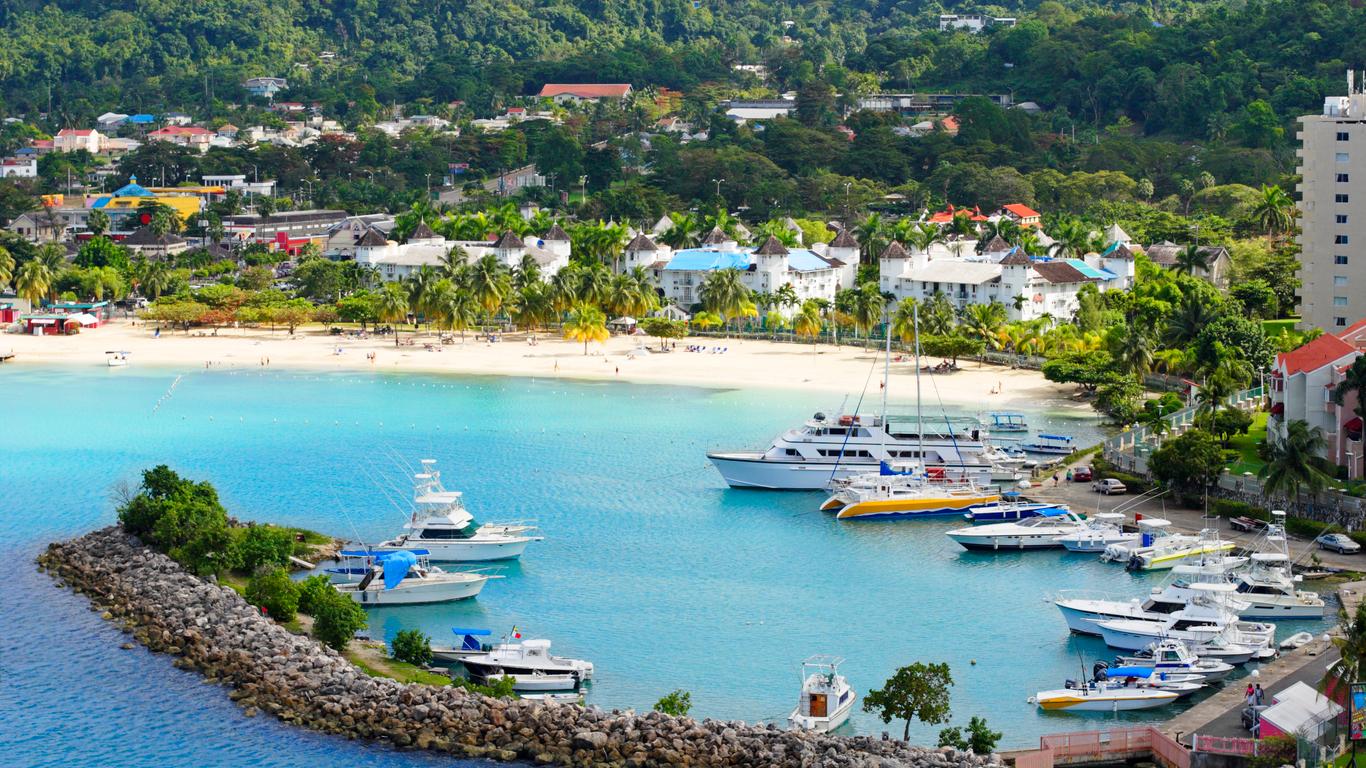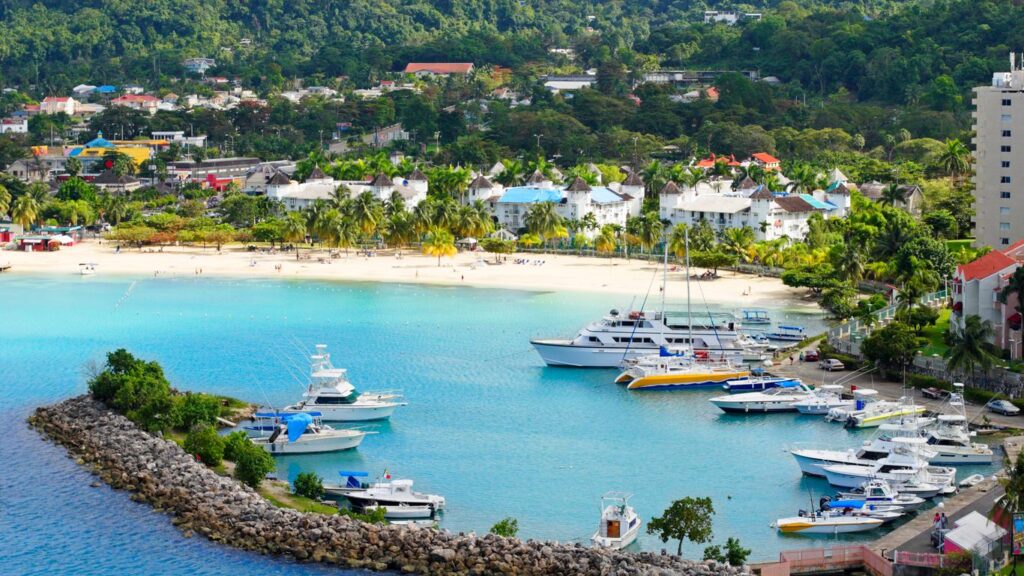 Advantages:
Availability of a cruise port.
Favorable climate.
A wide range of housing for every budget.
Variety of bars and restaurants.
Many beaches for recreation and water sports.
Availability of shopping malls.
Sights within the resort.
A wide range of entertainment for both adults and children.
Disadvantages:
There are not many all-inclusive resorts.