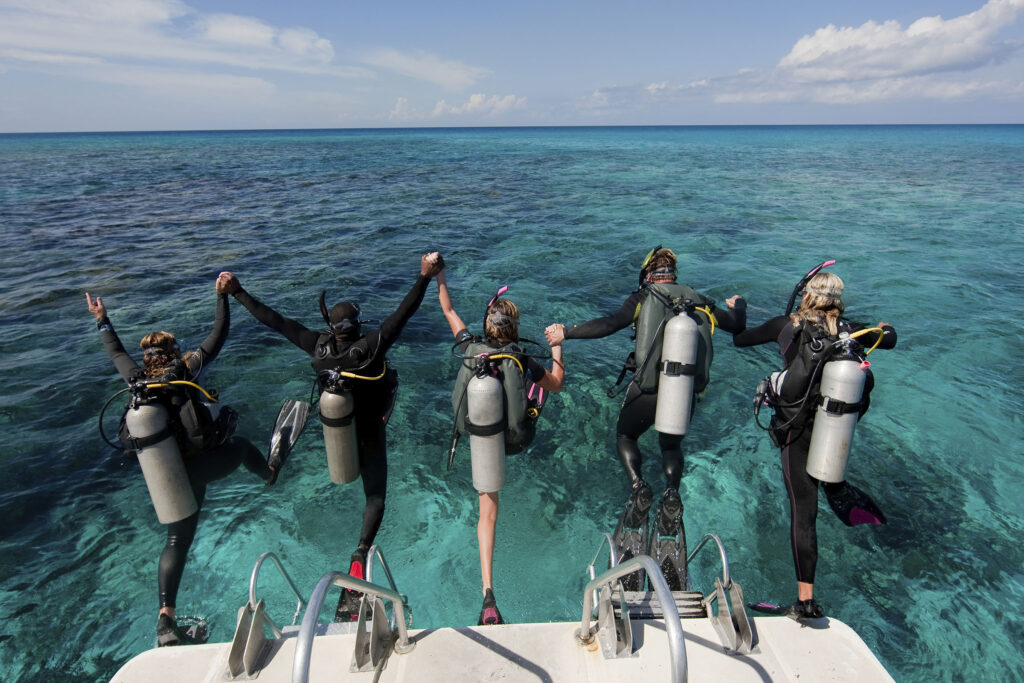 The average cost of diving training in the Dominican Republic:
Discover Scuba Dive course – $110 ( 1 dive included ) or Open Water – $440 ( 4 dives included ).
Upon completion of a high-seas diving course or a scuba diving course in the Dominican Republic, you will receive a worldwide diving permit as these courses are licensed by PADI (Professional Association of Diving Instructors).
The price for tours to dive sites and wrecks starts from $200 for 2 dives. And this is with your own certificate.
This price usually includes:
Transfer from the hotel and back.
Dinner.
Free drinks.
Dive equipment.
A trip on a catamaran or boat.
Snorkeling equipment.
Help: Wreck – the place where the sunken ship is located. As a rule, underwater life develops rapidly in the shipwreck area, especially in tropical waters. The remains of sunken ships become a wonderful refuge and home for thousands of marine inhabitants. Additionally, the size of some ships makes you feel like a real researcher of history, take an exciting underwater trip full of secrets that the sunken ship is fraught with, and, perhaps, even find a small treasure.
The Punta Cana resort, together with the Regional Environmental Fund, spends significant efforts and funds to maintain the unique underwater world of the province in its original form. Recommended dive to the Spanish ship Pewter Wreck, shipwrecked in 1540 on the way from Seville to the colonies of the New World. The researchers managed to find about 1200 pieces of cutlery here. Usually, it is not included in the standard set of diving locations, but we strongly advise you to ask your local diving centers about the possibility of getting there.
Noteworthy is the underwater cave Cueva Taina Macao, a short drive from the resort area of Bavaro. The depth of the cave reaches 26 feet, and the length is about 164 feet. In crystal clear waters, divers can see an impressive collection of stalactites and stalagmites. In fact, this is the same cenote, but in the Dominican Republic, the word «cave» is more often used.
So, let's get acquainted with the most interesting places for diving in Punta Cana:
1.El Acuario:


Thanks to local reef restoration efforts, El Acuario has become one of the most interesting underwater spots in the region.
It is located off the coast of Punta Cana, reaches a depth of 16 to 22 feet, and is great for beginners. One of the spot symbols is called François, a male barracuda that can often be seen swimming alone or protecting a school of baby fish. Spotted moray eels, long-spiked urchin fish, yellow grunt, and parrot fish can also be found here.
2.El Astron: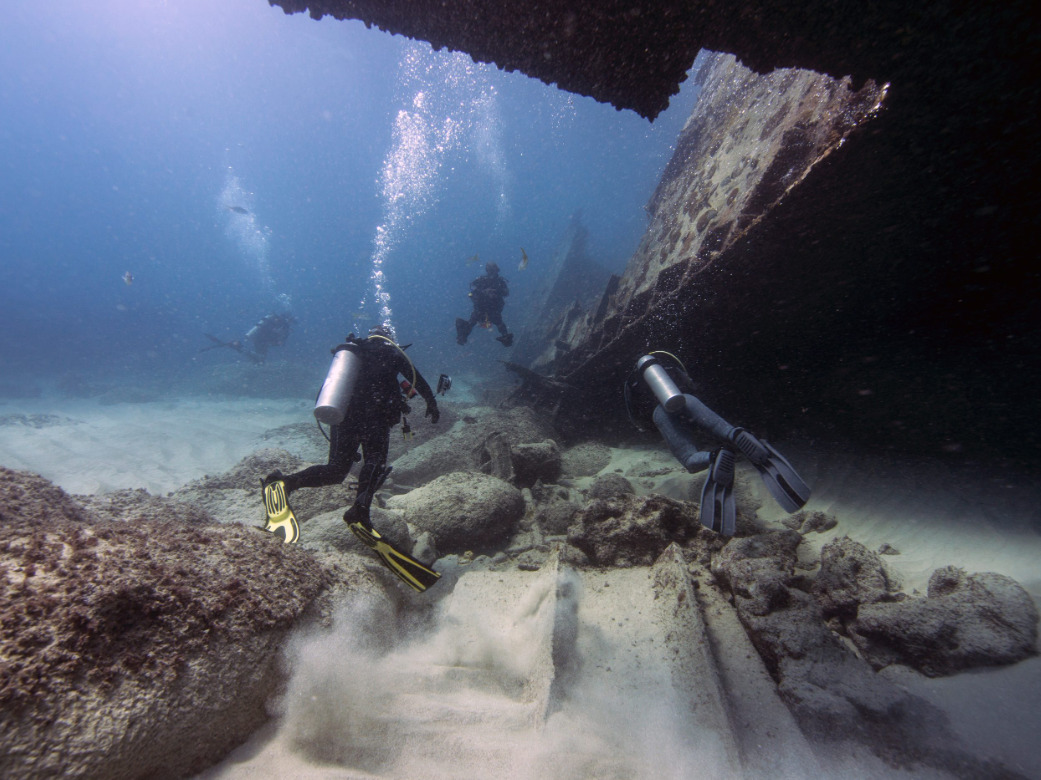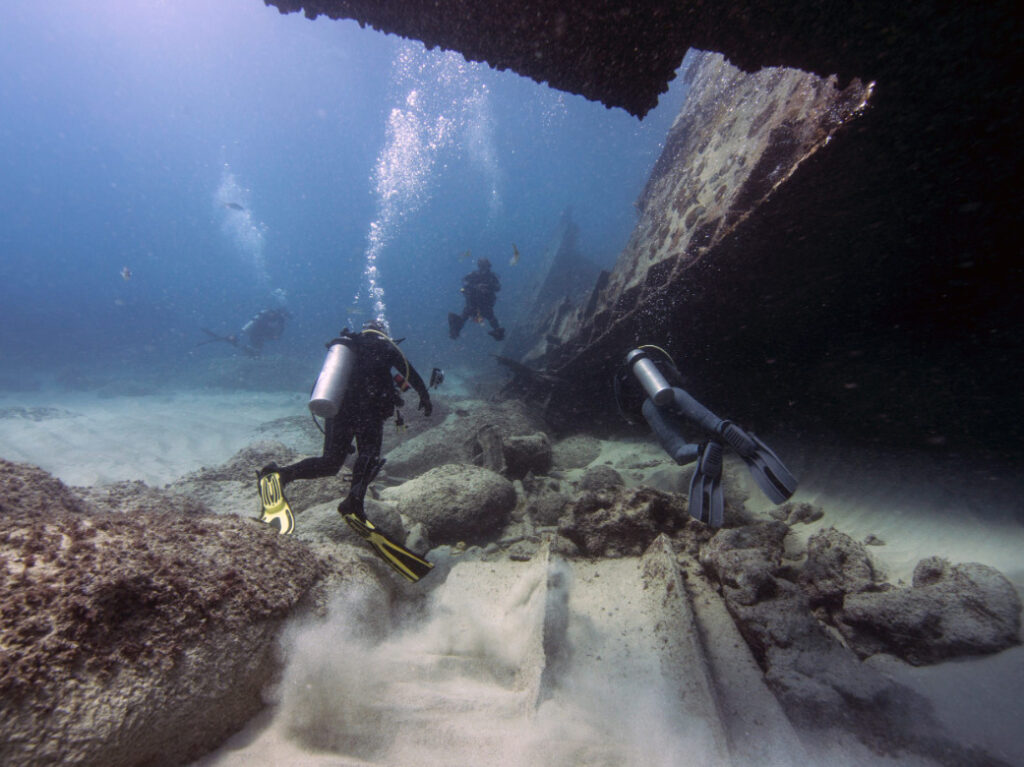 A Soviet cargo ship 130 yards long was wrecked while transporting corn to Cuba in 1978.
It cracked in half and sank off the coast of Bavaro. Located at a depth of 40 feet, El Astron continues to be popular among experienced divers. Due to strong currents, diving is only possible in good weather. The giant ship is definitely worth a look.
3.Enriquillo RM-22:
Enriquillo RM-22 is a ship 144 feet long and 32 feet wide, once sailing at a speed of 13 knots, with 45 crew members and three 50mm guns on board. It was donated by the United States to the Dominican Navy in 1980, delivered by the Puntacana Group in 2006, and scuttled off Playa Blanca. The spot is located at a depth of 60 feet and is suitable only for experienced divers due to strong currents. Here you can find large schools of Atlantic horse mackerels, sea breams, and yellowtail snappers, as well as different types of turtles (Carey, leatherback, and green sea) that come here to have offspring.
4.Las Cuevitas and El Canal: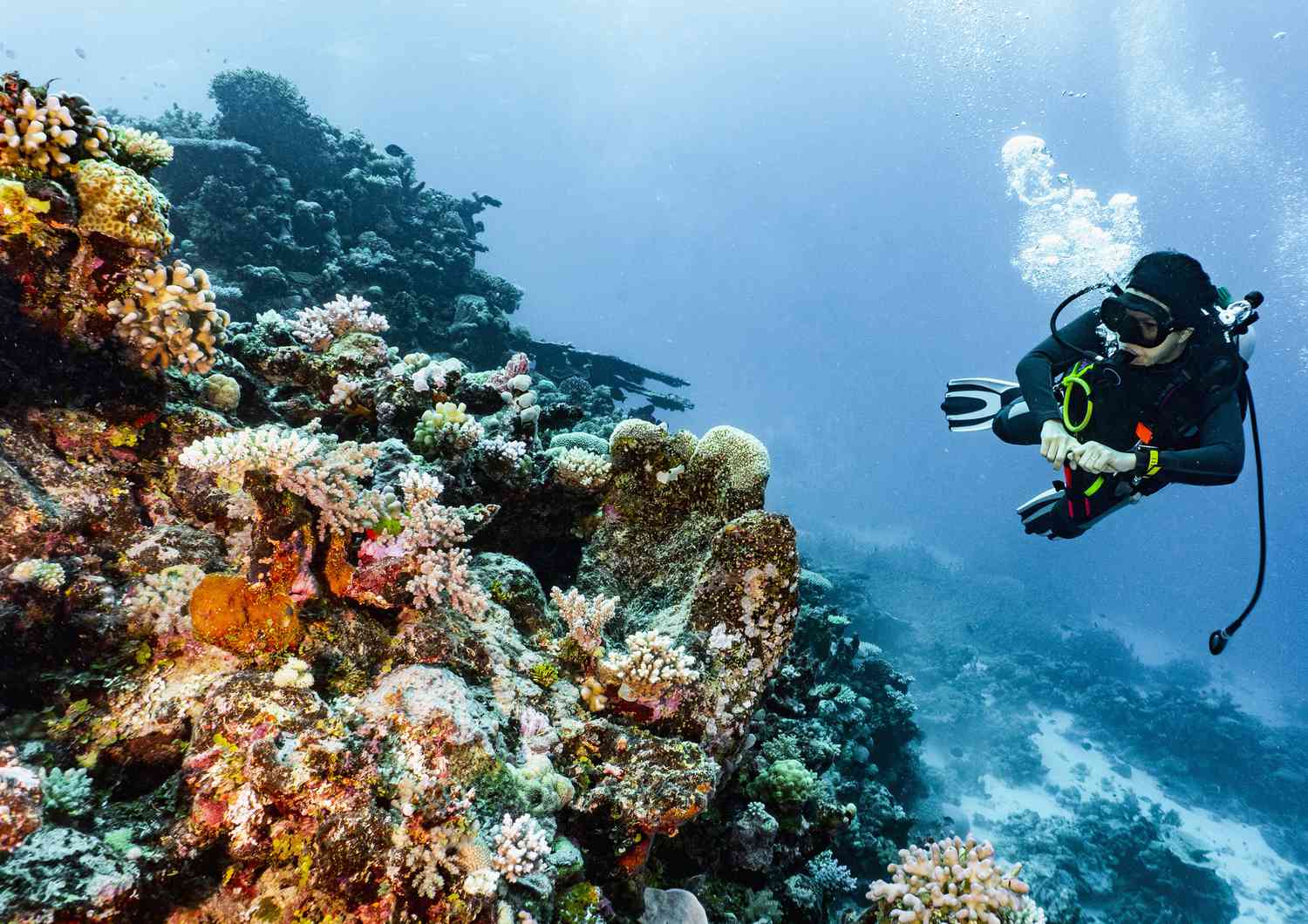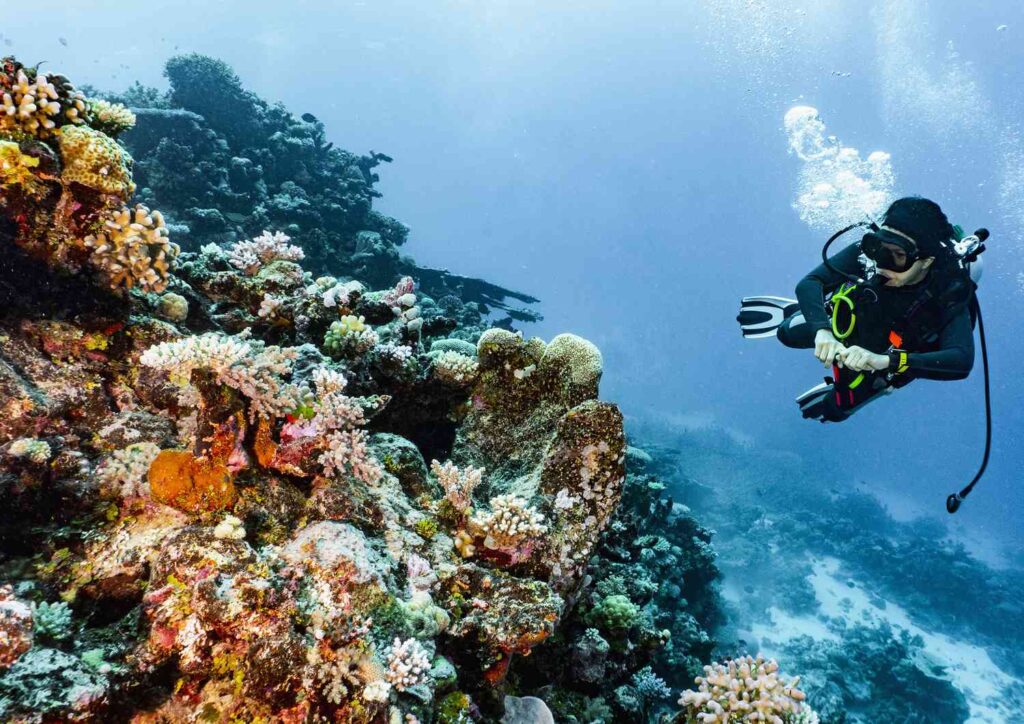 Two ideal dive spots suitable for beginners, Las Cuevitas and El Canal, are located near the coast of Bavaro.
Both have beautiful rock formations at relatively shallow depths. Las Cuevitas lies at a depth of 72 feet, and El Canal reaches a depth of 52 feet – divers can easily swim here through the channel (hence the name of the dive spot) past the rock formations.
5.Igneri Caribe Taino:
The Underwater Museum Igneri Caribe Taí no is located between Playa Blanca and Playa Serena and is a unique place for snorkeling and exploring the local culture, ideal for beginners. Underwater, at a depth of three to seven meters, there are 22 sculptures by the recognized Dominican sculptor Timo Pimentel, depicting traditional characters of the Taino tribe. The statues were made so that corals could cling to them, which became the habitat of thousands of fish. When diving, you can watch how schools of fish swim next to huge statues, which creates a unique atmosphere.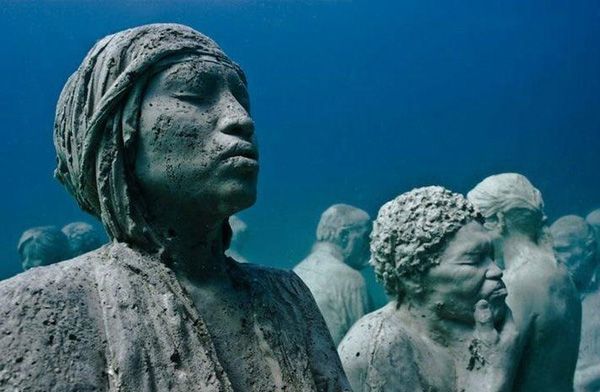 Diving centers in Punta Cana
Obviously, with such a rich underwater world, the existence of a large number of enthusiasts who earn money by introducing tourists to the rich marine fauna of the Dominican Republic is inevitable. We want to talk about companies that you can really trust. When creating this small chart, we, first of all, studied the customer experience.
1.Ultra Marine Divers:
Center with an impeccable reputation in Google. Rating 5.0 Over 150 5-star reviews. It offers many different underwater excursions and of course full-fledged diving courses.
2.Happy Dive Center:
Boasting TripAdvisor Quality of Service awards, the Google rankings also inspire confidence. Located in the beach area of Bavaro. The list of services, like those of colleagues, includes sea excursions with diving and snorkeling, as well as professional courses for divers.
3.Art of diving: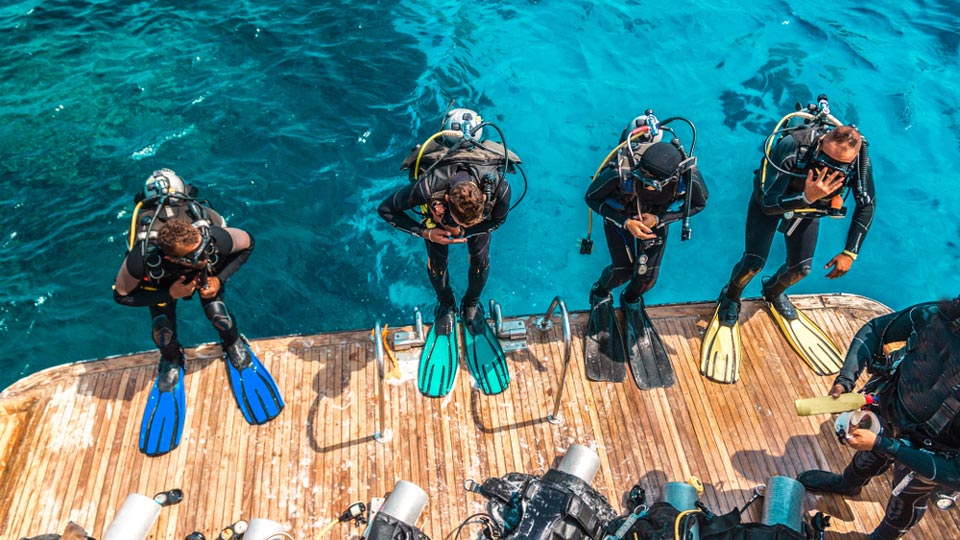 Another company with an excellent rating on Google – 5.0 stars. The owners of this center emphasize a careful attitude to the safety of their clients, and in addition to the standard training packages, they also offer professional courses such as industrial diving, rescue diving courses, and much more.
In general, it is easy to understand that there is no shortage of sea and underwater entertainment in Punta Cana, although this particular region of the Dominican Republic is considered not the richest in terms of dive spots.
However, any diving center will not only tell you where it is better to go in search of vivid underwater experiences but will also gladly organize a trip there for you and your loved ones. At the same time, we certainly recommend paying close attention to the company's rating and reviews of the work. There are episodes when instructors can be negligent in their duties and such organizations are best avoided, as this can create a risk to health and life.